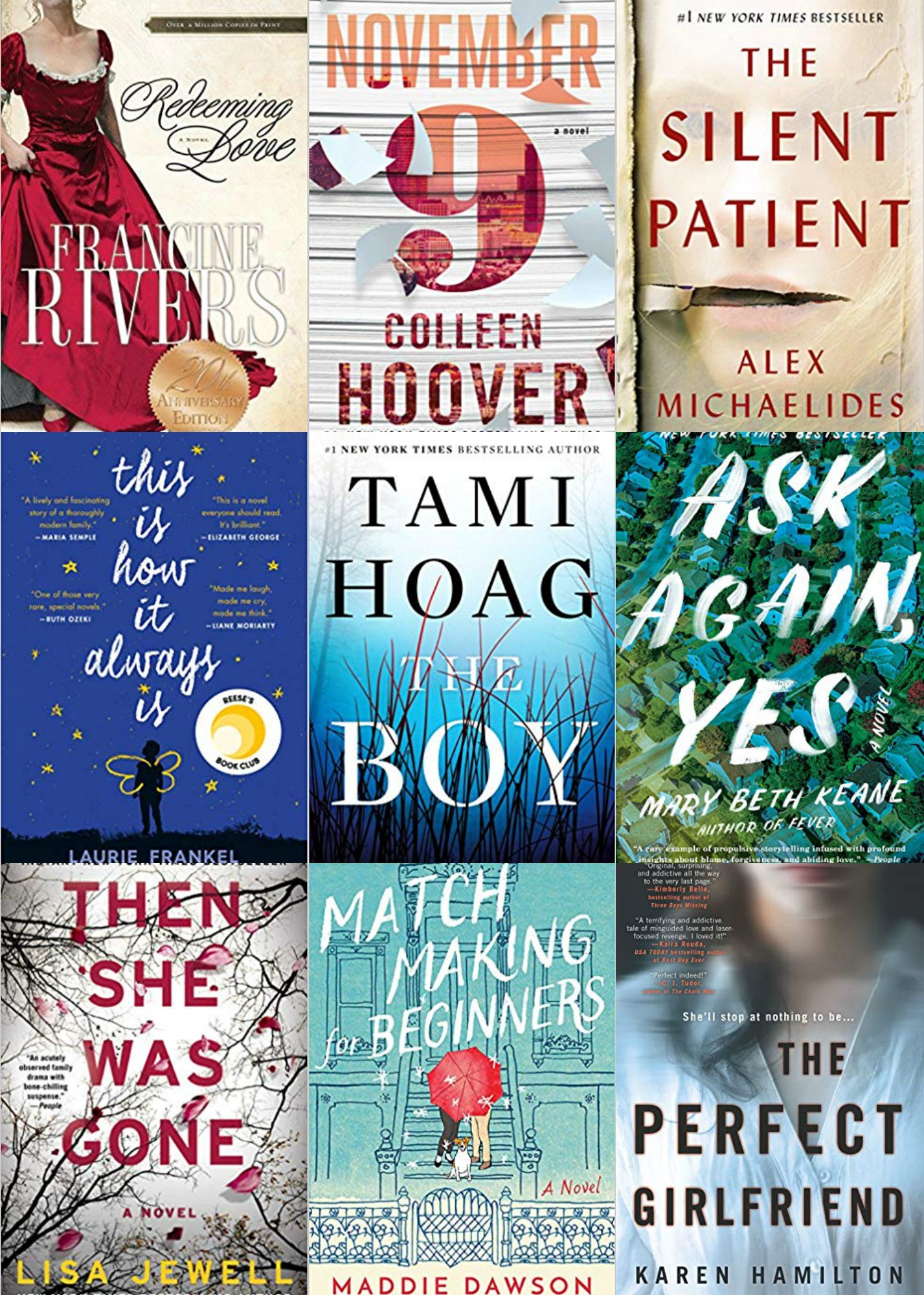 I loved putting today's post together because I was able to look back over all the books I've read this year and reflect back on my favorite ones! I'll be honest and say that last year's list was a bit better because I read books that are my favorite of ALL TIME. But I still read quite a few wonderful books this year and ones that I highly recommend. Nine fit nicely in the above collage and were my top picks but I have a couple runner ups that I wanted to mention too. I will link each book and then link my review from the original blog post.
1. Redeeming Love – This was by far my favorite book of the year which is sooooo surprising to me but I was crazy for it! Read my review here.
2. November 9 – I am a huge Colleen Hoover fan so it's no surprise that one of her books made the list. Read my review here.
3. The Silent Patient – Read my review here.
4. This Is How It Always Is – So many feels while reading this book and it touched my heart so much. Read my review here.
5. The Boy – For such a simple book title, this book was anything but simple! Read my review here.
6. Ask Again, Yes – The complexity of the relationships in this book is what made it on to my top favorite books list. Read my review here.
7. Then She Was Gone – A good twisted mystery always has to make it on the list! LOL Read my review here.
8. Matchmaking for Beginners – This book made me feel good after reading it. I still have warm fuzzies just thinking about it. Read my review here.
9. The Perfect Girlfriend – The main character was a NUTCASE but I could not put this book down and devoured it so quickly. Read my review here.
A few runner ups to this list:
10. One Day in December – Highly buzzed about and really great. Read my review here.
11. My Oxford Year – Read my review here.
12. No One Ever Asked – I just read this one recently but it has stuck with me ever since. Read my review here.
I also asked on my insta-stories what was the best book you read this year and here are some of the books many of you mentioned (I have read most of these and can confirm they are amazing!): The Hate You Give, Bad Blood, The Nightingale, The Heart's Invisible Furies, Educated, Where the Crawdads Sing, The Kiss Quotient, Can't Hurt Me and The Real by Kate Stewart.