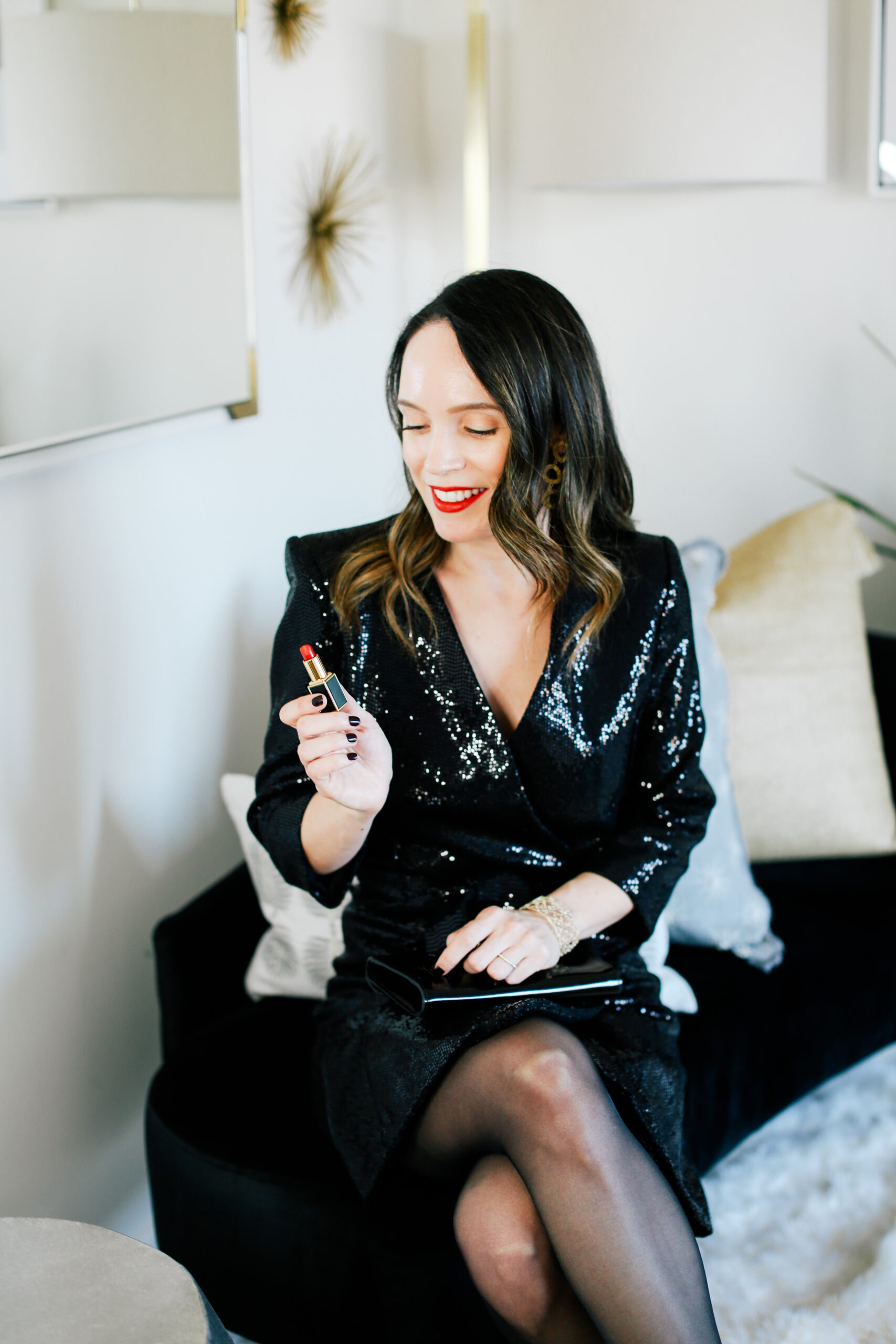 It's the holiday season and time to bring out all the sparkle and shine! There are tons of gatherings, parties and time with friends and loved ones. I love how this time of year is a time to get dressed up and be more fancy. It's a great time to play around with fun makeup looks, wear shades or colors you wouldn't normally wear and go for some glam. Personally I  am still a subtle and polished makeup lover so most of my holiday makeup looks are turned up a notch but still super wearable. You don't need to be a professional makeup artist to recreate these!
The right makeup can complete your holiday look and is often one of the best accessories you can add to your outfit. Experiment with a bold lip, a sparkly shadow or a smokey eye. It's fun to showcase your creativity and personality with your makeup. In today's post I will be sharing a round-up of holiday party makeup ideas and looks to complete your holiday outfits.
3 Holiday Makeup Looks
Sparkly Eyeshadow + Glossy Lip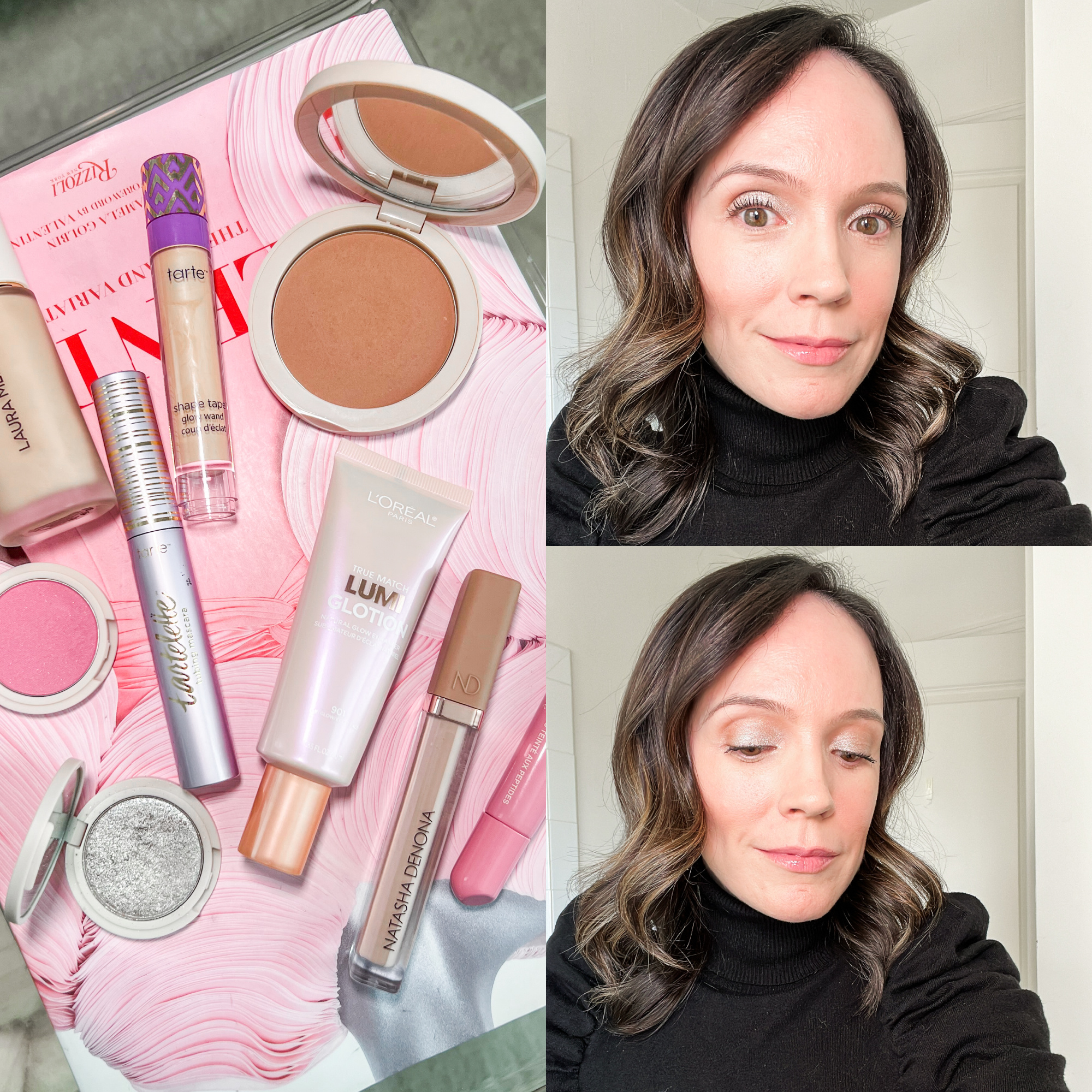 I always love a sparkly shadow and glossy lip, but if this is not something you regularly wear then a holiday party is the perfect time to experiment with this kind of look. As you can see, I didn't take it too over the top and left the look still polished and wearable but I chose products that could easily give you a gorgeous holiday glow. Since this look is mostly neutral, it would look great with a ton of outfits and is a fun makeup look for New Year's Eve too! Here's a breakdown of how I got this look:
Start with a Natural Finish Foundation
Since your eyes are going to be so sparkly and your lips will be quite glossy, it's good to balance that with a foundation that isn't too glowy or dewy. This Laura Mercier Real Flawless Foundation (I am wearing shade 1N2) is a long wearing foundation, waterproof and buildable. I like to apply it with the BK Beauty 101 Foundation brush (discount code: MAREE10) and then use a damp makeup sponge as the end to just blend it out a bit more.
Conceal Only Where You Need It
I only use a touch of concealer under the eyes to diminish dark circles and a touch of it around my nose where I can still have a bit of redness even after foundation. I am wearing the Natasha Denona Hyglam Concealer in N1. Additionally, I added a dab of the Tarte Shape Tape Glow Wand in Sunbeam in the inner part of the eye and mix it with my concealer. This is a glowy complexion product that makes my under eye area look radiant and a bit glowy. For a holiday look, this is perfect.
Choose a Neutral Sparkly Eyeshadow
You could definitely go for a jewel toned or bold color with this look, but I am a neutral gal through and through so I will always opt for that over something very colorful. I am wearing Jones Road Beauty eyeshadow in So Pretty and love how it makes the eyelids GLOW! Make sure you use an eyeshadow primer before and press the color onto the lid instead of swiping it. The color will show up better and you will have less fall out on the face.
You could also add a touch of the shadow to the lower lash lines for a subtle smokey eye. I also like to add a touch of my bronzer into the crease to bring some warmth to my eye makeup. Add a few coats of your favorite mascara (mine is the Tarte Tubing Mascara) and define your brows (I am using Jones Road Beauty Brow Gel in Light Brunette) and your eye look is finished!
Pink Cheeks
A pink cheek gives a nice healthy flush to the face and looks like you have been out in the cold a bit. I am wearing Jones Road Beauty Blush in POP and it truly is the best pop of color. I always start with a tad bit of bronzer on my cheeks first to warm them up a bit and for this look I went with the Jones Road Beauty Bronzer in Light Tan. Because I am using all powder products on the cheeks, I need to add some glow (and moisture frankly) back onto the skin so I just tap a bit of the L'Oreal Lumi Glotion in Fair Glow OVER the entire cheek for a subtle yet radiant glow.
Glossy Lips
With the sparkly lids, I love the look of a super glossy lip. I recently tried these Rhode Peptide Lip Tints and frankly they are some of the best lip products I have ever tried!! They are even more glossy in person and make the lips look amazing while still being really nourishing. I am wearing shade Ribbon and it is the perfect petal pink.
Golden Eyes and Red Lipstick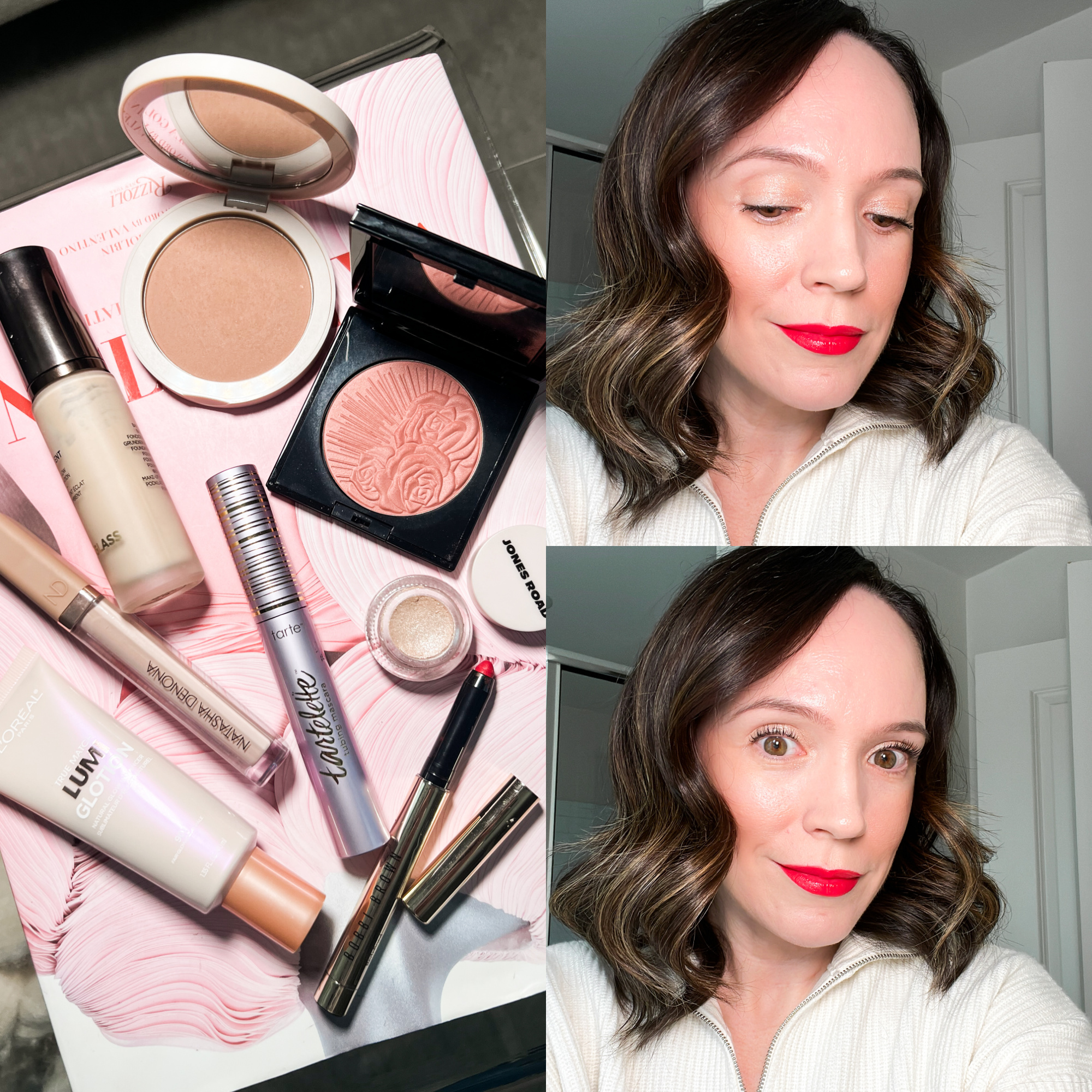 The number one question I get when I share a red lip is "what should I wear on my eyes?" and frankly I always keep the same eye look every time I wear a bold lip. It's simple, easy to do and always allows the red lip to stand out. And wearing a red lip during the holidays is so fun and can be an added accessory to your outfit.
Pick a medium coverage foundation
While you can definitely wear something more sheer, I find that a more polished and complete makeup look is best for wearing a red lip. If my foundation is too sheer, it can look mix matched because a red lip is so glam and bold. However, my trick for making my medium coverage foundation have a more fresh face look (in this case it's the Hourglass Soft Glow Foundation – my discount code is: MAREE) is to mix it with a hydrating serum to thin out the formula. This makes it a touch more sheer and moisturizing yet still evens out the complexion. I add a touch of Natasha Denona Hyglam concealer under my eyes and the complexion part is complete.
Keep the Eyes Neutral and Slightly Shimmery
The red lip is going to be the focal point of this makeup so I just want something on the eyes that looks pretty but not too noticeable. My go-to for years has always been a shimmery champagne eye shadow with some black mascara and defined brows. I love the Jones Road Beauty Just a Sec shadow in Linen because it is sheer and gives just a wash of shimmer on the lids. I threw on a few coats of Tarte's Tubing Mascara and used the Jones Road Beauty Brow Gel in Light Brunette. You could also add a few false lashes or a winged eyeliner to a look like this to really add some more glam to the eyes.
Choose a Neutral Blush
Like I did with the eyes, I want something subtle and neutral on my cheeks so as not to compete with the red lip. I started first with a bit of the Jones Road Beauty Bronzer in Light Tan and then dusted Pat McGrath Blush in Nude Venus on the apples of my cheeks. I finished off with by dabbing a bit of the L'oreal Lumi Glotion in Fair Glow on top to take down the powdered look of the cheeks and add some radiance.
Pick a Creamy Medium Coverage Red Lip
I find that choosing red lips with a slightly creamy and satin finish looks classic and often has a lot of staying power. You could also go with a red liquid lipstick if you prefer that type of formula. I am wearing Bobbi Brown Luxe Defining Lipstick in Redefined and it is the most gorgeous vibrant red that skews a tad bit warm which I prefer. This eye and cheek look would also work with a vibrant berry lip if you would prefer that over red.
Rose Gold Radiance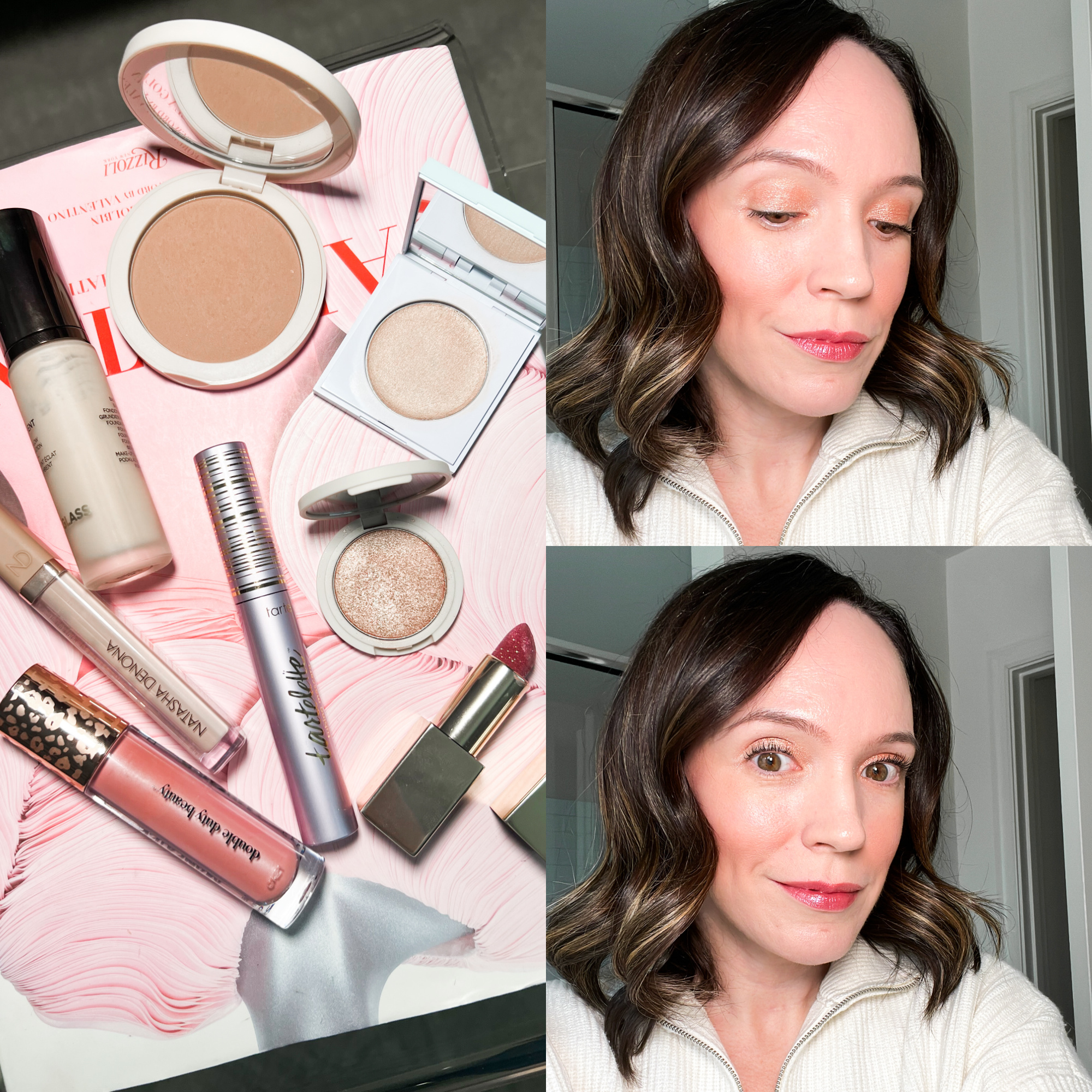 The holidays is the best time to wear gold (and all the metallics) but when it comes to my makeup, I prefer to choose rose gold. It's a bit warmer, less yellow and looks so good on tons of various skin tones.
Start with a slightly glowy foundation
Since the look is overall quite radiant, I chose to keep my skin a touch more glowy. I still used my Hourglass Soft Glow Foundation but layered the RMS Beauty Supernatural Radiance Serum underneath. I added a bit of the Natasha Denona Hyglam concealer under my eyes to combat any darkness and that was it for the complexion.
Choose a sparkly rose gold eyeshadow
I LOVE this Jones Road Beauty eyeshadow in Rose Gold as it is super shimmery and pigmented. A great choice for a holiday makeup look. Another gorgeous option would be the Hourglass Scattered Light eyeshadow in Reflect. I love a solo eyeshadow versus an eyeshadow palette because it can keep the look so simple. And I don't add any additional eye liner or any darker shade to the outer corner because my preference is to keep the eye look radiant and bright. I add a few coats of my favorite Tarte Tubing Mascara and define my brows with the Jones Road Beauty Brow Gel in Light Brunette.
Pink Glowy Cheeks
This look is somewhat monochromatic so I used the Jones Road Beauty Bronzer in Light Tan on the cheeks first to add some warmth. I dabbed on the Tarte Maneater Blush in Pink which is a liquid formula that is super hydrating and makes the skin look gorgeous. I added on a bit of the Flyte.70 highlighter in Just Like Heaven for even more glow. This highlighter specifically is designed for textured or mature skin so it's incredibly moisturizing and lightweight but doesn't bring attention to any fine lines.
Add a sparkly/metallic lip
I went with the Chantecaille lipstick in Rose Quartz from their 2023 Holiday collection but you could easily just wear a rosy lip liner and add a shimmery lipstick on top. This topper from Tom Ford is gorgeous if you want to add just a bit of sparkle to your lips. I also love this shimmery pink lipstick from Tom Ford!
These are three of my regular go-to holiday or fancy makeup looks that I always go back to because they are simple yet still polished and appropriate for a festive occasion. For more holiday inspo, check out this post on holiday shoes and this one on what to wear to a holiday party!