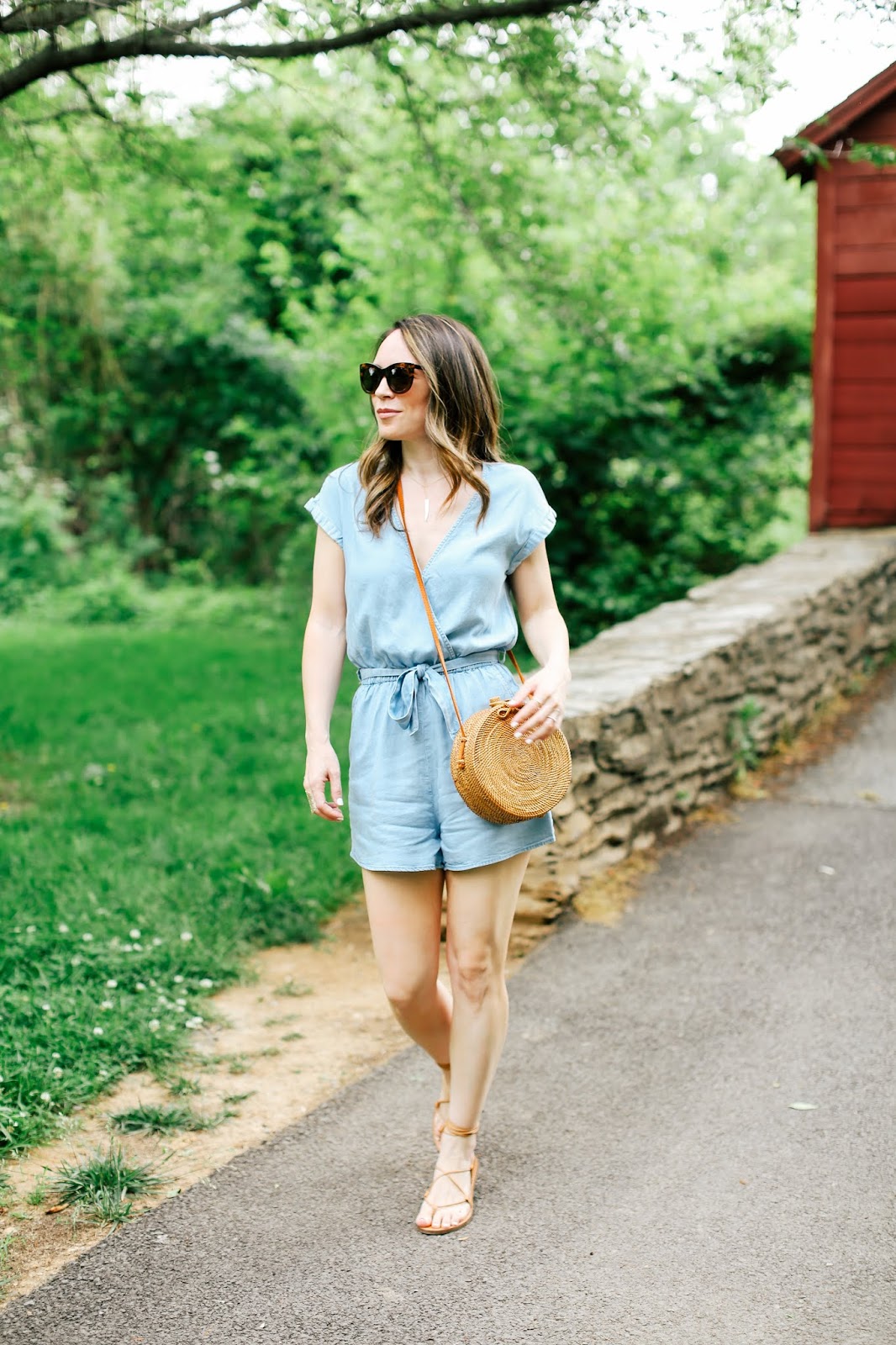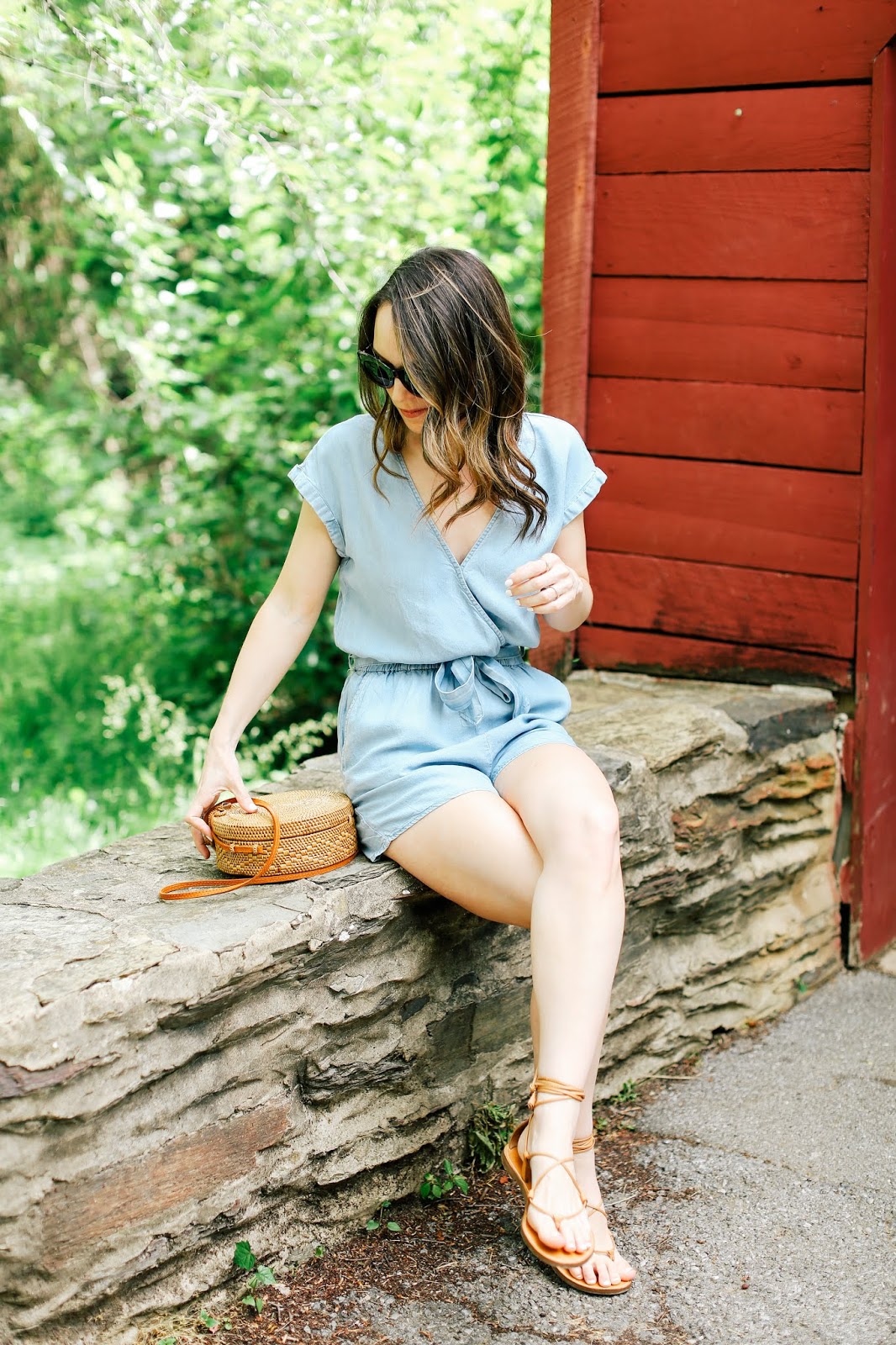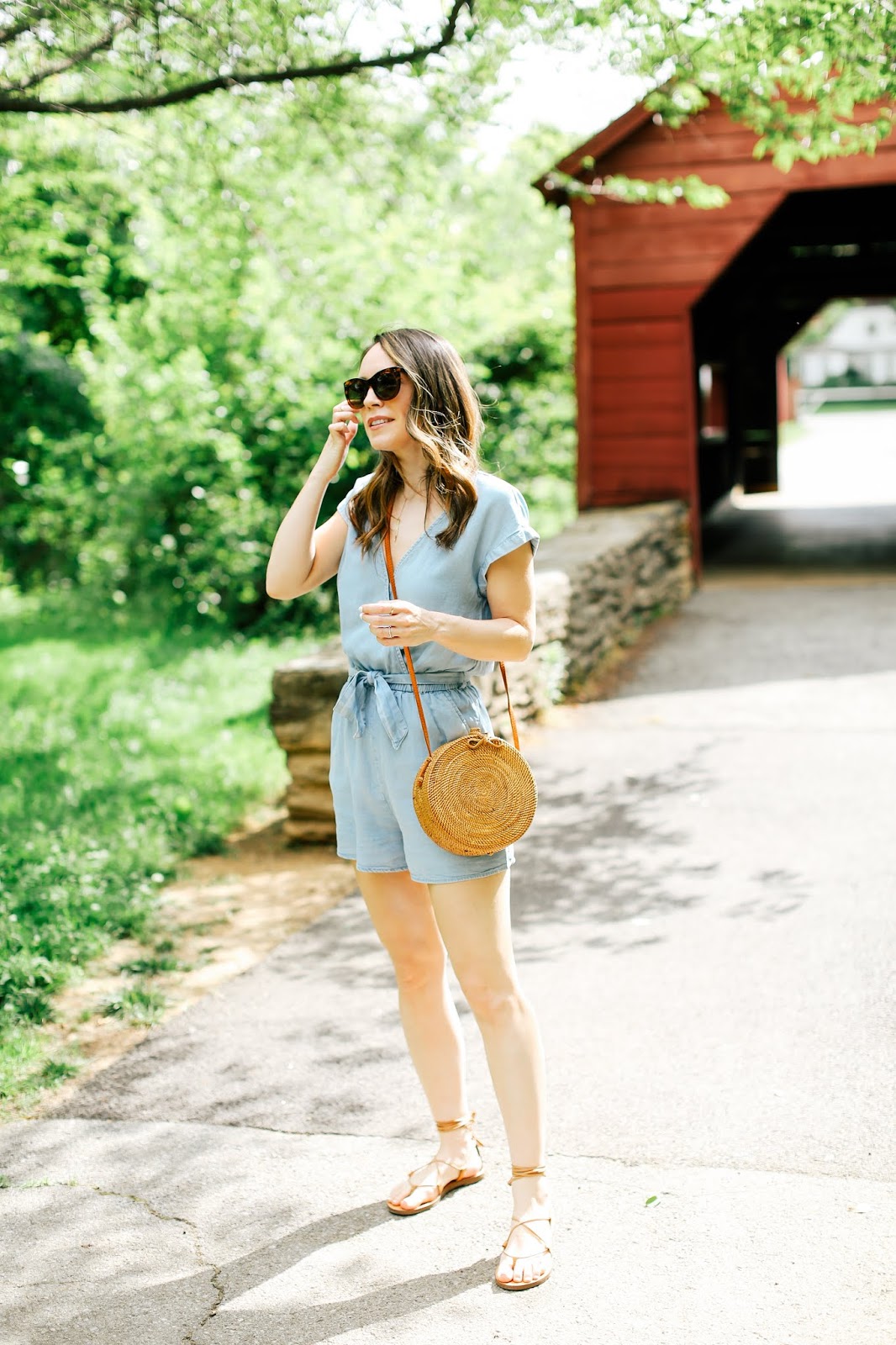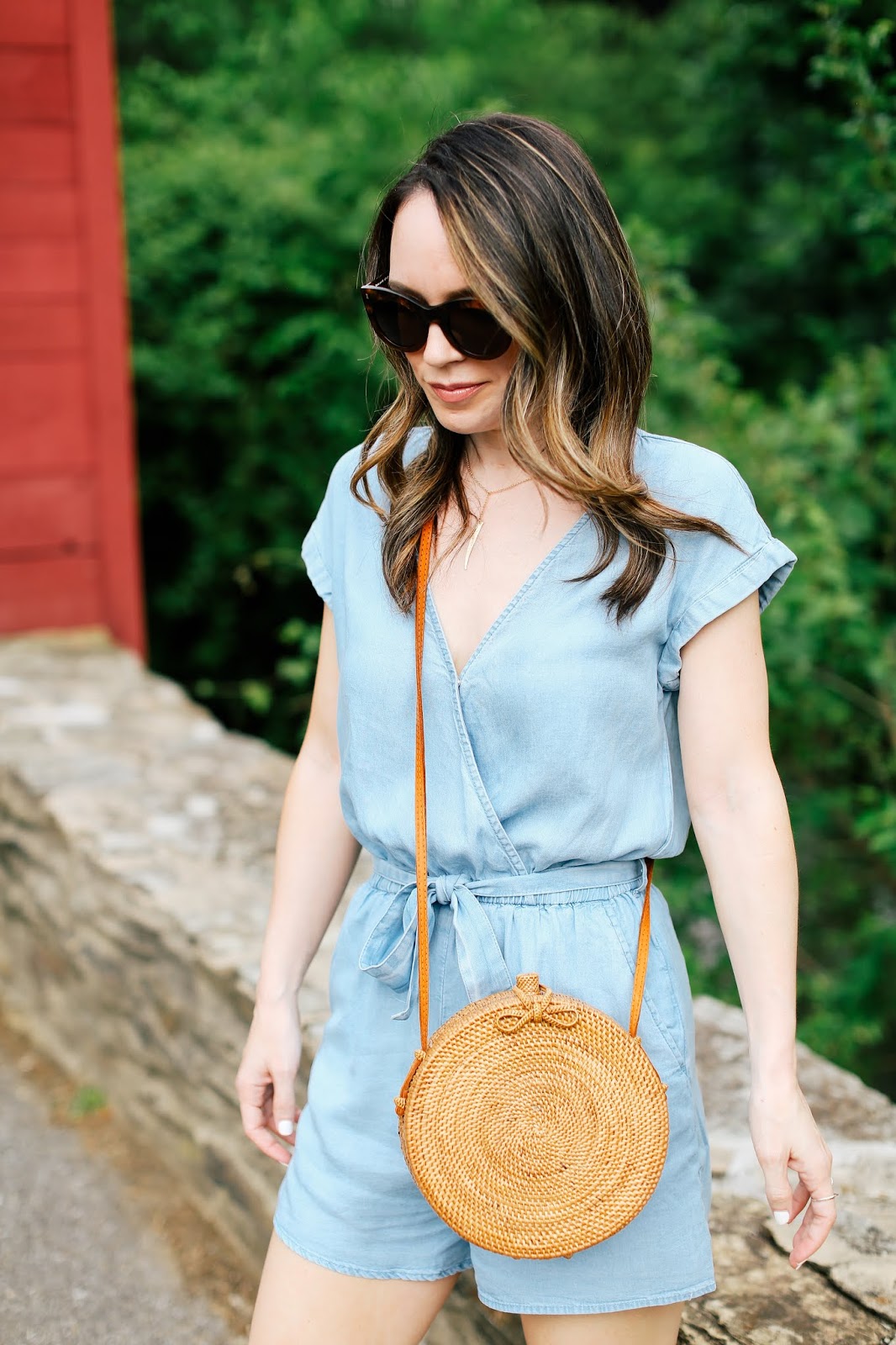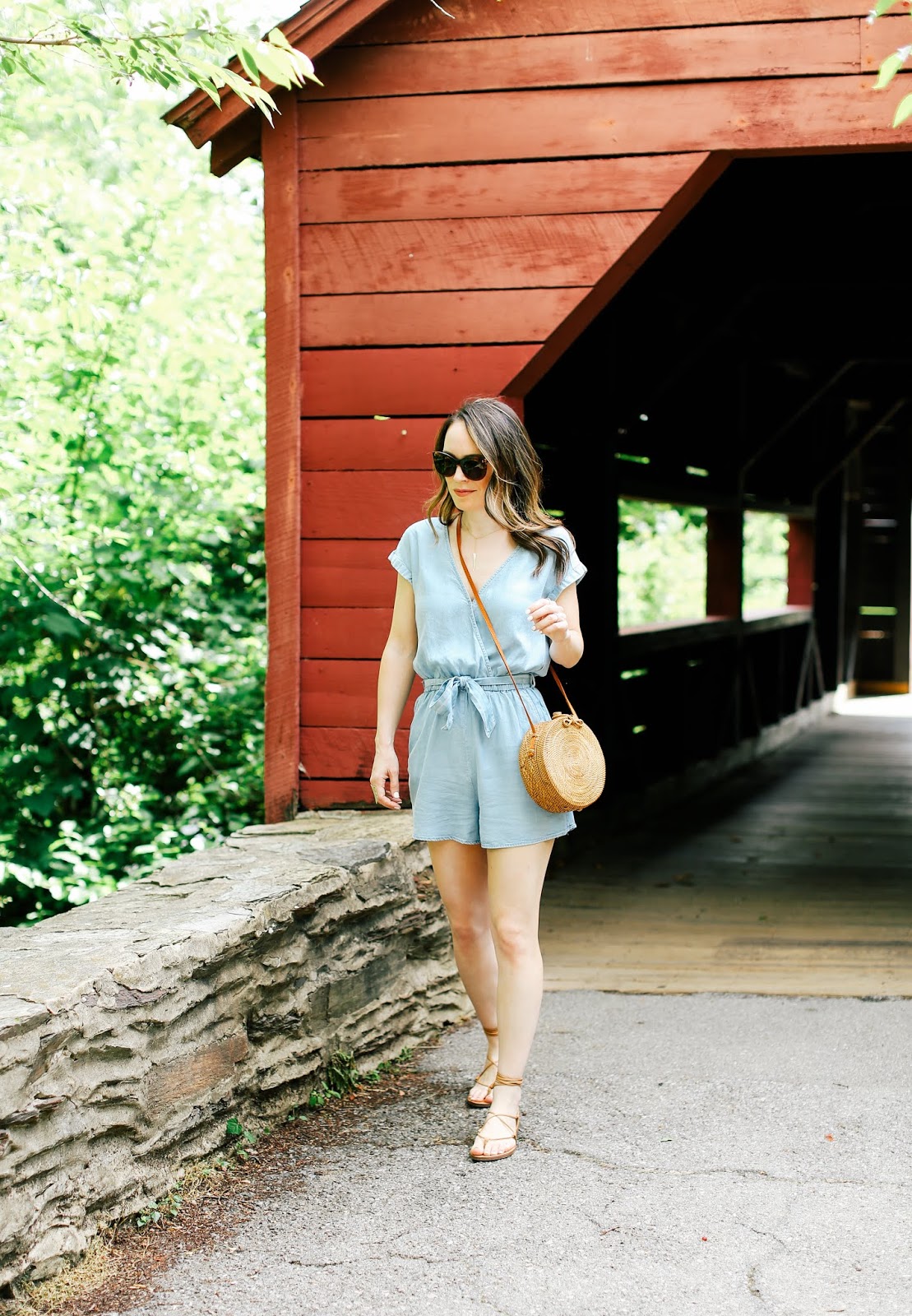 Today's post is going to be a combination of both an outfit post and my recent reading list. Two for the price of one! LOL Some people aren't fans of jumpsuits and rompers, but I personally still love them. I love how easy it is to get dressed and how comfortable they are. I love them for running around with Miles, going to the park or even as a pool cover-up. This one is loose fitting and so lightweight for summer, and the snap at the wrap ensures it will never fall open. To bring the comfort factor to the next level, I threw on my lace-up Madewell sandals that I've had for yearsssss. They have a rubber sole and surprisingly stay on the feet easily. 
Moving on to my book reviews – I read some really great books this past month and am so excited to share them with you. Don't forget to browse through my
past reviews
(there are more than 100!), if you want additional recommendations.
1.
The Lost Vintage
– I enjoyed this book but it wasn't a love for me. It has all the makings of a great novel but didn't quite live up to my expectations. Kate is studying for her Master of Wine examination and heads to her family's vineyard estate in France to help her prepare. While there, she uncovers a basement filled with thousands of bottles of wine that must have been hidden during WWII. Kate decides to explore more about this basement and who was responsible for hiding all the bottles. Some questions arise as to whether one of her ancestors was a collaborator with the Nazis and Kate tries to seek out the truth.
2.
Where'd You Go, Bernadette
– This book is being made into a movie and I am really excited to see it. I enjoyed the book but I think the movie will be able to bring the content to life even better. Bernadette Fox is an eccentric architect living in Seattle with her husband and daughter. After receiving a perfect report card, her daughter asks if they can go to Antartica as her reward. However before the trip, Bernadette vanishes and her family has no idea where she has gone. While this seems like it would be a mystery novel, it's actually quite the opposite. Bernadette has a quirky personality and the dynamics between her and her family create quite a unique storyline.
3.
I Let You Go
– I was almost a third of the way through this book before it hooked me, but after that I really got into it. It's a thriller but doesn't get that "thrilling" until halfway through the book so just be patient. Jenna Gray moves to a small beach town in the hopes of disappearing after being involved in a horrific hit and run accident. But the truth about the day is much more complicated than it seems, and Jenna is forced to come to terms with some painful truths about her life.
4.
The Boy
– My favorite book of the bunch! This was one of those good ol' murder mysteries that you can't put down. Genevieve's son is brutally murdered in their home in a small town in rural Louisiana. Detective Nick Fourcade and his wife Detective Annie Broussard much figure out who would commit such a horrific crime. As they dig deeper into Genevieve's past, questions begin to arise that make them question the validity of Genevieve's account of that night. There are so many twists and turns in this story and I could not figure out who did it until the very end. This is a page turner for sure!
5.
Verity
– I have been waiting for almost a year for this book to come out on audio! (It's so hard for me to find the time to sit down and read so I listen to audiobooks only) I am a huge fan of Colleen Hoover but had heard this was a huge departure from her normal content. It is definitely a disturbing read and quite a suspenseful thriller, however I was a tiny bit let down that it wasn't as good as I had imagined. It is still an AMAZING book, but I think I had built it up too much in my head. LOL Lowen Ashleigh is a struggling writer hired by the family of Verity Crawford to help complete the remaining books in Verity's best selling series. Verity was injured in a severe accident making her unable to finish writing the last three books. However, when Lowen begins her research, she uncovers a hidden autobiography that Verity had written unbeknowst to anyone. The autobiography sheds light on a very different Verity and her life before the accident. The ending was not what I expected and really shocked me. It left me having so many mixed feelings about my thoughts on all the characters up until that point.
6.
Night Film
– This book is longggggg and has its tedious moments, but overall I loved it. Ashley Cordova, the daughter of legendary horror film director Stanislas Cordova, is found dead in an abandoned warehouse and her death is ruled a suicide by authorities. Investigative journalist, Scott McGrath, who has followed her father's career over many decades believes there is more to this story. He sets off to uncover what really happened and looks to Stanislas's horror films and reclusive life as a possible explanation. Delving further into Cordova's world, McGrath comes face to face with some dark and disturbing situations that he thinks may have contributed to Ashley's death. I won't give anymore away but there is definitely some major twists and turns in this book, and really brings to light the idea that things are not always what they seem.