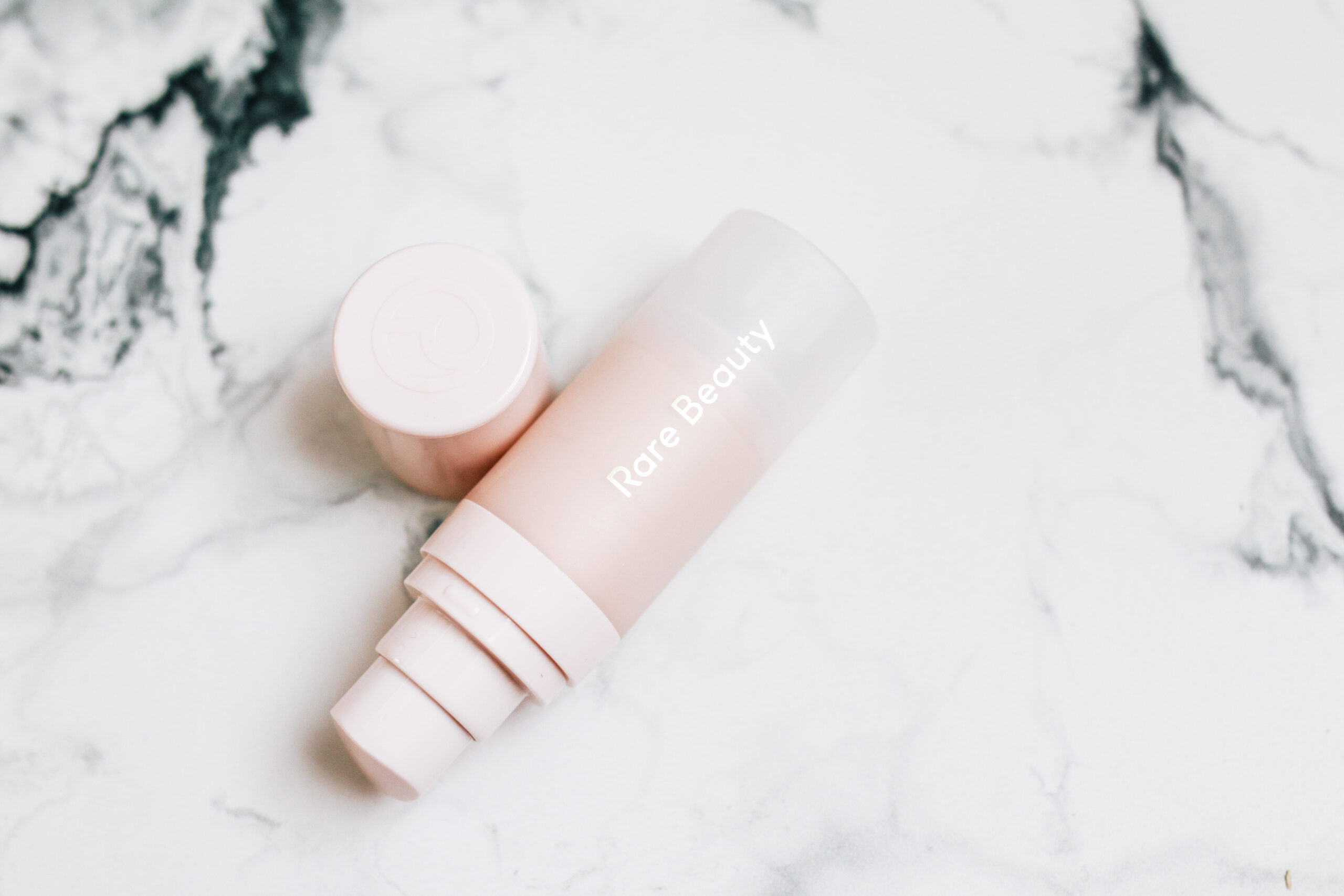 I'm not a big primer fan but I heard so many great things about the Rare Beauty Illuminating Primer so I had to give it a go. So many celebrities are launching skincare and makeup brands and while some are meh, Selena Gomez's brand Rare Beauty is an absolute gem! She has really hit it out of the park with formulations and branding and this primer made me fall in love with primers again.
Rare Beauty by Selena Gomez has only been around for 4 years but has already become a favorite among makeup artists, beauty influencers and beauty lovers. The Soft Pinch Liquid Blush and Positive Light Liquid Luminizer are viral sensations and I see them everywhere on my social media feeds. Rare Beauty also aims to make a social impact on destigmatizing mental health issues and adds a philanthropical side to a growing makeup brand. There are tons of great and noteworthy beauty products from the brand but I felt like the Illuminating Primer deserved its own post.
Primers have come a long way and are much easier to wear, often contain skincare ingredients and truly enhance the look of your foundation. Some are designed to help your makeup last longer and some help to blur imperfections, mattify the skin or give the skin a radiant glow. I've been testing this primer for a few months and can share my honest thoughts on it and whether or not it's worth trying.
Rare Beauty Illuminating Primer Review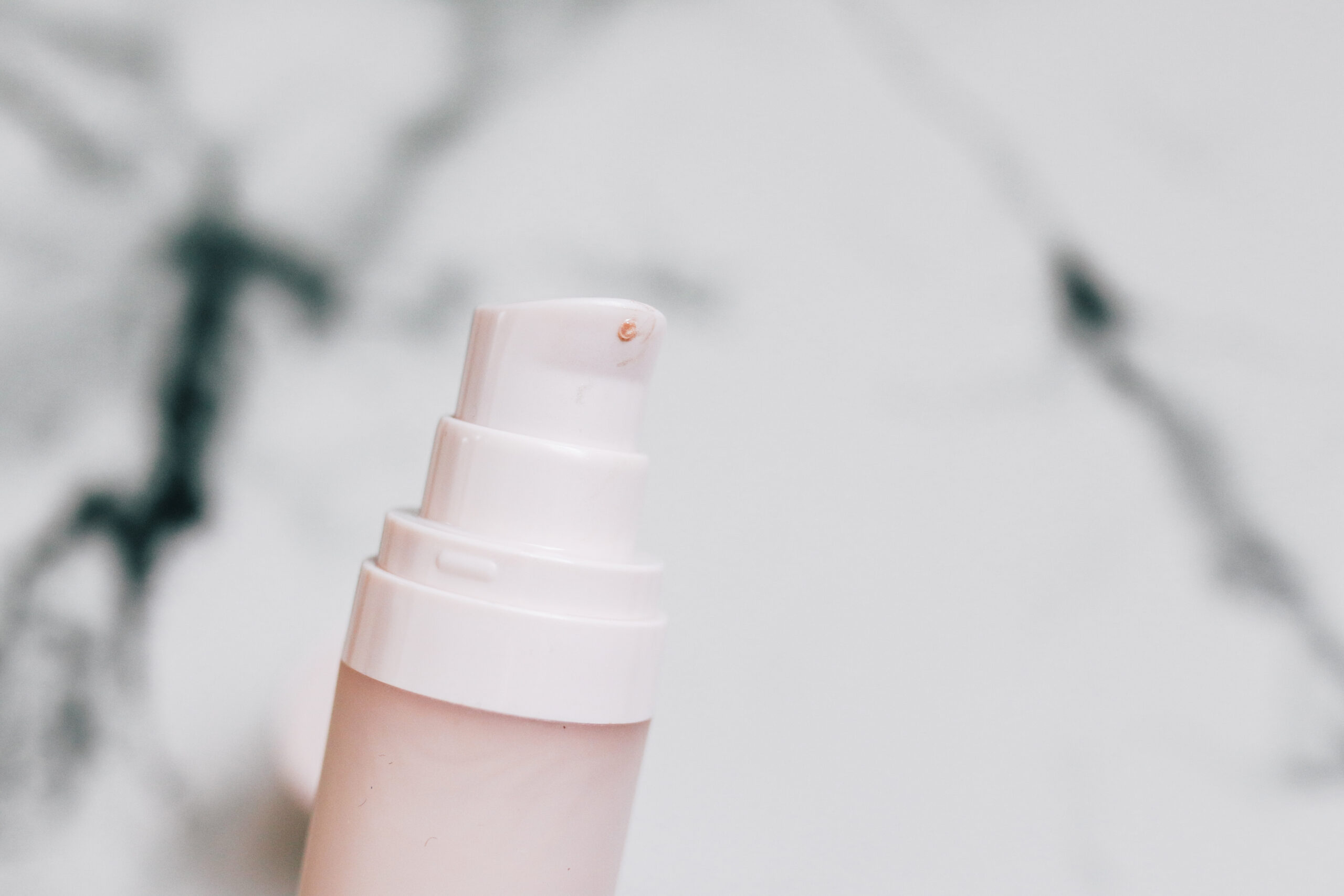 Once I hit my 40's (I am 43), I have noticed that my skin looks duller and has become much drier than it was before. I have started reaching for more radiant and illuminating foundations but wanted to try something that I could use before makeup to add an additional bit of moisture and radiance. And I had seen the Rare Beauty Illuminating Primer all over TikTok and decided to try it. I ordered the mini size (which I love that they offer) so I could test it before deciding to get the full size. The Illuminating Primer is designed to smooth, hydrate, illuminate and prep the skin before foundation. It's best for those that want that glowy, radiant look while the Rare Beauty Pore Diffusing Primer is formulated to smooth and blur the appearance of pores and keep your skin matte throughout the day.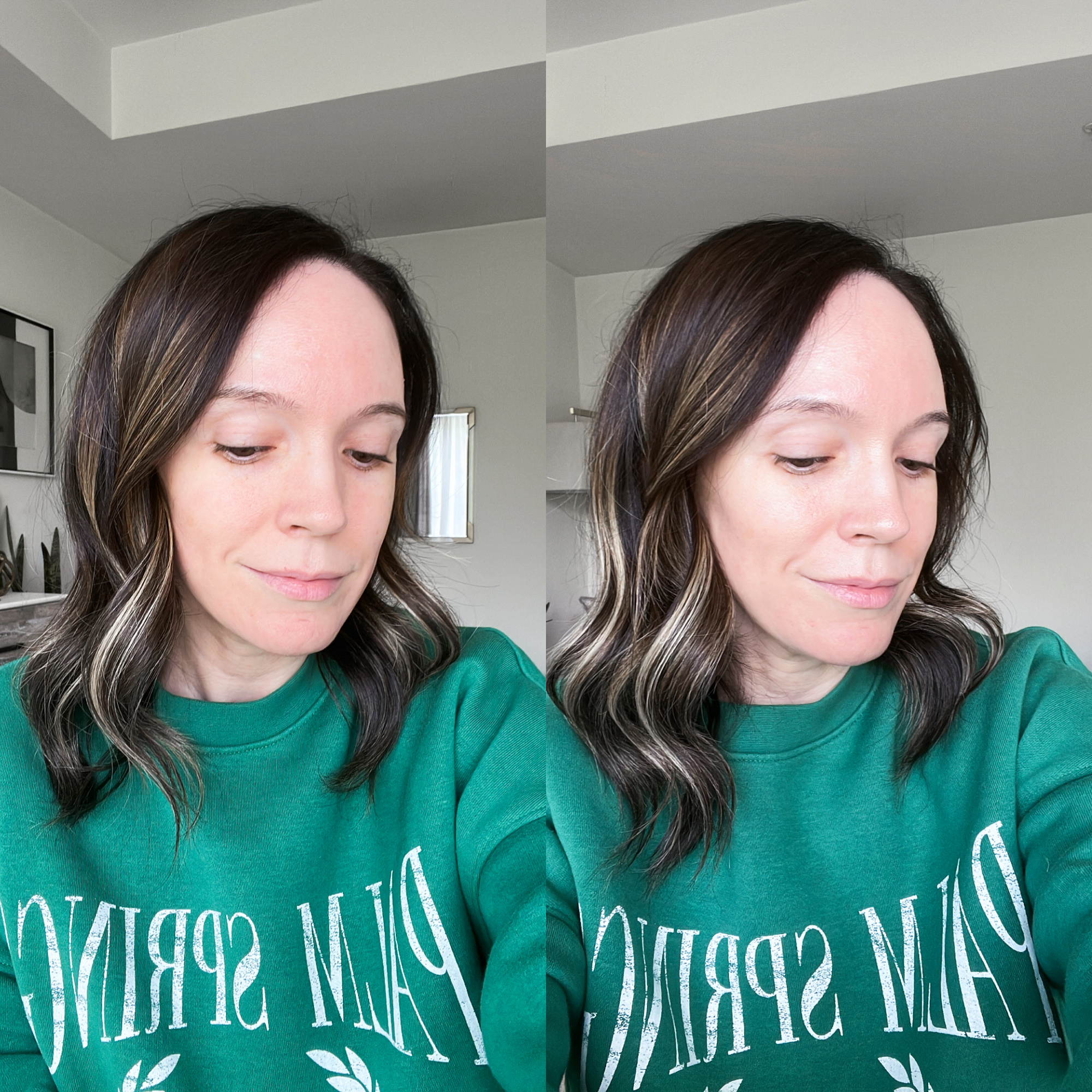 Left image is without the primer and right image is with the primer
As you can see from the above picture, my skin looks fine in the left photo but slightly dull and lackluster. In the right photo I am wearing the Rare Beauty Illuminating Primer and nothing else and you can see how radiant and fresh my skin looks. It doesn't add any coverage just a radiant healthy glow to the skin. A bit more about the Rare Beauty Illuminating Primer:
It is water-based and silicone free.
When you first apply the gel primer, you can feel how hydrating and cooling it is and it blends in easily. It doesn't leave a sticky or heavy feeling on the skin and feels just like skincare. My makeup does not pill over it nor does it break down my makeup throughout the day.
It has an easy pump dispenser.
One pump is all you need to cover the entire face so even this small mini size will last me a long time when I use it almost every day.
There is little to no scent/fragrance.
Fragrance doesn't bother me that much but for those that prefer a primer with little to no scent, this one is perfect. It doesn't have any defining scent or fragrance that will linger throughout the day.
Rare Beauty Illuminating Primer Swatches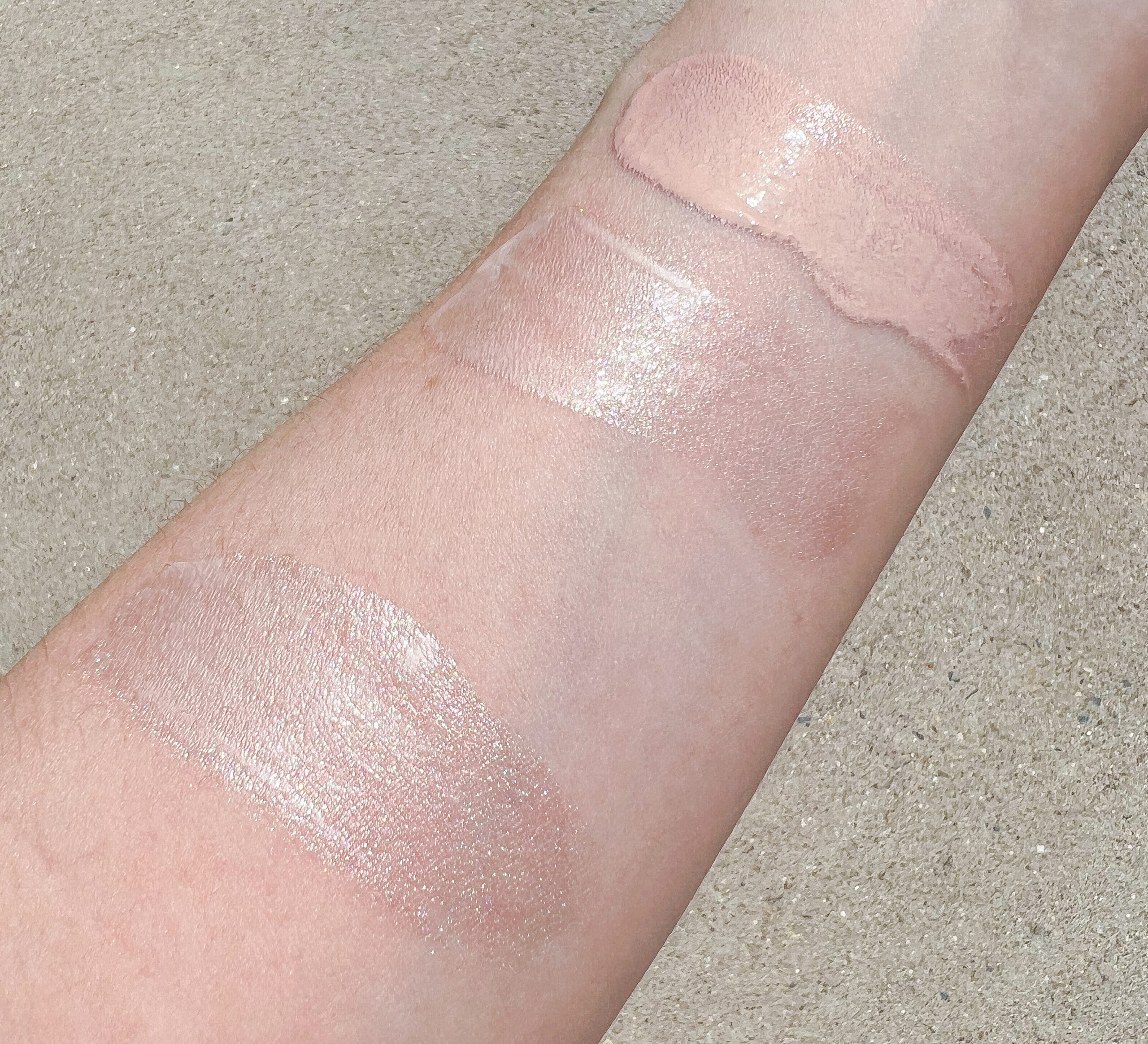 From left to right: Rare Beauty Illuminating Primer, Saie Beauty Glowy Super Gel in Starglow, RMS Beauty SuperNatural Broad Radiance SPF 30 in Light Aura
For comparison purposes, I swatched the Rare Beauty Illuminating Primer next to the Saie Beauty Glowy Super Gel in Starglow and the RMS Beauty SuperNatural Broad SPF 30 in Light Aura. The Saie Beauty Glowy Super Gel in Starglow is a bit thinner than the Rare Beauty and doesn't blur imperfections as much but the color/shine is quite similar. I prefer the Rare Beauty as a primer whereas I like the Saie Beauty as a highlighter. The RMS Beauty is a new launch and differs from the Rare Beauty because it has SPF, a slight tint and more coverage. I can wear the RMS Beauty alone without any foundation and it will cover imperfections and even out my skin tone. The Rare Beauty Illuminating Primer will help blur imperfections and give me a glow but not provide any coverage.
Is Rare Beauty Worth It?
While I haven't tried everything from the line, what I have tried so far I absolutely love! I definitely plan to repurchase the primer in the full size when I run out of the mini. It imparts a subtle lit-from-within glow to the skin and looks beautiful under foundation. It doesn't make me shiny or greasy throughout the day, nor does it break apart my foundation. I think the Illuminating Primer would be great for those with drier skin types but those with oily skin types may be better suited for the Rare Beauty Pore Diffusing Primer. I didn't notice that it made my foundation last longer but my skin stayed looking fresh and radiant all day. It didn't look dull, dehydrated or flat by the end of the day.
How to Use Rare Beauty Primer
One pump is all you need to cover the entire face.
I apply it with my fingers evenly all over clean moisturized skin and then use a damp sponge to blend it out.
I apply it after my sunscreen/SPF but before my foundation.
You can also mix it in with your foundation/skin tint to get an even more luminous finish.
Where to Buy Rare Beauty Products?
There are a few retailers that carry the Rare Beauty line – currently you can find the products at:
A few other products that I want to try from the brand are the Perfect Strokes Universal Volumizing Mascara, the Soft Radiance Setting Powder, Lip Souffle Matte Lip Creams, the Liquid Touch Weightless Foundation and the Liquid Touch Brightening Concealer!
Here are additional beauty reviews that are currently trending on my blog: my Nuface review and my Jones Road Beauty review.