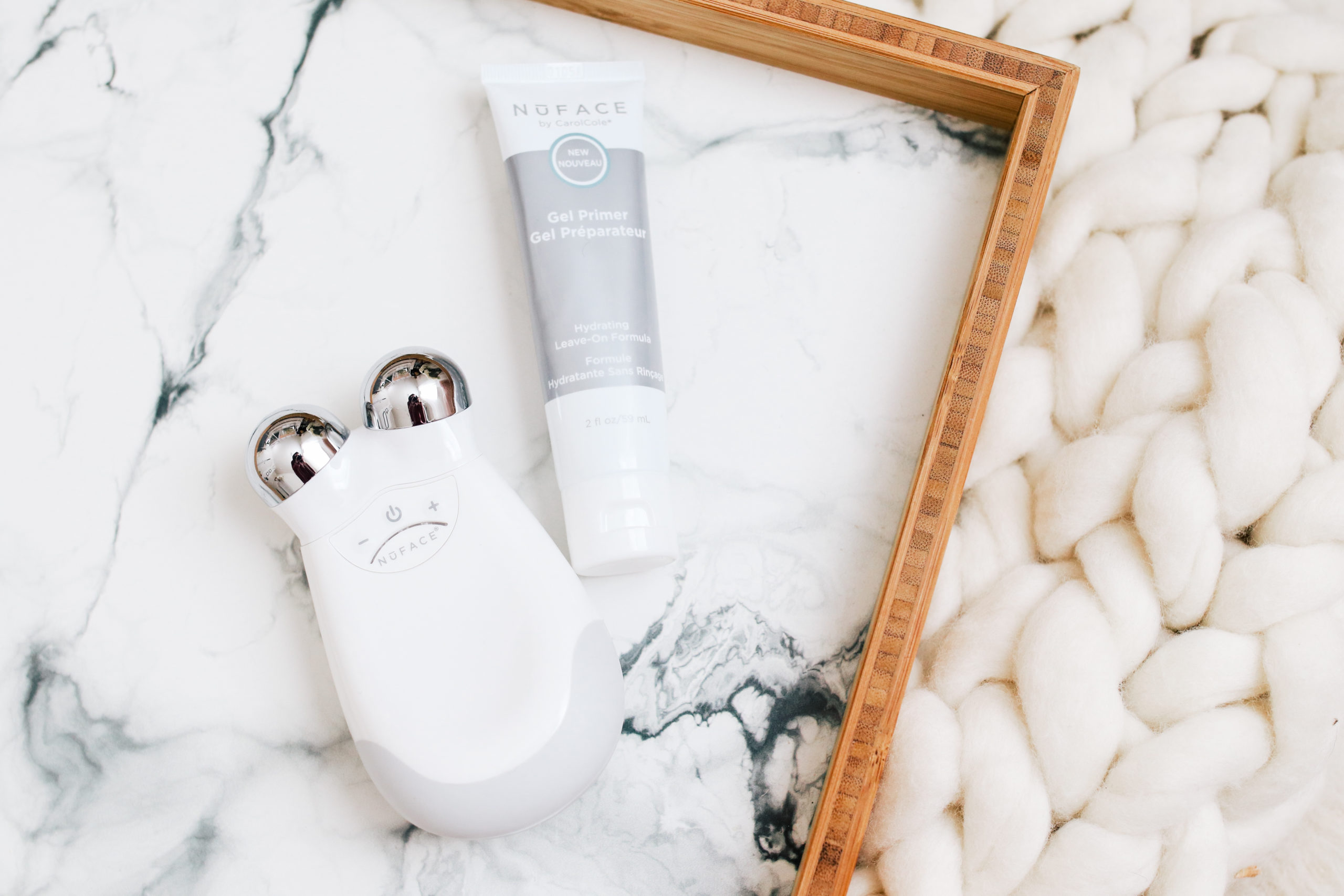 I have been testing out the NuFACE Trinity device over the past month and am so excited to share my review in today's post. While I love beauty and skincare, I don't have any devices that really wowed me until now. I like using my Gua Sha stone from time to time, but I have seen such fantastic results with the NuFACE that I find myself reaching for it more. As I have heard time and time again, this device really works IF you are willing to use it consistently. The results are hardly visible if you use it once in awhile, but really significant is you are committed to using it at least 5-6x/week.
I was a bit worried that it would be very time consuming which would discourage me from using but it's actually so easy and quick to use! I have the Trinity device but there is also a mini version that is a little less expensive. The NuFACE uses microcurrent to help firm, tone and sculpt the face. Microcurrent stimulates the face sending gentle waves down to the facial muscles and by energizing these muscles it gives the face a more lifted appearance.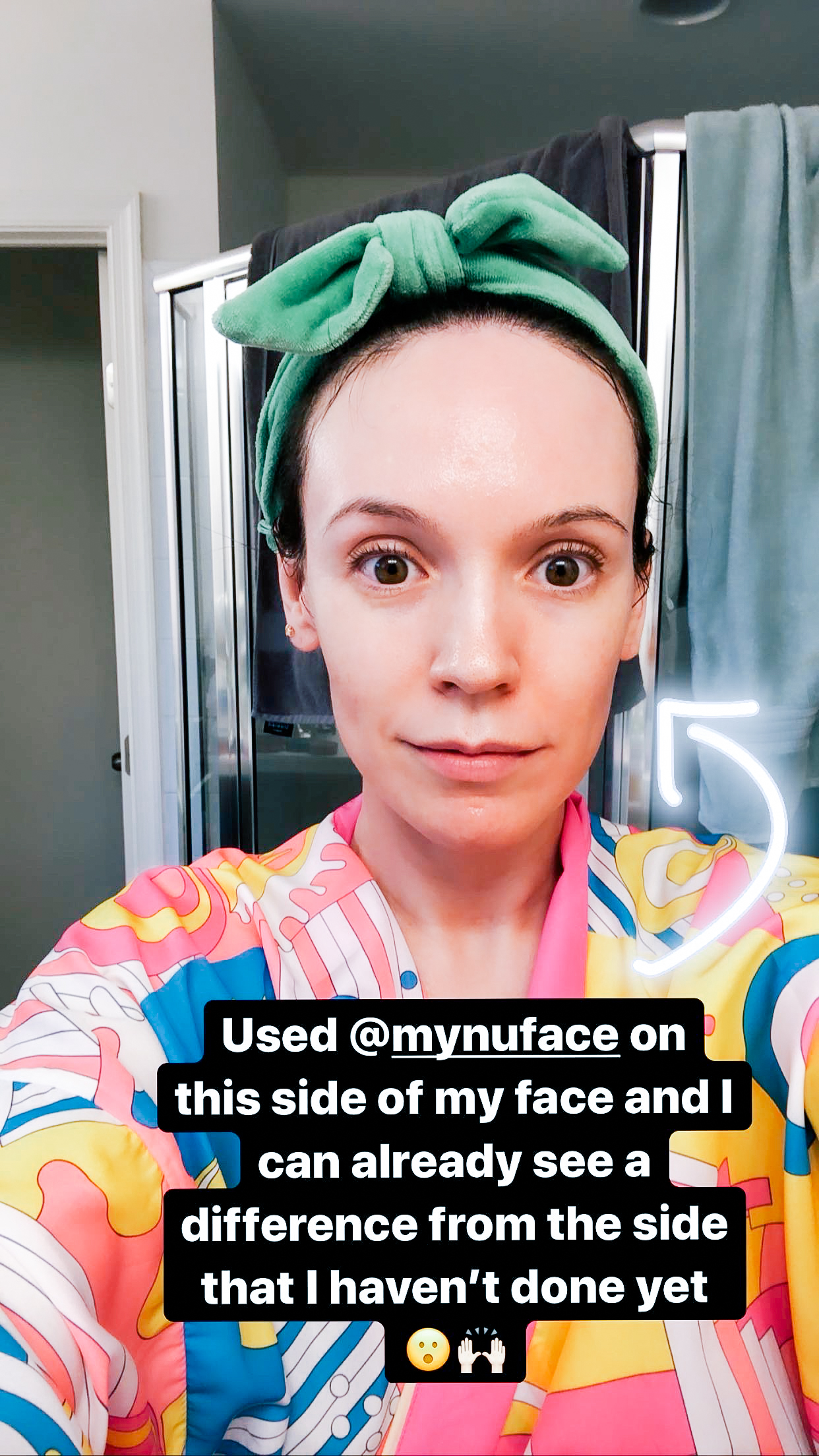 I wanted to give a before and after look so I took the above picture one night after using it on the right side of my face. You can see that side looks less puffy, more sculpted, lifted and slimmer. And the results will continue with regular use. Here are a few FAQs that you guys have sent me over the past few weeks which I thought I would answer in today's post:
1. Can you feel the microcurrent going through the skin? Does it hurt? I can't feel the microcurrent unless I go over a place on my face that doesn't have any primer on it. The primer helps to conduct the microcurrent so without it, you will feel a tiny shock/zap. It's not painful but it just reminds you to apply some primer on that area.
2. Where do you use it in your routine? I use it after I have cleansed and toned but before I apply any serums or moisturizers. You must use it on cleansed skin.
3. Do you have to use the primer gel with it? The short answer is yes. You must apply the primer in order to help the device conduct the microcurrent. I usually apply it on the area of the face that I'm working on. You can simply rub it in afterwards and continue with your skincare routine once you're done using the device, but I prefer to wipe it off. NuFACE obviously suggests their primer as the only product to use to help conduct the current, but a few of you that have the device have recommended this mask by Peter Thomas Roth as another option. I have not tried it yet but thought I would mention it.
4. How long before you began to see results? I saw results after the first time using it! It really helps to immediately lift the area and sculpt the face. It's amazing!
5. Is it easy to use? Yes, super easy to use! Once you turn it on, you can choose the intensity that you prefer and then begin using. It will beep when it's time to move to another part of the face.
6. How exactly do you use it on the face? What movements or motions do you do? To be honest, I really didn't know so I went on their Instagram to see if there were tutorials. HOLY COW! There are a million tutorials and educational videos on their social media channels and site. For me, I run it along my jawline, along my cheekbone and lift my brow with it. You want to always move it in an upwards and outwards motion to lift the face. I will use it in on my Instagram insta-stories and then save it to a highlight so you can reference it going forward. I would also encourage you to follow them on Instagram because they are always sharing tutorials!
I was really unsure if the NuFACE device would live up to the hype but I am a total believer now! It's definitely worth the splurge if you are going to commit to using regularly. There are also a ton of sales, promotions and bundles happening regularly so you can often find it discounted. The Nordstrom Anniversary Sale is coming up and the Trinity device is on sale (and there is also a bundle available) so it's the perfect time to splurge if you have been considering it.