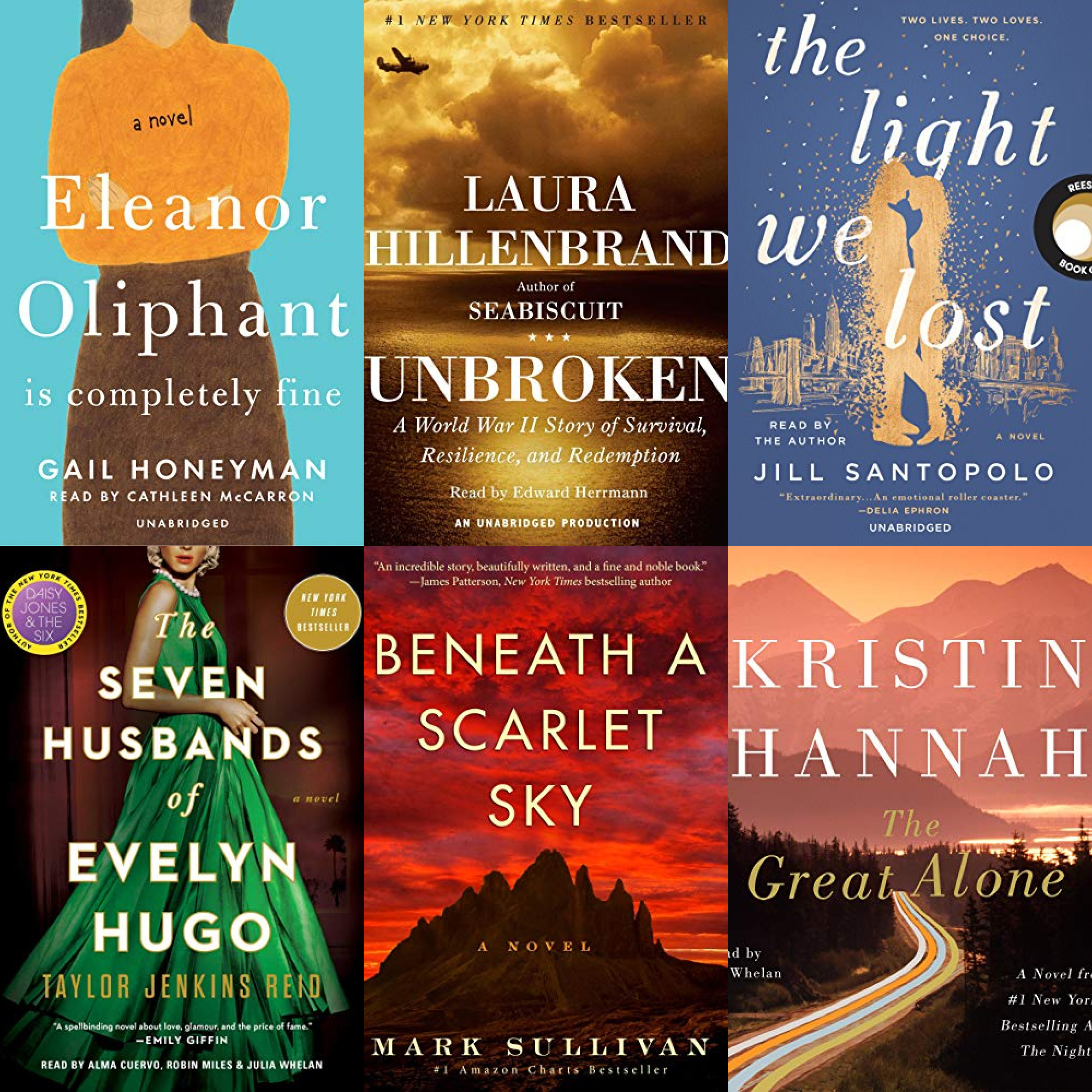 I'm not going to call this post "the best books I ever read" because I feel like that is always changing, BUT there are books that I wish I could read again for the first time. They moved me so much and I think about them all regularly.
10 Books I Wish I could Read Again for the First Time
After the brilliant masterpiece that was The Nightingale (read my review here), I knew I would love another one of Kristin Hannah's novels. And this did not disappoint. Leni and her parents move to Alaska for a fresh start, but instead it becomes one of the toughest decisions of their lives. Leni's father is a military vet with severe PTSD and wants to be as far away from society as possible. Alaska at first seems like a good idea, with the promise of living off the land and being part of a tight community, but the harsh weather and limited daylight makes it harder than they anticipated. Things begin to unravel quickly and this move to Alaska becomes a fight for survival. I cried, laughed, screamed and yelled during this book – it brought out so much emotion in me and I loved every page of it!
Another heart-wrenching story that is an emotional roller coaster to get through. Lucy and Gabe meet in college and seem destined to be together forever. Until Gabe is given the opportunity to take a job overseas and decisions must be made about the relationship. This story chronicles their unbreakable bond that lasts decades even though they may not always be together. The ending is a complete tear jerker and I was sobbing hysterically. I wished this could have gone on for another 50 chapters – I never wanted the book to end.
3 books in a row that all had such emotional stories that left me completely empty at the end of each one. I had cried, laughed, yelled and screamed through all 3 of these books, and this one was another winner for me. This is a unique story because though it is fiction, it is based on the true story of a young Italian man named Pino Lella that lead an extraordinary life during WWII. It's classified as a fiction novel because all of the characters in Pino's stories are no longer living and there is little information that can verify his stories. Whether real or fiction, the story is captivating and I was on the edge of my seat for the entire novel.
Quirky, funny and witty as heck! I loved this book. The character Eleanor Oliphant is a peculiar gal who lives alone and suffered a very traumatic childhood. She works a regular office job and lives a routine life. Until an office mate befriends her and pulls her out of her shell. I adore Eleanor's odd, dry and literal sense of humor and personality and this story really warmed my heart.
A WWII war story based on the true story of olympian Louis Zamperini and his fight and courage to get through some life altering experiences. After he enlists in the military, he and his flight crew are shot down by an enemy plane and they must survive on a life raft for weeks only to be captured and sent to a POW camp for years after. This book is hard to read and I had to stop many times simply because the things he had to endure were unimaginable. But Louis' spirit will teach you the power of a strong mind and unwavering faith. Though it was tough to listen to at points, I loved every chapter of this book.
Evelyn Hugo is a huge movie star that has lead a glamorous life, yet is most known for her provocative love life. Now in her 80's she decides to tell her life story to a young writer and wants to share every single detail. But the details will shock people and show a very different picture of what her life was actually like. This book brought me to tears more times that I could count and at the end I could barely breathe I was crying so hard. There are so many poignant moments in this story that took my breath away. I found myself relistening (I listen to audiobooks) to certain passages over and over because the writer's words are so profound. I cannot recommend this book enough.
This was by far my favorite books of all time, but it's very hard to read. It's not a book that everyone will enjoy because it is quite dark and depressing at times, with very intense subject matter (physical abuse, sexual abuse, suicide etc). Even with all of the darkness, it was still a beautiful story. A story of friendship, love, life and the bonds that form and evolve over time.
It begins as a book about 4 guys living in NYC that have been friends since college and now are trying to navigate their way in life and their careers. One of the 4 friends, Jude St. Francis, emerges as the main focus of the book as his troubled childhood past is something that begins to affect all those around him. I don't want to say too much more so as not to give it away, but if you enjoy deep, thought provoking and intensely emotional books (either happy or sad), this is a must read.
I was on a roll with long novels with intense storylines because I read this and A Little Life back to back. This book is very long because it follows the entire life of the main character, Cyril Avery. He is born in Ireland to a teenage mother, given up for adoption to a couple that can only be described as odd and then struggles growing up as a gay youth, teen, and man. I LOVED Cyril and his personality is delightful – it makes the book! I laughed, I cried, I felt so much emotion in this book. It is a wonderful read!
This one seems like it will be a cheesy love story, but please do not let the storyline fool you. This book is fantastic! A quick synopsis – a 39 year old mom of a pre-teen falls in love with the lead singer of the world's biggest boy band. Yeah. That is the premise of the entire book – but this book is so well written and the story is much more intense than I was prepared for. Do NOT discount this as a cheesy romance novel – I guarantee it will surprise you. (And make you sob uncontrollably at the end)
My first book by Colleen Hoover but it will certainly not be my last. What a good book! Lily falls for dashing Rile Kincaid, a neurosurgery resident that she meets one night on a rooftop. Their love story seems picture perfect until she runs into her first love at dinner one evening when her and Rile are out together. Soon Lily and Rile's relationship begins to falter and Lily finds things out about Rile that break her heart. I was worried this story would end in a painful way, but I was so happy with the way things ended. Highly recommend!