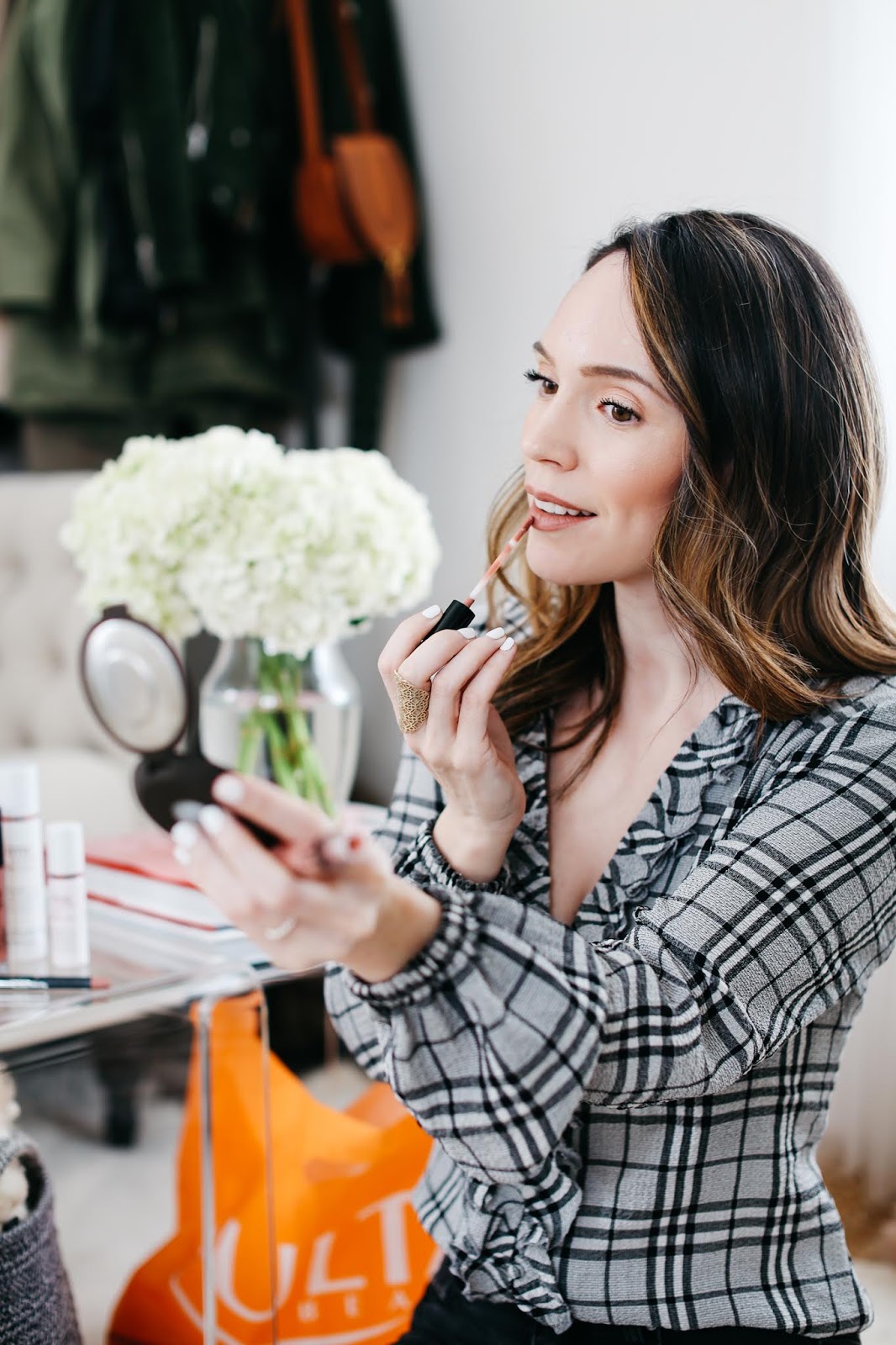 One of the questions I get asked the most when it comes to my makeup tutorials is "what makeup brushes do you use?". I have been working in the beauty business in some form for nearly 25 years! So I have amassed quite a few makeup brushes and use a variety of ones, but I always go back to these brushes from BK Beauty. I did a campaign with them last year and got to try them for the first time and was hooked! The quality is so good, there is a brush for everything I need and they perform better than most brushes I've tried. I have been exclusively using them since I tried them and thought I would break down exactly what brushes I use and for what purpose. They also generously gave me a discount code for all my readers to use with all their BK Beauty purchases! Use code: MAREE10 for 10% off!
Why Should You Use Makeup Brushes?
I started getting in to makeup in my late teens/early twenties but never saw the need to use makeup brushes…….until I tried the right ones. I invested in a brush set in my early twenties and visited a cosmetics counter (there was no YouTube back then LOL) and asked them to show me how to use them. Then I went home and practiced over and over until I finally began to feel comfortable using them and was shocked at how nicely my makeup went on. The blending was easier, my makeup lasted longer and overall I enjoyed not having to get my hands dirty.
Fast forward to today and I still use makeup brushes every single day to apply my makeup. And now with the availability of tons of makeup tutorials on our phones and computers, anyone can learn how to use makeup brushes easily and for their everyday looks. Applying makeup with the correct brushes will help you use less product, get a more blended and polished look and ultimately help make your makeup last much longer. If you take care of your brushes correctly, you should only need to invest in them once and they will last you for years and year.
Makeup Brushes for the Face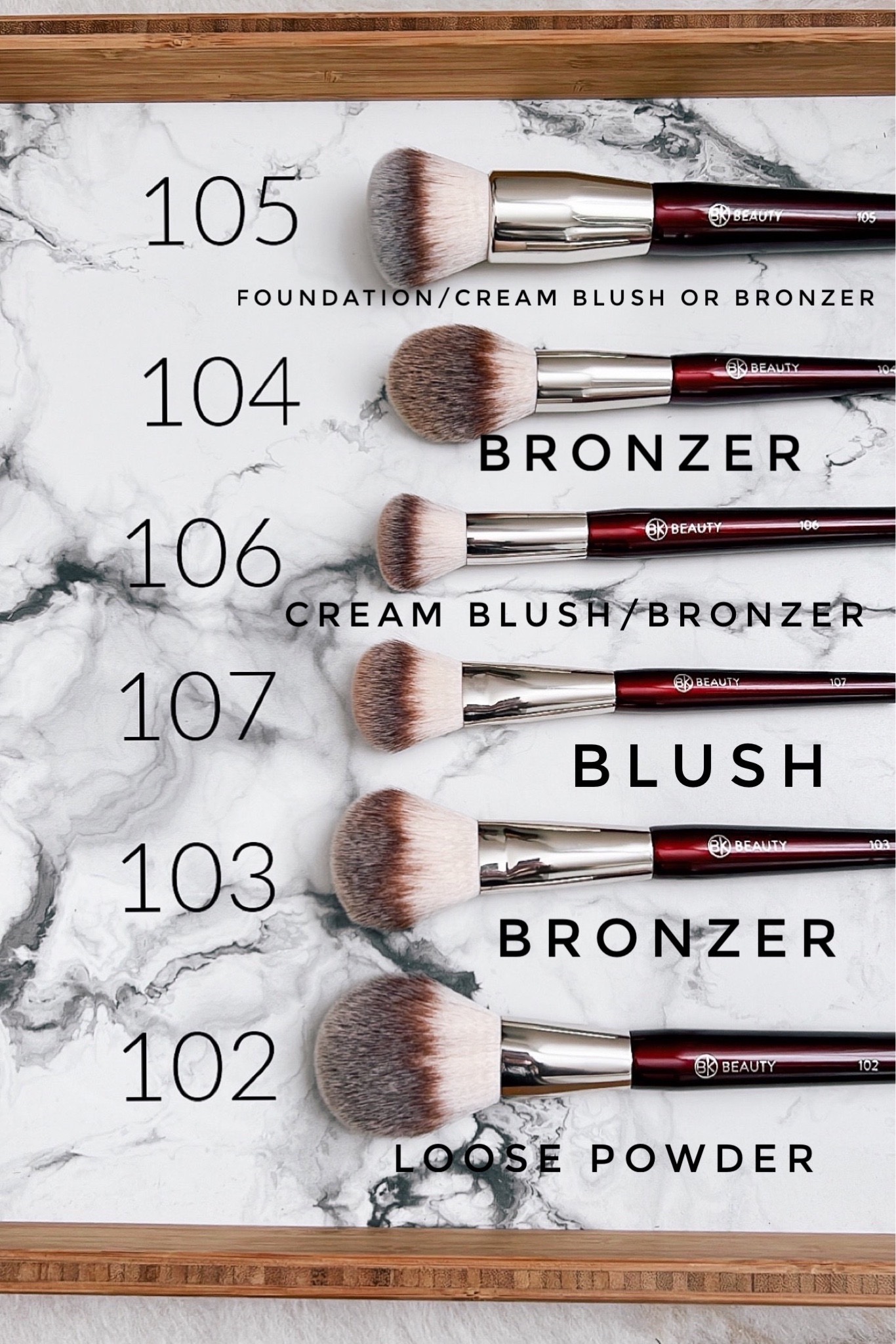 The brushes that I use for the face are often to apply loose powder, bronzer, cream blush, cream contour, powder blush, highlighter, etc. You don't necessarily need a different brush for every single product you have and many can be used for multiple products. Here are the brushes I currently have and how I use them:
This flat top buffing brush is great for applying product liberally on the face. If you want to buff in loose powder, powder foundation, liquid or cream foundation, this brush allows you to cover a larger part of the face quickly.
The tapered shape of this fluffy brush makes it perfect for applying bronzer (or any powder product) in a more specific manner. I personally use this for powder bronzer and find it distributes just enough on my cheeks and allows for a precise application.
This is probably my most used brush out of this entire bunch. It is designed for applying cream or liquid foundation and buffs product flawlessly into the skin. I prefer to use this to apply my cream bronzer and blush products. It's the perfect size to fit my cheek and blends the product effortlessly. I need to buy another one because I use this nearly every single day! I also want to try this Contoured Foundation brush too – it looks perfect for applying cream products.
After the 106 brush, this is the brush I use the second most frequently. It's great for applying blush – whether powder or cream. It's not as stiff as the 106 so it allows for a looser application of product and is also the brush I reach for when I need to blend out product that I have applied too heavily.
A large brush best for applying product all over the face such as bronzer or a glow powder. It's not as tapered as brush 104 so the application is more broad and not as precise. I personally like this for powder bronzer or a setting powder that I want to apply more heavily.
This is the brush I use for loose powder as it is very fluffy and allows a sheer application of product all over the face.
If you need a concealer brush, this one is a great option and large enough to really help blend out the product flawlessly.
Related: Best of Beauty 2022 – Makeup
Makeup Brushes for the Eyes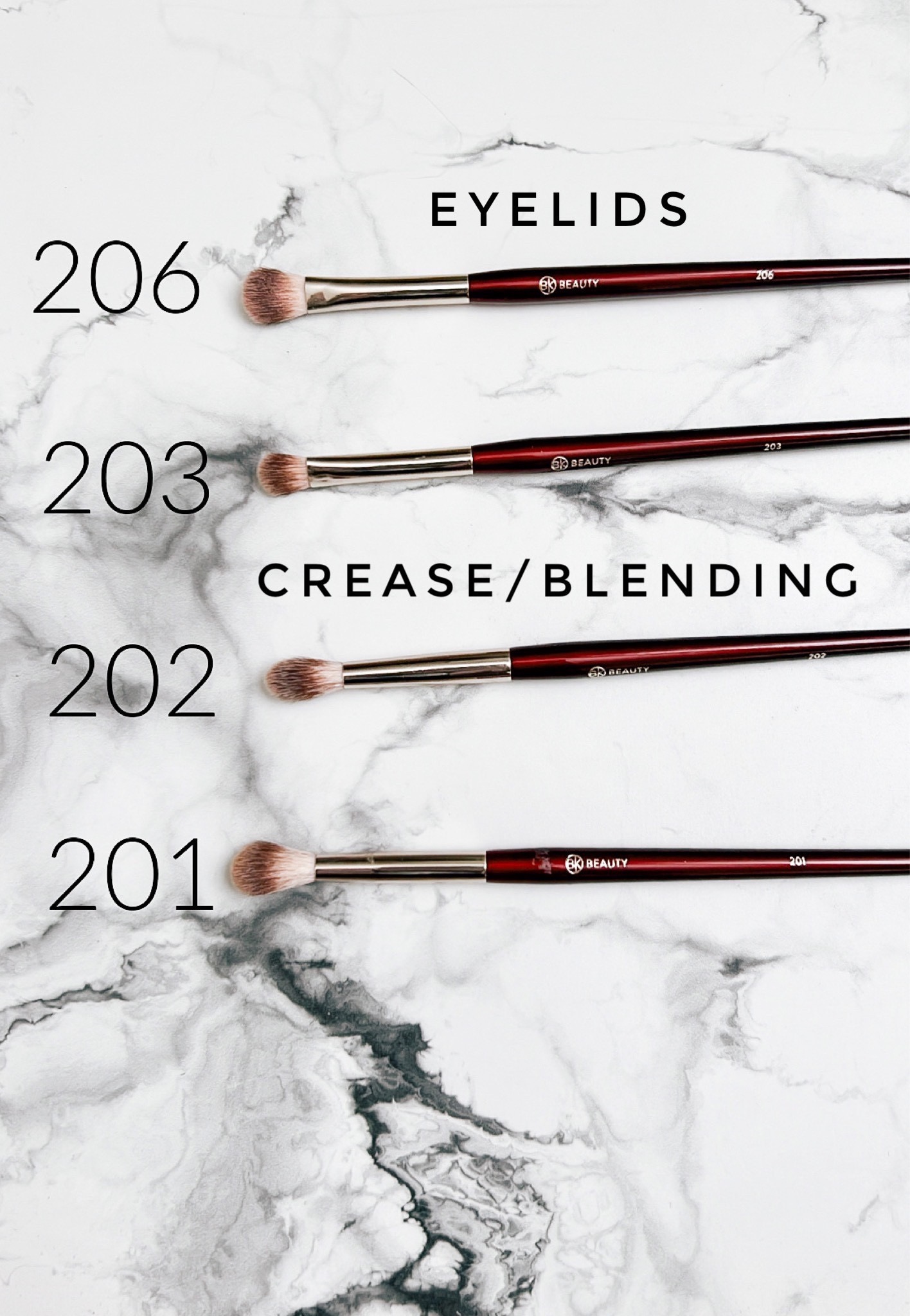 I use this brush to apply my eye shadow lid color. It has a flatter shape so it allows me to press the color perfectly onto the lid. The larger size makes it great for applying color quickly and covers most of the lid in one or two swipes.
I also use this brush to apply color to my lid but the smaller shape is great if I want to pack color on more intensely or smudge color on my lash line. I will use it on the outer corner to apply a dark color or even with a shimmer/glitter shade to evenly press it onto my lid to get better color payoff.
I use this brush to apply my eye shadow crease color. Since it is a bit more narrow at the top, it's great for applying the color precisely to the crease and beginning the blending process. I will then switch to brush 201 to finish the blending.
This is the perfect fluffly crease brush that everyone needs! It blends out color perfectly, picks up just enough product and diffuses it easily into the crease.
I don't wear eyeliner everyday but if you do, this angled brush is perfect for applying eyeliner to the lash line. And it could also double as a lip brush if you want to use it to blend out lip liner.
How to clean makeup brushes
Ideally, you should be cleaning your makeup brushes at least once a week. I try to stick to this schedule but sometimes I will go longer than that but I try to not go longer than two weeks. I love using this brush mat with this brush cleanser to really give my brushes a deep clean. After I swirl each brush in the brush cleanser, I then rub it into the cleansing mat gently while the water is running to break up all the product stuck in between the bristles. Once I rinse the brush fully, I will lay it flat to let it dry. There is also a brush cleanser spray that you can use on them right after and it dries very quickly in case you need to use the brush again during your makeup application.
I have a ton of makeup brushes but I've pretty much exclusively been using my BK Beauty brushes because I love them that much.  I thought I would round up all the ones that I use and where I use them in one blog post to reference back to.
There are also a ton of great brush sets available that contain every brush you need for a full face!