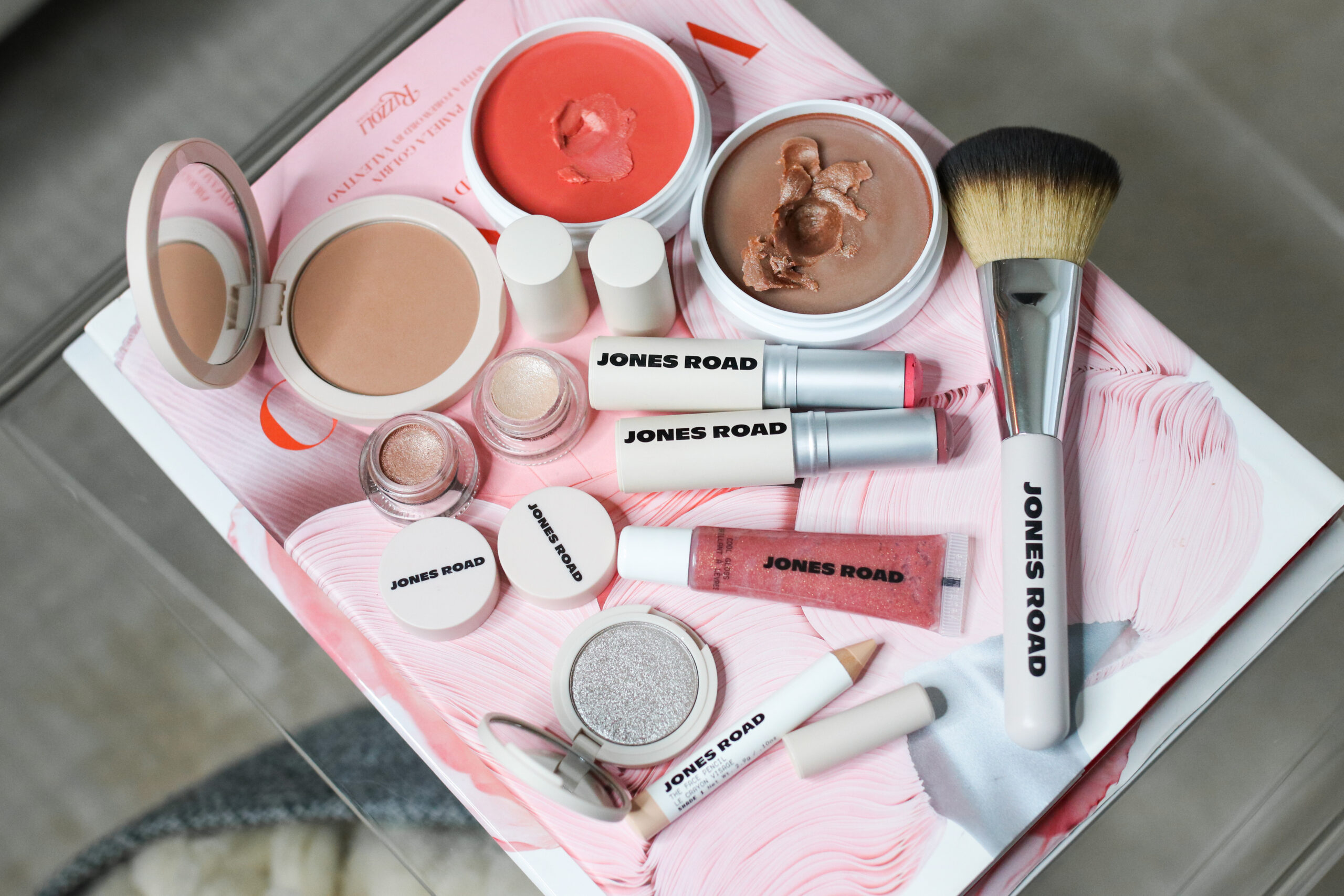 Jones Road Beauty is a relatively newer beauty brand founded by the one and only makeup artist Bobbi Brown. She is actually no longer affiliated with her namesake brand and launched this new line a few years ago. I've been really intrigued by the beauty products and finally have enough of them to give a thorough review.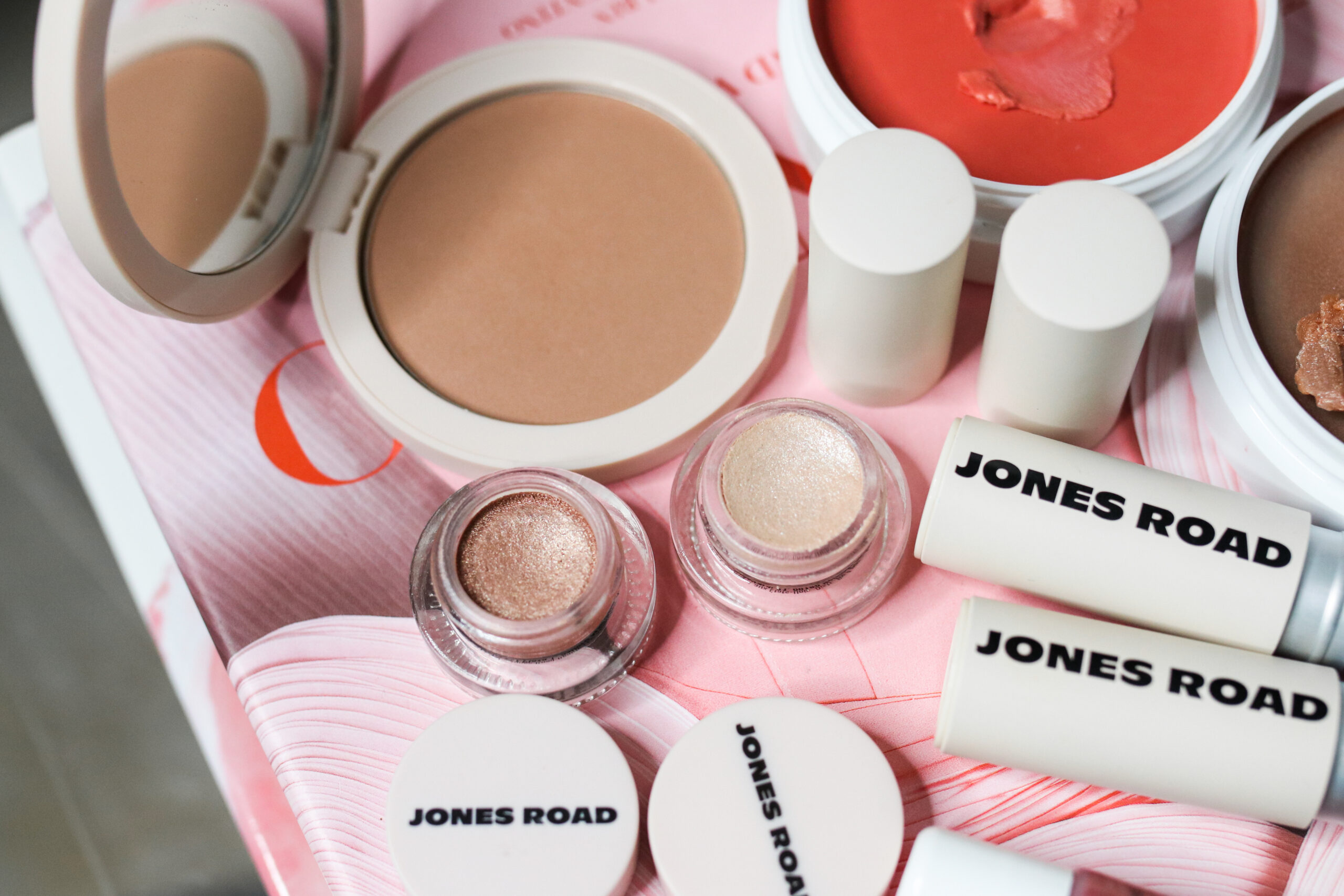 Jones Road Beauty Review
The Bronzer, Just a Sec Eyeshadows and The Bronzer Brush
The formula. The color. Everything about this is absolute perfection. It is so finely milled, blends beautifully and starts sheer but builds up nicely. A must have!
I find the best way to apply these are with my finger since they are cream formula. The Topaz shade is nicely pigmented and looks so elegant and chic on the lids. Refined shimmer that isn't too glittery. Linen is more sheer and I will pat it on to get a more opaque application but it still gives just a slight wash of color. I get no creasing from either shade and they last all day.
I have been reaching for this bronzer brush almost every single day even if I'm not using the JR bronzer. The shape is perfectly fluffy but still slightly angled to apply just the right amount.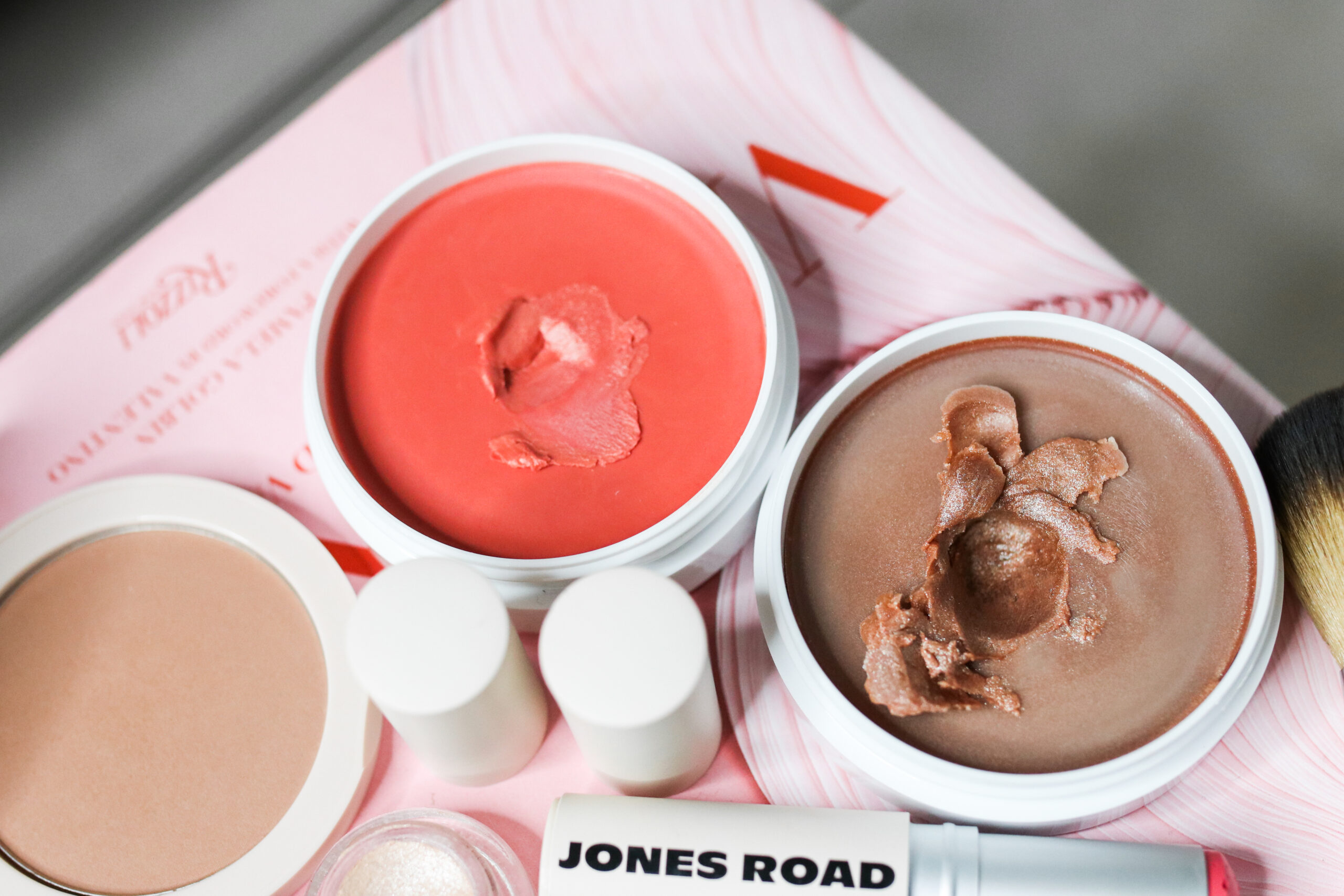 Miracle Balm
I wasn't completely sold on these when I initially tried Magic Hour. The texture is incredibly emollient and stays tacky on the cheeks all day. You are supposed to break the seal (just push your finger into the product) before using, rub a bit between your fingers and apply as your last step on the cheeks (can also be used on the lips). The Jones Road Beauty Miracle Balm in Magic Hour wasn't a favorite of mine but Miami Beach completely changed my mind. The color is GORGEOUS and gives the most beautiful natural flush to the cheeks. Due to the creamy nature of the product, I would definitely recommend this for more dry skin types.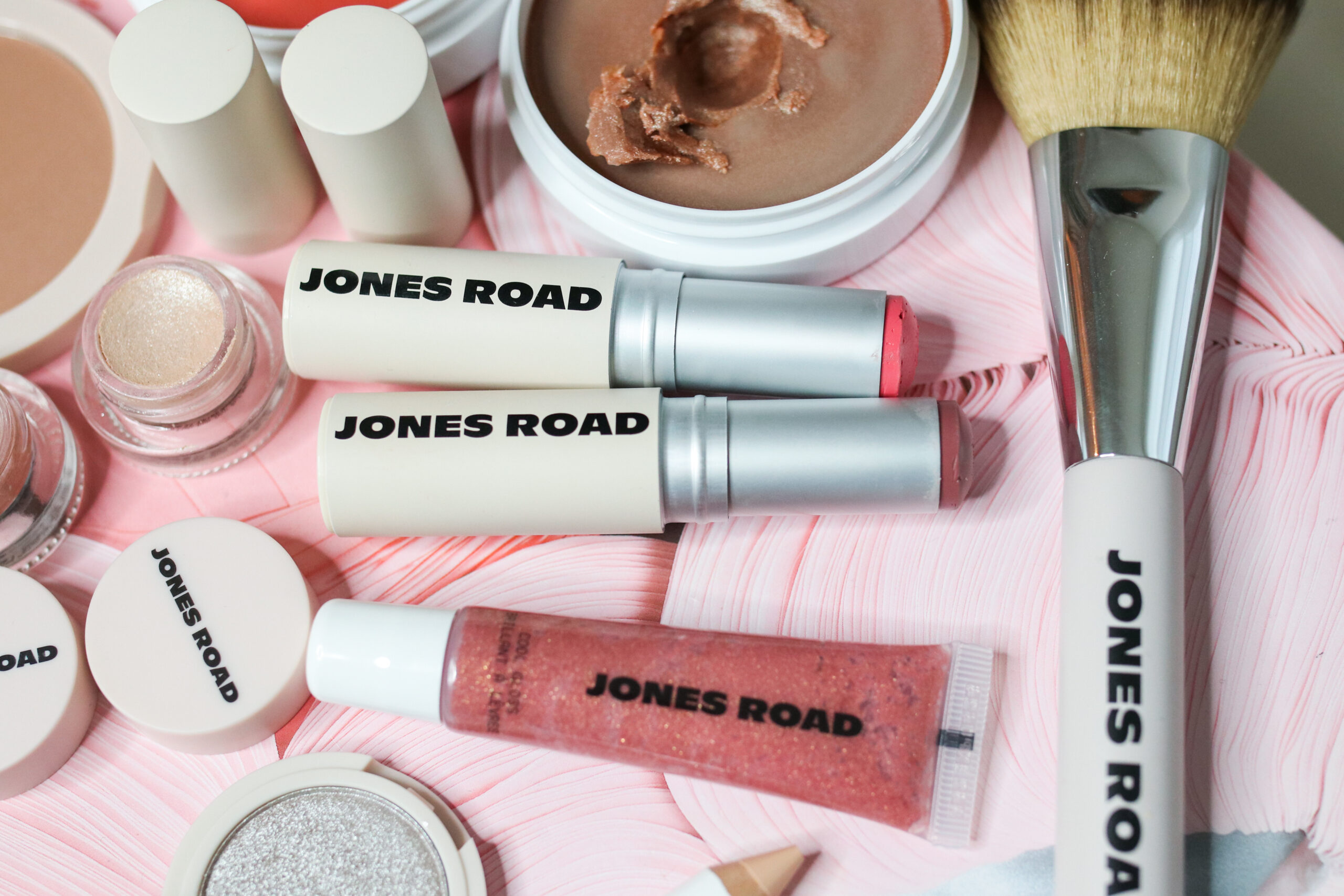 Lip & Cheek Sticks
Absolute perfection. I LOVE these cheek/lip sticks. I typically use them on my cheeks but in a pinch will through them onto the lips for a monochromatic makeup moment. The texture is more dry than the Miracle Balm yet still blends easily. Once they are blended in, they dry down and don't stay tacky on the cheeks.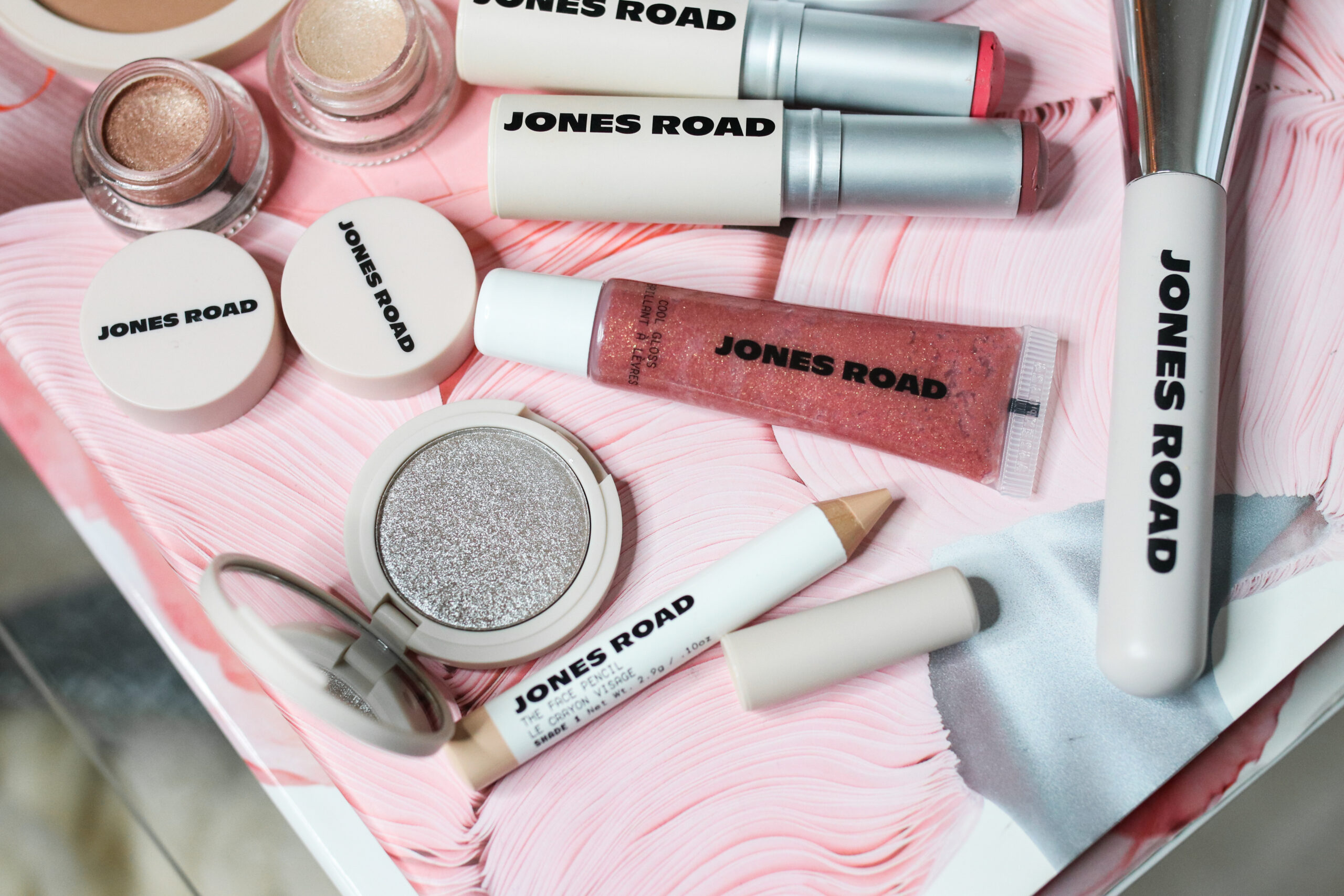 The Best Eyeshadow, the Face Pencil and Cool Gloss
Just looking at this I was a bit concerned for fallout since it looks so glittery but there was NONE! The texture of these powder shadows are so smooth and blend seamlessly. This particular color is ABSOLUTELY STUNNING!!!!! Super wearable even though it's very shimmery. This is a must have!
This face pencil is more for adding a bit of coverage under the eyes, around the nose or a small amount on the cheeks. It's not large enough to be used all over the face. The formula is a tad on the dry side so make sure your skin is well prepped and moisturized or else it could pull on dry patches. I like it best used under the eyes to help offset dark circles (apply over an eye cream) but I probably wouldn't reach for it on a daily basis since I prefer more of a full face makeup look with a true foundation or tinted moisturizer all over.
Tons of shine and gloss with this though not very sticky which is nice. It feels like a mix between a gloss and lip oil. The formula has a strong minty scent which I love but it doesn't make the lips feel tingly or uncomfortable. There is a ton of glitter in this particular shade and you can feel the particles on the lip. That doesn't bother me but I thought I would mention it for those that may be sensitive to it.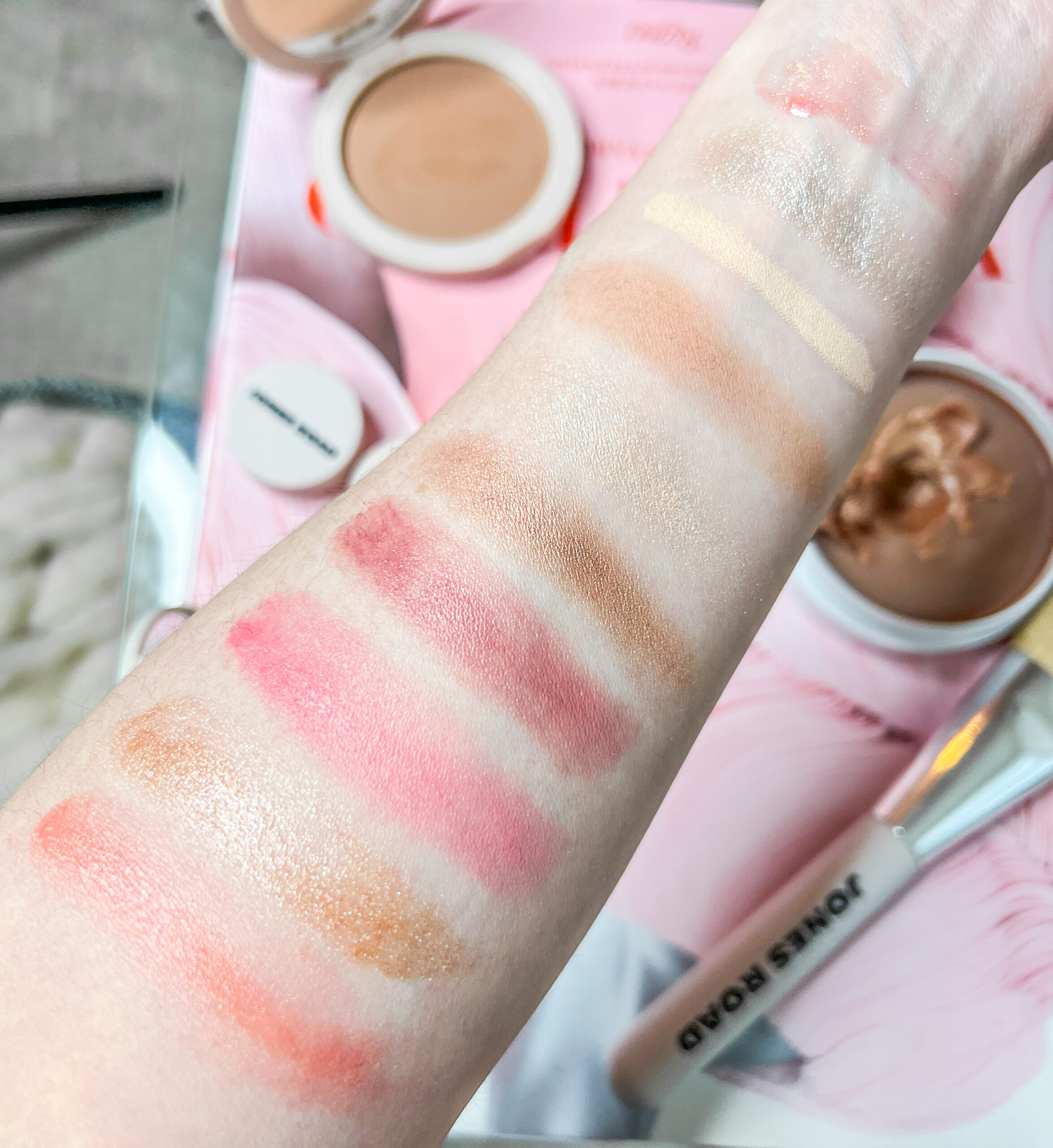 Swatches from left to right: Miracle Balm in Miami Beach, Miracle Balm in Magic Hour, Lip and Cheek Stick in Bright Pink, Lip and Cheek Stick in Mauve, Just a Sec Shadow in Topaz, Just a Sec Shadow in Linen, Bronzer in Light Tan, Face Pencil in 1, Eyeshadow in So Pretty, Cool Gloss in Pink Gold Shimmer
If I had to pick my absolute must have products from what I have tried so far, they would be: the Bronzer AND Bronzer brush, Just a sec cream eyeshadows, powder eyeshadows and lip & cheek sticks. Those are all products I plan to repurchase and absolutely LOVE! I've had many requests to review the Jones Road Beauty What the Foundation and I am still deciding if I will purchase and try. It's a tinted moisture balm that is supposed to give you the look of real skin while delivering tons of nourishing ingredients like Jojoba Oil and Sodium Hyaluronate.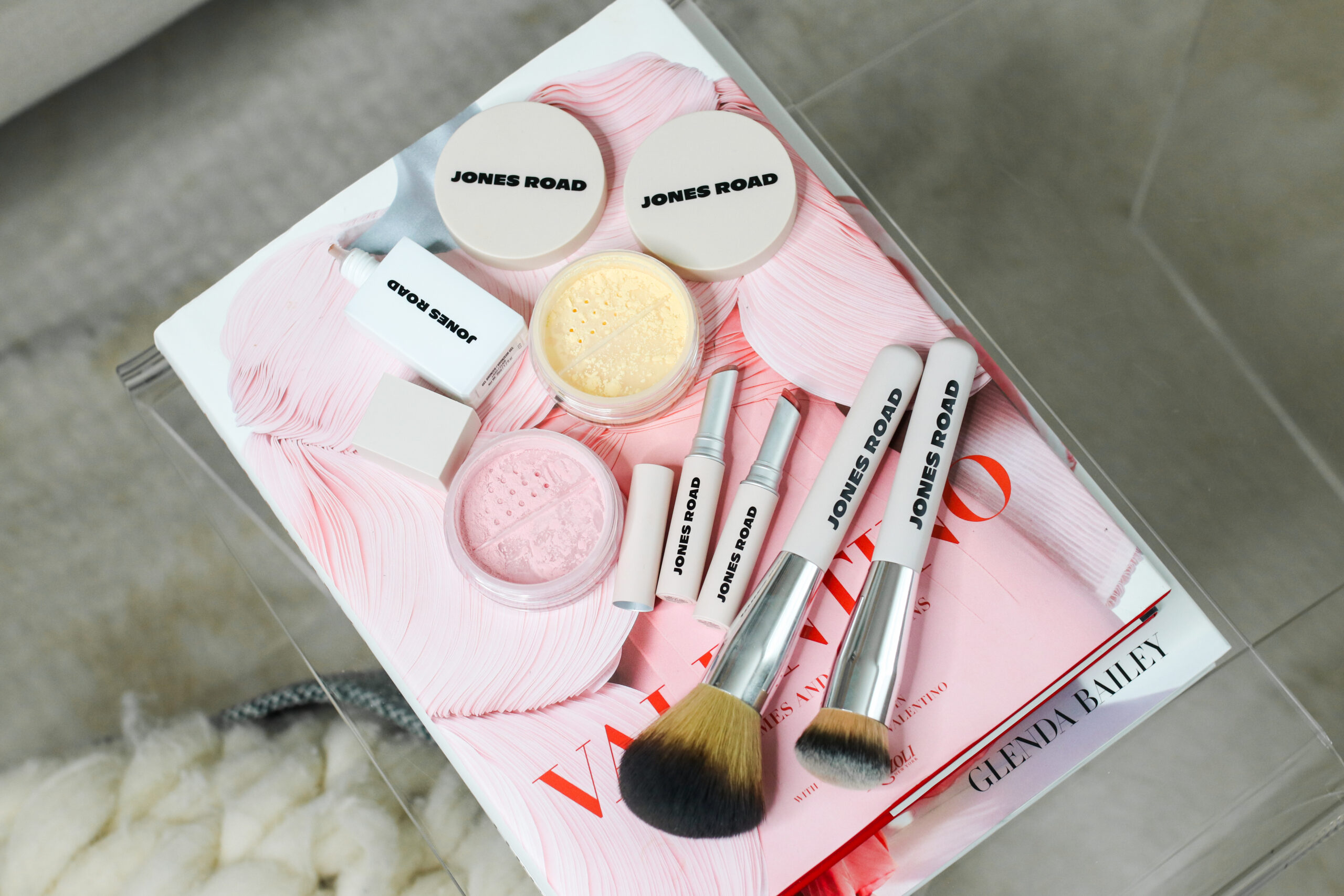 Jones Road Beauty New Launches
I thought that rather than doing a whole separate blog post, I would update this Jones Road Beauty post with all the new launches I've tested and my thoughts on each. I have been loving the brand and still use all my favorite Jones Road products regularly. The newest additions to the line are new shades in the Lip Tints, the Tinted Face Powders and the Gel Bronzers. There were also two brushes that they sent with the launches that I've tested as well.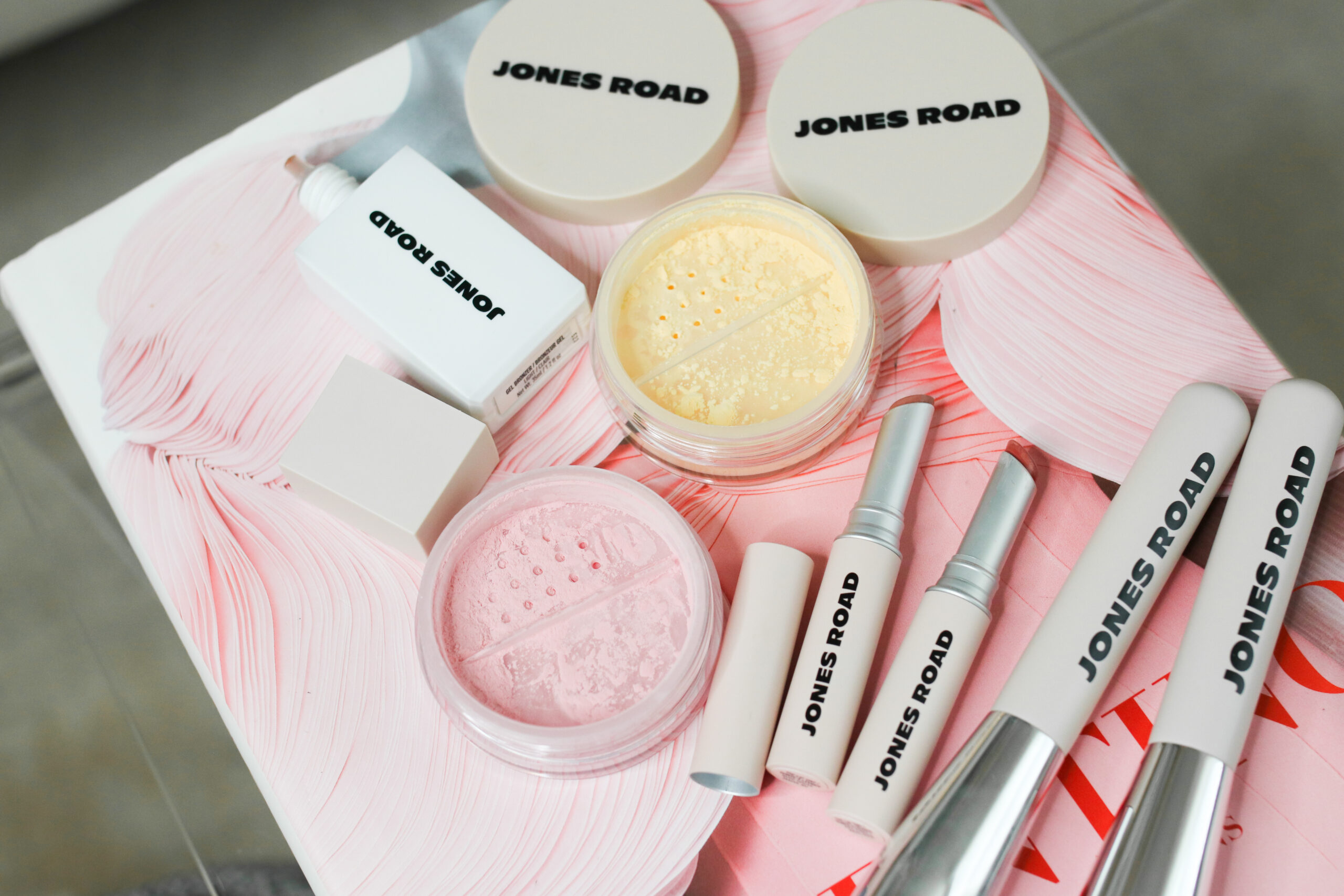 Lip Tints and Tinted Face Powder
These are the perfect mix between a balm and a lipstick. Slightly sheer and hydrating but with enough coverage to give a gorgeous payoff on the lips. One swipe will give a hint of color but you can build it up for a more rich pigmented look. They are easy to apply quickly on the go or add over a lip liner for a more polished look. I personally love Just Pinky for the perfect petal pink everyday lip, while Nude Mauve is more neutral and will tone down any red in the lip.
I chose the Pink and Yellow options to test and have been so impressed by this formula. The powder is very finely milled and disappears into the skin. It gives a soft matte finish that isn't too flat or dry looking. There is a translucent shade that would work on anyone, but various shades if you want something to complement your skin tone. The Pink Tinted Face Powder is so brightening and I have been using it under the eyes mostly. Occasionally I will dust it down my t-zone and it really brings my complexion to life helping to offset any dullness or sallowness. It looks so soft and delicate while not turning too pink as the day goes on.
The Yellow Tinted Face Powder is helpful at color correcting any redness on the face and is great to dust all over if I'm wearing little to no foundation and want something to help even out the complexion.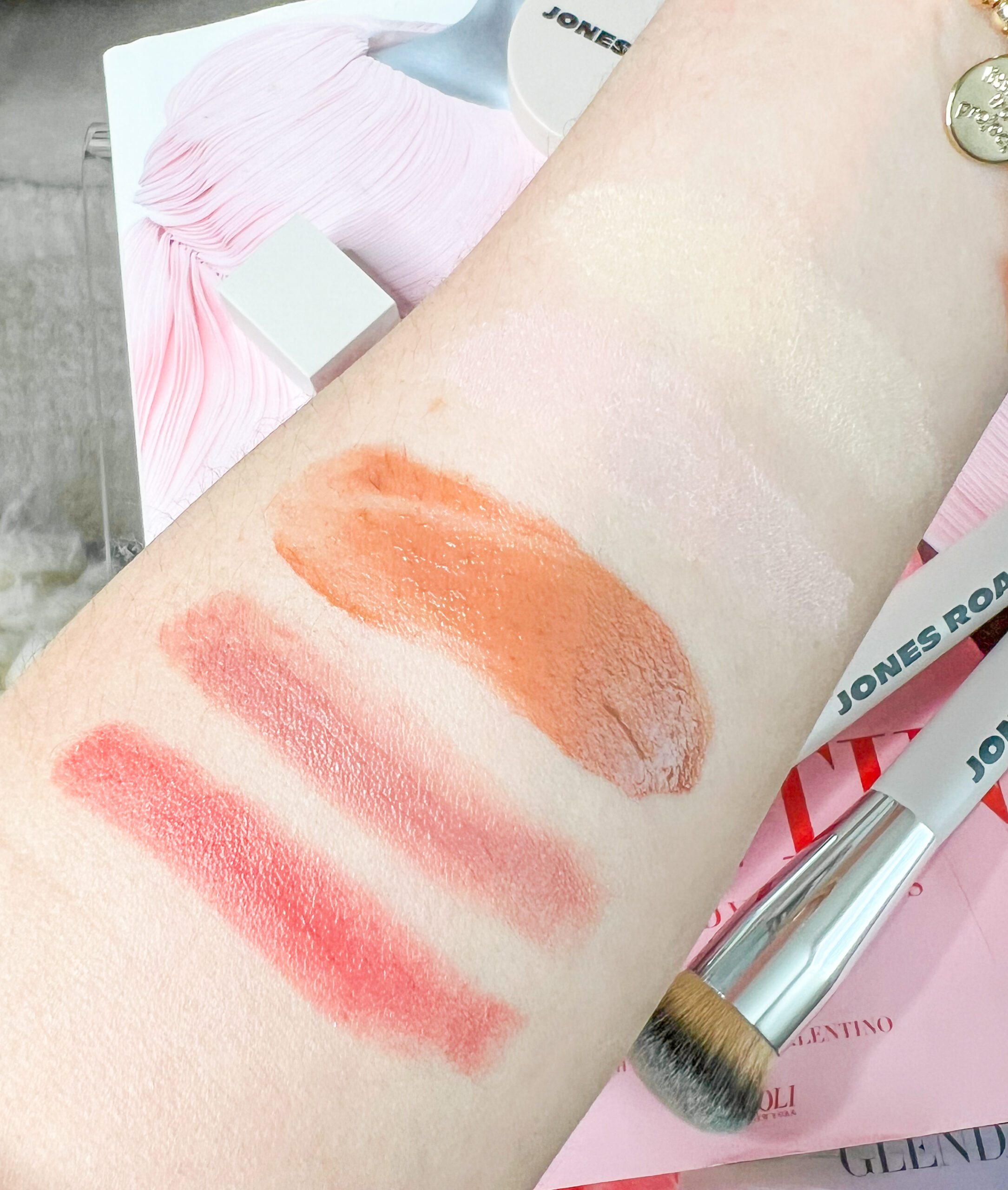 Swatches from left to right: Lip Tint in Just Pinky, Lip Tint in Nude Mauve, Gel Bronzer in 1, Tinted Face Powder in Pink and Tinted Face Powder in Yellow
Gel Bronzer, The Face Powder Brush and the Everything Brush
I was so excited to try this liquid bronzer but it took a bit of a learning curve for me to figure out how best to apply. The texture is very creamy but can pill easily. For me I found applying it with a damp sponge on the cheeks was the best technique. The added moisture of the sponge helped blend it beautifully and the finish was so pretty. Not completely glowy but more of a healthy satin finish. It wore even better as the day went on and after about 8 hours, my cheeks looked fresh and subtlely bronzed. I believe you can mix it into your foundation or apply all over, but for me I like it only on the cheeks.
I will also mention that the color looked really muddy at first and I was a bit hesitant to continue using. However after it set, it looks stunning and is the perfect shade of golden! I'm glad I kept at it with this product because I ended up LOVING it!
The Jones Road Beauty Brushes are some of the best I've ever tried. Soft, delicate and blend like a dream. This loose powder brush evenly disperses powder all over the face and picks up just enough product.
This brush is perfect for cream blush and bronzer. It's compact and flat and buffs in the product evenly and smoothly.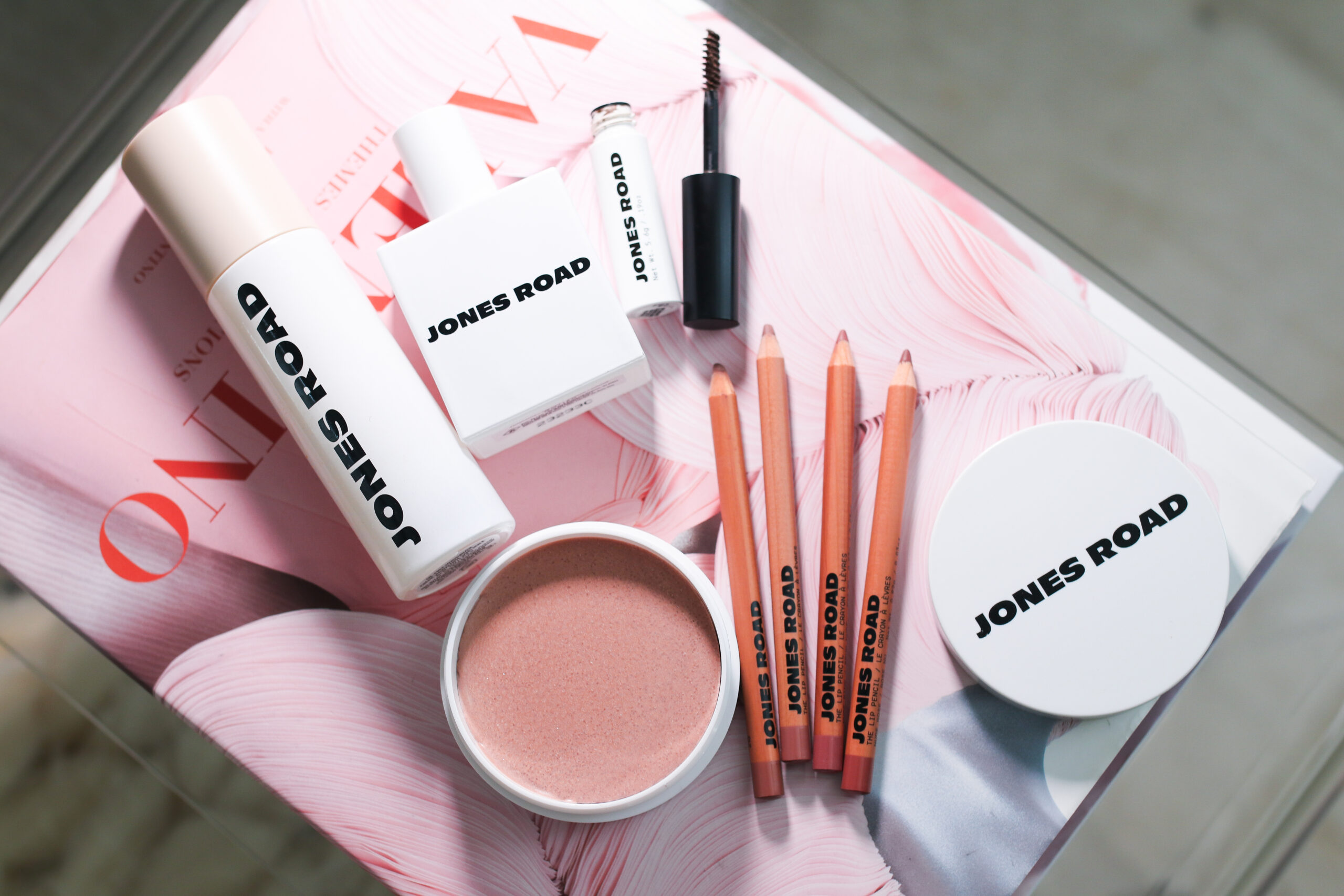 Oil-Free Moisturizer, The Brow Gel and Shower Fragrance
Though I typically love a rich creamy moisturizer, I have been enjoying this lightweight gel cream. It's fragrance-free and water based so I immediately feel a burst of moisture when I apply it. It's not sticky and absorbs instantly. For those that live in a hot climate, I think you will absolutely LOVE this. And it's a great price point at under $40.
I am not a brow gel fan and rarely if ever wear them. However I wanted to give this a try because I have been loving all the Jones Road Beauty launches. And now I am hooked! The texture is a bit thick so I have to wipe off the excess from the brush before I apply but the color is absolute perfection. I have the shade Light Brunette and it tints my brows just enough without leaving them too stiff.
This fragrance is named perfectly. It's cleans and subtle and smells exactly like a fresh shower! It's not super long wearing so you may have to reapply but for those that want something very understated in terms of a daily scent, this is a great option. There are notes of orange blossom, neroli and sea spray which make it great for wearing year round.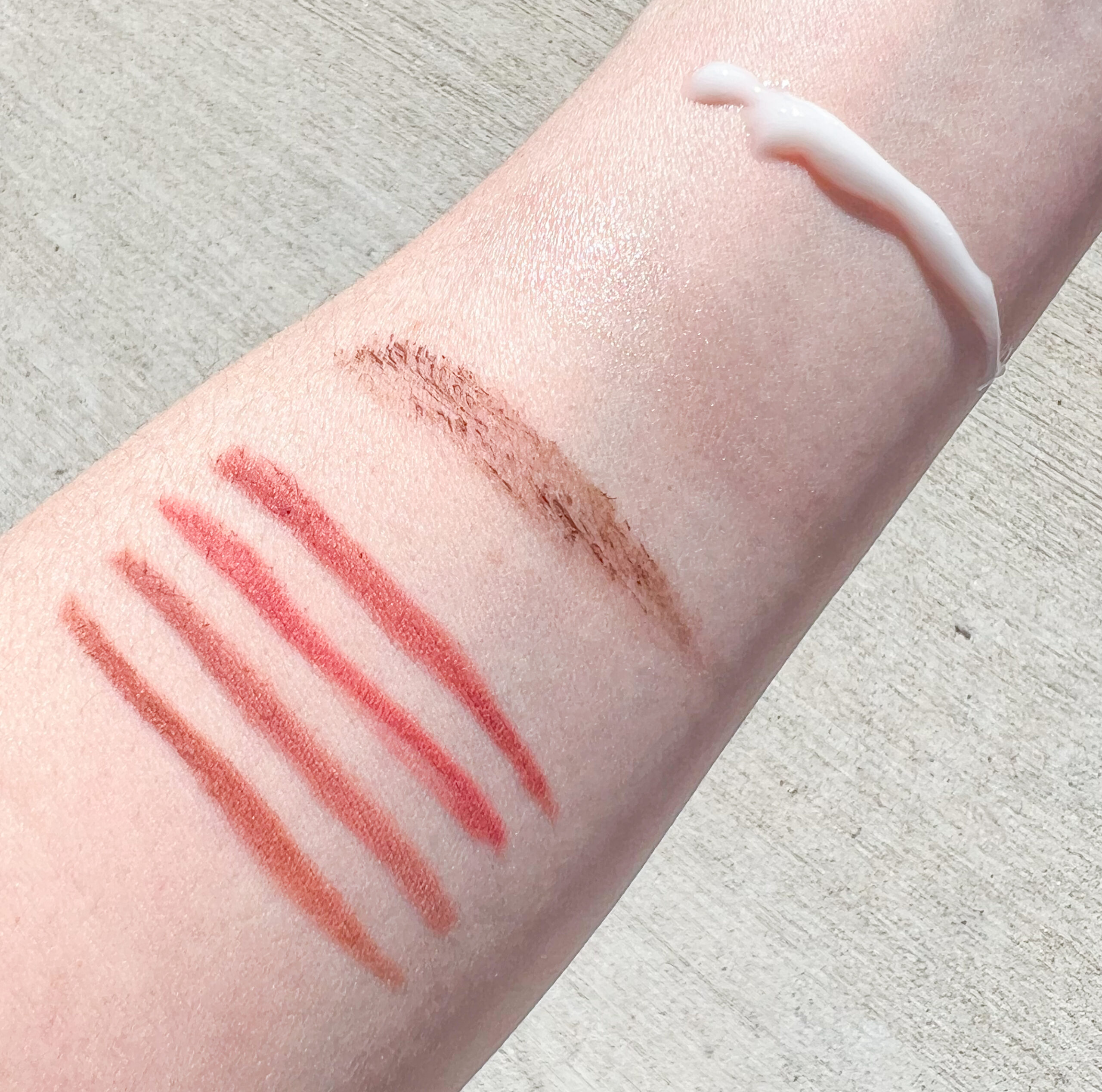 Swatches from left to right: Lip Liner in Nudist, Mauve, Nude Pink and Nude Rose, The Brow Gel in Light Brunette, Miracle Balm in Happy Hour and Oil-Free Moisturizer
The Lip Pencil and Miracle Balm in Happy Hour
To be honest, these are the only lip pencils I have been using since they arrived. I LOVE all the shades. They are stiff but still creamy and are quite long wearing. The two shades I have been wearing the most are Nudist and Mauve though I honestly love them all. These are a MUST TRY!
I'm still on the fence about the Miracle Balm. It has not become a favorite for me yet but I use the shade Miami Beach from time to time because I love the way it looks on the skin. Happy Hour is a cool-toned sheer pink with silver sparkle that is best used as a topper on the cheeks. It's not going to add too much color but more of a glowy glimmer to the cheeks.
Is Jones Road Cruelty-Free?
There is a helpful FAQ page on the Jones Road Beauty site that answers all of these questions! They are in fact cruelty-free and many of their products are vegan. The FAQs also answer questions about clean beauty, expiration dates, where the products are made, recyclable materials and do the products contain gluten.
Have you tried anything from Jones Road yet? What are your favorites?