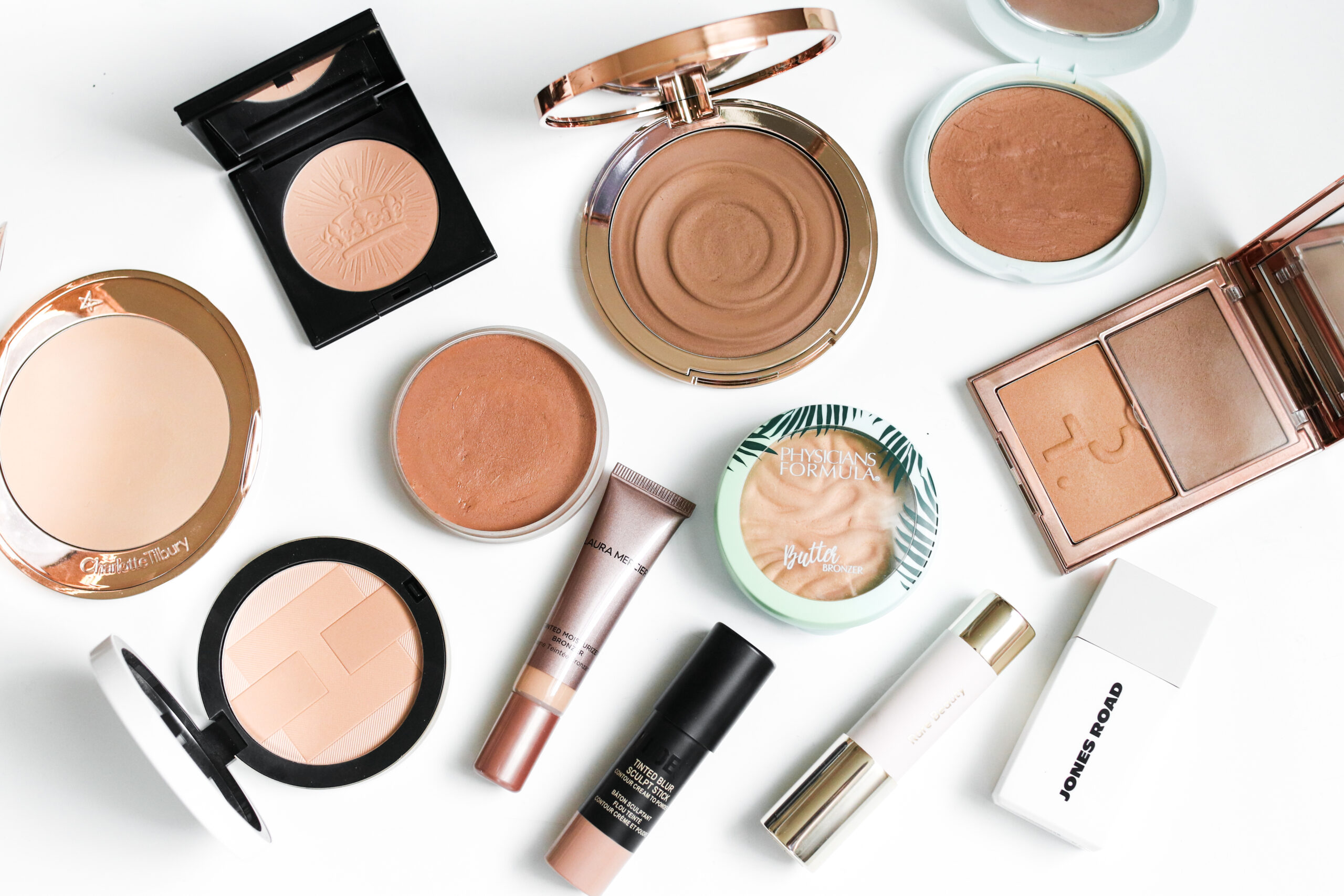 I never used to be a bronzer fan back in the day because they always seemed to be too dark/too muddy/too orange for my super pale skin. Fast forward many years and I have quite the collection now! LOL Formulas are so much better now, colors are more flattering and golden and there are a ton of shades that work for my skin tone. I went ahead and broke down all of my current bronzers with reviews of each.
Fair Skin Approved Bronzers
CREAM BRONZERS
I used to only be a powder bronzer fan, but as I have gotten older my skin has become drier so I have been buying more cream bronzer formulas. And to be honest, I find them to be much better for me than powder bronzers. I still have, use and love powder bronzers but cream bronzers were forever be my top pick as I age.
Absolutely flawless. This cream bronzer is so smooth, creamy and easy to blend. Start off with just a small amount because you can always build up in you need to. While the Tarte cream bronzer was always my holy grail, I think this Charlotte Tilbury bronzer may have knocked it out of the top spot. It looks quite dark in the pan but don't be scared because it is so sheer and beautiful and easy to work with. Also, this shade is slightly more cool toned for me and doesn't oxidize.
I have really enjoyed this and find it blends easily. The formula is a drier formula which I prefer so while it is emollient, it dries down nicely and doesn't get greasy. It is not AS smooth as the Charlotte Tilbury formula and much more warm in tone but I still use it regularly and love it.
For those that want both a powder and cream formula, this is a great option. The top one is cream and the bottom is powder. However I rarely use them together which I guess sort of defeats the purpose. LOL Many people use the cream first and set it with the powder. Though I recently saw a TikTok where Patrick Ta himself used the powder first and then dabbed on the cream formula with a sponge and I think I may try that. The cream formula is nice and really cool toned with a slight gray undertone which I absolutely love. The powder bronzer is much warmer so blending the two together is a nice combo. While I do enjoy this and use it regularly, I don't think it would be a repurchase for me.
This was one of the first cream cheek products that I used that made me start to think that I could move away from powder cheek products finally. My skin used to be quite oily (now it is more normal to dry) and this cream bronzer always worked beautifully on my combination skin. It's a drier formula so it doesn't stay tacky on the skin or get greasy, though still blends effortlessly. This was always my holy grail cream bronzer but to be honest, the Charlotte Tilbury has recently edged out in first place for me. But this still remains one of the bronzers I reach for regularly and I would repurchase.
If you struggle with cream bronzer placement on the cheeks, a stick may be a better option for you. It's easy to place it exactly where you want on your cheeks or cheekbones. This formula is SUPER creamy and blendable. It looks a tad intense when you first stripe it on, but it quickly blends out and is quite sheer. This particular color is VERY orange so I would not repurchase this color but I definitely would repurchase the formula in a different shade.
This is technically a sculpting stick more used for contour but frankly, I use it as a bronzing stick because it all seems to do the same thing in my mind. LOL This is a great option for beginners because it is SO easy to blend and is quite sheer but builds up if needed.
Cream Bronzer Swatches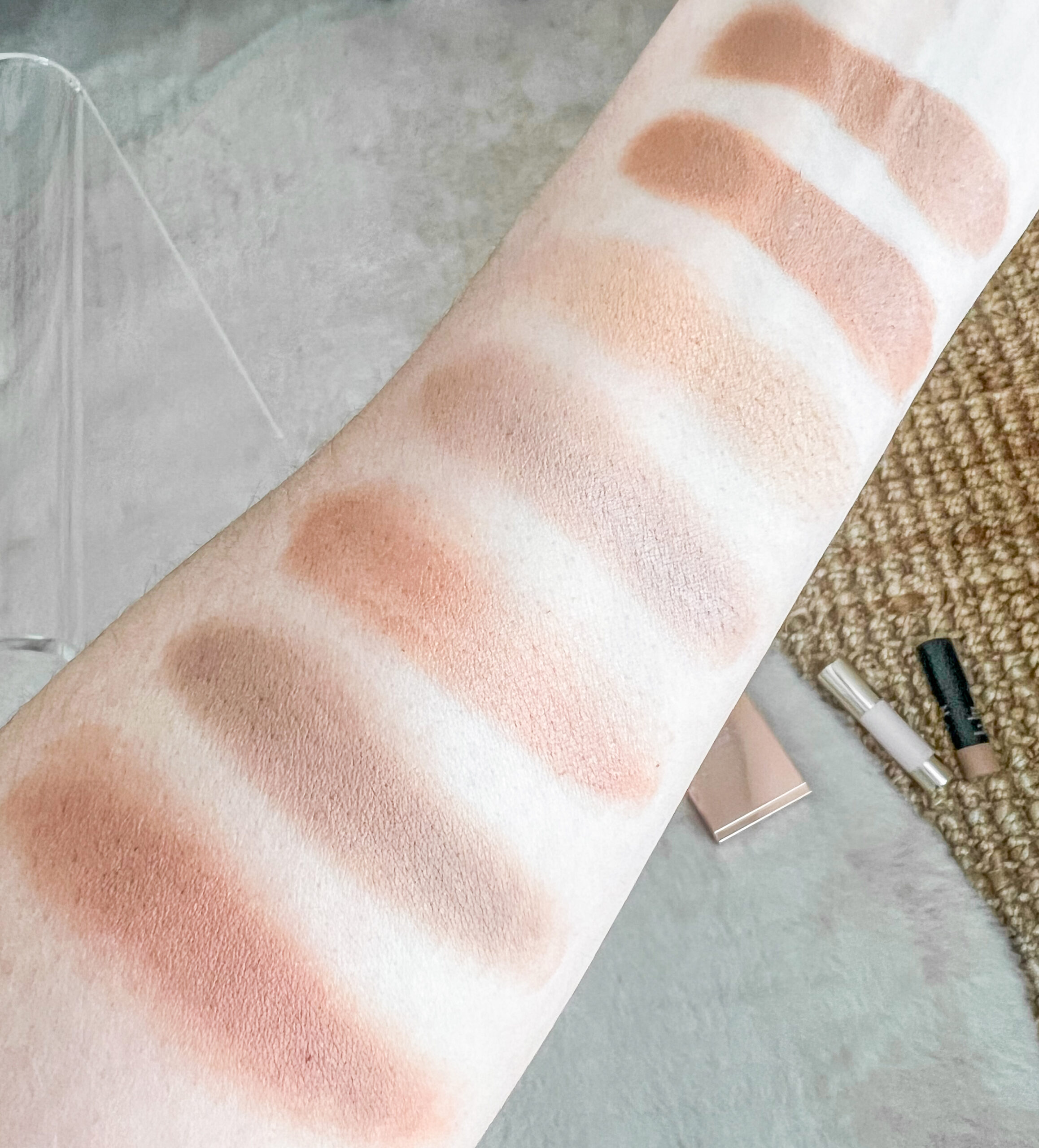 Swatches from left to right: Tarte Cream Bronzer in Seychelles, Charlotte Tilbury Cream Bronzer in 1, Saie Beauty Bronzer in Light Bronze, Patrick Ta Bronzing Duo in She's Statuesque, Rare Beauty Bronzing Stick in Power Boost and Nudestix Sculpt Stick in Light Neutral
POWDER BRONZERS
Even though I have fallen in love with cream bronzer formulas, there are still some great powder bronzers out there that don't dry the skin out and look great on the skin. Product formulations have come a long way and the dusty, powdery, cakey look of powder face products is a thing of the past (for the most part).
Hands down my current favorite powder bronzer!!! The formula is so finely milled, it glides on effortlessly, blends beautifully and the color is perfection. There is also a bronzer brush that launched with this bronzer and it is a MUST HAVE! So good and applies powder bronzer so easily. (Check out my Jones Road Beauty Review.)
This was originally my favorite powder bronzer before the Jones Road one came along. Though I still really love this and use it regularly. It's very sheer and easy to apply without worrying you put too much on. As someone who is very fair, using bronzers can be daunting because if I initially apply too much I will then spend the rest of the time trying to blend/sheer out what is there. That is not the case with this bronzer and it is very manageable and initially sheer but can be built up easily.
This bronzer is a great affordable option and the formula is super easy to blend. This particular color is quite warm so I only apply a tiny amount or it can get too orange. There is also a strong scent to this so be aware of that if purchasing. However, this one always gets rave reviews and for good reason!
I really liked this but am not sure it is a love for me yet. The texture and formula are beautiful and the powder is very finely milled. However when I apply the color, the product tends to disperse everywhere so I have to use a smaller brush to pick up product in order to get a more precise application. The color is very subtle so it would be perfect for those with very fair skin, and I do plan to try dusting it all over the face to warm up the complexion as another option.
An absolute exceptional formula that applies beautifully, lasts all day and delivers just the right amount of color. The powder is finely milled and almost gives a blurring effect to the cheeks which I love. It's richly pigmented so I use a light hand to apply and build up if I want more color. There is just a hint of shimmer but nothing too substantial – it's enough to give a luminous glow to the cheeks without any glitter.
Powder Bronzer Swatches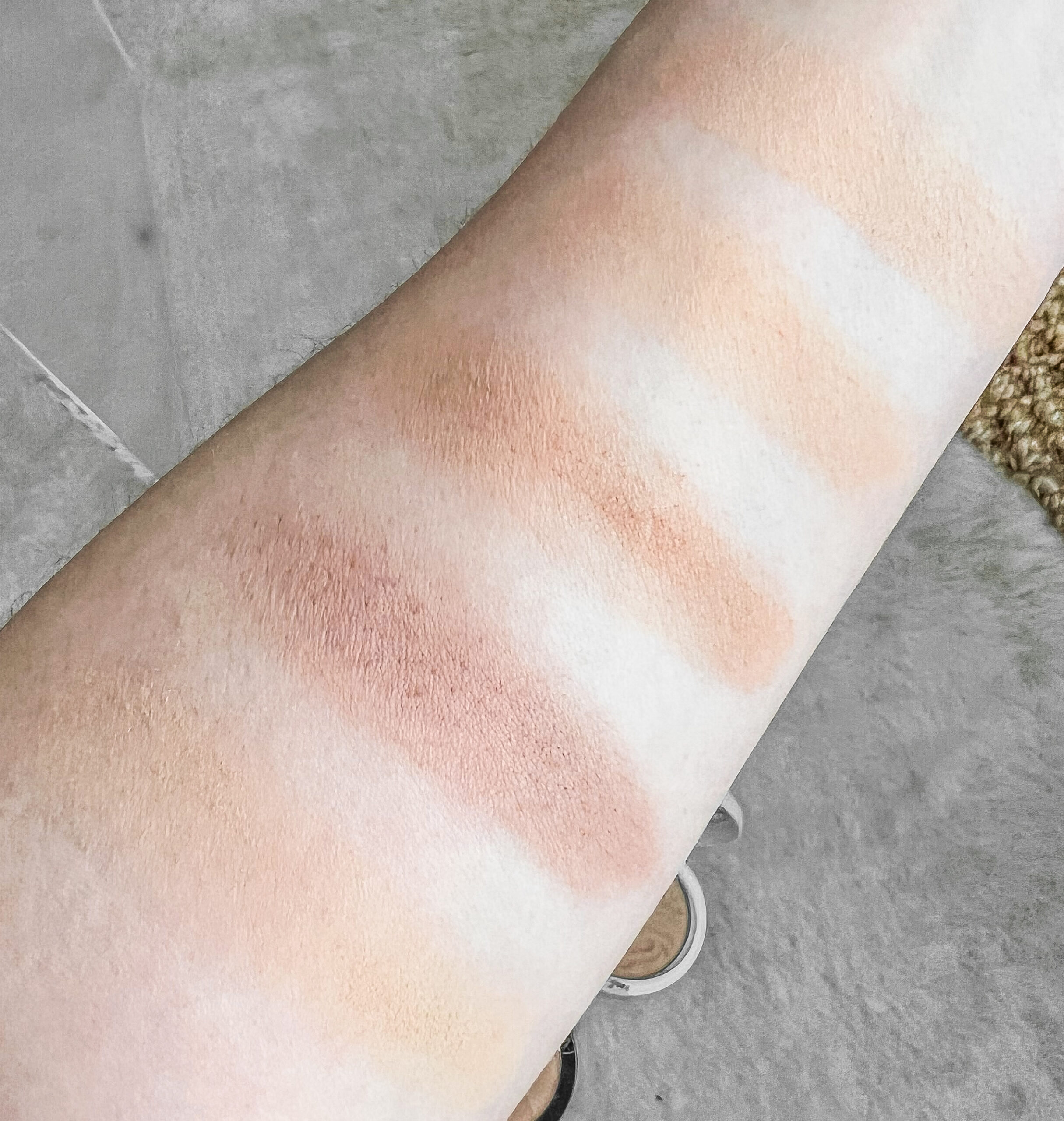 Swatches from left to right: Charlotte Tilbury Bronzer in 1, Jones Road Beauty Bronzer in Light Tan, Pat McGrath Bronzer in Naked Desire, Hermes Mineral Glow Powder in 01 and Physician's Formula Butter Bronzer in Light Bronzer
LIQUID BRONZERS
Liquid bronzers are new to me and I have not really used any regularly in my makeup routine before. I'm on the fence about them and still prefer my cream bronzers first, then my powder bronzers and liquid bronzers fall in the last category of bronzers I reach for.
This is first liquid bronzer I've tried and I like it but it's not a holy grail or favorite. It is VERY sheer and just adds a touch of color to the cheeks. If you are very fair and find yourself struggling with most bronzers because they are too dark, shade 01 would be perfect for you. It is literally foolproof because of how pale and subtle it is. I have found it best to apply with my fingers and blend immediately because it dries VERY fast. Some people have asked me if I would mix it in with my foundation and I don't think so because the texture dries too quickly. I'm not sure it would blend or mix evenly so I have stuck to using it only on my cheeks.
There was quite a learning curve with this gel bronzer from Jones Road but I finally found my way with it. The color and pigment is quite rich so initially it looked VERY muddy on the cheeks. I was struggling to blend it with a brush or my fingers and was worried it was going to be a major fail. However, I tried using a damp sponge to apply and that did the trick! It went on flawlessly and the color was absolutely STUNNING! Once it settled down on the cheeks, they looked golden and healthy. Even after wearing the gel bronzer for 8+ hours, the color still look perfect on my cheeks and gave them the most radiant and fresh glow. What started out as a disaster quickly turned around to be a huge hit! This product definitely surprised me and I have grown to really love it.
Liquid Bronzer Swatches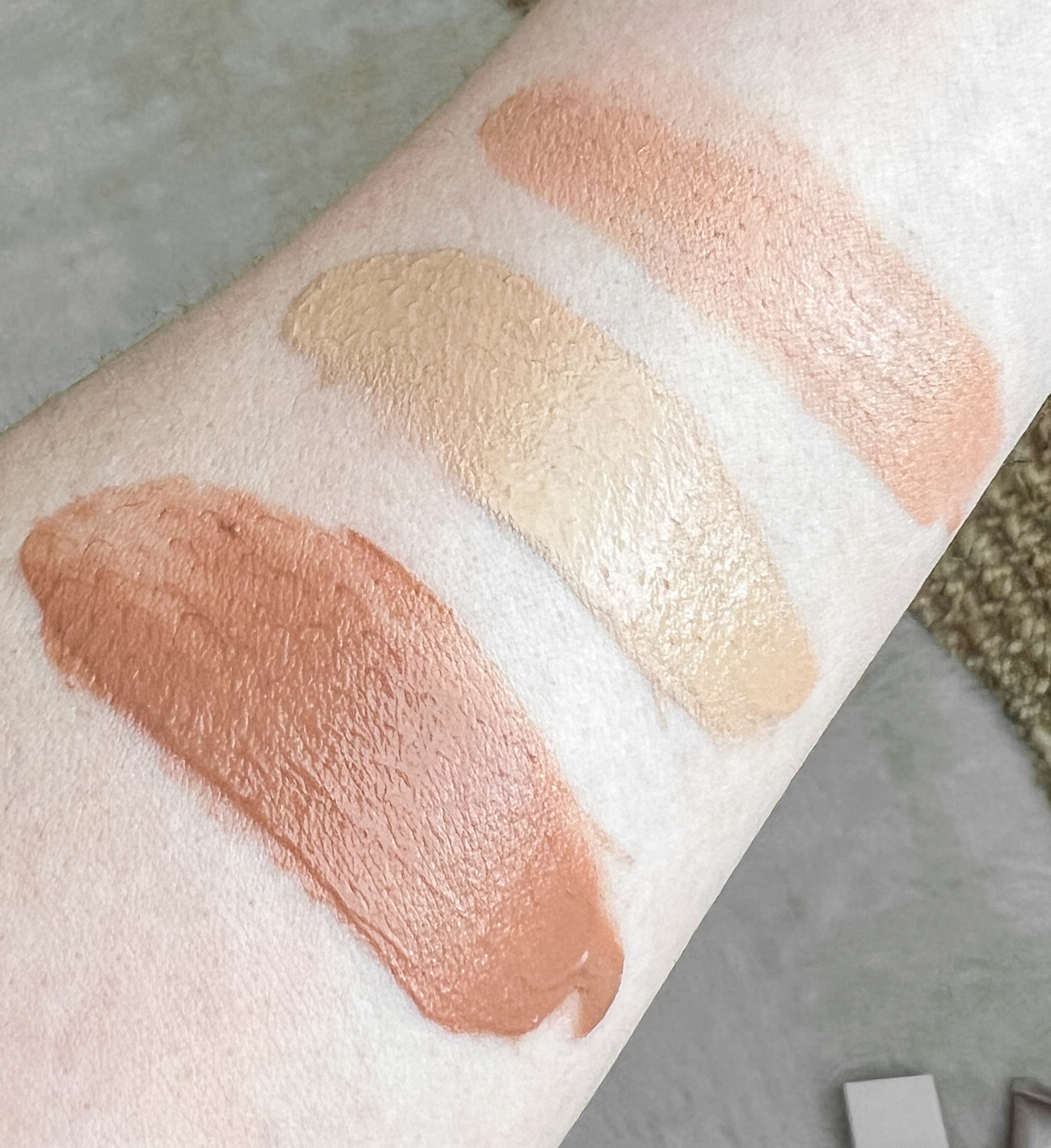 Swatches from left to right: Jones Road Beauty Gel Bronzer in 1, Laura Mercier Tinted Moisturizer Bronzer in 01, Laura Mercier Tinted Moisturizer Bronzer in 02
If I had to narrow down my top two favorites from the entire bunch it would definitely be the Charlotte Tilbury Cream Bronzer and the Jones Road Beauty Powder Bronzer. Right now I am loving those and reach for them regularly. I still wear every other bronzer and enjoy them but those are definite repurchases for me!