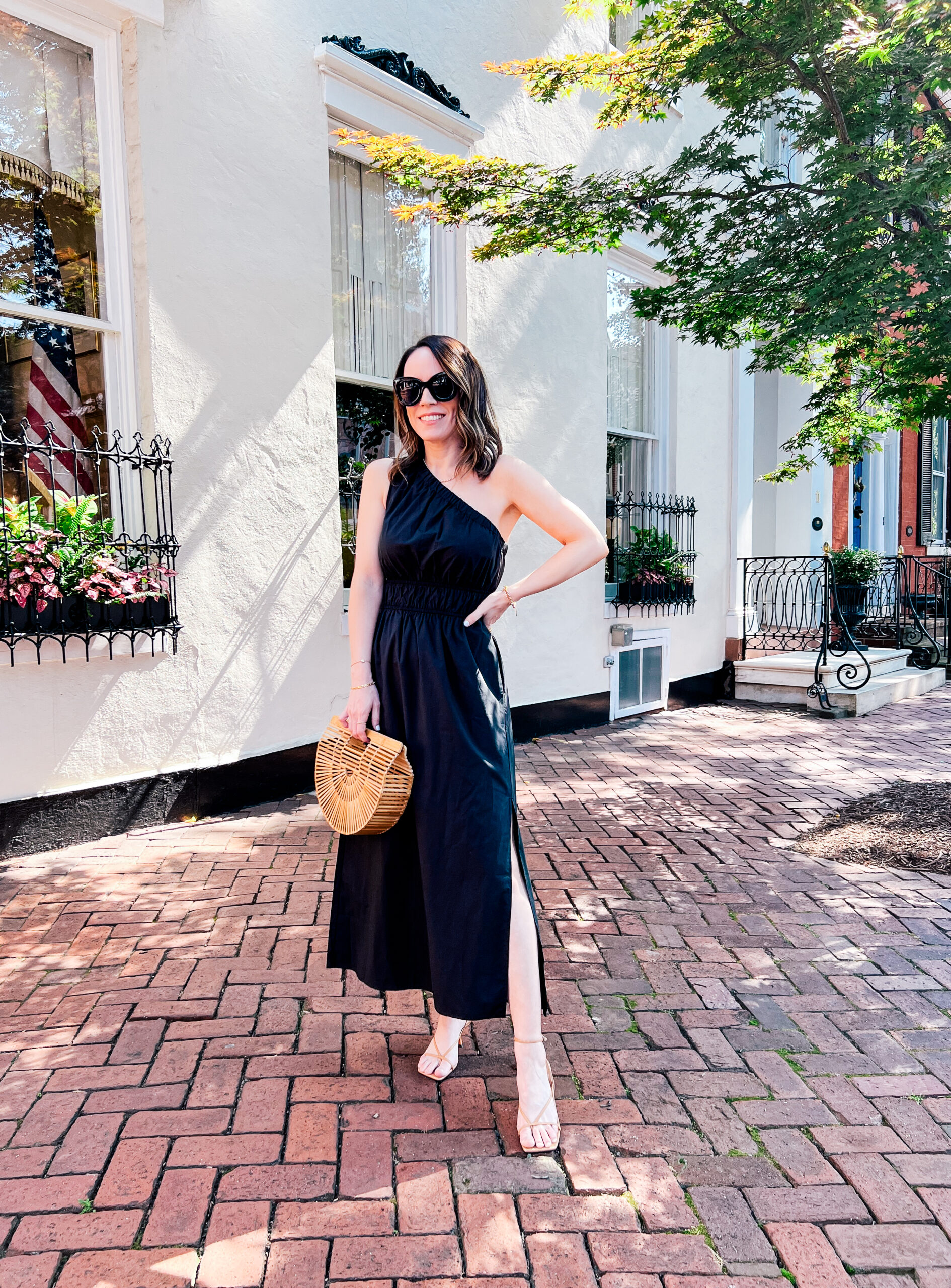 Dress | Sandals | Bag | Sunglasses
Wedding invitations are rolling in left and right this time of year! And dressing for a wedding is one of the most confusing things ever? Amiright?! LOL Weddings themselves can be very enjoyable and a time to celebrate people you love. And many of us dress very casually from day to day so it's a great time to get dolled up and go a bit extra on the makeup. There are a ton of different dress codes for a wedding but it's best to always go with something that feels right to you and is ultimately very comfortable.
Casual summer wedding attire can be a bit tricky though because it can mean many different things to different people so I thought I would round-up a bunch of casual wedding guest looks that could work for a variety of summer weddings. And as always I love when outfits can be worn for multiple occasions and most of these looks would work for other events as well!
I absolutely love the fit of this one-shoulder black dress and it checks the boxes for so many different occasions. It's super lightweight and comfortable and the slit is not too high. With an outfit like this, you can really have fun with accessories and makeup or keep things simple like I did. And once the wedding is over, you can style this dress throughout the rest of the summer with sandals and a big straw tote.
What To Wear To a Casual Summer Wedding
Matching Sets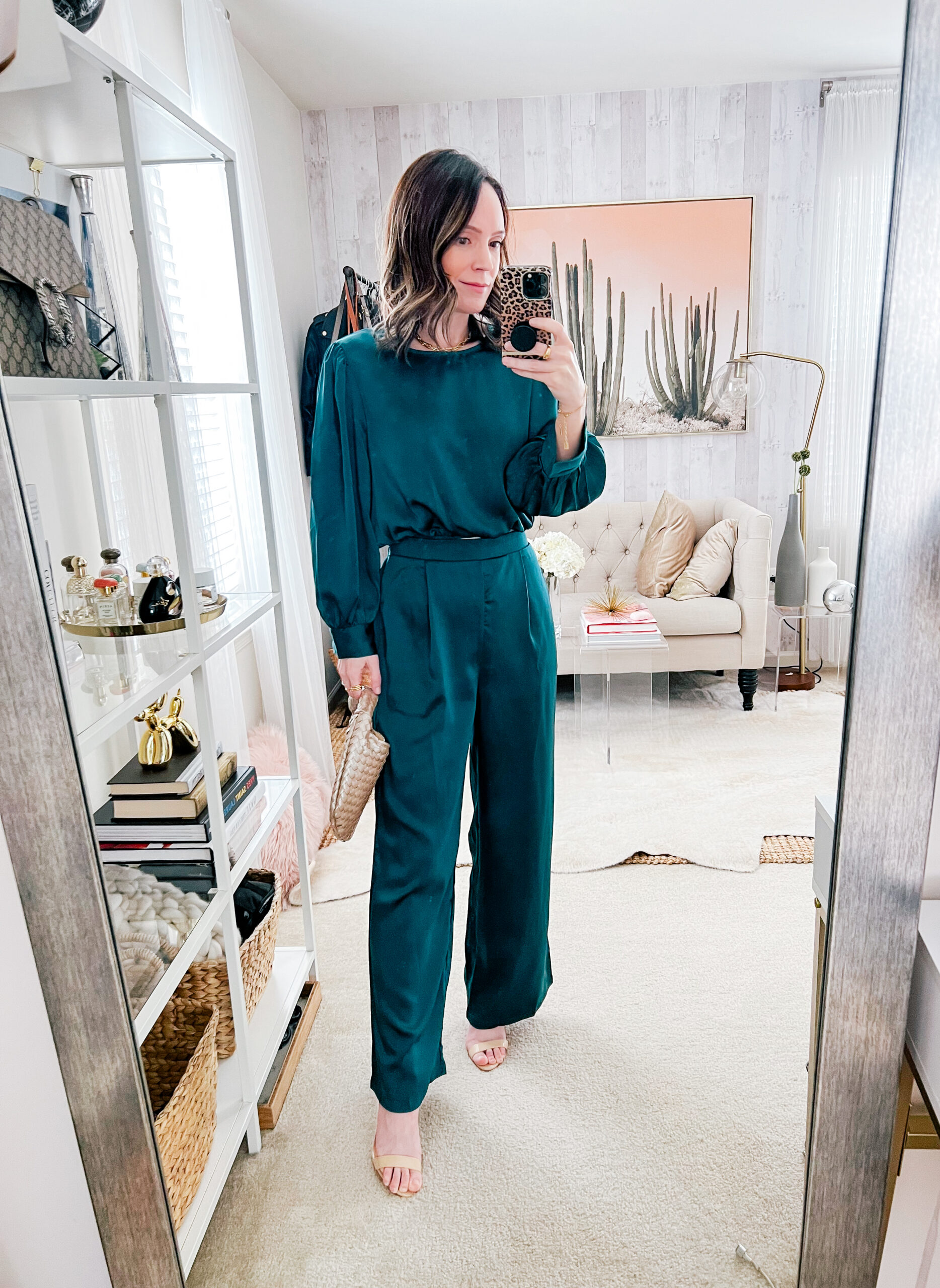 Amazon matching set | Sandals | Bag
I definitely think this look can be worn for a casual dress code as well as a semi formal summer wedding because of the silkiness of the fabric. The color is absolutely stunning and really elevates the entire look. And for those of you that don't love to wear a dress or skirt, a matching pants set is a great option.
A Printed Floral Dress
Prints are fun to wear especially in the summer and bright floral prints are always on trend. If you plan on being inside for most of the evening, choosing a dress to wear with long sleeves is a good option so you don't have to worry about carrying around a cardigan or jacket. With a bold pattern on the dress, keep your accessories and shoes more neutral. A block heel sandal like I'm wearing will make walking around outside or on grass much easier but if you love a higher heel, I would recommend this pair which is still clear and will go with any and all looks.
Casual Summer Wedding Guest Outfits
Statement tops + Trousers
Pair a statement top with either trousers or a midi skirt to make it wedding guest appropriate. I personally love the idea of a wide leg trouser and bold top for an evening look. And if the look is monochromatic, it's a great time to add colorful accessories or even wear a bold lip.
Maxi Dress
Of course I am always drawn to neutrals, but this maxi dress comes in a ton of bright colors which would be so fun for a summer beach wedding! The flutter sleeve and loose fit make it suitable for the heat and the bold print is so gorgeous. I think adding a belt to it makes it more flattering and creates a better shape to the dress and brings up the length a bit if you are short like me (I am 5'4″).
White Dress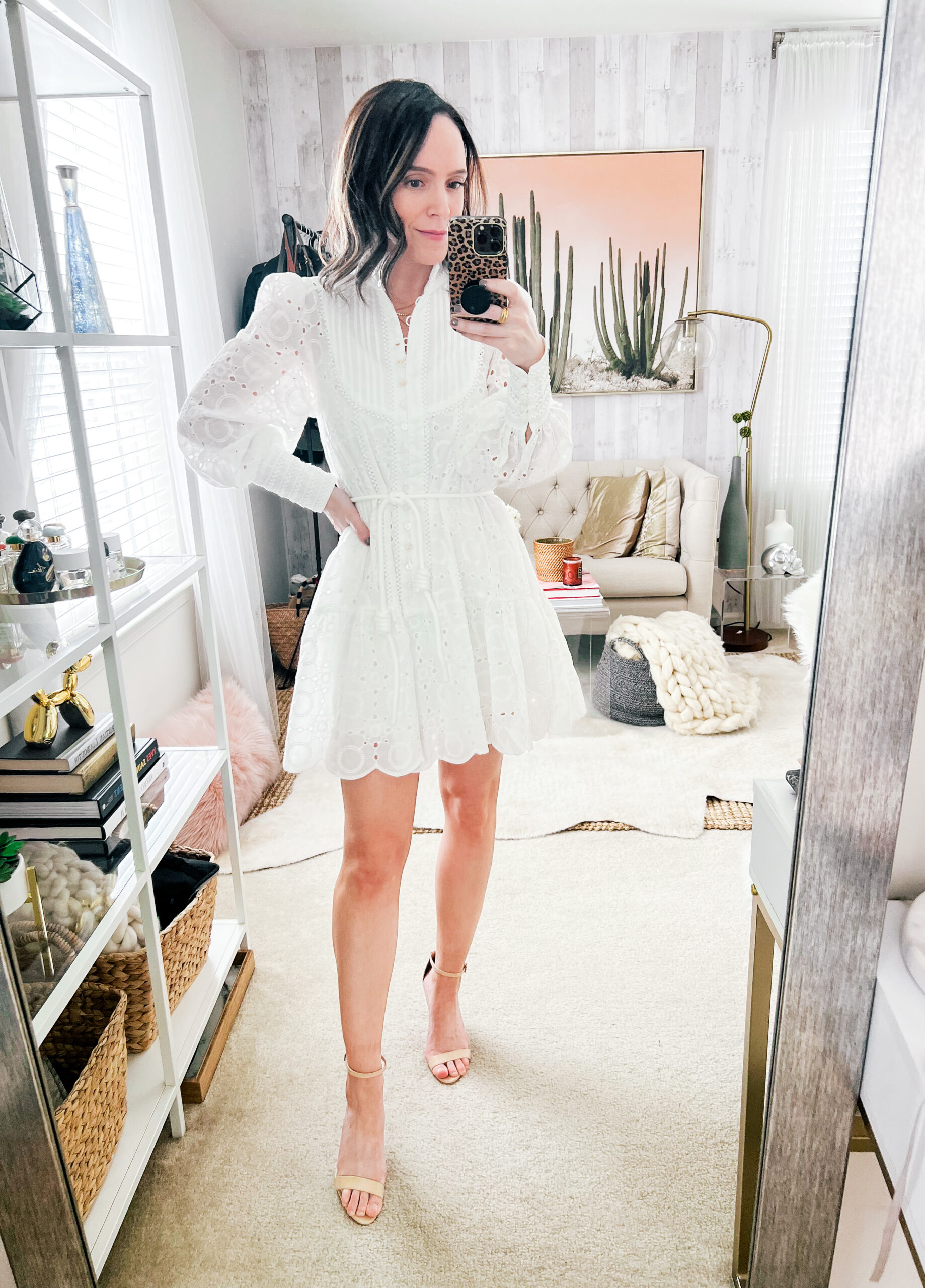 Dress | Sandals
There are so many differing opinions on wearing white to a wedding but in some cases it can be an option. Sometimes the bride may request that the guests attire be white or depending on the location of the wedding, white could be acceptable. I absolutely LOVE this white eyelet dress and think it could work for a ton of different summer events. This is one of those dresses that you will find yourself reaching for over and over in the summer because it is such a classic piece. The eyelet detail and the rope belt are such unique details and the fit is incredibly flattering.
Feminine Ruffles
I'm not always a pastel fan but the light floral print on this ruffled mini dress is so gorgeous! The ruffles add a nice feminine touch to the dress and the deeper v-neck makes it incredibly flattering. In addition to a casual wedding, this dress would be perfect for a bridal shower, baby shower or brunch event.
Dresses with Cutout Details
Cut out details are still trending this summer and I love how they would work for a variety of occasions. They are suitable for day or night and would be perfect for a casual summer wedding. For most dresses with cut out details, I size up in the dress so that the cut outs don't dig in.
Purses to Carry to a Summer Wedding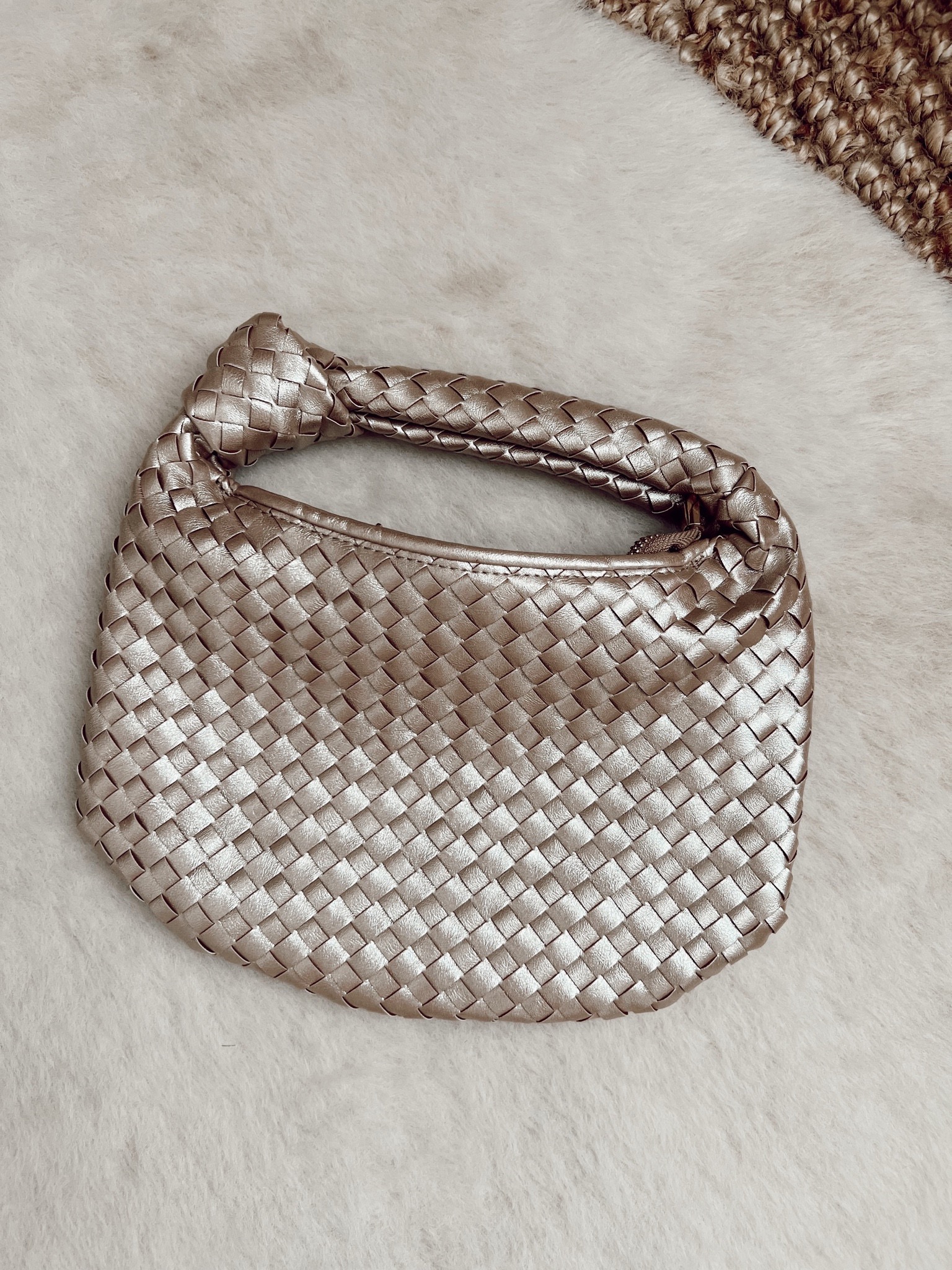 Bag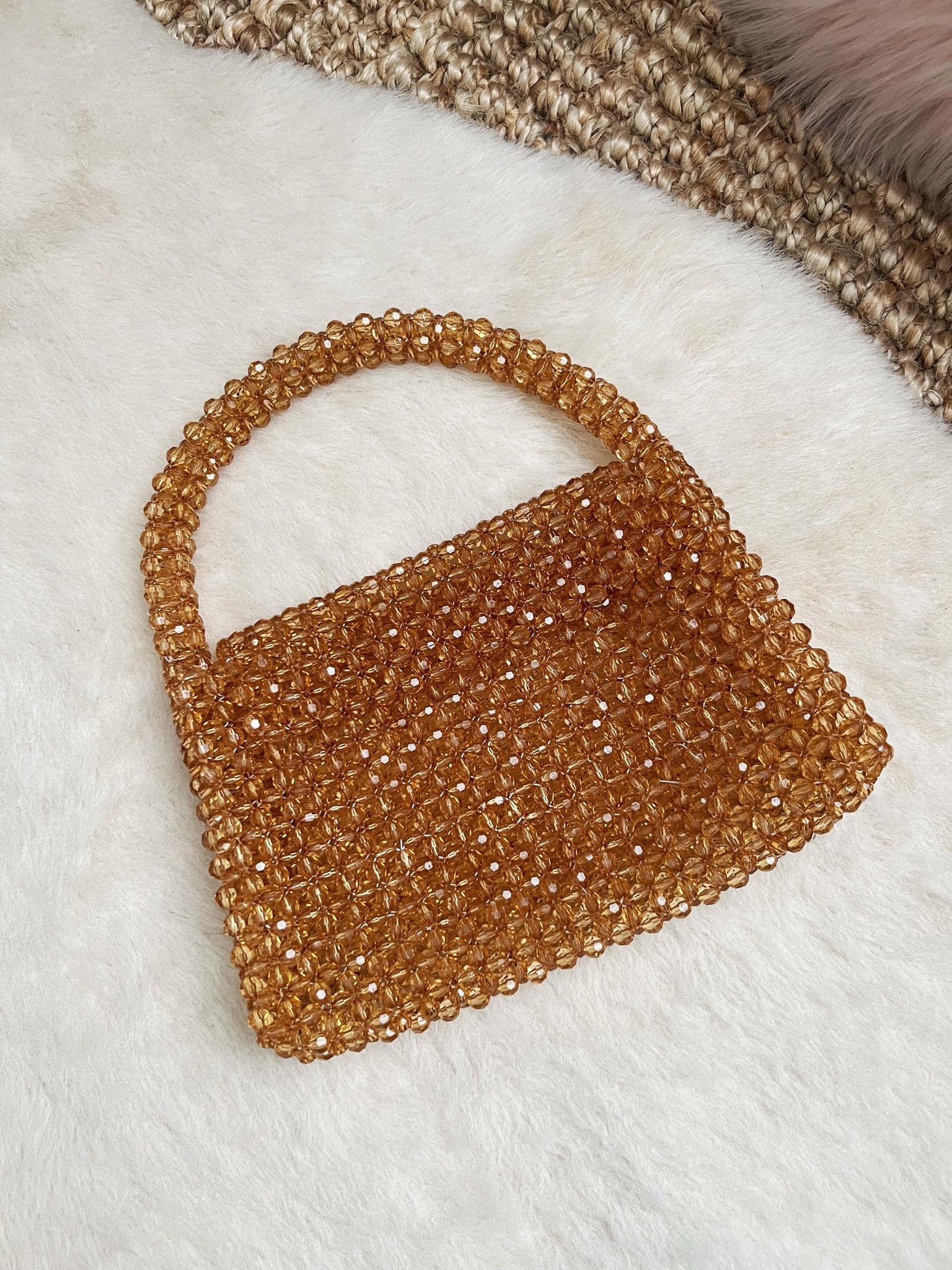 Bag
Obviously you want to carry something small to a wedding, but I still need a bag to can hold all of my necessities. LOL I am crazy about both of these bags and style them both for day or night. The braided bag comes in a ton of colors but I love this shimmering champagne. It is the perfect neutral and can be styled with formal summer wedding attire or would look great worn during the day with a maxi dress and flip flops.
The beaded bag is definitely more of a special occasion bag and really elevates any casual summer wedding guest dress. I chose it in this citrine shade which definitely still feels more of a neutral, but there are a ton more colors that are quite vibrant if you want to add a pop of color to your outfit.
Shoes to Wear To a Casual Summer Wedding
Strappy Sandals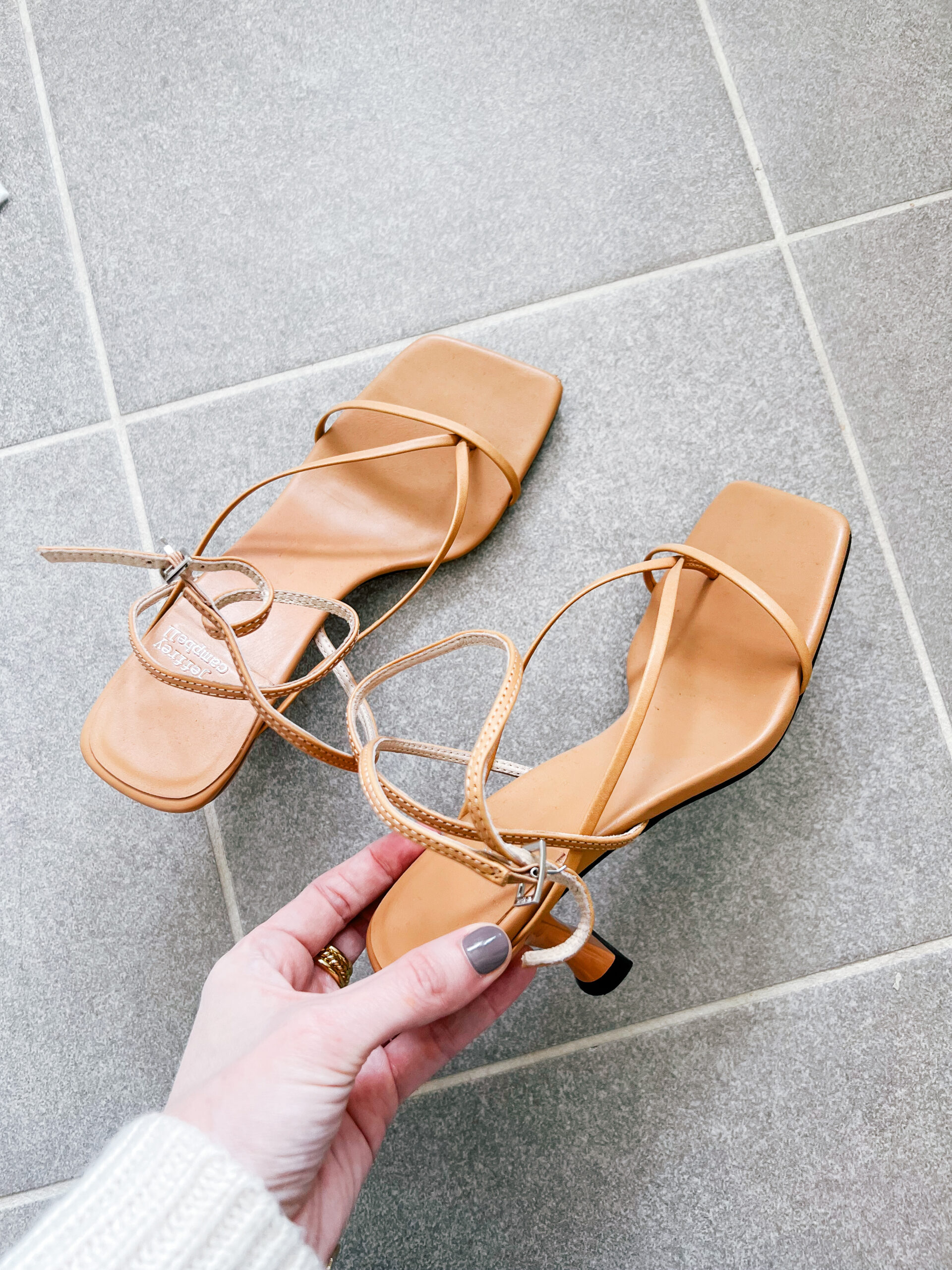 Sandals
The amount of wear I get out of these sandals is truly insane. LOL They look so chic worn with a dressier outfit but also work with jeans or shorts and a tank top. The lower heel makes them very comfortable to walk in and they come in a ton of colors! They also look incredibly flattering on the foot and the straps around the ankle don't dig in when I'm wearing them.
Neutral sandals with flair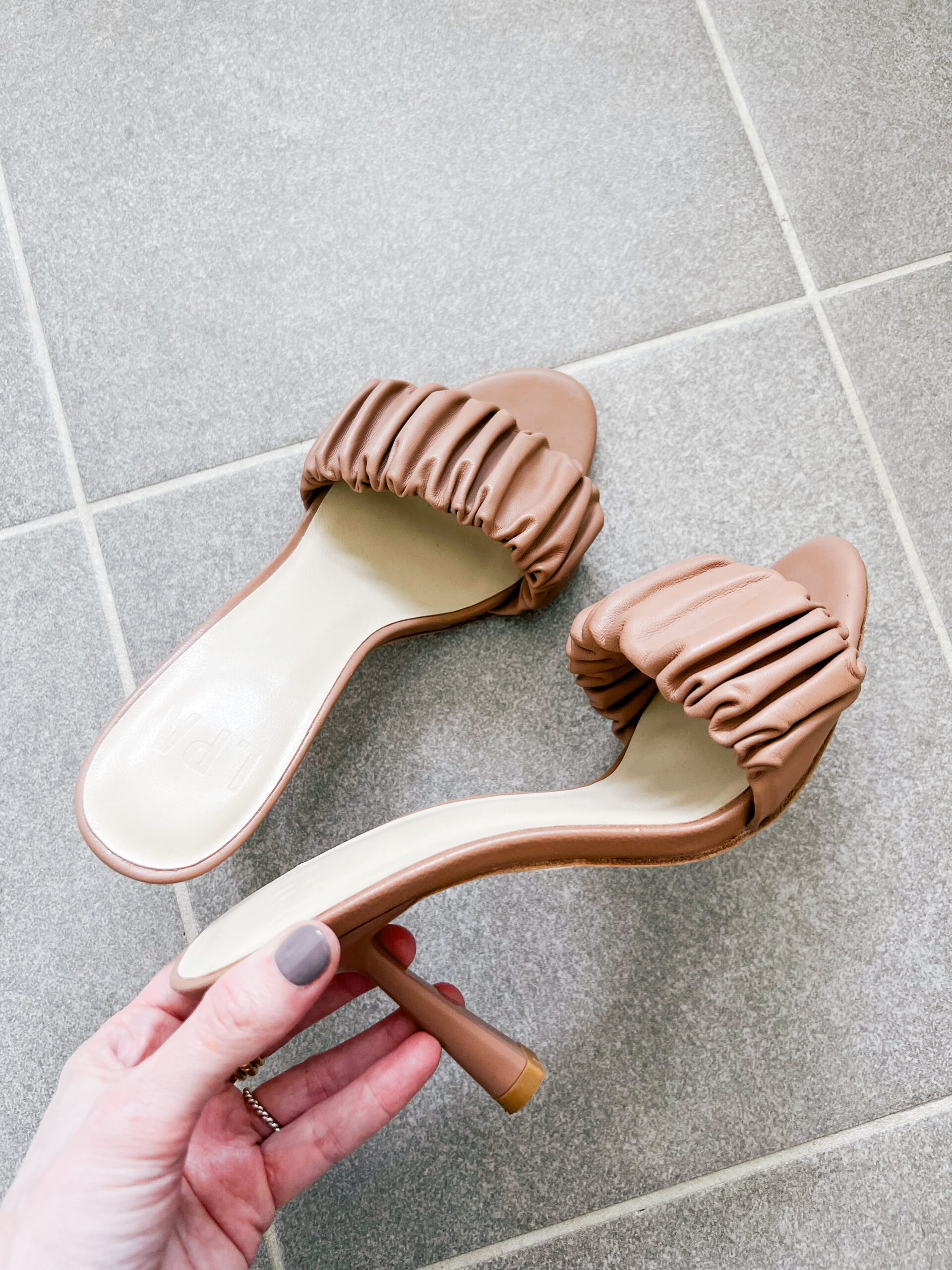 Sandals
If you dress or outfit is simple, wear a shoe with a bit of a more unique look to add some interest to your look. The ruched detail on these are so feminine and the heel is the perfect height.
Clear Heels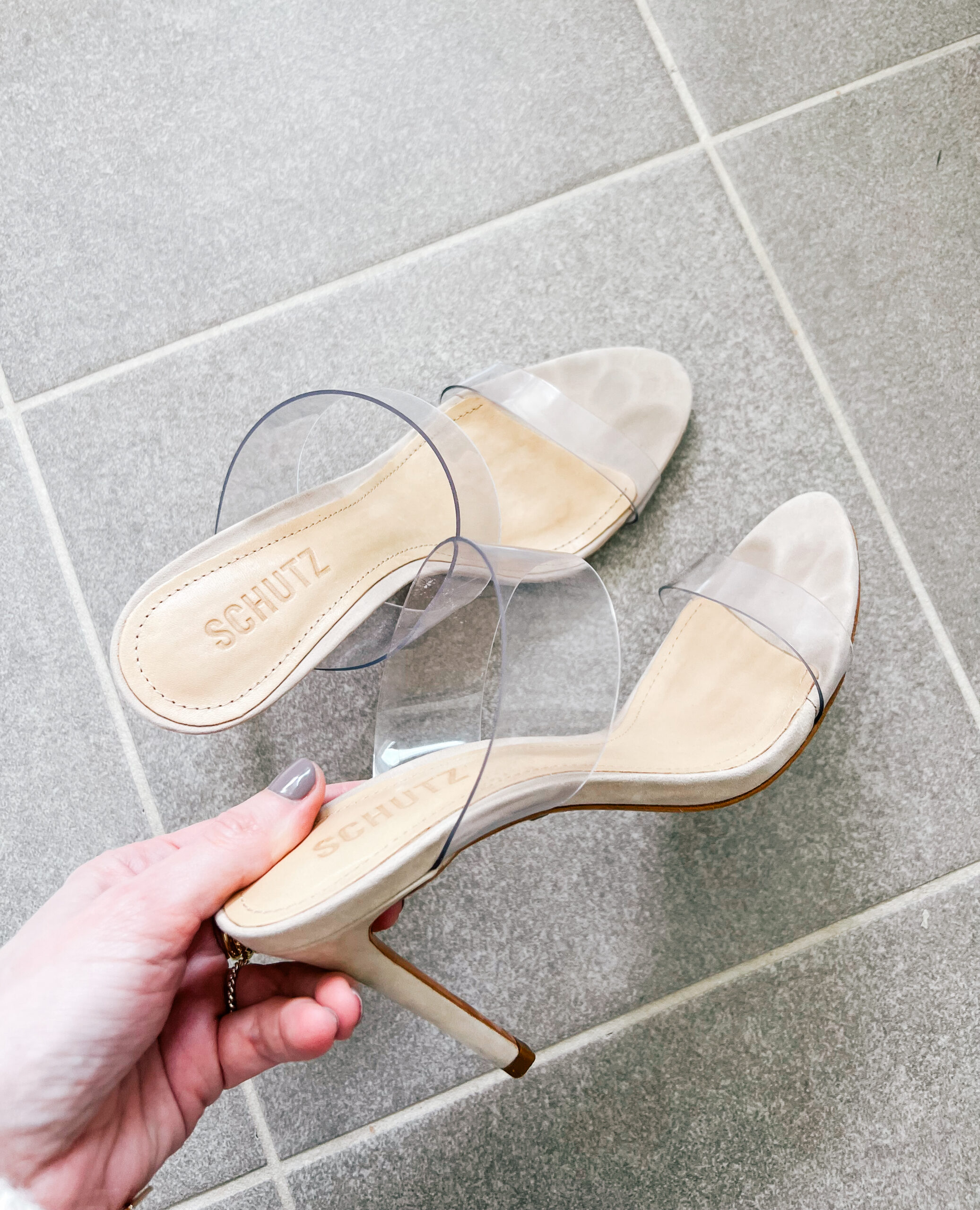 Sandals
If you've been following my blog or my Instagram for any length of time, you would know these are the #1 shoe I recommend to everyone! I wear them with EVERYTHING. The clear straps don't compete with the outfit so they look great with any color you are wearing. The toe is slightly pointed which really flatters the foot and the clear straps also give the illusion of a longer leg. The heel is a bit high but honestly, they are so stunning on and make my legs look so good that I am willing to have a bit of discomfort. Ha!
They are on the more comfortable side when it comes to heels above 3 inches but if you plan to dance all night, then bring a pair of flats because you may need them. But trust me when I tell you that you will be wearing these shoes for the next 5 years with any and all your outfits because they are so versatile and chic.
Simple Black Strappy Sandals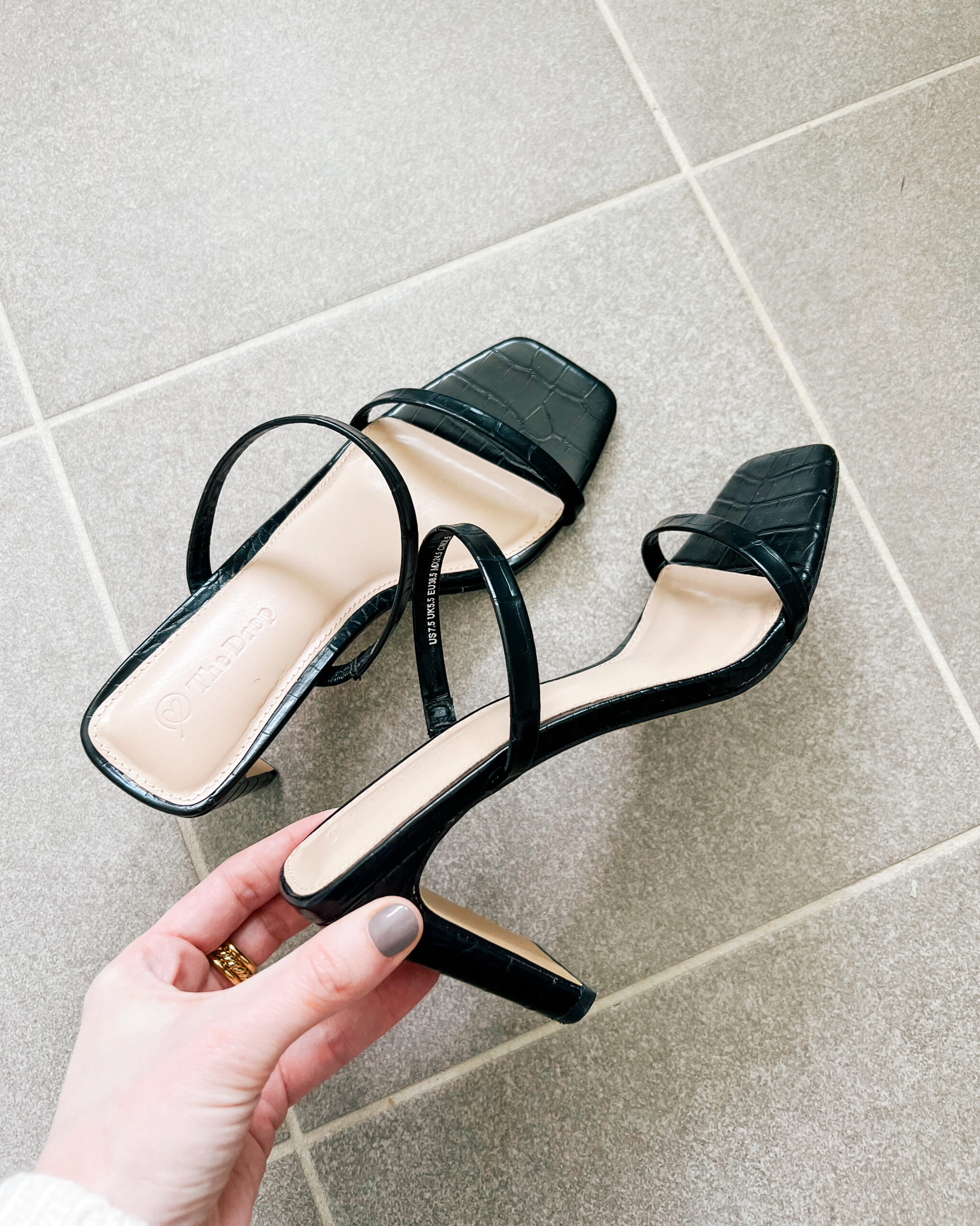 Sandals
These Amazon strappy sandals are a must have for anyone's summer closet but especially for those that have a ton of weddings to attend this summer. They come in a TON of colors so you can find something for any outfit, but I have them in black and nude. The two skinny straps are really comfortable and don't dig in, and the square heel makes them easier to walk in versus a stiletto. The simplicity of the sandal will not compete with your look and black is something you can wear during the summer but also transition into fall.
Block Heel Sandals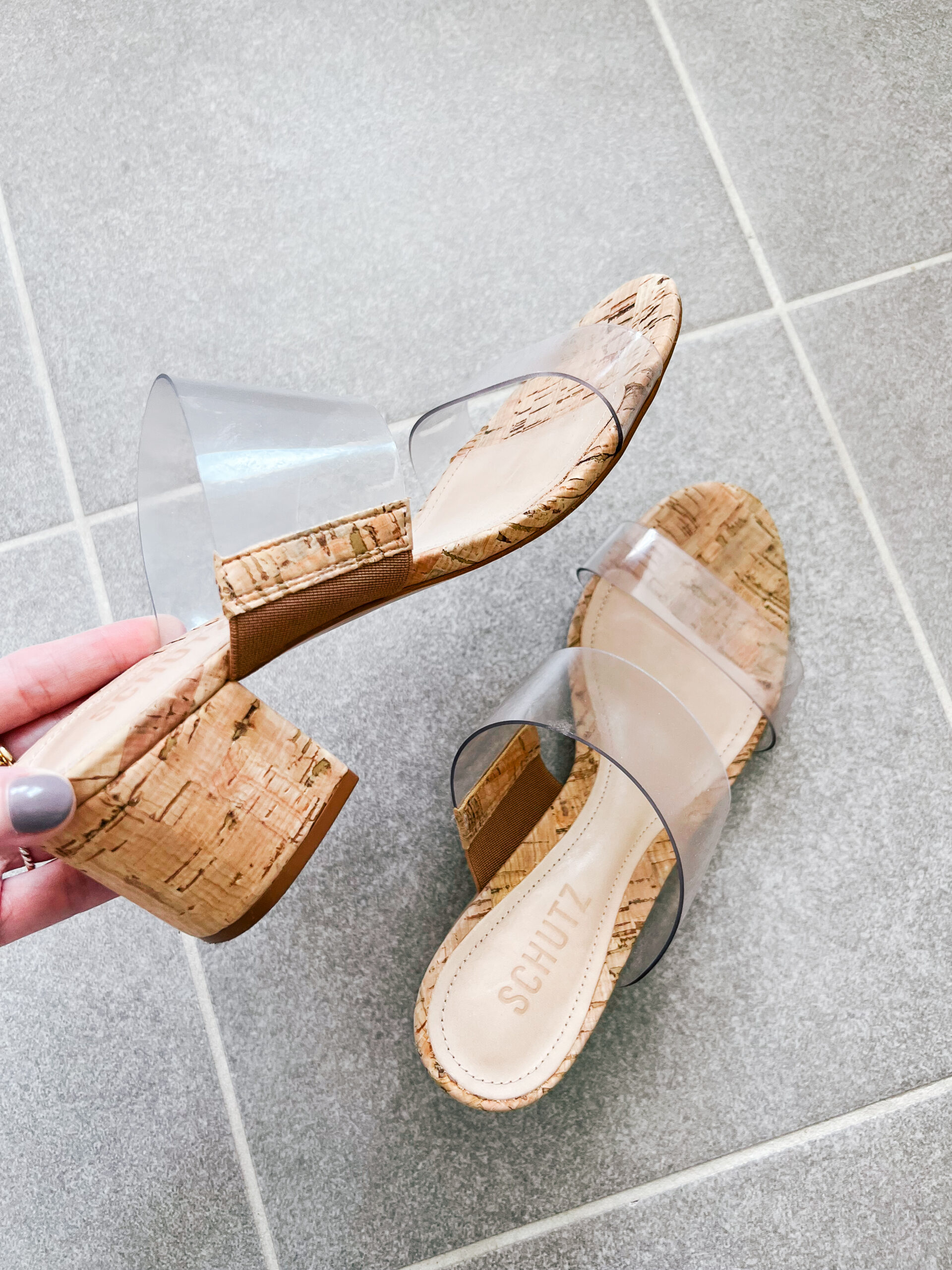 Sandals
The wedding is outside. In the grass. And you DON'T want to wear flats. May I introduce you to your most flattering and comfortable option – the clear block heel sandal. Much like its sister style that I shared above, the clear straps will go with any print, pattern or color you wear and also elongate the leg. The block heel gives a bit of height but allows you not to sink into the grass with each step. These are perfect for a casual summer wedding but I guarantee you that you will be wearing them with jeans, shorts and sundresses for the rest of the season.
Hope these tips and outfit suggestions were helpful! Here are more ideas of what to wear to a spring wedding too!