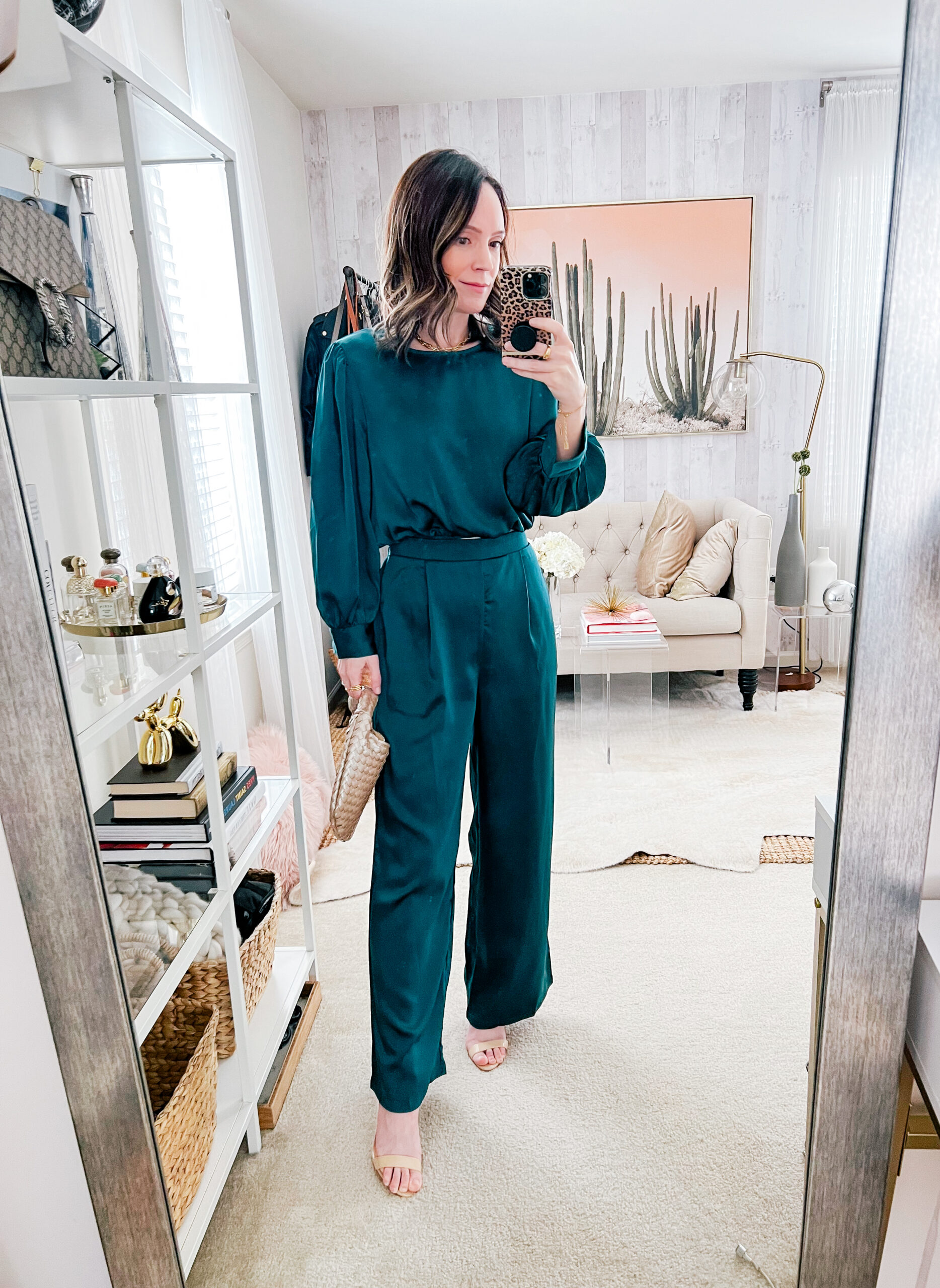 I feel like my Amazon order history is always the most random list of products, amiright? It's always a mix of household items, things for Miles, clothes and beauty stuff. It's been awhile since my last roundup of Amazon purchases so I thought I would share them in today's post.
Recent Amazon Purchases
THIS. COLOR. How stunning is this rich teal? This satin set is so comfy yet still chic and perfect for any summer events. It definitely runs a bit big but I like the flowy fit and feel it adds to the entire look of the outfit. The set comes in a bunch of colors and could be broken up and worn separately as well.
How many tanks are too many? Asking for……myself. LOL I live in basic tanks in the summer – both as is and worn under blazers or jackets. They are a closet staple for me. This one is super stretchy, comfy and very long which I like because it stays tucked in. And I can wear a regular bra with it which is always a bonus for me. It comes in a million colors so I definitely plan to pick up a few more.
The comfort level of these cropped trousers are off the charts. If you are looking for pants to work to the office, these are a must have! I am only 5'4″ so they are the perfect length on me but if you are taller, they will be a bit more cropped (which I always find is a great way to show off your shoes LOL). They come in a ton of colors and run a tad big so if you are in between sizes, you may want to size down.
I used to only have designer sunglasses for years and years, but now my entire collection is from Amazon. Ha! They have so many great styles that are almost identical to designer styles and I never feel bad if I happen to scratch or break them. This chic retro style is so fun for summer and I love that they come in a MILLION colors!
Ok this is technically a body wash, but also can be a hand wash. It smells like cupcakes and Miles is obsessed with washing his hands now. He was always good about it but now I can guarantee he will wash them multiple times a day just so he can smell them afterwards.
This will be one of the only bad reviews I give because this stuff was absolutely gross! Eek! I love sweets and thought that the added protein in this cookie dough would be great but it tasted VERY artificial. I rarely throw things out when it comes to food because I will just finish it and not reorder but I just could not get through this and it immediately went into the trash. I was actually hoping it would be a bit more similar to this protein cookie dough/nut butter spread that I have tried and loved but it doesn't even come close.
If you are not sleeping with a silk pillowcase, you need to order one ASAP. Silk pillowcases are better for your skin and hair and truly make such a difference. I notice less frizz with my hair when I started sleeping on a silk pillowcase and have now been using one for nearly 8 years. I recently ordered this one and the quality is AMAZING! For a bit under $50, it is a must have and would also make a great gift too. There are a ton of colors and sizes available so all your pillows and even guest room beds can have one. If you travel a ton, definitely be sure to grab one to pack in your suitcase so you can put it over your hotel pillowcase. Sometimes small touches like that can make your stay feel even more like home.
Miles has been really into making paper airplanes at the moment and I found this kit online that contains tons of colorful printed paper and a detailed book on making a bunch of different airplanes. It arrived a few days ago and Miles has been making them non-stop.
This set hasn't yet arrived but I thought I would share it anyways because it is a top seller on the site and has so many good reviews! Hopefully it is as good as everyone says.