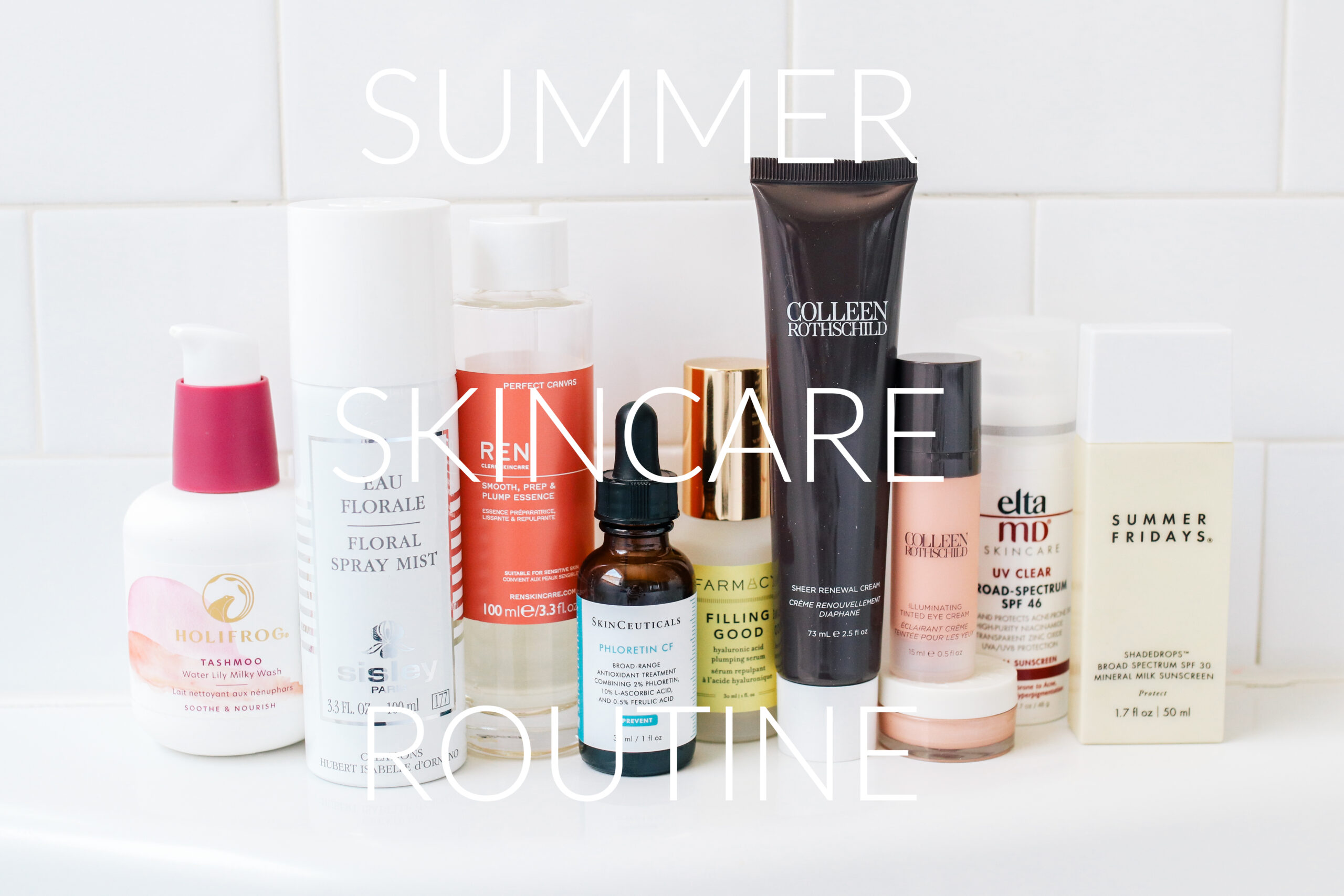 My skincare routine is one of my favorite things to do every single day. Both my morning and evening routines are so relaxing and enjoyable and are something I make a priority every single day. I know I'm not a board certified dermatologist LOL but after doing this for so long I feel I have a good understanding of skincare and what products work best for me. While I follow many of the same steps and concepts in my skincare routine, I tend to switch things up each season to account for the change in weather. Occasionally I will switch out a few products here and there but for the most part this is my everyday routine. Especially in the summer, I like to focus on nourishing, hydrating, protecting and repairing. I also like to switch up a few of my moisturizers for more lightweight formulas. My skin is normal to slightly dry but in the summer I can get slightly shiny in my t-zone.
My summer skincare routine
Morning routine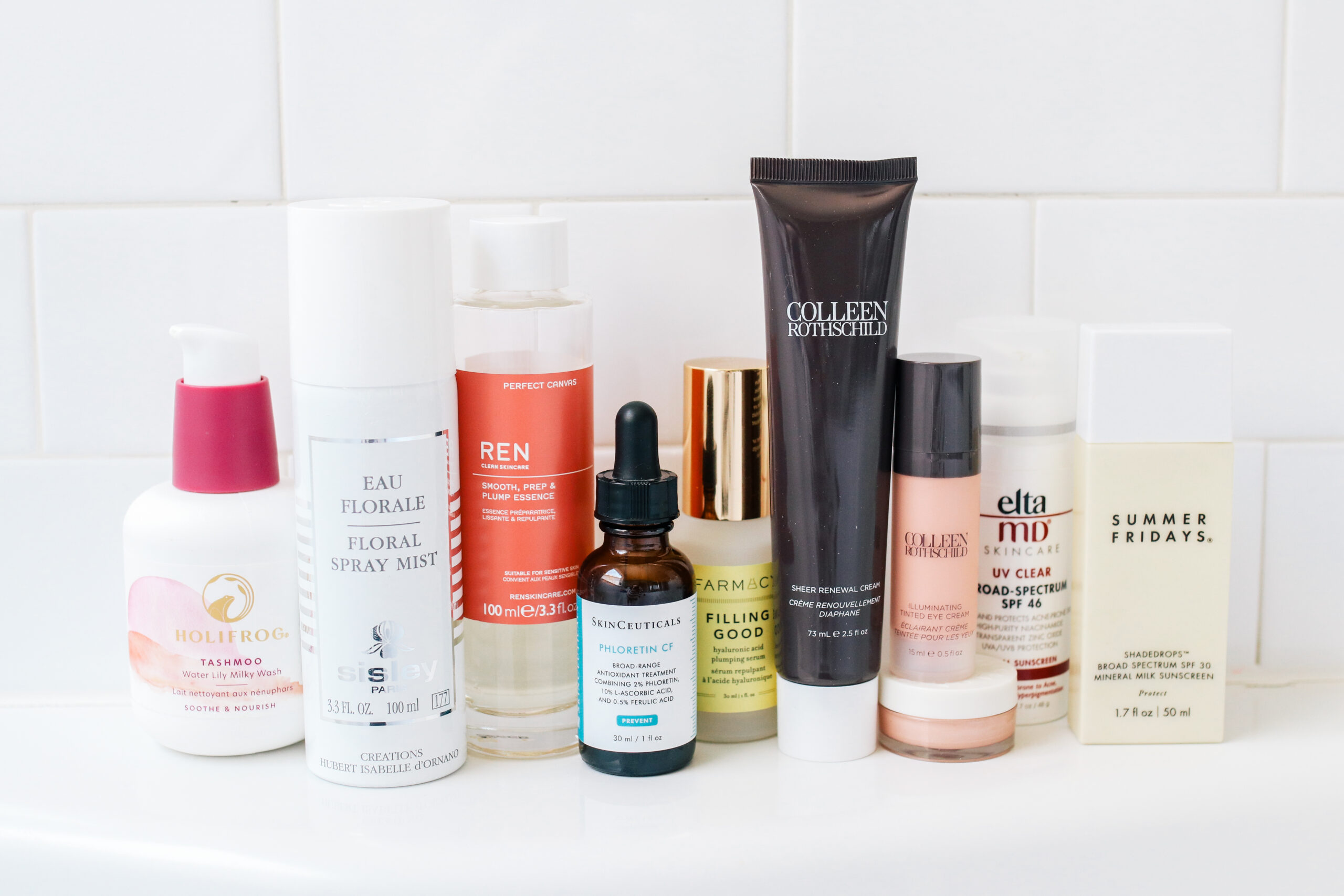 My focus for my morning skincare routine is to protect my skin and prep it for wearing makeup. While I will switch out products here and there, there are two types of products I always have in my morning skincare routine. A vitamin c serum is a must for me because it contains antioxidants that help to protect the skin from environmental and sun damage. Another non-negotiable for me in the summer (but also year round) is sunscreen to protect against UV rays. Sun exposure is fine but remember that sun damage can take many years to show in the skin. I have dark spots that didn't show until my 30s but my dermatologist told me it was sun damage from my teens. YIKES! While it seems like my routine has many steps, it only takes me a few minutes to do the entire thing. If I have extra time, I will wait 2-3 minutes in between serums/moisturizers but most of the time I simply apply them one and after another. Here are my exact steps and products of my morning routine:
Morning Skincare Routine Step 1: Cleanse/Tone/Essences
Normally I will just wash my face with cold water in the morning but occasionally if I feel like I need a morning cleanse, I will use the this milky cleanser. It's incredibly softening and creamy and leaves my skin feeling fresh and prepped for the rest of my routine.
I LOVE using a hydrating mist in my skincare routine though it is not a necessary step. It gives me that boost of moisture after cleansing that I like to seal in with an essence or serum after. This particular mist is super luxe and refreshing and the mist itself dispenses the product so delicately.
This is a newer launch from earlier this year and ever since I have added this to my routine, I absolutely LOVE the results. An essence is often the final step of the cleansing process and most of them target hydration, plumping or nourishing. An essence can also help boost the efficacy of the rest of your routine but absolutely not a necessity. I went for a long time without having one in my routine but have REALLY been loving this one from REN and plan to definitely repurchase. I apply it while my skin is still damp from the mist and press it into the skin.
Morning Skincare Routine Step 2: Serums and Moisturizers
A vitamin c serum is a must have for me in my morning skincare routine and I LOVE the various ones from Skinceuticals. This one is targeted towards helping reduce brown spots and discoloration which I particularly like in the summer.
Hyaluronic Acid is another ingredient that I will always have in my skincare routine and definitely recommend to everyone. It helps to retain moisture in the skin which ultimately helps the skin look more plump and hydrated. This hyaluronic acid serum from Farmacy is great at plumping and smoothing fine lines. Only one pump is all you need to cover the entire face.
I don't always use a daytime moisturizer and sometimes just skip from serums straight to applying SPF. But I do love using this moisturizer especially in the summer because it is oil-free and leaves the skin with a nice natural finish. It also looks beautiful when worn under makeup. I have been using this moisturizer for more than 8 yeas and constantly go back to it for daytime because of how it makes my skin look.
Morning Skincare Routine Step 3: Eye Cream
I've really been enjoying using an eye cream with a bit of a tint or illuminating effect for daytime. This is a newer launch from Colleen Rothschild and though the tint is very slight, it just helps to color correct under my eyes. Especially when I am wearing no makeup, this is a great thing to add to brighten up under my eyes.
I first discovered this eye balm last summer and it was absolutely magical! It also became a top seller with all of you almost immediately. I will use this OR the Colleen Rothschild but never the two together. This one works well under makeup or over makeup and really makes the under eye area look so bright and luminous. It has a bit more coverage than the CR one and a bit more reflective properties.
Morning Skincare Routine Step 4: SPF
I wear SPF every single day of the year but no time is more important than in the summer. This sunscreen is a cult classic and I now understand why. It delivers amazing sun protection but never feels greasy on the skin. It wears beautifully under makeup and is great for anyone with acne-prone, sensitive or rosacea-prone skin.
If you truly can't stand the feel of most sunscreens, this one feels JUST like a serum. It's thin and watery and feels completely weightless on the skin. Initially when it is first applied, it looks a bit dewy but for me it dries down to a natural finish. It has a slight tint to the skin that does a great job at helping even out any redness. I will alternate between these two sunscreens though if I am going to be outside for a LONG time or am going the beach/pool, I will typically choose the Elta MD SPF.
Evening routine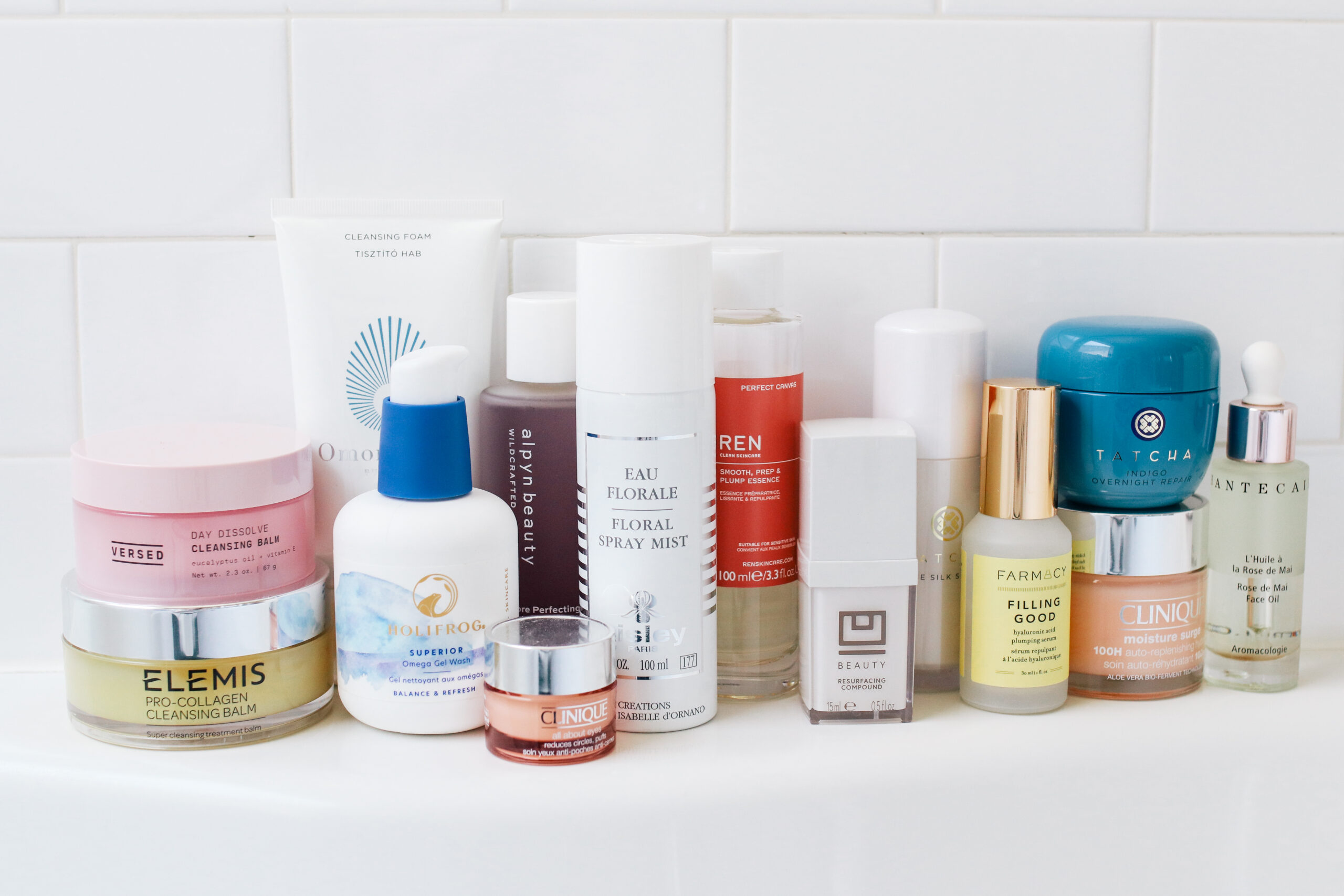 I have more time in the evening so I will often do a more extensive routine. I focus on more active ingredients such as resurfacing acids or retinols and try to repair/treat any issues while also nourishing my skin with a great moisturizer or face oil. Evening is also when I will use masks and/or skincare tools. Just know that you do NOT have to use this many products in your routine to treat your skin well. The most important steps of any skincare routine are proper cleansing, a good serum that targets your main concerns and a nourishing moisturizer suitable for your skin type (and of course SPF if it is morning). Here are the exact products and steps of my evening skincare routine:
Evening skincare routine step 1: Cleanse/Tone/Essence
I use a cleansing balm every single night because I find it is the most effective at removing makeup/sunscreen/dirt/etc. I have a ton that I love and use but right now I am using the Versed Day Dissolve Cleansing Balm. It's a stiffer texture than the Elemis but is still so creamy and breaks down makeup effortlessly.
I've been using this cleansing balm for nearly 10 years and will never be without it. I will alternate between this Cleansing Balm and the Versed each night to remove my makeup. The Elemis one is really rich and nourishing and leaves my skin feeling so soft. No other cleansing balm leaves me skin AS soft as the Elemis Pro-Collagen Cleansing Balm. I always apply my cleansing balms on a dry face with dry hands and then massage in to break down and remove all my makeup. I will then add water to emulsify the balm to a gentle milk and rinse.
A second cleanse is not necessary but for me it has been one of the things I started doing in my skincare routine yearsssss ago and noticed such a difference in my skin since then. I break out less, my skin is more balanced and overall looks better. For the summer, I have been loving this Holifrog Gel Wash because it's so refreshing and the lightweight gel texture feels so great after a hot day.
If I am not using the Holifrog Gel Wash, then I will use this Omorovicza Cleansing Foam as my second cleanse. I am not a huge fan of foaming cleansers because so many can dry out the skin, but this one does not. It's a gentle creamy foam that manages to give me a deep clean without stripping the face or making it feel tight. Foaming cleansers are often marketed towards those with oily skin, but drier skin types can use as well as long as they are creamy and moisturizing.
With all the heat and humidity in the summer, my pores tend to be extra clogged so I like to use a toner to target this. This one is new from Alpyn Beauty and contains salicylic acid to help minimize the appearance of enlarged pores. I apply to a cotton pad and swipe all over the face.
As with my morning routine, I will spray this face mist after toning to add a bit of moisture onto the face.
While my skin is still damp from the Sisley Floral Spray Mist, I will pat in this essence as I did during my morning skincare routine. Using it twice a day has really made a difference and I love how plump my skin has been looking!
Evening Skincare Routine Step 2: Eye Cream
During my evening routine, I like to apply my eye cream before any serums or moisturizers. This one from Clinique is creamy but not too heavy and targets puffiness, dark circles and fine lines. For me, my main concern is fine lines and dryness which this does a great job at treating.
Evening Skincare Routine Step 3: Serums
Now I'm moving on to the serum portion of my routine and I tend to rotate the serums I use each night. Now they are calling this concept "skin-cycling" but for me I have been doing this for years. I like to use a resurfacing serum one night, a retinol treatment/serum one night and a hydrating serum one night. Rotating serums especially those with active ingredients ensures my skin doesn't become irritated from using them too many nights in a row. I have been using this UBeauy Resurfacing Compound for a few weeks and am really liking it though I'm not sure I will repurchase. It helps to brighten, resurface and tighten the skin but compared to the Farmacy Honeymoon Glow, I don't feel it is as effective. I will keep using until I finish but am undecided if I will repurchase.
The night after I use a resurfacing serum, I will often use a retinol treatment/serum. I just started using the Tatcha Silk Serum so I can't speak to its long term results yet but initially I am enjoying. Technically this is a retinol alternative serum and contains an ingredient that delivers many of the same results as retinol, so if your skin can't tolerate retinol this could be a great option. The Silk Serum helps to smooth the look of wrinkles, fine lines, firm the skin and reduce redness.
On the third night of my routine, I like to focus on hydrating, repairing and nourishing the skin so I will often reach for a hyaluronic acid serum for this night. This one from Farmacy has been a long time favorite and is also what I use during my morning routine. Just to help clarify my rotation a bit more, here is an example of how I would use these three serums: Monday UBeauty, Tuesday Tatcha, Wednesday Farmacy, Thursday UBeauty, Friday Tatcha, Saturday and Sunday Farmacy. Sometimes this will change but hopefully this explains the way I rotate my serums to best manage how my skin reacts to them.
Evening Skincare Routine Step 4: Moisturizer
Once I have applied my serum, I will finish with a moisturizer. In the summer I reach for something lightweight, refreshing and incredibly hydrating. Applying the Clinique Moisture Surge Moisturizer feels like a fresh burst of water on the face – it is SO good! It's a gel-cream texture so it feels refreshing on the face and this particular version is designed to keep the skin hydrated for nearly 100 hours.
If I want a moisturizer that is more calming, soothing and healing, I have been reaching for this Indigo Overnight Repair from Tatcha on some nights. Anytime there is more extreme weather conditions (summer/winter), my skin could become more sensitive or irritated and this moisturizer is a literal miracle worker. It contains ceramides to help strengthen the skin barrier and Japanese indigo extract to calm, soothe and heal the skin.
Evening Skincare Routine Step 5: Face Oil
Most nights I will use only a serum and moisturizer, but if my skin feels extra dry or in need of an additional layer of moisture I will apply a face oil at the very end. This Chantecaille Rose de Mai Face Oil is so luxe and nourishing yet feels weighless on the skin. It absorbs instantly, helps calm the skin and targets fine lines/wrinkles. Only a few drops are needed to cover the entire face but when I wake up my skin is so glowing, even toned and supple.
Face Masks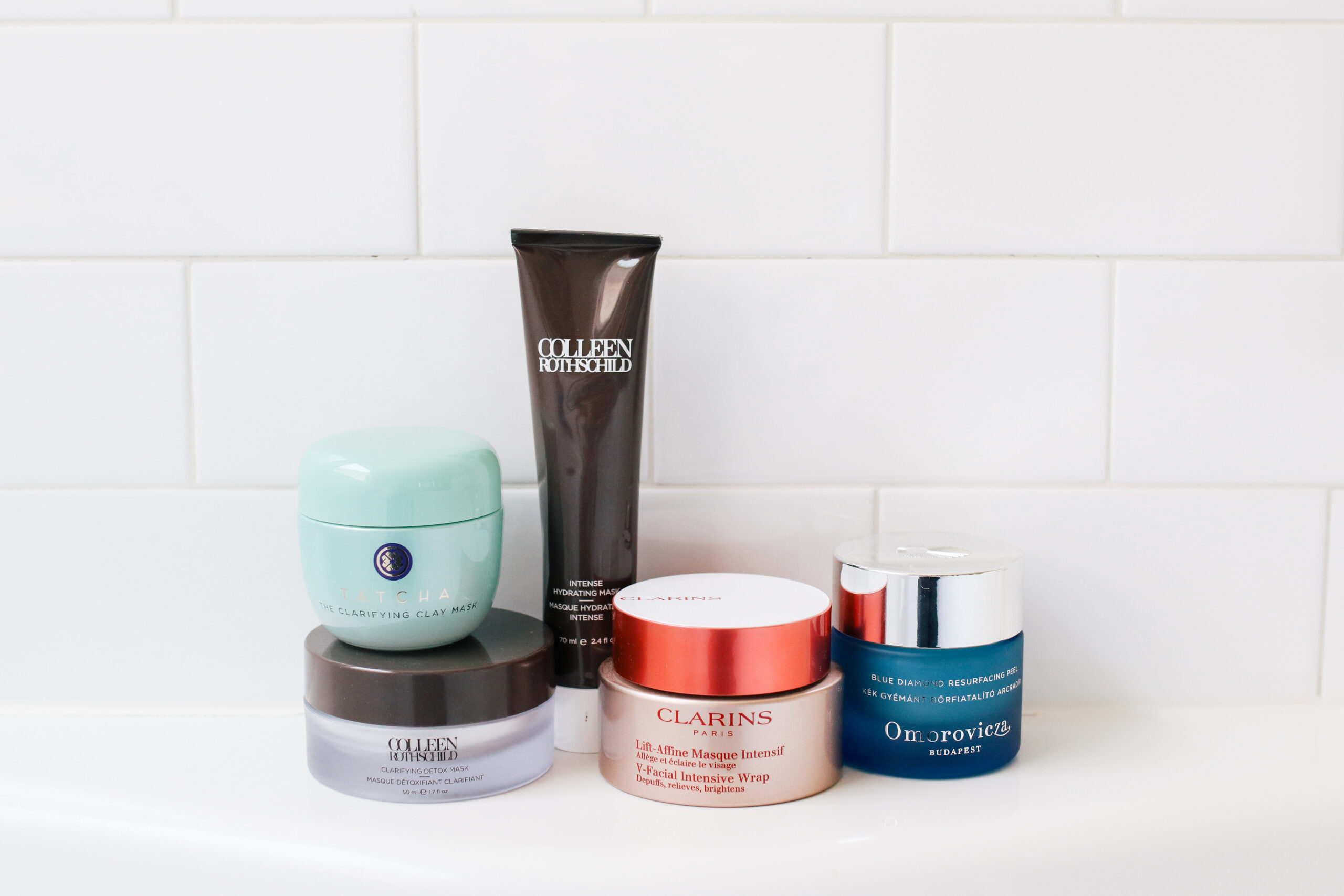 Face masks aren't something that I use every single night but will use them when I feel my skin needs it. These are the few that I rotate between to treat all of my current concerns. I will normally apply a mask after I have finished cleansing and toning but before I apply my essences/serums/moisturizers.
Using a clarifying or detoxifying mask is great for helping decongest clogged pores, but I find that MANY of them dry the heck out of my skin. So the two that I use regularly give a deep clean without stripping the face of all the healthy oils that it needs. The unique aspect of this mask is it warms as you apply it. It purifies the skin with Japanese volcanic ash and then provides a gentle exfoliation as well.
There is no warming effect with this clarifying mask but it still does wonders at cleaning out the pores. It's also important to note that you don't have to apply a mask all over the face. You can apply it only to the areas that need it – such as your t-zone or forehead. I usually will apply this mask all over but then after I rinse it off I will then apply the Intense Hydrating Mask. I love the combo of the two used in conjunction one after the other. My skin afterwards looks brand new! LOL
I am forever talking about this mask because it is truly one of my all time favorite hydrating masks. You can apply a thick layer to give an intensive treatment or apply a thin layer as a moisturizer and sleep with it on overnight. Either way, your skin will look so fresh, hydrated and plump afterwards! I always have a backup of this because it's staple for my skincare routine.
I call this mask the depuffing and firming miracle. LOL It's a huge cult classic and for good reason. I will typically use this mask when I feel very puffy or want a quick firming treatment before going somewhere.
Normally once or twice a month, I will use a stronger peel treatment and this one has been a long time go-to. It's pricey but truly one of the most effective yet SUPER gentle peels I've ever tried. There is no tingling or stinging and when I wash it off, my skin is softer than ever. A little bit goes a long way and only using it once or twice a month helps me justify the steep price tag.
Skincare tools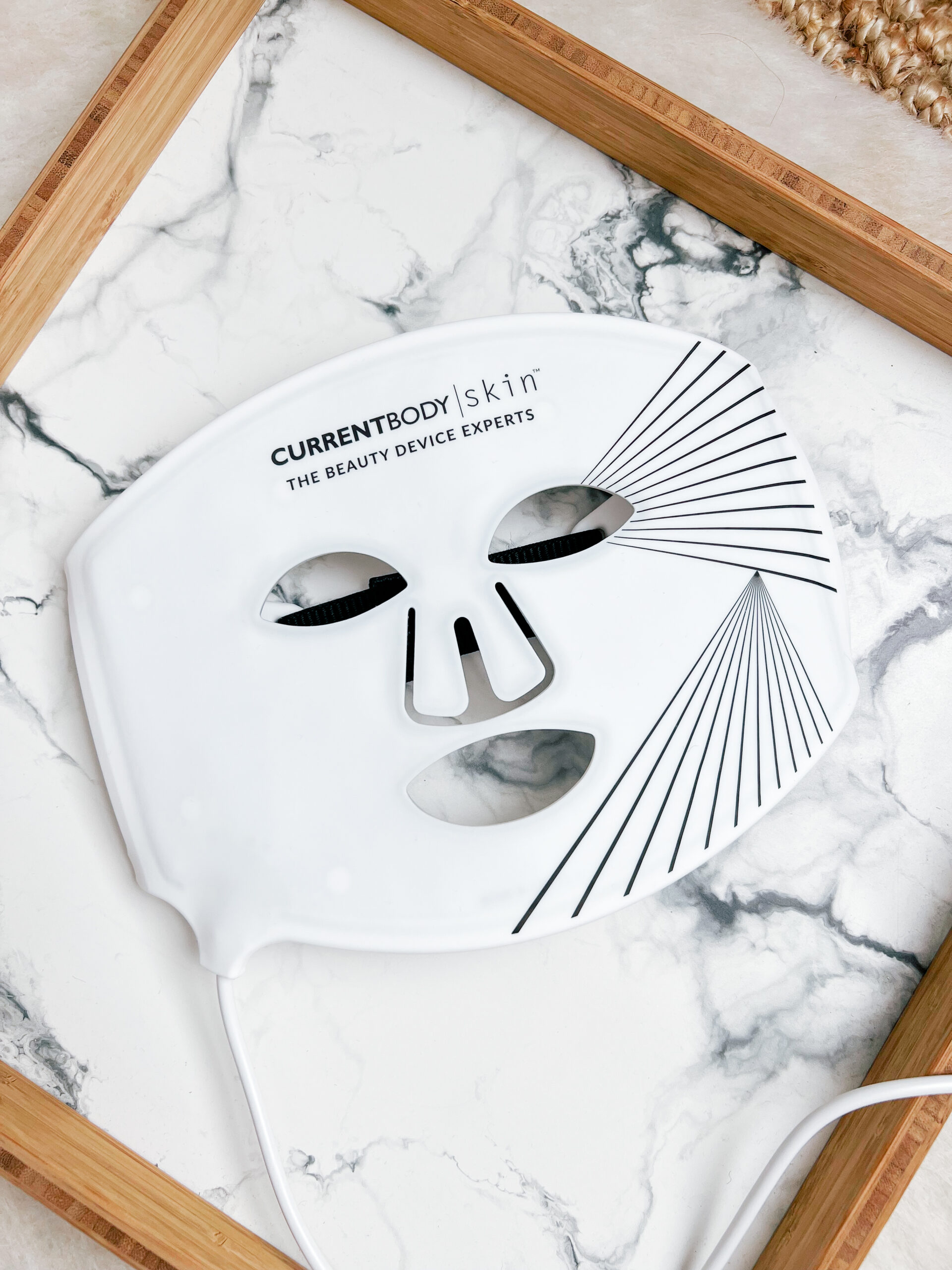 The only skincare tool I am using at the moment is my Currentbody LED mask. I have a more in-depth review on my blog and an active discount code. It is a pricey investment but I find it has been such a great addition to my routine and one that has been quite easy to incorporate into.
I use this mask 5-6x/week at night after I am done cleansing and toning. I will wear this for 10 minutes, remove it and continue with the rest of my skincare routine. LED masks in general target fine lines/wrinkles, improving overall clarity and brightness of the skin, boost circulation and stimulate cell renewal. I particularly like that this mask is flexible and molds easily to the face making it very comfortable to wear. And the light is set to a 10 minute timer each time so after 10 minutes the mask automatically shuts off.
Summer skincare tips
– Wear sunscreen every day (sunscreen in your makeup is NOT enough)
– Drink tons of water
– Wash your face every night regardless if you are wearing makeup or not.
– Use cool water to wash your face. If you hate cold water, use lukewarm water but never hot water. It will dry out your skin.
– Stay in the shade when possible
– Use a vitamin c serum in the morning
– Limit the use of exfoliating products or peels
– Moisturize, moisturize, moisturize! Not only your face but your entire body.