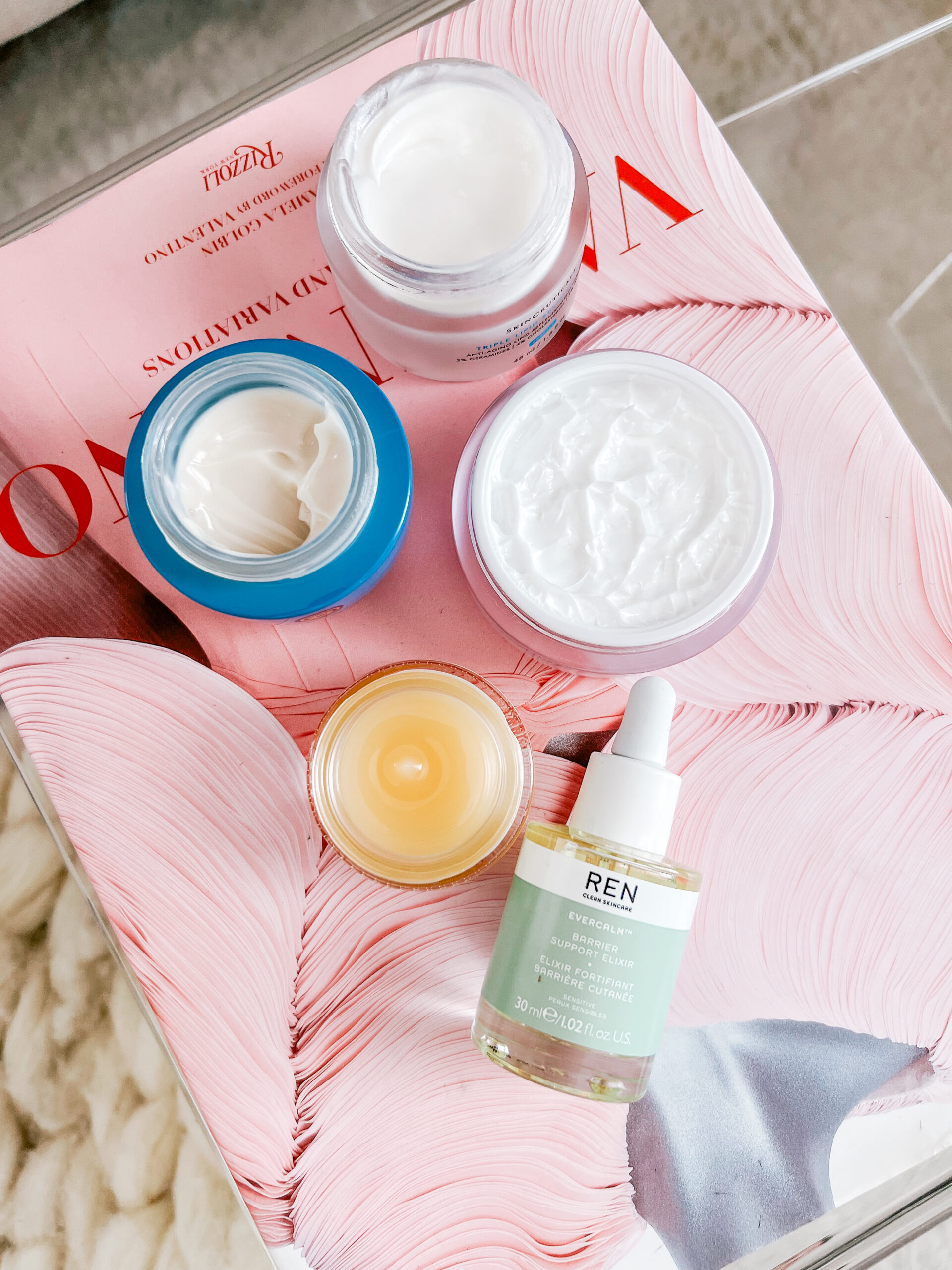 Protecting and healing the skin barrier on your face can often be overlooked during a skincare routine. The skin barrier is the outer layer of skin that protects all the subsequent layers from moisture loss and environmental threats. Often when the skin barrier is damaged, it becomes irritated, dry, sensitive and inflamed. For some people this can happen frequently and for others it may be a rare occurrence. Incorporating the right products into your routine regularly will help protect the skin barrier and ultimately keep it balanced and healthy.
5 Products To Protect and Heal the Skin Barrier
What causes damage to the skin barrier?
Many things can damage the skin barrier such as sun exposure, too many active products, overexfoliating, stress, lack of sleep or weather exposure. Repairing it can take some time and often requires products that nourish it with ceramides, fatty acids and hyaluronic acid. A good plan of action is to regularly use products that help strengthen (and repair) the skin barrier regularly to ensure it stays protected and strong. If skin barrier is healthy, your skin will ultimately look and feel better.
How to heal the skin barrier
There are a ton of great products out there that target the skin barrier and help to nourish it, but these are the ones that I have used regularly and found success with. Most of these products I will use regularly in my routine often at the end of it after I have applied all my essences and serums. But if my skin is exceptionally irritated, dry or feeling sensitive, then I will pare my skincare routine down to just a simple cleansing and toning followed by one of these products. Using less products and keeping your routine very simple is one of the keys to healing the skin barrier, as well as using lukewarm water when washing your face. Once you aren't feeling that irritation or sensitivity any longer, it's best to begin adding in your regular products and active ingredients but do so slowly and pull back if you skin reacts in any way. It can take days, weeks or even months to heal the skin barrier.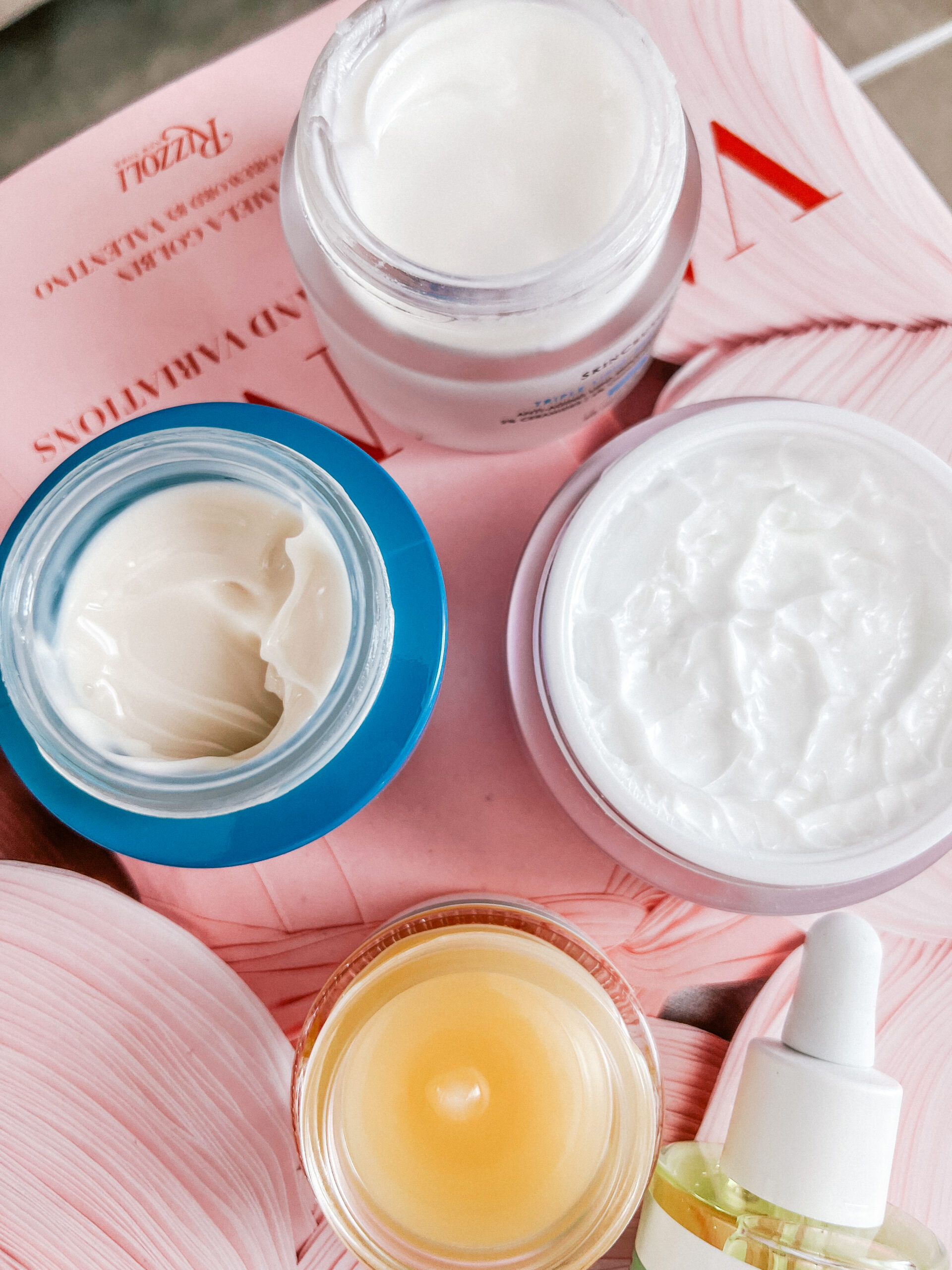 Products to use to heal the skin barrier
This is the priciest option out of the entire bunch but I have been using it for years and truly find it does wonders at helping repair the skin barrier. It contains essential lipids which is one of the key ingredients in helping replenish the skin barrier as well as vitamin e and essential oils. It is also a fantastic cream at targeting anti-aging concerns such as loss of fullness, rough texture and pore appearance so there are a ton of great benefits to this cream which helps in justifying the price. Especially is you use active ingredients such as retinol or acids in your routine, using something like this at the end will really help to keep the skin barrier in check so that you will get the most out of your actives.
I have been a Tatcha lover for nearly 10 years and find so many of their products are great at replenishing and nourishing the skin. This Indigo Overnight Repair is positioned as a serum-in-moisturizer so the texture is not as thick as the Skinceuticals Triple Lipid Repair but still delivers effective results in protecting and healing the skin barrier. With the addition of indigo which has amazing calming properties, this cream also works wonders at soothing the skin when it is irritated or feeling sensitive. It also contains mondo grass root which balances the skin microbiome, thus allowing the skin to strengthen its natural immune defenses.
I've been using the cream the longest out of this group and always have a backup in my skincare cabinet. The name says it all – it helps to recover the skin. It strengthens the hydro-lipid barrier of the skin which will make the skin appear more plump, healthy and glowing. In addition to helping the skin barrier, the Extreme Recovery Cream targets fine lines, wrinkles and skin texture. To be honest, I have used it on my chest and decollete as well because it makes my skin look so healthy and glowing.
While the other products mentioned are all a cream texture, this is a balm which feels like a solid oil. I personally LOVE a balm and find them to be one of the most effective textures are treating stubborn dry patches and flaky skin. This Overnight Recovery Balm is wholly focused on repairing the skin barrier in as little as 15 minutes. Obviously it will continue working after that but it will really help to immediately calm, soothe and nourish the skin especially if it irritated, sensitive or inflamed. It has a complex blend of oils that will minimize transdermal water loss and reduce sensitivity. When I use this, I like to cleanse, tone and then apply a generous layer of the Overnight Recovery Balm all over so that my skin gets the full benefit of it without layering it over anything else.
This is the newest product I've tried out of all my suggestions but I absolutely love it and it delivers the same results as the Overnight Recovery Balm but in a liquid form. It's a fragrance-free face oil that is designed to heal and repair the skin barrier, help balance the skin's microbiome and replenish the face overnight. I would use this in place of the Overnight Recovery Balm rather than layer the two together. It just comes down to a texture preference since both products do the same thing and target the same concerns. Any signs of sensitivity, irritation or extreme dryness is often reduced after as little as 7 days using this and is suitable for use on eczema prone skin as well.
Even if you are not quite sure you have damaged your skin barrier or are in need of repair, adding a product that will nourish, heal and help balance the skin is a definite plus to having in your regular routine. My skin barrier is quite healthy but I still regularly use products like these to support the skin and I find that I get better results with my active ingredients.