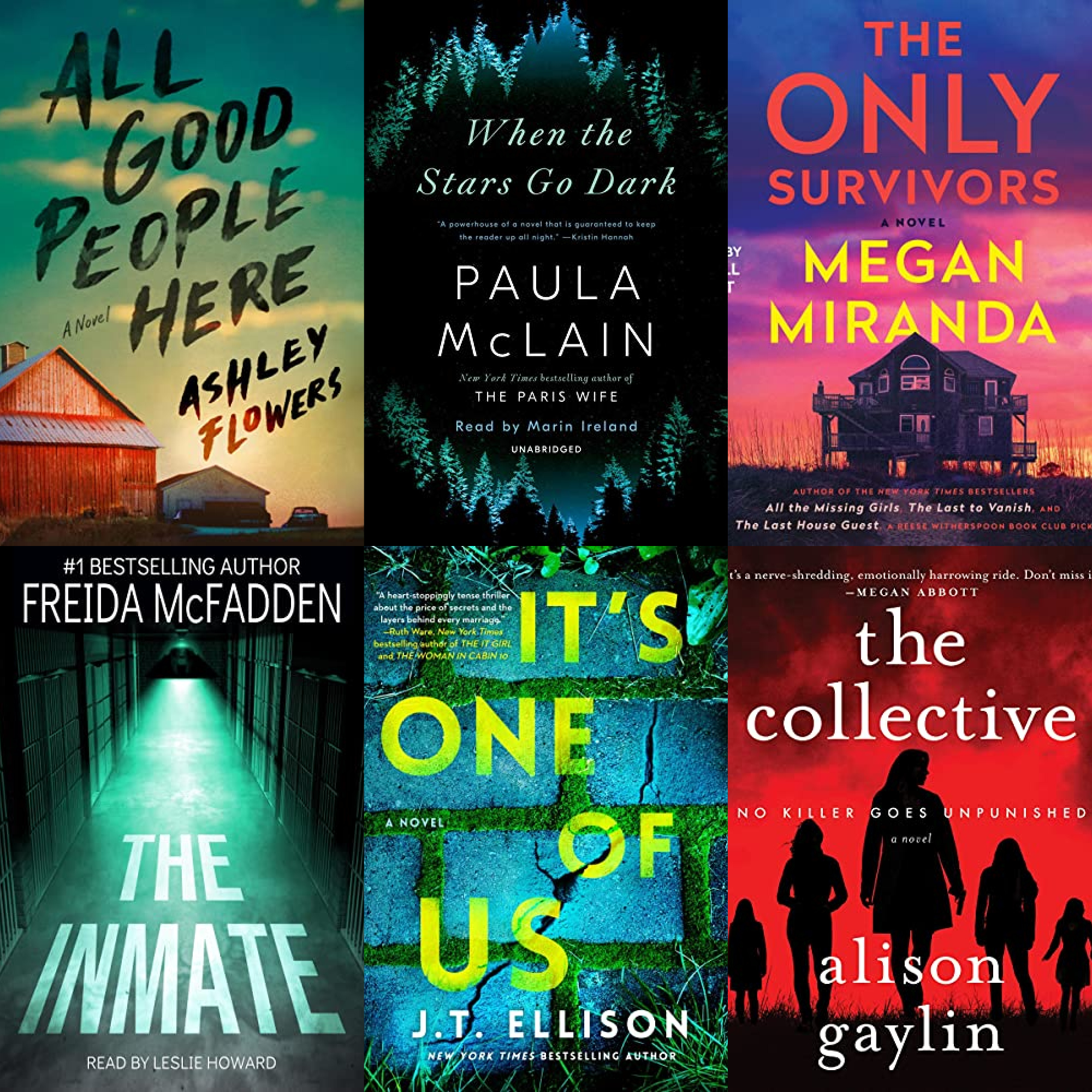 All the books I finished recently
A group of mothers seeking anonymous revenge on the killers of their children – also known as The Collective. Camille is grieving the loss of her teenage daughter and can't escape the rage she has for the privileged young man that was responsible but avoided any repercussions or punishment. So she sought refuge in an online forum on the dark web. A forum of other mothers who had their children senselessly taken from them. But soon Camille realizes that the rage these women are sharing is oddly corresponding to unexplained deaths. Could these women be acting on their impulses? And could they possibly help Camille punish the young man who killed her daughter? Rating: 8.5
Olivia and her husband Park are struggling with infertility and it is beginning to tear them apart. So when the local police arrive at their doorstep to say that Park has a son who is a suspect in a murder investigation, Olivia wonders how this could be possible. Park admits that he donated sperm to a clinic when he was in college so it is possible that he has a child out there somewhere. Olivia is terrified that this mystery child could come after them and feels like Park is hiding more secrets from her. Can she get to the truth before it's too late? Rating: 8
This was a good detective mystery and but wasn't my favorite of the bunch that I read. Anna is a missing person detective who has taken leave from her department after a tragic family incident. While trying to process the grief, she escapes to the small city that she grew up in and runs into a local detective whom she went to school with. He asks for her help in solving the case of a missing girl and she agrees to lend her expertise. During the investigation, Anna can't help but draw correlations from the current case to an old case of a murdered young girl from her hometown that rocked the small community. This book would go in and out of holding my attention so while I finished it, it wasn't enough to really stand out to me. Rating: 7
This book is written by Ashley Flowers, the host of the Crime Junkie podcast. The story is very reminiscent of the Jon Benet Ramsey case and I really enjoyed the whole book!
Margot is a journalist in a big city but has to move back home to her small town to help care for her uncle who was recently diagnosed with dementia. As soon as she arrives back home, she learns of the abduction of a 5 year old girl from the next town over. This reminds Margot of the tragic murder 2o years ago of her neighbor January Jacobs, who lived across the street from her. January was only 6 when she was killed but Margot wonders if there is a correlation between January's murder and the abduction of this 5 year old. She decides to look into it further but what she discovers threatens to destroy her own family and perhaps put her in danger. The books ends on a cliffhanger so I assume there will be a sequel at some point! Rating: 8.5
Frankly I don't even know what this book was about because it was so boring and painful to get through. LOL From the little I remember, it is about a group of friends that went through a tragedy in high school and get together every year to keep each other accountable and ensure no one is sharing secrets of that event. It took so long for the mystery/thriller content to even begin and when it did, it was lukewarm and boring. Rating: 4
While this book kept my attention, it definitely wasn't a favorite out of the group. The description made it sound better than it actually was. Brooke just recently got a job as a nurse at a men's maximum security prison but what none of her coworkers know is that the father of her son is an inmate at this prison. And Brooke is the one responsible for Shane's conviction. Shane tried to killed Brooke and her testimony was what convinced the jury of his guilt. But after reconnecting with an old high school friend who was there the night of the attempted murder, Brooke begins to have doubts. Since she didn't actually see Shane because the person was behind her trying to strangle her, Brooke wonders if she got it wrong. And she desperately wants to make it right for the sake of her son. Rating: 7
Find more book reviews here!