One of the biggest trends for summer is the denim skirt. Specifically the denim midi skirt but so many different lengths are available now so there is something for everyone. I was curious about trying the trend and whether or not I would like it. While the skirt I purchased was a midi style on the model, it is much closer to a maxi skirt on my 5'4″ height. LOL Denim is a major backbone of my wardrobe so adding in a denim skirt seemed like something I could easily style with things already in my closet.
How to style a denim midi skirt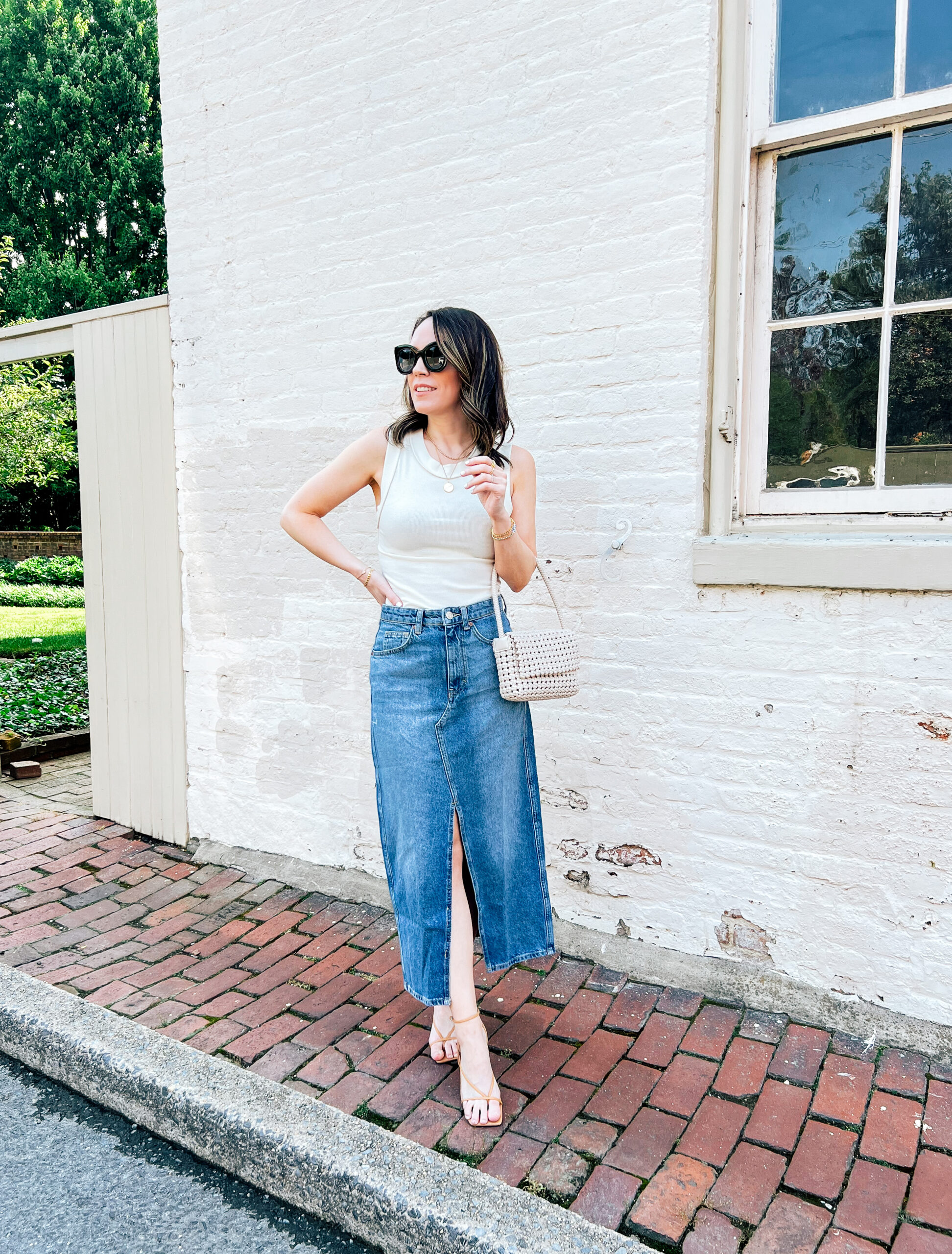 Tank | Skirt | Sandals | Bag | Sunglasses
As with most of my denim pieces, I kept things simple which always works. Going for a basic white tank, strappy sandals and a neutral bag. I like the slim fit of many of the denim midi and maxi skirts that are trending right now and find that it's a flattering style to wear. The high front slit of this particular one makes it so easy to walk in and much more comfortable to wear in the summer. I'm trying to decide how I will style this going in to the fall season so stay tuned because I definitely think it is a piece that has versatility.
I have to take a quick moment to rave about the white tank I am wearing because I am obsessed! Finding tanks in the summer that work with a regular bra is a real pain but this one fits flawlessly and I love the slight detail on the seams. It comes in a few colors so I have already added the black to my cart and may get a backup of the ivory!
Denim midi and maxi skirts at all price points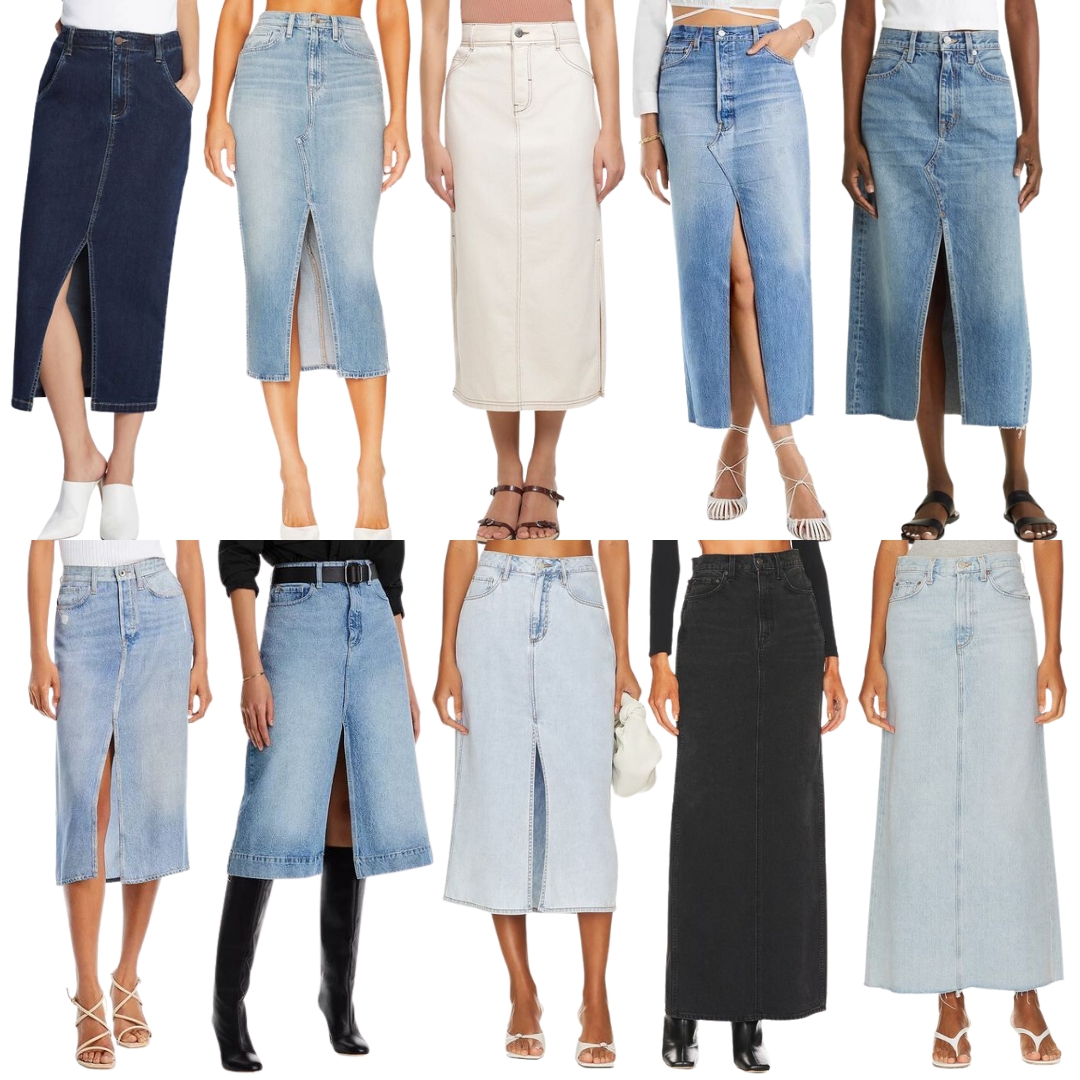 Veronica Beard denim skirt | Hudson Jeans denim skirt | River Island carpenter denim skirt | Re\Done denim maxi skirt | Slvrkake cotton denim skirt | Rag & Bone denim midi skirt | DL1961 A line denim skirt | WeWoreWhat denim skirt | Grlfrnd denim pencil maxi skirt | Agolde long line skirt
How chic are all these midi and maxi skirts?!!! To be honest, I was immediately drawn to the one styled with the knee high boots and thought that would be such a good fall look. I think the key for making these look great is wearing them with a simple shoe and top so that the skirt is the main character of the outfit. The front slits are probably my favorite because they give the skirt some movement and create a flattering line. I know not everyone may love the full length denim maxi skirts but I definitely think you can wear them in a chic and youthful way with some statement sandals, a gorgeous belt and a flattering fitted tank. Which style is your favorite?!
Denim mini and knee length skirts at all price points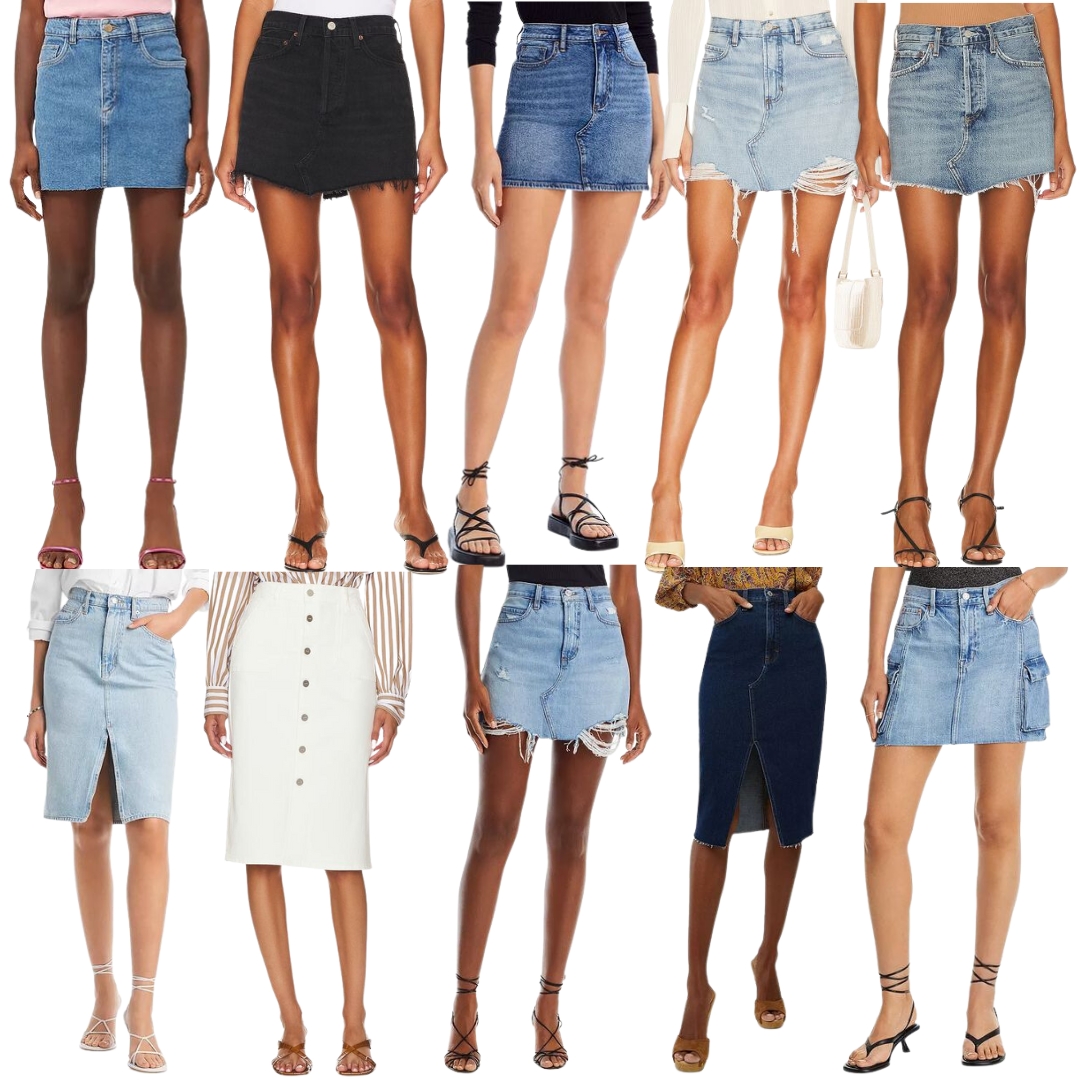 DL1961 classic denim mini skirt | Agolde parker angled skirt | Aqua denim mini skirt | Frame denim mini skirt | Agolde angled denim skirt | Derek Lam 10 cotton denim skirt | Paige denim skirt | Frame denim mini skirt | Veronica Beard denim skirt | Pistola denim cargo skirt
I love the denim mini skirt look worn with flats or even sneakers to help balance out the skirt length. A cropped boxy tee or distressed band tee would really complete the look. I personally am immediately drawn to the knee length denim pencil skirts because they all look so chic! Definitely a choice for a more business casual environment or a job with a ton of creativity, but nonetheless completely fits my style and aesthetic. A flowy blouse or boucle jacket would make the entire look and of course some pumps or peep toe heels are the shoe I would reach for.