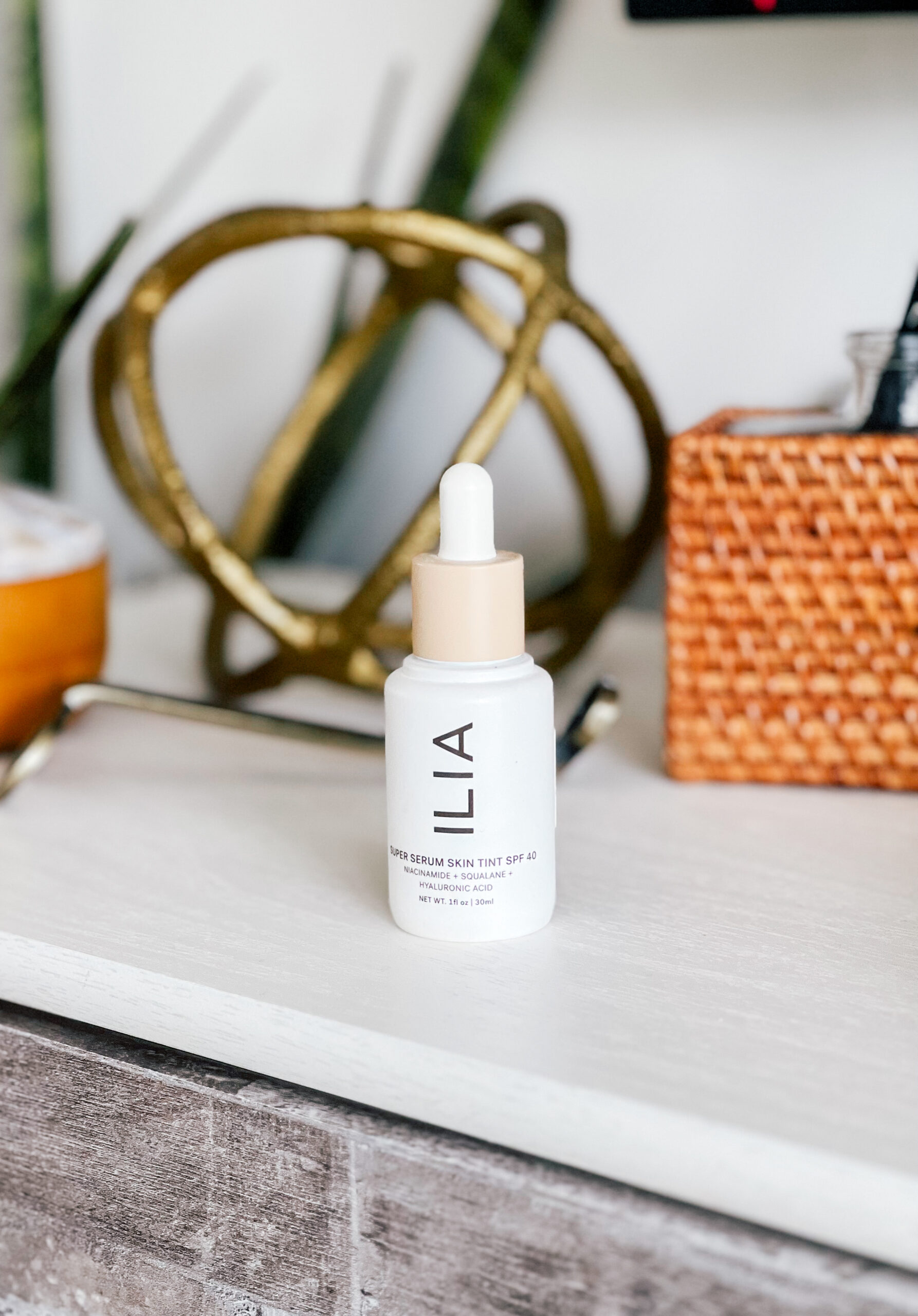 I love a natural makeup look. Something that looks polished and refined but still like me. It can be difficult choosing products that can help you achieve that natural-looking perfect finished look. But I have made it my mission to find products that do exactly that. I have been using the ILIA Super Serum Skin Tint for years now and it's still one of my go-to products for getting that fresh faced natural look. I first tried the brand almost 10 years ago and have been loving them ever since.
About ILIA Beauty
ILIA Beauty is a sustainable clean beauty skincare and makeup brand that believes in skin looking like skin. (Basically everything I want!) Most of their makeup products include some type of skincare based ingredient. So it's helping treat the skin while also allowing it to look its best. It's quickly become one of the most makeup popular brands in the US and for good reason. When I used their products 10 years ago, I really liked them. They have since improved their formulas even more and I am a full ILIA Beauty lover! Though their products are designed to make your skin look like skin, you can still find very pigmented products with vibrant colors. Obviously their Super Serum Skin Tint is a top seller for them and one of the products that has made them so popular.
In addition to the Super Serum Skin Tint, I have also tried a ton of other ILIA products. For when I want a bit more coverage and a less radiant finish, I use their True Skin Serum Foundation. Their Balmy Gloss Tinted Lip Oil is one of the best lip oils I have ever tried because it nourishes your lips but provides a ton of pigment. The ILIA Balmy Tint Hydrating Lip Balm feels like a lip balm but delivers more color so it can be used with a full face. I love a good liquid highlighter and their Liquid Light Serum Highlighter is like a lighting crew for your cheek bones! Absolutely radiant and flawless! The Ilia Liquid Powder Eye Tints are an easy one and done eyeshadow too.
ILIA Super Serum Skin Tint Review
Today I am going to focus on my honest review of the ILIA Super Serum Skin Tint and whether I would recommend it to my readers and who I would recommend it for.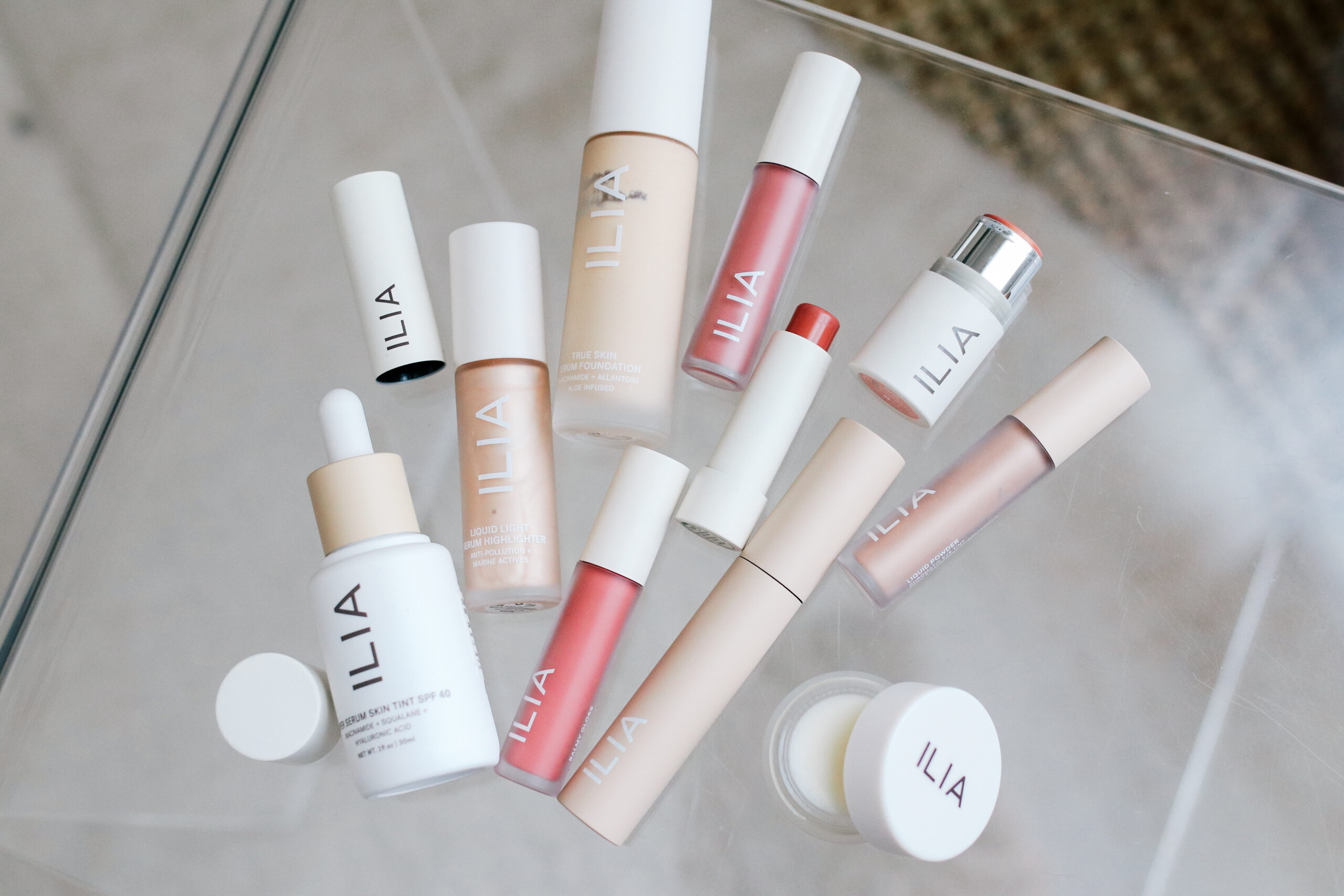 The ILIA Super Serum Skin Tint SPF is a skin tint designed to deliver skincare benefits with light coverage and a mineral SPF 40 for additional sun protection. It's a lightweight liquid formula much like a serum. Serum foundations have become more and more popular over the years. The skin tint offers skincare benefits that improve the look of dryness and treats uneven skin tone, blemishes and fine lines over time. It's a makeup that also puts in the WERK! Ha! I first tried it a few years ago when my skin was a bit more oily and I'll be honest, I was hesitant to try it. It is supposed to give a dewy finish to the skin and dewy + combination skin is not a good match. But I was VERY wrong.
Combination Skin
While it did initially leave a fresh and glowy finish, it settled down a bit on me to a natural finish and I used a setting powder in my t-zone to control any shine throughout the day. It never got too shiny, nor pulled apart around the nose or forehead (my trouble areas) or made my face look like a greaseball by the end of the day. I was really shocked if I'm being truthful. Since then I have had it in my foundation rotation and always repurchase as soon as I run out.
Normal/Dry Skin
Now that my skin is more normal to slightly dry, it is an ABSOLUTE DREAM! It makes my skin look like I have just had a facial and keeps it nourished all day long. What impresses me the most about this formula is that though it is a lightweight coverage skin tint, it is one of my longest longest-wearing foundations I own! After I apply it in the morning, it does not budge throughout the day and my face looks just as fresh 10 hours later as it did that morning.
ILIA Super Serum Skin Tint Details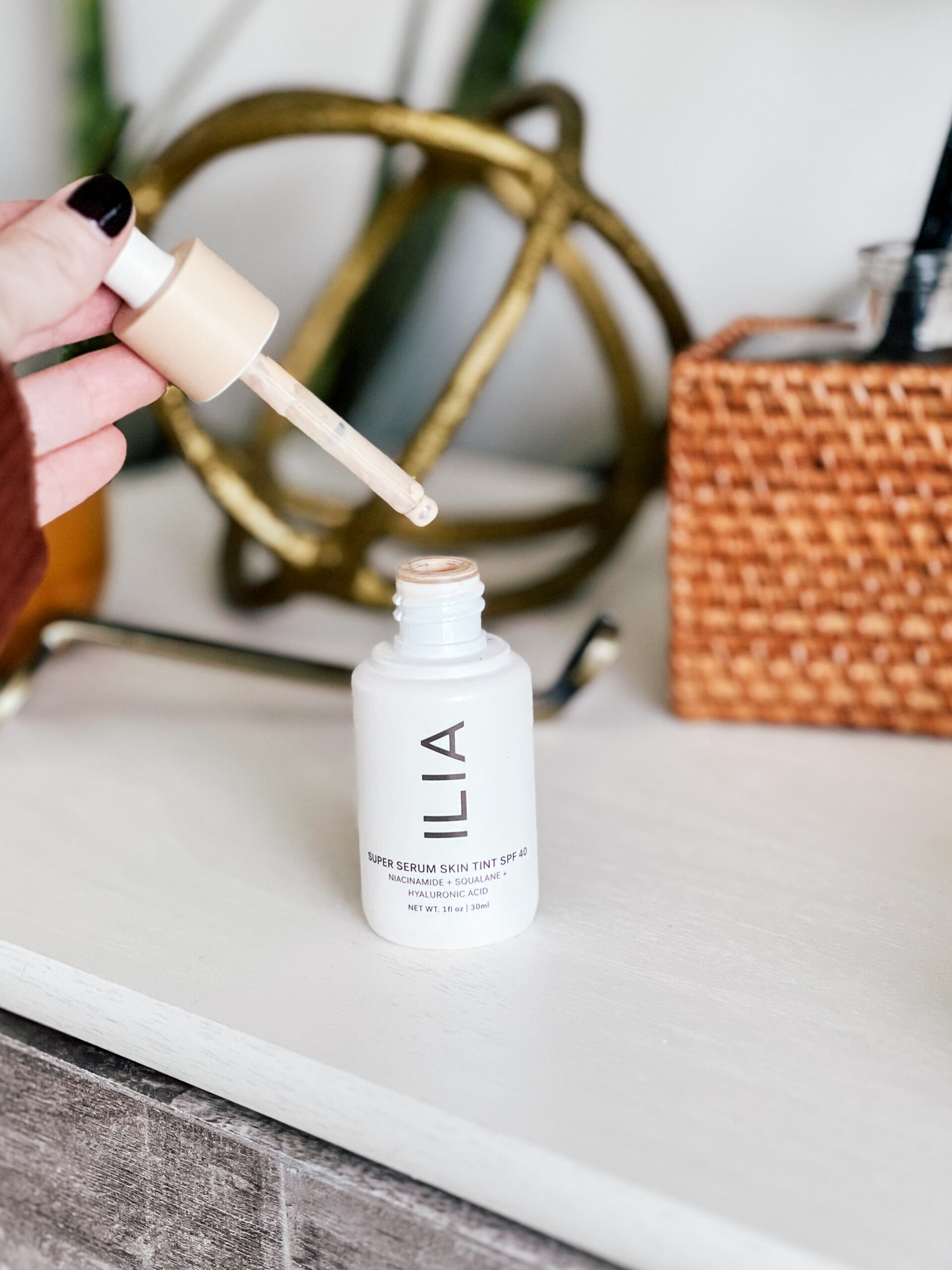 Packed with skincare ingredients
I've talked before about my love of hyaluronic acid so I was thrilled to see that as one of the key ingredients. It helps to draw moisture into the skin and also retain that moisture making the skin look more plump. Niacinamide helps refine skin texture and minimize the appearance of pores. Nano Zinc Oxide helps provide additional sun and environmental protection. Plant based squalane boosts elasticity without clogging pores.
Shields the skin
Not only will you get UVA protection with the SPF 40, it also helps to protect the skin against blue light (possibly from sitting at your computer all day) and pollution.
Non-comedogenic
Though it has a very dewy and moisturizing finish and feel to it, the ILIA Super Serum Skin Tint is non-comedogenic which means it will not clog the pores.
Safe for sensitive skin
For those that struggle with products safe enough for their sensitive skin, the Super Serum Skin Tint is formulated for you! A beauty product that is gentle yet still effective.
Dropper dispenser
I'm still on the fence about how I feel about the dropper dispenser but I have gotten used to it. I dispense 4-5 drops onto my fingers and then rub it into the skin. That normally covers my entire face. If this is your first time using it, I would start slow and only apply a drop or two to determine how much it will cover for you based on your preference.
Is ILIA Skin Tint Worth It?
I have gotten mixed reviews and feedback from my audience who has tried it. Some have absolutely loved it and others have found it to be too dewy. I personally love it and think it is worth it! I have repurchased it more times than I can count and will continue to do so. It lasts so long, makes my skin look so healthy and the added benefits of skincare ingredients and SPF makes it one of my most reached for skin tints.
ILIA claims that it is suitable for oily skin as well as dry skin but it is a dewy formula so if you want a more matte finish, you may not love this. I have heard from some of my readers who have oily skin and love this so I think every person is different. For those with more dry or mature skin, I think you will absolutely LOVE this!
ILIA Super Serum Skin Tint Before and After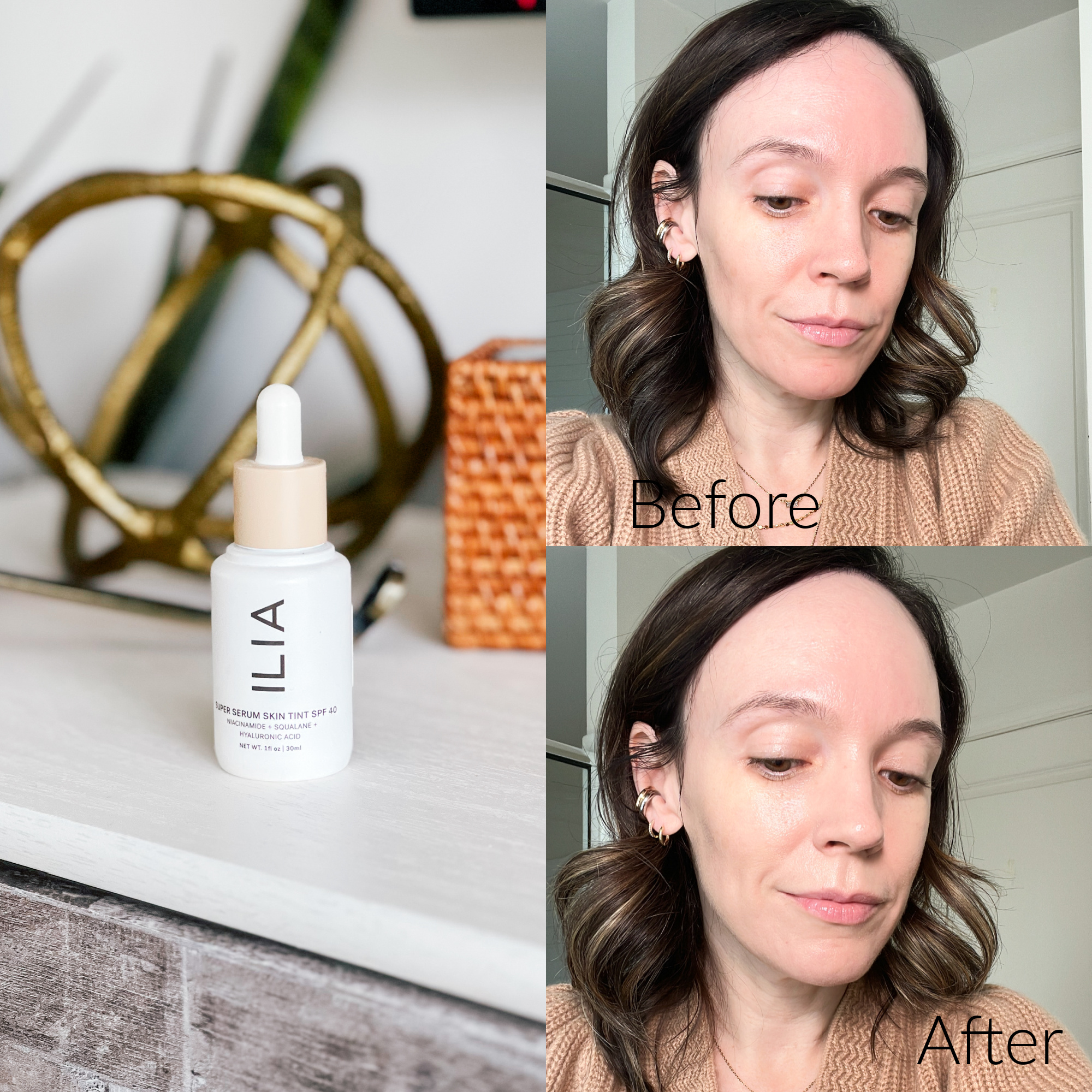 As you can tell from these photos, the coverage isn't intense but it does help to even out my skin tone and makes my skin look so radiant and healthy. I wear shade S2 Tulum. It takes away any redness and allows my skin to still shine through. It never looks like I'm wearing makeup but rather that my skin looks great!
How To Use the ILIA Super Serum Skin Tint
Prep the skin
This is just a rule for me whenever I am applying makeup, I like to make sure my skin is nicely moisturized and hydrated. However, if my skin is particularly dry that day or I didn't prep my skin, the Super Serum Skin Tint still applies like a dream. It still delivers all those amazing skincare benefits and nourishes my skin immediately.
Use your fingers or a foundation brush
Because the formula is very runny and thin, using a makeup sponge will waste a ton of product. The sponge will soak up the product and you will end up going through the bottle much faster. I typically apply it with my fingers and then rub it into the skin. If I feel I still need to blend it a bit more, I will then go in with a damp makeup sponge. A foundation brush would also work nicely.
Do not apply the dropper directly to your face
I know that everything is doing that all over social media, but you can contaminate the dropper by letting it touch your face. Once it touches your face, putting the dropper back in the bottle can spread bacteria so it's best to make sure the dropper never touches anything.
Use a setting powder to reduce the dewy finish
If you prefer a more natural or even matte finish but you love the skincare benefits and color range of the Skin Tint SPF40, dust a mattifying or blurring setting powder all over. This will tone down the radiant finish and give the skin a more matte appearance without adding too much additional product to the face.
Where to Buy ILIA Super Serum Skin Tint?