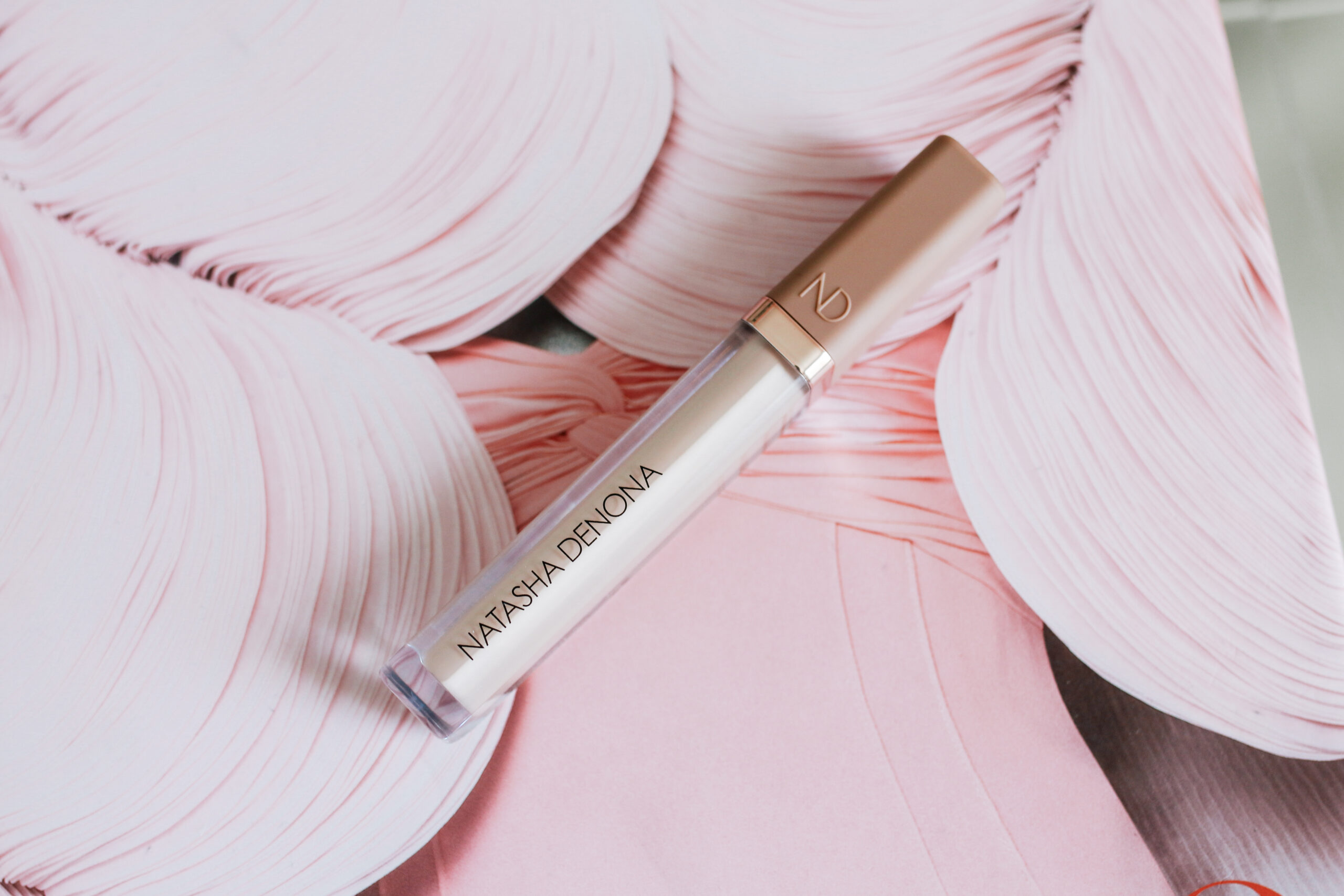 Natasha Denona has quickly become one of the most popular and well know makeup artist brands in the past few years. Natasha was a professional makeup artist for nearly 25 years before beginning her own cosmetics line. Tons of celebrity and professional makeup artists have tried to create their own makeup line but not all are successful nor are the products that great. The Natasha Denona brand has been absolutely amazing since day one. Her products still manage to have the quality and performance that professional makeup artists need but still appeal to a regular consumer that just wants to do her everyday makeup for work.
I personally swear by her eyeshadow palettes (the Glam one is holy grail for me the new I Need a Nude palette is on my wishlist) and also love many of her lip products. I had not tried any of her complexion products before the Hy-glam concealer but when I first saw it on her Instagram I was instantly intrigued. Also, I was intrigued by the wide color range and the serum-like texture that would still be able to provide amazing coverage while delivering skincare benefits so I decided to give it a try. I've been using it for the past few months and thought I would share my review on it and whether it's worth trying.
Natasha Denona Hy-Glam Concealer Review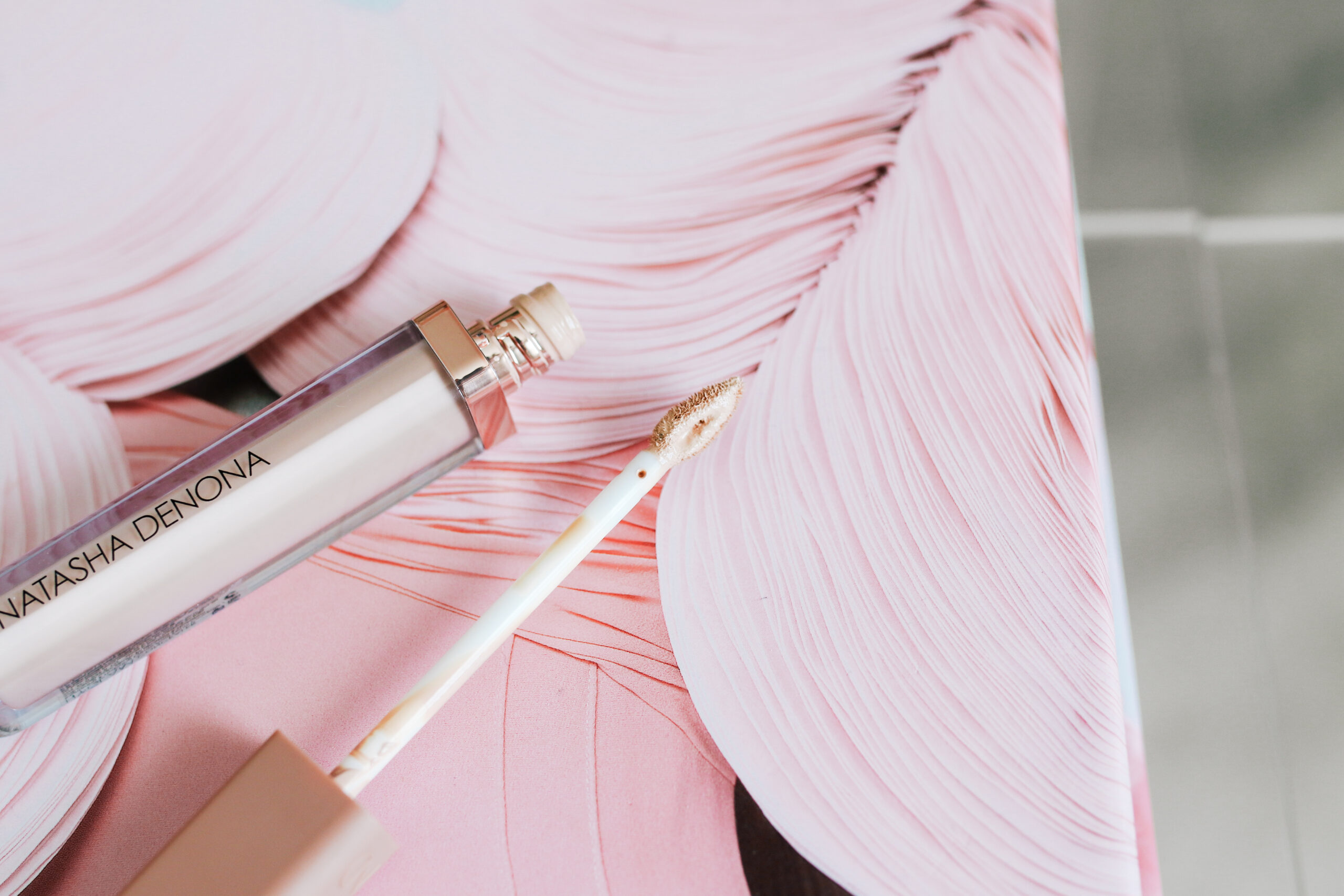 Choosing a concealer can be so overwhelming because there are so many on the market. So hopefully my review will help you identify if this particular concealer would be a good fit for your needs. I personally prefer something that provides medium coverage. And lasts all day while not enhancing my fine lines or creasing throughout the day. I often don't set my concealer with a powder. So whatever I wear needs to be able to set and last without that added step.
The other challenge with concealers is deciding on a color. And since there are SO many to choose from with the Hy-Glam concealer, it was a bit daunting. But Natasha Denona's website does offer a comprehensive explanation both in video form and with an option to put in your current concealer shades from other brands to determine the best color for you. I was able to use these tools to find a color that worked perfectly for me!
Smooth creamy texture
Upon applying this serum-like concealer, the first thing I noticed was how creamy and hydrating it felt on the skin. It glides right on and immediately made my under eye area feel moisturized. It contains a combination of botanical stem cell actives that reduce puffiness, hydrate and help to brighten dark circles immediately and over time.
Easy to blend
Because the formula is so creamy and smooth, it is a dream to blend. I use either my makeup sponge or this concealer brush to blend it out. It literally melts into the skin with only the smallest amount of blending needed.
Medium Coverage
I prefer a medium coverage concealer to a full coverage because it's more manageable in my opinion. This covers everything I need it to with one swipe. But can be built up with more applications to the face for fuller coverage.
Long lasting
I am not someone that touches up my makeup at any point during the day. So I need all my products to last at least 8-10 hours. As I mentioned before, I don't set this concealer with powder and find that if you let it set for a couple of minutes after applying, it's good to go without setting powder. It's super long wearing, crease proof and doesn't settle into fine lines throughout the day.
Blurred flawless finish
The Hy-glam concealer contains a mixture of biomimetic pigments and texture-perfecting microspheres that help to blur darkness and fine lines. The finished result under my eyes is a soft matte finish that looks flawless.
Perfect color match
The Hy-Glam concealer has a HUGE range of shade options. It has a wide selection of undertones for both the skin and under eye area that allows for a near perfect match. I chose the shade N1 which is a fair neutral and it is exactly the right shade for me.
How To Use the Natasha Denona Hy-Glam Concealer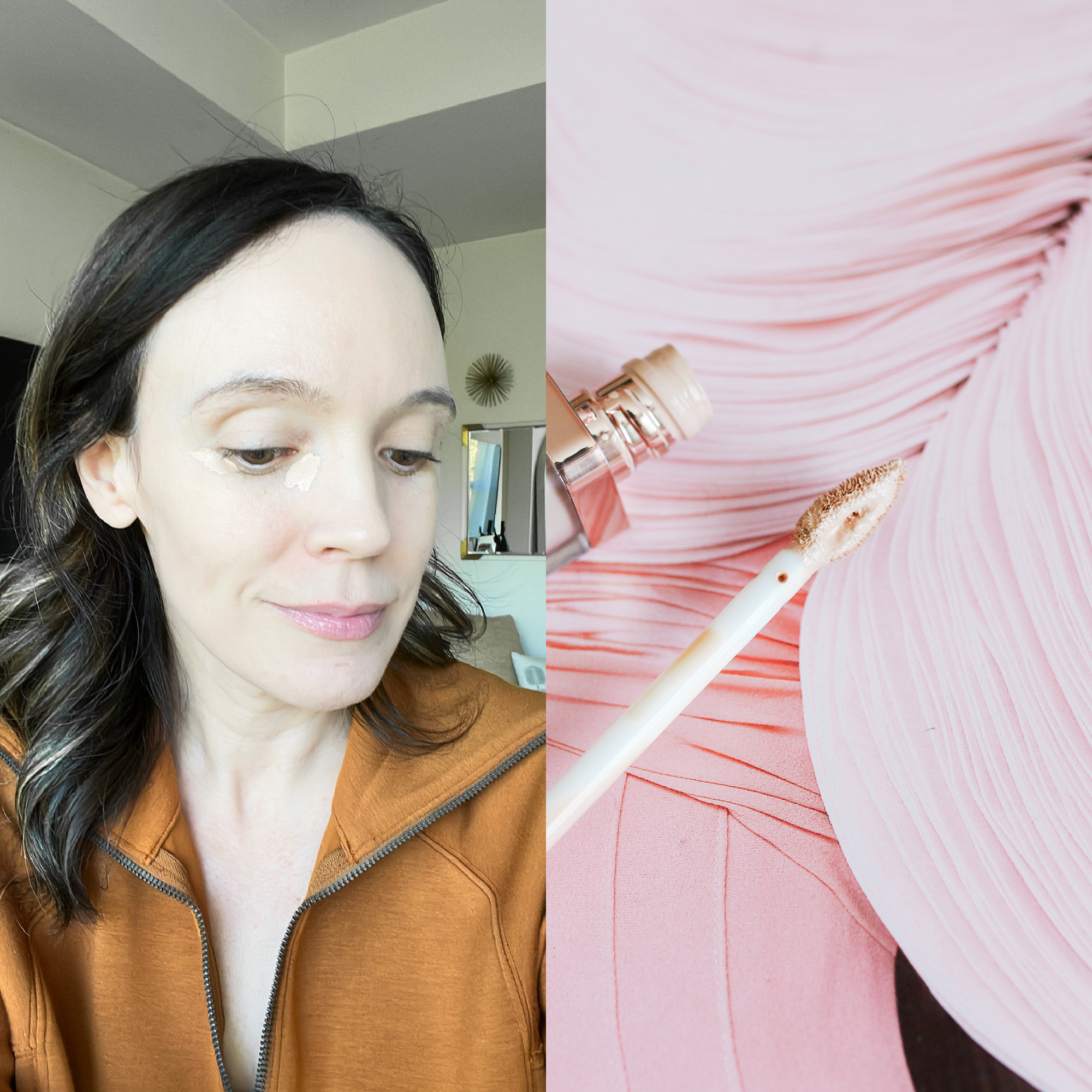 Prep your under eye area
Even though this concealer is incredibly hydrating and creamy, it's always best to use an eye cream first to help prep the eye area. I personally love something moisturizing and depuffing like the Clinique All About Eyes or the Inkey List Caffeine Eye Cream.
Apply only where you need it
So often I see makeup tutorials where the person will use concealer in a huge v or triangle under the entire eye area. And when I've ever tried that, my eyes end up looking so cakey by end of day. I like to apply the Hy-glam concealer with the flat side of the applicator just to the inner darkness of my eye. And a touch at the outer corner to lift. You can also use the pointed tip of the applicator to apply as a spot treatment on the face. That's what makes this concealer so great. It can be used on the eye and large areas of the face too.
Blend with a brush or sponge
A sponge will soak up some of the product so if you choose to blend with one, you may get a bit less coverage. If my makeup is very light that day, I will reach for a sponge to blend in my concealer. But if I want more coverage with the same amount of product, I will use a concealer brush and dab the product in. The brush won't remove any product and it allows the concealer to provide more coverage.
Choose the correct color
The color matching system for the concealer is based on six overtones: fair, light, medium, tan, dark, deep. And 4 undertones: neutral/cool, yellow/golden/olive, peach/warm and rosy/pink. You will first determine your overtone color and then choose the undertone color based on what you want to target. In addition to the hy-glam concealer, there are also 6 Hy-glam corrector colors that help target hyperpigmentation.
If you want to cover minor dark circles and spot conceal, go for a shade that matches your skin tone.
If you have blue or purple under eye circles, select a concealer shade from the PEACH undertone category.
If you dark brown under eye circles, select a concealer shade from the ROSY undertone category.
If you want to conceal hyperpigmentation, choose a Hy-glam color corrector that matches your skin tone.
Natasha Denona Concealer Swatches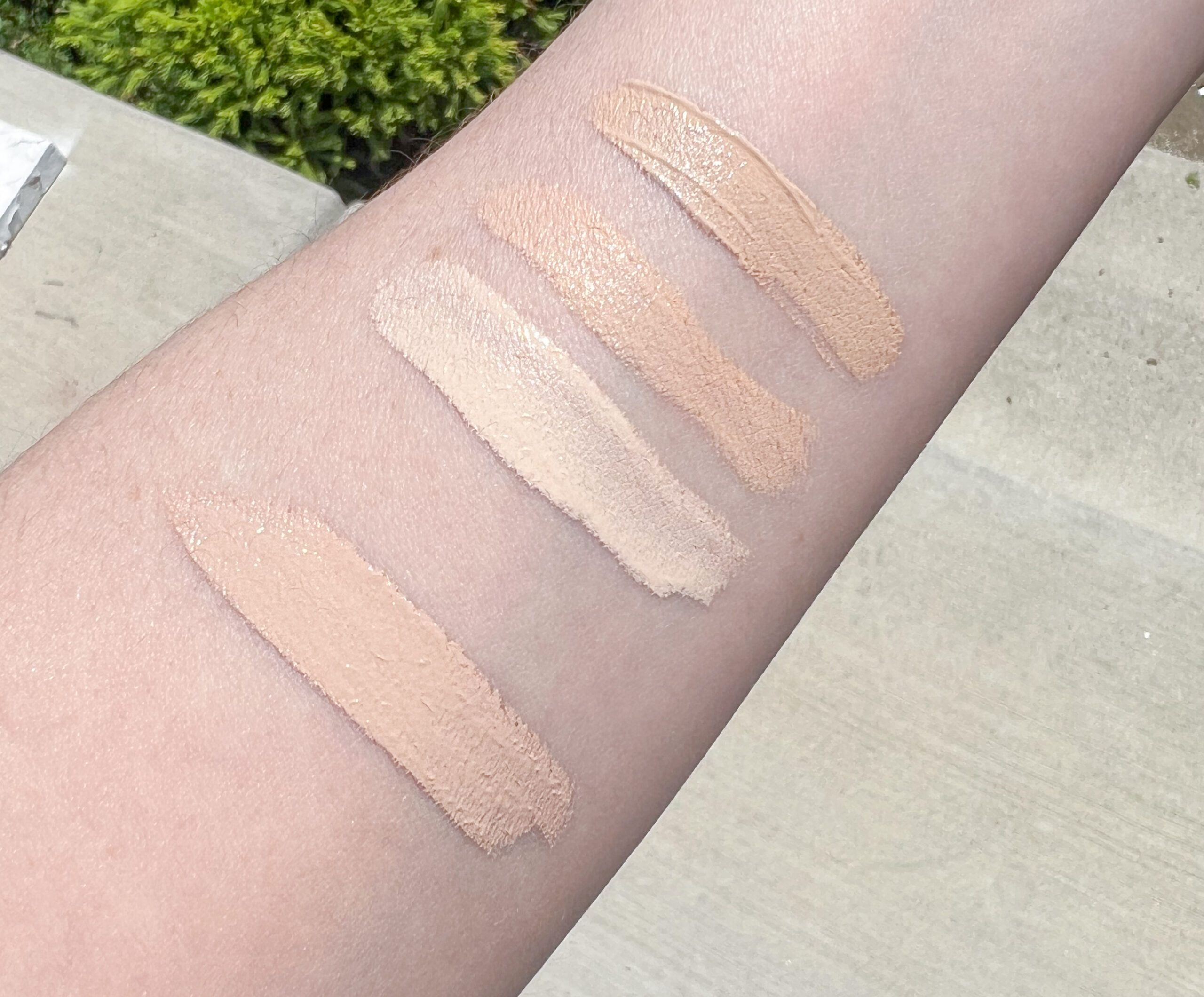 Swatches from left to right: Natasha Denona Hy-glam concealer in N1, Tarte Shape Tape Creamy in 12N, Tarte Shape Tape Creamy in 16N, Tarte Powerflex concealer in 14N
I wear the shade N1 which is a fair neutral concealer. I like my concealer shade to be a bit light but still blend in easily to my skin tone. If you are going to be using it only on your eyes and prefer a very bright under eye, then I would go with a color two or three shades lighter than your skin tone. If you are going to use it on the face as well as your eyes, opt for a shade that is nearly identical to your skin tone or perhaps one shade lighter. Because the formula is so creamy and blendable, many people have been buying darker shades to use as contour colors.
I definitely think this concealer would work for all skin types. And be suitable for those that want a small amount of coverage to those that want more full coverage. It is incredibly versatile and the formula is one of the best I've tried!
Check out these other concealer reviews on my blog: UD All Nighter Concealer, It Cosmetics Concealer and Too Faced Born This Way Concealer.