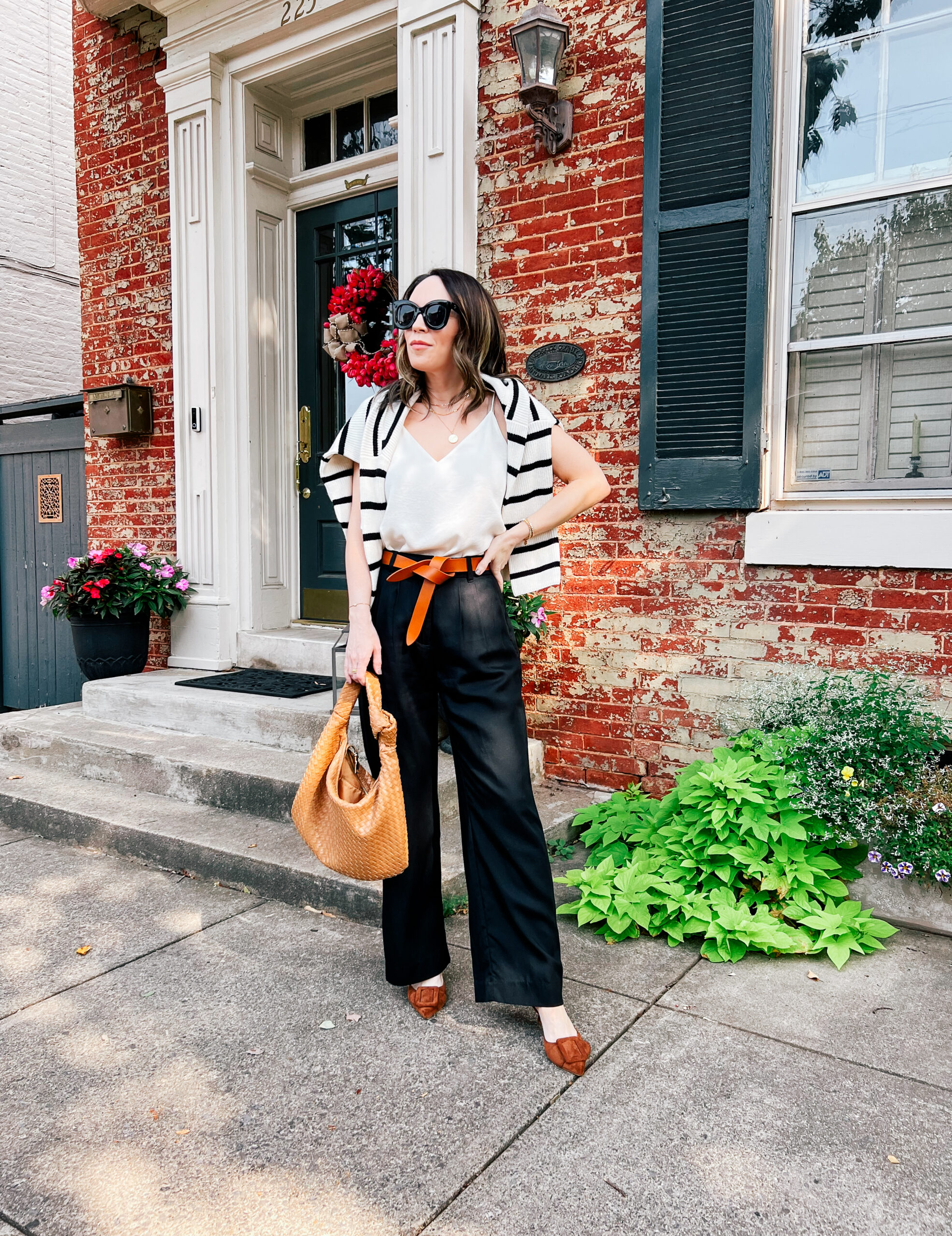 Sweater | Camisole | Pants | Belt | Shoes | Bag | Sunglasses
Friday Finds 9.1
1. A great classic pair of dark straight leg jeans and they are currently on sale for under $80!
2. This is going to be the designer "It Bag" for fall and it is so chic and simple.
3. One of my favorite candle brands is having a huge fall event and all their fall candles are 25% off. So now is the time to stock up!
4. The uber popular everywhere belt bag  now has a back pack version.
5. As a huge book lover, I am writing all of these books down. In fact, they are the most anticipated books for fall!
6. I get asked all the time about cute clothing brands for boys and this is my absolute favorite brand of clothes for Miles. They have girl stuff as well but the boy stuff is fantastic. I have been buying their pieces for him since he was a newborn!
7. Ugh. If this isn't the most perfect chunky cream turtleneck sweater – I don't know what is! The boxy fit, the big turtleneck, the color – it's all gorgeous.
8. For all my stripe lovers out there, this cropped sweater is a bit of splurge but so beautiful.
9. These chocolate brown suede mules are currently on my wish list. I love the metal cut outs all around and they come in a few different colors.
10. I've updated my Revolve favorites page here.
11. I have enjoyed almost everything I have tried from Saie beauty and they just launched a new lip oil that looks gorgeous!
12. I have read nothing but glowing reviews about this radiance serum and I can't believe I've never tried it. Anyone tried it and can share their thoughts?! Let me know.
13. I'm super picky about the jewelry I wear but I am loving everything from Jenny Bird's new fall collection. All the pieces are simple yet really make a statement at the same time.
14. I'm saying I do not need another striped sweatshirt. I do not need another striped sweatshirt. I do not need another striped sweatshirt. (but this one looks so good LOL)
Last week's Friday Finds.