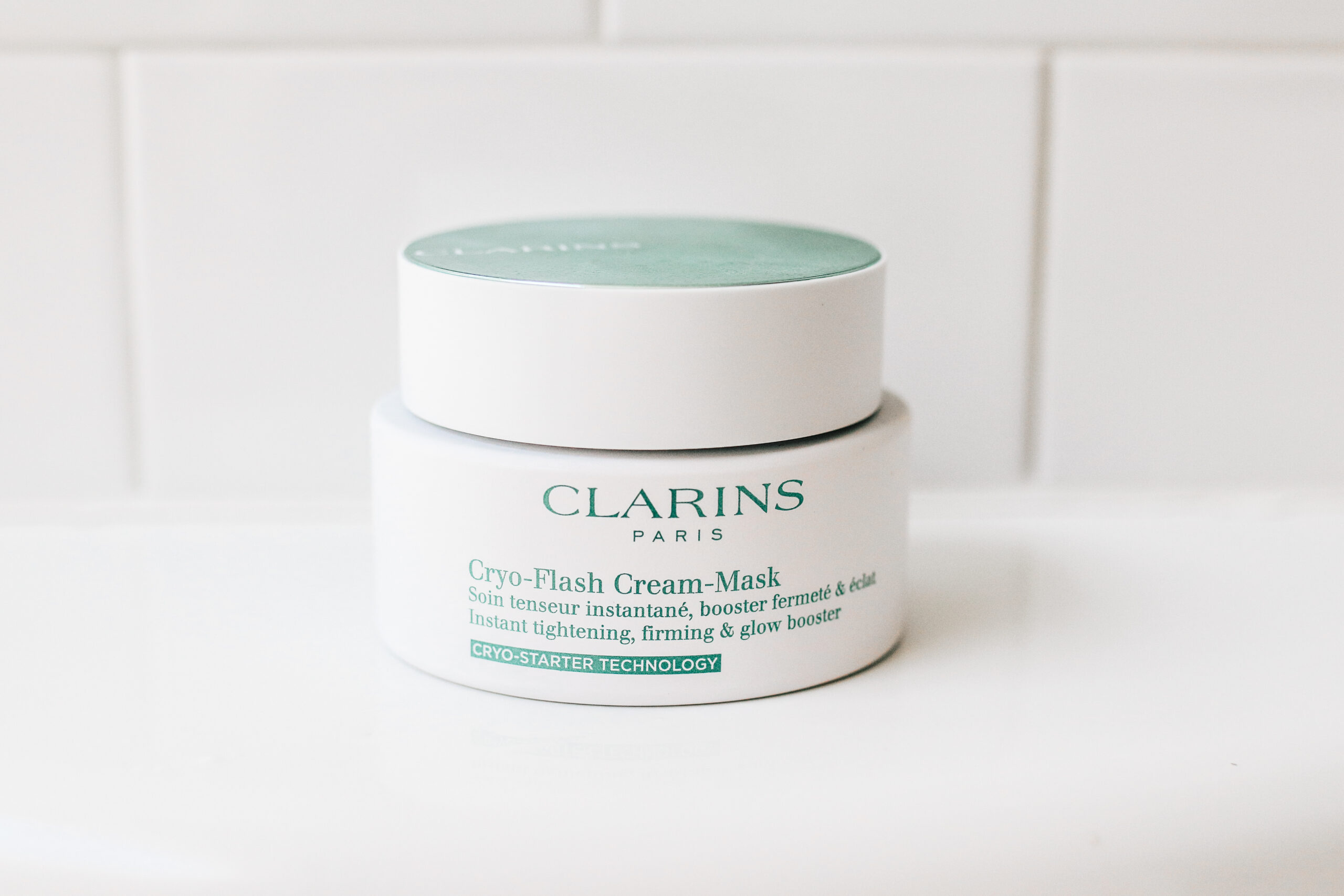 I have been using Clarins products for nearly 20 years. So many of their products have been in my regular skincare routine and they always deliver consistent results. I first discovered them when I was working at a cosmetics counter in NYC and the Clarins counter was a few away from mine. They were constantly busy and people seemed to always be repurchasing their favorite products. The customers were so loyal and I had to know why. I tried a handful of products and loved them all! Over the years I have tried various products from Clarins and am always so impressed with the results and how well my skin looks after (I love this cream for my dehydrated winter skin).
Clarins was originally started as a beauty institute in 1954 in Paris and continues to focus on unique application methods and products that deliver effective results. There are quite a few face masks from Clarins that have become cult classics and I imagine this new Clarins Cryo Flash Cream Mask will be next.
If you are unfamiliar with traditional cryotherapy, it is the use of extreme cold on the body or skin to help treat a multitude of issues such as pain, inflammation, dermatitis, migraines, etc. The Clarins Cryo Flash Mask is an icy-cold face mask that helps to minimize pores, firm the skin, boost radiance and target overall signs of aging. Even thought the mask itself is at room temperature, the cream makes the skin feel very cold and actually reduces the skin temperature by 7 degrees. Clarins recently sent me one of the Cryo Flash Cream Masks to try and I thought I would give my full review on it.
Clarins Cryo Flash Cream Mask Review
How does the Cryo Flash Cream Mask Work?
The mask utilizes Clarins' proprietary cryo-starter technology to reduce the skin temperature by 7 degrees which is typically colder than traditional cryotherapy facial tools. This cooling feature helps to visibly lift, reduce the appearance of pore size and boost skin radiance. When I first applied it, I could immediately feel the cooling sensation which feels refreshing. It's not too cold that my skin felt uncomfortable or in pain, nor did I have any issue with irritation or redness. I applied it and left it on for 10 minutes and the cooling sensation stayed consistent the entire time. It was actually quite amazing! LOL
Results I Saw From Using the Mask
If you are one for instant gratification, you will love this mask. Ha! The results are immediate but also can be seen over time. My face looked firm, less puffy and super glowy! My pores looked so small and my skin felt soft and super hydrated. While I definitely think you can use this at night, it would be even better used before a special event or in the morning after a rough night of sleep. It really helped my skin look bright and healthy and my makeup looked amazing on my skin that day.
Cryo Flash Cream Mask Ingredients
The cooling sensation that you feel is coming from an exclusive molecular compound that is a menthol derivative. This helps to instantly lift the skin while also reinforcing the skin barrier. Organic Evening Primrose Extract targets fine lines, Horse Chestnut boosts radiance and Organic Quinoa extract boosts hydration. The mask feels amazing and really delivers on its results!
How to Use the Clarins Cryo Flash Mask
Apply a thin layer all over the face.
I personally like to use a skincare brush to apply all my face masks. It allows me to keep my fingers clean but it also feels like an extra special moment of pampering. You only need a thin layer all over the face – applying a thick layer will not necessarily increase results.
Leave on for 10 minutes.
You could leave it on for longer, but the minimum time is 10 minutes. This is not one of those masks I would recommend sleeping in or leaving on for more than 30 minutes. The results won't increase the longer you leave it on and because it is so cold, you don't want to risk any irritation or redness from prolonged exposure. I would also avoid the eye area when applying the mask.
Use 2-3x/week
I have been using this mask as needed but if you want to incorporate it into your regular skincare routine, it could be applied 2-3x/week. If you don't feel its needed weekly, apply it for special occasions or when you need to get an instant firming and radiance boost! In terms of my skincare routine order, I apply this mask after I have cleansed and toned but before I apply any serums or moisturizers.
Remove with a warm damp cloth
With most masks, I like to remove them with a warm damp cloth but you can also use your hands and warm water. It removes quite easily especially if you use a very thin layer as directed.