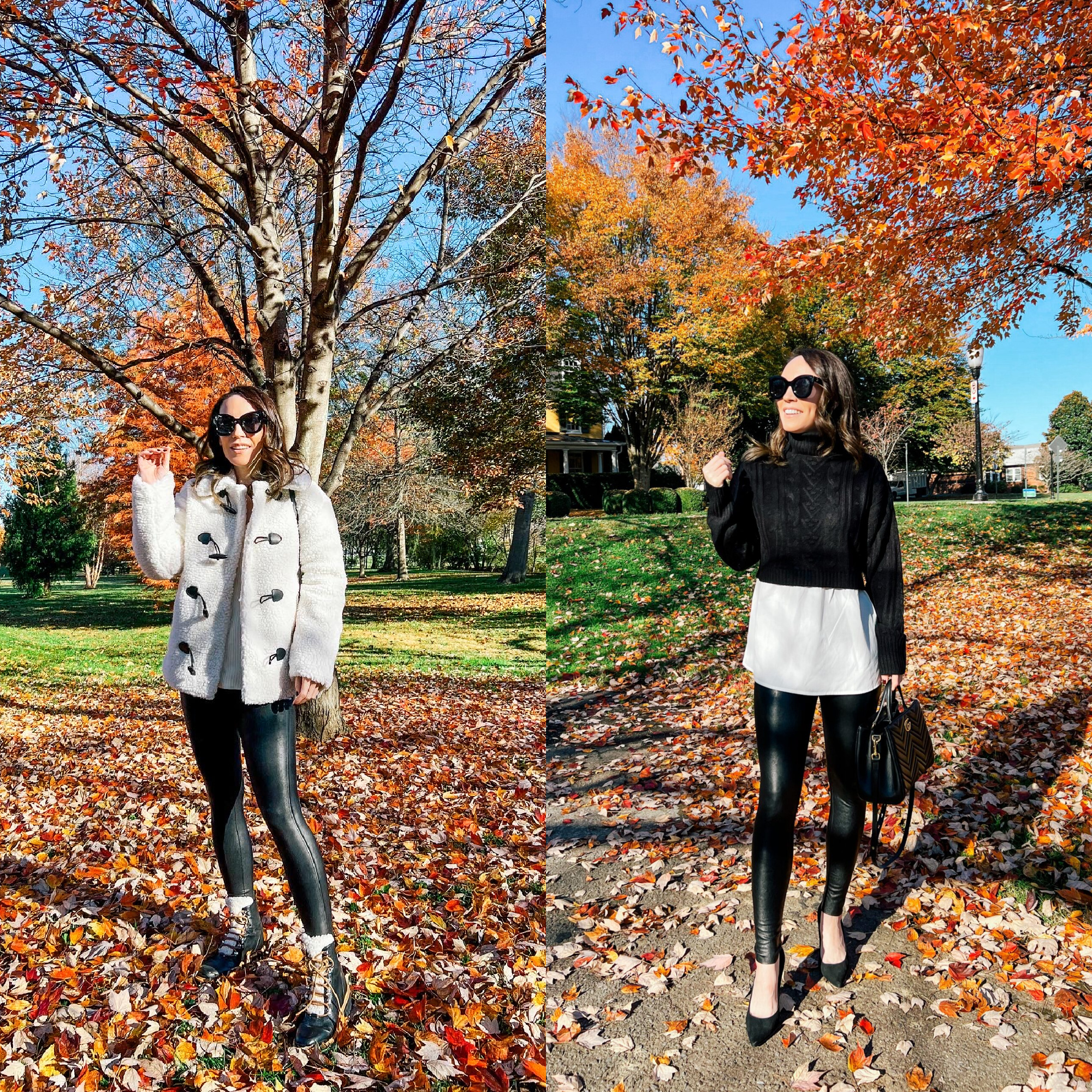 (I am wearing the Spanx faux leather leggings on the left and the Commando faux leather leggings on the right)
When fall arrives, there is always one thing in my closet that I wear more than anything else – my faux leather leggings. Regardless of what's on trend or popular at the moment, both my Spanx faux leather leggings and my Commando faux leather leggings on are on regular rotation because they are both so flattering and super comfortable. Now that I have had both my Spanx faux leather leggings and Commando faux leather leggings for quite some time, I thought I would do a faux leather leggings review comparing the two styles so anyone can reference back if they are thinking about getting one versus the other.
Spanx Vs. Commando Faux Leather Leggings
Spanx Faux Leather Leggings Review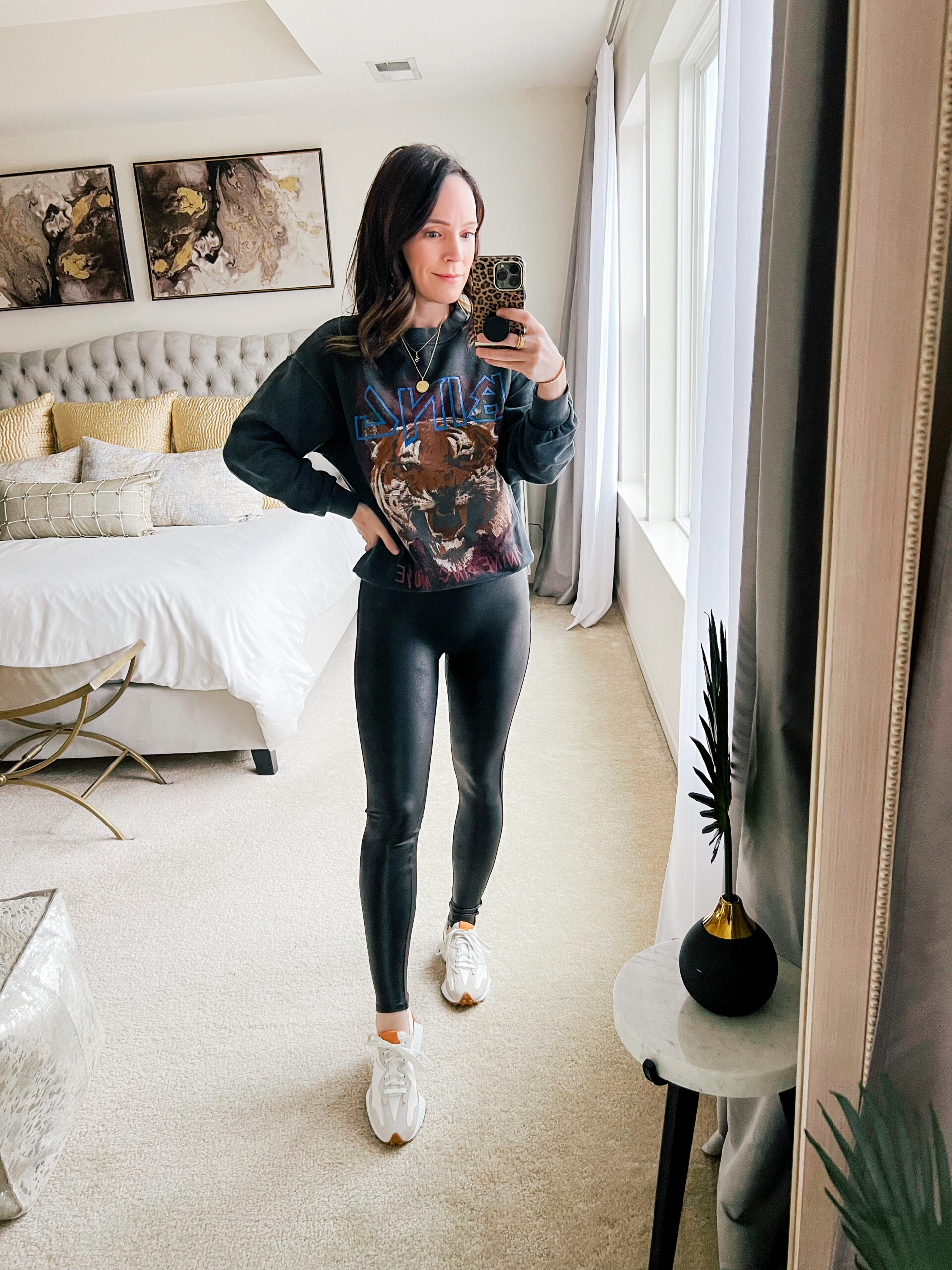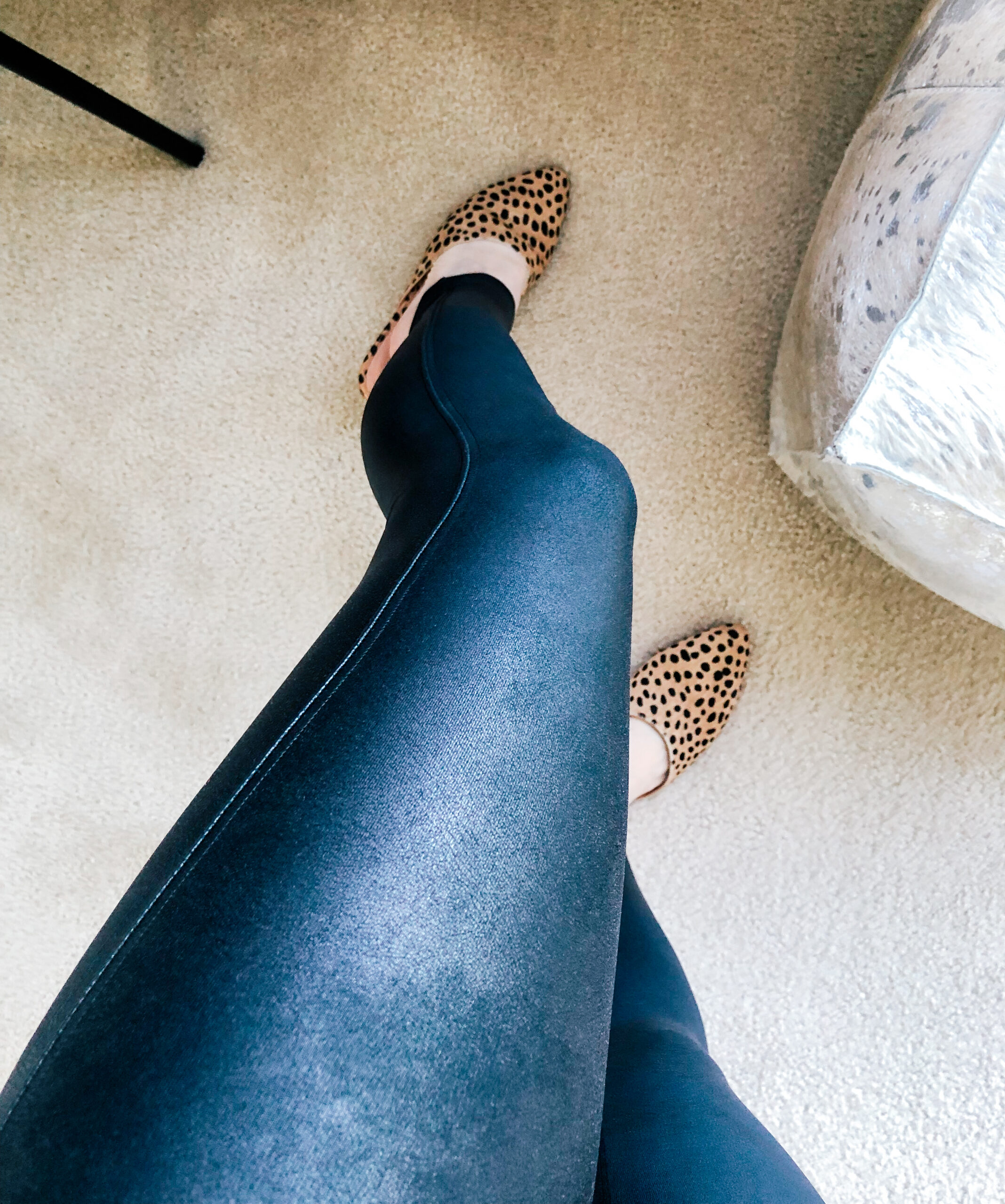 1. Spanx Faux Leather Leggings – I'll start with my Spanx leggings because I have had these the longest. Here is an overview:
Sizing
They run quite small so I would recommend sizing up. I am normally a size XS in leggings but in these I take a small.
Length
They come in regular and petite length but even the petite length is SUPER long on me so I have to fold the ends under
Finish
A bit more of a dull finish
Warmth
These are ok for the winter but they will not keep you warm in the bitter cold. You will need to layer something underneath.
Slimming
Absolutely! These are magic!!! I say that they give me new legs.
These also have no front seam so they are super flattering in the crotch. That is what I love so much about all Spanx leggings – no front seam makes a huge difference! There is also no bunching or wrinkling in the crotch which makes them look so much smoother and more flattering. There is a thick waistband on the Spanx which really holds you in but does make them look a bit more casual.
What to wear with Spanx Faux Leather Leggings?
Since the Spanx faux leather leggings look more casual in my opinion, I would recommend keeping the rest of the outfit casual. Oversized sweaters and sweatshirts is mostly how I like to style them and will wear sneakers or casual boots. And since these have the look of a pair of leggings rather than traditional leather pants, I opt for tops that are a bit longer most of the time. Occasionally I will wear a short sweatshirt and sneakers with them but overall I keep the entire look very comfy and relaxed. Here are some styling ideas for inspo: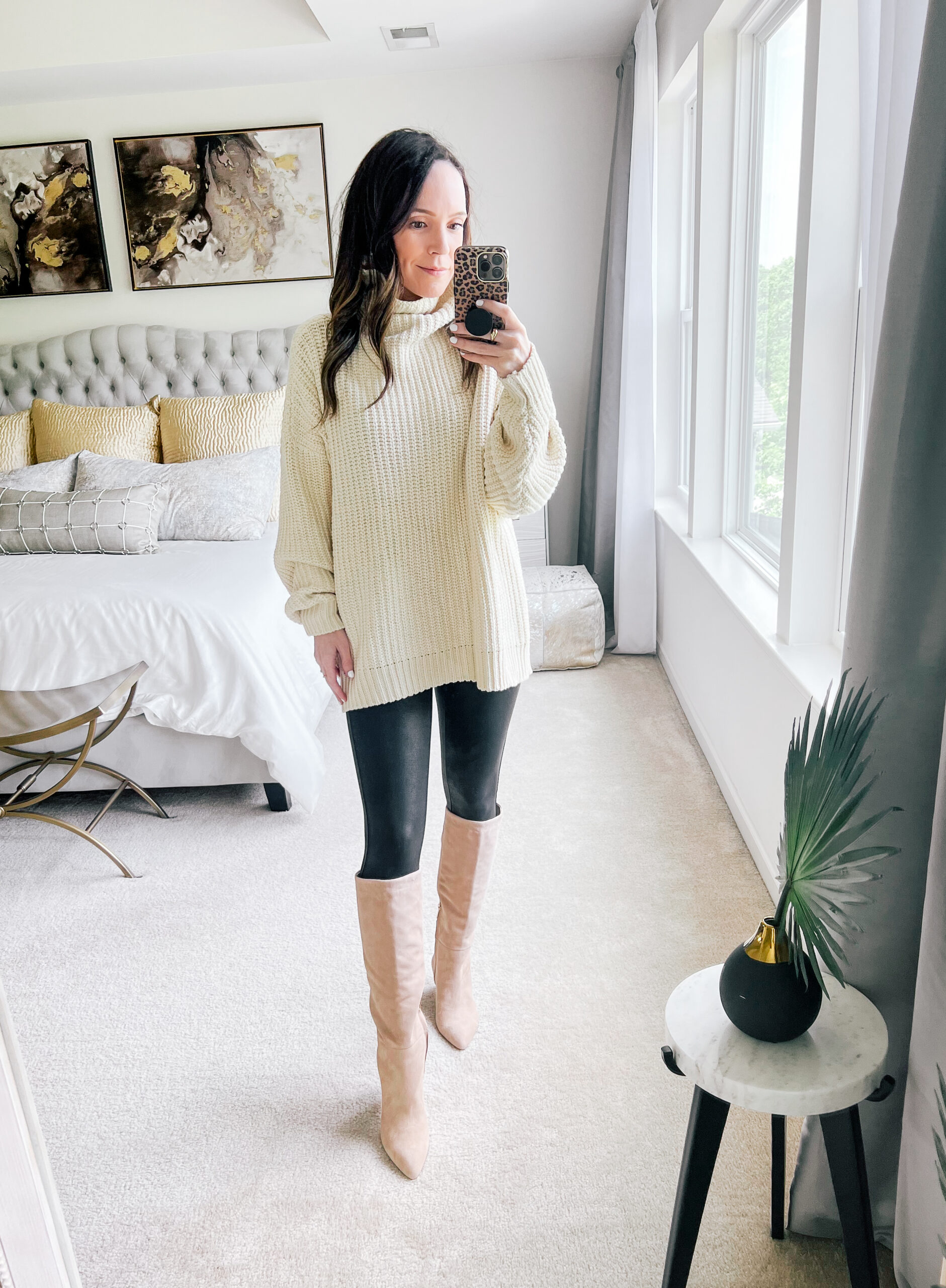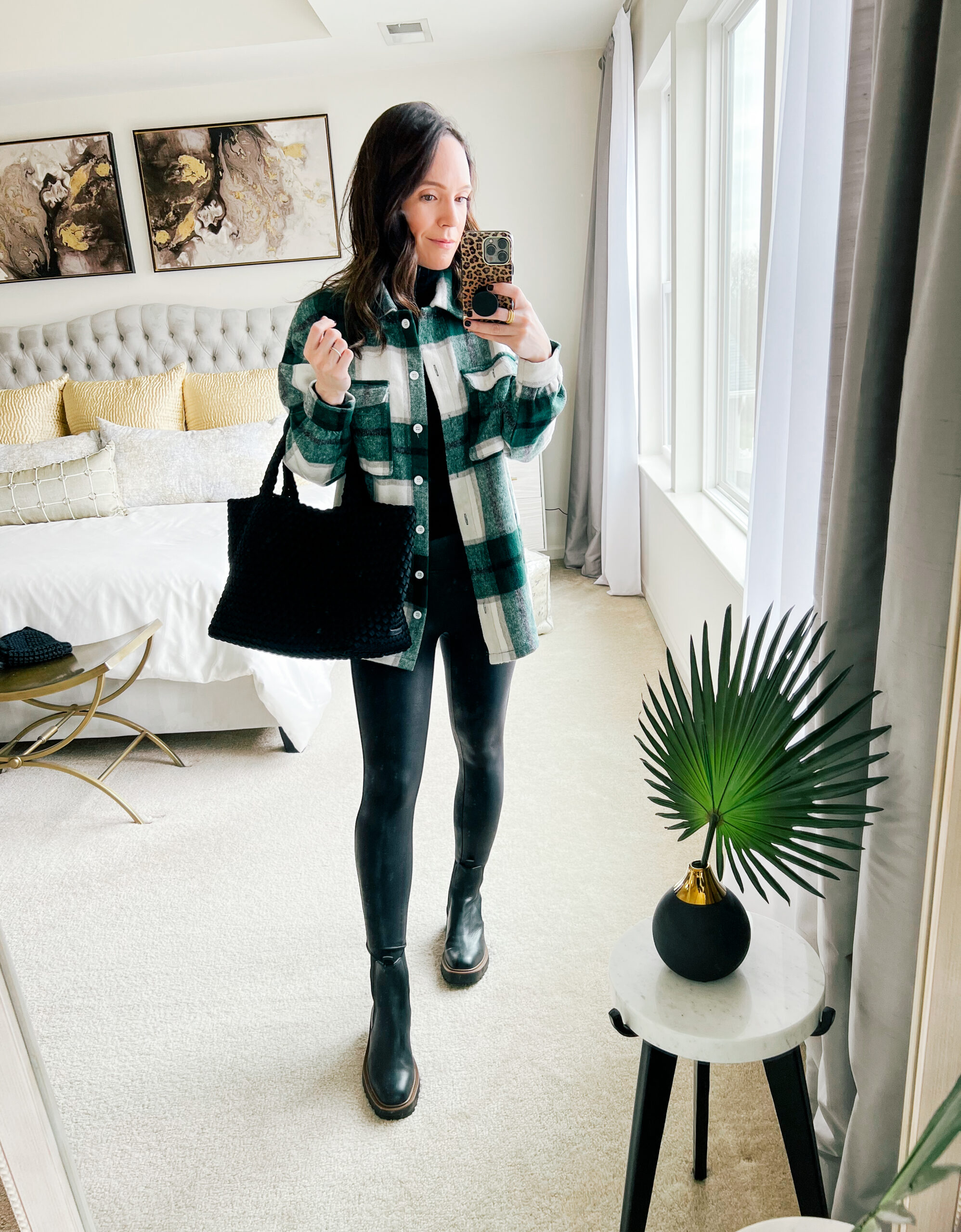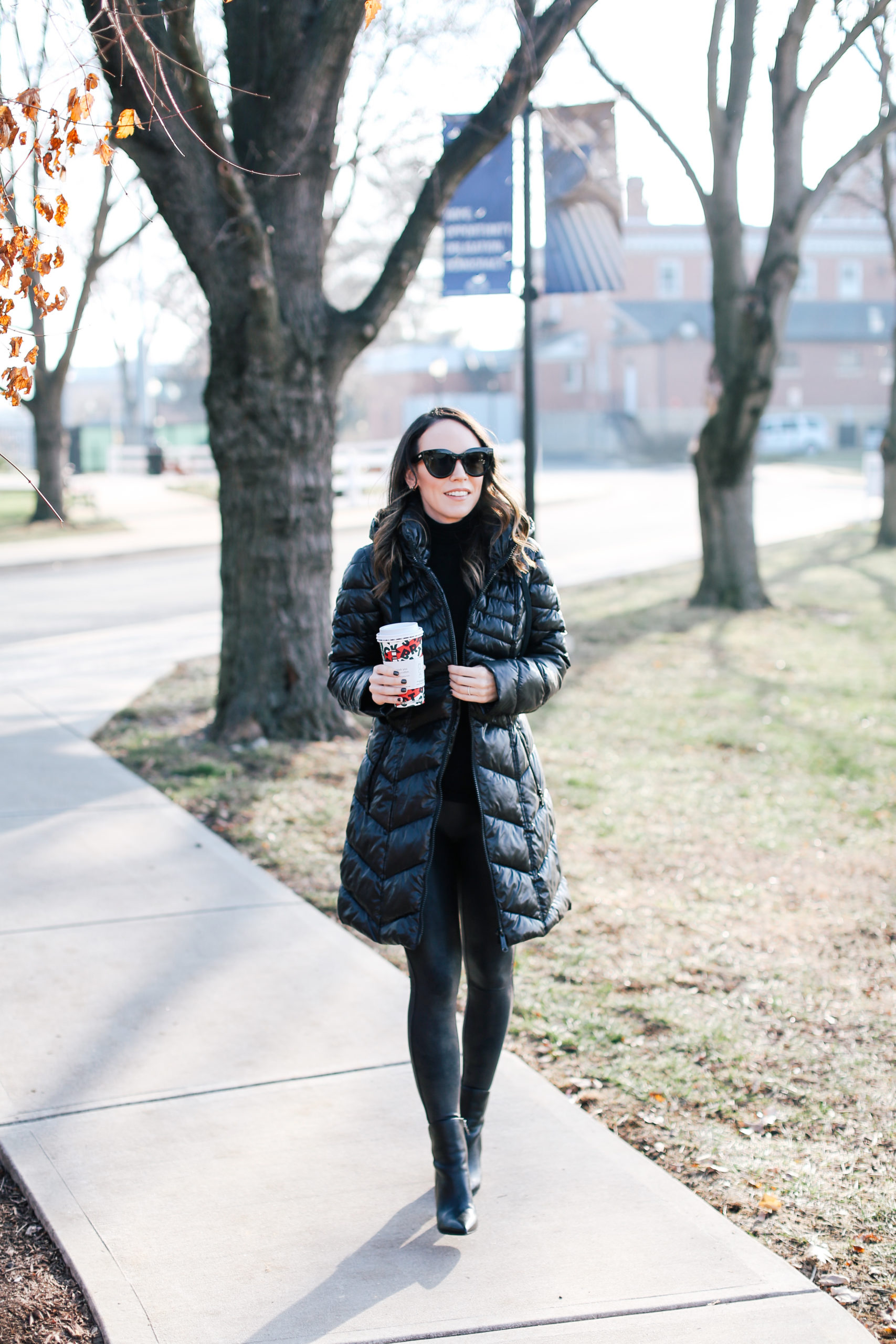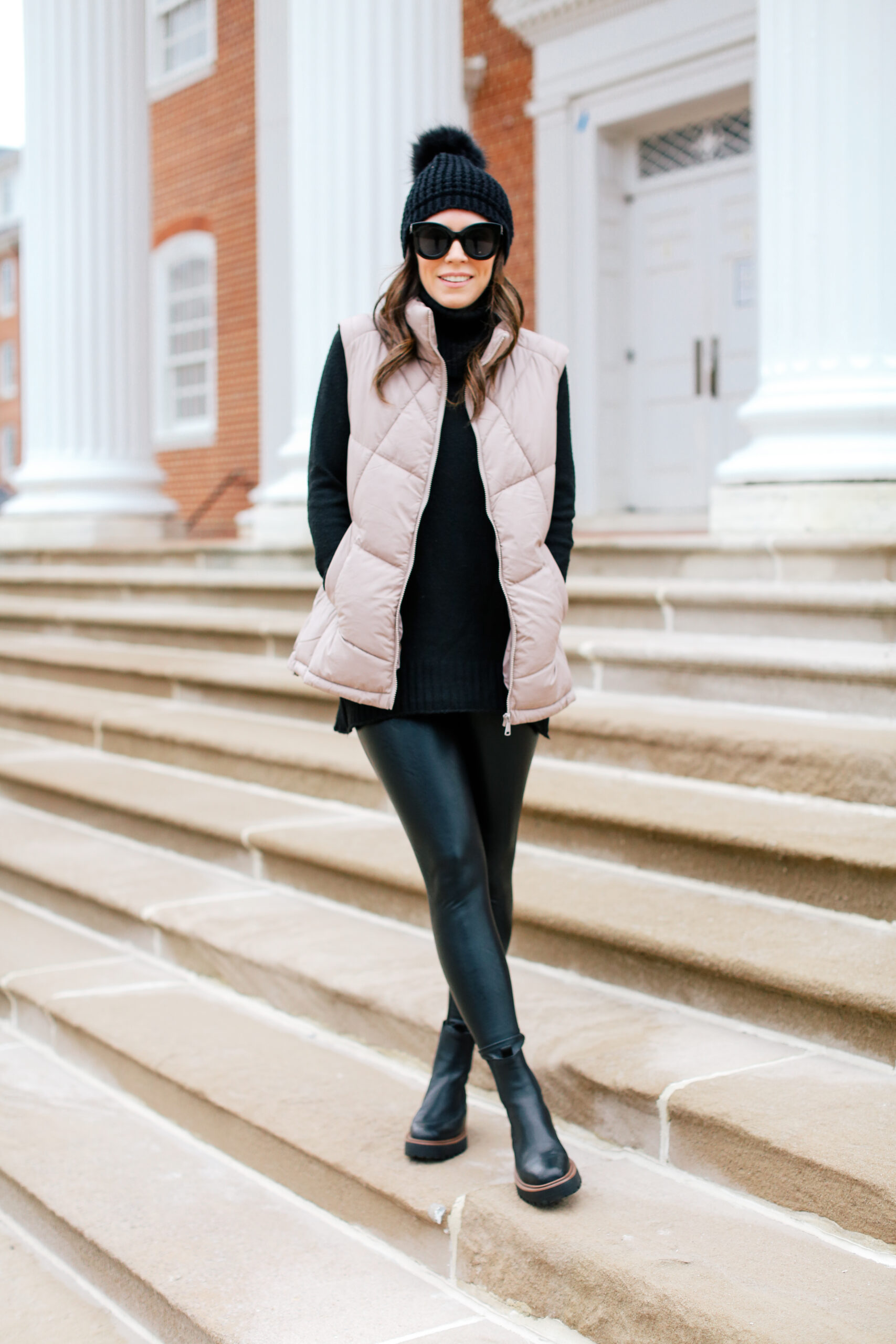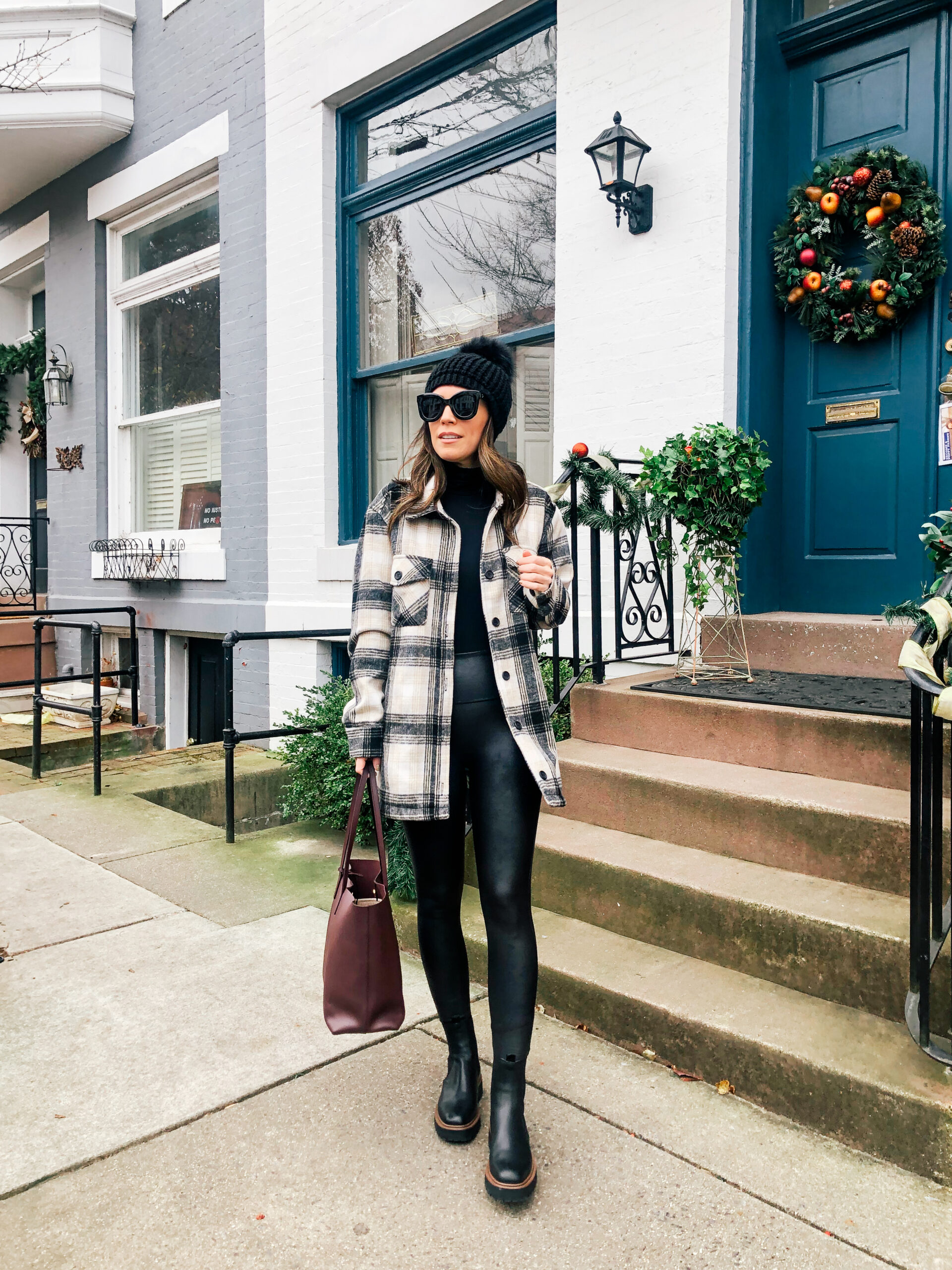 Commando Faux Leather Leggings Review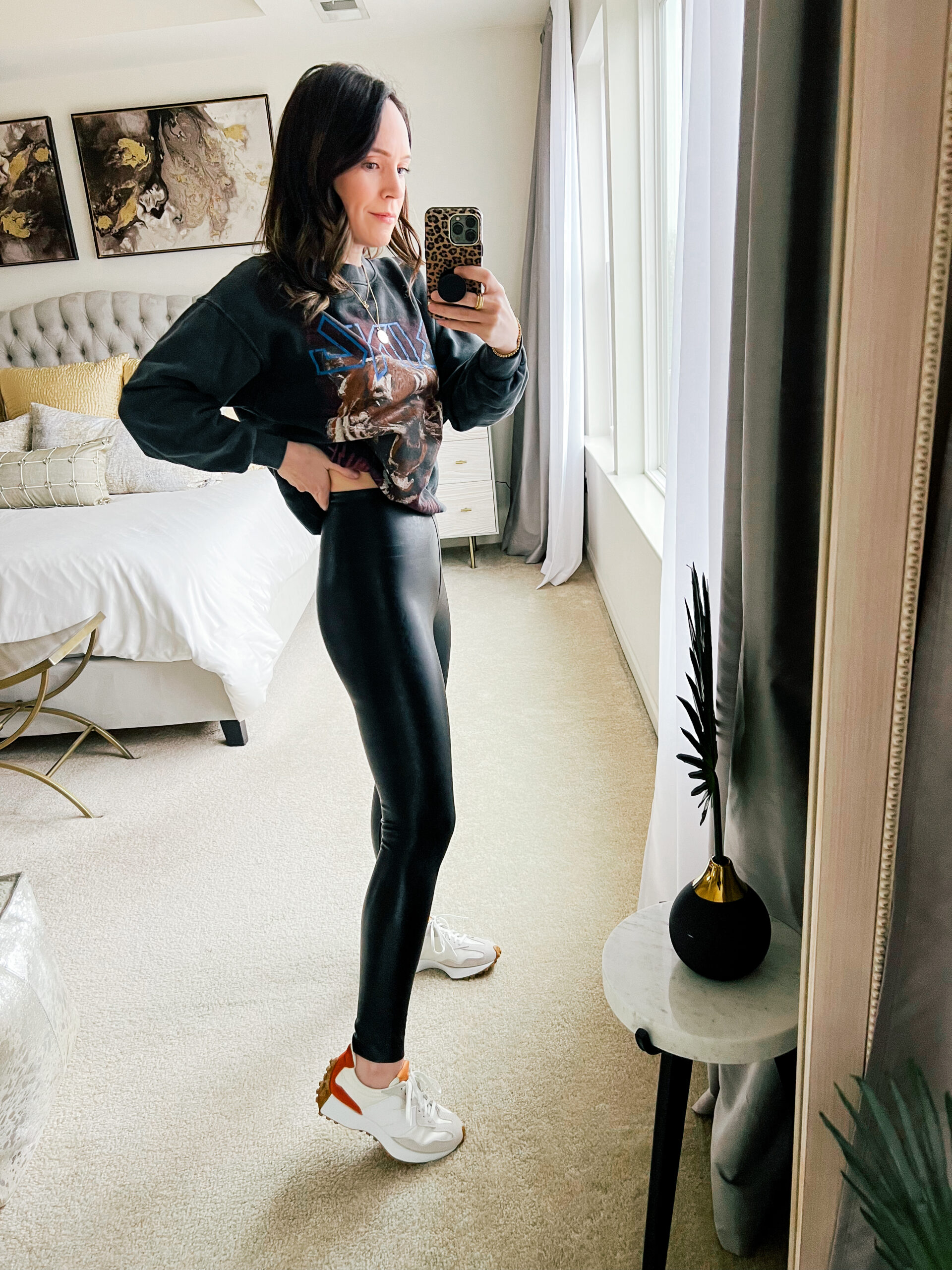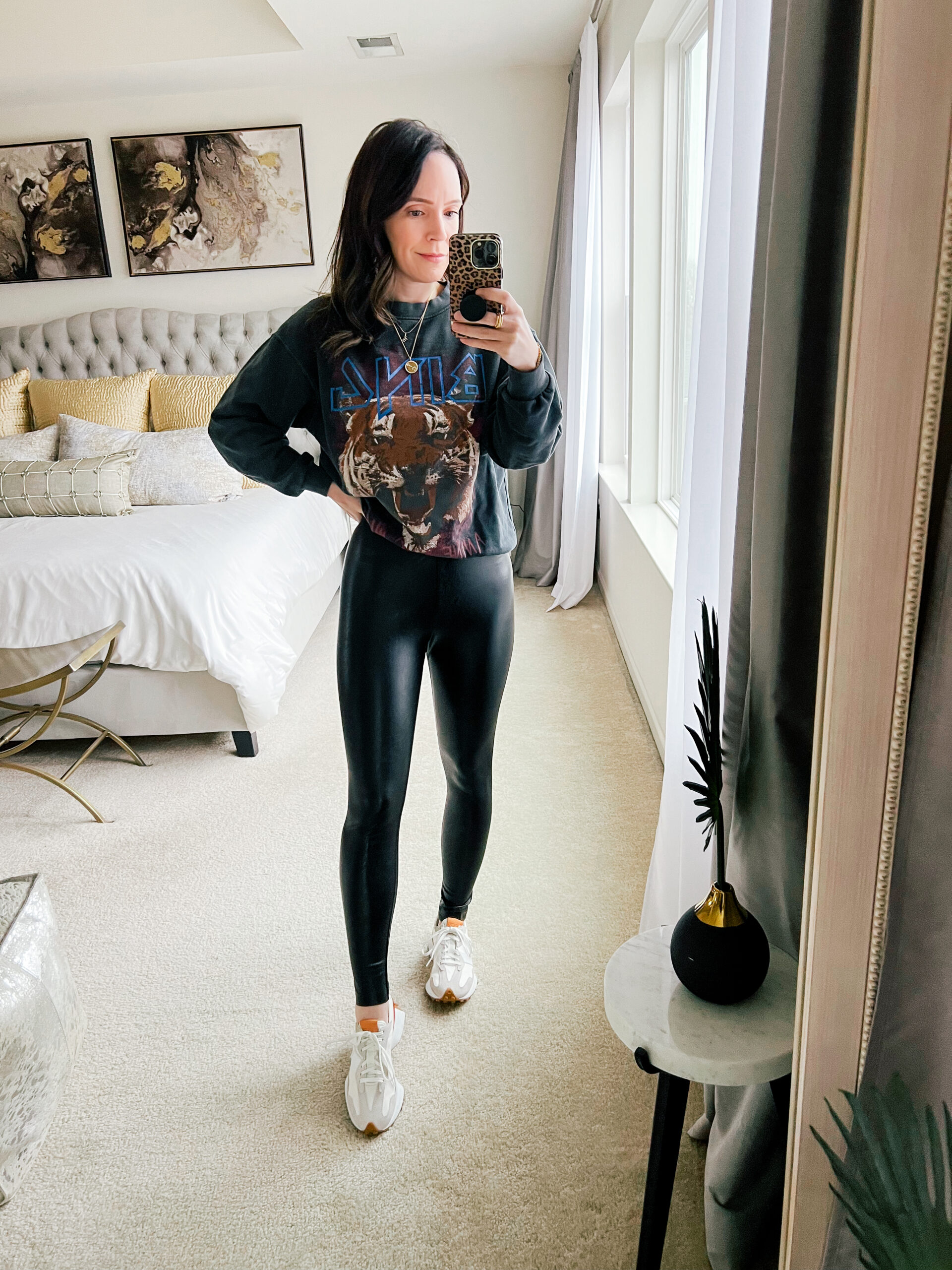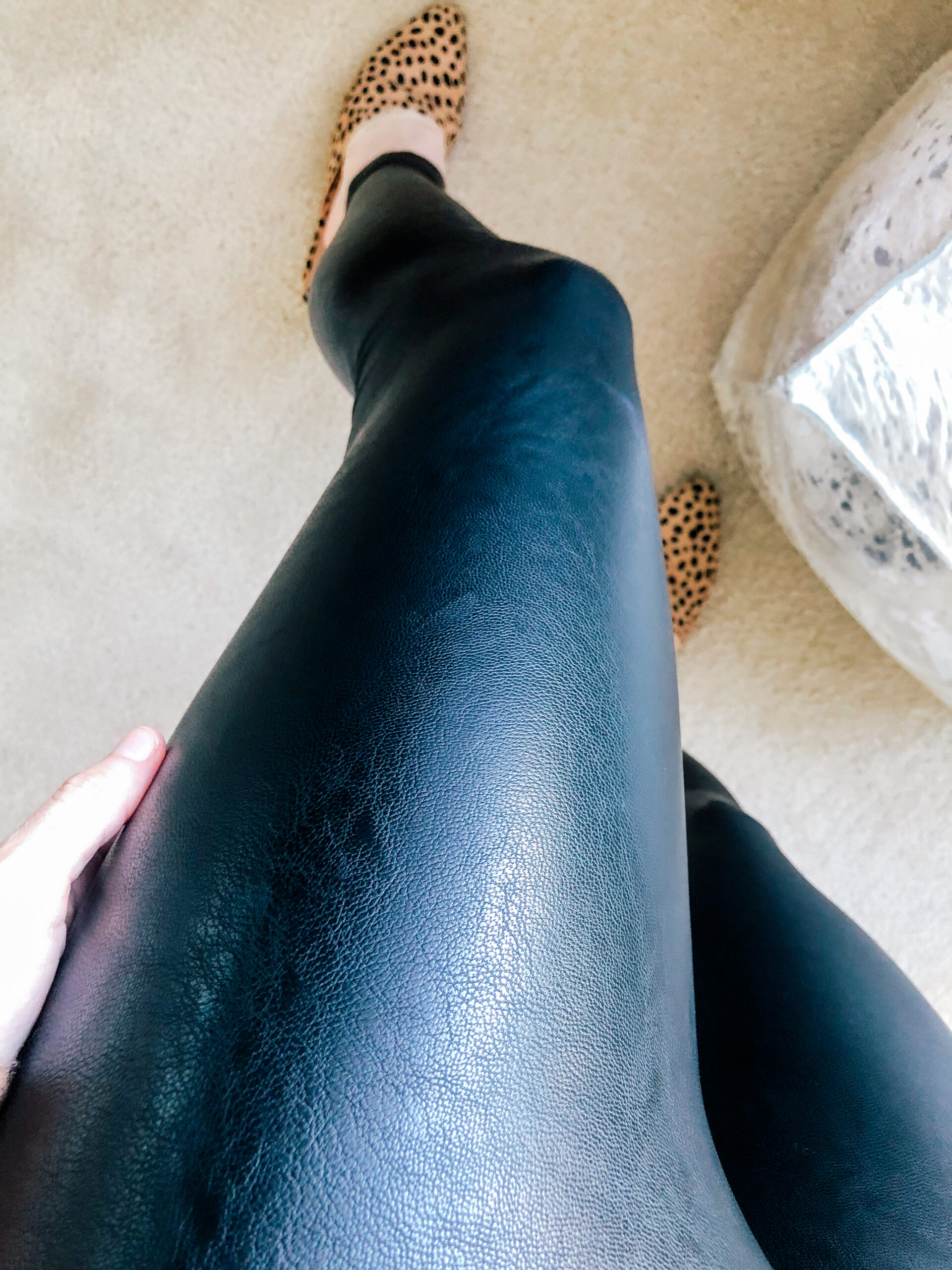 2. Commando Faux Leather Leggings – I purchased these a few years ago and returned them but then tried the 7/8 length and was really impressed with the fit. On paper they seem to be the exact same pair of leggings but with a different inseam, but for me they seemed to fit differently.
Sizing
These run very small so I had to size up. I am wearing a size small. I've heard some people say they run true to size but that has not been my experience.
Length
The 7/8 length is absolutely PERFECT for me and great for those that are petite. They come right down to my ankle – no folding under needed.
Finish
For those that really want an authentically leather look to their leggings, this is the pair to get. The finish looks much more like real leather.
Warmth
I find that these are VERY warm and great for the winter. They are not fleece lined but they have a slightly fuzzy feel on the inside.
Slimming
Very much so BUT they don't flatter my legs as much as the Spanx. The Spanx win out in the slimming dept for me.
As far as the crotch goes (I know this may be TMI, but to be honest it's one of the biggest deciding factors in leggings in my opinion), there is a front seam. Yuck. I don't love it but I'll tolerate it because I love the look of them. They also sadly bunch and wrinkle in the crotch which can be very unflattering. I normally will wear a longer sweater with this pair to cover that so it's not a huge deal to me. Also, there is no waistband on the Commando faux leather leggings which looks nice and creates a seamless look.
Faux Leather Legging Outfit Ideas
When it comes to the Commando faux leather leggings, I prefer to dress them up a bit more because they have more of a leather pant look. Occasionally I will wear them in a super casual way like my Spanx leggings, but more often than not I dress them up. Here are a few outfit ideas of how to style this pair of faux leather leggings: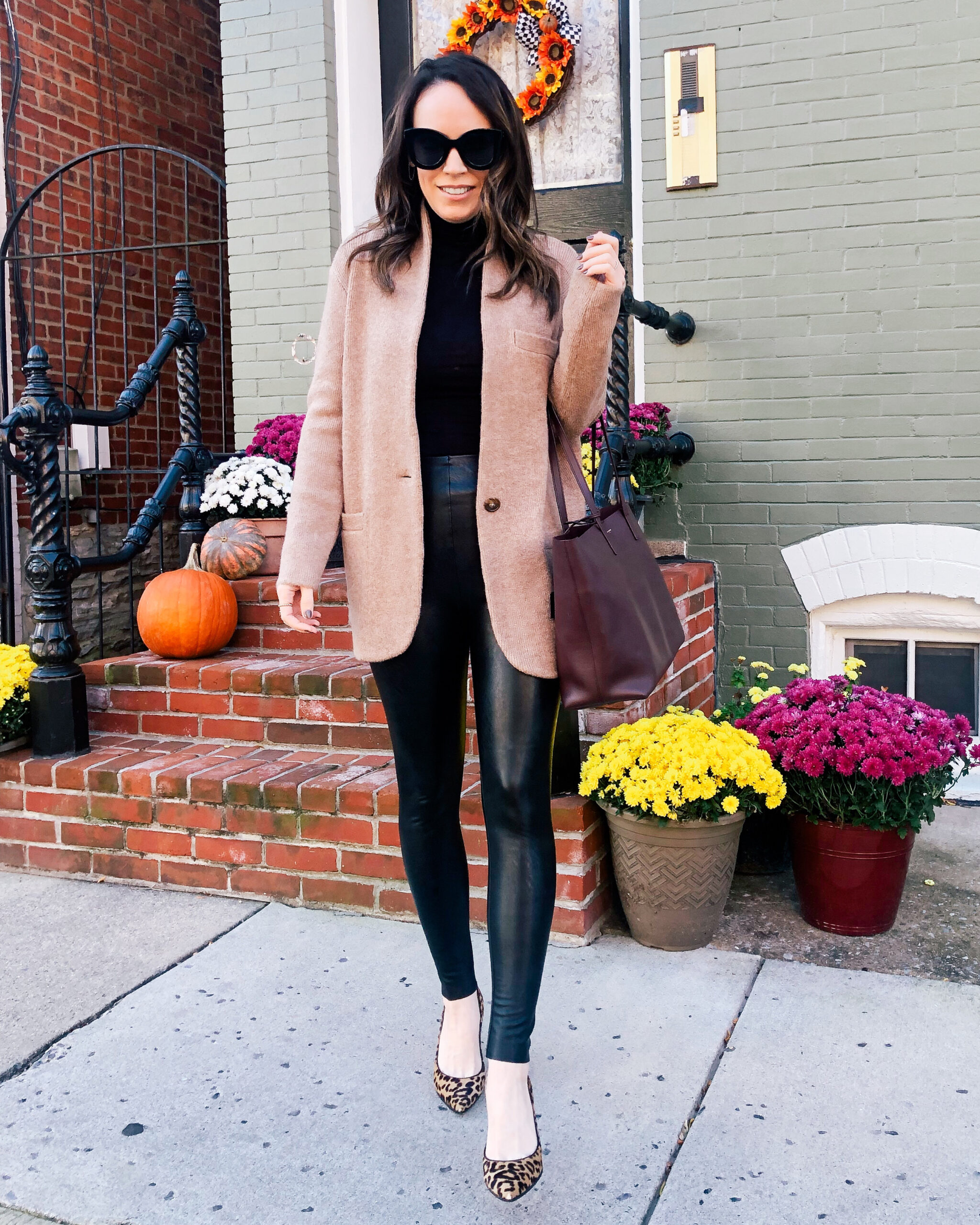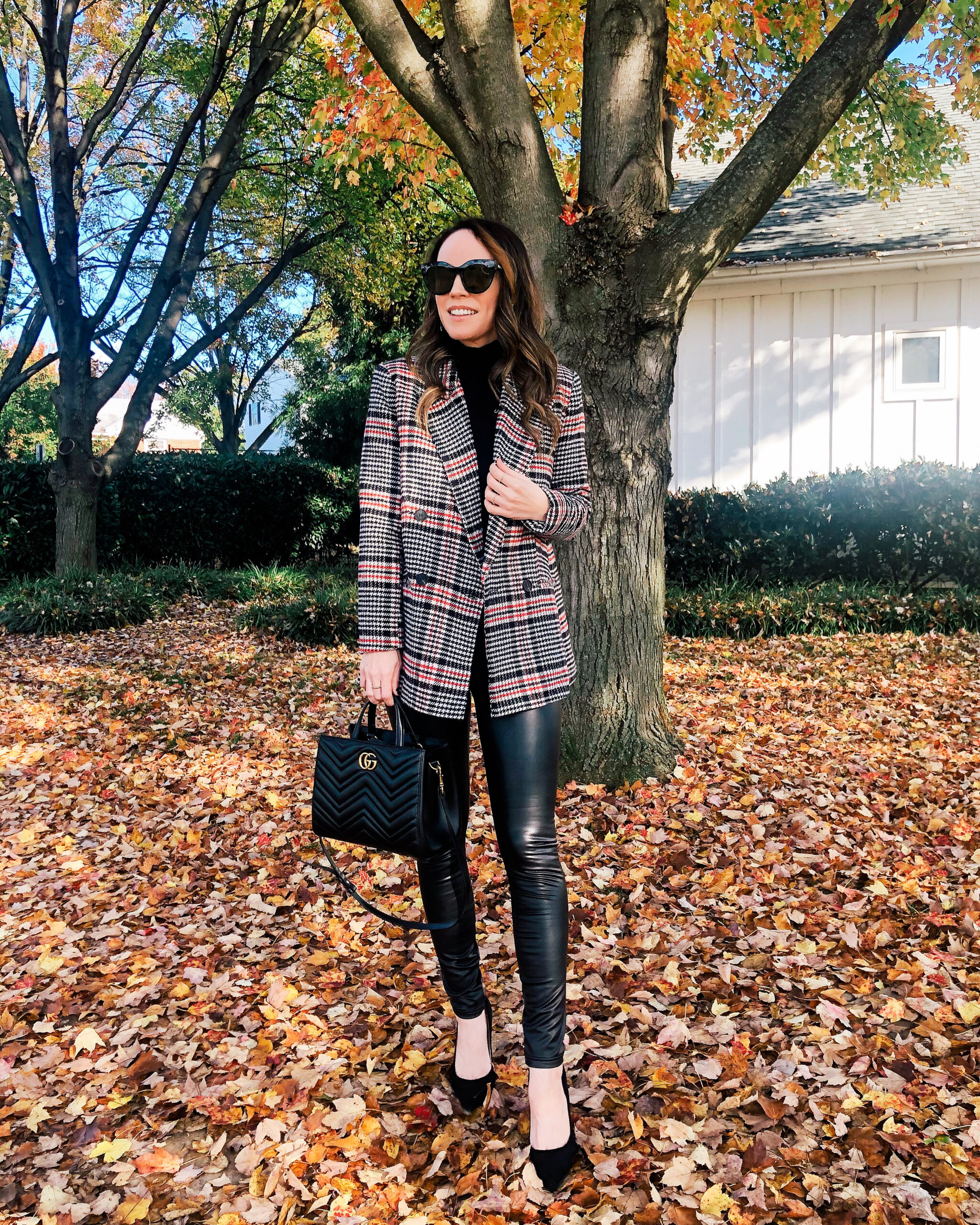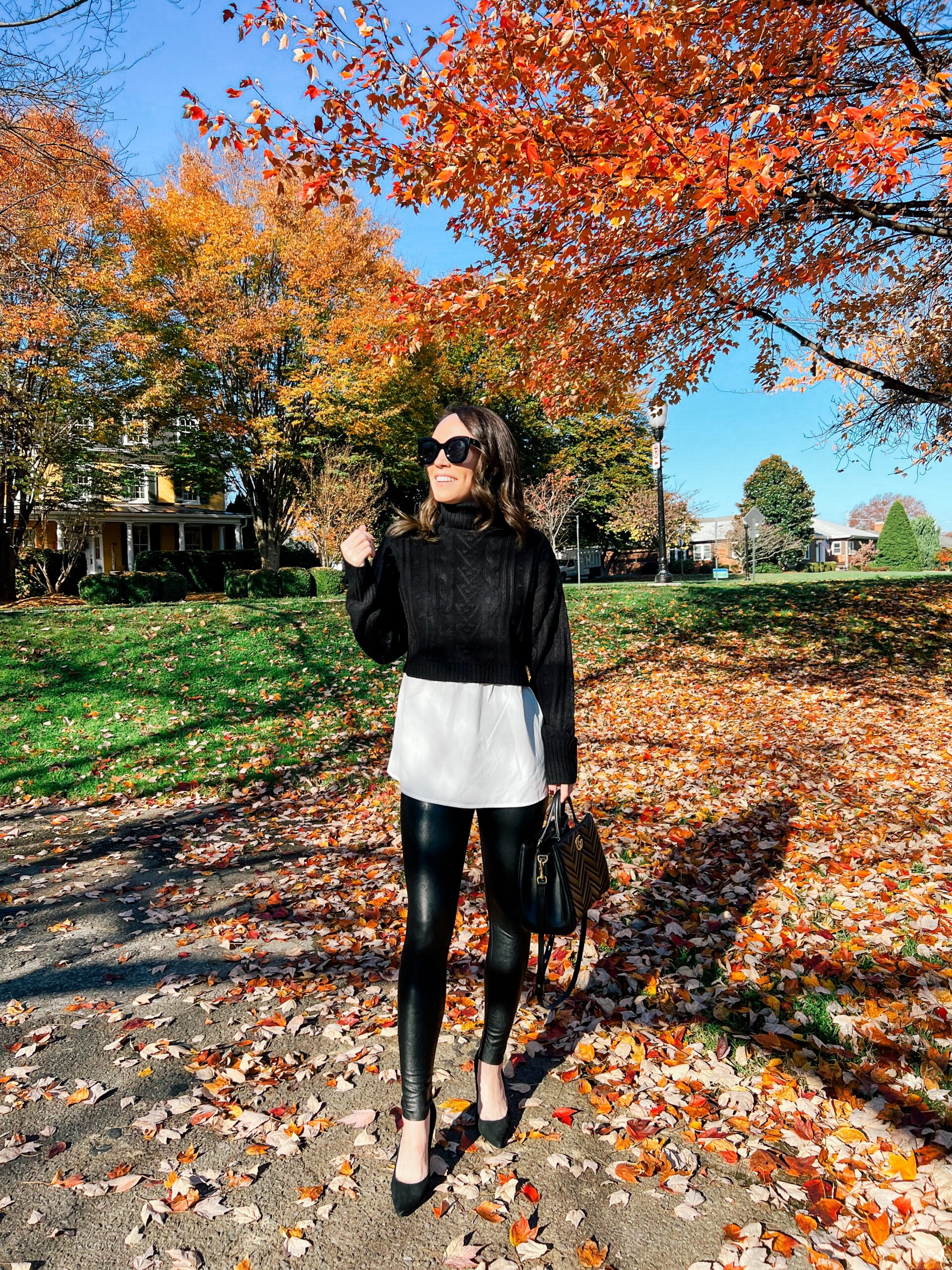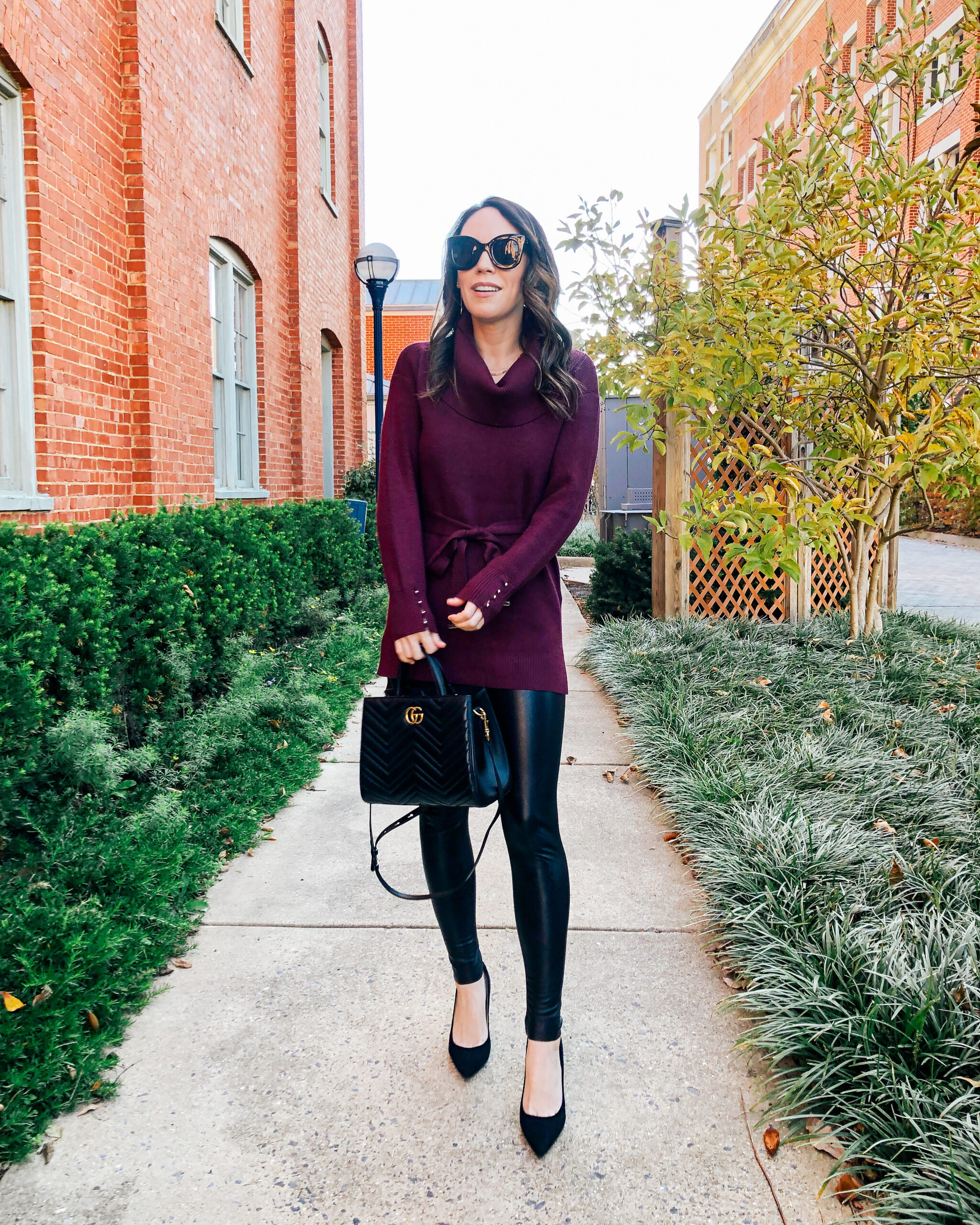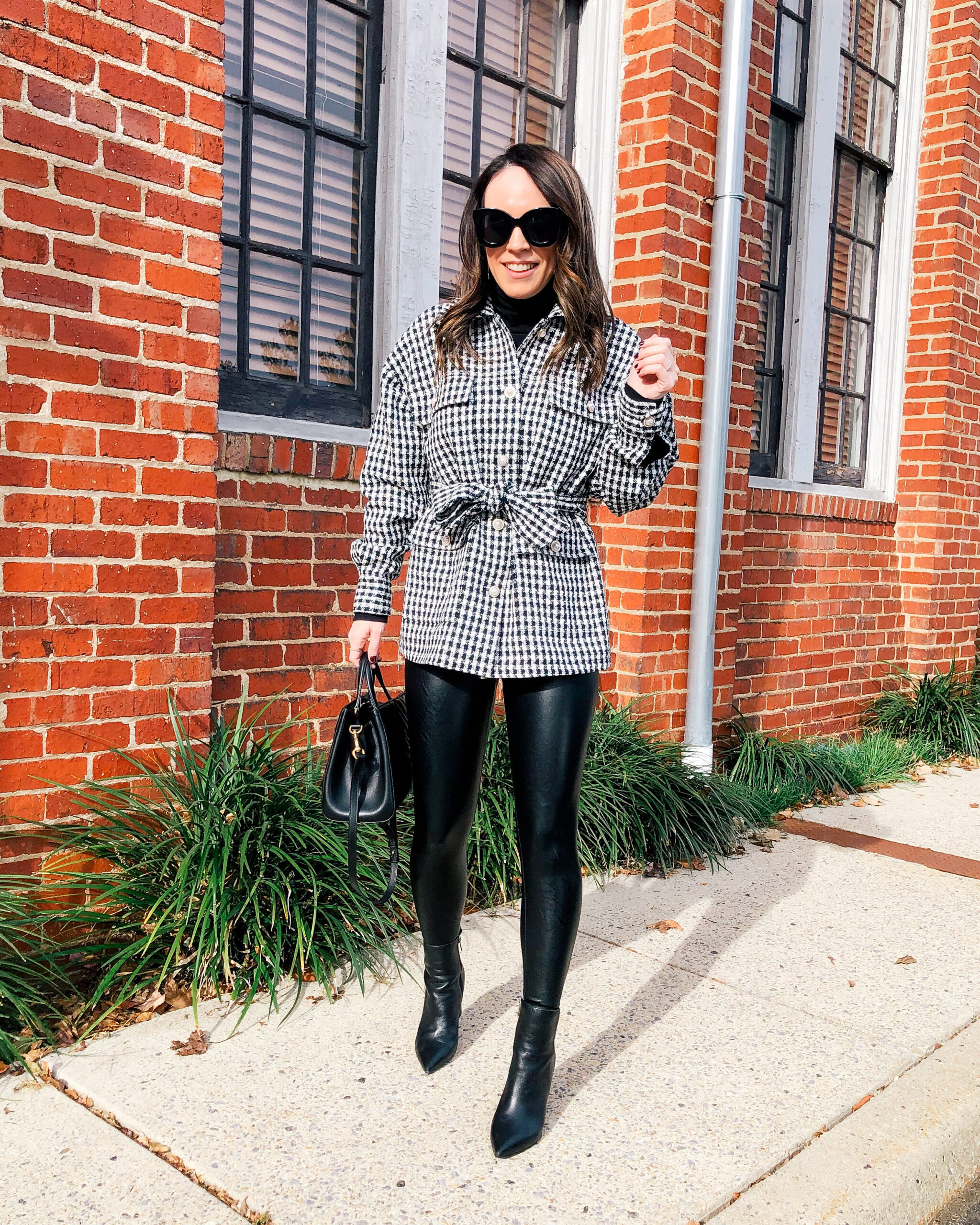 A few other points to note in response to some reader questions I received:
Neither shows cellulite and really smooth everything out.
They both keep their shape and never stretch out.
If I HAD to pick one, the Spanx still wins out a bit more for me and are a tad more flattering on my body type.