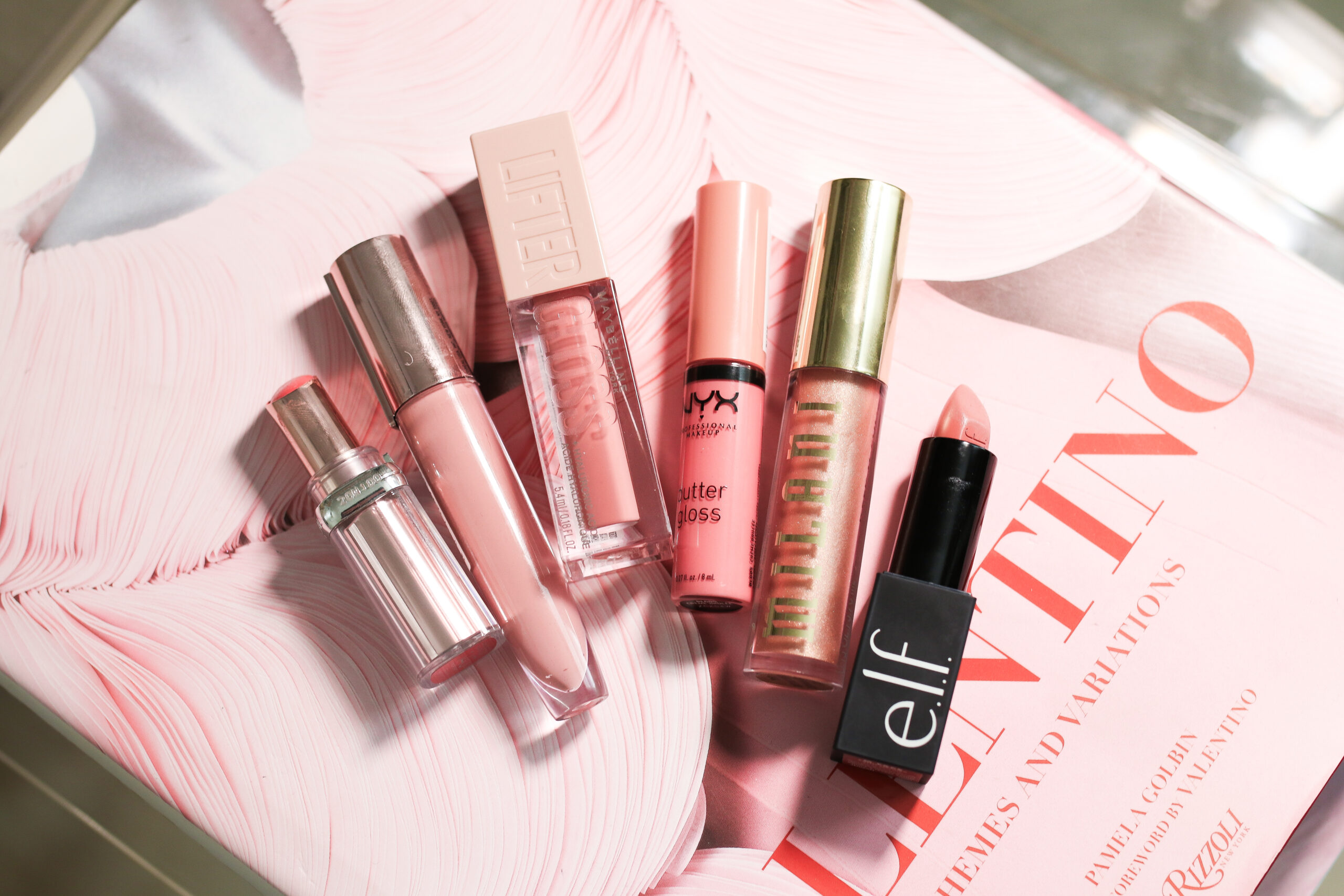 If there is one product at the makeup section of the drugstore that will almost always suck me in, it's the lipsticks! Let me correct that – it's ALL the lip beauty products. Lip oils, lip glosses, lip balms, lipsticks, if it has to do with the lips, I want to try it. Having a bad day? I need a new lipstick. Having the best day ever? I ALSO need a new lipstick. It's always a win/win in my book. Sometimes having your favorite lip color on can instantly help you feel more confident and boost your mood. And let me just say that drugstore beauty lipstick and lip products of today are not what they used to be. Gone are the days where the colors were off, the formulas were cakey and dry and there were only less than 5 brands to choose from.
Lipstick is a form of self-expression and I love how many colors are available now so anyone can find a shade that they love. Every time I visit my local Target that has an Ulta section, I just about lose my damn mind with excitement. I thought I would share some of my favorite drugstore lipsticks (and glosses, balms, etc) that are all at a great price point in today's post. Some are ones that I've been wearing for a long time and others are new discoveries. Either way, I love them all and think they are worth trying!
6 Best Drugstore Lipsticks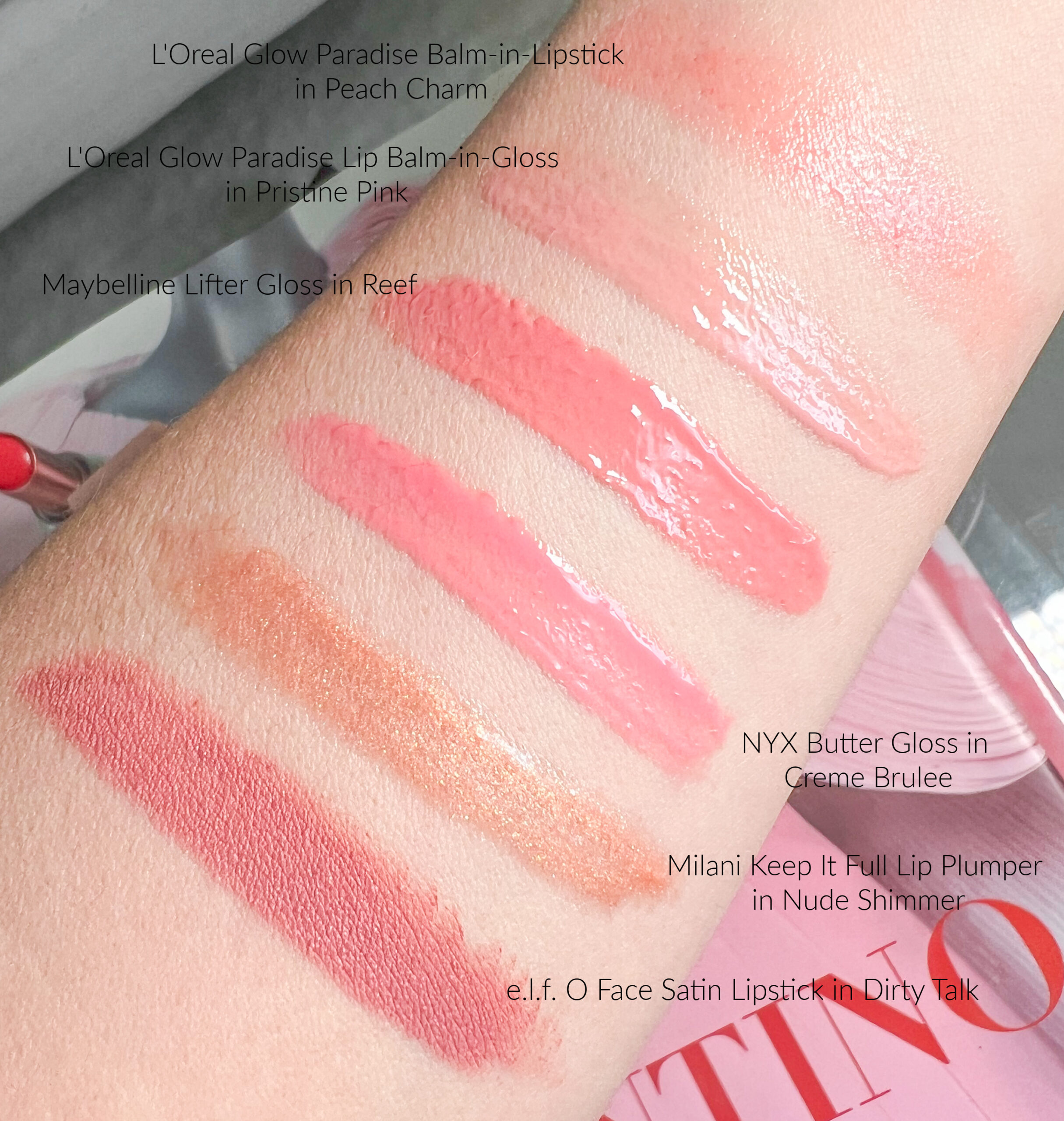 I plan to add on to this list over time and as I try more drugstore lipsticks and lip products. But many of my favorite formulas are more glossy, balm-like and hydrating. I perpetually have dry lips so I love a formula that helps moisturize with such ingredients as shea butter or hyaluronic acid and still gives me some color. I get a lot of requests for matte liquid lipsticks so I will try to find some that don't dry out the lips and update this post when I do!
Best Drugstore Long-Lasting Lipstick
I personally don't mind reapplying my lipstick throughout the day. But in the times where I forget, I appreciate a formula that has staying power. Something that won't dry my lips out but manages to make it through lunch and a handful of various beverages (coffee, water, kombucha, soda, etc – I love options with my daily drinks!).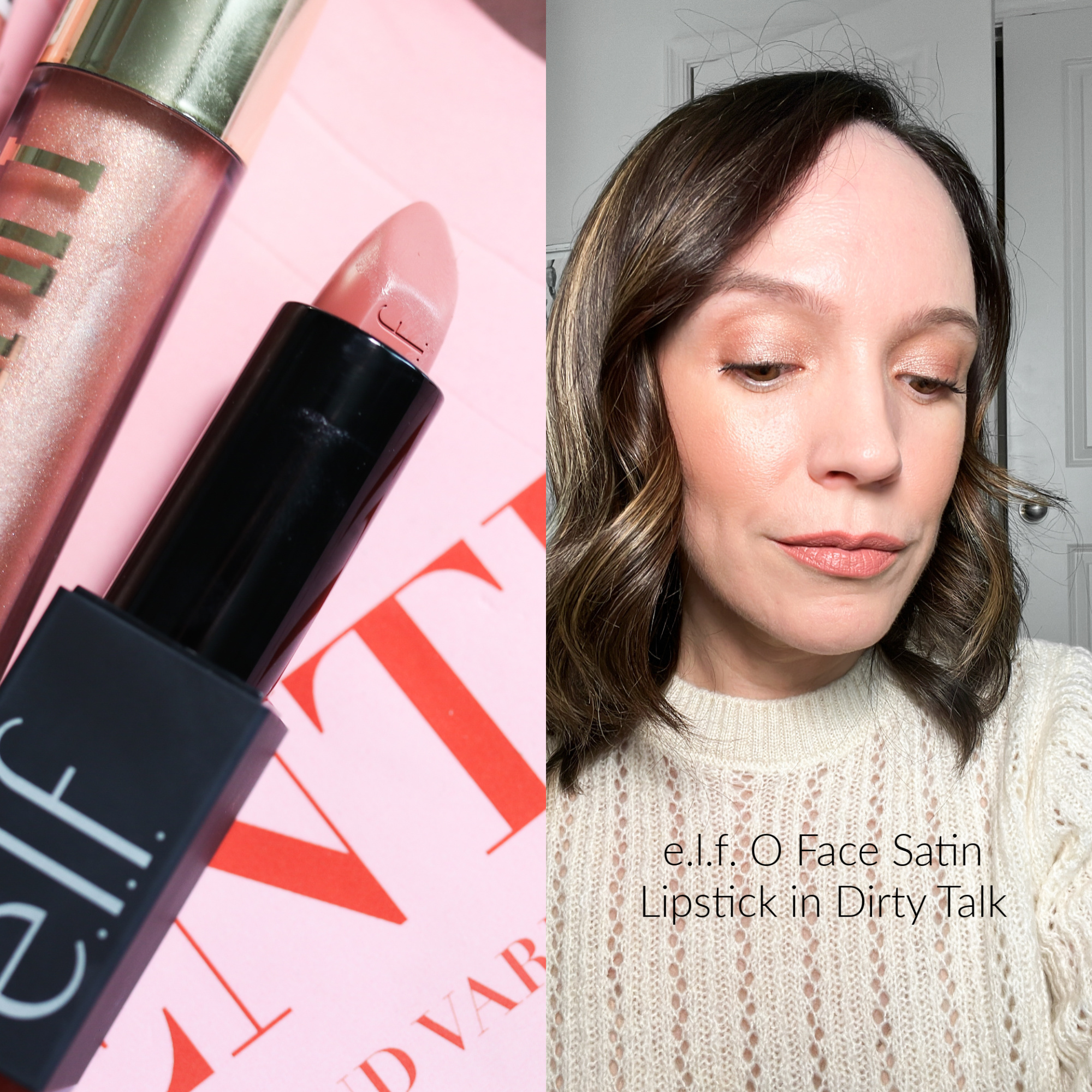 Though the name of these lipsticks made me laugh out loud in the middle of Target, I am absolutely IN LOVE with this creamy satin lipstick formula. Matte finish and matte lip colors are what most people think of when you want something long wearing. But trust me when I tell you this satin finish formula will change your mind. It's intensely pigmented and provides medium to full coverage, while still being incredibly creamy, smooth and hydrating.
The O Face Satin Lipsticks are infused with squalane and jojoba which nourishes the lips all day long. You just need one swipe of this lipstick for the full color payoff. And there are 20 colors in the shade range to choose from. I wear the shade Dirty Talk which is the perfect neutral beige pink. Another creamy long wearing lipstick formula that I want to try is the Revlon Super Lustrous Lipstick! They have great reviews.
Best Drugstore Moisturizing Lipsticks and Lip Glosses
It's hard to pick a favorite category but this may be mine (for now LOL). Give me a sheer to medium moisturizing lipstick or gloss that moisturizes and nourishes my lips and I will wear it non-stop.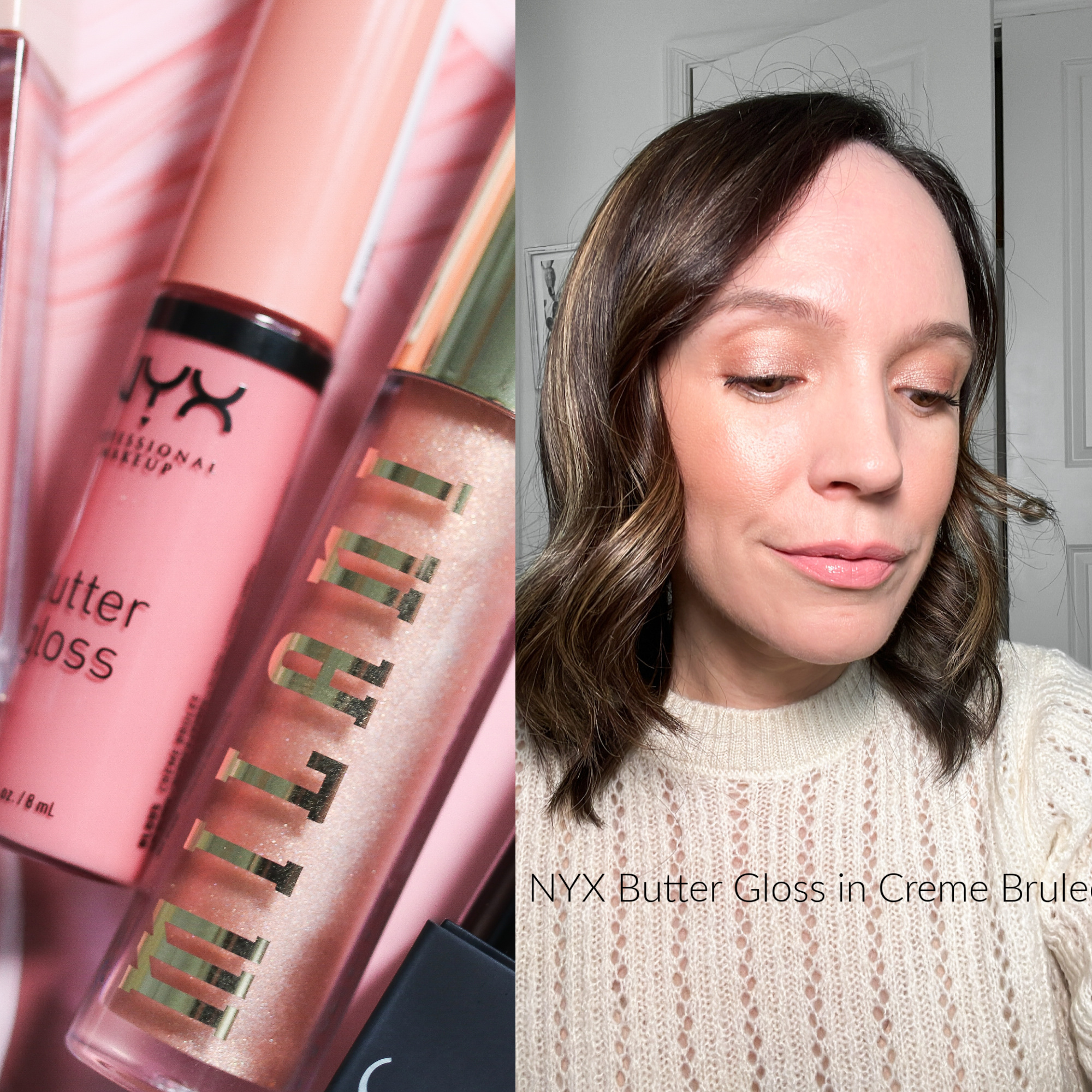 Ok, ok, ok, hear me out on why these feels closer to a lipstick than a lip gloss. Or at least a hybrid of the two. The formula delivers sheer to medium coverage and the pigment is very rich. Some glosses or lipstick/gloss formulas won't deliver the exact color on the tube to your lips. It will be duller, less intense or a sheer wash of it. But these NYX Professional Butter Glosses really look exactly like the color on the packaging. Which for me is perfect because I chose Creme Brulee simply because of the color of the tube and that is what it looks like on my lips! Yay! The NYX Butter Gloss is a top seller for good reason. It's never sticky or tacky and wears beautifully on its own or layered over a lip liner or lipstick.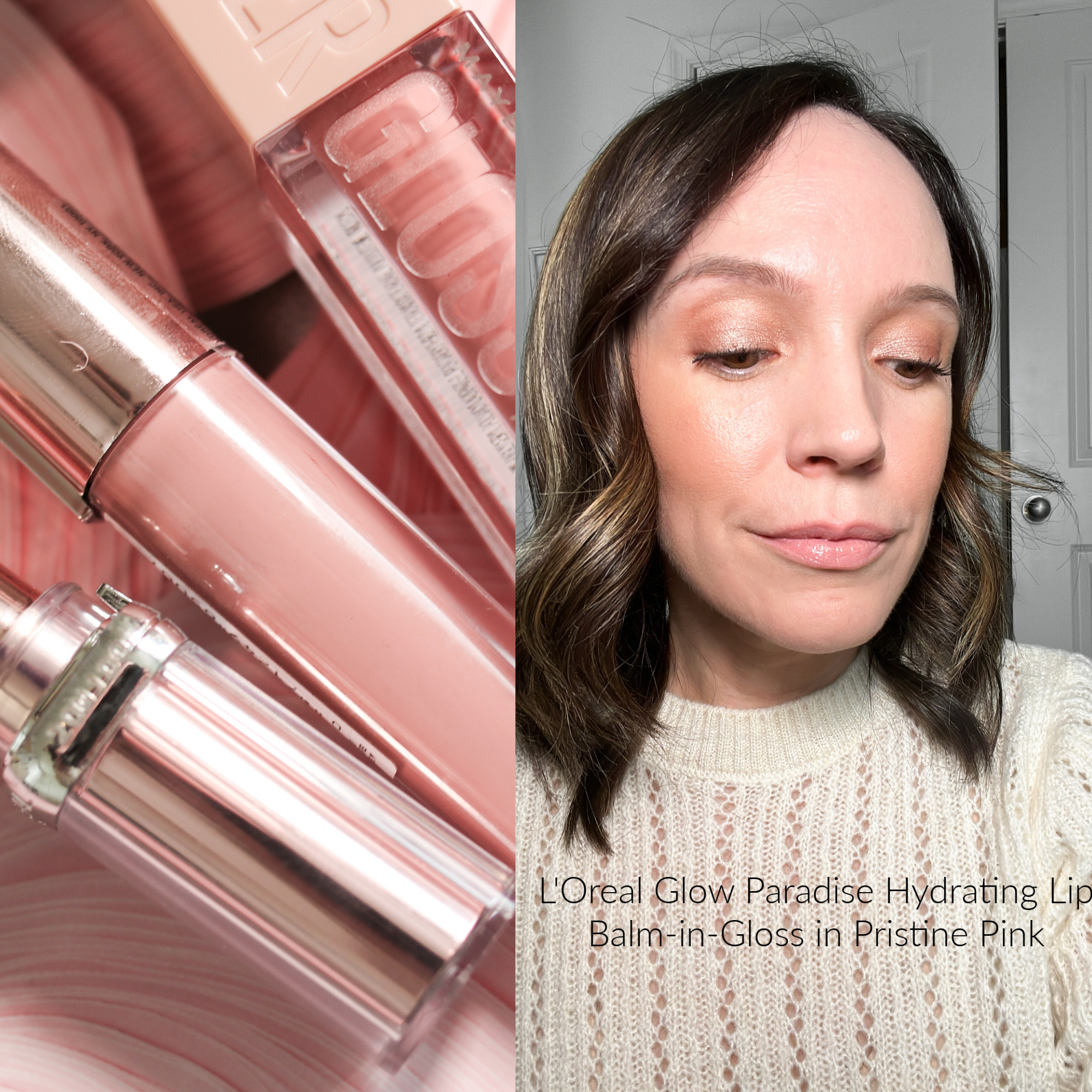 We are getting more sheer with this next formula but it has become one of my holy grail lip glosses so it HAS to be included. It will still give good pigment and can be built up to be slightly more medium coverage. The L'Oreal Glow Paradise Hydrating Lip Balm-in-Gloss is infused with hyaluronic acid and pomegranate extract that help to condition them throughout the day.
The two shades I wear the most are Celestial Blossom and Pristine Pink. There are a ton of great neutral pinks in this collection and I especially love the shape of the doe-foot applicator. It is slightly pointed at the top which makes it easier to use around the edge of the lips. The next L'Oreal lip products I would like to try is the L'Oreal Colour Riche range! I have to take a look at the L'Oreal Colour Riche Satin Lipsticks because I have heard great things about them.
Best Drugstore Plumping Glosses
I'm not one to go crazy over all the lip plumping products, but I do love a formula that helps to fill out the lines in my lips and deliver any additional moisture to give the illusion of my lips being fuller. I also prefer a formula that doesn't sting or burn to get that desired fullness. So both of these glosses are great at plumping while still making my lips feel good.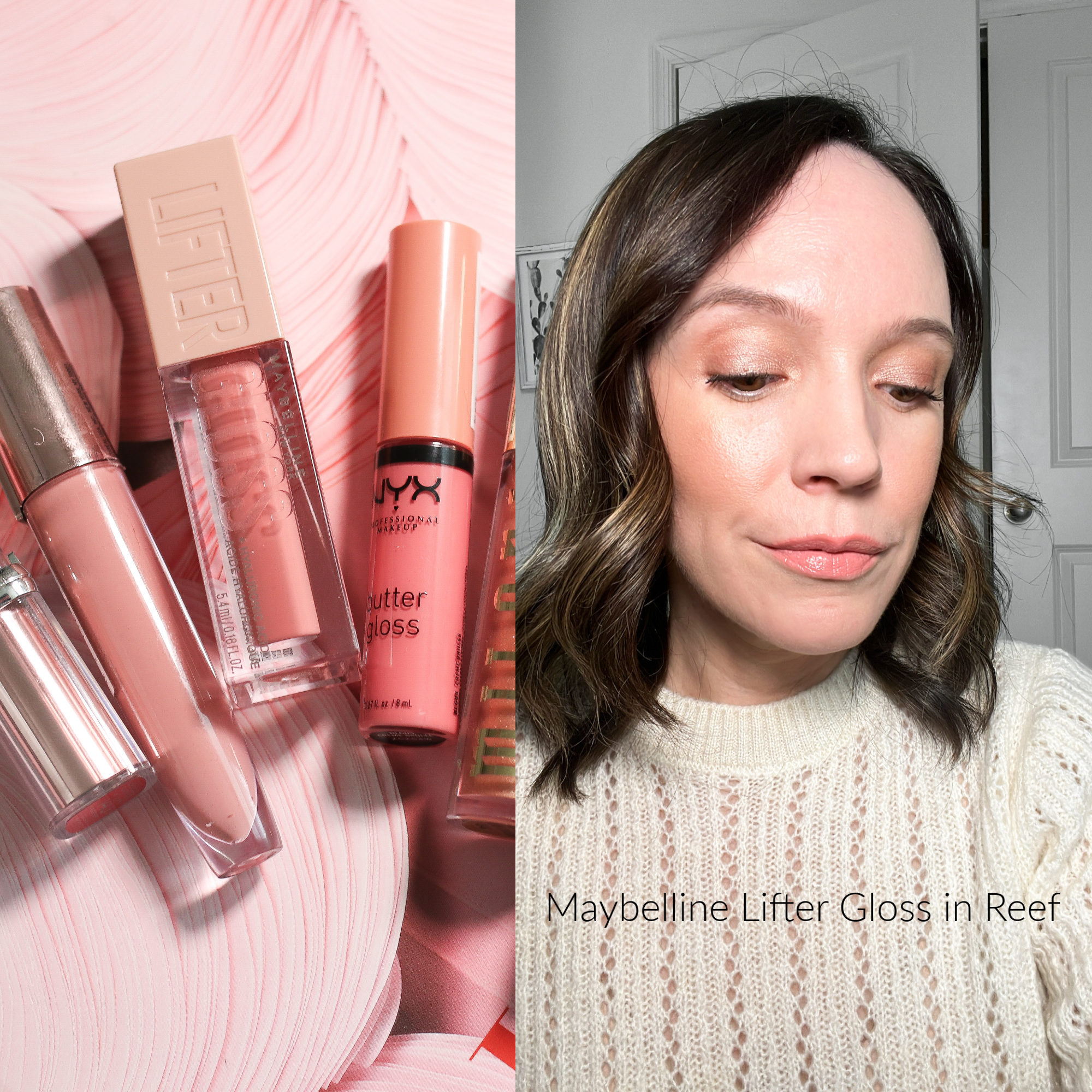 I want all the hyaluronic acid in my facial skincare and ALSO in my lip products! Hyaluronic acid is one of my favorite skincare ingredients because of its ability to maintain moisture and plump the surface of whatever it is applied to. In this case, the Maybelline Lifter Gloss is chock full of hyaluronic acid which will help smooth and hydrate the surface of the lips. While also minimizing the appearance of any lines. The shine on the Lifter Gloss is worth mentioning as well because it makes my lips look like glass without any tackiness.
The applicator is very large and though my lips are super full, I actually don't mind the XL size doe foot wand. It allows for a significant amount of product to be applied so I only need two swipes to get the full color payoff. The shade I love is called Reef and it's a peachy pink cream shade with no shimmer or glitter. It's a sheer to medium formula that lasts for 4-5 hours on my lips before I need to reapply. I was about to grab one of the Maybelline Super Stay Liquid Lipcolor but at the last moment grabbed the Lifter Gloss so I may pick one up next time.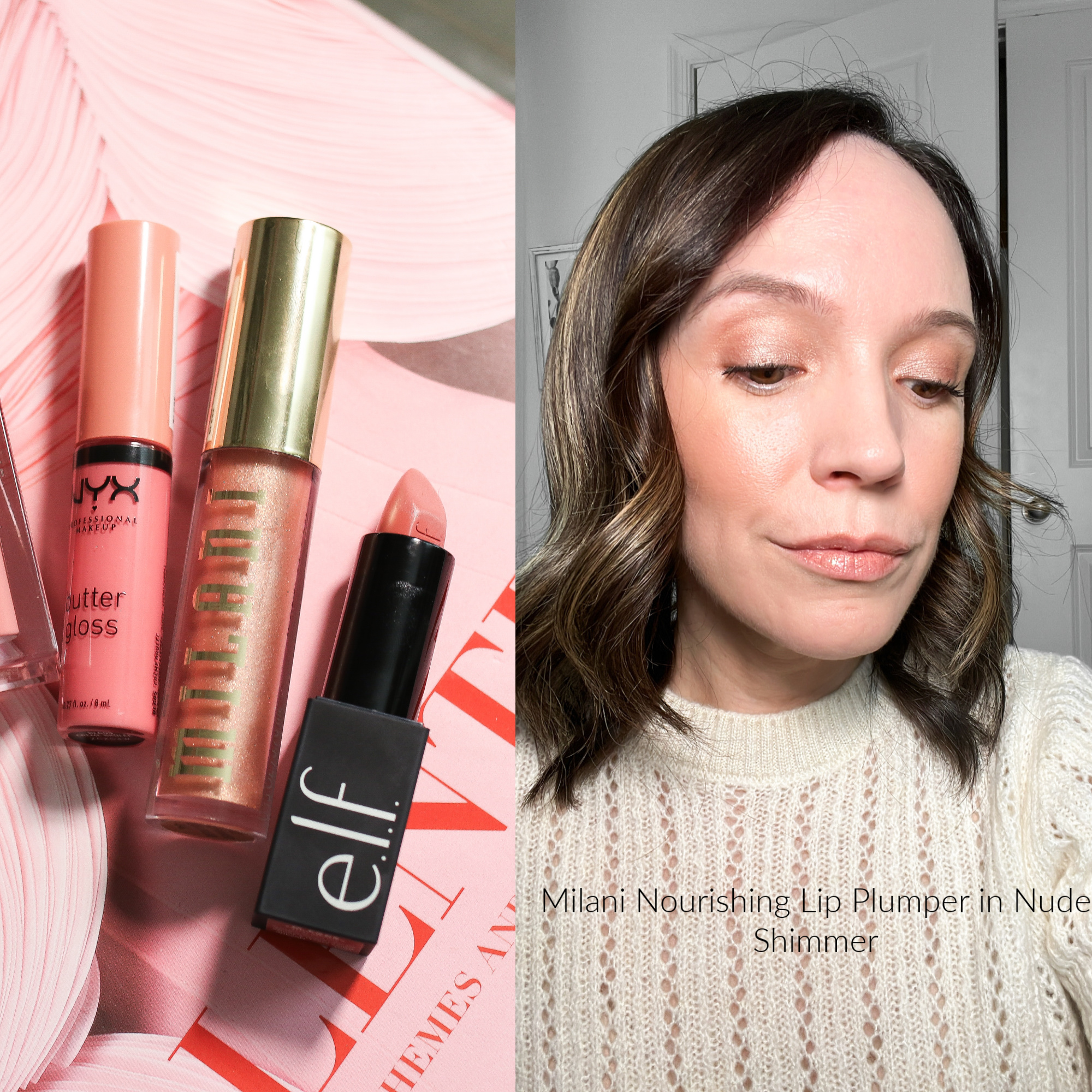 If there is one gloss out of all of these that I constantly gets compliments on when I wear, it is the Milani Keep It Full Nourishing Lip Plumper. Though it has the same hyaluronic acid ingredient that many of the other formulas do, the slight shimmer in as well as the ultra glossy glass-like texture makes my lips look next level gorgeous! Some of the shades have more shimmer than others but you cannot feel it on the lips. I love the shades Nude Shimmer and Champagne but would love to try a few more. While they are perfectly beautiful on their own, they are amazing toppers to your favorite lipstick or lip liner.
Best Drugstore Nourishing Lipstick Balm
This category applies like a lipstick but feels like a treatment balm. I love that this category is becoming more popular especially for those that don't like to wear makeup but want a touch of color on their lips that still nourishes like a lip balm.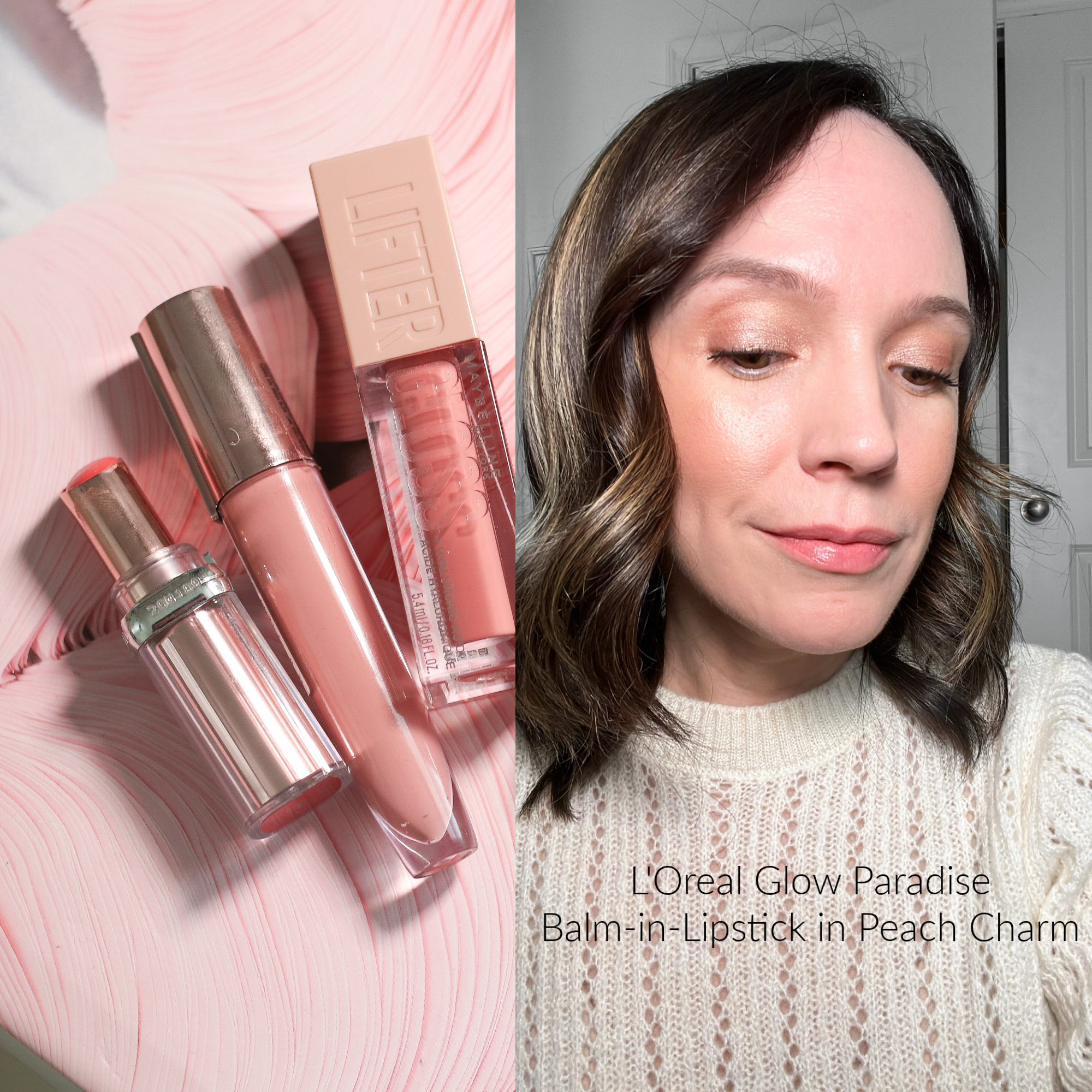 The formula is truly the best of both worlds with a lipstick formula that wears and feels like a moisturizing lip balm. Whether you wear makeup or not, I definitely think these L'Oreal Glow Paradise Balm-in-Lipstick is a lip product that almost everyone would love. It's quite sheer which makes it easy to throw on and go and it's gentle enough for sensitive lips. I have a few colors in this formula but my favorite by far is Peach Charm. It's a vibrant bright coral in the tube but goes on like a subtle hint of peach color.