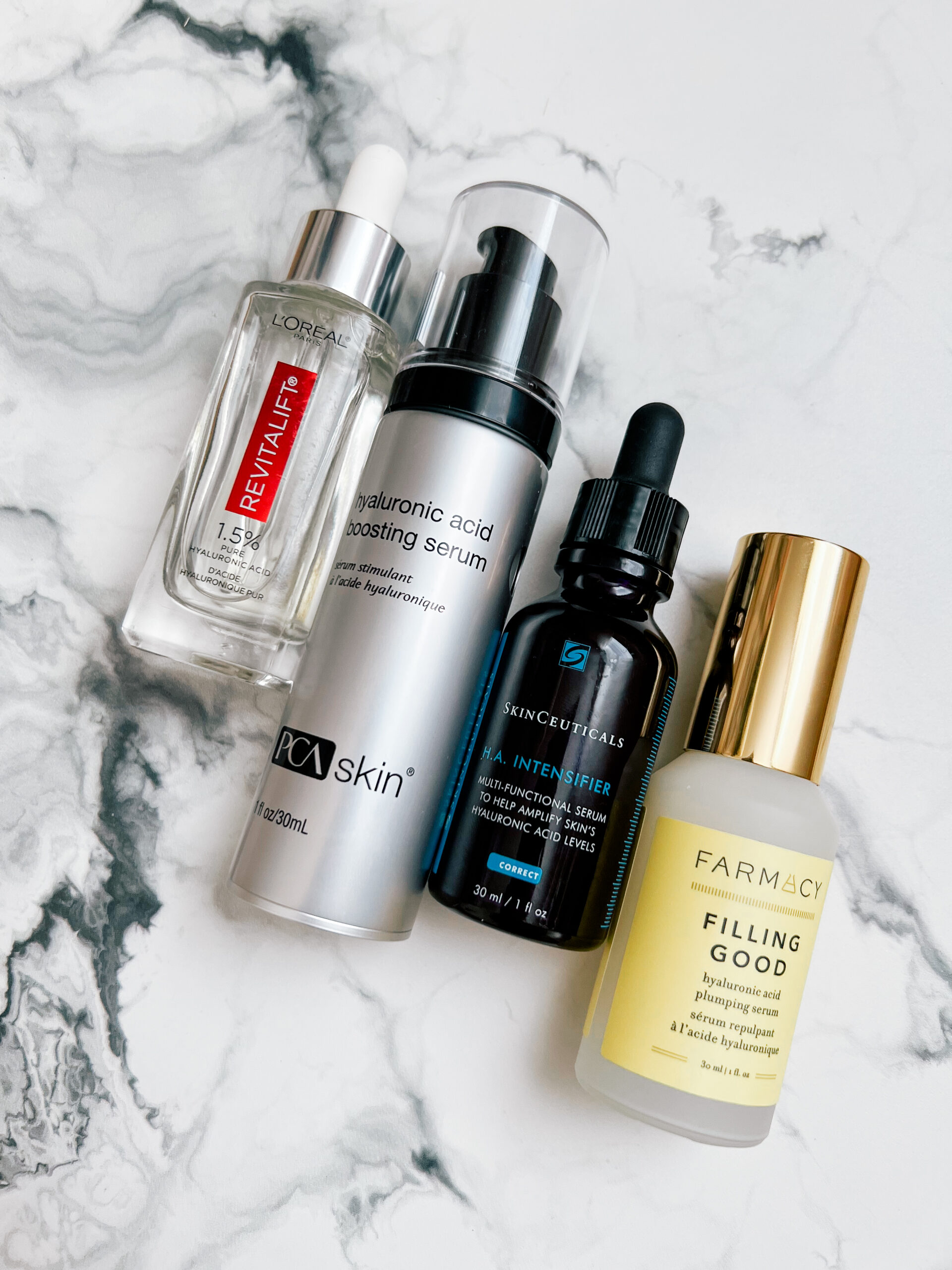 Hyaluronic Acid is one of my must have ingredients in my skincare routine. It is found naturally in the skin but as we age it decreases so it's important to add it back into the skin through serums particularly. One of the main benefits of hyaluronic acid is it helps the skin retain moisture which makes it look more supple and plump. It can also help to reduce the appearance of fine lines and wrinkles. Here are the 4 I currently rotate in my routine:
1. L'Oreal Revitalift 1.5% Pure Hyaluronic Acid – For the price point, I absolutely love this hyaluronic acid serum. It's lightweight, easily absorbs and also layers quite nicely with other serums. Compared to the other three serums in this line up, it is the thinnest though it still does a great job at plumping and helping my skin retain moisture.
2. PCA Skin Hyaluronic Acid Boosting Serum – The results of most of these serums are quite similar but my skin looks extra radiant when using this serum. It helps to strengthen the skin's barrier as well as giving intense and deep hydration.
3. Skinceuticals H.A. Intensifier – I have repurchased this serum so many times and love how plump is makes my skin look! When used in combination with the CE Ferulic, it's a great morning combination. It's also fantastic at helping firm the skin and targets any fine lines and wrinkles.
4. Farmacy Filling Good – This serum is at a much more affordable price point compared to the Skinceuticals and PCA Skin yet has a very similar texture and feel. It definitely helps my skin retain moisture all day long, plumps and targets fine lines. The results are not as intense as the other two that I mentioned but still a great option for adding a hyaluronic acid serum into your routine.