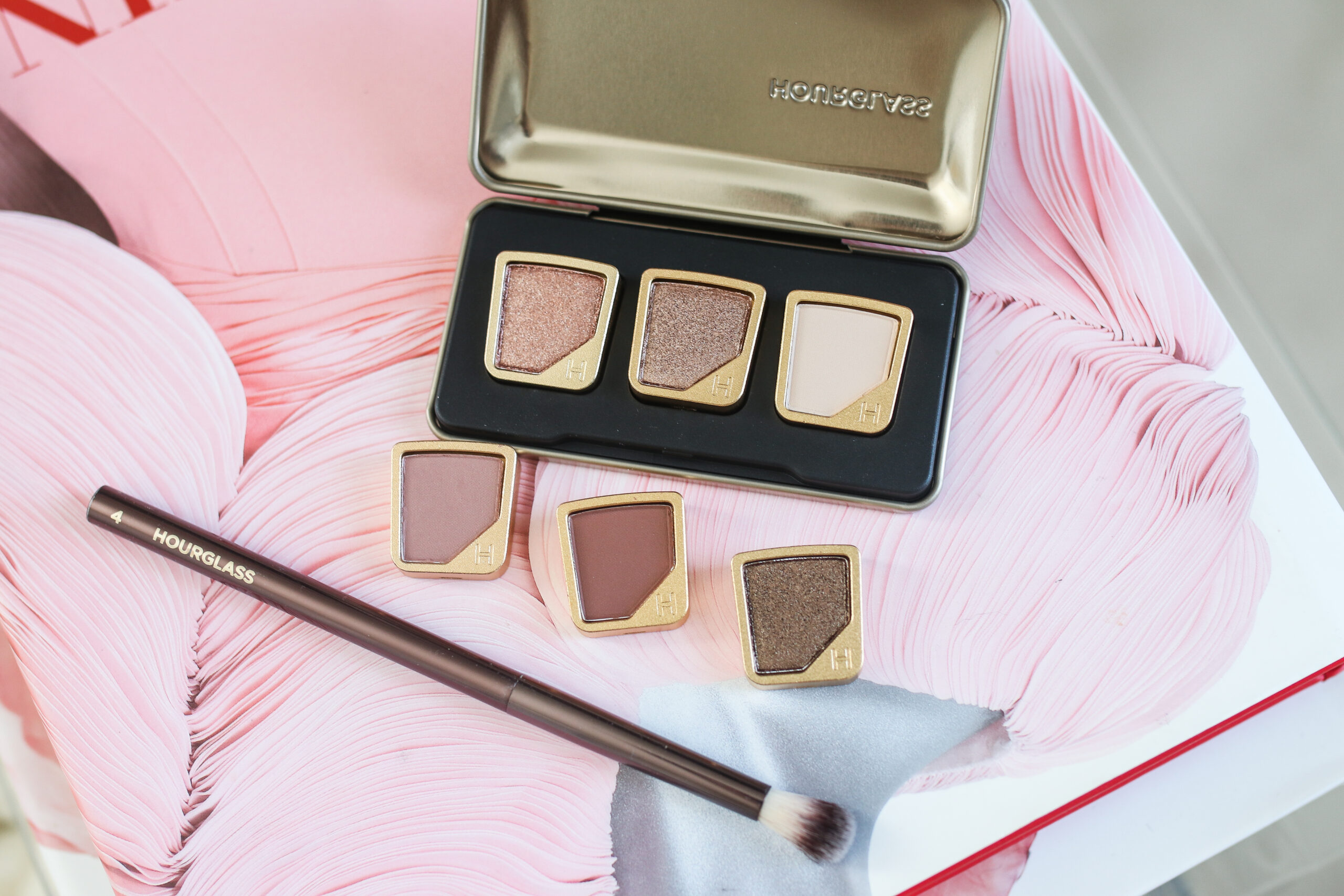 As a long time lover of solo shadows for a quick one and one look, I love that Hourglass offers these Curator eyeshadows AND you can mix and match to create your own curated palette. I have a handful of the neutral shades in matte, metallic, satin and shimmer textures to review in today's post. The Hourglass Curator Eyeshadows are eyeshadow singles that come in 4 different textures – satin, matte, shimmer and metallic. They are sold as individual shadows and you buy the case separately. I especially love this because I always finish one eyeshadow in a palette before I finish the others but can't replace JUST that color so I'm forced to buy an entirely new palette.
With the curator eyeshadows, you can choose shades that you KNOW you will wear and then replace each as you finish it. There are cases for 1, 3 or 5 shadows so you can customize the palette to your preference. Also, I have an ongoing discount code for Hourglass that gets you 10% off sitewide so be sure to use that if you plan on trying these shadows! Use code: MAREE at checkout.
Hourglass Curator Eyeshadows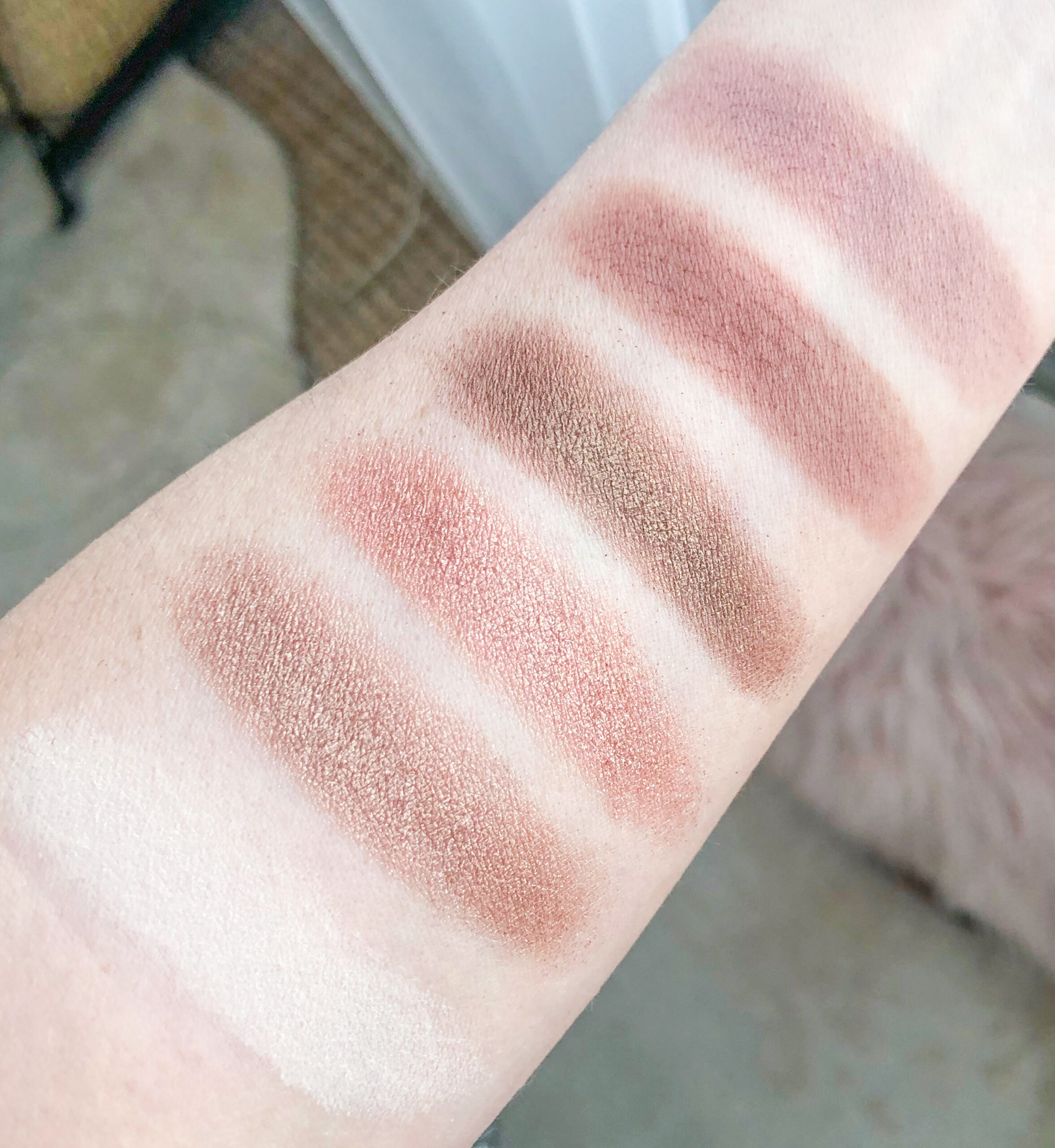 Swatches left to right: Air, Ion, Bee, Orb, Opt and Key
Colors
The colors that I received were a gorgeous range of neutrals in both a shimmer and matte formulation. Air is a shell color and is a matte formulation. Ion is a deep champagne in the metallic formula. Bee is a peach shimmer and the one I reach for the most. Orb is a metallic golden brown and perfect for a dark brown smokey eye. Opt is a matte chestnut brown and Key is a satin dusty rose.
Now on to the pigment and payoff of the shadows.
WOW. I was soooo impressed! The swatches above were barely two swipes because one swipe gave so much color instantly!  I was also surprised that there was little to no fallout because in the pan there was a ton of fallout around the color when I would put my brush in. But as I applied the brush to my lid, absolutely no color fell on my face. Yay! They are super creamy and easy to blend though I would recommend using a brush to apply. With the shimmer colors, I prefer to use a eyeshadow base or primer (this one from Hourglass is perfect and is slightly tinted to even out the lids). It grabs the color better and makes it last all day without creasing.
Formulation
The formulation of the shadows is talc-free and very finely milled so it goes on smoothly and blends effortlessly. The eyeshadow pan is made from recyclable aluminum and the curator palettes are made from tin and post-consumer recycled plastic. You can read more about their commitment to virgin plastic waste reduction on the Hourglass website. When placing the shadows into your pan, be sure you press the top and bottom of the eyeshadow to "snap" it in. I made the mistake of simply placing them in and was constantly having them move around and fall (thankfully none broke but I had a few close calls). To remove the shadow from the pan, press the top of the edge of the eyeshadow in a downward motion and tilt upward. The shadow should easily pop out.
Related: Hourglass Holiday Palettes
How the Hourglass Curator Eyeshadows Look On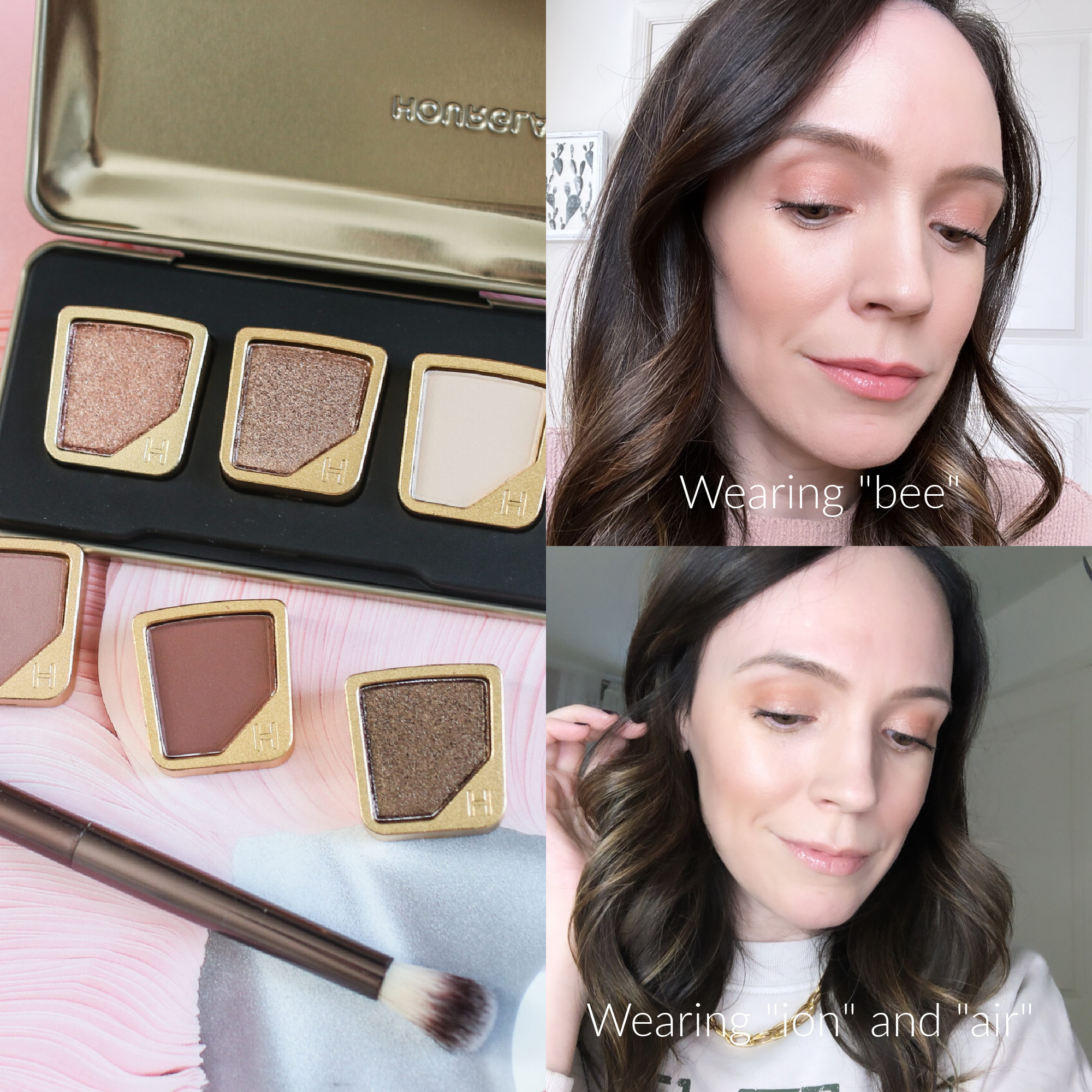 You can see from the photos how smooth and wearable the colors are for everyday. Naturally I reach for Air the most because it is a perfect matte bone color that I use along my brow bone. Bee is a peachy gold shimmer that is one of my go-to colors because it looks so flattering and works for day or night. Ion is a bit more golden but still suitable for everyday and not too dark. I layered Air over it to make it a bit lighter. If you aren't a fan of neutrals and like to have a bolder option in your curated palettes, there are so many great ones to choose from.
Here's a rundown of all the colors available from each category. You can also see swatches of every single color on the Hourglass website.
Matte:
Air – Shell
Fix – Pale Yellow
Coy – Soft Brown
Arc – Coffee Brown
Neo – Apricot
Pro – Rust
Foe – Burnt Orange
Doe – Clay Brown
Opt – Chestnut Brown
Mod – Bone
Yet – Navy
May – Pink Peach
Ace – True Black
Shimmer:
Fox – Light Champagne
Bee – Peach
Her – Pink Coral
Lot – Rose Copper
Web – Cool Brown
Ink – Dark Blue Gray
Eve – Deep Emerald
Bid – Muted Olive
Rye – Deep Bronze
Satin:
Apt – Medium Red Brown
Yes – Rose Brown
Pin – Neutral Rose
Key – Dusty Rose
Gem – Deep Warm Plum
Alt – Soft Taupe
Metallic:
Orb – Golden Brown
Lux – Amber
Act – Copper
Pow – Warm Cranberry
Pry – Rose Gold
Fog – Deep Mauve
Fig – Deep Plum
Ion – Deep Champagne
Elm – Deep Bronze
Pax – Warm Silver
Ash – Pewter
Ice – True Silver
I will say that the shadows and compact are a bit pricey but I do love the idea that I only have to replace the color that I'm out of rather than buying an entire new palette. With a lot of the eyeshadow palettes I use regularly, I will finish one of the colors before the rest and it seems silly to buy an entirely new palette because I'm out of one shade. This is why I love this concept and find it so much more useful and worth the extra price.
What brushes to use with the Hourglass Curator Eyeshadows?