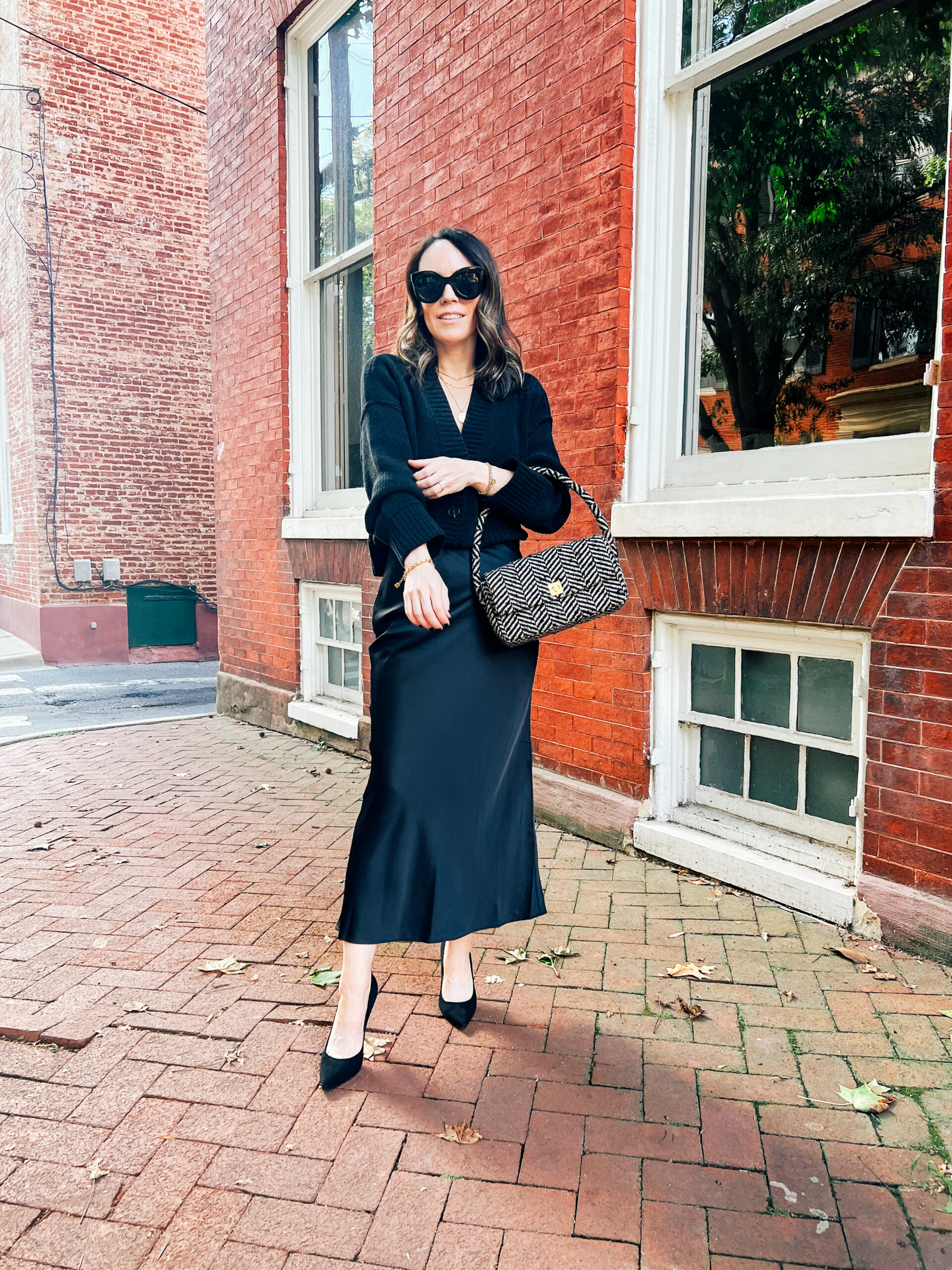 Cardigan (similar one here) | Skirt | Shoes | Bag (my exact print is no longer available) | Sunglasses
Friday Finds 9.22
1. Nordstrom is having a big beauty sale and tons of luxury brands are included!
2. This lace top is so unique and a gorgeous statement piece.
3. The fit on this sweater dress is so chic and I love the bell sleeves.
4. The color, the fabric, the style – these velvet mules are EVERYTHING!
5. The ballet flat trend is growing on me and these chocolate brown satin ones are calling to me. Ha!
6. These studded ballet flats are more budget friendly and so fun. The studded detail makes them a bit more edgy which I love.
7. This initial necklace is so chic and would make a great gift. I love that it's asymmetrical and you can add multiple letters.
8. I've heard amazing things about these liquid highlighters and can't believe I've never tried them. I ordered two shades to test and will share my review soon.
9. I have a pair of Sam Edelman boots that I bought a few years ago and they are still one of my favorite pairs to wear every fall and winter. This is a very similar style and is such a classic shape that will be timeless.
10. A total splurge but this leopard print trench coat is GORGEOUS!!!
11. And to keep the splurge coat appreciation going, this wool belted overcoat is the most beautiful statement coat. It IS the outfit.
12. Sweater coats are so popular and this one has the shape of a sweater coat but is definitely warm enough for the cold weather.
13. OMG Anthropologie has so many cute Halloween decor pieces – I want everything!
14. These bat stakes are such an easy way to decorate a pumpkin for Halloween. These are currently in my cart. There are also butterfly ones too.
15. This. Ear. Cuff!!!! OMG I am obsessed with this. It's a bit chunky but a total statement piece.