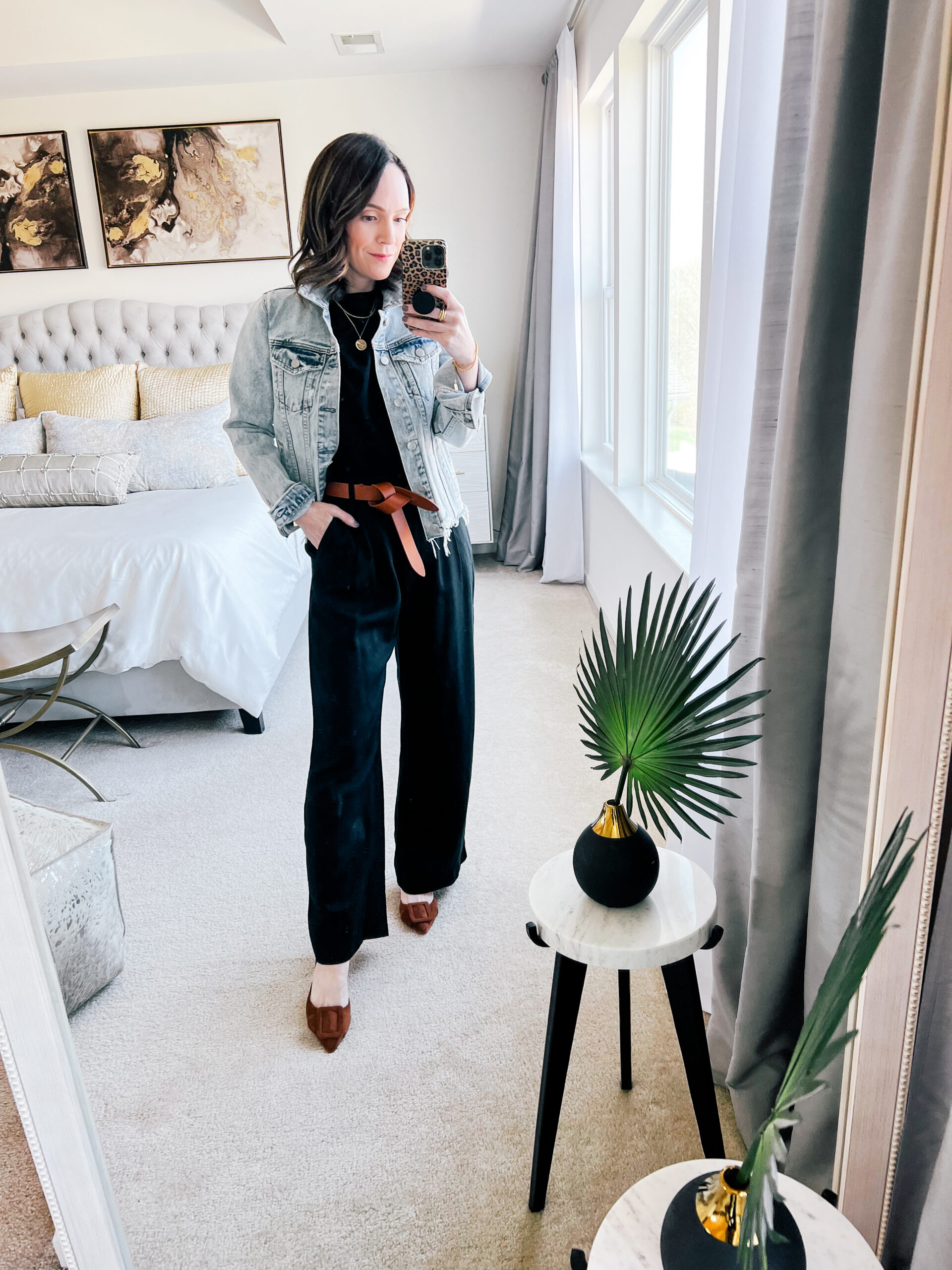 Building a wardrobe can seem daunting especially doing so season after season, but there are a few key pieces that are great to have in your closet that you can rewear year after year. Some items can work for multiple seasons and easily be mixed and matched to create a variety of looks. I thought I would share some of my top suggestions for items to have in your fall closet that timeless and worth buying. This post will just focus on clothing rather than accessories, but I can definitely explore accessories in another post. Here are 10 fall closet essentials:
How to Build a Wardrobe – 10 Fall Closet Essentials
Closet Essential #1 and #2: A Slip Skirt and Cardigan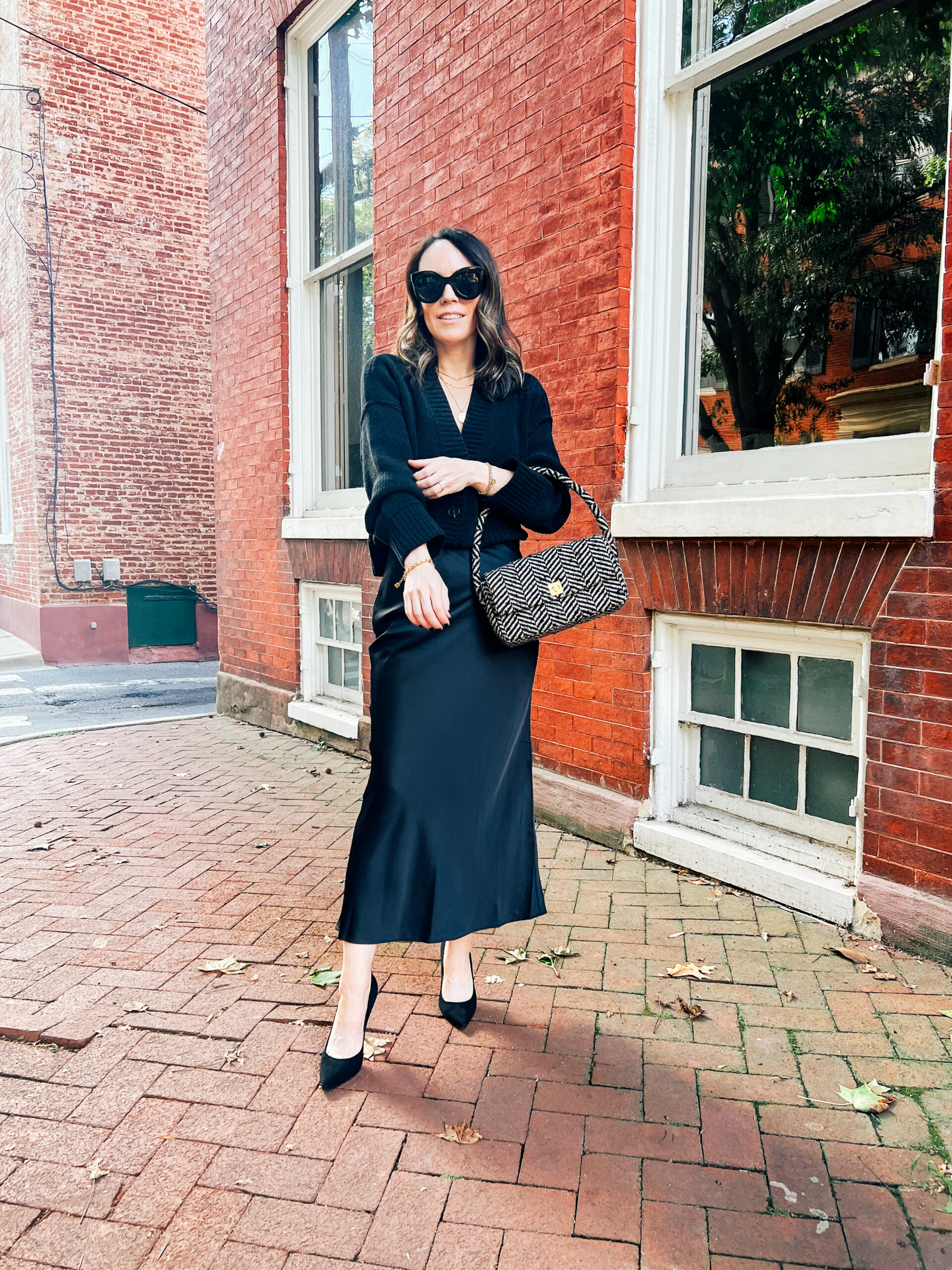 Cardigan | Skirt | Pumps | Bag | Sunglasses
Wear these pieces together or separately, but a slip skirt and cardigan can be styled a variety of ways. I personally love a cardigan that hits at the waist with higher buttons so it can be worn alone or left open and layered over a camisole. A slip skirt is more versatile in my opinion that even a pencil skirt. I have worn this particular skirt with sneakers and a tee though it can easily be dressed up for an evening out or evening worn for the workplace.
Closet Essential #3 and #4: A Camisole and Trousers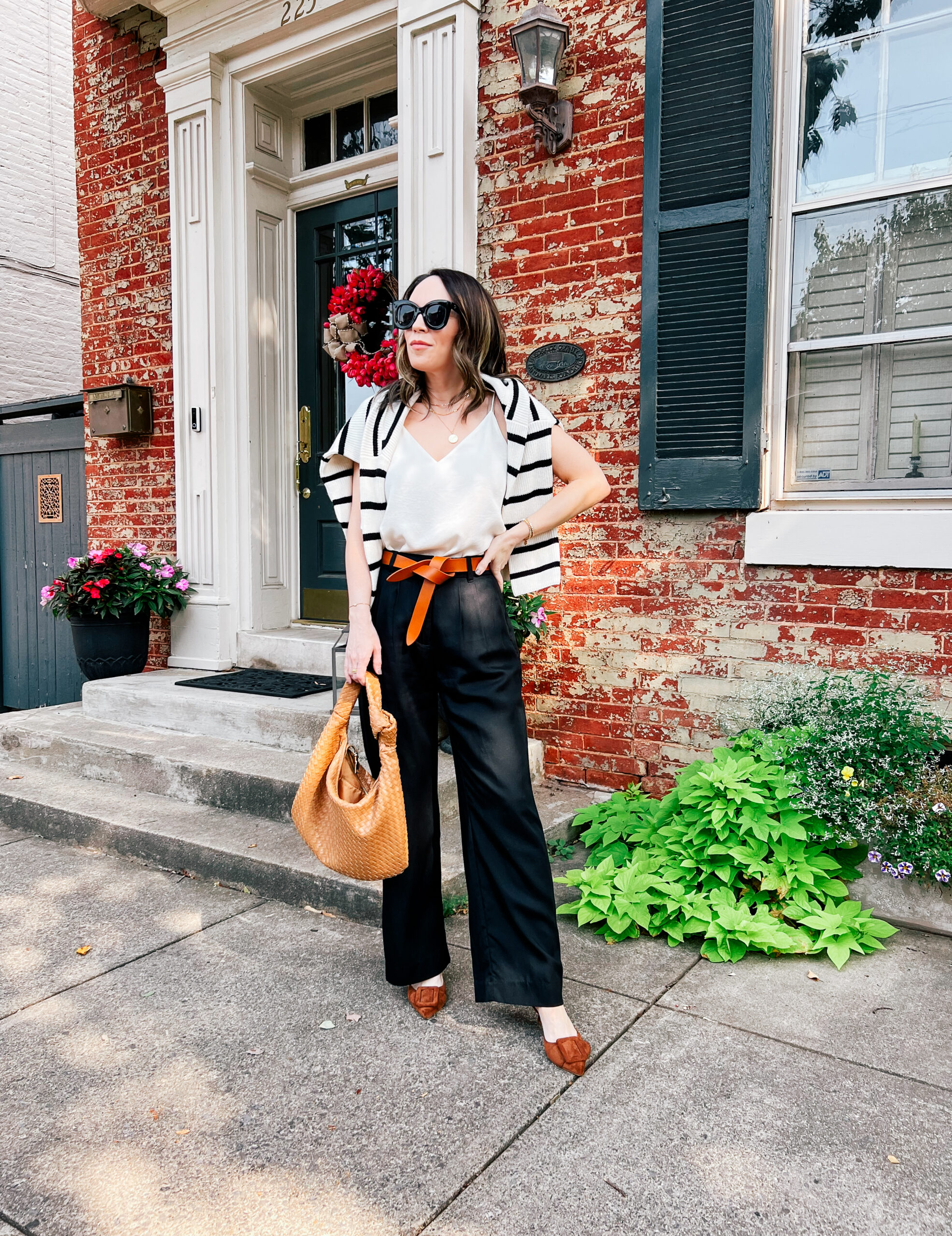 Camisole | Trousers | Shoes | Belt | Bag | Sweater | Sunglasses
Especially during the early fall, it may not be cold enough yet to wear a sweater so a camisole is a great option. It's a great base for a blazer, cardigan or sweater (draped over your shoulders look so chic) but can also be worn as a top alone. I prefer a drapey and loose fitting camisole rather than something too fitted and these are my absolute favorite camisoles. Trousers have been trending for the past year, but regardless of trends at the moment, a classic style of trousers is a timeless wardrobe essential. I opt for a pair that I can wear with both flats and heels so finding the right length is key. These trousers from Abercrombie are my most worn and they come in 3 different lengths.
Closet Essential #5, #6 and #7: Basic Long Sleeve Tee, Turtleneck and Dark Wash Denim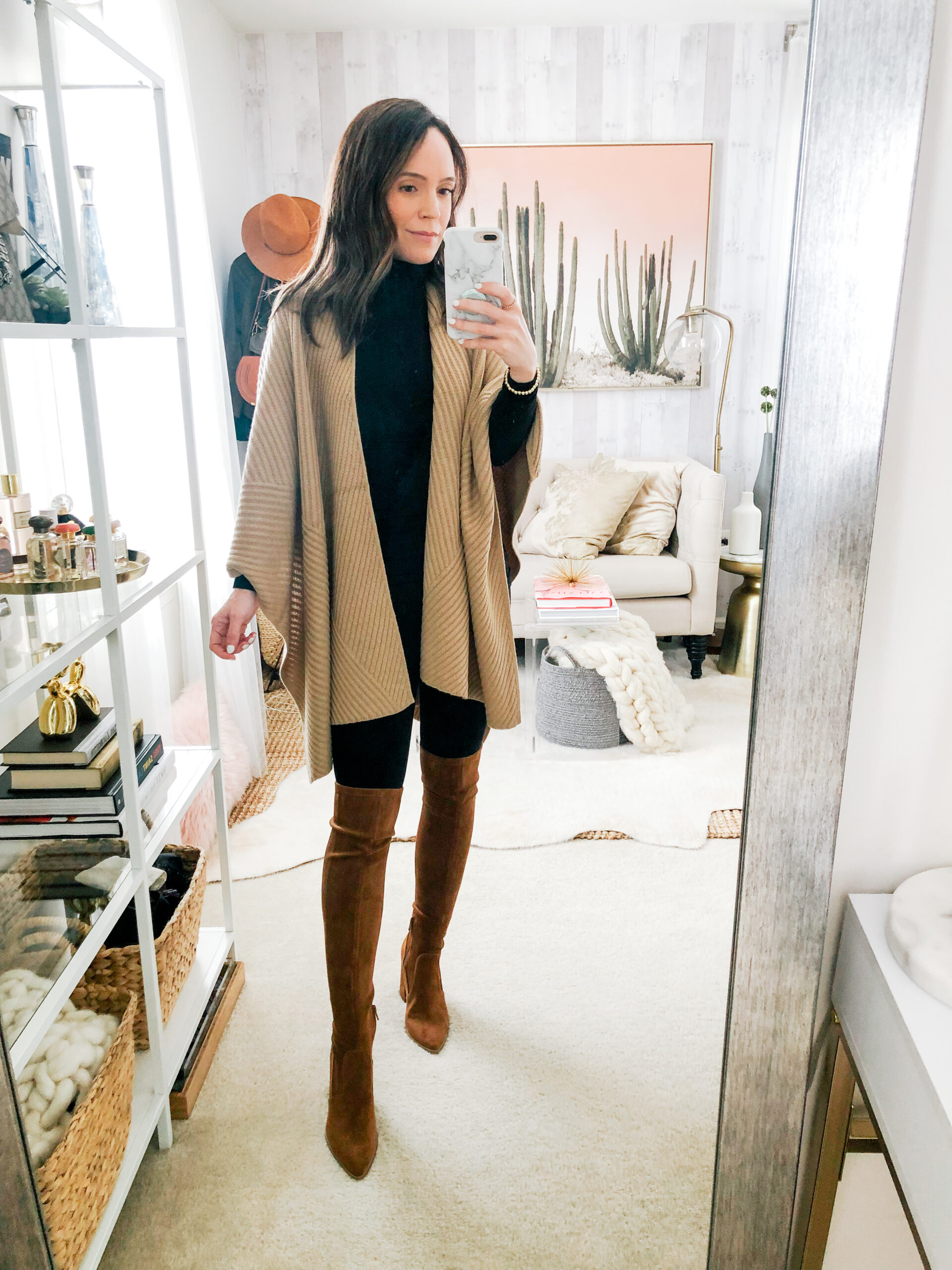 Wrap (similar) | Turtleneck | Pants | Boots (similar)
I refer to an outfit like this as my "base outfit". It can be worn with virtually any outerwear and shoes/accessories because the main pieces are simple and timeless. Though I do wear tees in the spring/summer, I cannot live without them in the colder weather. They layer perfectly under cardigans/blazers, add warmth under chunky knits and act as a blank canvas to accessorize or style. Same goes with a turtleneck. It can be styled along with a skirt, jeans or pants. As well as worn layered under a wrap, cardigan or blazer. Additionally, a comfy pair of non-distressed dark wash denim is another closet essential that is a blank canvas and allows for a myriad of styling options. For those with a business casual environment, dark wash denim can be a great alternative to trousers and easily can be dressed up for evening as well.
Closet Essential #7: A Black Blazer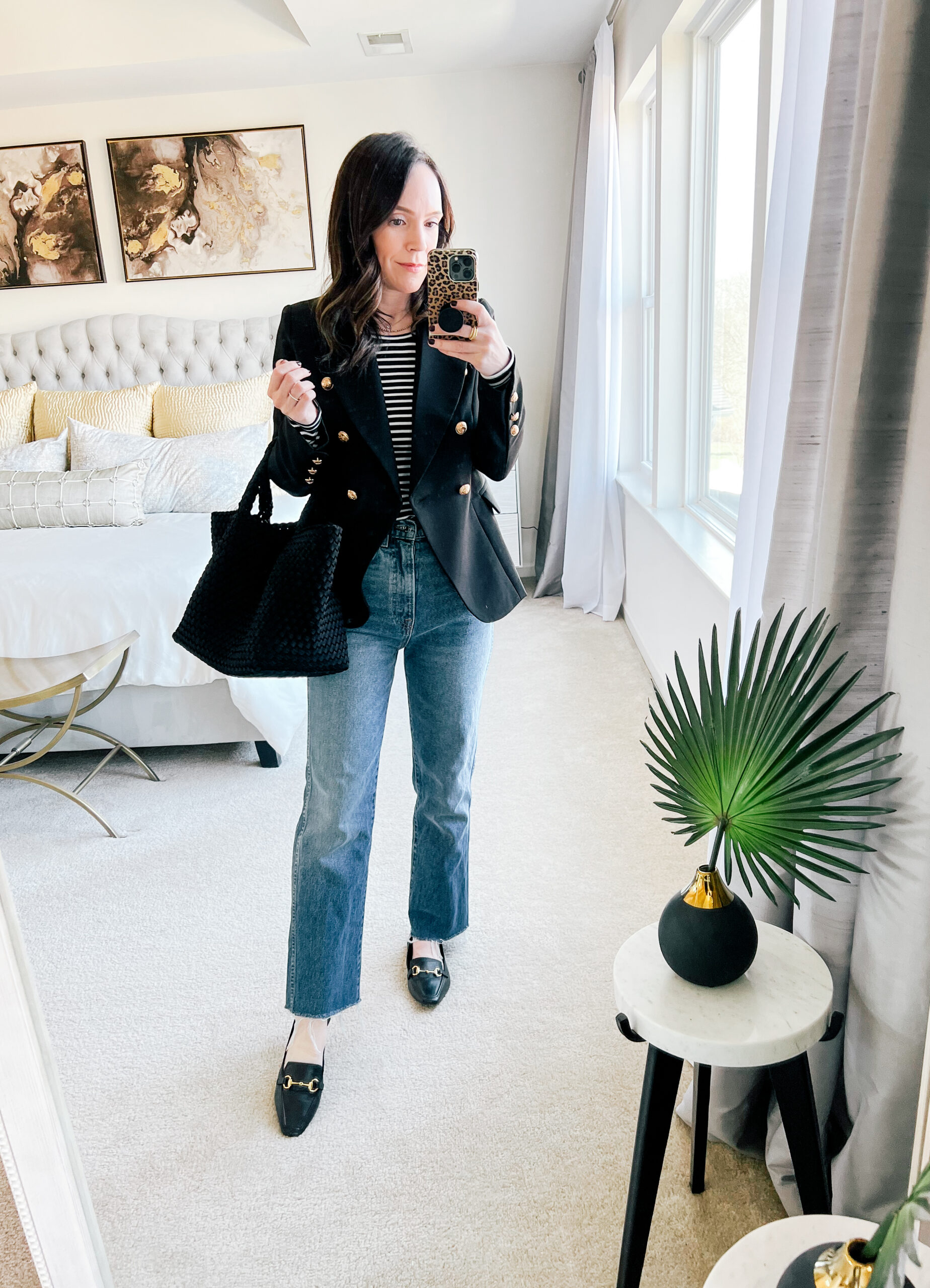 Blazer | Tee (similar) | Jeans | Loafers | Bag
Whether it's a statement piece with chic gold buttons or something more simple, a black blazer is always a closet essential. If you want something that is timeless, avoid something cropped or too oversized as they can look more trendy. A regular style that hits around the hips is the best option. Another feature I like to look for with my black blazers are ones that dart in at the waist like the one I am wearing above. I find it looks flattering and creates a nice shape.
Closet Essential #8: Camel Coat/Trench Coat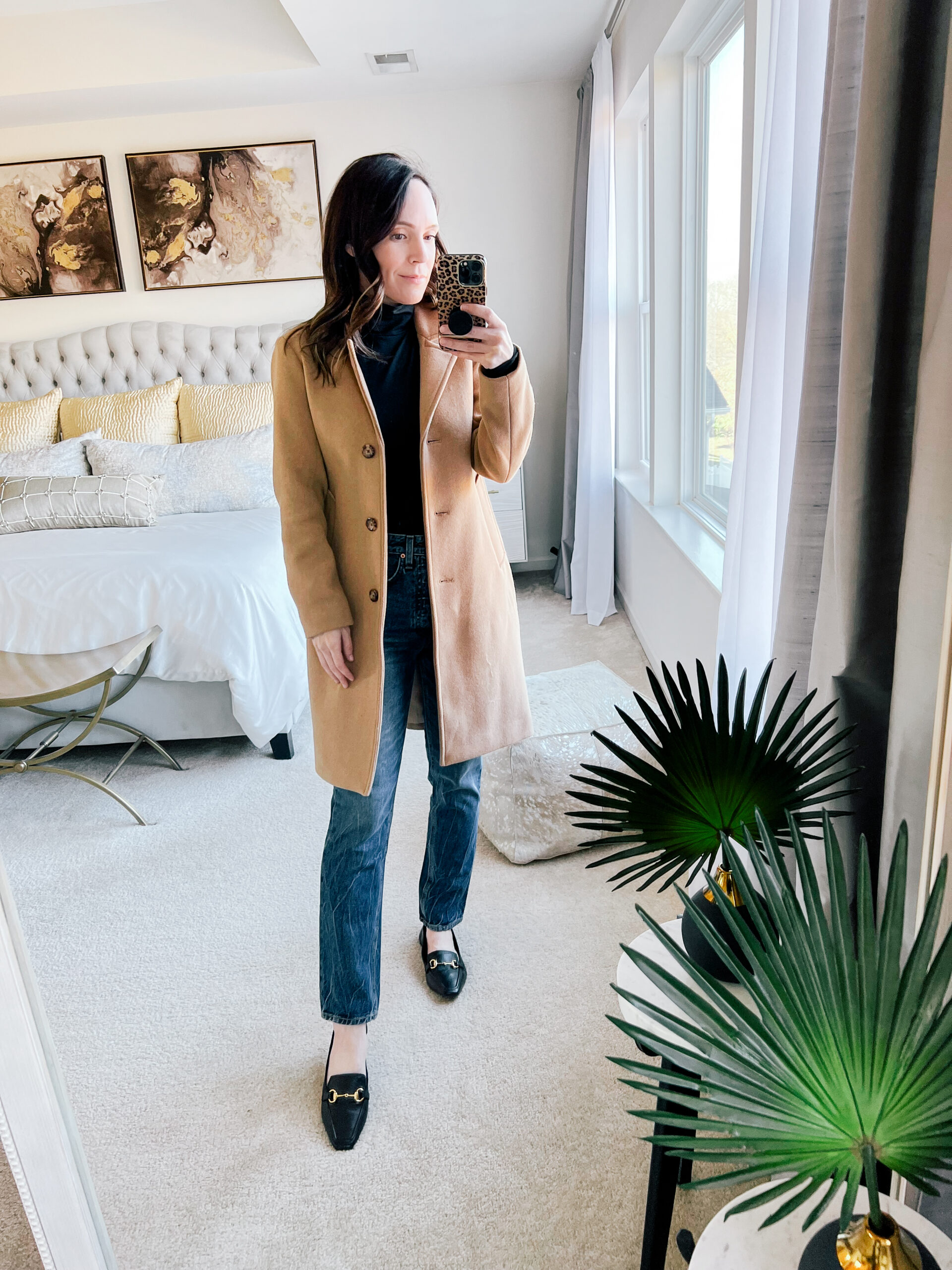 Coat | Turtleneck | Jeans | Loafers
Either a classic trench coat or a simple wool camel coat are great closet essentials for the fall leading into winter. In some parts of the country that stay warm well into winter, a trench coat may be a better option. Whereas those places that get chilly very early in the season may benefit for a wool camel coat instead of a trench coat. Look for one with a very simple and clean line to it – nothing too oversized or embellished. A belted detail is classic though not necessary. As someone that is on the shorter side (I am 5'4″), I like my coats to hit above the knee so as not to overwhelm my frame.
Closet Essential #9: Button Down Blouse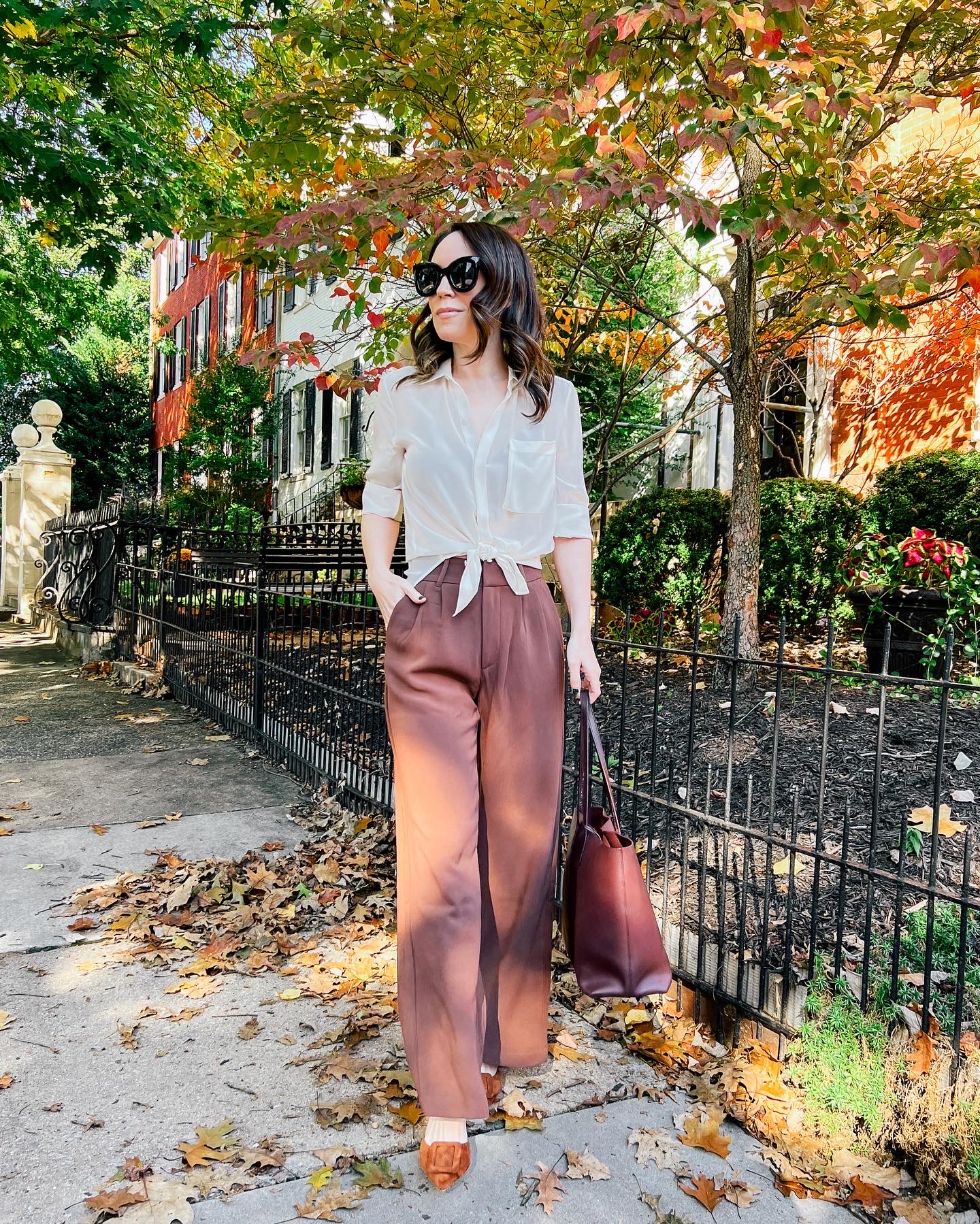 Blouse (similar) | Trousers | Shoes | Bag | Sunglasses
A button down blouse will always be a must have for any wardrobe. But I prefer something that is drapey and flowy. I don't particularly love a stiff blouse and have always gravitated towards ones that have some movement. I find them to be more versatile when it comes to dressing them up or down. A very stiff slightly preppy button down can be difficult to wear for a more fancy occasion. Whereas a silkier blouse has the potential to be worn with jeans or a pair of tuxedo trousers for evening.
Closet Essential #10: A Denim Jacket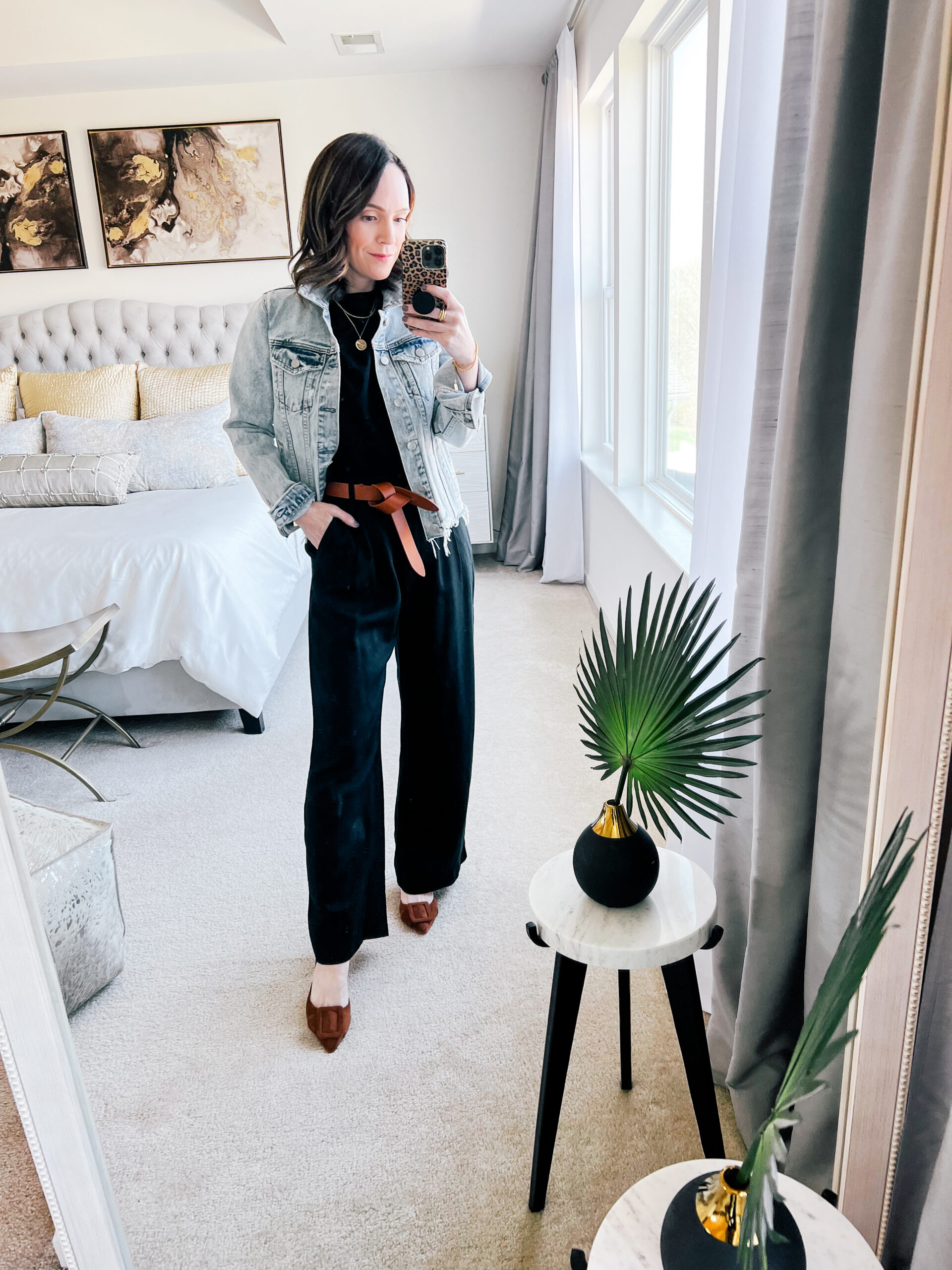 Jacket (similar) | Tee | Trousers | Belt | Shoes
Year after year and decade after decade, a denim jacket has stood the test of time. The fits and various styles have changed to accommodate trends. But a classic fitting denim jacket will always be "in style". While the one I am wearing is distressed in a trendier light wash, it's still timeless and something I have worn for the past few years. If you really want to keep it classic and more trendproof, go for a dark wash or medium wash denim jacket with little to no distressing and a slim fit.
Closet Essential #11: Sweater Dress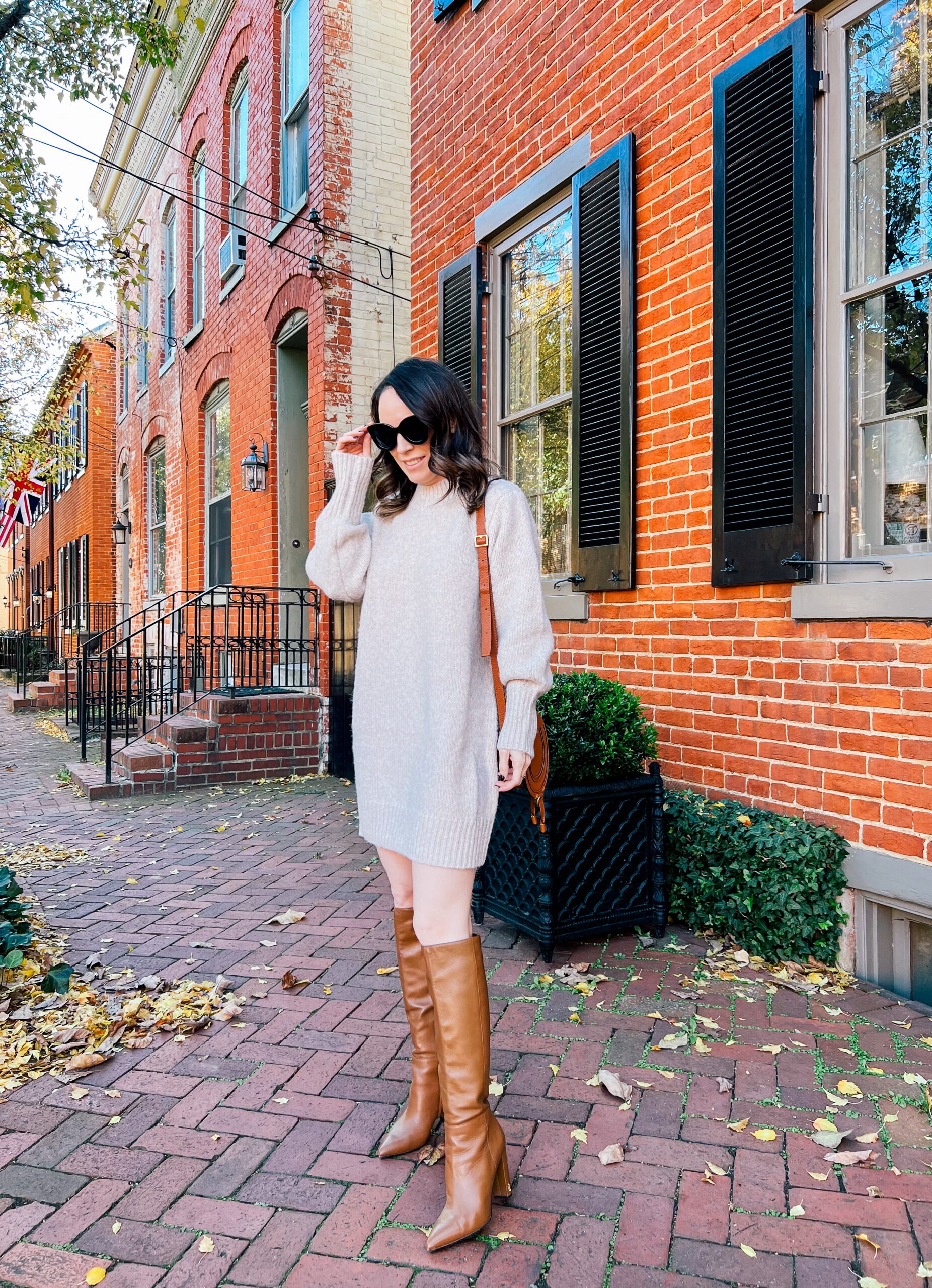 Dress (similar) | Boots (similar) | Bag | Sunglasses
I know I was going to keep the post to 10 essentials but #11 is not necessarily an essential but definitely something worth having in your closet. Sweater dresses are always a great option for fall and winter as an alternative to trousers or jeans. There are a ton of different styles and trends each season when it comes to sweater dresses. But it's best to stick to a neutral color and a simple fit (either oversized tunic style like I am wearing above or a turtleneck dress). Allow your accessories and outerwear to add some trendiness to the piece but a classic sweater dress is something you will wear year after year.
Shop more of my picks from each category in the widgets below!