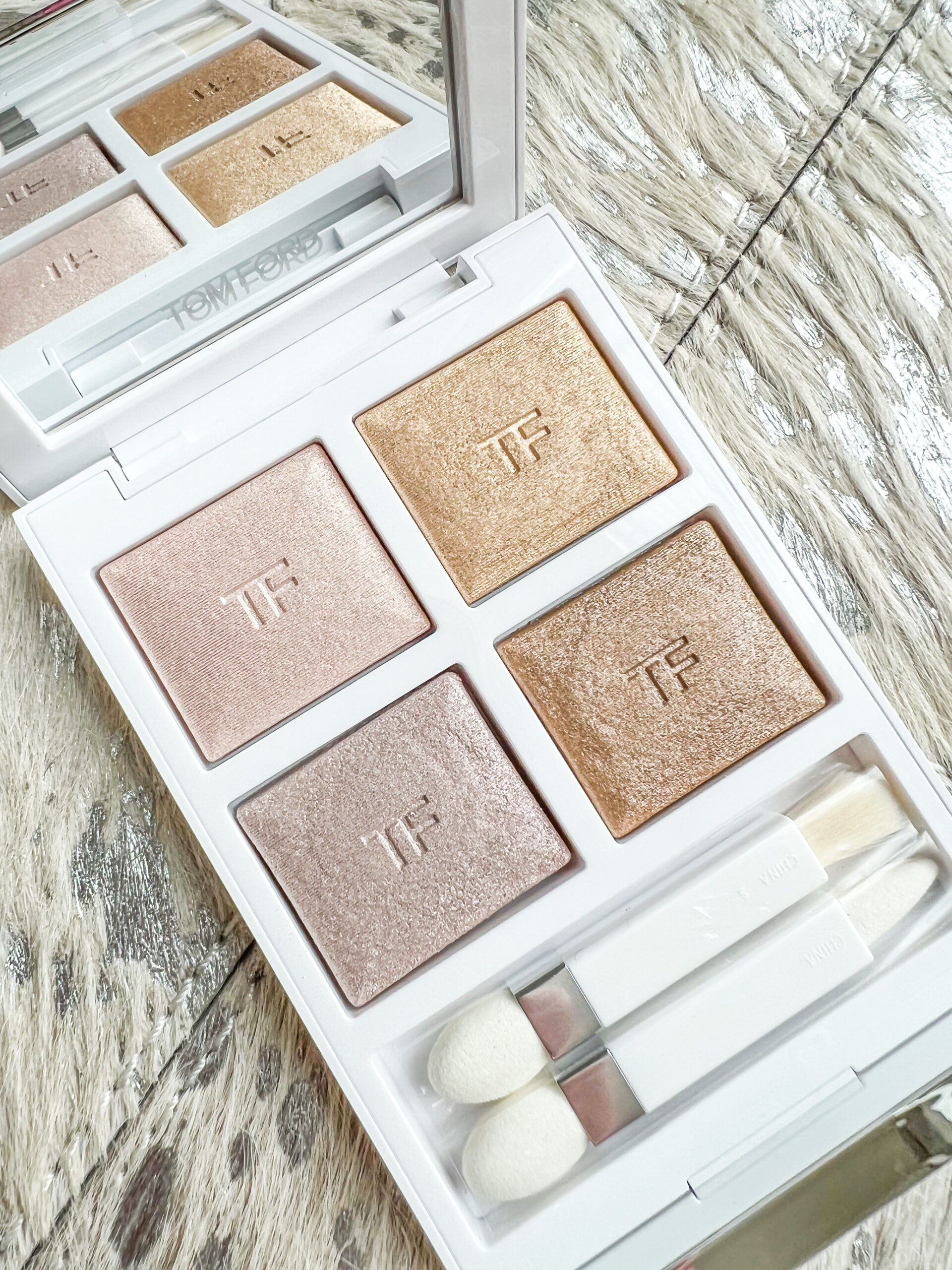 Tom Ford Soleil Neige Eyeshadow Quad in Chalet Lust
I always a bit hit or miss with Tom Ford makeup. Some things I absolutely love from him (the Nude Dip eyeshadow quad is a holy grail for me and his moisturizing lip glosses are amazing), while others have just been ok. His Shade and Illuminate contour duos have been on my wish list to try because I always read such great reviews about them. Years ago I regularly used his Traceless Soft Matte Foundation as well and that really worked nicely on my combination skin. My skin is currently a bit more dry so I am hesitant to try it again. If you have used that foundation and have drier skin, please let me know your thoughts!
I don't always love the color combinations that Tom Ford puts out in his eye color quads but the Soleil Neige eyeshadow palette in Chalet Lust really caught my eye! It is limited edition but is still in stock in various retailers so grab one if you have been thinking about it. It's currently 15% off at Nordstrom right now which is an amazing savings! I have some swatches of the palette in today's post though the shimmer in them is quite bright so it was hard to exactly capture the details of this eye color quad.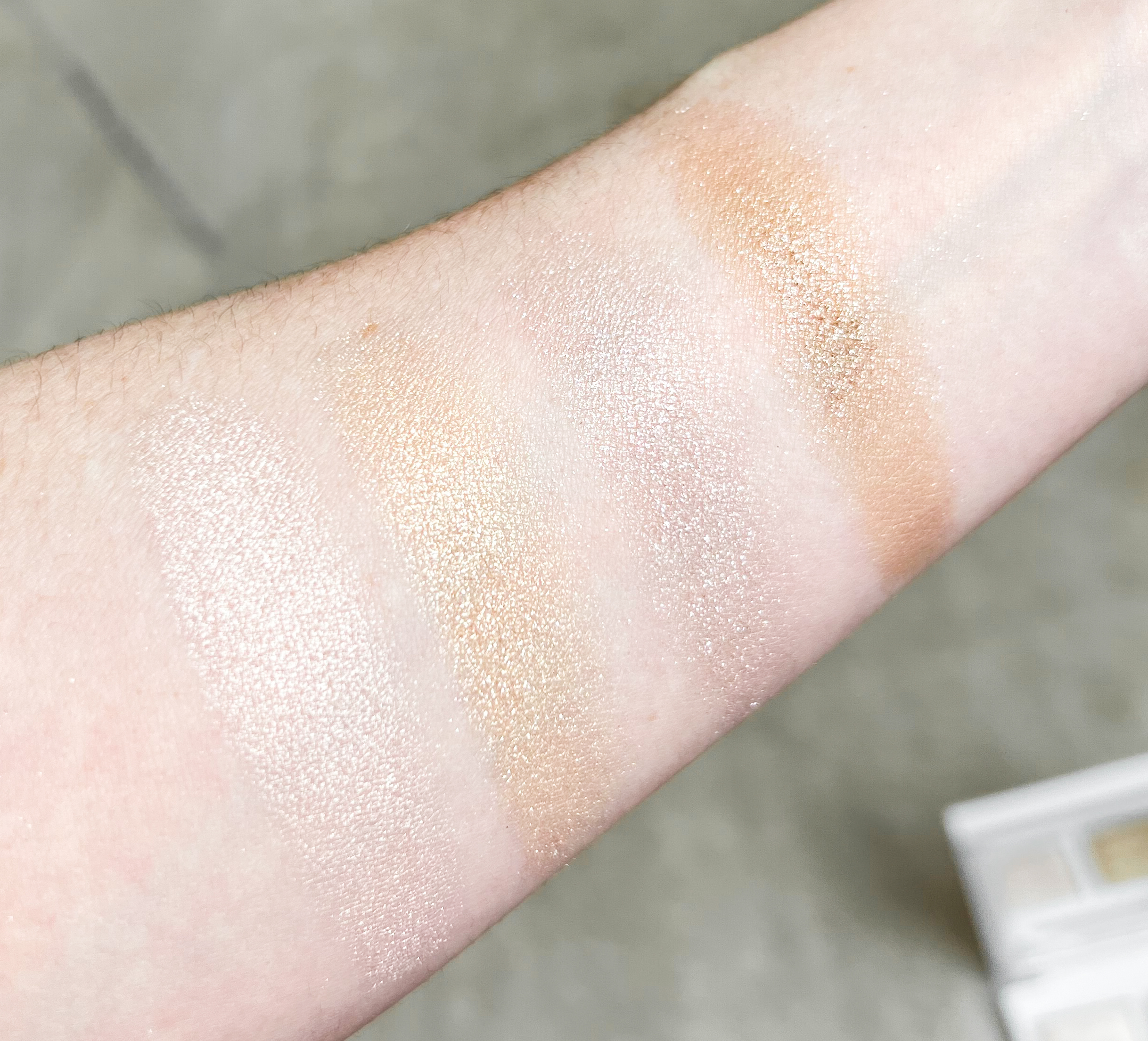 Swatches of the Tom Ford Soleil Neige Eyeshadow Quad in Chalet Lust
The colors all seemed light and wearable for everyday so I decided to give it a try. The Soleil Neige eyeshadow collection contains Chalet Lust which skews a bit cooler in tone and Apres Ski, a palette with more warm/bronzey tones. I have quite a few warm bronzey palettes so I wanted to try something cooler which is why I purchased Chalet Lust. The texture of the shades in the Chalet Lust quad are a mix of shimmer and a chunkier glitter. The top left shade is a gorgeous champagne shade with a smooth and richly pigmented finish with little to no fallout. However, the other three shades are not as smooth and do apply a bit more patchy.
The colors can be used wet or dry depending on the intensity of color you are trying to achieve. Wetting an eyeshadow will always intensify and deepen the color while applying it dry will provide a more sheer and less pigmented look. Using water to wet the shadow would work, but you could also use a setting spray as the dampening medium. Spray your brush rather than the palette and then dip the brush into the palette to pick up the color. You will only need one spray to dampen the makeup brush so don't feel like the brush needs to be dripping wet in order to deliver the intense color payoff.
If you want to use the shadows dry:
I find that you need to use an eyeshadow primer underneath or a cream eyeshadow to give the shadows something to adhere to. The best technique to apply them is to use a flat eyeshadow brush and press the color onto the lid. Not too much glitter got onto my face, but the payoff wasn't as even and pigmented as I would have liked. Some of the colors applied evenly and looked smooth. While others appeared patchy and were a bit difficult to get a smooth finish.
I'm still on the fence about this one to be honest and deciding if I love the colors enough to deal with the slightly chunky and glittery texture of most of the shades. The top left shade is truly magnificent and also looks amazing as an inner corner highlight to the eye. The other colors were nice as toppers but I am not sure they would work well as a solo lid color. I am curious however if the Apres Ski palette would be different than the Chalet Lust because the colors are a bit richer in tone. Perhaps the pale colors in the Chalet Lust made the application more difficult.
Where to buy the Tom Ford Soleil Neige Chalet Lust palette?
Though the palette is limited edition, I did find a handful of retailers that still have stock. Some have both the Chalet Lust palette and the Apres Ski palette while others only have the Apres Ski palette available.