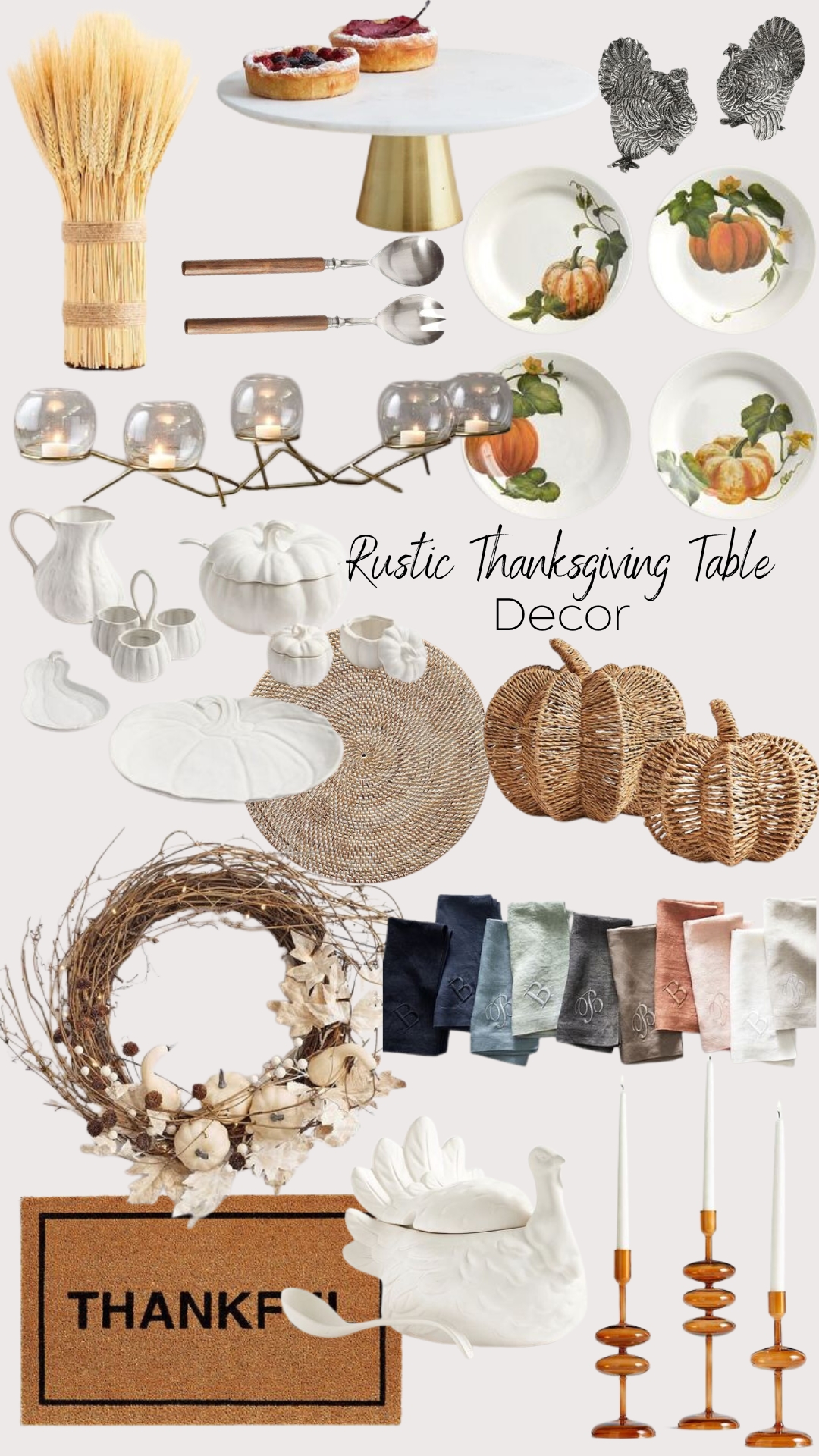 Even though I normally skip decorating my home for Thanksgiving (and go straight to Christmas), decorating the Thanksgiving table is always a must. I like to mix and match pieces I've had for years while also adding in some new things I pick up. You don't always have to have a theme for Thanksgiving but hopefully some of these pieces will give you some ideas on how to style your own Thanksgiving table. Though I am a modern decor gal, I love a good rustic thanksgiving table setup. A beautiful table is always one of the best parts of Thanksgiving (as is all the desserts LOL), and here are some of my favorite finds.
Rustic Thanksgiving Table Decor
I put together a bunch of beautiful Thanksgiving table decor items that I'm loving and would be easy to style with other pieces you may already own. A decorated table always sets the mood for the meal so here are some pieces to create a cozy and inviting tablescape for your family and loved ones.
I can see this being used as a focal point in the center of the table but it would also look great on a sideboard or entryway table as guests arrive. Style it with some fall florals or mini pumpkins to make it more festive.
This isn't necessarily an item that only works for Thanksgiving dinner but would be a great kitchen item to use all year long. Serve your favorite pie or cake on it or arrange some pastries on it for your guests to pick from.
If there is one time of year to bring out all the turkey shaped decor, it is definitely Thanksgiving. How cute are these salt & pepper shakers? Even if you don't want to go all out on your decor, adding some fun elements like these shakers are a great way to make the table a bit more festive.
Simple serving utensils are a must for hosting and these are a great style that can be used time and time again every time you entertain. I love the neutral wood detail and understated design.
Though this centerpiece isn't completely rustic and a tad more modern, it would work with almost any Thanksgiving table decor. It would definitely make the table feel more cozy and intimate. If you don't want to style it on the table, use it on a sideboard or credenza to create a bit of ambience for the room.
For a full fall rustic theme, these pumpkin plates are so gorgeous. Use them with regular white plates or get the entire serveware collection for a bolder look.
If you want to really embrace the rustic fall vibe for your Thanksgiving table, I am obsessed with this pumpkin serveware collection. Choose only a few pieces or go for the entire collection to really make a statement.
Another great item to use on your Thanksgiving table that would also work year round for entertaining. These rattan placemats are neutral and would work any season of the year. They fit with any style of decor and are a great basic to have in your collection.
It isn't fall or Thanksgiving without a bit of pumpkin decor. Though these mini pumpkins would look great for Thanksgiving dinner, you can use them year after year as fall decor around the house.
While this won't necessarily be styled on the table itself, I love the cozy look of this lit wreath for the front door or styled on an entryway mirror. It's classic enough to be used throughout the entire fall season and will be something you can use each year.
How gorgeous are these linen napkins? A great way to add a pop of color to your neutral Thanksgiving tablescape. And they can be monogrammed too. These would also make a great hostess gift for the holidays.
A great piece for your front porch that you can use every year. I typically decorate inside my home for Christmas earlier than I decorate outside. So this is the perfect doormat to use from Halloween until the beginning of December.
Another festive item that is perfect for turkey day especially if you have a big celebration. Even if you keep the rest of your decor fall and festive, adding this turkey tureen adds a bit of flair to your setup.
Set the mood for your Thanksgiving feast with these glass candle holders. Vary the sizes to create a chic setup or you could even choose a few different colors in the candle holders to give a colorful focal point at the center of the table.
Related: 10 Thanksgiving Outfit Ideas