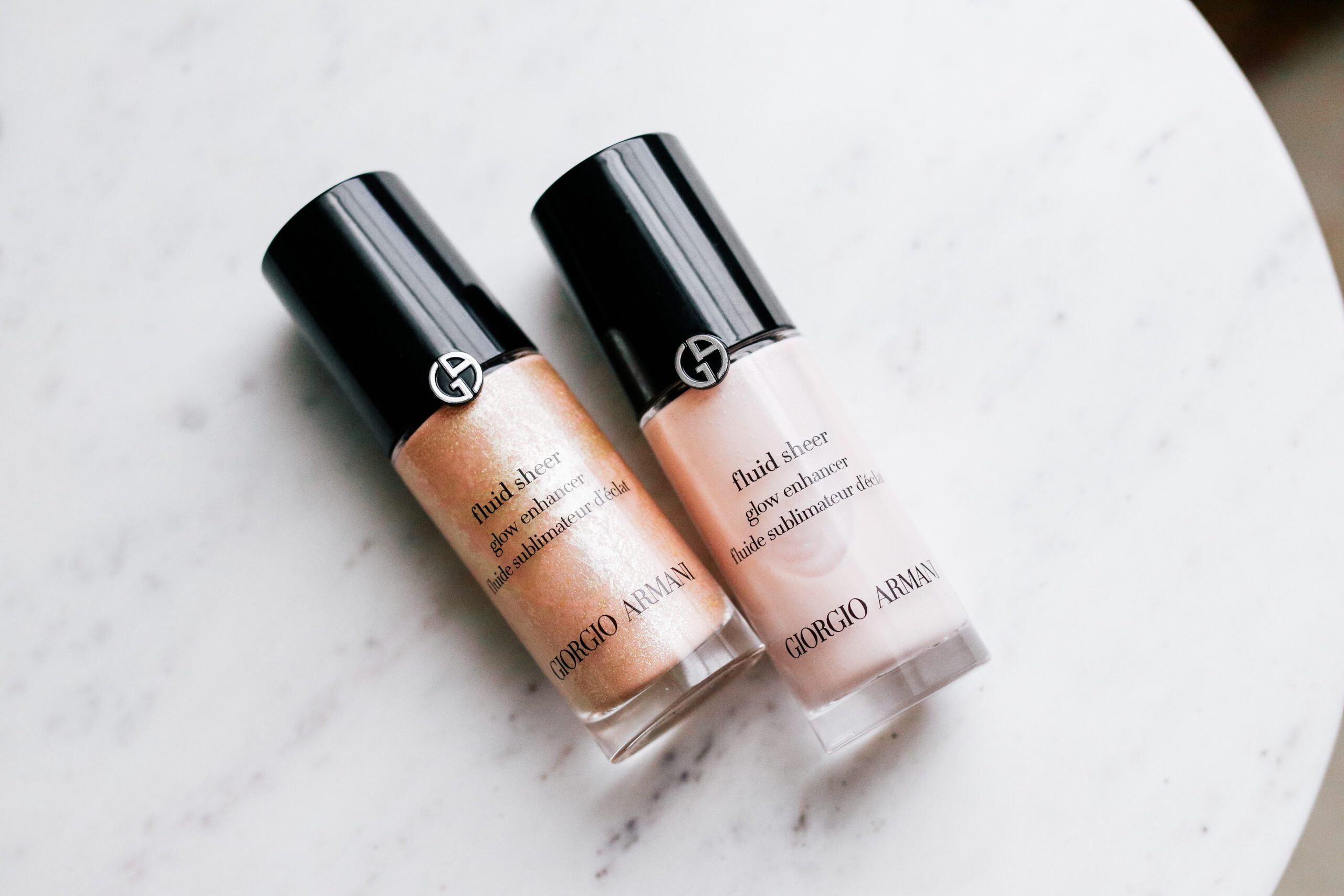 I can't believe it took me so long to try the Armani Fluid Sheer Glow Enhancer but I am so glad I finally did. I love a good liquid highlighter but for some reason I was never drawn to these. So I ordered one during a random shopping scroll on Nordstrom and was hoping it would be a hit for me. As soon as it arrived, I tested it the next day while doing my makeup and instantly was IN LOVE with the formula. In fact, I rarely ever buy multiple shades in something because I'm not sure I will ever finish it, but I bought a second shade in the Armani Fluid Sheer Glow Enhancer a few days later. I'm still contemplating buying a third shade because the formula is that good.
Armani Fluid Sheer Glow Enhancer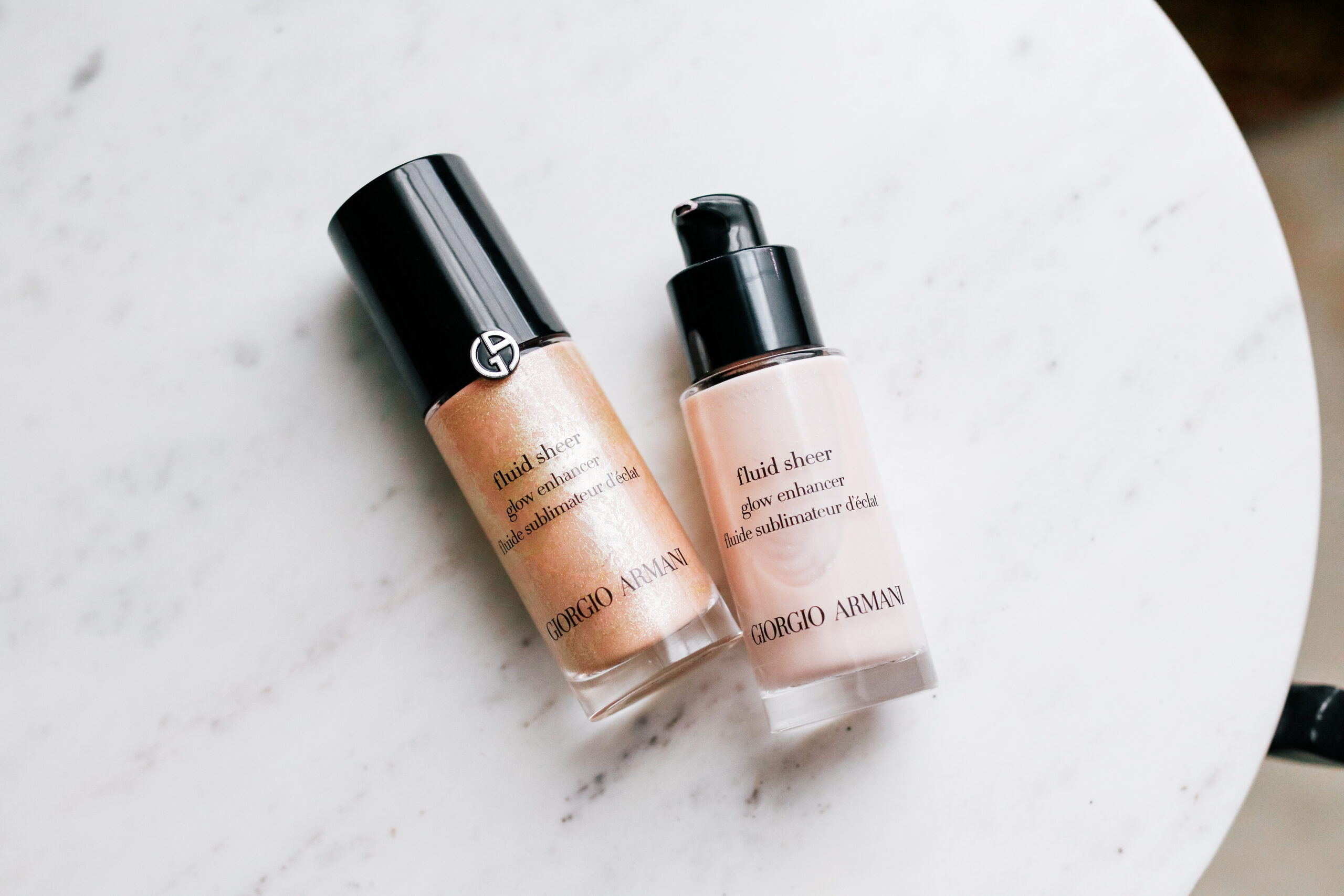 I've been slowly switching over many of my blush, bronzers and highlighters to cream or liquid formulas as I find it looks better on my skin as I get older. My skin is more normal to dry these days and a creamy or liquid texture gives a more natural finish and doesn't tend to enhance any fine lines or texture as much as powder does. I still have powder formulas that I use and love but for the most part, I am loving all cream/liquid cheek products.
I have a few liquid highlighters that I use and love – ones that give a gorgeous glow and radiant finish to the cheekbones. But sometimes I want something subtle, fresh and understated without looking too "makeup-y" on the skin. Enter the Armani Fluid Sheer Glow Enhancers. The formula is a thin liquid that delivers just enough glow to the skin while still making it look like there is nothing there.
Armani Fluid Sheer Glow Enhancer Review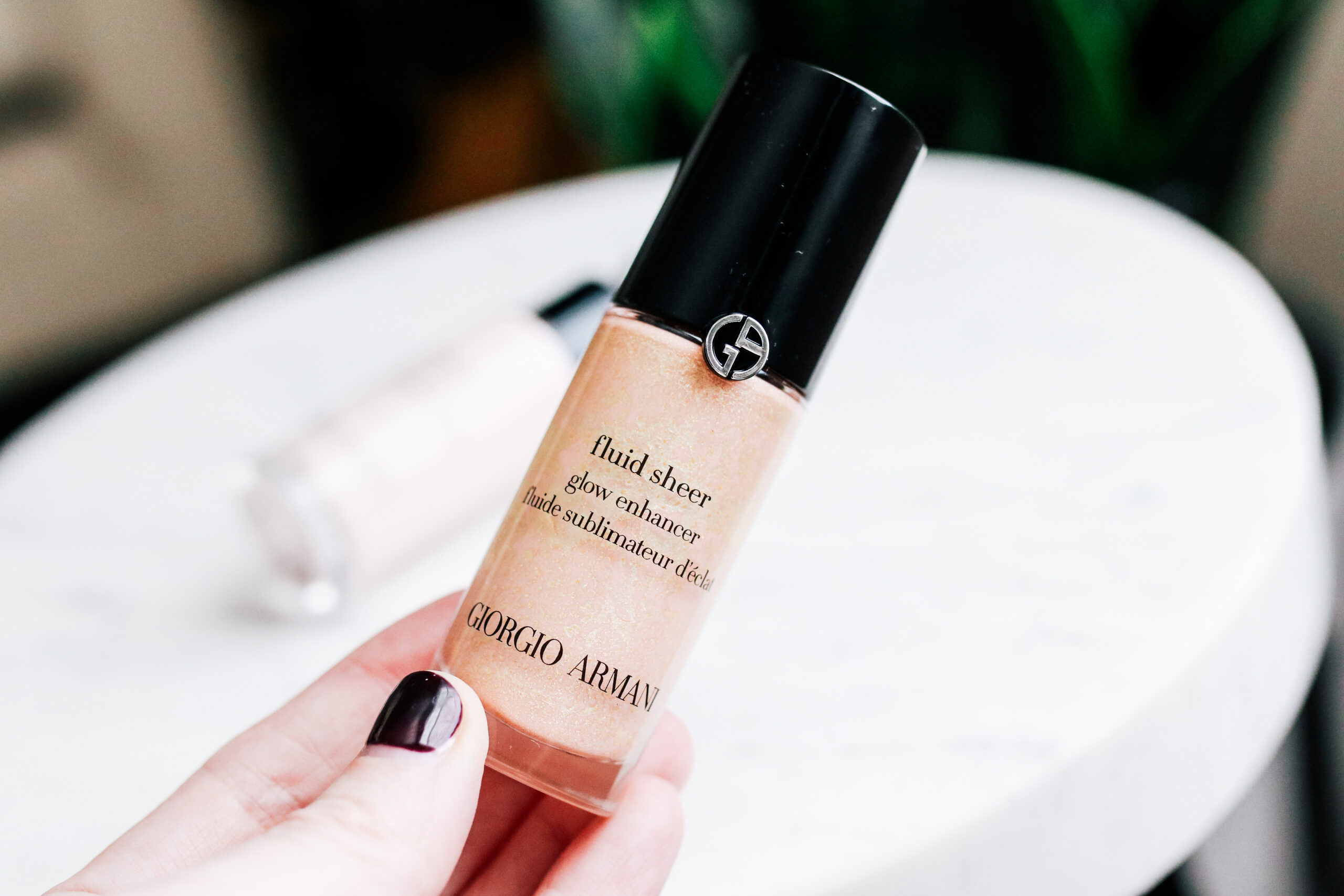 Lightweight
This is an extremely thin and lightweight formula. You can build it up slightly but it will only build up so much. The effect is more subtle like fresh glowing skin.
Pump dispenser
The bottle has a pump dispenser which I don't mind since so many cream or liquid highlighters are in stock or wand form right now. I only use 1-2 pumps for both cheeks.
Subtle glow
You are not going to get an "Instagram highlight" with this product. There is no glitter and the radiance is understated so it's perfect for daytime. It could definitely be worn at night but it's not as bold as other formulas which I actually prefer.
Texture
It's a thin liquid that melts right into the skin upon application. It doesn't disrupt your makeup underneath and doesn't enhance any texture on the skin. I don't find that it gets oily or greasy throughout the day and my cheeks stay looking fresh and glowing. If you do have oily skin, I think it could work well without getting too shiny. If you have normal to dry skin, this is the perfect liquid highlight formula.
Sheer finish
This product would not replace your blush or bronzer, only enhance it. There is not enough pigment to give the cheeks enough color. If you are wearing little to no makeup and want a bit of glow on your cheeks, this would be great. But I recommend it used OVER your blush or bronzer to enhance.
Swatches of the Armani Fluid Sheer Glow Enhancers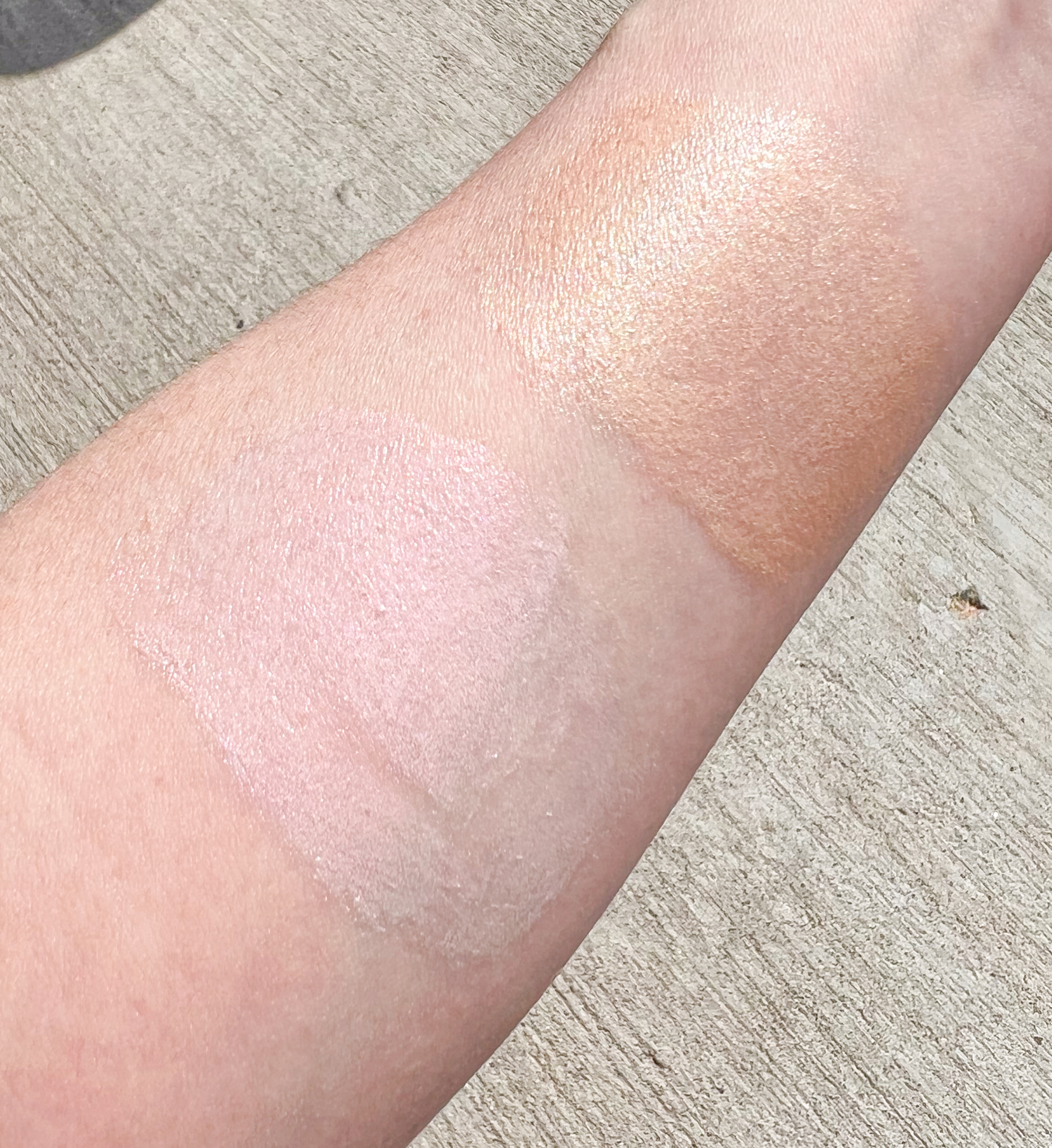 Swatches from left to right: Pink Pearl and Champagne Gold
The two shades I picked up are Pink Pearl and Champagne Gold. Though the swatches look quite different, I find them to be very similar on the cheeks. Obviously the Champagne Gold skews a bit more golden on the cheeks and looks gorgeous worn over a peachy or warm toned blush. I have been loving the Pink Pearl over a pink cheek or a neutral toned blush.
How To Use the Armani Fluid Sheer Glow Enhancer
I prefer to use a damp sponge to apply it because it really spreads the product nicely over the cheekbones. However, I do use more product when applying this way because the sponge soaks it up.
Apply it with your fingers. This is another option and I have done it this way as well and find it works just as good. I love the added moisture of the damp sponge the most but in a pinch, you can definitely use your fingers.
Dab on with a brush. There are tons of brushes that would work well for applying the Fluid Sheer but this one from BK Beauty is one that I use and love (my discount code is MAREE10).
Mix it in with your foundation. I have not actually tried this method but I definitely want to try it.
Wear it alone or under your foundation as a primer. I have not tried this method either but many reviews say that it looks gorgeous. I plan to test this as well and will update when I have.
Where to buy the Armani Fluid Sheer Glow Enhancer?