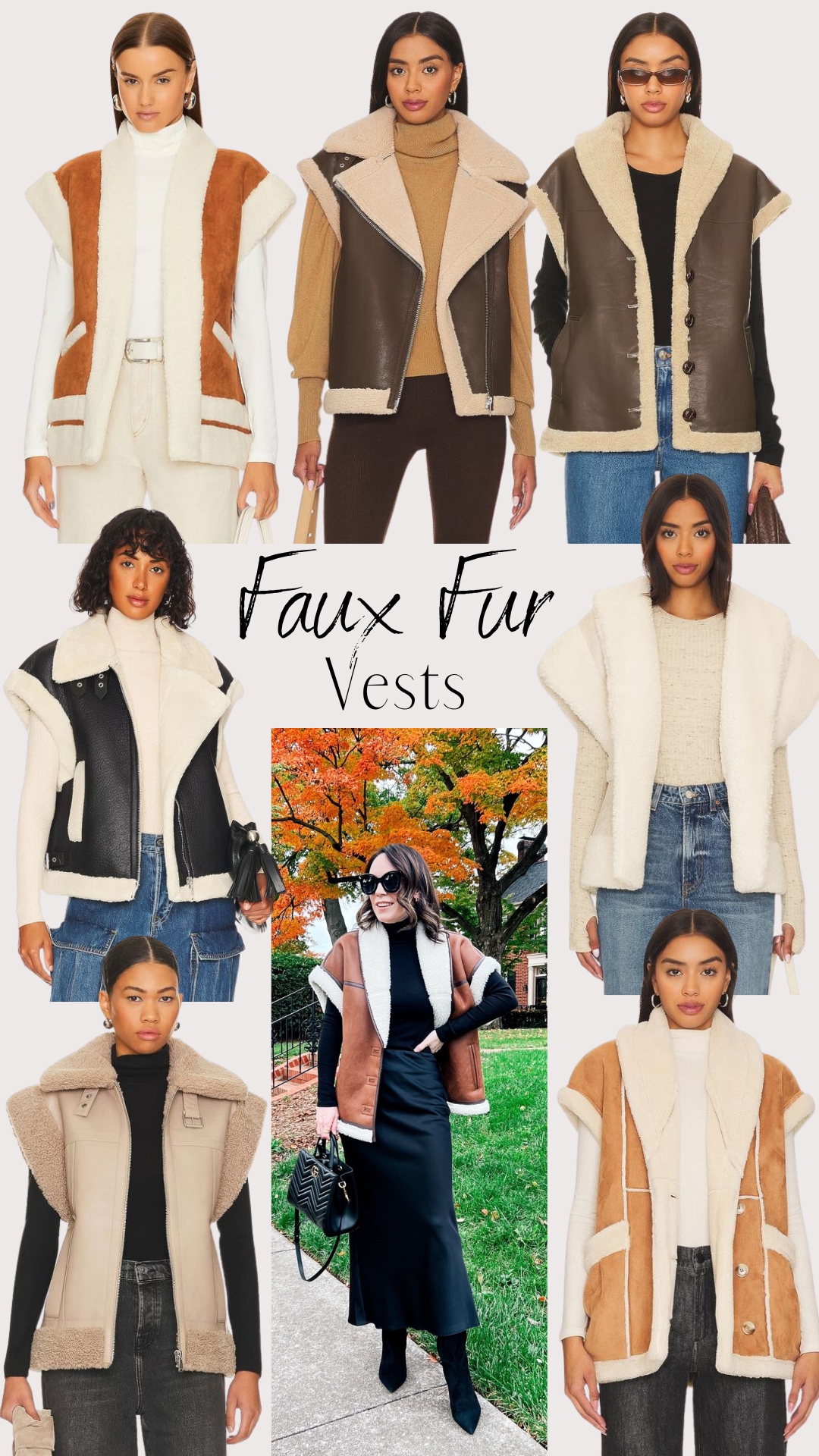 Central Park West Alwyn Vest | Heartloom Faux Fur Vest | Heartloom Faux Leather Vest | BLANKNYC Faux Leather Vest | Line & Dot Ace Faux Shearling Vest | Apparis Jay Vest | BLANKNYC Faux Leather Sherpa Vest
Fall is officially here and it's been chilly lately but not cold enough for a coat. That's basically my favorite kind of weather and if I am going to go for outerwear, I love a good faux shearling vest. It's warmer than you may think but doesn't feel too heavy. Faux shearling vests are trending right now but to be honest, they are definitely a wardrobe staple that comes back every year. So you can be confident that if you buy one this year, you will still be able to wear it for years to come.
There are so many amazing ones available right now so I thought I would round up a handful of my favorite styles. All of the styles that I chose are quite classic and timeless so you can style them season after season. Read on to see how I have styled my own faux shearling vest.
Styling Faux Shearling Vests
Faux Shearling Vest + Midi Slip Skirt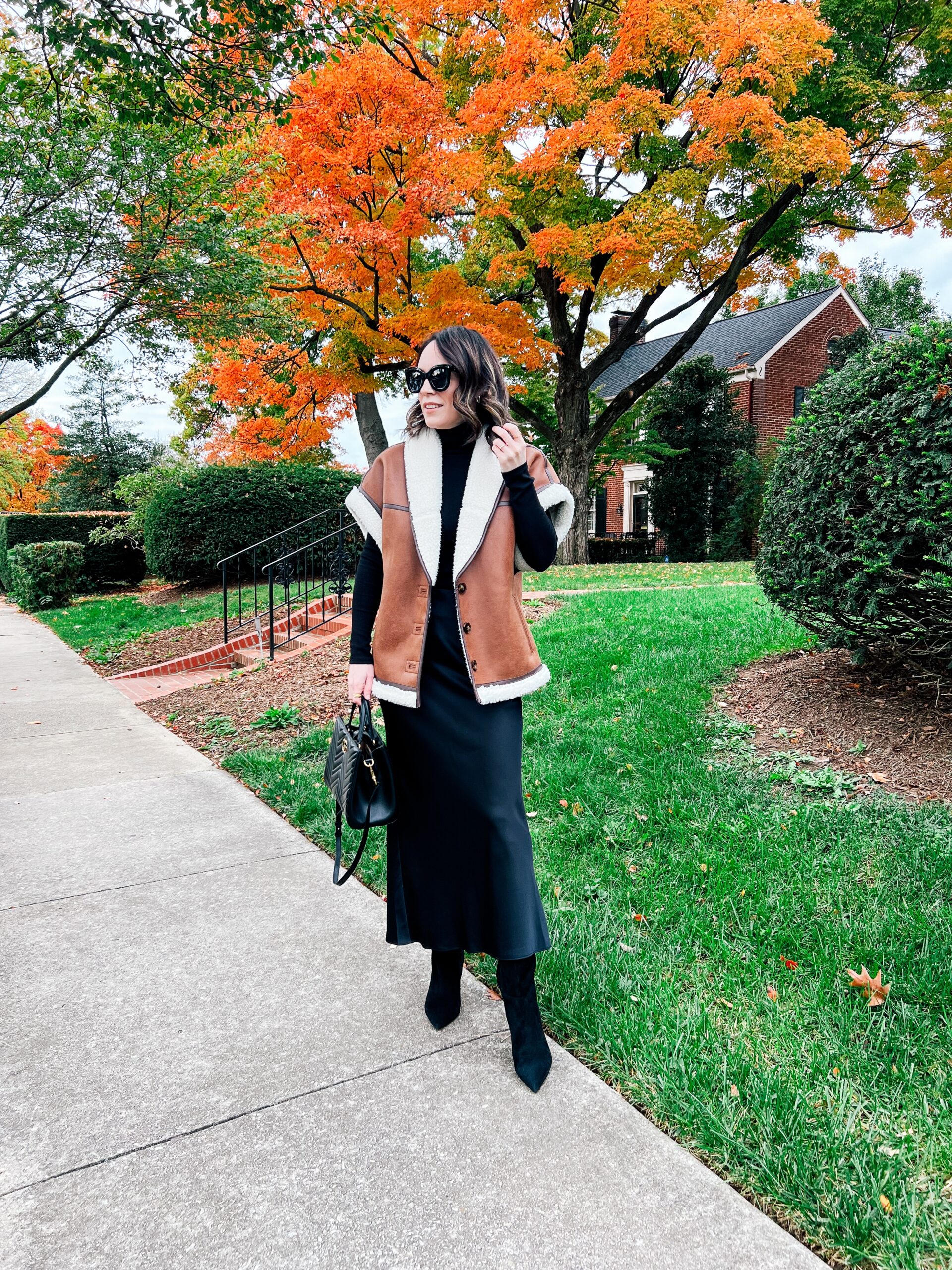 Vest (similar) | Turtleneck | Skirt | Boots | Bag (similar) | Sunglasses
This outfit is probably one of my favorite fall looks I've put together this season. A simple monochromatic look with a turtleneck and slip skirt is the perfect base for stying with a faux shearling vest. And the great thing is you can rotate the outerwear pieces you wear with a look like this and almost any vest or coat would look great with this simple combo. I especially like mixing textures such as the shearling in the vest, the silkiness of the skirt and the suede boots. It creates an interesting look while still keeping everything neutral and wearable. I prefer to size down in a faux shearling vest because they can be quite bulky and sizing down allows me to keep it looking oversized but not too much.
Faux Shearling Vest + Jeans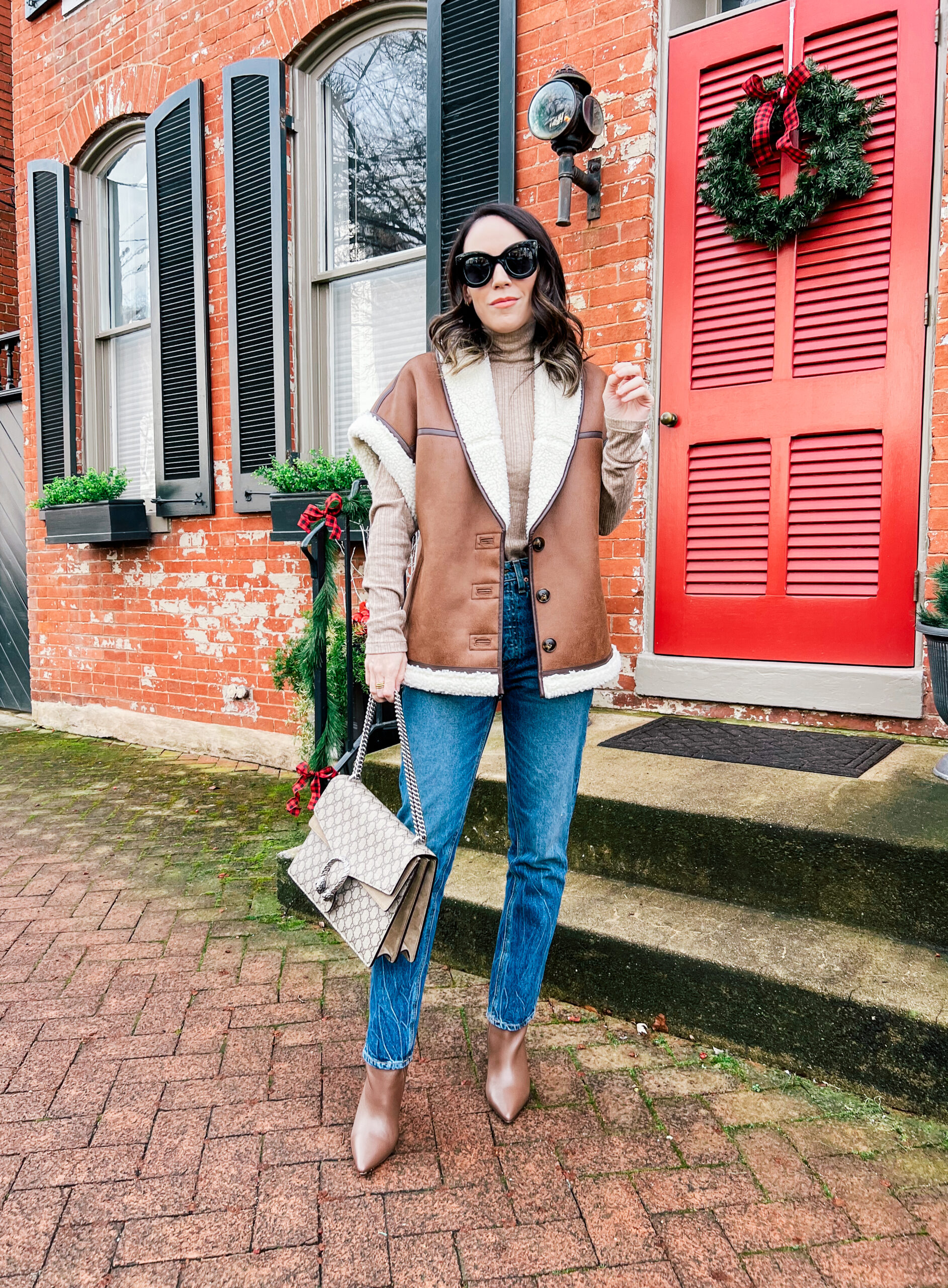 Vest (similar) | Turtleneck (similar) | Jeans | Boots (similar) | Bag | Sunglasses
For a more casual look, I love styling a faux shearling vest with jeans. It would look good with a variety of denim styles such as straight leg (like the ones I'm wearing) or even a pair of skinny jeans. Since the vest is so voluminous, I prefer to keep the denim on the slimmer side to balance out the proportions of the outfit. This pair of jeans is actually my favorite straight leg style because they manage to strike the perfect balance between skinny and straight. I have them in a few washes and cannot recommend them enough!
Faux Shearling Vest + Leather Pants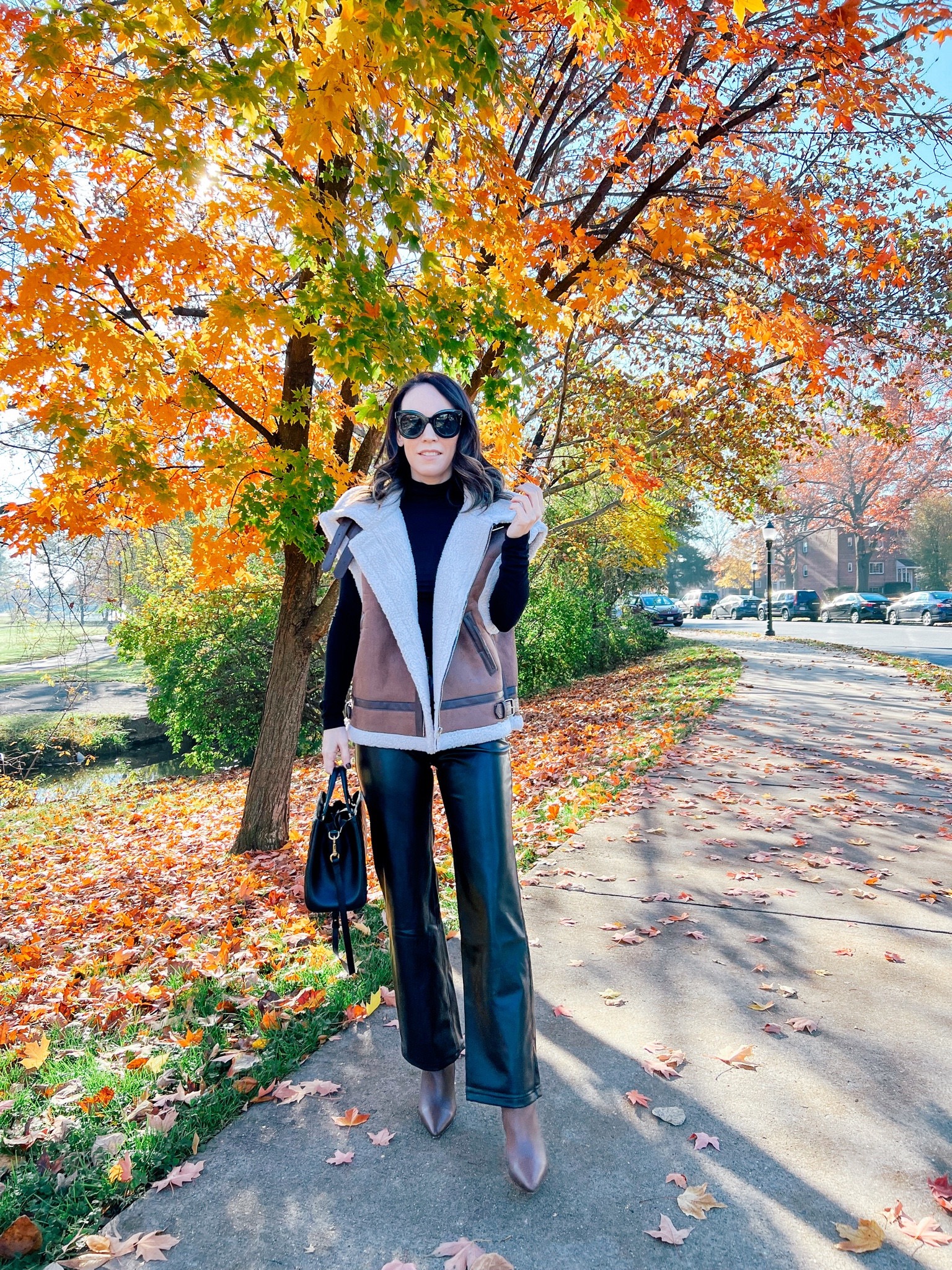 Vest (similar) | Turtleneck | Pants (similar) | Boots (similar) | Bag (similar) | Sunglasses
Once again I'm starting with an all black base because it makes styling any outerwear but especially a faux shearling vest so easy. The vest becomes the focal point of the outfit. I love mixing textures so the fuzziness of the vest plays off the shiny leathery look of the pants. You can definitely style it with a wide leg pant but the look is much more fashion forward. To keep things classic and easy to style, keep the base underneath the vest (sweater + skirt/pants/etc) more slim fitting to balance out the bulkiness of the vest.