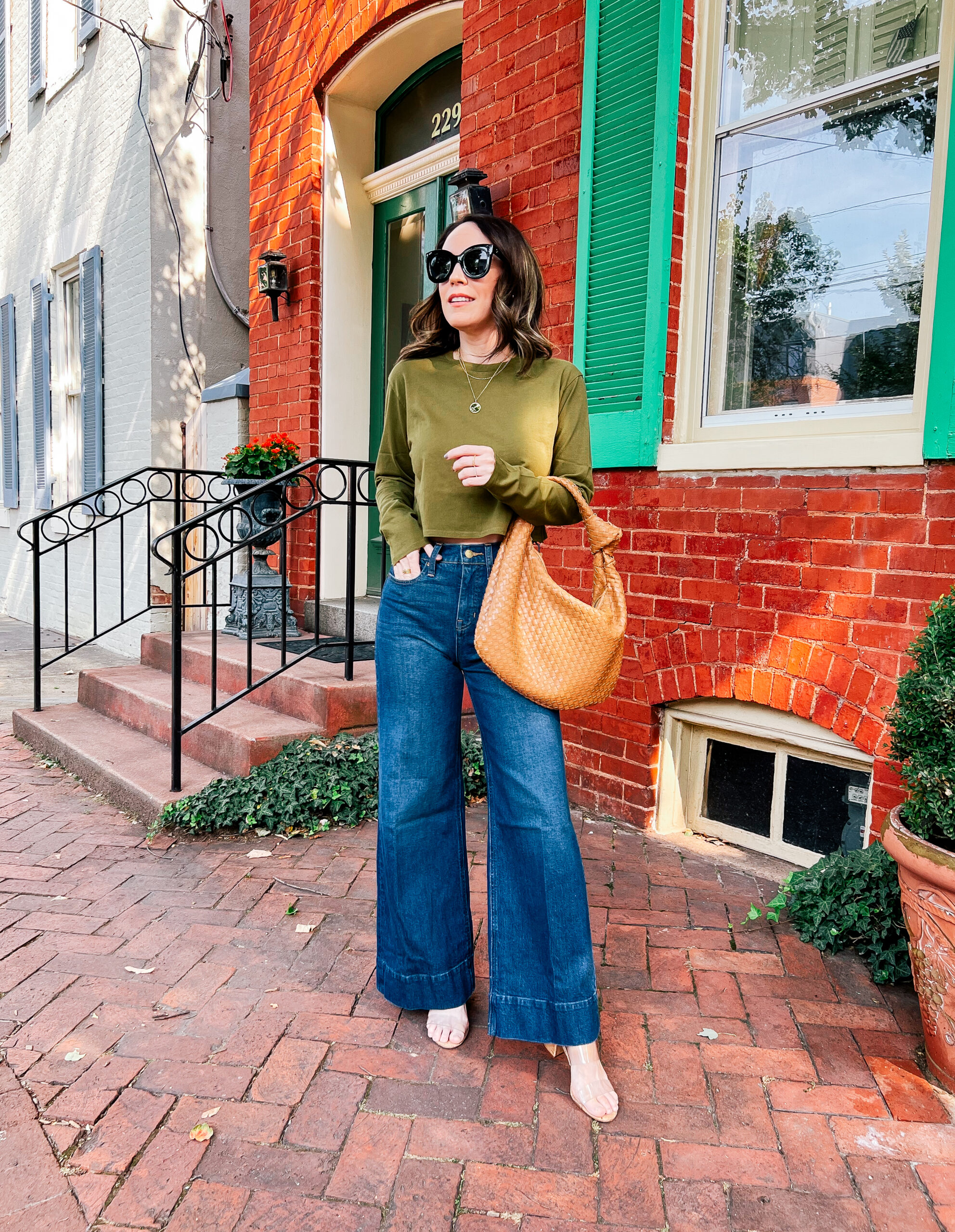 Jeans linked (all other outfit details linked here)
Denim trends are all over the place this fall and winter but I am loving all the various styles available now. From cargo, to wide leg, to balloon leg and yes, a few skinny jeans – everything is trending this season. I know not everyone is a fan of branching out from skinny jeans but it's nice that there is something for everyone right now. Personally, I will still be wearing my skinny jeans in fall because they work really well tucked into boots, but I am definitely trying out a few other styles to switch things up. I thought I would share some of the styles that I plan to be wearing this fall and winter along with a roundup of other styles I am loving right now.
Fall Denim Trends
Wide Leg Jeans/Trouser Jeans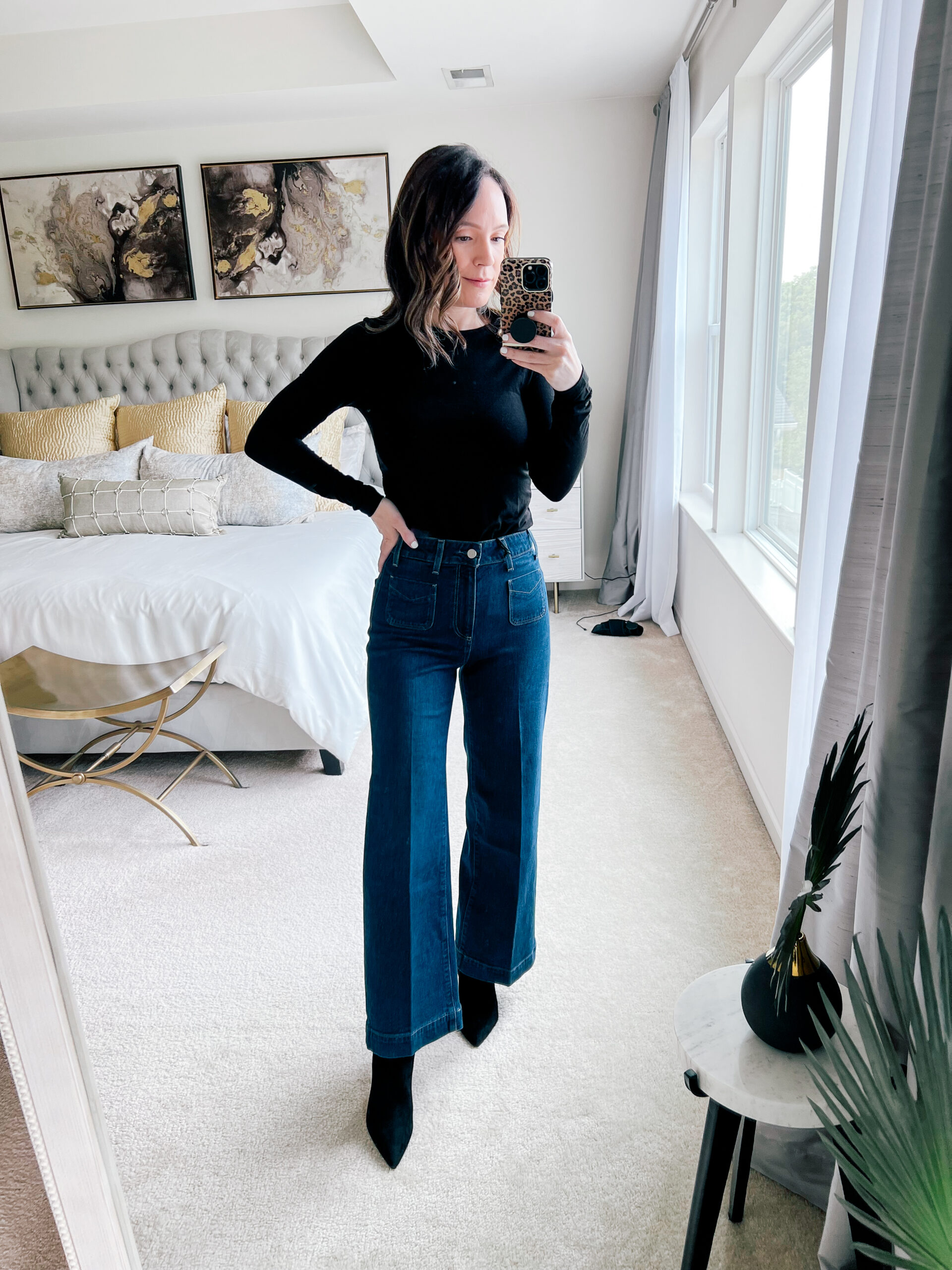 Jeans linked (all outfit details linked here)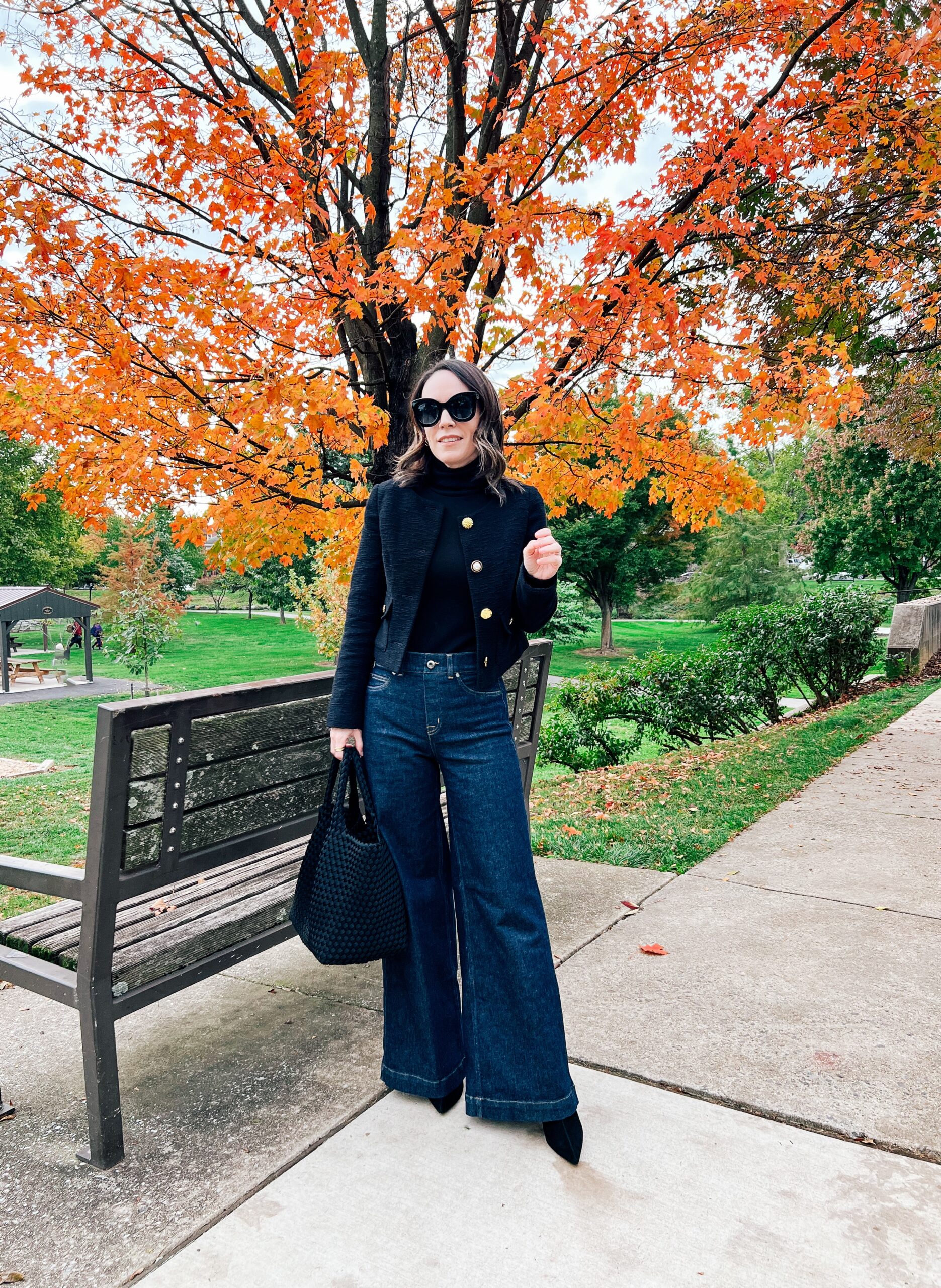 Jeans linked (all other outfit details linked here)
I have always loved a wide leg denim style especially because it lengthens my legs so much. Ha! From a comfort perspective, these are the jeans to go with. They are roomy, comfortable and allow you to eat a ton at dinner. I like most of my jeans to hit around my ankle or just below but with a wide leg style, I enjoy them even a bit longer. Paired with a pointy toe pump or boot, the effect makes your legs look a mile long. While this is a "trend" for the moment, I have wide leg jeans that I bought 5+ years ago and have been wearing ever since so I definitely think this is a style to invest in that can be current from year to year.
Straight Leg Jeans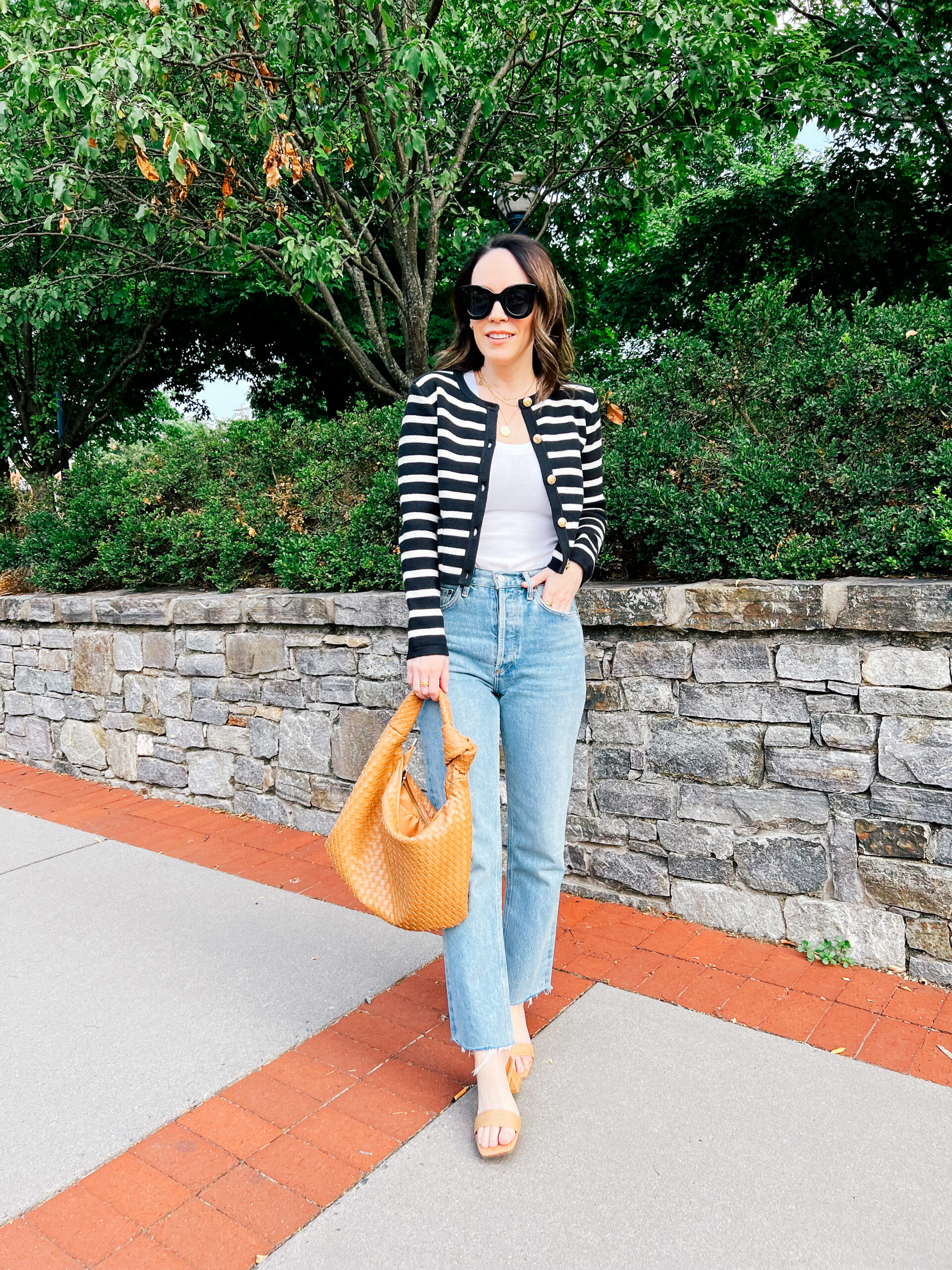 My Jeans linked (all other outfit details linked here)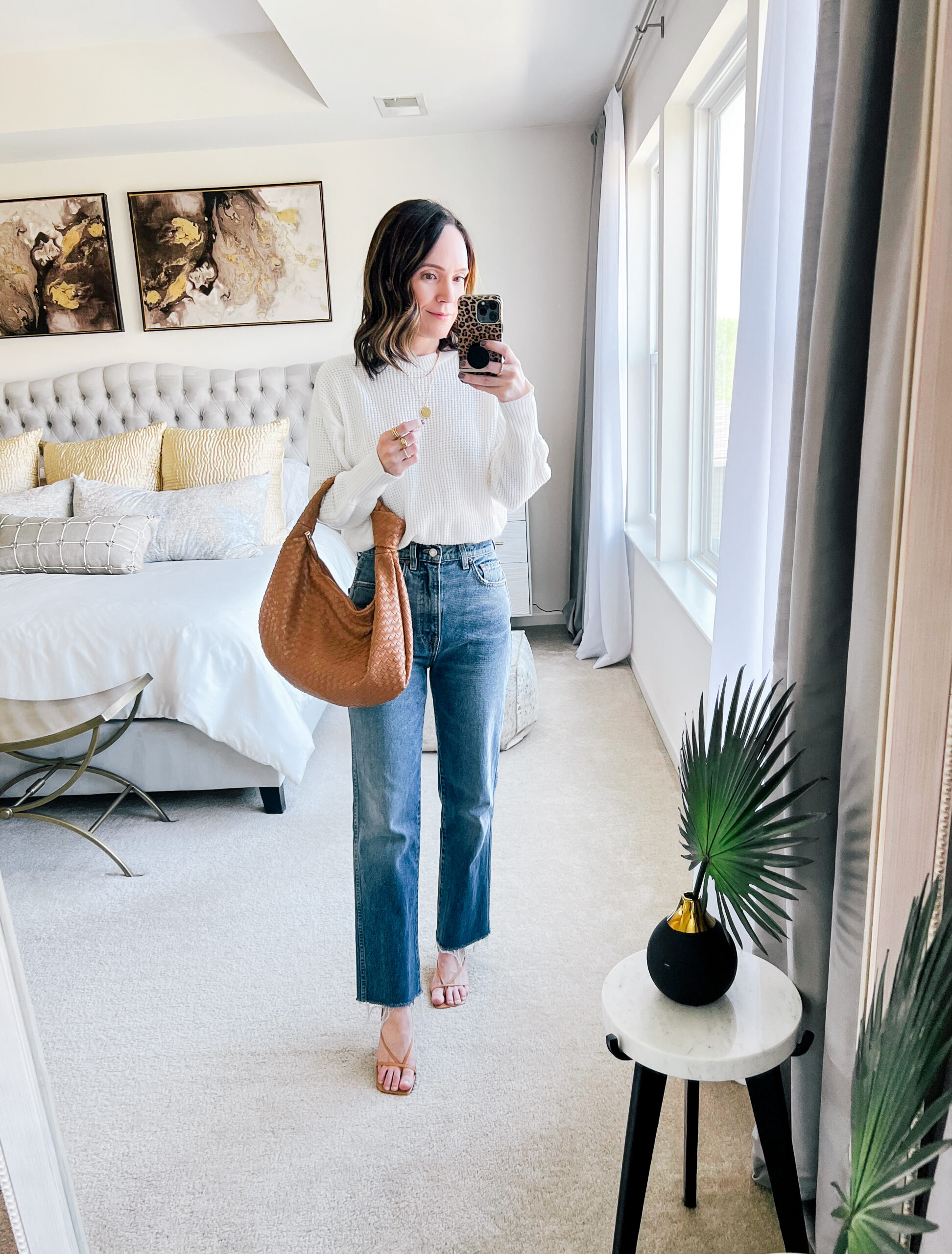 Jeans linked (all other outfit details linked here)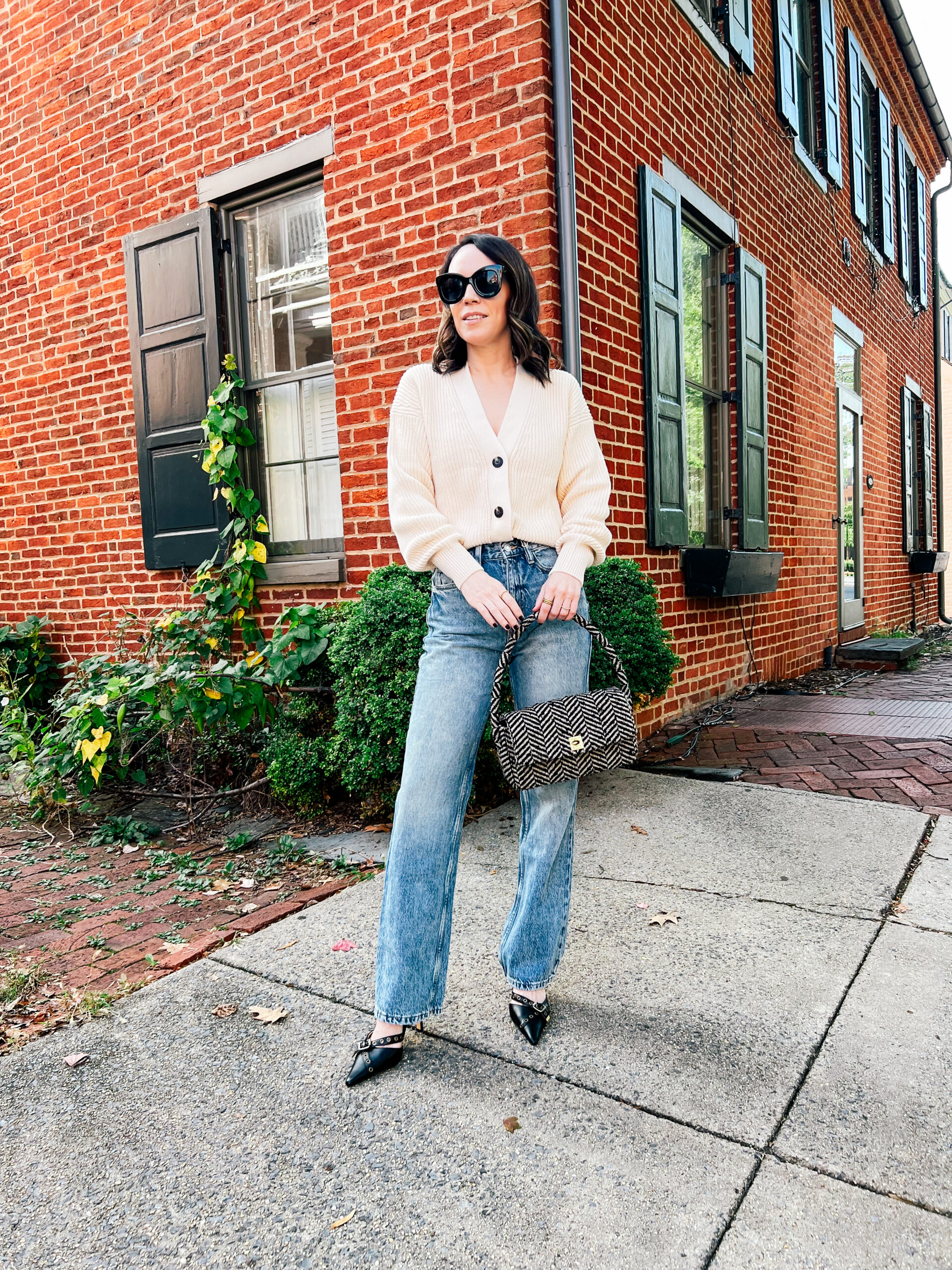 Jeans linked
This is the easiest style to buy as a slight deviation from skinny jeans. Some straight leg jeans are still very slim so they will give that same silhouette. Depending on your preference, a mid-rise or high-rise is available though low-rise are making a comeback. That's a hard no from me because I love my jeans up as high as they will go. LOL I never want to have them hanging off my hip bones again. I am also seeing a ton more non-distressed options in the straight leg style which is great for those that want a more refined and classic look. And for those with a business casual environment, straight leg jeans are definitely the most professional looking.
Related: 7 Trends To Add To Your Fall Closet
Cargo Jeans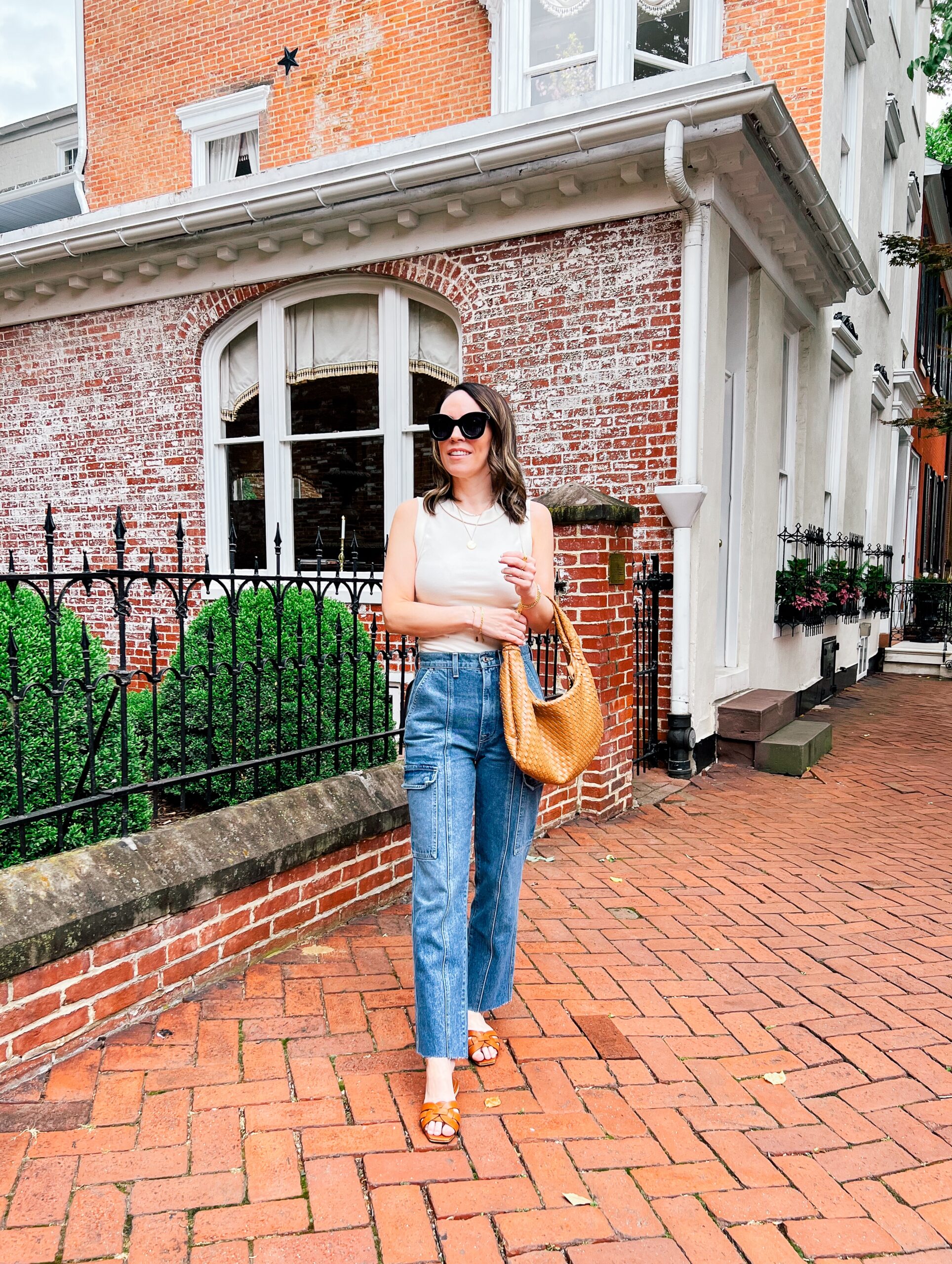 Jeans linked (all other outfit details linked here)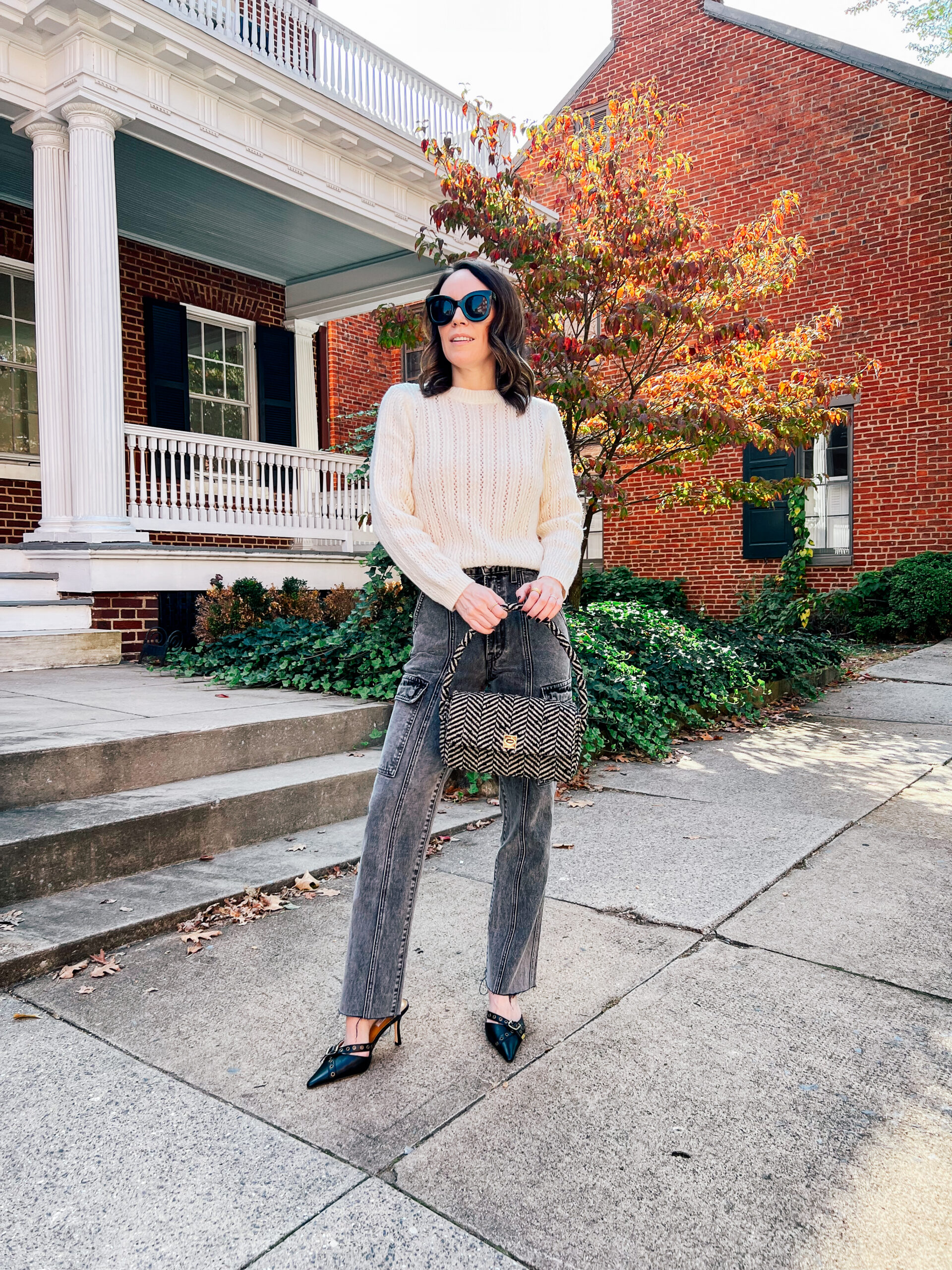 Jeans linked
To be honest, this may not seem like a trend that I would embrace but I am absolutely LOVING the cargo jeans and cargo pants trend. Probably because there are a wide variety of options and they aren't the overly baggy sloppy image you may have in your mind. Many fit like a straight leg jean but with pocket details. It makes an outfit a bit more interesting especially when worn with some dressier pieces. I like the idea of mixing something that is seen as more casual (cargo jeans) with heels and a blazer or statement sweater. The additional pockets will add some bulk to the hip and leg area and while many of you may try to avoid that, maybe try a pair of cargo satin pants or cargo trousers where the pockets will drape with the fabric instead of sticking out like with denim.
Skinny Jeans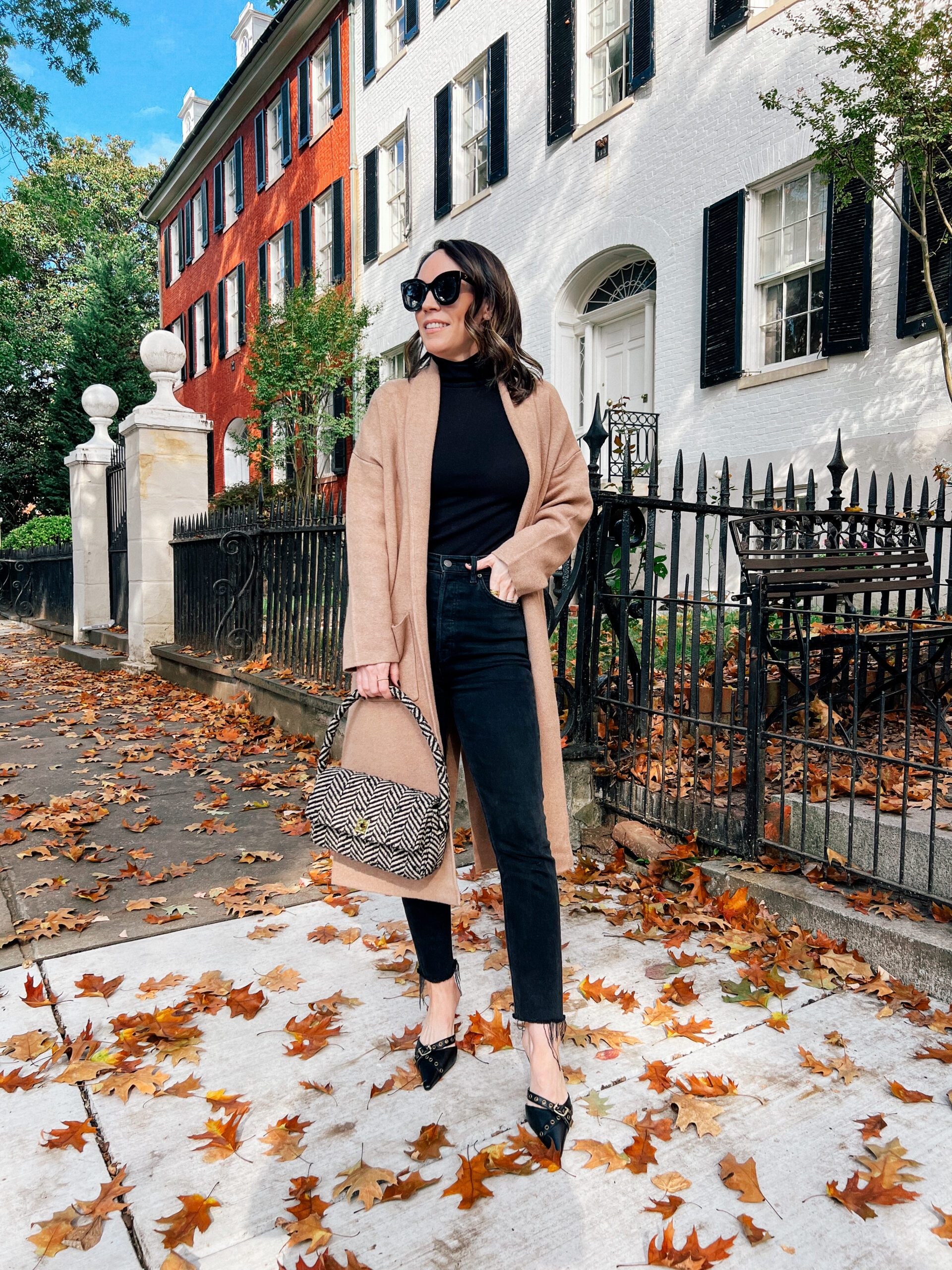 Jeans linked (all other outfit details linked here)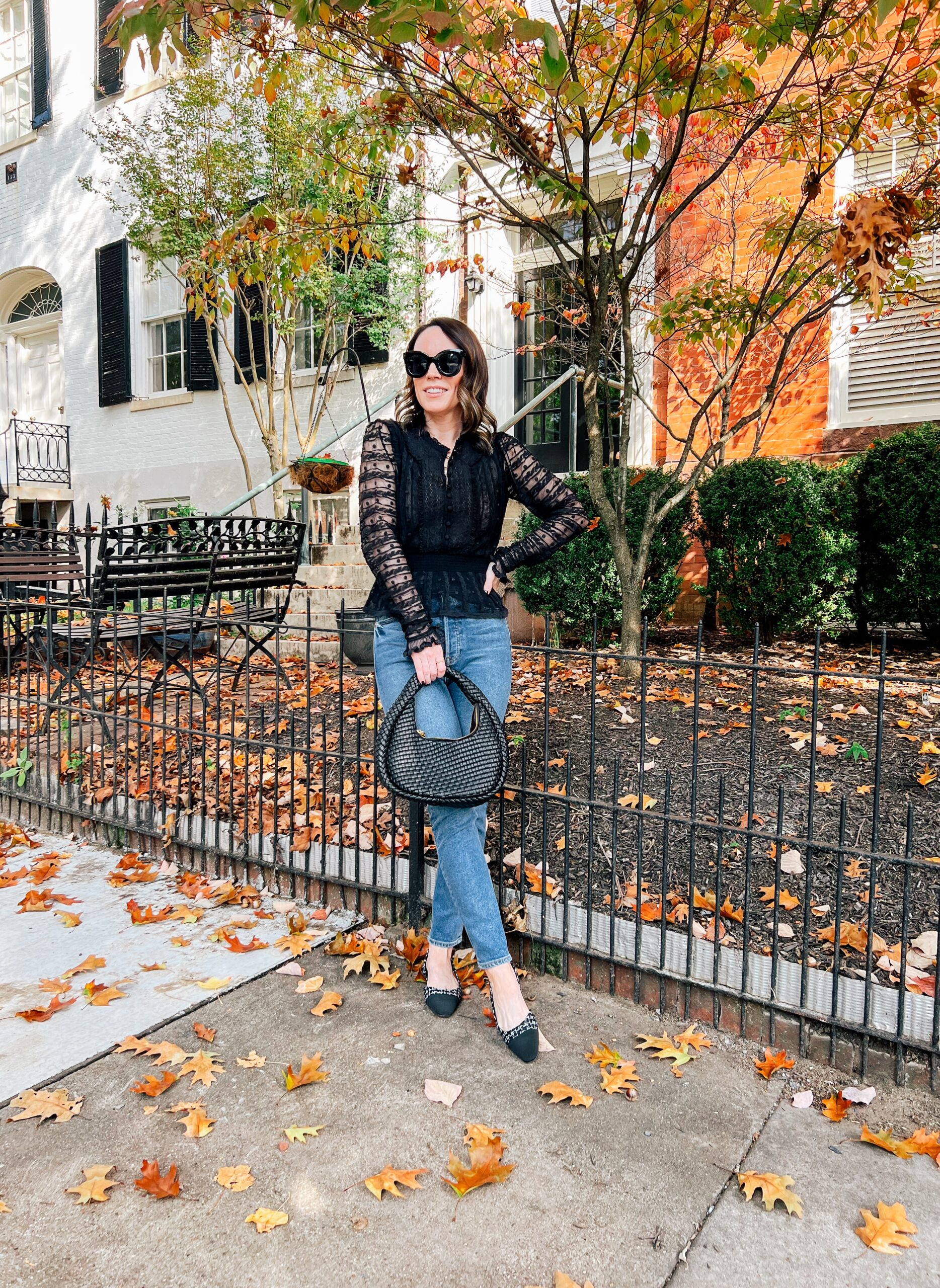 Jeans linked (all other outfit details linked here)
While they may not be super trendy, I will always think of skinny jeans as a classic denim style. The key with keeping it updated is choosing a style that isn't SUPER tight at the ankle. Both of the styles I'm wearing above are definitely considered a skinny jean but not quite as tight as a jegging and the ankle is very slim but not as tight as leggings. I feel it still keeps it modern and timeless but allows for that super slim silhouette that we all love from skinny jeans. Also this is still the best style to tuck into knee high boots for fall and winter!
Fall Denim Styles I'm Loving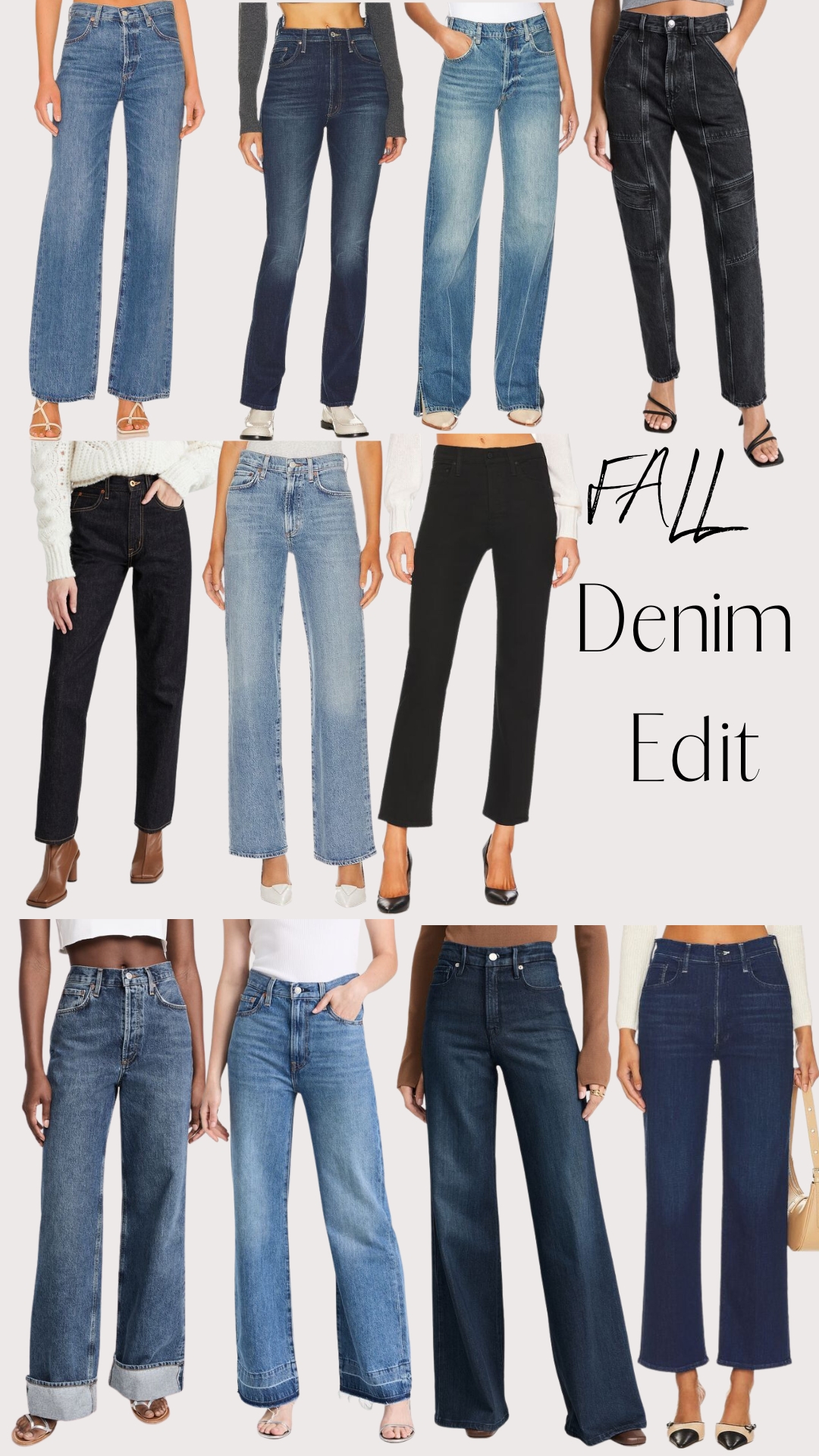 Citizen of Humanity Annina Trouser | Mother High Waisted Rider | Anine Bing Roy Jean | Agolde Cooper Cargo Jeans | SLVRLAKE London Jeans | Agolde Harper Mid Rise Straight | Mother Tomcat Ankle | Agolde Dame High Rise Wide Leg | Levi's Ribcage Wide Leg Jeans | Good American Palazzo Jeans | Mother Rambler Zip Ankle
As someone who has always loved a distressed denim, I realized after looking at all the denim I chose for this collage that none are distressed! I think all the other details (wide leg, big cuff, pockets, etc) add interest to the jeans without the need for any rips or tears.