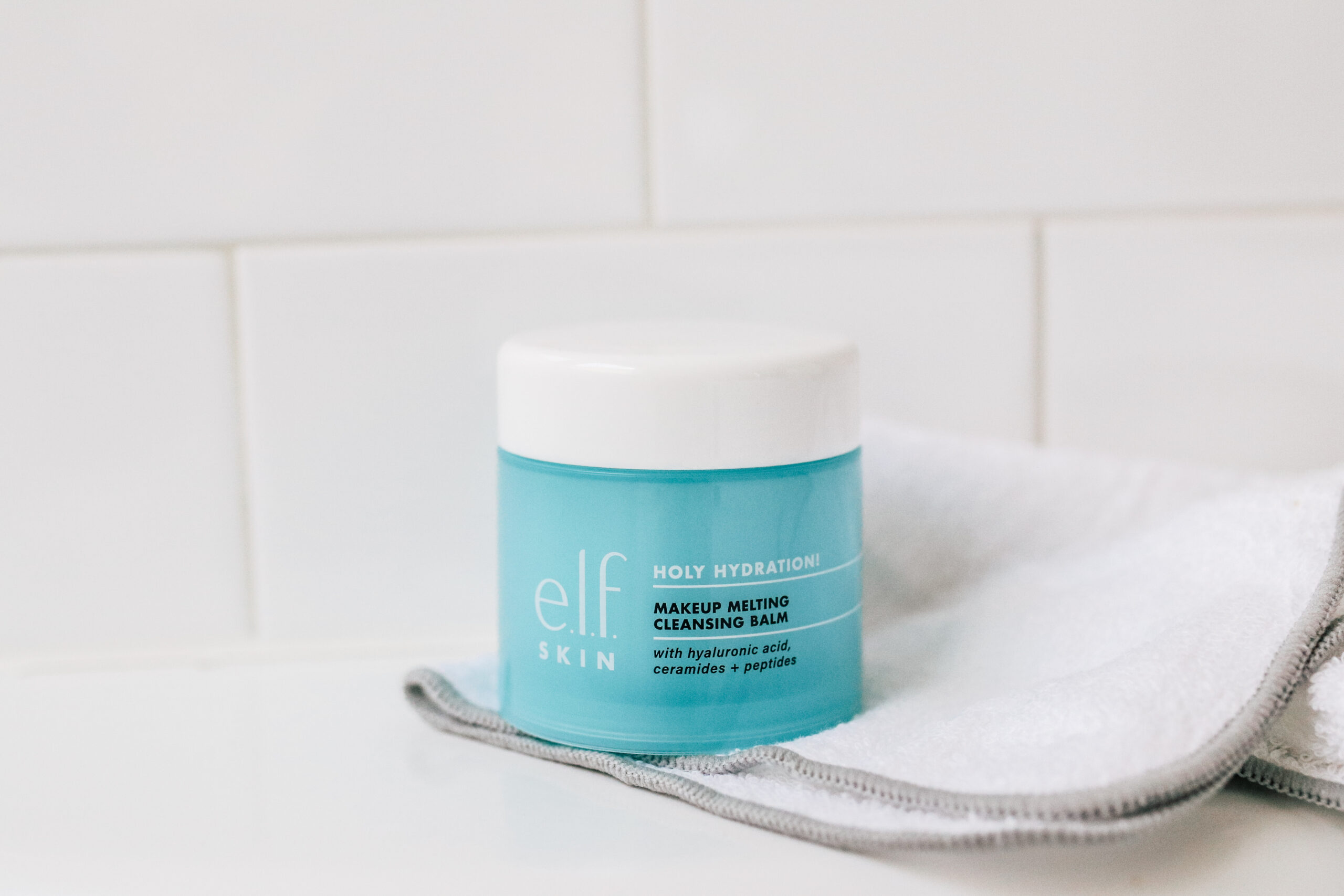 I'm a huge proponent of double cleansing and have been doing it for more than 10 years (here's a post from nearly 7 years ago reviewing the Organic Pharmacy Cleansing Balm and Sunday Riley Cleansing Balm). Removing my makeup with a cleansing balm or oil first and then using a gel or milk cleanser second is typically my routine. I find that double cleansing has kept my skin clearer with less breakouts and has helped to keep it balanced and looking healthier. Using a cleansing balm or oil is key for me because it really helps to breakdown all the makeup, dirt, oil, sunscreen, etc effortlessly and ensure my face is left clean but not stripped. It can actually help your skin stay healthier and more hydrated versus using a simple makeup remover or makeup wipe.
There are a ton of different cleansing balms available now at all price points – from luxury cleansing balms to drugstore options. I actually got numerous recommendations from many of my readers suggesting I try the e.l.f. Holy Hydration Makeup Melting Cleansing Balm because they loved it and thought it was really effective for being under $15. I finally decided to order it and see for myself how it performed and thought I would give an honest review of what I thought and whether it's effective or not.
elf Holy Hydration Makeup Melting Cleansing Balm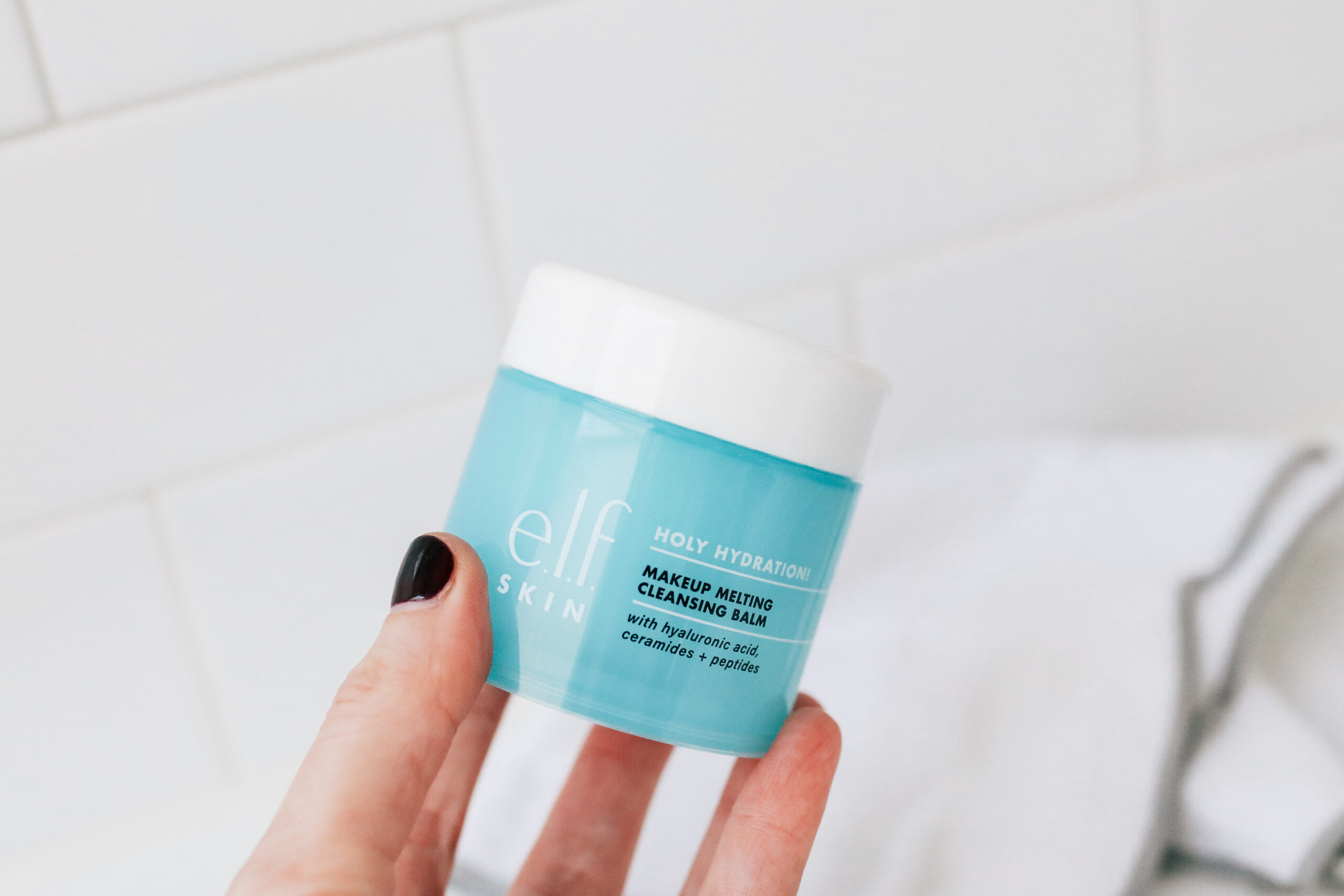 The e.l.f. Holy Hydration Makeup Melting Cleansing Balm is a solid cleansing balm that melts into a luxurious oil and ultimately a nourishing milk when water is added. It's suitable for all skin types and formulated to remove all makeup while still keeping the skin hydrated.
e.l.f. Cleansing Balm Review
I'm a fan of e.l.f. makeup products but have not tried any of their skincare before but have heard a ton of great things. I am a cleanser fanatic and if there is one product I will test first from a skincare line, it is always a cleanser!! As I said, this cleansing balm was recommended to me my many of my readers so I was excited to finally try it. I've been using it for the past few weeks and have already added it to my cart to repurchase again.
Price Point
One of the best things about this cleansing balm is the price point. It is $11 for 2 oz or $19 for the jumbo size that is just about double the amount of product.
Size
While the price point is very affordable, the amount that you get is quite small sadly. You only need a dime sized amount so it will last a bit but I wish it was just a tad bit bigger. I will probably look at getting the jumbo next time so that I don't run out quickly.
Ingredients
The Holy Hydration Makeup Melting Cleansing Balm is definitely a good name for this product because it is very hydrating and literally melts the makeup off my face. LOL Formulated with hyaluronic acid, ceramides and peptides, this cleanser will give a deep cleanse while still plumping the skin and delivering moisture.
Texture
The texture of the cleansing balm is creamy yet still quite solid. It's not an overly oily texture yet still breaks down easily once you massage it into the skin.
Scent
There is little to no scent to this cleansing balm (though I wouldn't mind if there was). So if scent bothers you, this may be a great option to try!
Packaging
It comes in a tub which is standard for most cleansing balms, but does come with a spatula to scoop out a dime sized amount of product which is all that you need.
Is the e.l.f. Cleansing Balm Good?
I'm quite picky about my cleansing balms and want them to be effective and cut through all of my makeup easily but not leave a film or residue on my skin. Sometimes a cleansing balm will start off great but trying to actually remove it can be such a struggle. The e.l.f. Holy Hydration Makeup Melting Cleansing Balm really impressed me from the very first time I used it. It feels super smooth when you first massage it in and immediately I could see my makeup beginning to melt away. After massaging for about 15-20 seconds, the balm turned into an oil and all my makeup began to just slide right off.
My eye makeup is always the test when it comes to cleansing balms because many still leave a small trace of product and I have to go in for a second time to ensure it rinses off clean. This cleansing balm managed to remove all my eye makeup in one pass and left my skin feeling soft and hydrated.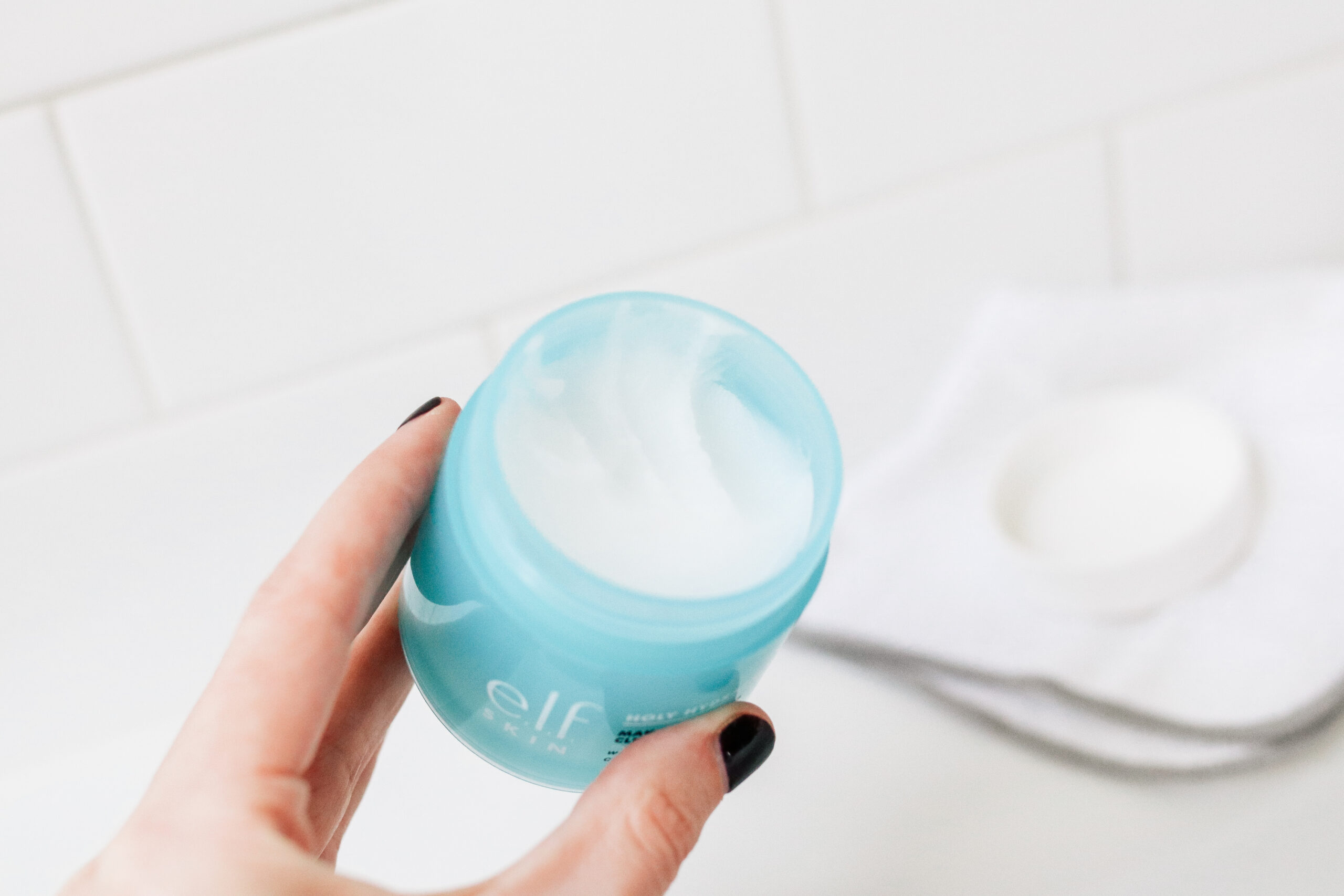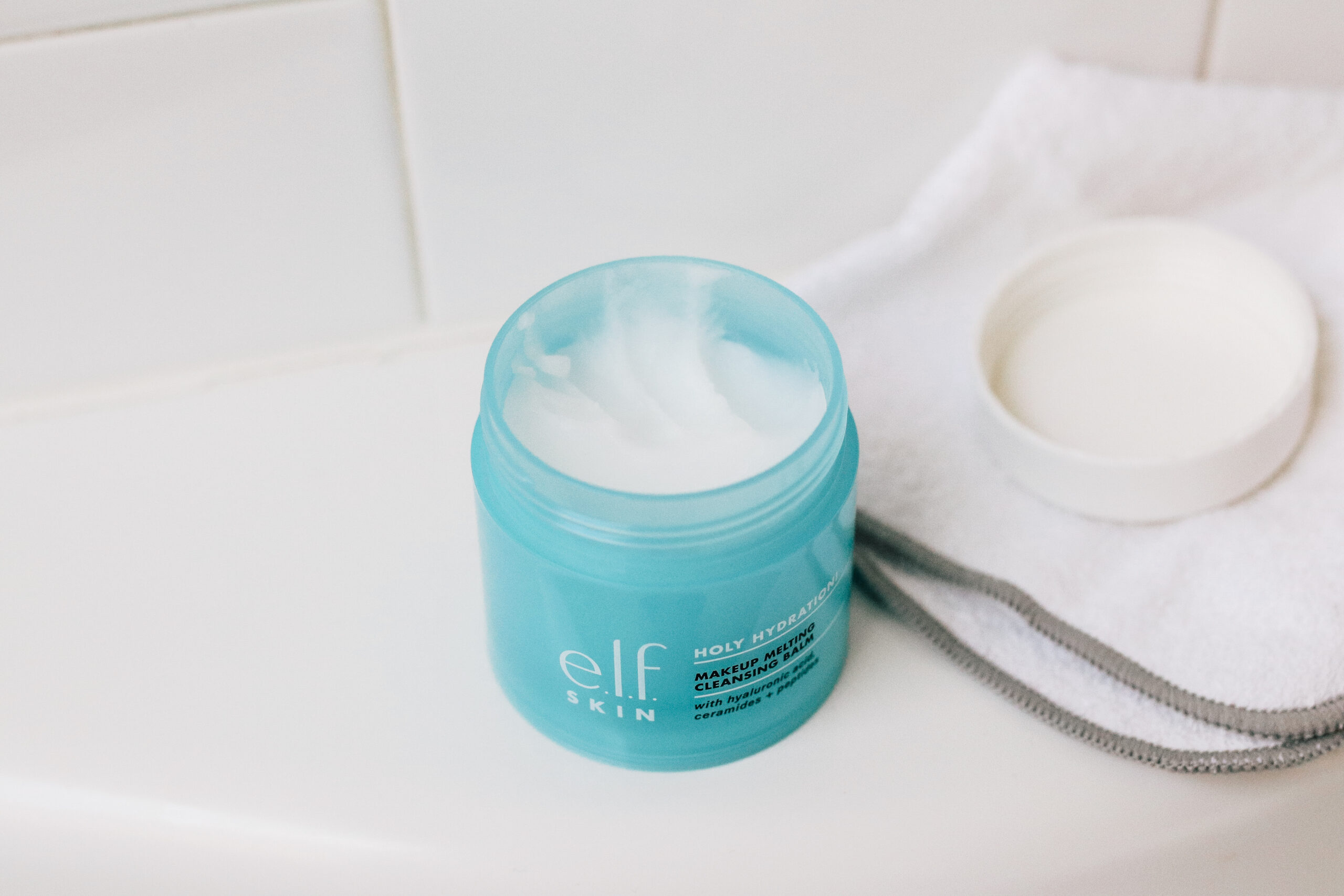 How to Use the e.l.f. Cleansing Balm?
Use with dry hands/dry face
This may take some getting used to if you have never used a cleansing balm before but it is best used on dry skin. I apply a small amount of the cleansing balm with dry hands and massage onto dry skin – makeup and all. I then begin massaging it around breaking down all the makeup and mascara.
Rinse with water
Once you have fully massaged in the cleansing balm, wet your hands with warm water and continue to massage the water onto your face. The cleansing balm will turn to a gentle milk and easily rinse off and you can watch your makeup melt away.
Use a washcloth or cleansing cloth
For an added bit of exfoliation, you can use a damp cloth to remove the cleansing balm instead of your damp hands.
Where to Buy the e.l.f. Holy Hydration Cleansing Balm