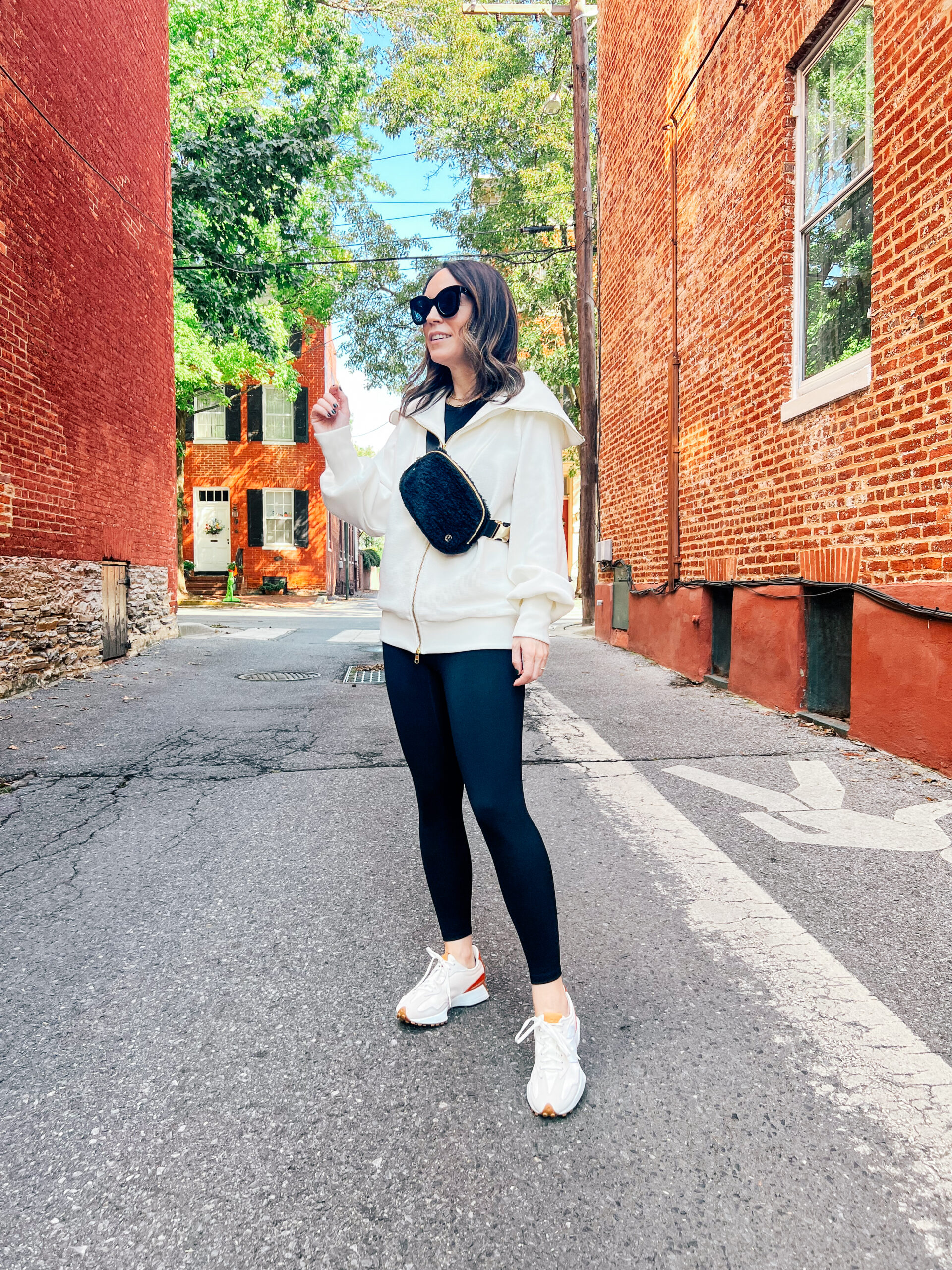 I first discovered Varley a few years ago when I bought their uber popular Vine pullover. It was my first piece from the brand but since then I have fallen in love with just about everything they make! Most of it is athleisure items or workout wear but with a very chic and stylish fit to everything. There are tons of matching sets, super soft materials and the quality is unmatched. I purchased a bunch of things since the Vine pullover and thought I would give a short review on each item as well as round up a bunch of new arrivals that I'm loving.
Varley Review
Varley Betsy Sweat and Alder Shorts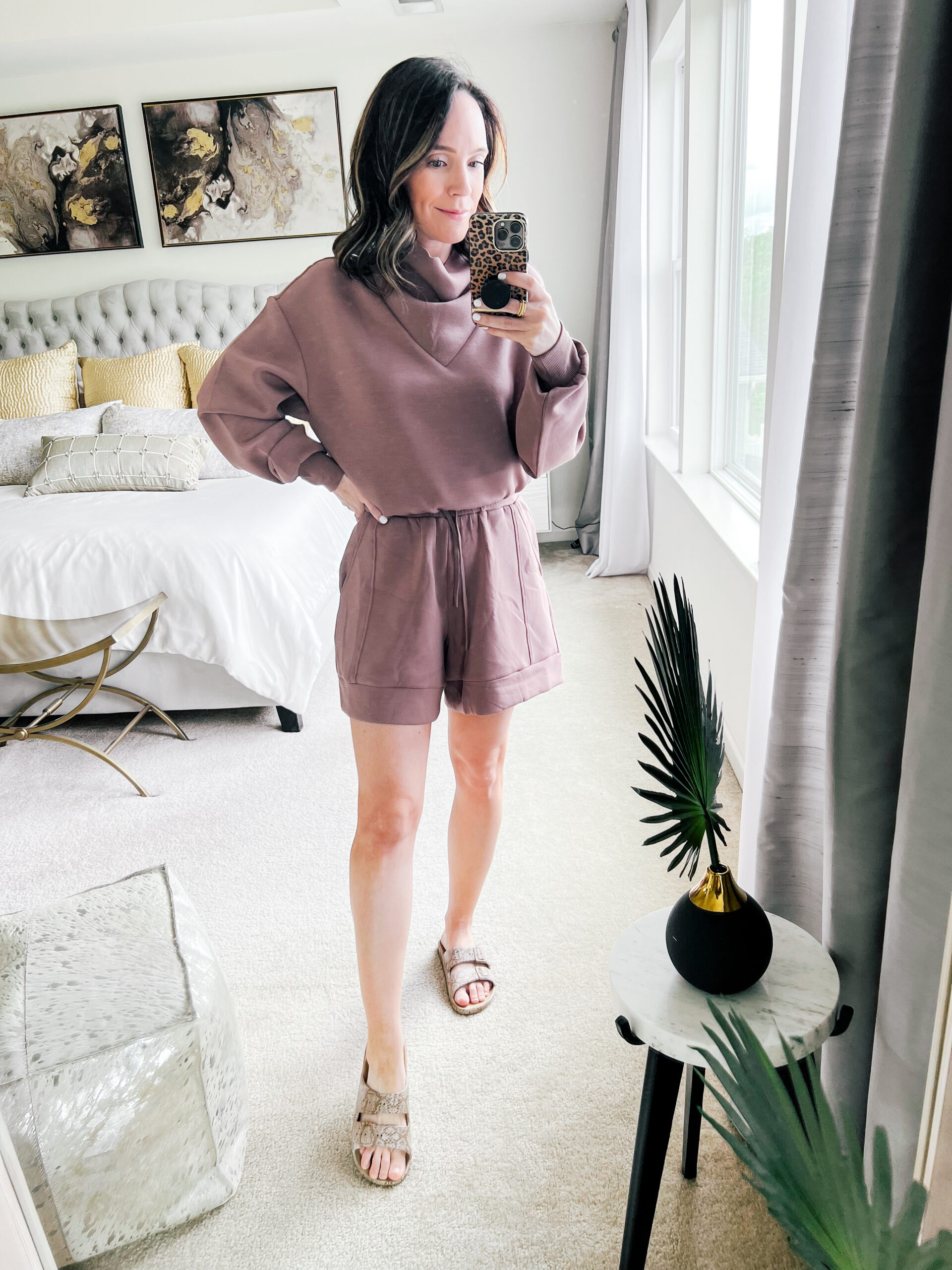 The first thing that drew me in with this sweatshirt is the cowl neck that has the most perfect draping ever. Some cowl necks can be fussy and not fall the right way, but this drapes perfectly every time. It's also made with Varley's doublesoft fabric that feels like the softest material you will ever put on your body. It's lightweight enough to wear in spring/summer but definitely a piece I can still wear into fall and underneath a coat in winter. The fit is supposed to be oversized but I went with my regular size and it fit exactly how I wanted it to.
For those that can't stand shorts that are too short, these are exactly what you need. They are almost a bermuda length and are super roomy but fitted in the waist. They run TTS and are also made with the doublesoft fabric. I bought them in two colors because of how often I wore them all summer long!
Varley Freya Sweatshirt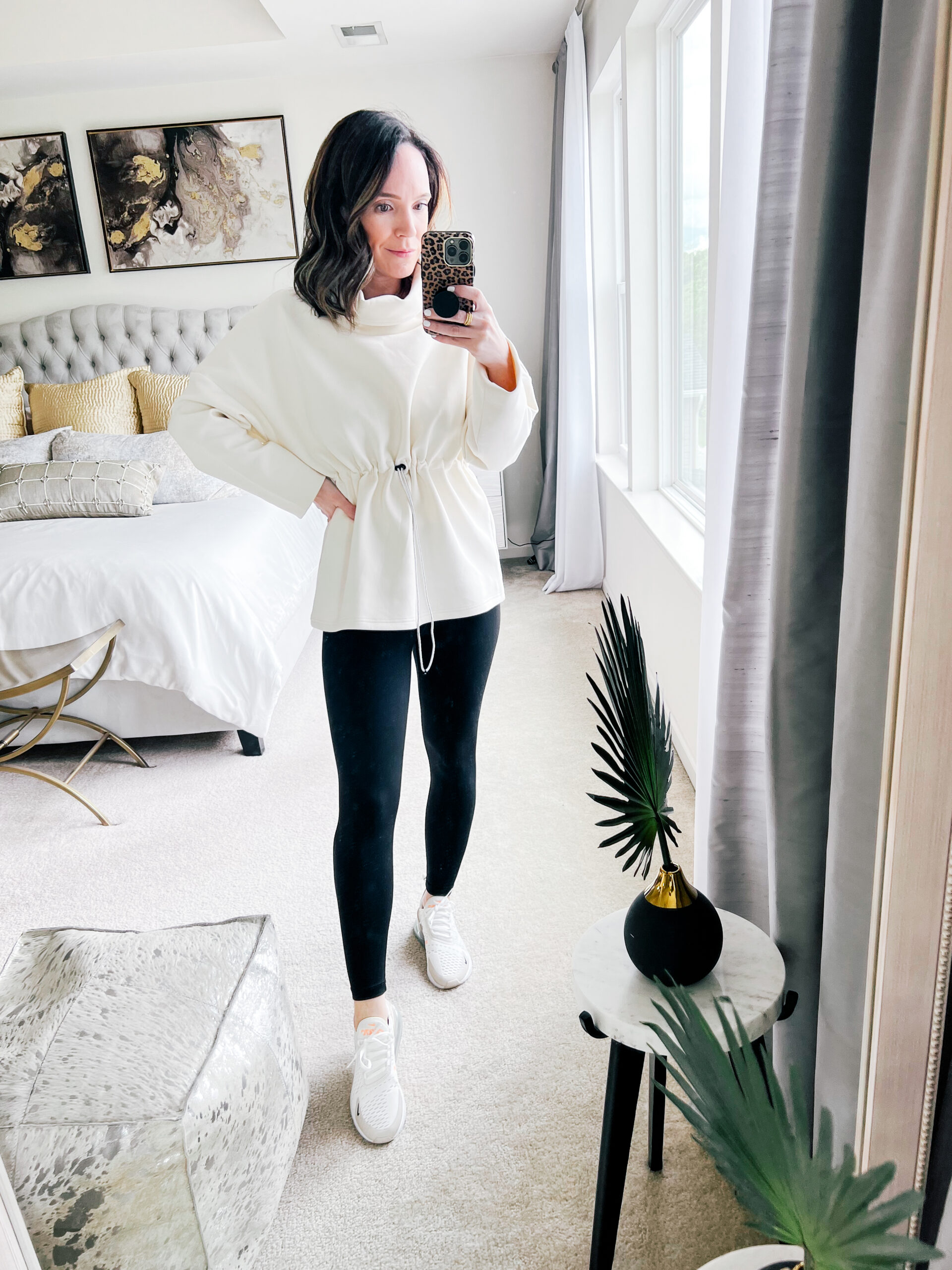 Same doublesoft fabric as the Betsy sweatshirt and Alder shorts, the Freya sweatshirt is a great throw on and go pullover. The cinched waist option makes it look so flattering and the rolled high neck is so chic and unique. You can leave the neck fully up but to be honest, it bothers me when it is standing straight up so I typically fold my down once. It's also the perfect length for leggings as it just covers the butt. I took my regular size and find that it runs true to size with a nice roomy fit.
Varley Cameron Open-Knit Jacket and Alder Shorts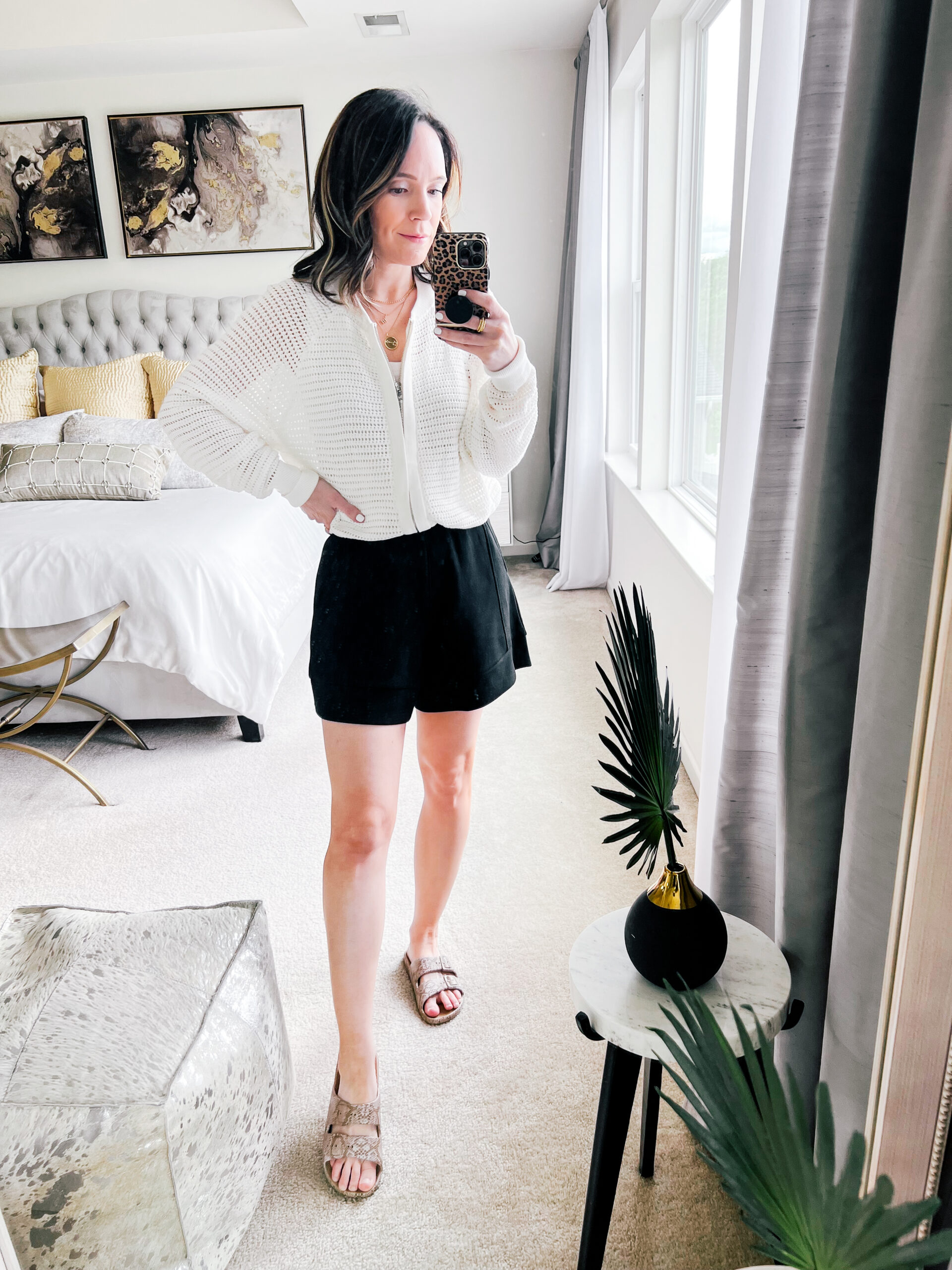 Sadly I don't think this was a permanent item in the collection but it is absolutely fantastic for spring/summer and into fall! The long sleeves and heavier weight make it warm but the pointelle details allows for some ventilation. It is truly the best of both worlds. I wore it with comfy shorts and leggings but also found it looked great with trousers and jeans.
Same style as I shared above but in black this time. Super comfy and became the only shorts I wanted to wear in the warmer weather!
Varley Ells Jacket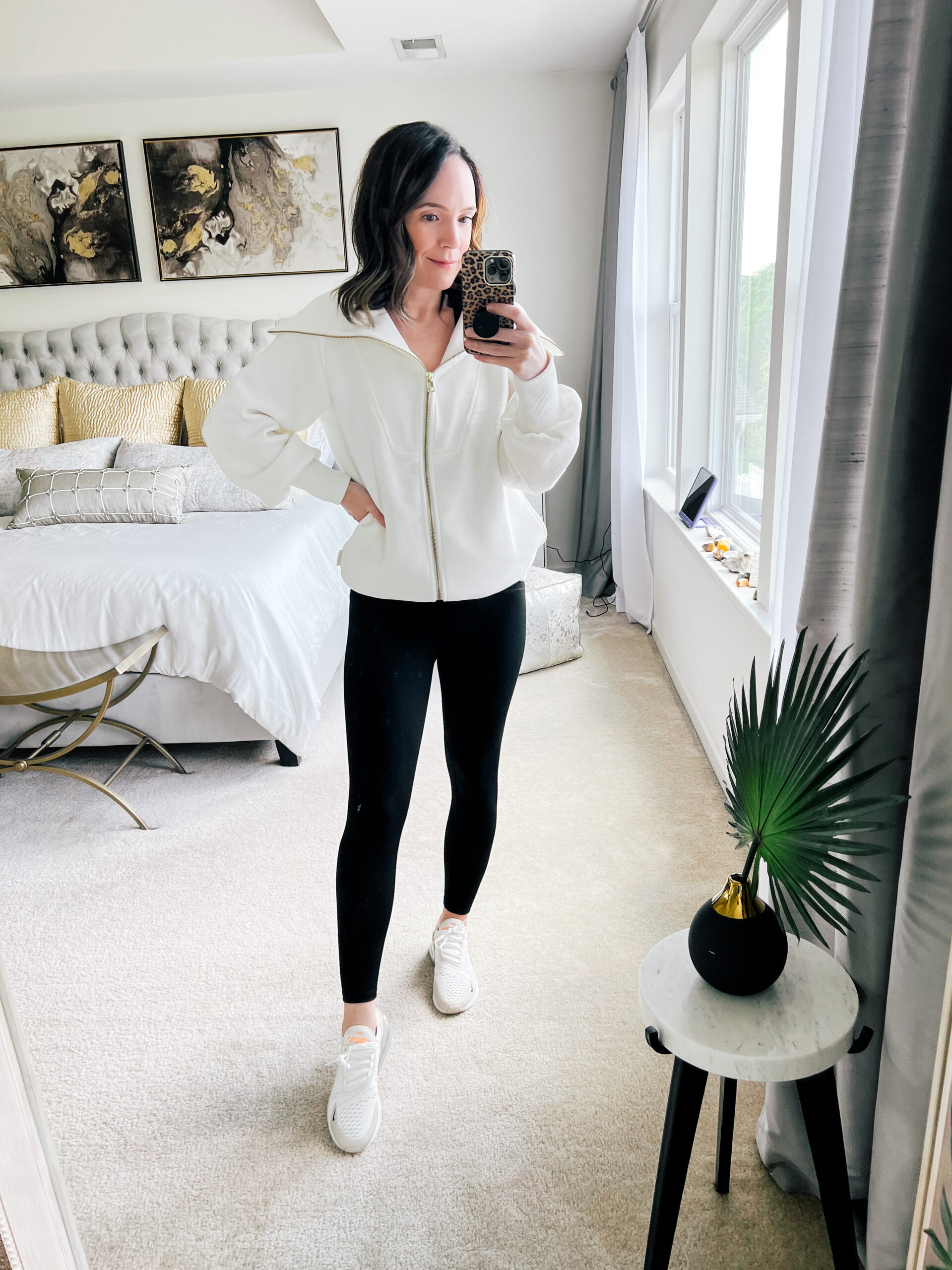 This is a full zipper version of the best selling Vine pullover. Where the Vine pullover only zips down halfway, the Ells jacket zips fully down and can be worn as a jacket or pullover. They even show it styled with both zippers unzipped at the bottom and top, but I typically wear it zipped all the way down. I love the heavier weight of it and the big collar is my favorite feature of the entire piece. For me this is more of a casual piece and I typically wear it with joggers or leggings. It's a roomy fit but I took my regular size.
Varley Vine Pullover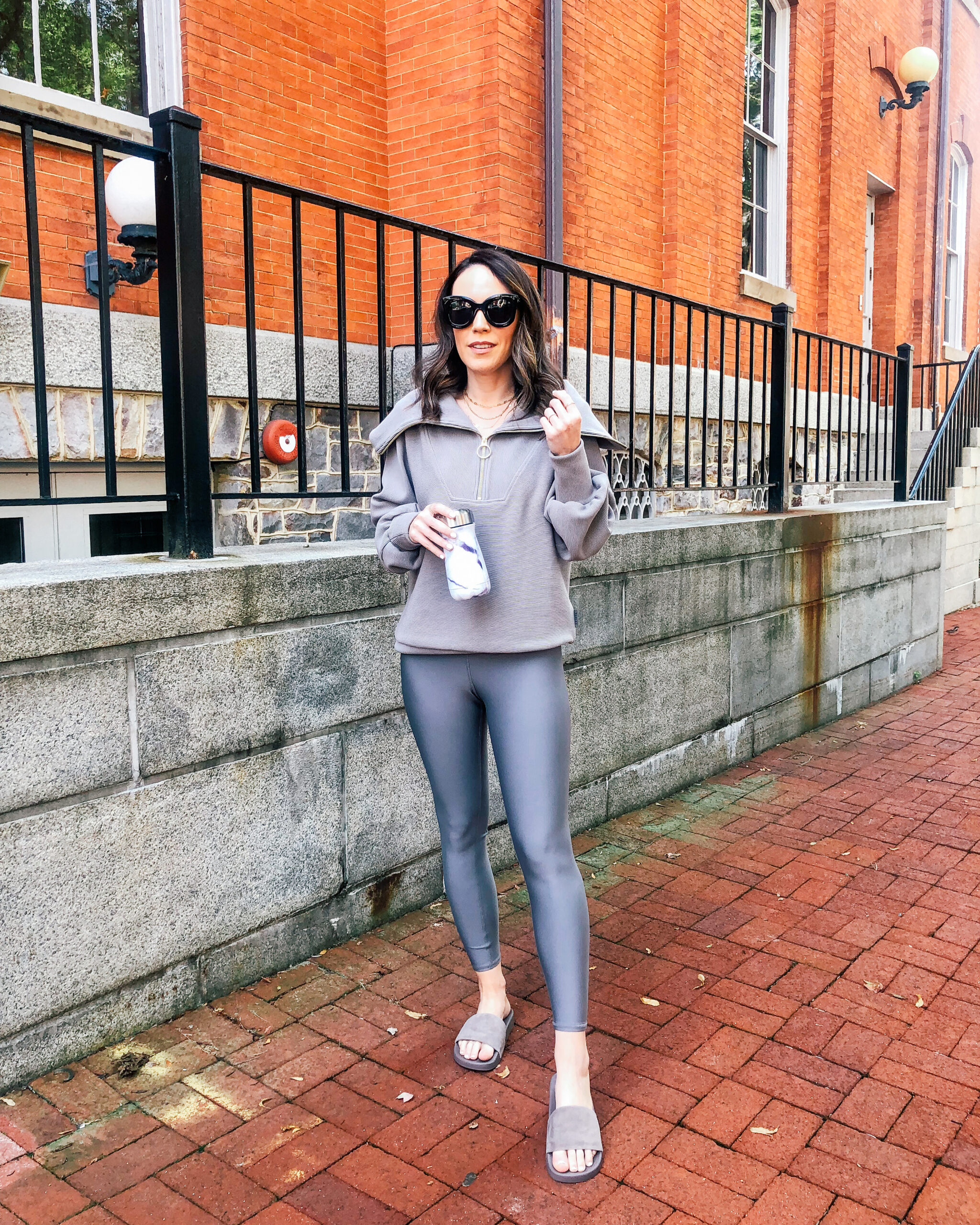 The best selling and uber chic Vine pullover was what made me fall in love with Varley in the first place!! I LOVE the super big collar, the half zip detail and the oversized comfy sweatshirt fit. There are now so many colors available and I plan on getting a few more because I wear this pullover ALL YEAR LONG! I prefer it styled with leggings or joggers but have seen people wearing it with trousers or jeans and love that as well. If there is one Varley item to get, it has to be this pullover.
Varley Mentone Half-Zip Pullover and Slim Cuff Pant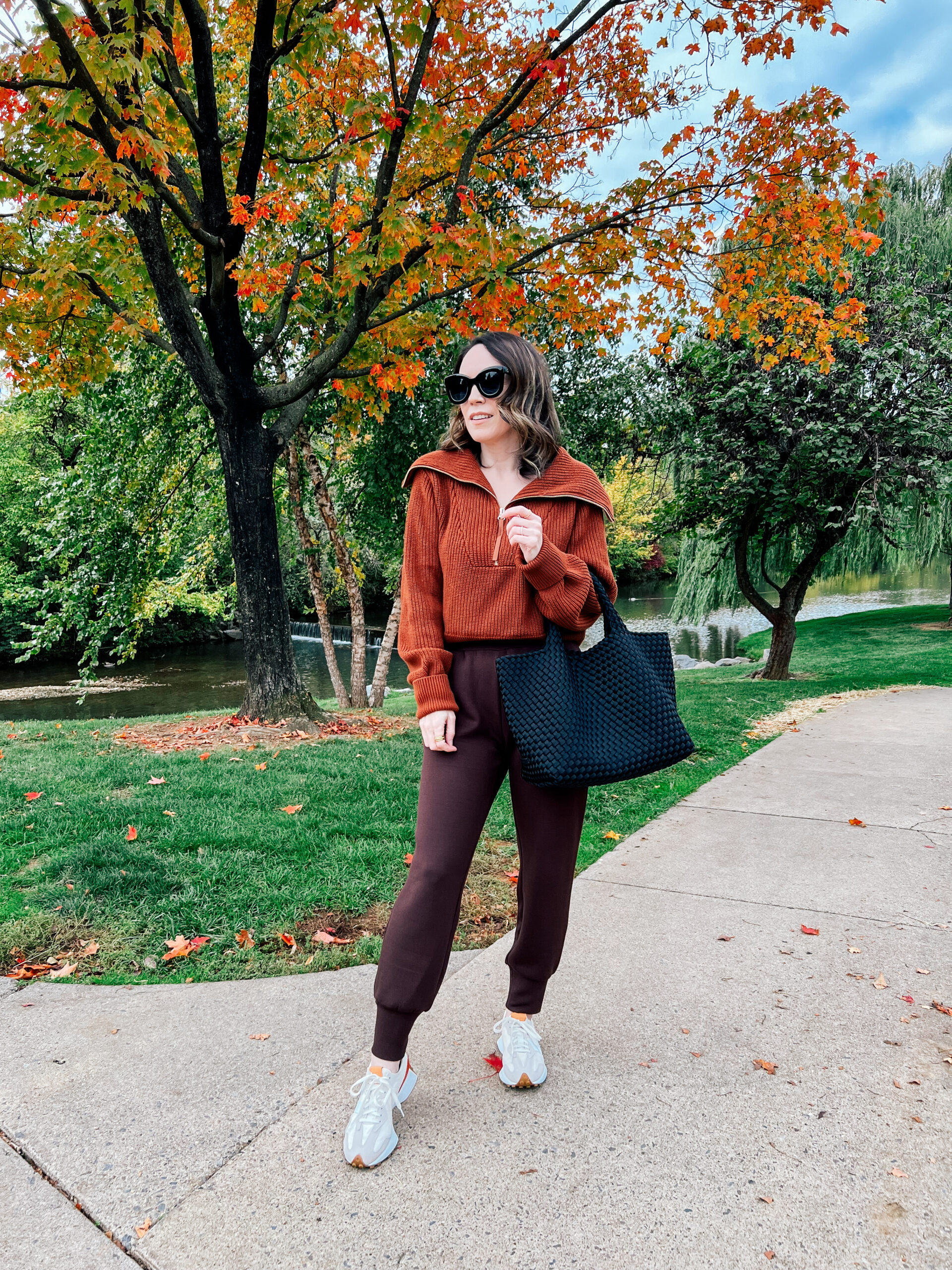 The newest addition to my Varley collection is this knit half-zip pullover. It has the same large collar that I love about the Vine pullover but in a heavier knit material. It's a bit shorter in length as well compared to many of the other pullovers, so if you are wanting it to be a bit longer, then I would size up. I took my regular size and it hits my joggers at the perfect place. This is definitely a piece that I can see dressed up a bit more with jeans or trousers because of the knit material and love all the colors it now comes in!
While I want my athleisure clothes to be comfy, I don't want them to be too oversized which can look messy on me sometimes. These slim fit joggers are the perfect balance between flattering and comfortable. They aren't too tight and feel nice and roomy, but the overall silhouette is slimmer throughout the hips and legs which makes them look so much more chic than traditional joggers. I also love the tapered ankle which tapers for a few inches making them look different from a regular pair of sweatpants that just have an elastic around the ankle. They are also made out of Varley's doublesoft fabric which is my favorite fabric that they make. And for those that are on the more petite side in terms of height, these are a shorter inseam of 27.5″.