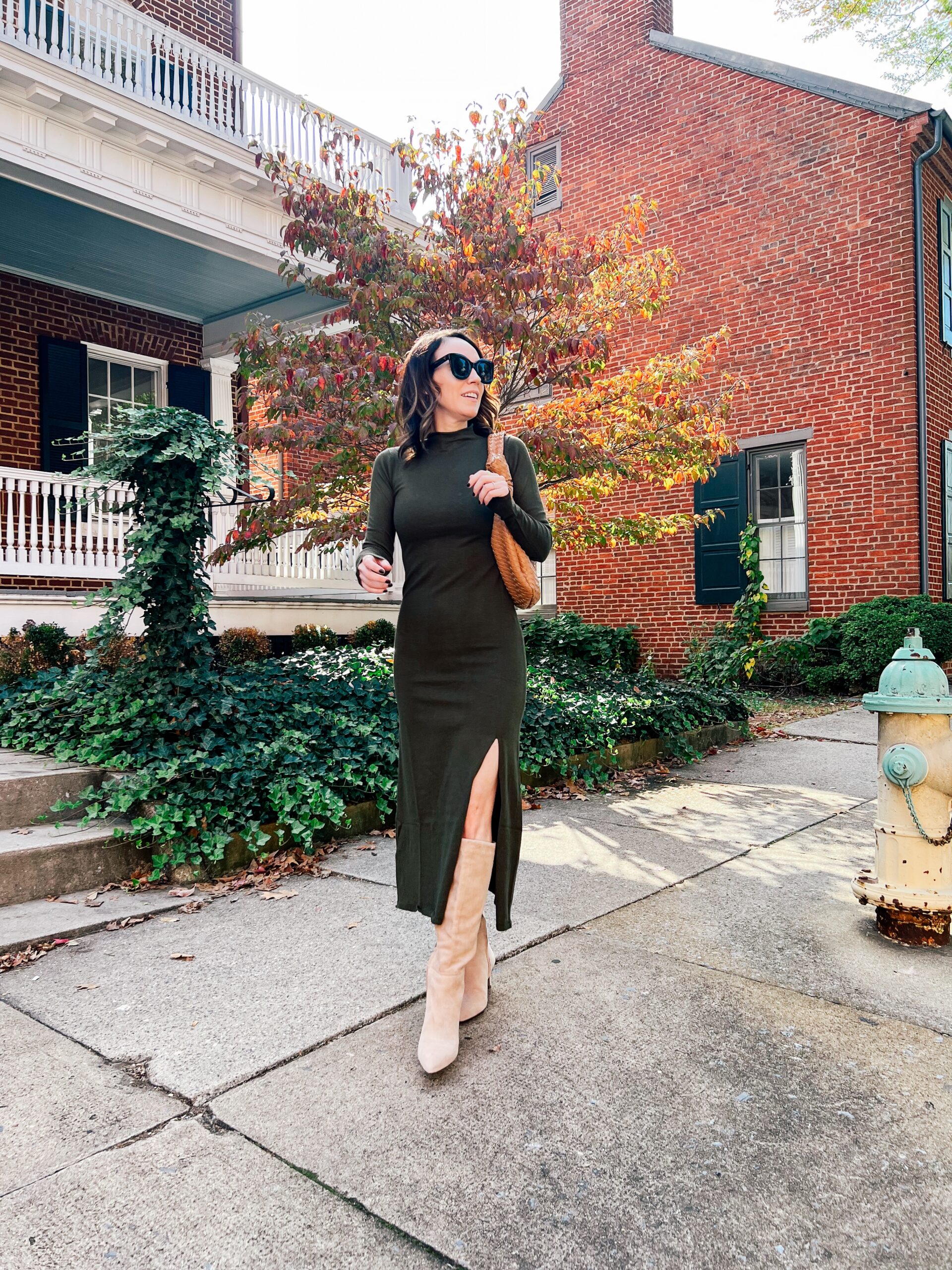 Dress linked | Boots (similar) | Bag | Sunglasses
I live for a sweater dress in the fall and winter. They are super comfortable and great for a variety of occasions. Dress them up or down based on the style and there are so many flattering fits and shapes that you can add to your closet. And especially during that time when it's getting a bit chilly but it's not super cold yet, I love wearing a sweater dress and boots without having to add tights. LOL I'm not always a fan of wearing tights so I will often try to avoid it if I can.
I've worn and styled a ton of different sweater dresses over the years so I thought I would round up a handful of styles to try this fall and winter. Some are a bit more classic while others are fun and trendy. I will add a ton of suggestions for each category in the widget at the bottom of my blog so be sure to scroll down.
6 Sweater Dress Styles to Try This Fall
Midi Sweater Dress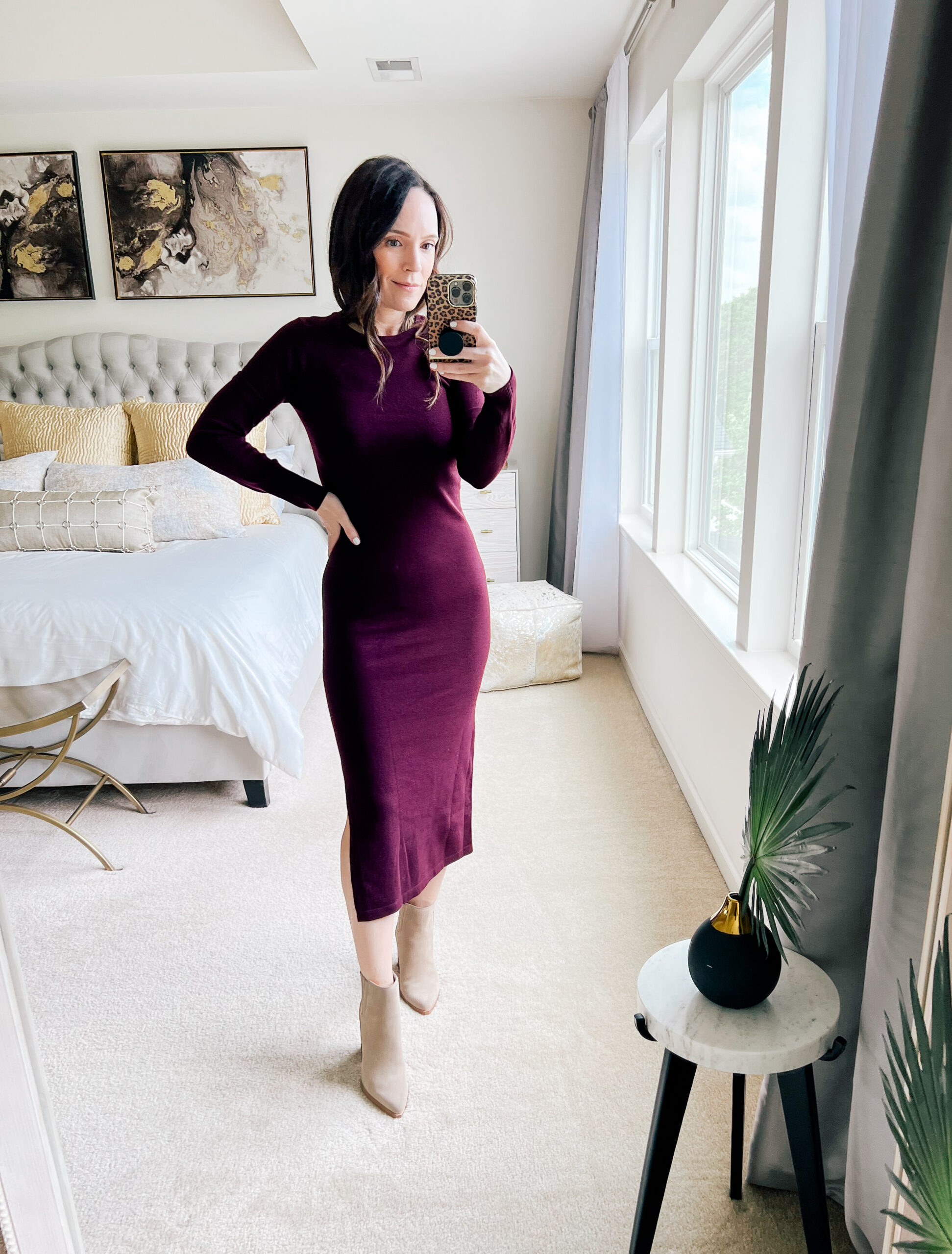 Similar dress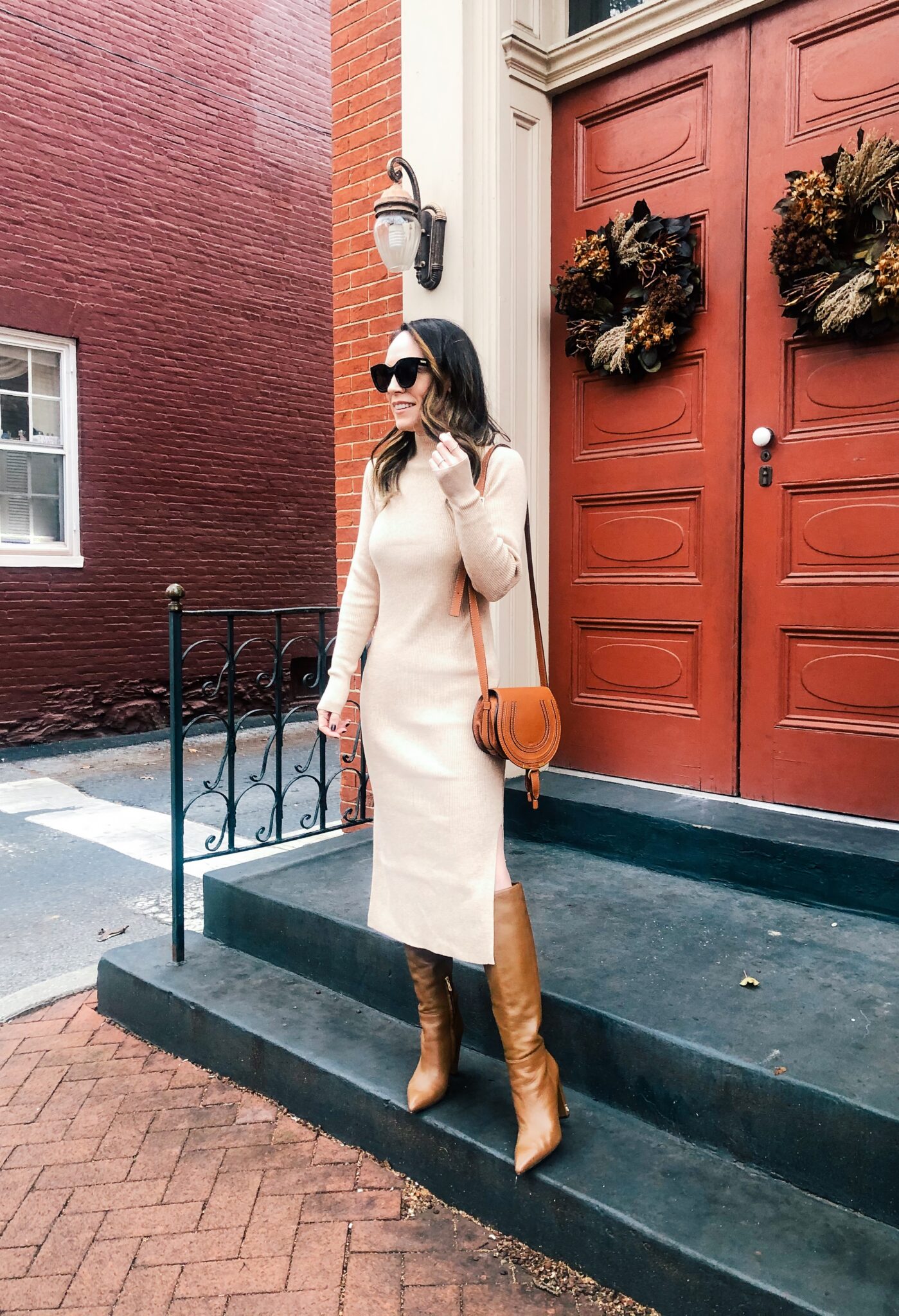 Similar dress
I always gravitate towards a simple midi (or slightly maxi) style sweater dress each fall/winter. It feels classic and comfortable, easy to style with ankle boots or knee high boots and adds a bit of warm when it gets colder. Often this style is easy to wear on it's own, but also looks great styled with a moto jacket or statement vest. Many midi sweater dresses have a more fitted silhouette and if you want to keep things work appropriate, I always recommend going up a size or two to ensure it's not too tight. I also typically wear shapewear underneath if the dress is fitted or in a light color.
Tunic Sweater Dress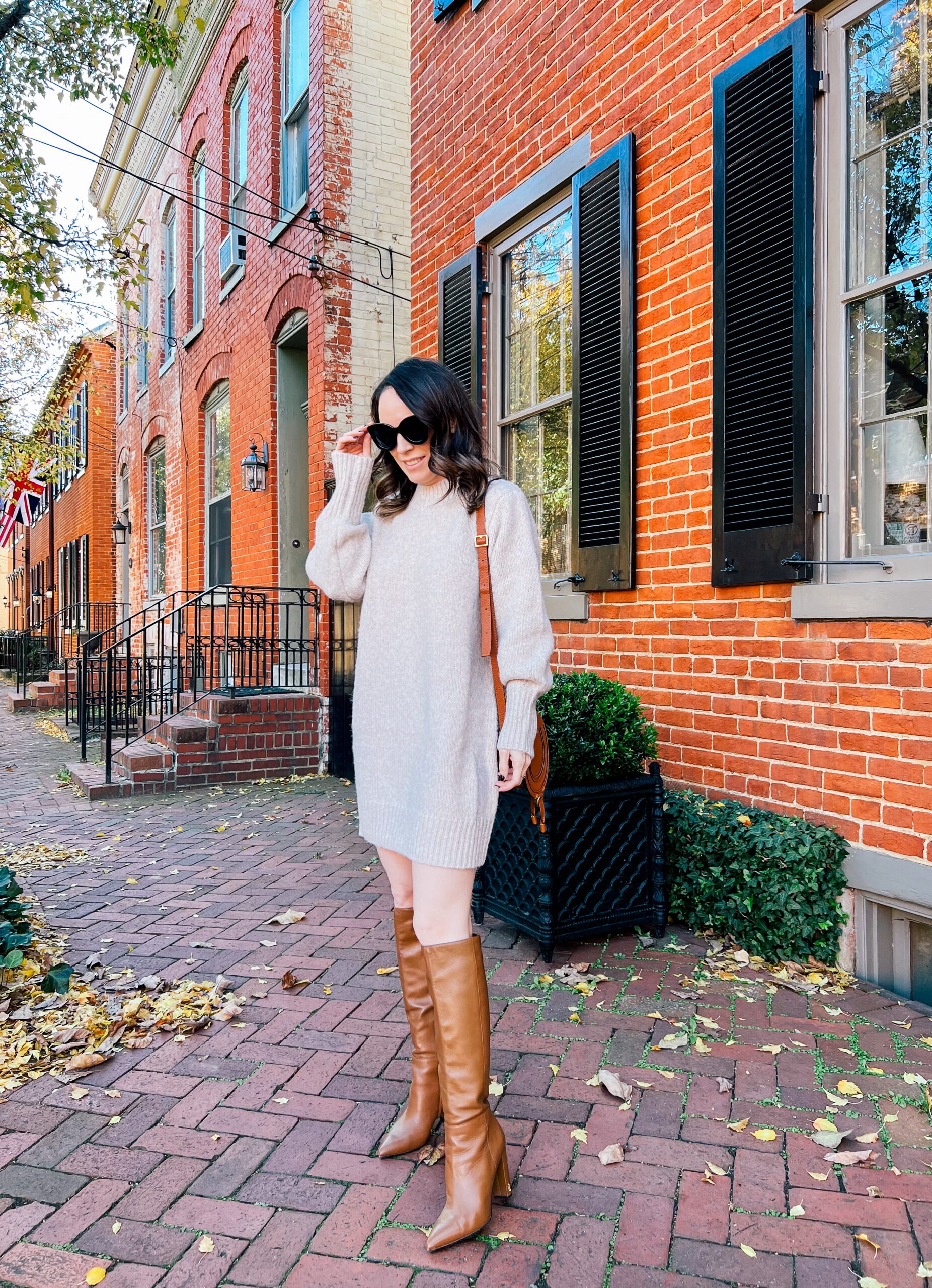 Similar dress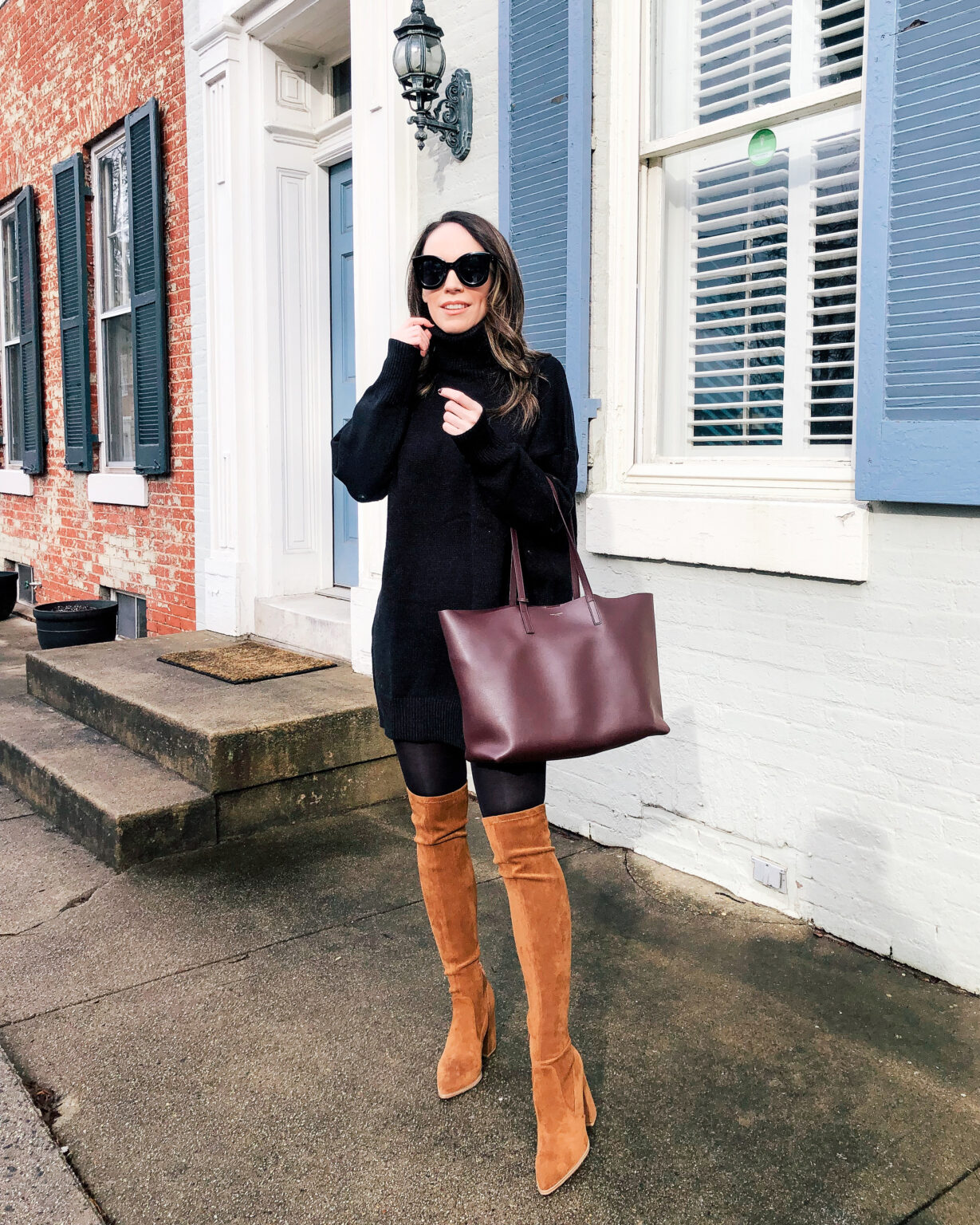 Dress linked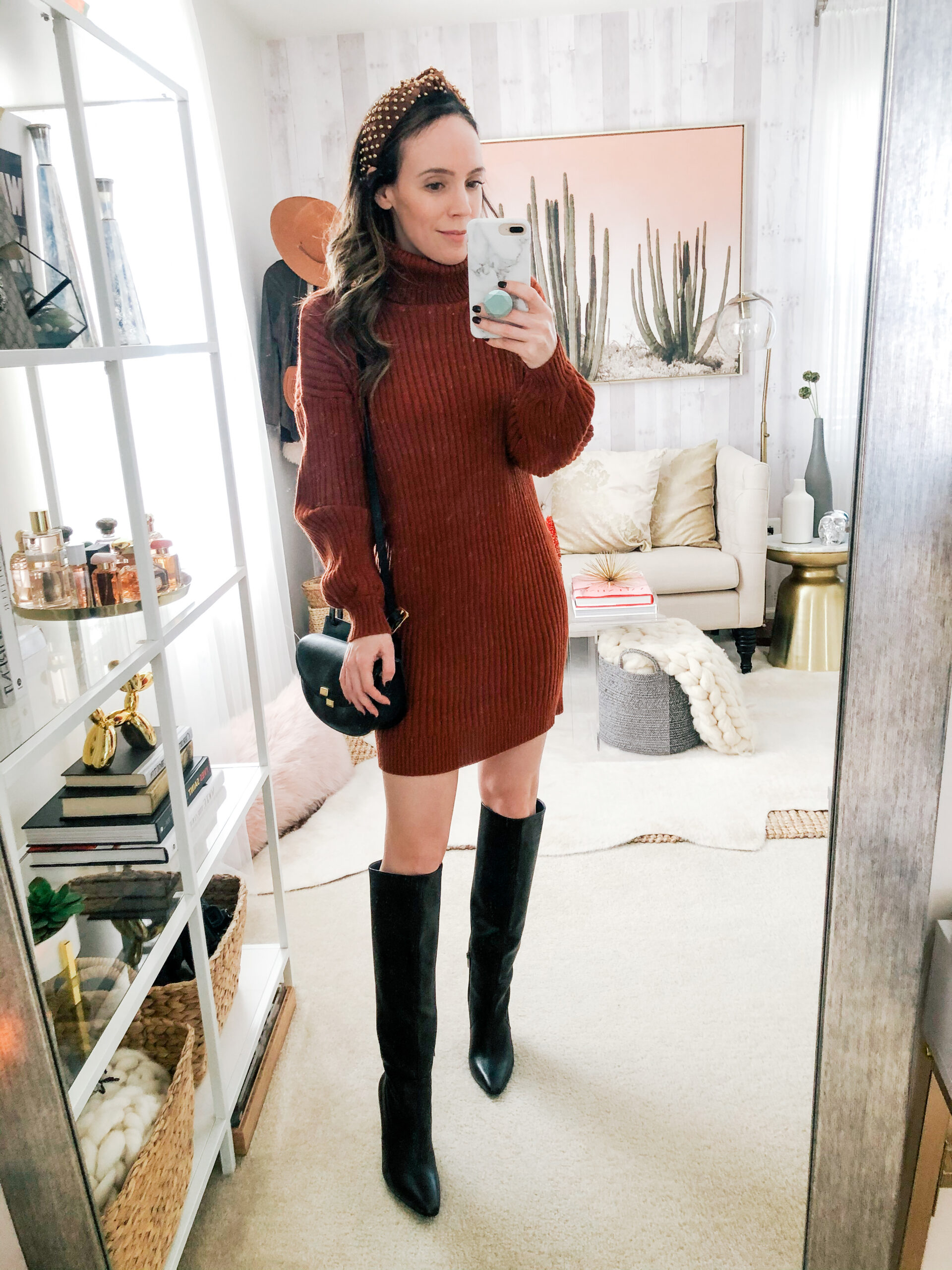 Similar dress
When I think of fall sweater dresses, my mind immediately goes to a tunic style above the knee sweater dress. It feels like I should be standing in an apple orchard holding a hot cup of cider with a look like this. LOL I also love the fit of a tunic style sweater dress because they are often more roomy and super comfy. Like wearing a giant oversized sweater or sweatshirt. Personally I prefer a knee high boot or even an over the knee boot with a shorter sweater dress.
Tights or no tights is a personal preference so I normally just make my decision based on how cold it is outside. As someone that is on the shorter side (I am 5'4″), I look for a tunic sweater dress to come about 2-3 inches above my knee which actually makes me look a bit taller. If the dress is too close to my knees, it can look a bit frumpy and unflattering.
Cable-Knit Sweater Dress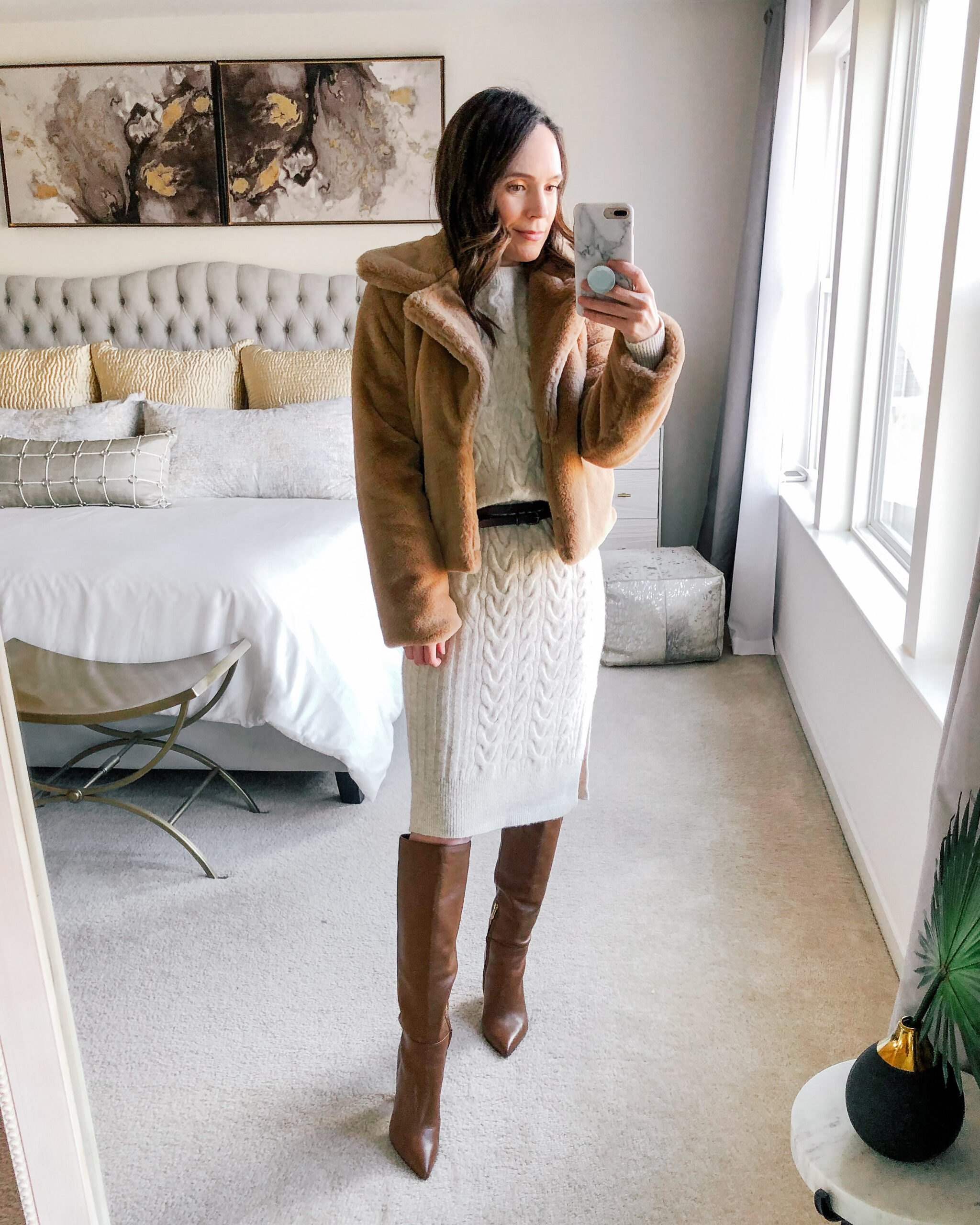 Similar dress
Playing around with textures like cable-knit on a sweater dress can be so much fun during the fall and winter. I still opt for a neutral color but love when the dress has unique details that make it more interesting. A good thing to note however is that a textured sweater dress will add a bit more bulk to your frame. Not necessarily a bad thing but something to expect especially with a cable-knit or textured knit. For the cable knit style dress that I am wearing in the above photo, I actually belted it and bloused the top portion of the dress to give the illusion of a sweater/skirt combo which I felt really played well with the bulkier texture of the fabric.
V-Neck Sweater Dress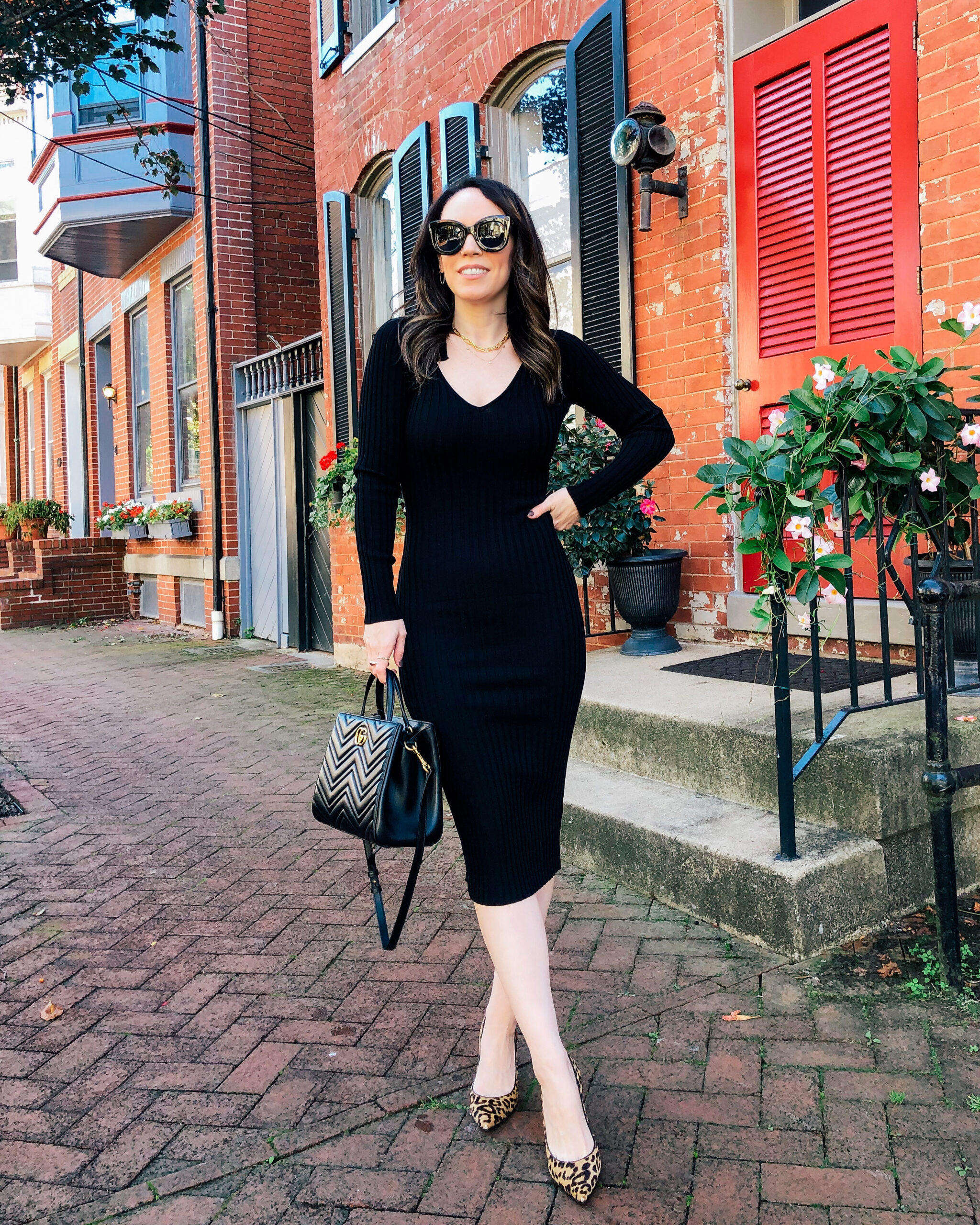 Dress linked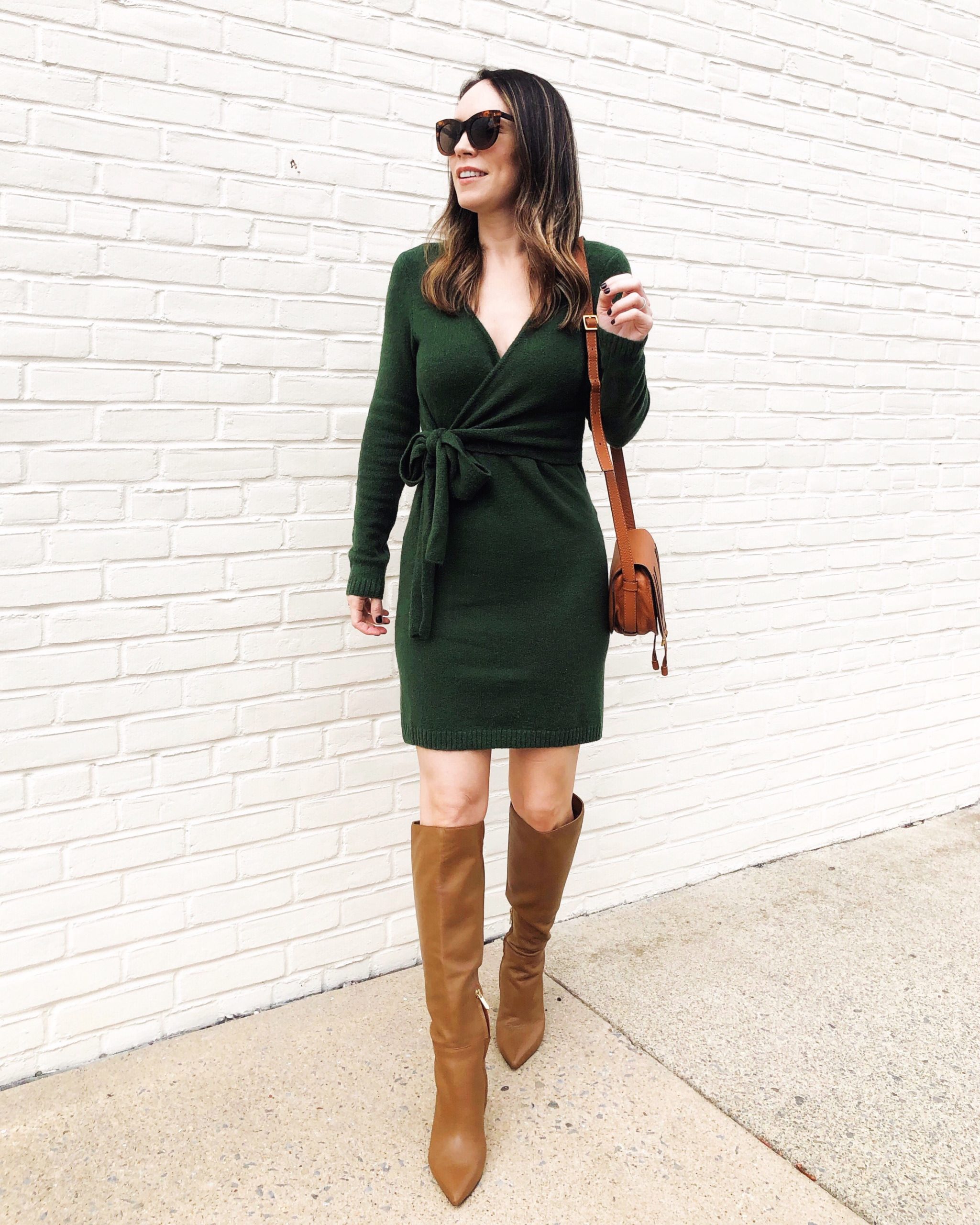 Dress linked
A v-neck style has always been my preferred neck style for most tops, blouses and dresses. As someone with a larger bust (I am a 32DD – this post details my favorite bra styles), a v-neck is the most flattering and minimizing. It may not seem that way at first but compared to a crewneck or turtleneck, a v-neck draws the eye down and creates a longer line then making the bust area look smaller. I also miss wearing all my favorite necklaces during the fall/winter because of the higher necklines, so a v-neck style allows me to style them easily.
Statement Sleeve Sweater Dress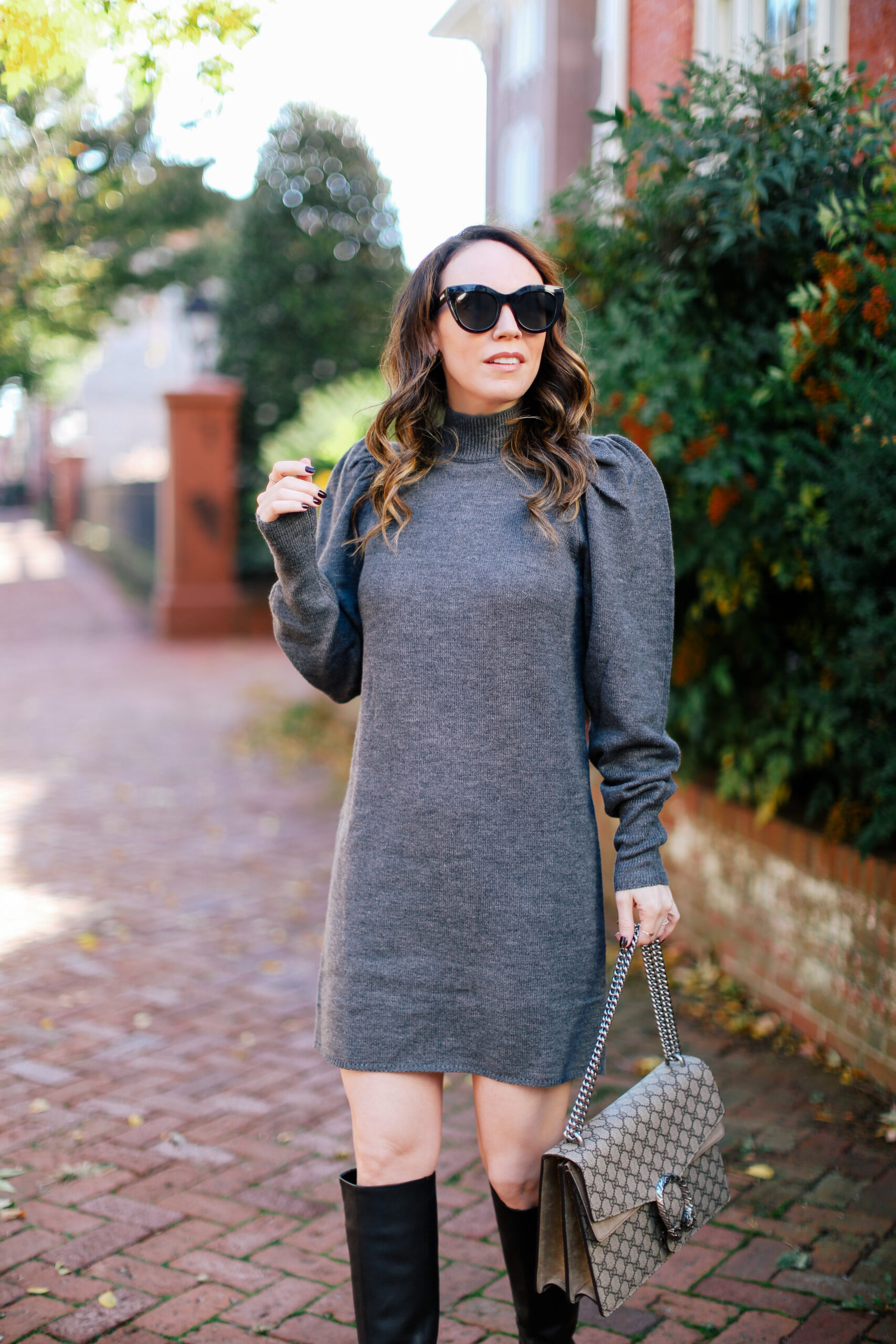 Similar dress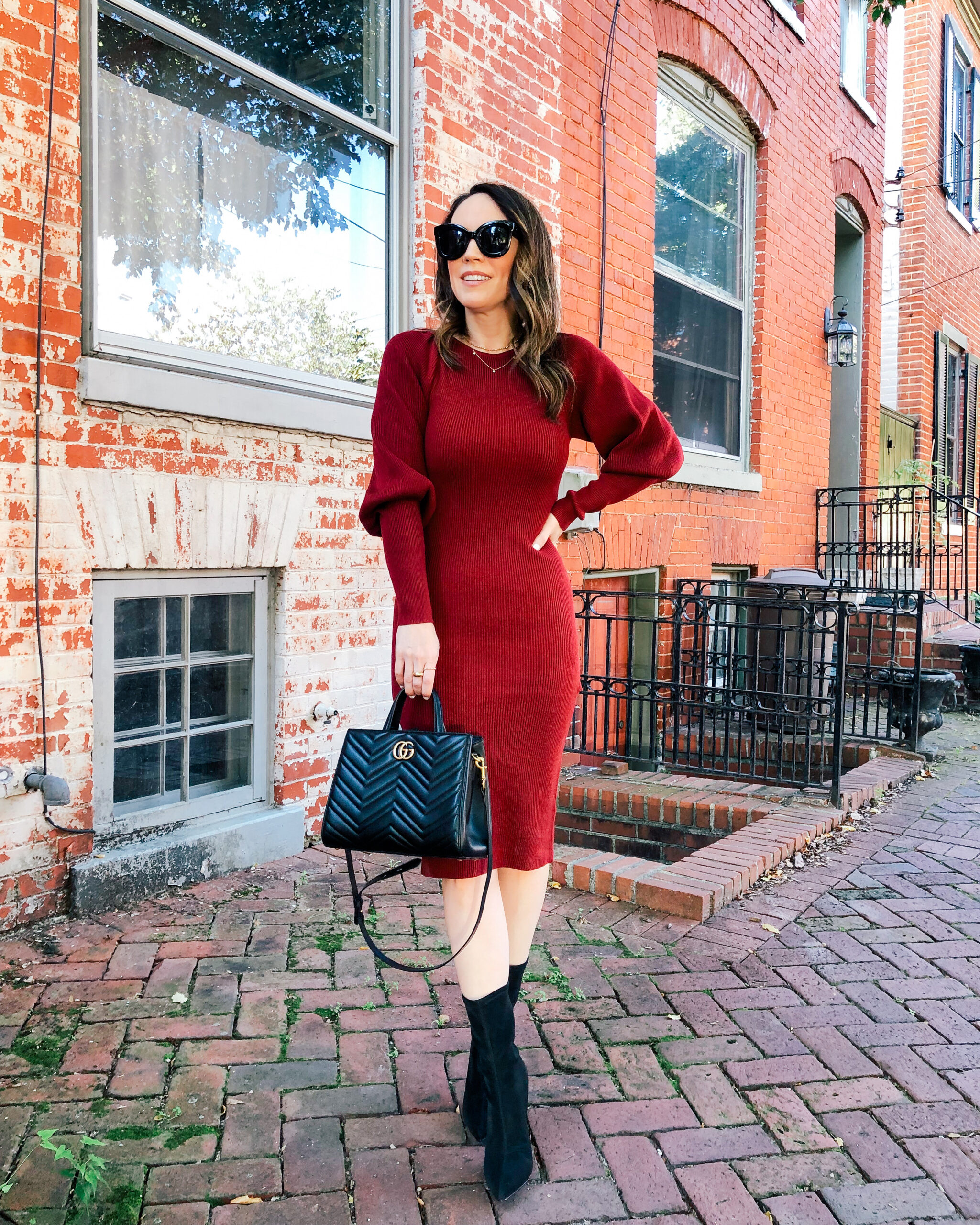 Similar dress
Though a puff or statement sleeve can fall on the trendier side of the spectrum, this style continues from year to year. I personally LOVE a statement sleeve and always find myself gravitating towards it because it makes a simple outfit look so much more unique. The gray sweater dress I have styled in the above photo would be simple and classic with a normal sleeve, but the added volume makes the dress more feminine and interesting. I often keep the rest of the outfit and accessories simple so as not to compete with the voluminous statement sleeves.
Printed Sweater Dress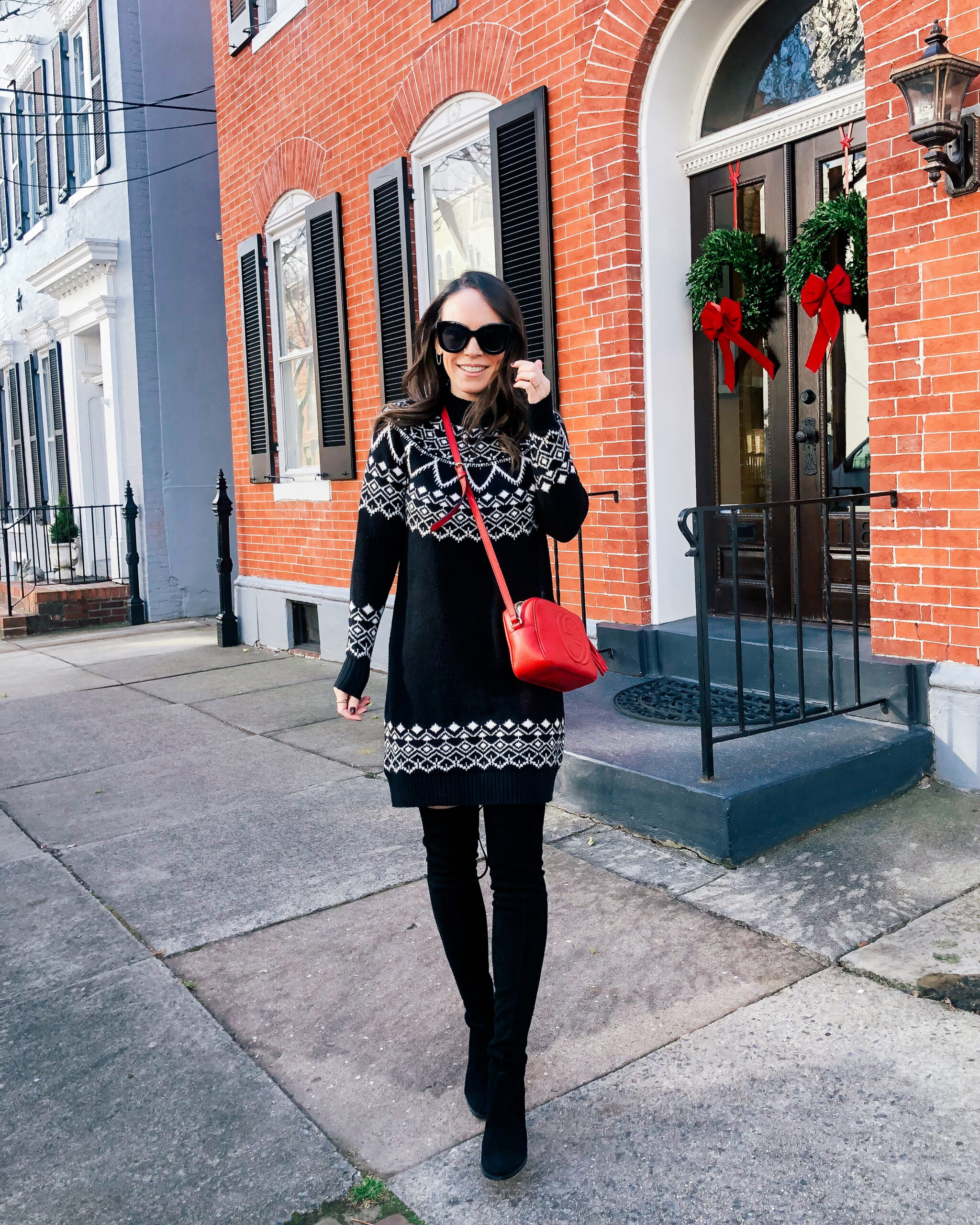 Similar dress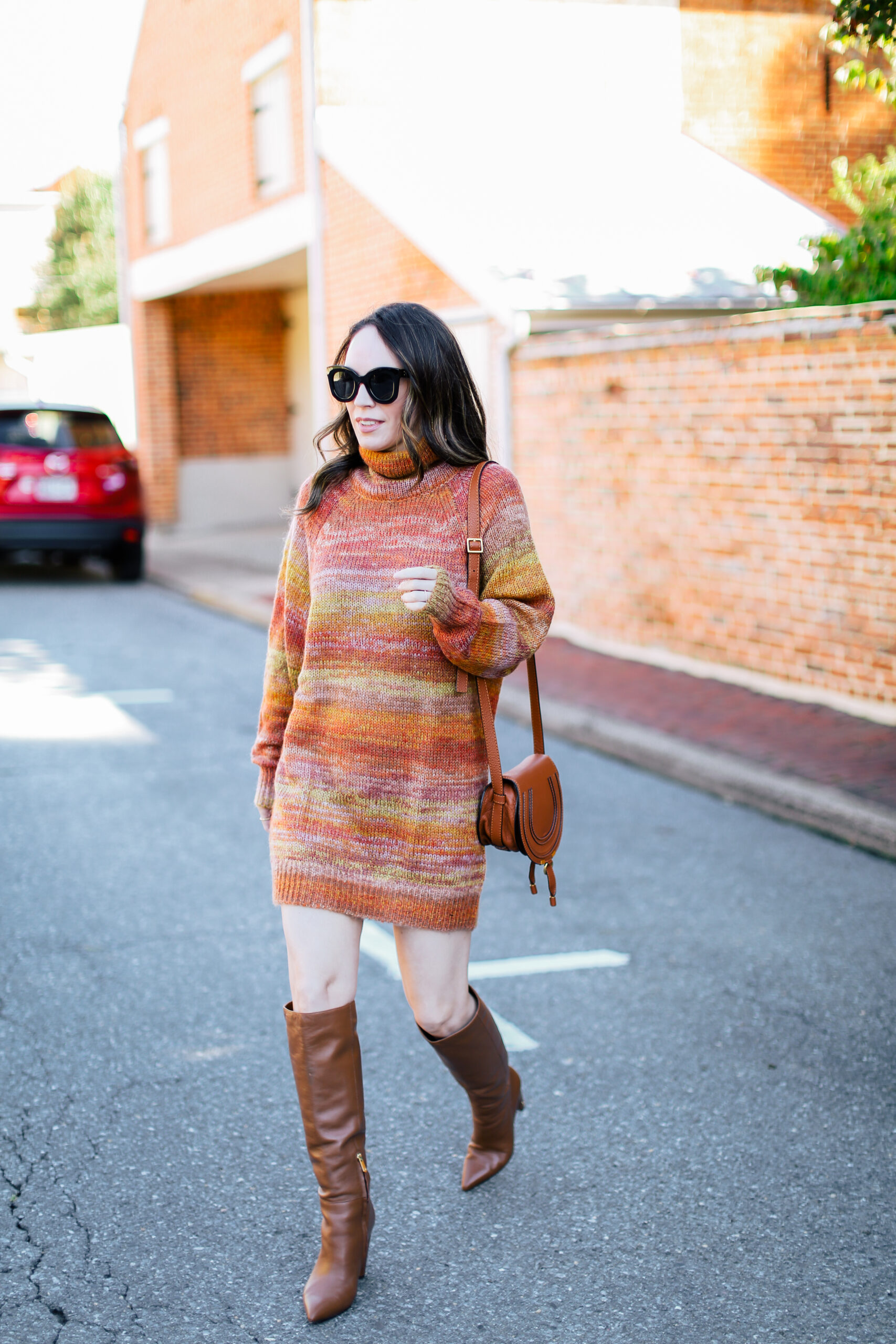 Similar dress
I typically always gravitate towards a solid color sweater dress but occasionally I love a printed option too. In the winter I love all things fair isle and a fall toned stripe is incredibly easy to style with neutral accessories. If you want to try a printed sweater dress for fall, try to find one that has colors that you currently own in your closet. This way it will be easy to style with the clothing and accessories you already have.
What sweater dress style is your favorite?!