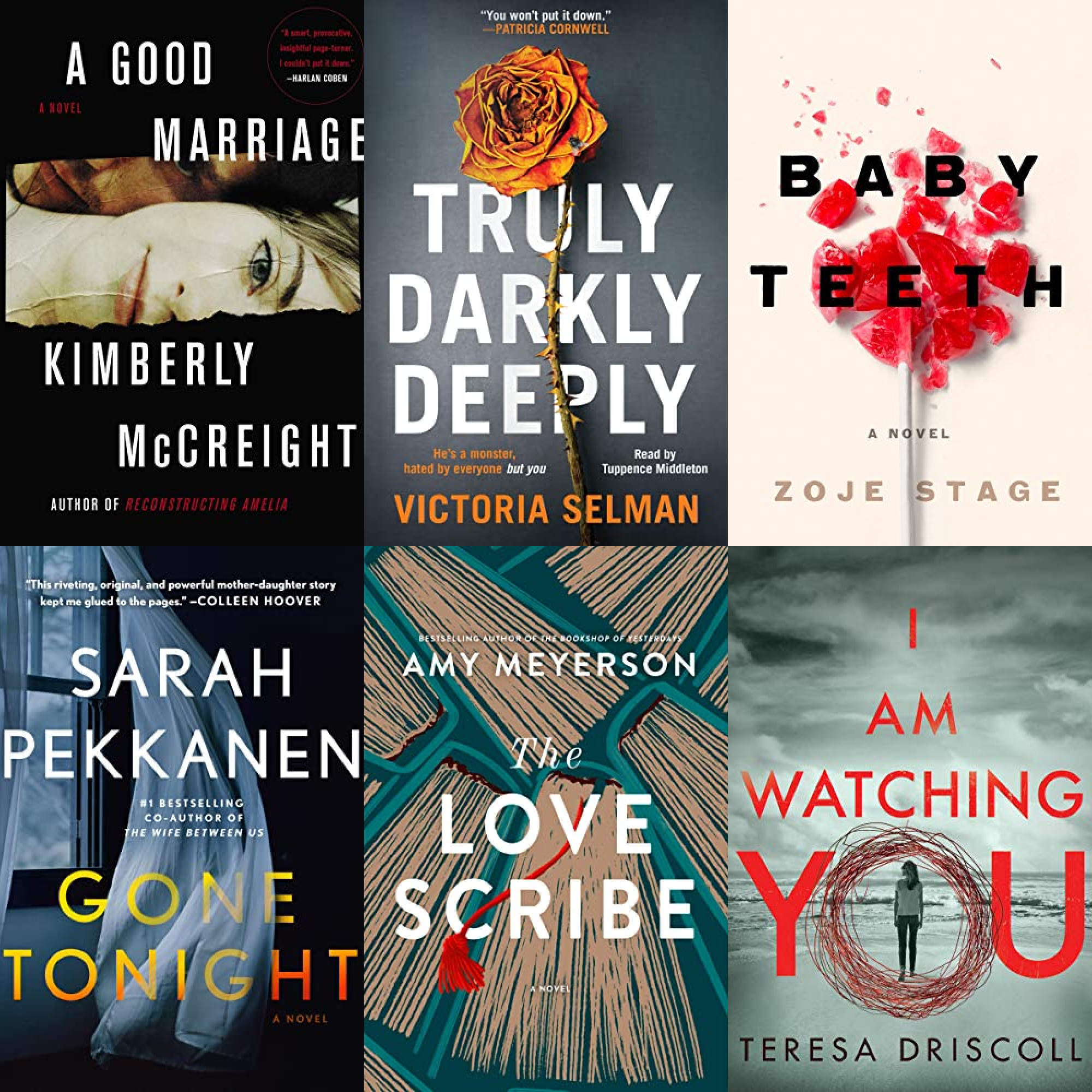 All the books I read in October 2023
Wow. Wow. Wooow. This book is definitely a page turner but can be a difficult read at times. Suzette and Alex are loving parents to their seven year old daughter, Hanna. But Hanna has not been an easy child from the start. At seven she is selectively mute, difficult to manage and increasingly violent at times. Hanna is very close to her father Alex who doesn't always see the dangerous side to his doting daughter. But Suzette has witnessed many of Hanna's outbursts and attacks and ultimately becomes the target for Hanna's anger and rage as time goes on. After a particularly awful attack on Suzette's life, they are forced to send Hanna away to a boarding school that hopefully can help manage her behaviors.  This book kept me on the edge of my seat and constantly had me wondering what would happen next. Rating: 8.5
While this book did hold my attention, it wasn't my favorite out of the bunch. Ruth and Catherine are mother and daughter who have been on their own their entire lives. Ruth's tragic and traumatic past has kept them in hiding for their entire lives. But Ruth has never shared with Catherine exactly what they are hiding from. Catherine has an opportunity after graduating from nursing school to move away and take a position at a hospital that will really allow her to embrace her new career. Ruth knows that Catherine's life could be in danger if people from her past ever find out where she is so she tries to manipulate Catherine into staying. Eventually Catherine finds out the truth on her own and both of their lives are in danger. Rating: 7
This book definitely kept me guessing throughout the entire story! Lizzie is a lawyer at a elite law firm in NYC after having to leave her beloved position as a federal prosecutor because she needed more money to pay off her husband's debts. Zach Grayson, a friend from law school contacts Lizzie after he is accused of murdering his wife at their posh upscale Park Slope brownstone. Lizzie doesn't want to take the case but Zach begs and she believes he is innocent and wants to help exonerate him. However, once Lizzie begins to delve into the Zach and Amanda's life, she is worried that she has agreed to represent a murderer. There are a ton of twists and turns and it kept me guessing until the end! Rating: 8.5
To be honest, I could not get into this book and wasn't fully paying attention while listening. It just never got better and the story was a bit too confusing. I stuck with it to the end and finally was able to piece the story together but it's not worth reading in my opinion. Rating: 4
Hmmm. I still don't know how I feel about this book. Part of me liked it and part of me felt it was a bit boring. LOL.
Alice's best friend, Gabby, goes through a horrible breakup so Alice writes her a fictional love story to cheer her up. After reading the story, Gabby finds a new relationship almost immediately and is convinced that Alice's story is what made her find love again. Gabby begins recommending Alice write for other friends that want to find love. And soon those people are in loving happy relationships right after reading their personalized stories. Alice becomes known as a "love scribe" and can hardly keep up with the demand. But when Alice responds to a request for a personalized story from a reclusive woman named Madeline, Alice learns that maybe her gift is really a curse. I kept going back and forth while reading this book on whether I liked it or not and am still undecided. Ha! Rating: 7.5
Lots of good twists and turns in this thriller but it sadly wasn't a favorite for me. Only a like not a love. Sophie grew up loving her mother's boyfriend, Matty. He was attentive, loving and someone she could count on. Then he was arrested for multiple murders and went away for a life sentence. Fast forward many years and Matty is now dying in prison and wants to reach out for one last connection with Sophie. Sophie has never believed he committed those murders but so much of his time during them cannot be accounted for and this nags at Sophie. She decides to visit him in prison and hopefully get answers to the questions that have been plaguing her ever since his arrest. But what she finds out is more devastating than she imagines. Rating: 7.5
See the books I read in September 2023.