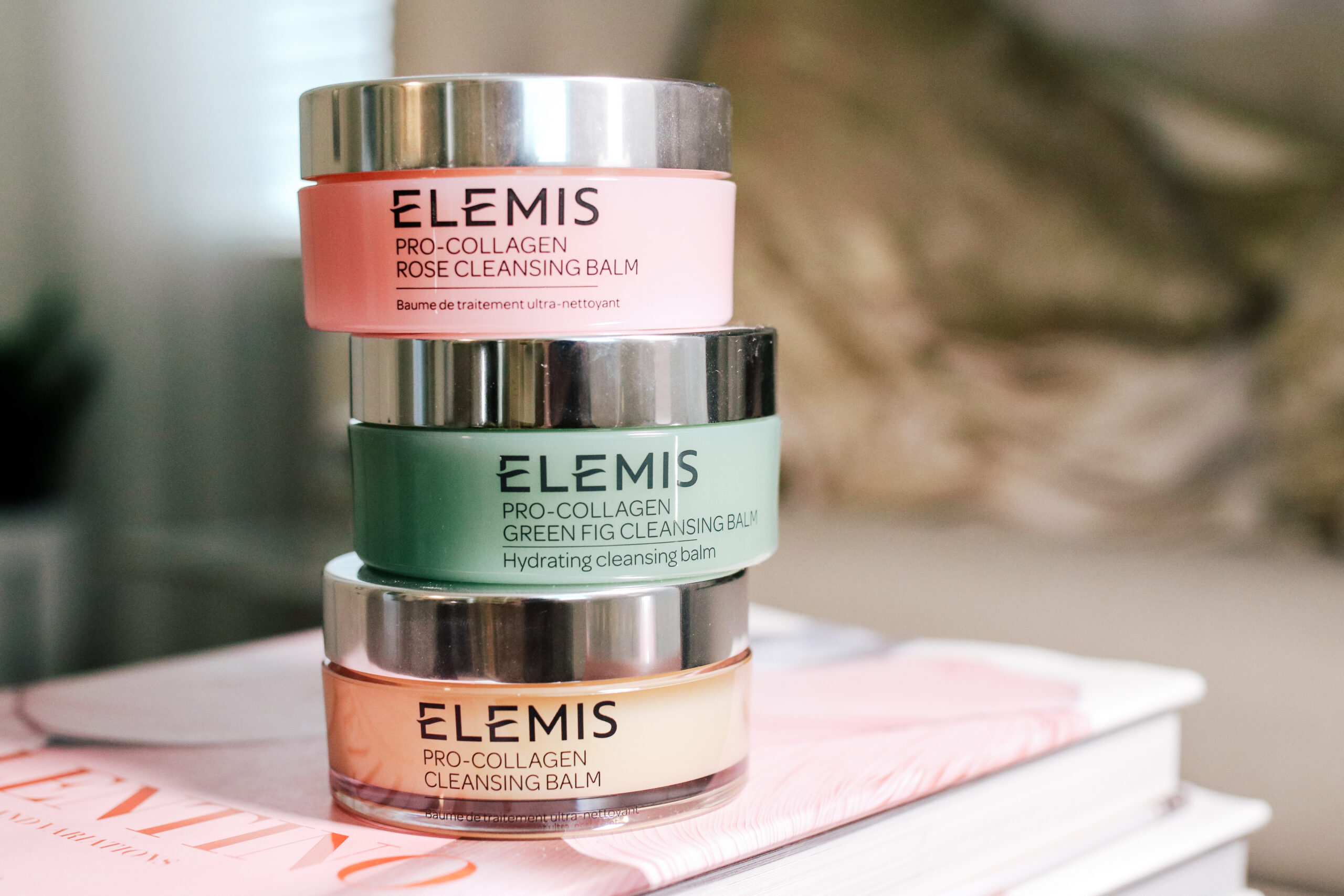 I have been a LONG time fan of the Elemis Pro-Collagen Cleansing Balm. I first tried Elemis products nearly 10 years ago and have been buying it ever since. In fact, I started double cleansing shortly before then and really saw how much my skin improved with this method. I use a cleansing balm or cleansing oil as my first cleanse to break down all the makeup, sunscreen, dirt, etc from my face and then follow it up with a second cleanser which is usually a milk or gel texture. Back when I first started double cleansing, cleansing balms were just beginning to get popular. Now nearly every skincare brand makes one and they are a skincare staple for so many people.
I will say that though there are a TON of cleansing balms to choose from now, not all are as effective or make my skin feel as nourished as the Elemis Pro-Collagen Cleansing Balm. Initially I read a few reviews about it years ago and my interest was piqued especially since I was just beginning to really get into skincare. Since then I have repurchased it countless times and thought I would share a more in-depth honest review of it and why I love it so much.
Elemis Pro-Collagen Cleansing Balm Review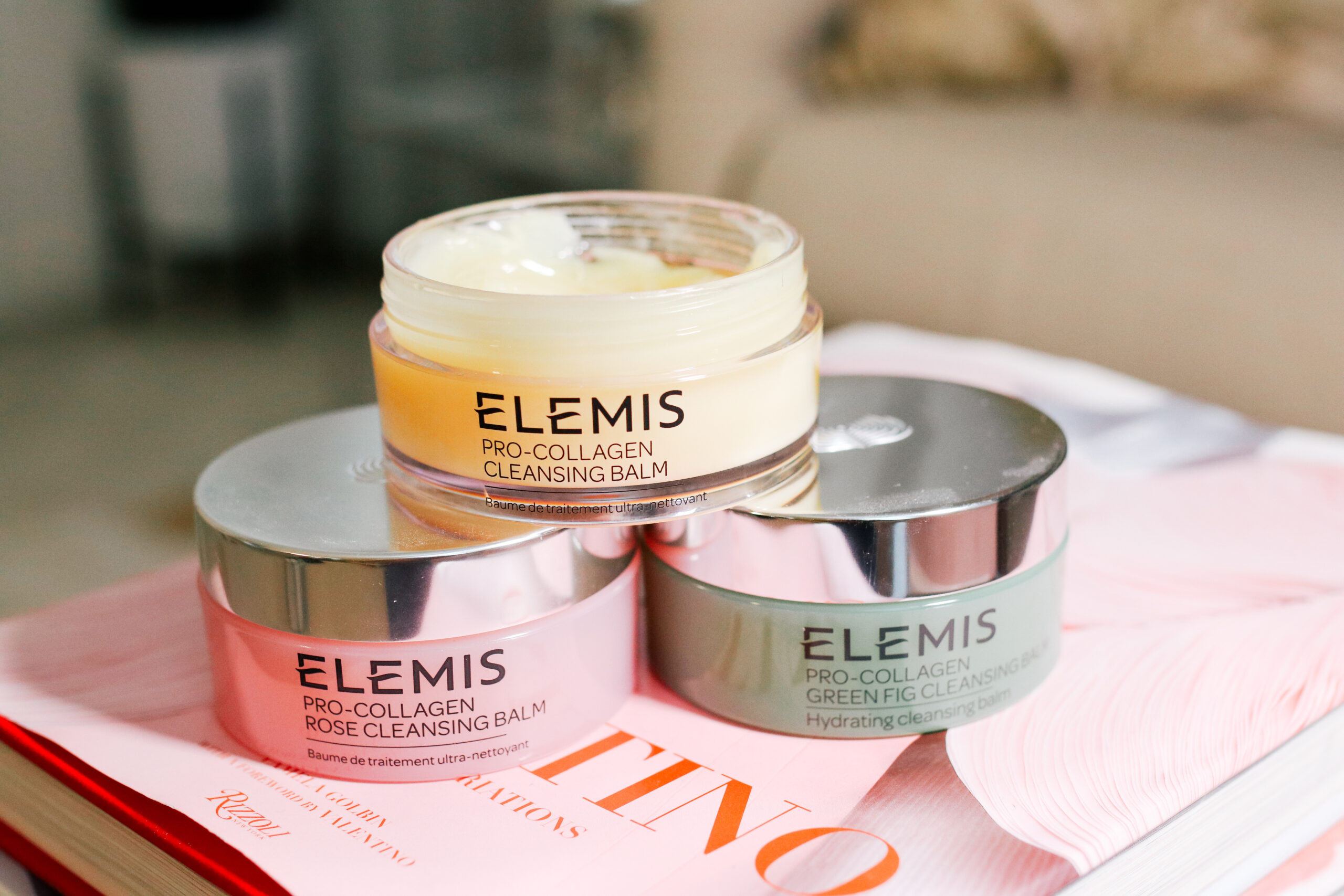 As someone that wears a full face of makeup nearly everyday, it is necessary that I use a cleanser that will fully remove all the makeup in one application. Using a ton of different products just to remove my makeup is not necessary and can also irritate the skin. I find that using an effective cleansing balm eliminates the need for a ton of other products and cleans the skin thoroughly in one try.
I've been using the Elemis Pro-Collagen Cleansing Balm for nearly 10 years and loved it from my very first use. It cut through my makeup effortlessly, removed every last bit (even waterproof) and left my skin feeling so nourished, moisturized and soft. None of that "squeaky clean" feeling that often cleansers will leave me with – which often means it has stripped my skin of all the necessary moisture and oils leaving it dry and dehydrated. A really good cleansing balm should give a thorough deep clean without stripping the skin.
What Is Elemis Pro-Collagen Cleansing Balm?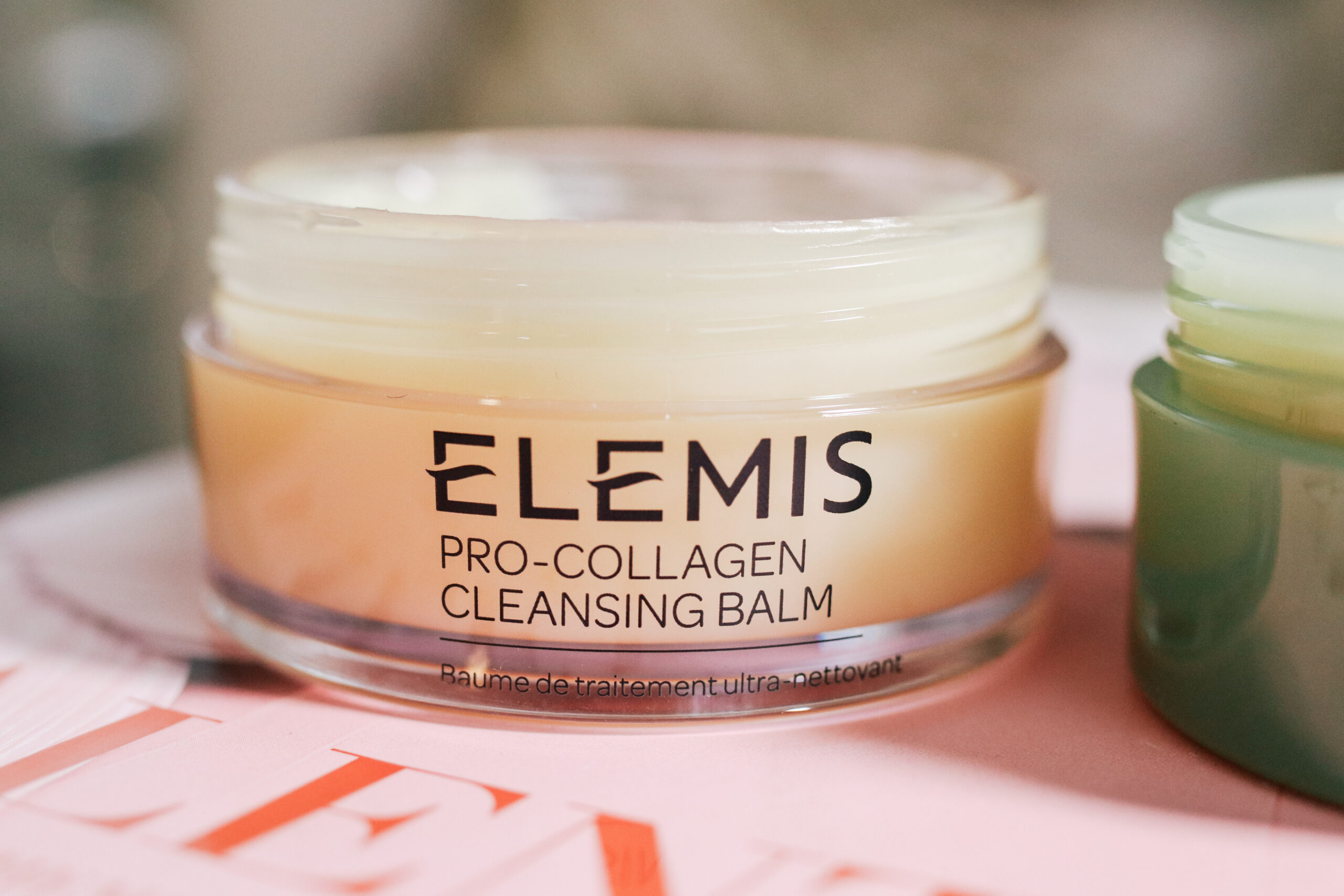 For those new to using cleansing balms, specifically the Elemis Pro-Collagen one, they are often cleansers made with various oils and nourishing blends that transforms on the skin once water is added. Often cleansing balms will go through three stages of texture: rich balm when first applied, silky oil when rubbed into the skin and then a gentle milk once water is added. While many may be hesitant to use an oil based product on their skin to cleanse, it is actually the oil that will break through the dirt and makeup on the skin effortlessly, remove it easily and help cleanse the skin more deeply ultimately leading to fewer breakouts and blemishes.
What makes the Elemis cleansing balm so effective is its various essential oil and plant oil ingredients that clean the skin while still leaving it balanced and nourished. It is also mineral-oil free and suitable for ALL skin types.
Elemis Cleansing Balm Ingredients
Elderberry Oil – keeps the skin moisturized and healthy
Starflower Oil – promotes good skin health by helping to maintain the skin metabolism
Padina Pavonica – a brown algae proven to support the feeling of hydration on the skin
Nine essential oils and seed oils including lavender, chamomile, grape seed, eucalyptus and sweet almond oil
Rose and mimosa waxes
What Does Elemis Cleansing Balm Do?
It's a treatment balm that transforms into 3 different textures that help to cleanse and nourish the skin. It treats the skin as a balm, removes makeup as an oil and then hydrates the skin as a milk.
Is Elemis Worth the Money?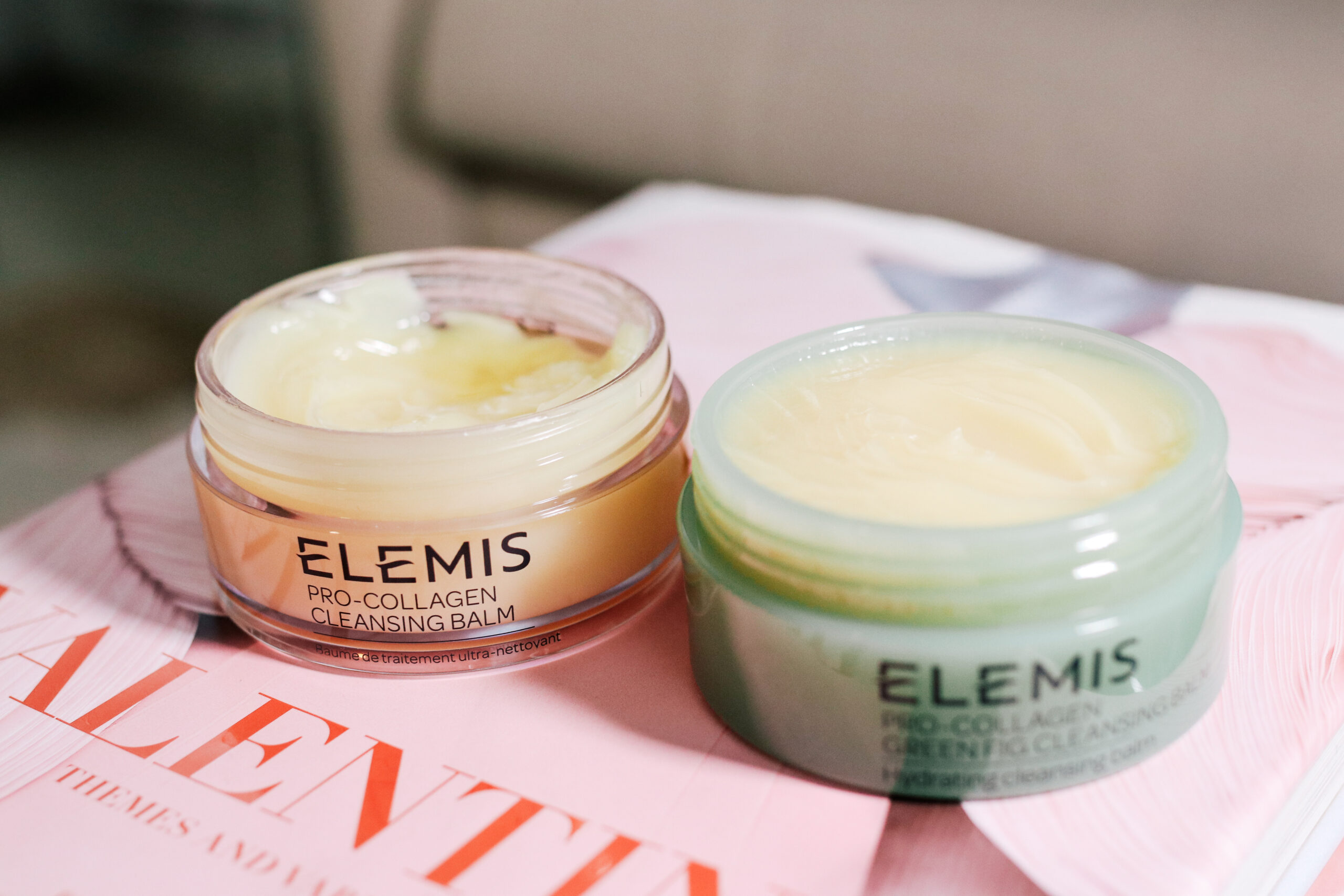 After my first use of the Elemis Pro-Collagen Cleansing Balm nearly 10 years ago, I have continued to repurchase it every time I run out. For me it has totally been worth the money because it consistently makes my skin feel and look great after each cleanse. I have found other cleansing balms I love and use regularly but the Elemis is still my #1 because the texture is smoother and creamier than any other formula I have tried.
And occasionally I will try a cleansing balm that has a similar oily rich texture to the Elemis and then spend 5 minutes trying to remove it because it has left a film on my face. Yuck! The Elemis Pro-Collagen Cleansing Balm never leaves a film and is always the easiest cleanser to remove while still being the most effective. Here is a quick rundown of 3 of my other favorite cleansing balms and how they compare to the Elemis:
The texture of this balm is much more stiff and not as oily. For many that is a major selling point because they may not like the oiliness of the Elemis and this is a great alternative. It is just as effective as the Elemis cleansing balm but doesn't leave my face as soft and nourished.
The texture of this balm is a tad more oily than the Farmacy but somewhat thick so I usually have to massage it a bit longer to fully get it to break down. As a result, I find that I get a slightly more exfoliated result with this cleansing balm and my skin looks so glowy afterwards.
This cleansing balm has an almost identical texture to the Farmacy but is a touch more creamy. Not as oily as the Elemis so my skin doesn't feel as moisturized afterwards, but still does an amazing job at removing every last stitch of makeup. And it's a great price point!
Elemis Pro-Collagen Cleansing Balm Before and After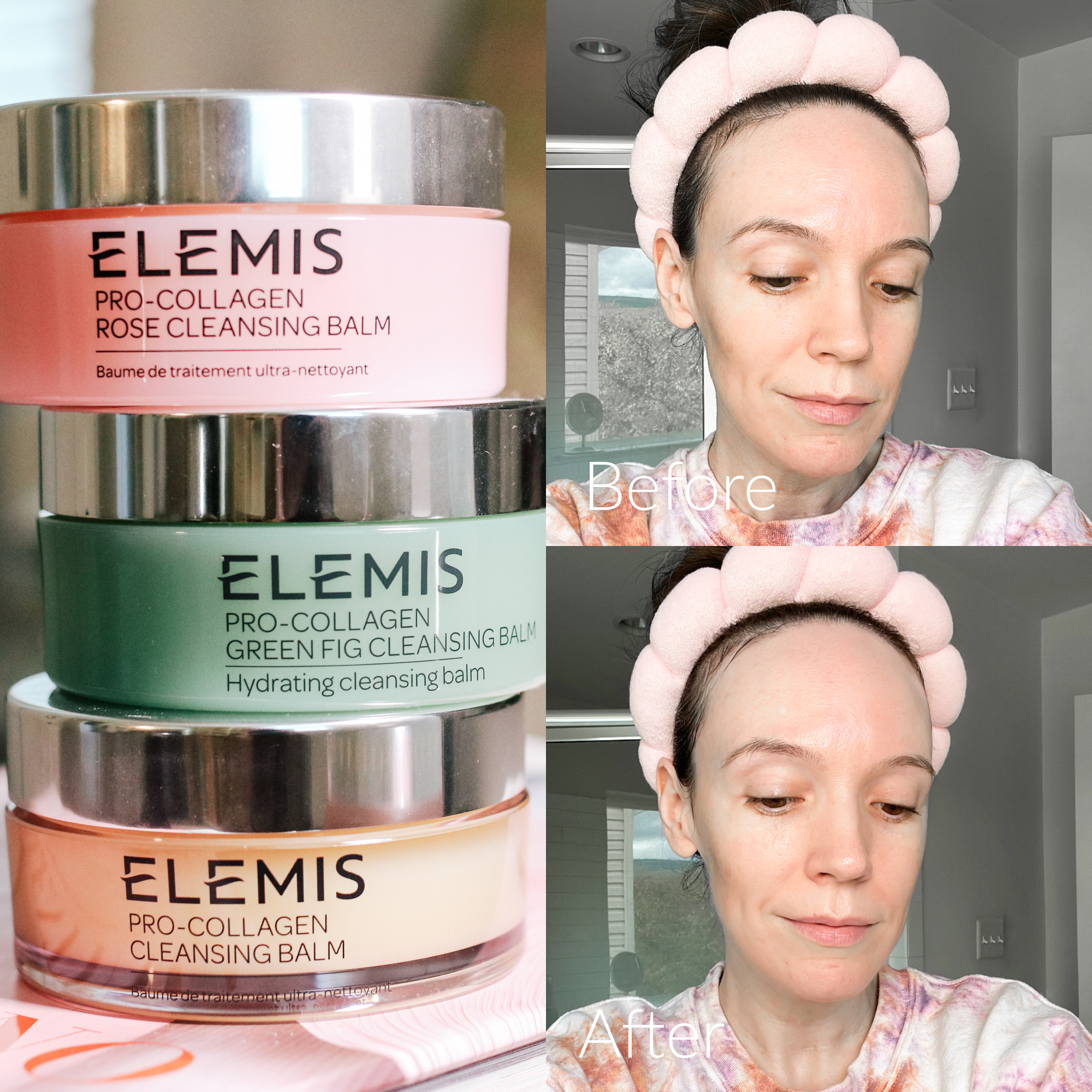 Even without using moisturizer or any hydrating serums, my skin looks so fresh, moisturized and supple. Occasionally when my skin is feeling very lackluster or dry, I will leave the Elemis Pro-Collagen Cleansing Balm on for 3-5 minutes before rinsing it off to allow those plant and essential oils to really give my skin an intensive treatment almost like a face mask. Even though I use it mostly to remove makeup, I will also use it on days that I don't wear makeup.
How to Use the Elemis Pro-Collagen Cleansing Balm
Use with dry hands/dry face
This may take some getting used to if you have never used a cleansing balm before but it is best used on dry skin. I apply a small amount of the cleansing balm with dry hands directly to my face – makeup and all. I then begin massaging it around breaking down all the makeup and mascara.
Add water
Once you have fully massaged in the cleansing balm, wet your hands with warm water and massage the water onto your face. The cleansing balm will turn to a gentle milk and easily rinse off.
Use a washcloth or cleansing cloth
For an added bit of exfoliation, you can use a damp cloth to remove the cleansing balm instead of your damp hands.
For more reviews on the best Elemis products, you can see my breakdown of my top 10 favorites here.