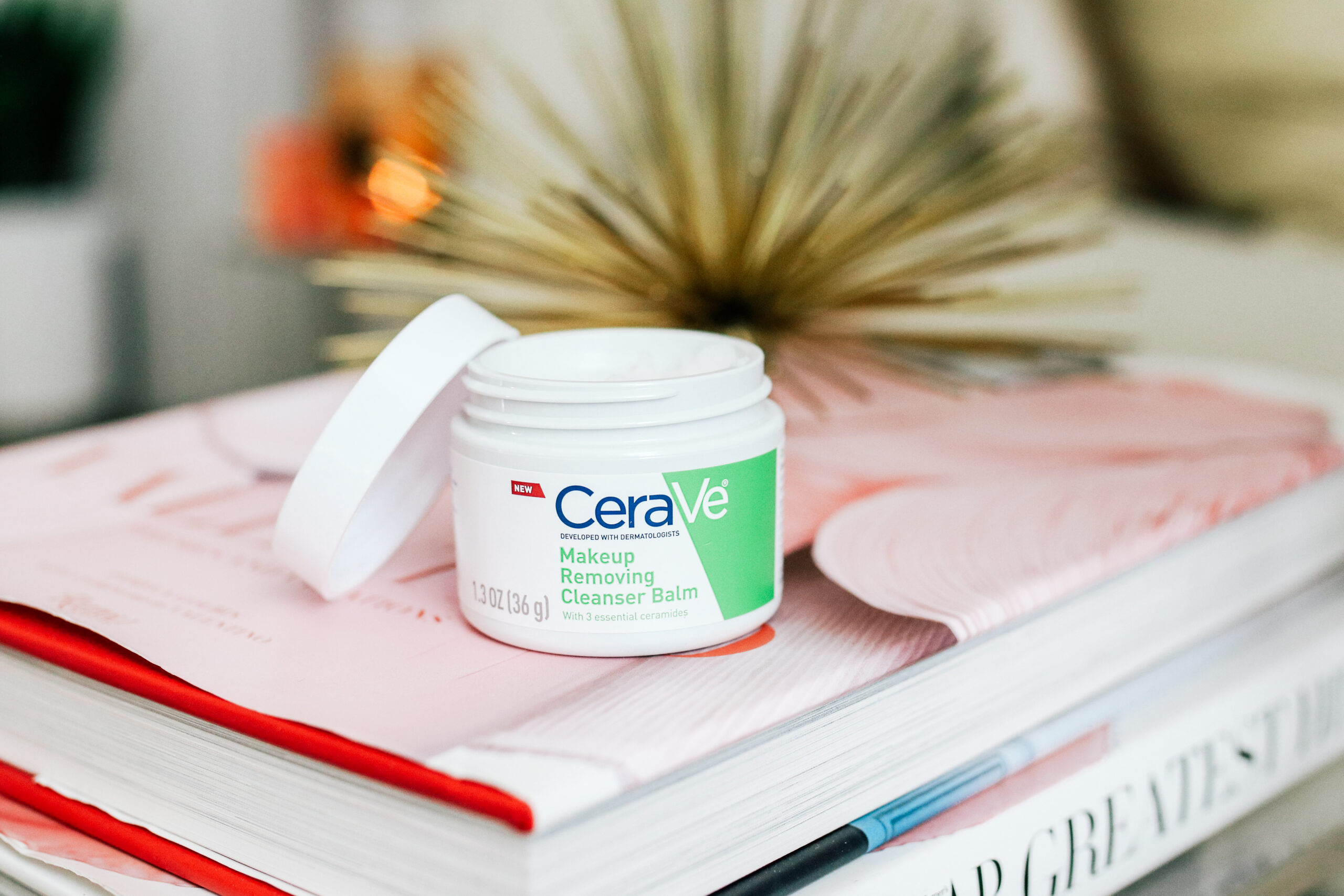 Another great affordable cleansing balm in today's post – the Cerave Makeup Removing Cleansing Balm! I shared my e.l.f. cleansing balm review recently and now I have an additional drugstore cleansing balm to put on your radar. Double cleansing has become my everyday routine in the evening when I'm removing my makeup. Using a cleansing balm is so important because it really breaks down all the dirt, makeup, sunscreen, etc thoroughly while still keeping the skin nourished and hydrated.
I know many people still rely on makeup remover wipes to get the job done. But using a proper cleansing balm in your cleansing routine will really make all the difference. And with all the affordable and luxury cleansing balm options available now, there is a cleansing balm for every budget. I picked this up on a random trip to Target recently and have been loving ever since. In today's post I will share my honest review of the Cerave Cleansing Balm and how I use it in my routine.
Cerave Makeup Removing Cleansing Balm Review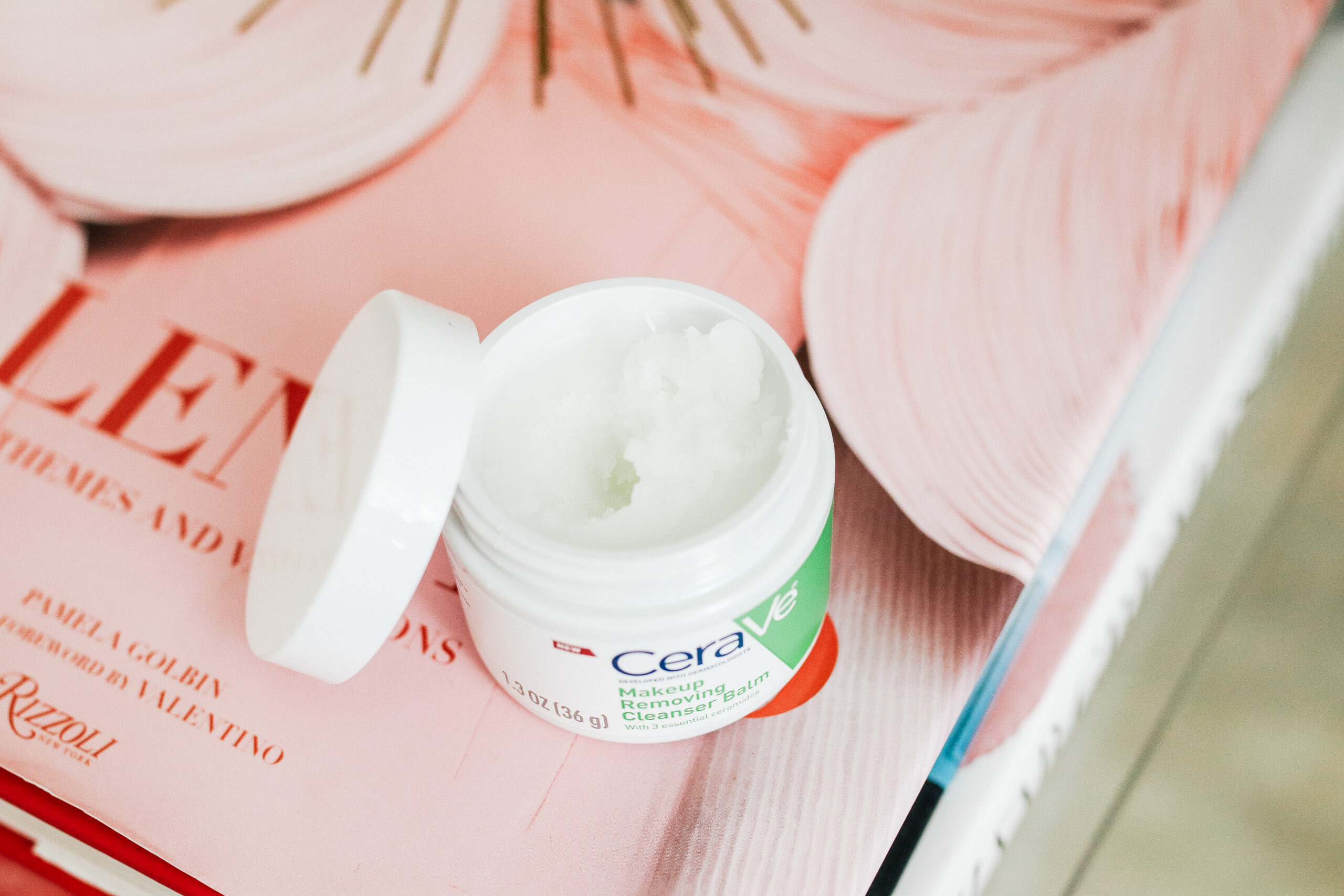 The Cerave Makeup Removing Cleansing Balm is a hydrating makeup remover that can remove long-wearing makeup and even waterproof mascara. It's a hydrating formula designed to nourish the skin while fully cleansing it. Personally I don't wear waterproof mascara but it did remove every last bit of my makeup in one application. And it didn't leave my skin feeling greasy or stripped.
Non-Comedogenic
Though the cleanser is formulated with plant oils and essential ceramides, it is non-comedogenic which means it will not clog the pores.
Suitable for Sensitive skin
As with many of Cerave products, the Makeup Removing Cleansing Balm is allergy-tested and suitable for sensitive skin. Even though I don't have sensitive skin, I often like using products formulated for it because I find the formulas extra nourishing and soothing.
Ingredients
The cleansing balm is formulated with plant-based jojoba oil and 3 essential ceramides which helps strengthen and nourish the skin barrier. I found that it made my skin feel so soft, supple and moisturized afterward.
Price point
The Cerave Makeup Removing Cleansing Balm price point hovers around $15 (depending on if it's on sale). It's a really great addition to any skincare routine.
Suitable for all skin types
Even though it's designed to be a nourishing and moisturizing formula, all skin types can benefit from using a cleansing balm like this. Whether your skin is dry or oily, mature or young – this is a great effective cleansing balm at an amazing price point.
Is Cerave Makeup Removing Cleansing Balm good?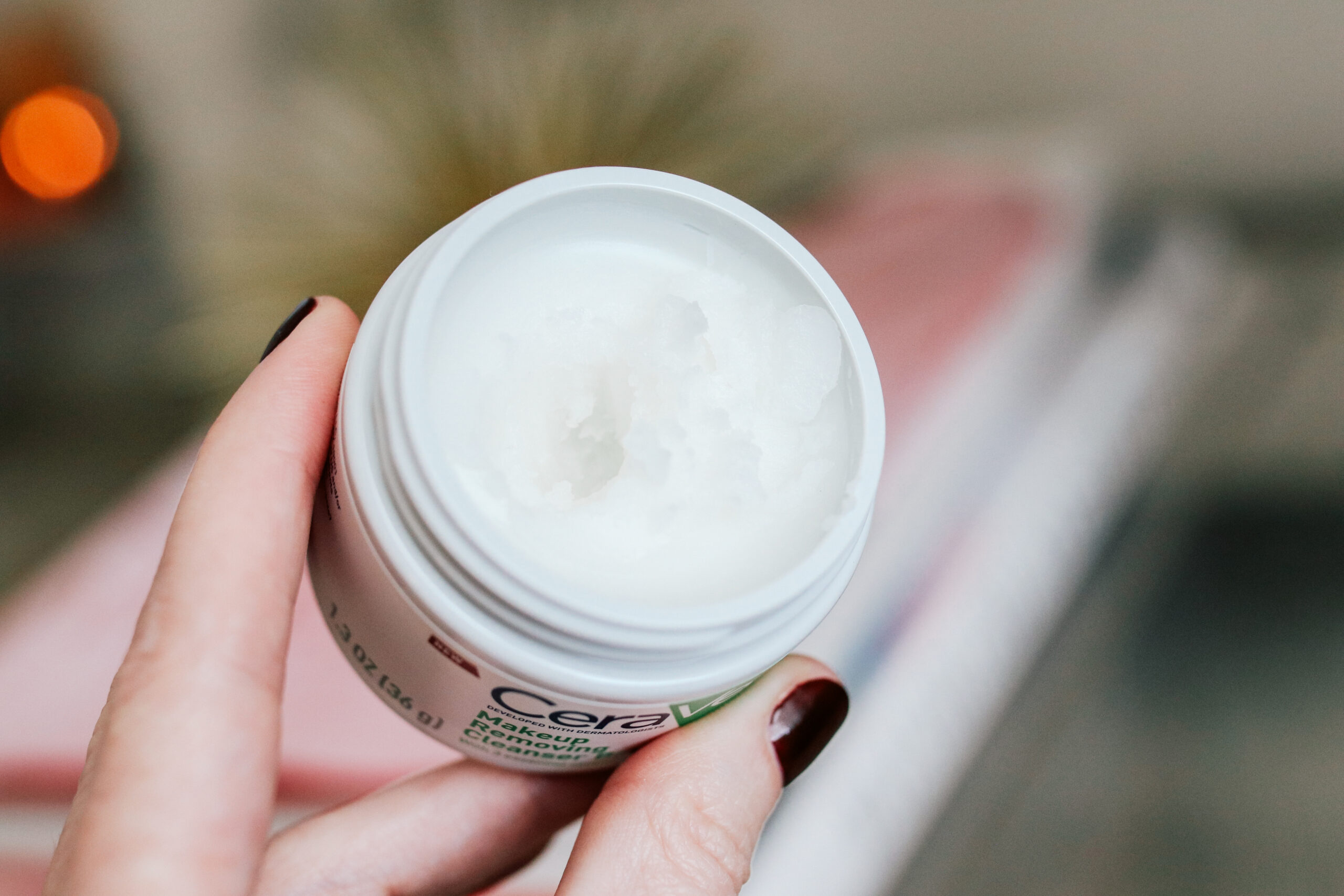 Though it is ideally designed to remove makeup, I find that the super nourishing formula is wonderful as a second cleanse too. It removes my makeup effortlessly and thoroughly. But I have used it as a treatment occasionally leaving it on bare skin for 2-3 minutes and then removing it with a warm cloth. It gives my skin an extra boost of moisture and immediately calms and soothes everything. I personally love the texture and find that it's a nice mix between a more stiff cleansing balm and one that is very oily. It strikes the perfect balance and is definitely on my repurchase list when I finish.
How to Use Cerave Cleansing Balm?
Use with dry hands/dry face
This may take some getting used to if you have never used a cleansing balm before but it is best used on dry skin. I apply a small dime sized amount of the cleansing balm with dry hands and massage onto dry skin – makeup and all. I then begin massaging it around breaking down all the makeup and mascara.
Rinse with water
Once you have fully massaged in the cleansing balm, wet your hands with warm water and continue to massage the water onto your face. The cleansing balm will turn to a gentle milk and easily rinse off and you can watch your makeup melt away.
Use a washcloth or cleansing cloth
For an added bit of exfoliation, you can use a damp cloth to remove the cleansing balm instead of your damp hands.
Cerave Makeup Removing Cleansing Balm Before and After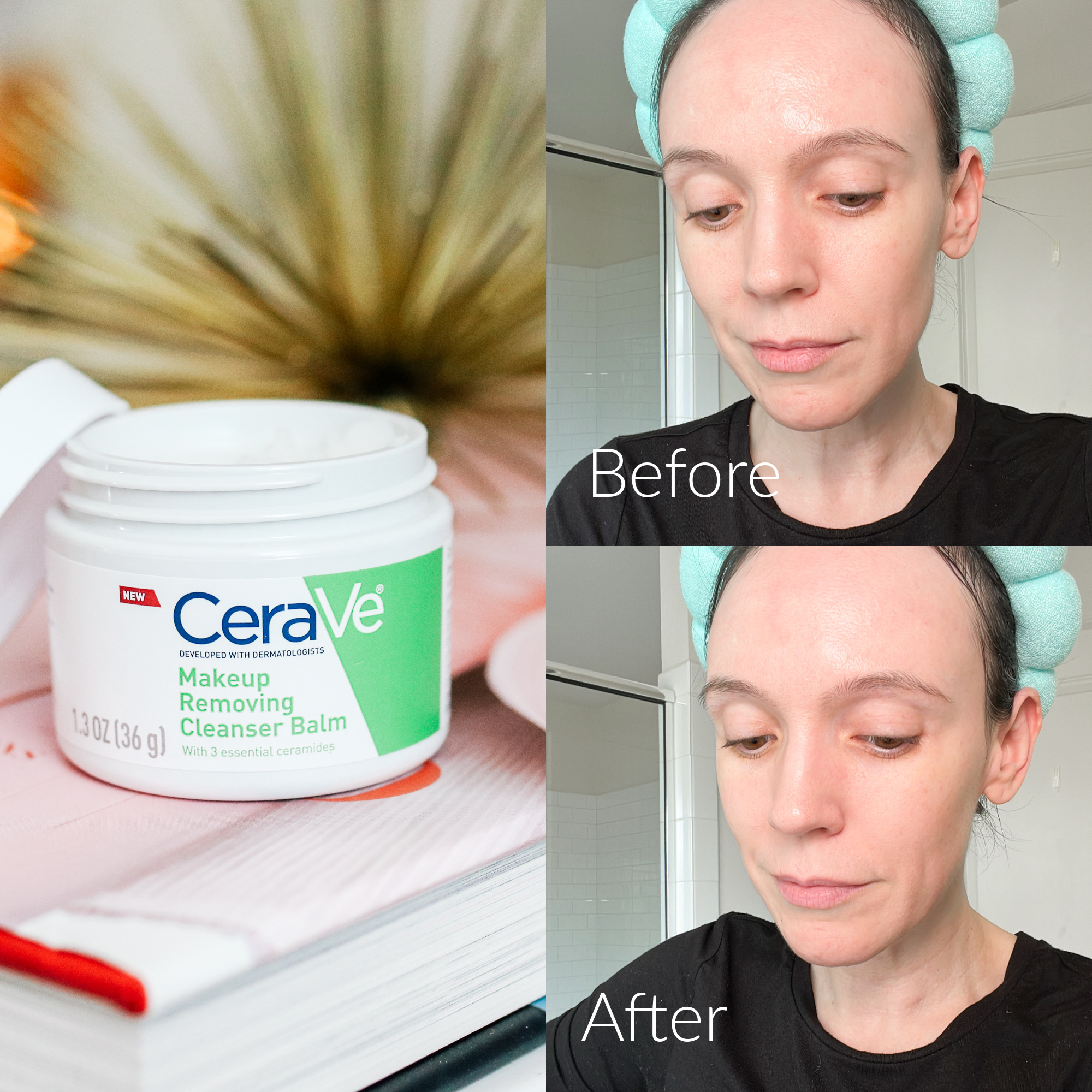 Even without using moisturizer or any hydrating serums, my skin looks so fresh, moisturized and supple. And I notice that my pores look minimized and my skin feels so fresh and hydrated.
Where to Buy Cerave Makeup Removing Cleansing Balm?