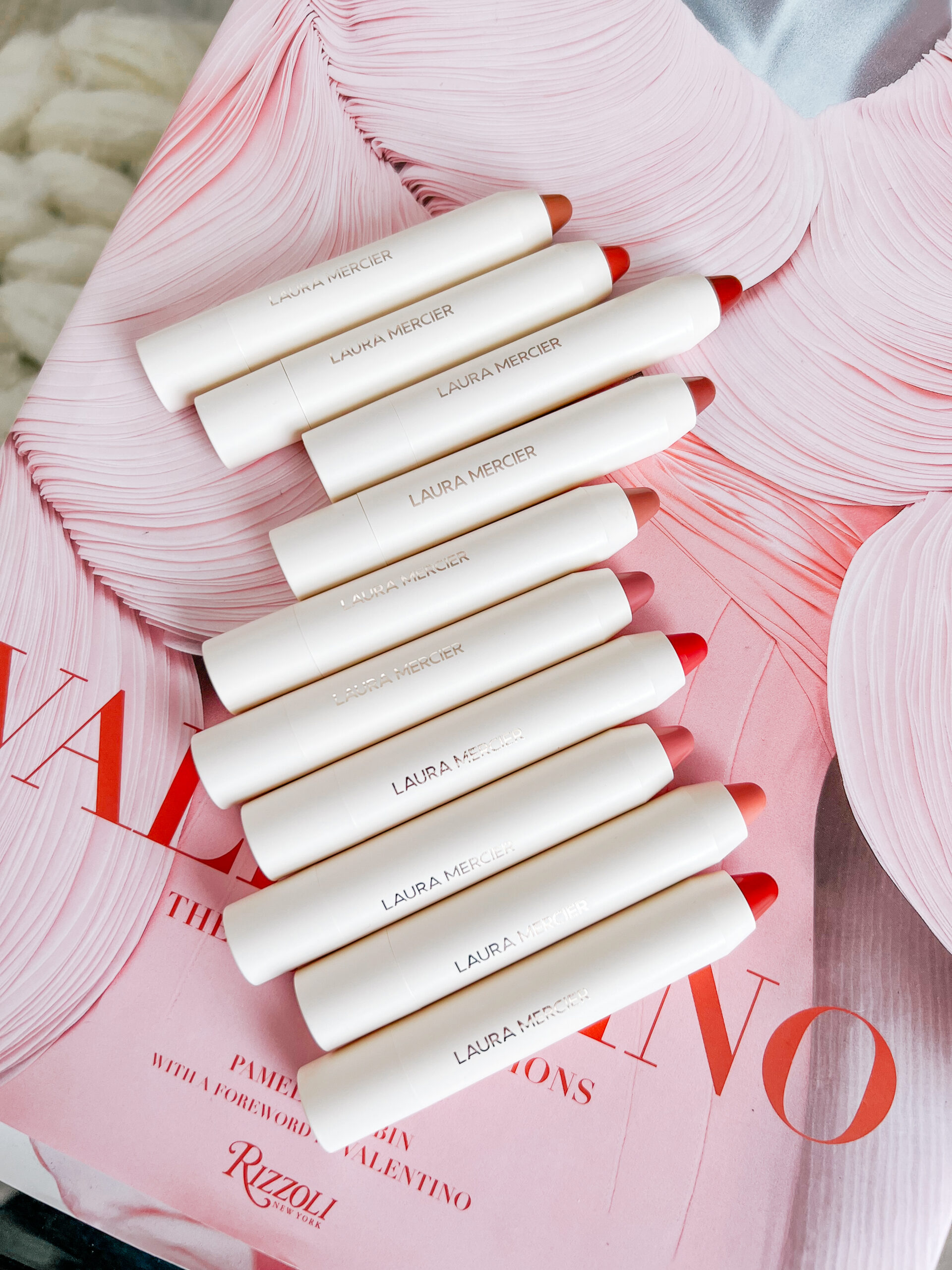 Laura Mercier just launched these new Petal Soft Lipstick Crayons and the formula is absolutely gorgeous! They sent over a handful of shades for me to review and I was immediately so impressed. I have been a long time Laura Mercier fan and have been wearing her line for more than 10 years. Her products are always so natural, perfect for everyday and easy to wear. A few of my favorites from her line – the caviar sticks (the rose glow caviar sticks are especially beautiful), the translucent setting powder light catcher, her holiday collections are always stunning and her Blush Color Infusion Powder Blushes are a long time staple in my makeup routine.
Laura Mercier Petal Soft Lipstick Crayons
The Petal Soft Lipstick Crayons give a soft focus matte finish so there is no shine or glossiness but is still hydrating and creamy which makes it comfortable to wear. I know a lot of people don't love a glossy look to their lips and this is a great option. They are easy to apply and give a blurred effect to the lip. The coverage is sheer at first but can be built up to be more of a medium finish. I wouldn't consider them full coverage and because of that they aren't going to be as long wearing as some matte formulas. However I find they last for a few hours before I need to reapply and they feel so moisturizing on the lips.
Laura Mercier Lipstick Swatches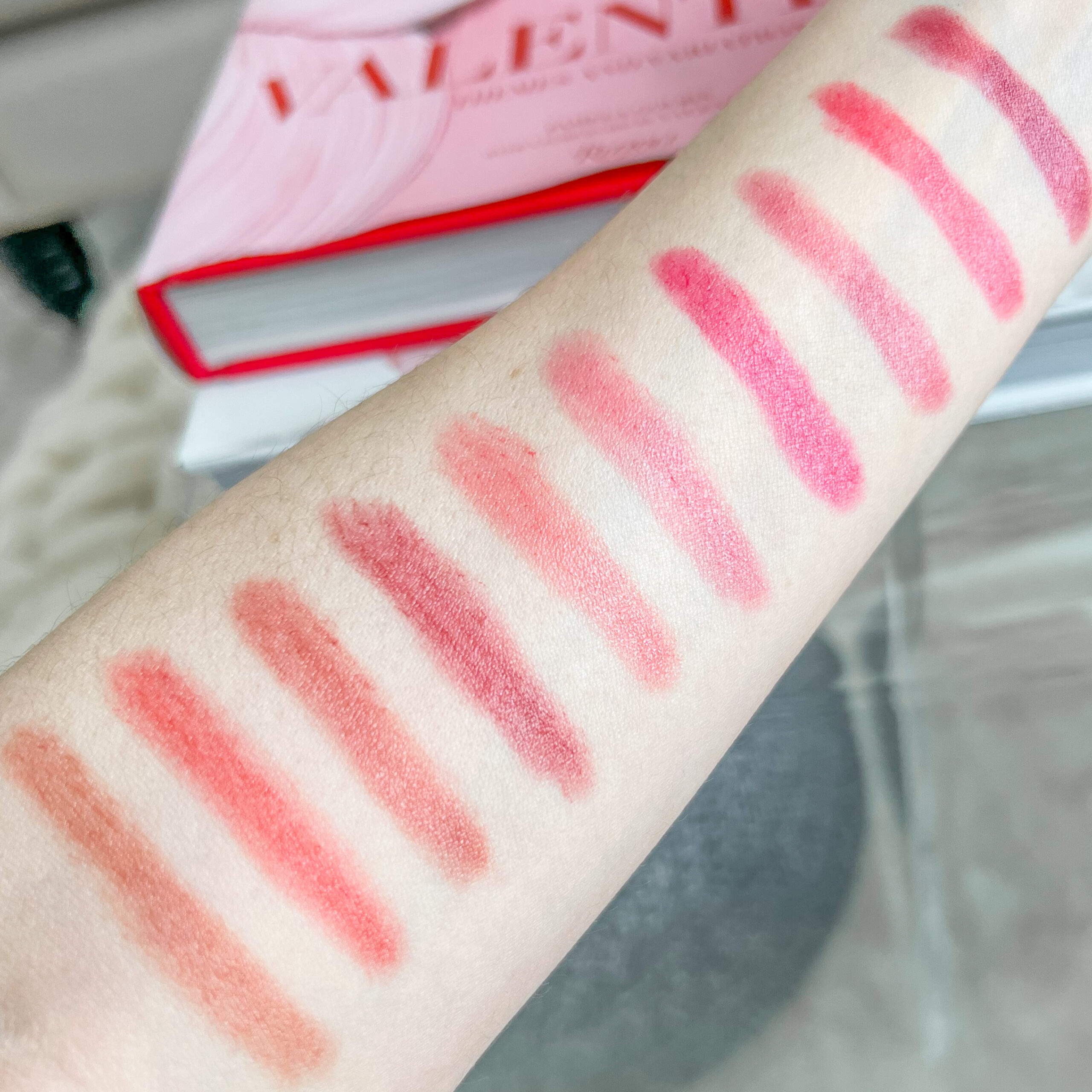 Swatches from left to right: 300 Lea, 301 Augustine, 302 Ella, 303 Jeanne, 320 Amelie, 322 Camille, 324 Louise, 340 Elodie, 381 Chloe and 382 Laura
There is definitely a mix of neutrals, bold shades and mid tone shades in the collection with my favorite colors being Lea, Ella and Amelie. I try all of them on in this IG Reel if you are curious what they look like on the lips. Many people may avoid matte formulas because of their drying nature but these Lipstick Crayons have a nourishing fruit blend of raspberry seed oil and mango butter to protect the lip's lipid barrier leaving the lips hydrated and soft.
They twist up so no sharpening is needed and the tip of the crayon is the perfect size to also help subtly line the lips and fill it in at the same time. I find them easy to apply and can even do it on the go if I don't have a mirror handy. Though the coverage is more sheer, I can apply a second time to build up the color to a more intense payoff. They claim to be a 12 hr lipstick but I don't find them to last that long, but they do last longer than most of my creamy or glossy lip formulas. I will wear them alone for that soft focus matte finish or layer underneath a gloss or balm if I am in the mood for a shiny finish.
For my coral or nude lovers, the best shades to try are Lea, Augustine, Ella and Jeanne. Amelie is the softest Pink that looks like my lip color but better. Camille is more of a cool toned pink as is Elodie and would make a great everyday lipstick shade for the office. Louise is the most beautiful vibrant pink and looks bright but still wearable for daytime. Chloe and Laura are more towards the red family and really look elegant and refined. Especially if you are unaccustomed to wear red lipstick, either of these could be a great option for something more subtle and muted. But I definitely feel like there is something for everyone in this collection.
Which color is your favorite of the bunch? Have you tried these yet?