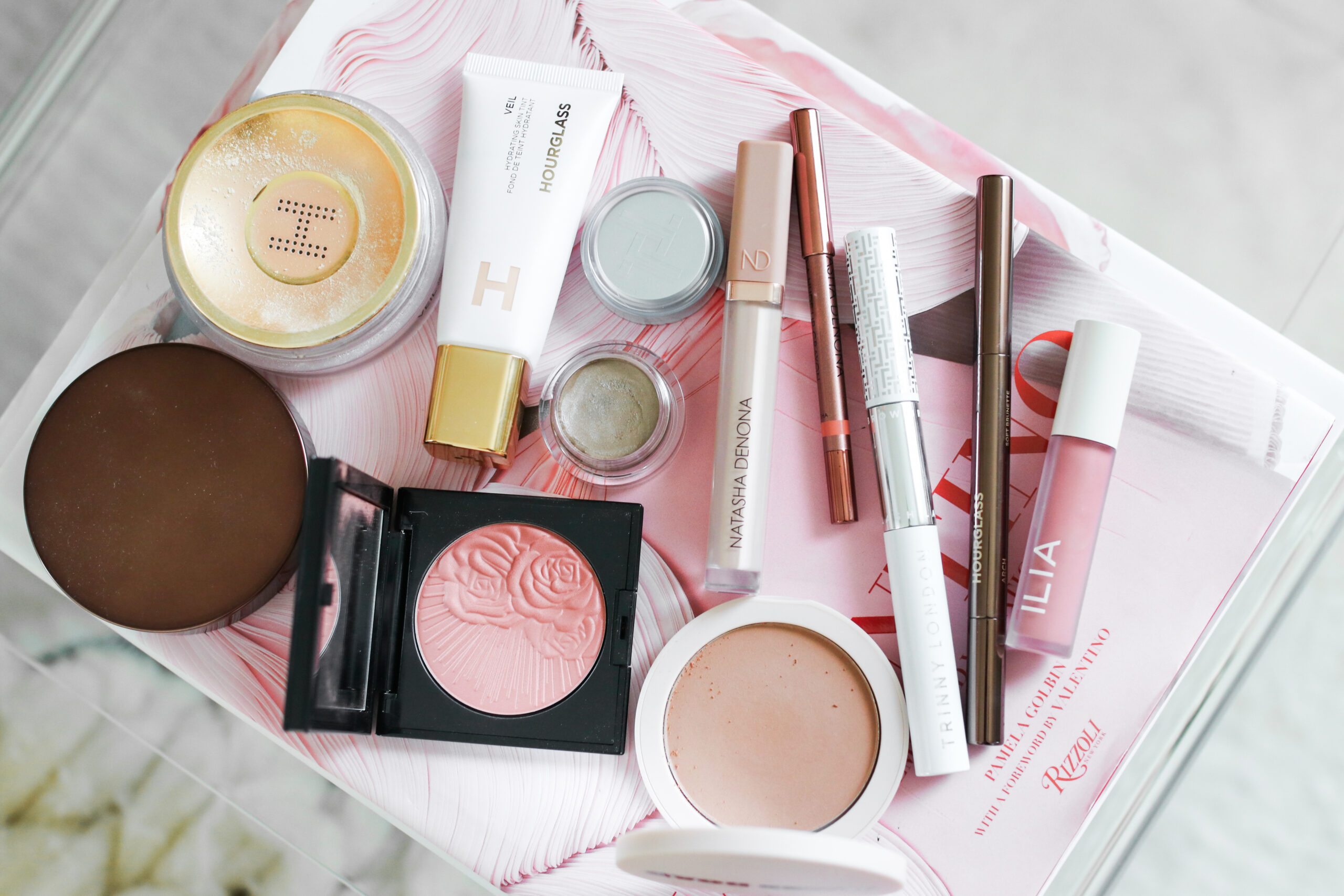 Summer makeup is often thought of as glowy, dewy, bronzey – a look that captures that fresh off vacation vibe. But that typical true summer look always what I want to wear from day to day. I personally love a polished, refined and chic makeup look. One that is soft, easy to do and looks great for any situation I may find myself in. And the soft summer makeup look that is trending right now focuses on cool neutral tones that easily transition into a soft autumn makeup look. A bit of earthiness, some depth with neutral colors but still a very soft and wearable look.
Color analysis can often be used to determine what color palette best suits your hair, skin and eye color. There are apps/websites like Colorwise that can help to analyze these features for you and figure out the makeup colors that will allow your features to stand out. There are a variety of seasonal color palettes including soft summer palette which I personally find to be quite universal and something I gravitate towards on a regular basis. The soft summer color palette are muted, neutral cool and medium in value and I thought I would share a guide for how to create this kind of look.
How to Do a Soft Summer Makeup
Choose a cool neutral tone color palette
Opt for browns that have a more taupe base rather than warm tones that look bronzey/golden. Muted pink and purple shades work well with this look. The look doesn't have to be monochromatic but everything should work well together – no vibrant colors or bright pigments. All my neutral fans will really embrace this look! If you are anything like me, most of my makeup is light neutrals so I knew I would love creating this kind of look.
Keep the skin soft with no dewy or glowy finishes
Though you may automatically think matte as an alternative to glowy, I personally love a satin finish for this kind of makeup look. Slightly blurring, slightly velvety but not completely matte. Think soft summer skin.
Blend, blend, blend
This look isn't about harsh lines, high contrast, strong contours or intensely pigmented product. It's soft focus finishes and thoroughly blended products that seamlessly disappear into the skin. Having the proper tools is key and I highly recommend using makeup brushes to apply your look.
Enhance your natural features
A soft summer makeup look shouldn't change your face shape through highlighting and contouring. It's subtley enhancing your natural features just enough to create a polished look without drawing attention to the fact that you are wearing makeup. I personally LOVE wearing makeup, but I still prefer it to not be the focus of my face.
My Soft Summer Makeup Look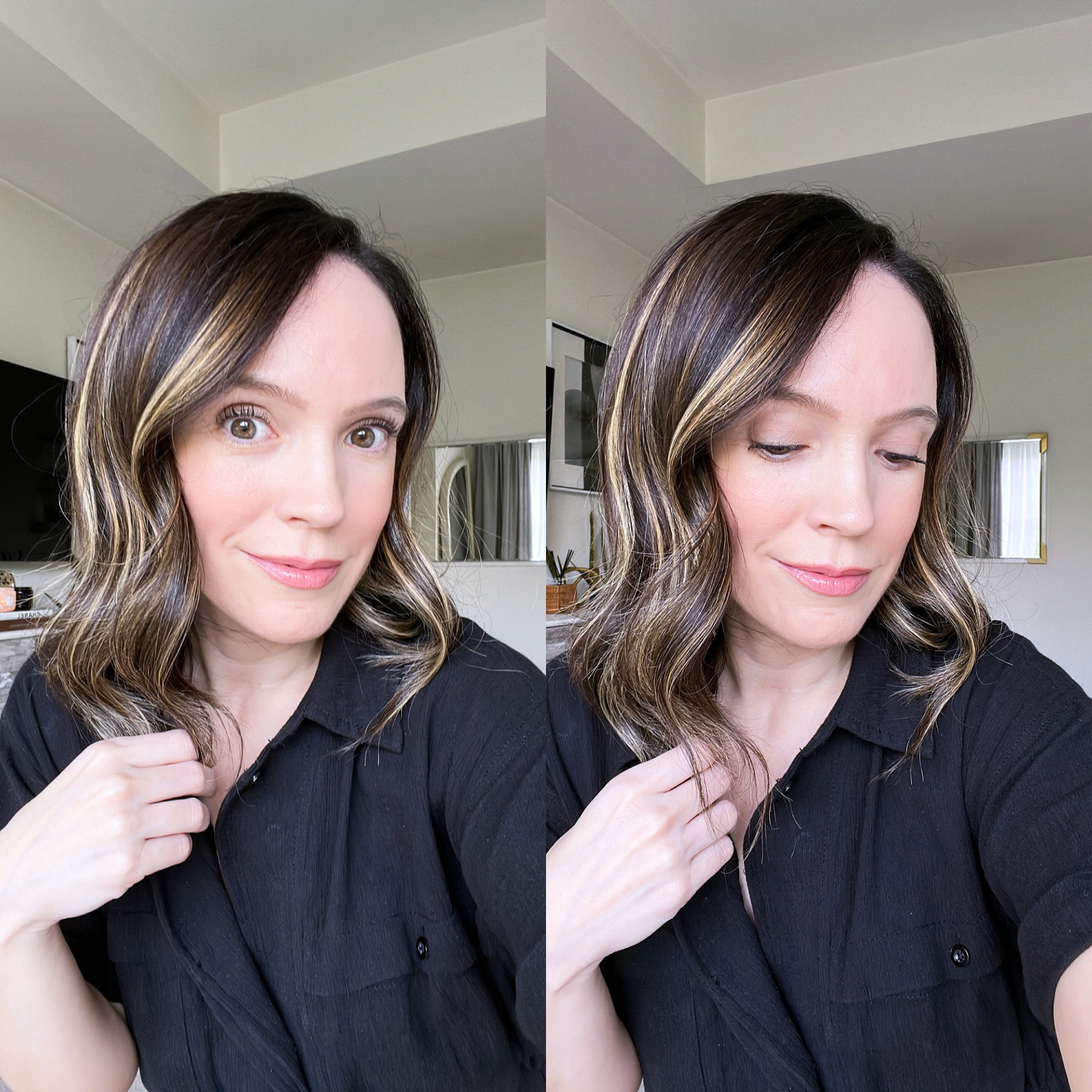 The soft summer makeup look is one that I have been doing for years without ever giving a name to it! Ha! I love a cool neutral color palette when it comes to my makeup and keeping this subtle while still enhancing my natural features has always been my preferred style of makeup. This is the kind of makeup look that is incredibly versatile and would work for so many different functions. It's light enough to be worn when I'm running errands day to day or doing things with my son. It's polished enough to look professional for the workplace. And it's elegant enough to wear for a night out. Here's a breakdown of what I used and the products I would recommend to achieve a soft summer makeup.
Complexion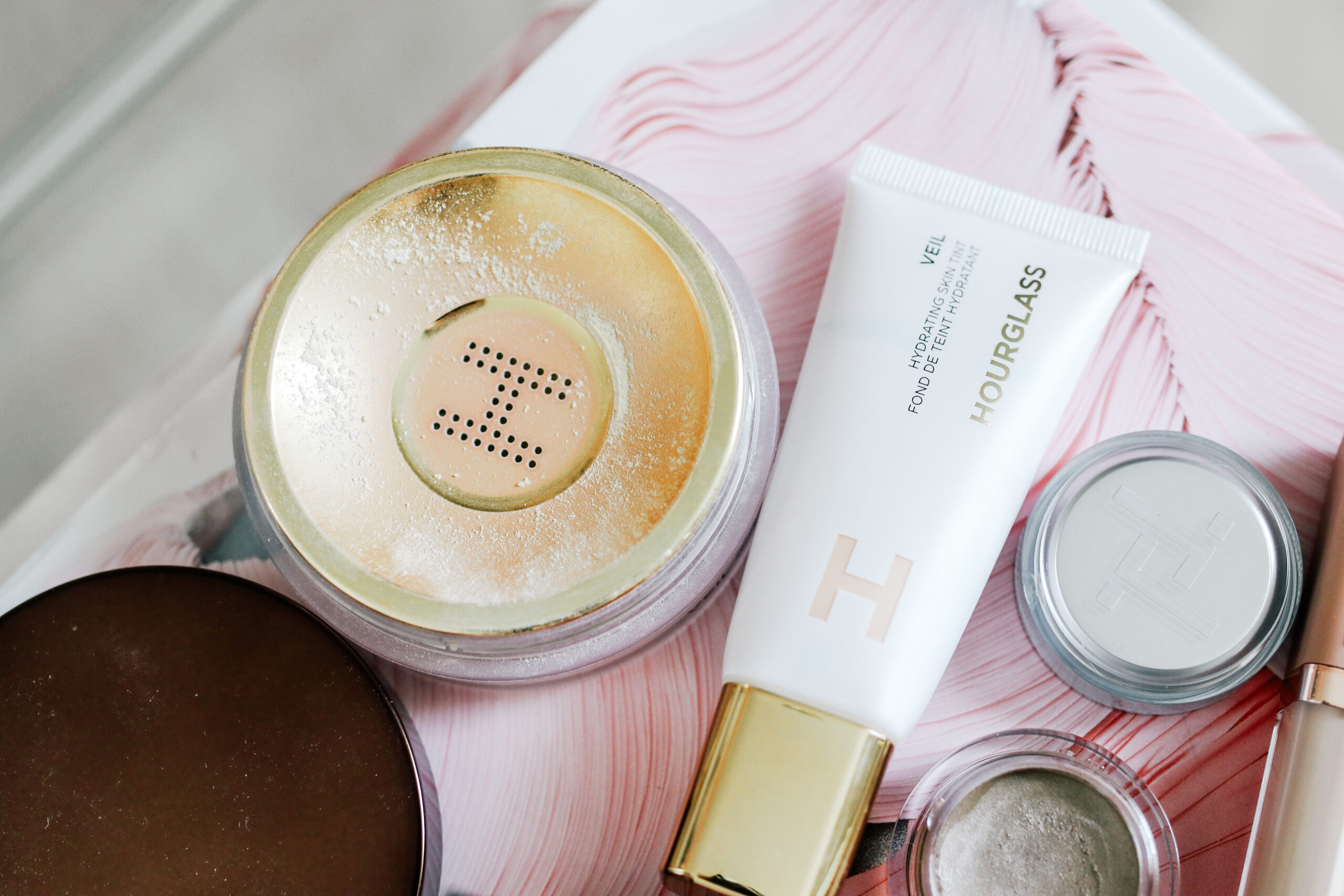 When it comes to the complexion for a soft summer makeup look, you want the skin to look natural. Not overly glowy or dewy and not overly powdered or matte. Everything should be a soft focus finish. This new Hourglass Veil Hydrating Skin Tint is absolutely perfect for this look! It's lightweight enough to cover what is needed but still leaves the skin looking like skin. In addition to the Hourglass Skin Tint, I also love the Kosas Skin Perfecting Foundation and the Ilia True Serum Skin Foundation to give a natural finish to the skin with a touch more coverage.
I used just a touch of concealer under the eyes to counteract any darkness and the Natasha Denona Hyglam Concealer is what I have been reaching for recently. It's a serum-like formula that feels weightless but still manages to provide excellent coverage. Just dab a dot under the eyes for a sheer application or build it up for more flawless coverage. There is no creasing and it lasts all day.
I've been going strong with this Hourglass Veil Translucent Setting Powder for years now. It's very finely milled so it helps to mattify the skin without making it look overly powdered. It has microscopic light-reflecting particles so it gives a soft focus finish to the skin and helps to blur imperfections. It's like using an Instagram filter in powder form. LOL It's talc-free and helps my makeup last all day long.
Eyes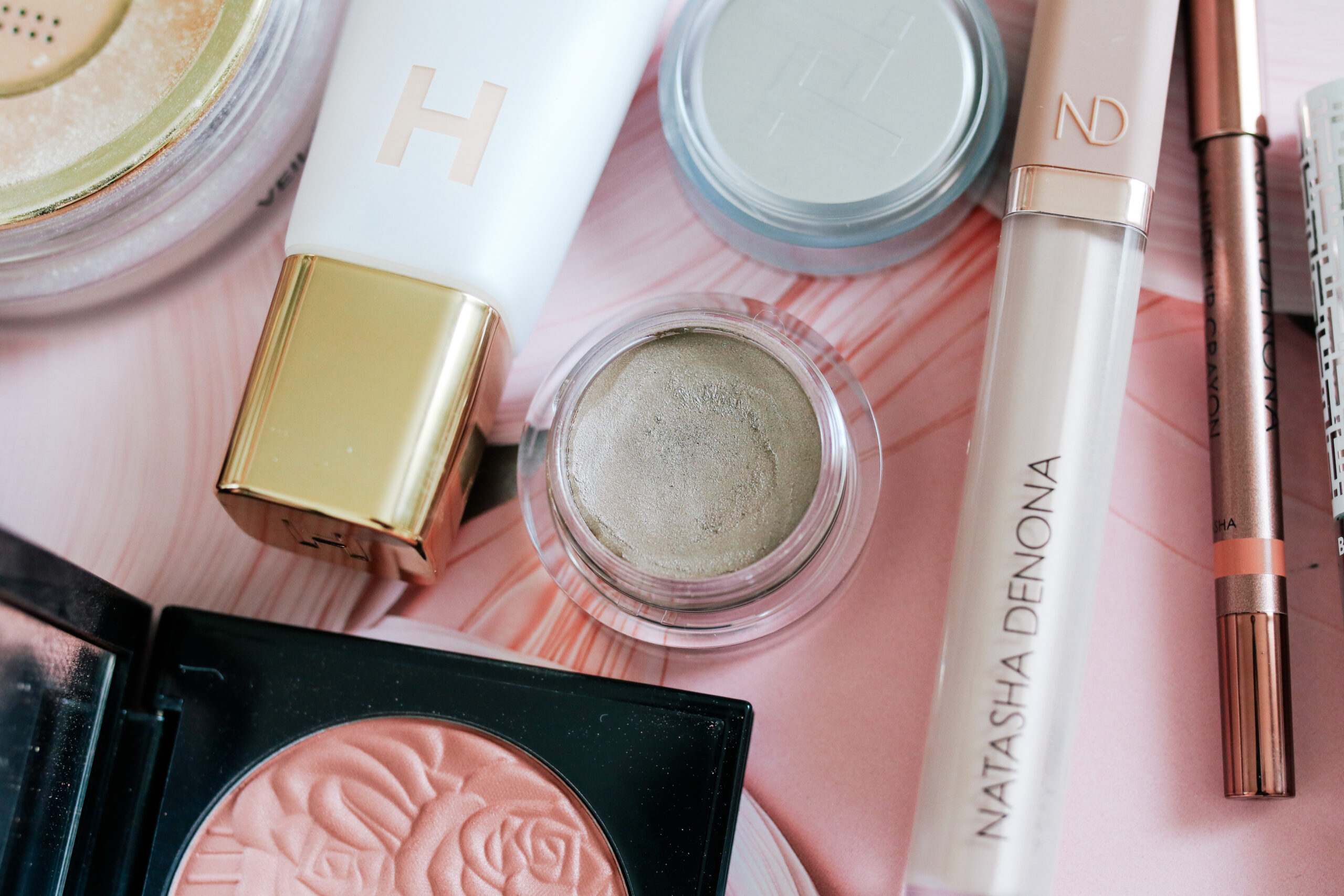 While I do love a shimmery eye look, the soft summer makeup aesthetic is more about a satin finish. Something that isn't too dated and matte, while also not being glittery or sparkly. These Trinny London cream eyeshadows are the perfect option – especially this particular shade Mystery. It a cool toned taupe that looks absolutely flawless on the lids! To be honest, I wasn't that excited about it when I first opened the pot to test. It looked dull, boring and not something I would have initially gravitated towards. But when I applied it on the lids, the effect was subtle, refined, polished and really just enhanced the natural features of my eyes. It created depth without being too dark.
I never shy away from a big bold lash so I typically go for a dramatic mascara but for this kind of look a mascara that enhances, thickens and lengthens is best. Nothing that gets too clumpy but still defines the lashes. I used the Trinny London Lash2Brow Duo for this look. The mascara is so good and the brow gel in Cappucino has become a staple for me. It tints my brows just enough without making them too dark and then I just use my Hourglass Brow Tool in Soft Brunette to fill in any sparse areas.
In a soft summer makeup look you don't want anything to be too harsh or too intense so this brow combo perfectly fills them in without making them stand out unnecessarily. Even though I prefer to keep my brows very subtle, I still need to define them because it enhances my entire face. Without my brows done, my face feels incomplete and like something is missing!
Cheeks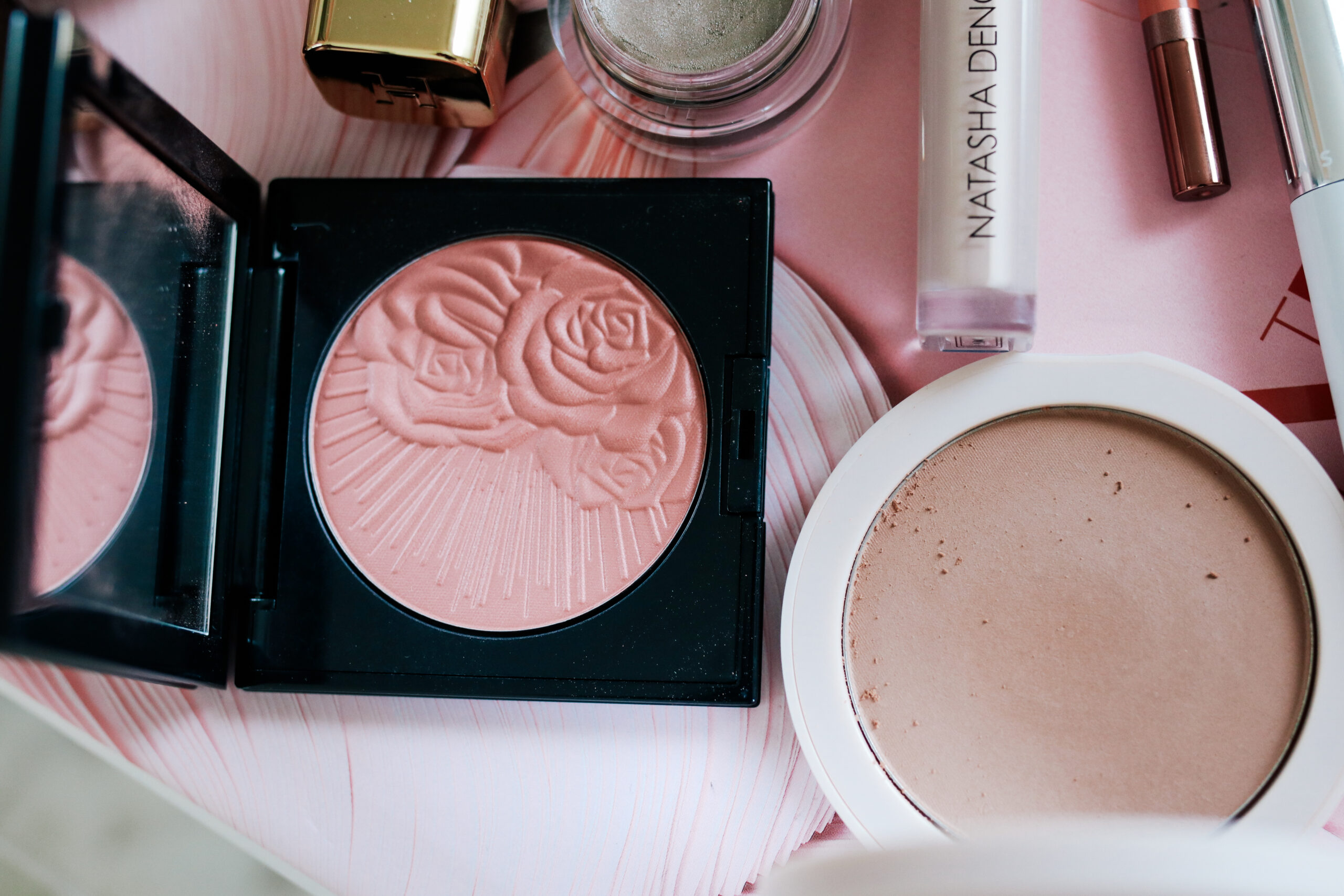 I wear a bronzer every single day because it gives my cheeks warmth and adds some radiance to my face. But a soft summer makeup look is all about neutral tones, soft focus finishes and nothing too glowy. That is why my Jones Road Bronzer in Light Tan is a must have for this look! It's very finely milled so it blends effortlessly and the color is a nice blend of golden tones that don't look too warm or orange on the skin. And the accompanying Jones Road Bronzer Brush is the best way to apply it. It's fluffy, picks up just enough product and blends so easily.
Then I finish off my cheeks with a blush and am usually a fan of very bright vibrant blush colors but for a more muted and subtle cheek, this Pat McGrath blush in Nude Venus is perfection. It has a slight luminous glow to it without being overly sparkly and is a gorgeous neutral pink/peach. It's the kind of color that would work for almost any lip and eye combination you could put together. It gives a natural flush to the cheeks and doesn't compete with any eye or lip color you may choose. I'm normally a highlighter fan but for this kind of look, I skipped a highlighter on my cheekbones and just went with bronzer/blush combination.
Lips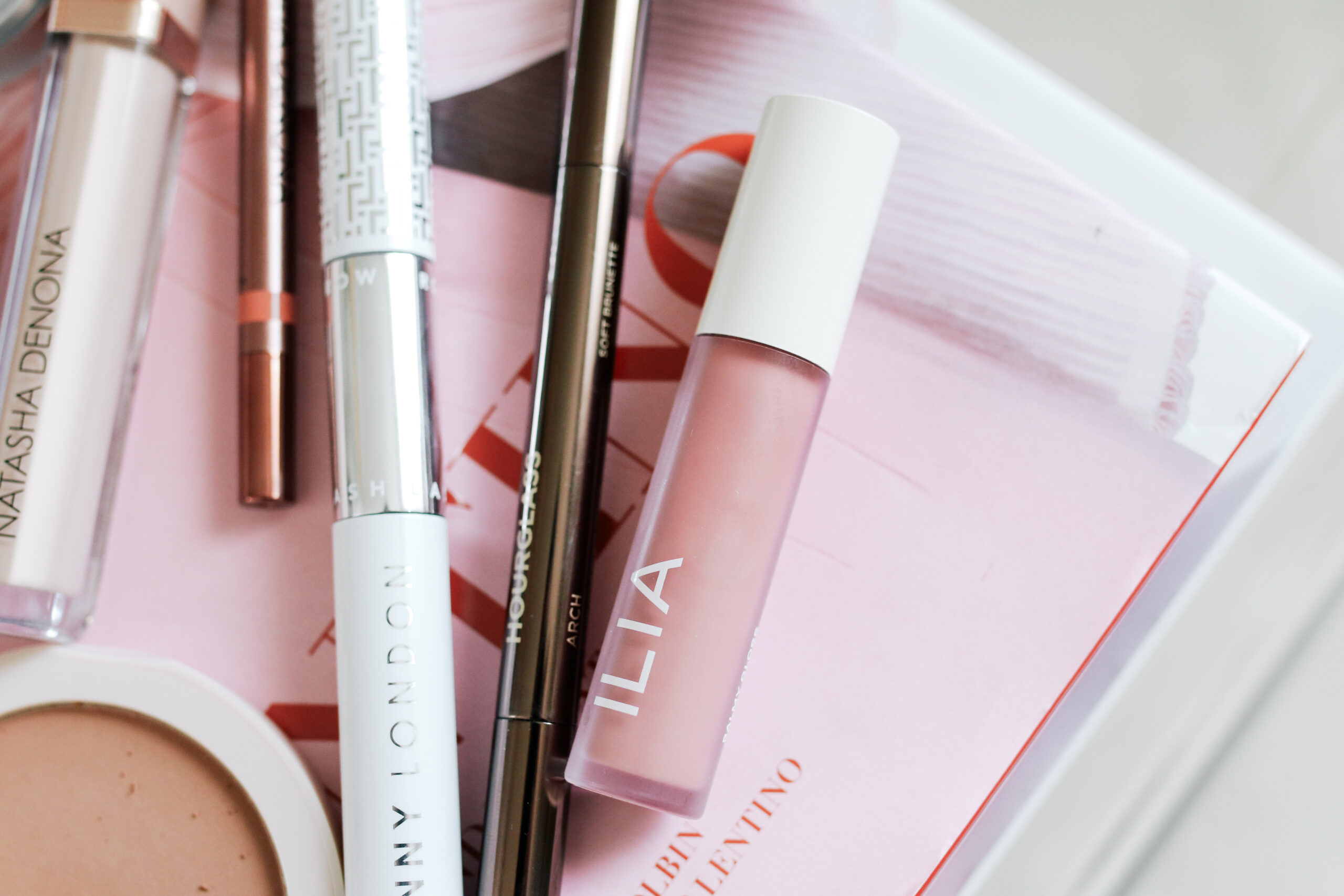 To be honest, I am not usually someone who wears lip liner every day however I do think because the rest of the makeup look is so soft and delicate, using a lip liner to create some light definition is necessary. It helps to balance out the entire look and works well with the eyes and cheeks. My go-to is Natasha Denona Lip Liner in NP1. It's a cool toned neutral pink that looks very close to my natural lip tone but with just a bit richer. I will line the entire outer line of my lips and then with short quick strokes fill in my lips slightly with the lip liner.
For a soft summer makeup look, anything too glossy or dewy is not the goal so I applied the Ilia Tinted Lip Oil in Only You because it has a nice creamy finish but isn't overly glossy or sticky. The color is a neutral pink that looks like my lip color but better. This is the kind of color that is perfect for everyday – either a casual day of running errands or for a day at the office. Initially it goes on quite sheer but can easily be built up to give more medium coverage. Another great lip option that gives a similar finish and medium coverage are the Jones Road Lip Tints. Swipe on once for a sheer wash of color or apply twice for a more opaque finish. And all the colors are very wearable for everyday.
One last tip for creating that soft summer makeup look – make sure you have the right tools!
I am a huge proponent of using makeup brushes rather than just fingers because it allows for better blending. Better blending can make your makeup look more natural, less obvious and overall you will use less product. I've been loving all my BK Beauty brushes for the past year and there are tons of great sets that you can purchase which contain all the brushes you need for a complete look. I reviewed all my favorites and must haves in this blog post last year and I still stand by each of those recommendations!