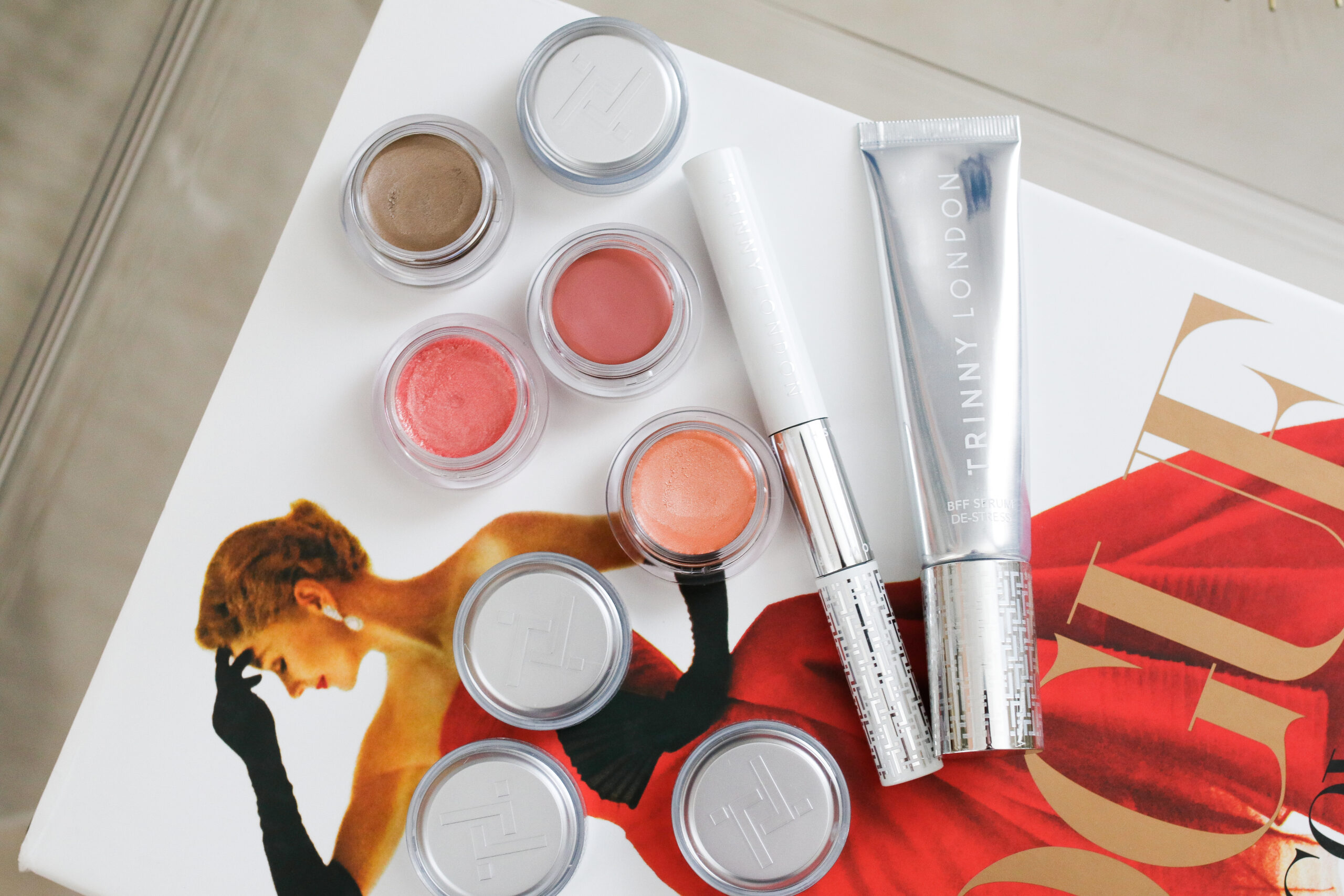 Trinny London is a new brand to me and I was so excited to test out a few makeup items from the line. I have heard of the line before but not read many reviews so I wasn't really sure what to expect. I have received quite a few messages from many of you that use the line and absolutely love it so I had high hopes!
1. Trinny London BFF Serum De-Stress in Flora – While this looked like a foundation of some sort just by looking at the tube, the name of the product said serum so I was thinking it was going to be a very lightweight tinted moisturizer or skincare serum that would give minimal coverage. I was delighted to see that while it is a tinted serum foundation, it gives amazing light buildable coverage!! It says it gives a radiant finish but for me it was more of a natural skin like finish that never got greasy or shiny throughout the day. I applied it with a sponge but I think  I will also try using my fingers to apply. It's super moisturizing and contains hyaluronic acid that helps to plump and make the skin instantly look smooth. This is an absolute HIT with me! I am obsessed!
2. Lash2Brow Mascara + Brow Gel in Cappuccino – I love the brush on this mascara! It really grabs every lash and coats them. It's a natural formula that gives some length and volume but isn't too clumpy. I like a bit more drama with my mascara but this is gorgeous for everyday. If I'm being honest, I wasn't even going to try the brow gel because I NEVER wear brow gel let alone tinted brow gel. I've never been a fan and just stick with my Hourglass Brow Pencil. But I decided to give it a go and have worn it every day since! LOL It's just a light tint so I still need my Hourglass Brow Pencil to fill in but I LOVE the color and how it keeps all the hairs in place while adding only a bit of color. It allows me to only fill in the sparser parts of my brow with a pencil rather than the entire thing which actually looks much more natural.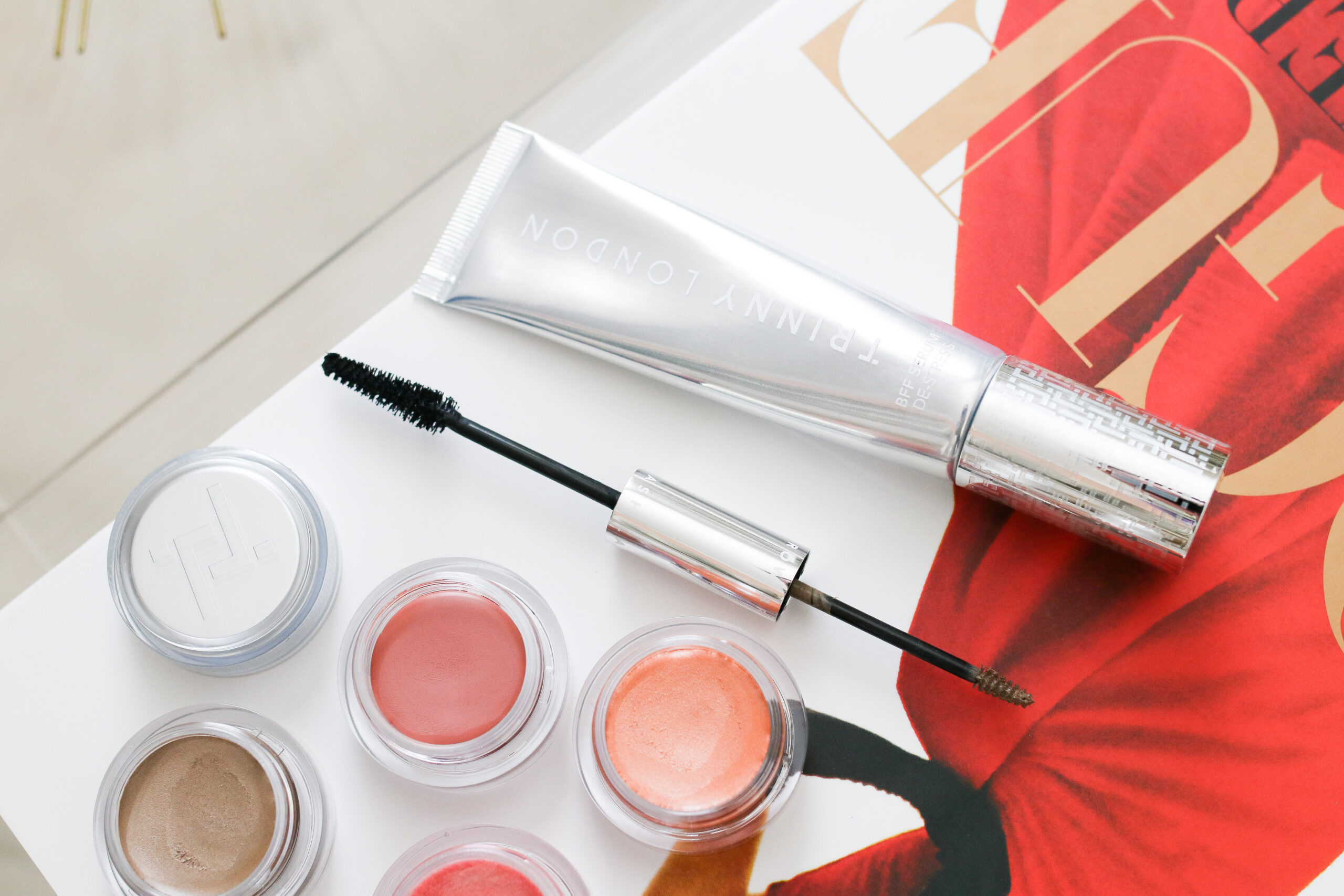 3. Eye2eye cream eyeshadows in Mystery and Hope – I am in my cream makeup era and am reaching for cream products for my eyes and cheeks so much more now. Initially I thought the taupe cream eyeshadow (Mystery) was a matte shade and would possibly be too dark for my liking but as soon as I applied it, I was in LOVE! When I looked at it closer, I realized it was a shimmer finish but the shimmer is so subtle and sophisticated. The formula is a bit dry so it doesn't stay too creamy on the lid and dries down quickly with no creasing.
4. Lip2cheek cream color in Lady J – The pigment on this cream lip/cheek color is absolutely phenomenal! You only need a tiny amount and this particular color is the perfect everyday natural cheek look. It is a drier formula in my opinion so it won't stay tacky or sticky on the cheeks and dries down rather quickly. There is still enough time to blend it out but it does stay put once it is on. I also like wearing it on the lips but reach for it more for the cheeks.
5. Sheer Shimmer in Dido – I did not read the description of this cheek color before applying so I was anticipating a richly pigmented glowy cheek but it is MUCH more sheer than that. It's VERY emollient and a tad sticky, so it is best used as a topper on the cheek bones or on top of blush to give a slight glow. I am in love with the color but the formula is a bit more sticky than I prefer. I will dab a bit on my cheeks because I love the color and glowy payoff, but it does not dry down and my hair will stick to it throughout the day. LOL Out of everything I tried, this was my least favorite item though I still will use it and find the color to be gorgeous.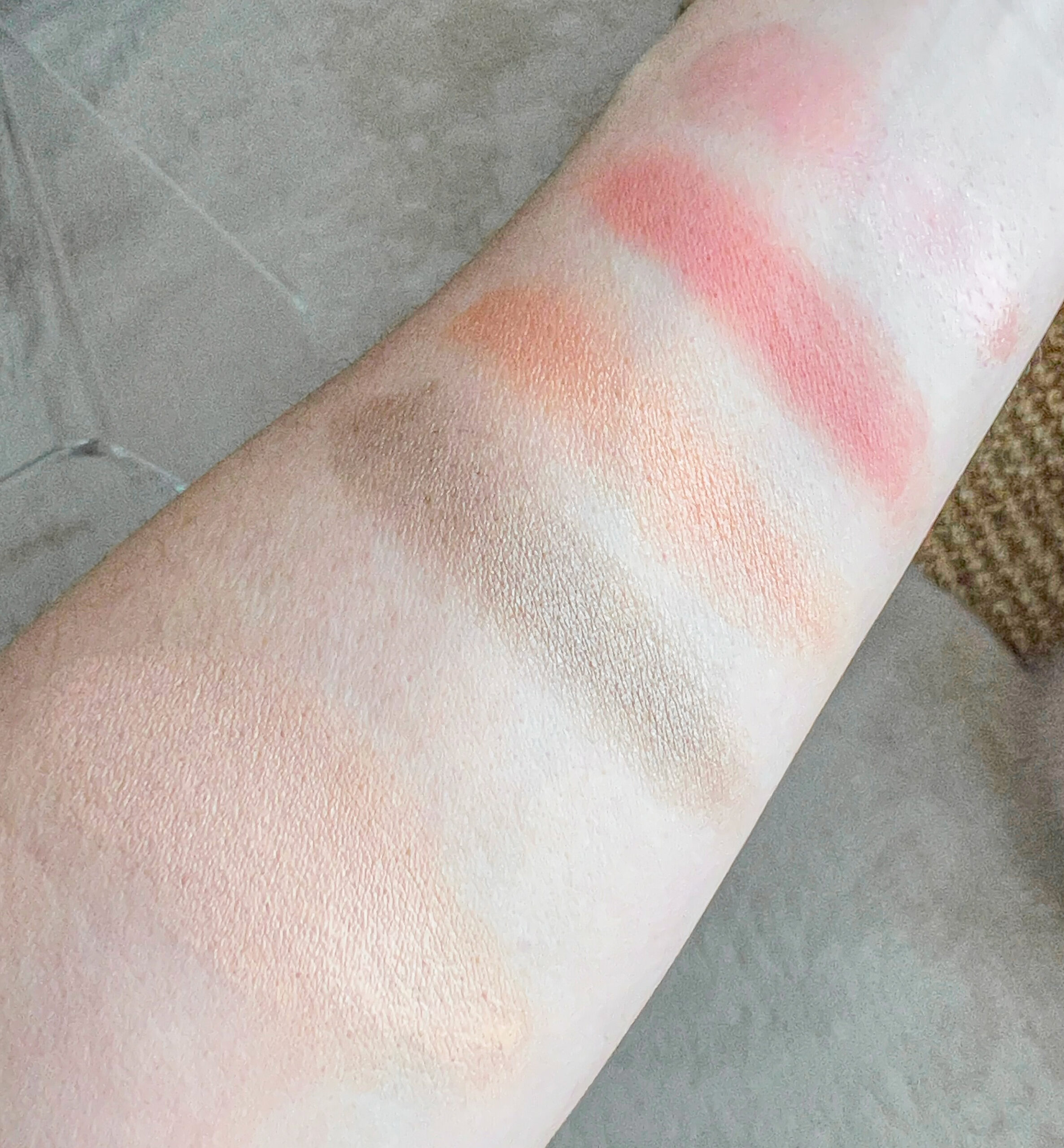 Swatches from left to right: De-Stress Serum in Flora, Eye2eye in Mystery, Eye2eye in Hope, Lip2cheek in Lady J and Sheer Shimmer in Dido
Overall, I was so impressed by the brand and plan to try more things! If you have tried anything from Trinny London, let me know below!