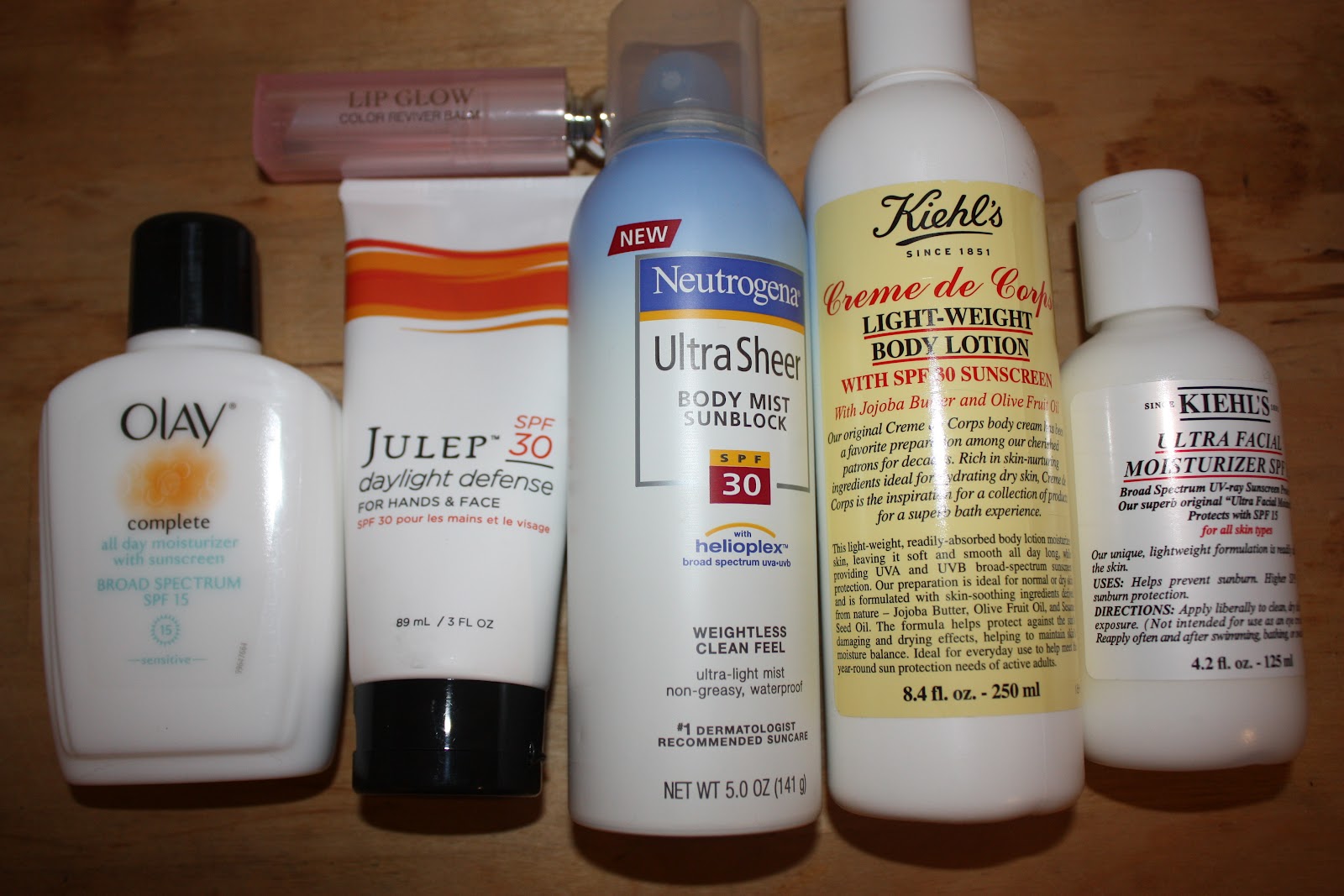 Pale is in.  Or making a comeback.  Or poised to make a comeback.  Or perhaps I want to make myself feel better.  Fine – being tan is awesome.  It makes you look thinner, your skin looks smoother and wearing bright lipstick is a rite of passage.  But I don't tan, I splotch.  Splotch is the opposite of looking thinner, skin looking smoother and is an inappropriate palette for a bright lipstick.  So really, I have no choice – hence pale is the color du jour.  And to preserve the pale and stave off the splotch, I turn to the above products for rescue.  I have it all covered and multiple times over – face, body, lips, repeat.  The only body part that I do not shield from the sun using a cosmetic product (gasp) is my hair.  Is hair a body part?  Well – let's pretend it is for this post.  My hair is normally hidden, adorably so, under a hat – fedora not floppy (the subway ain't the kentucky derby, ya feel me?).  The key to my casper like appearance is layering – a body lotion with SPF to moisturize but then a spray for when a mobile touch up is needed.  For the face, I run from the multiple choices in favor of one product that can protect and hydrate.  Often I finish the face with a foundation, tinted moisturizer or powder that also has SPF, but I can ramble on about that another time.  Let's stick to the matter at hand.  And let's get a little intro on each product, shall we?
1.
Dior Lip Glow
with SPF – this is a clear lip balm that enhances the natural color of your lips, with
    SPF. Neat.
     guy.
3. Julep Daylight Defense – I professed my love for this in my
June favorites
– it smells like oranges,
    melts right into the skin and goes great under makeup.
    super sticky like some I have tried.
    Corps line so you know it's bound to be good.  And it is.
    makeup.  Lightweight, blends easily, feels good on skin, blah, blah, blah.  Just buy it.
 ?