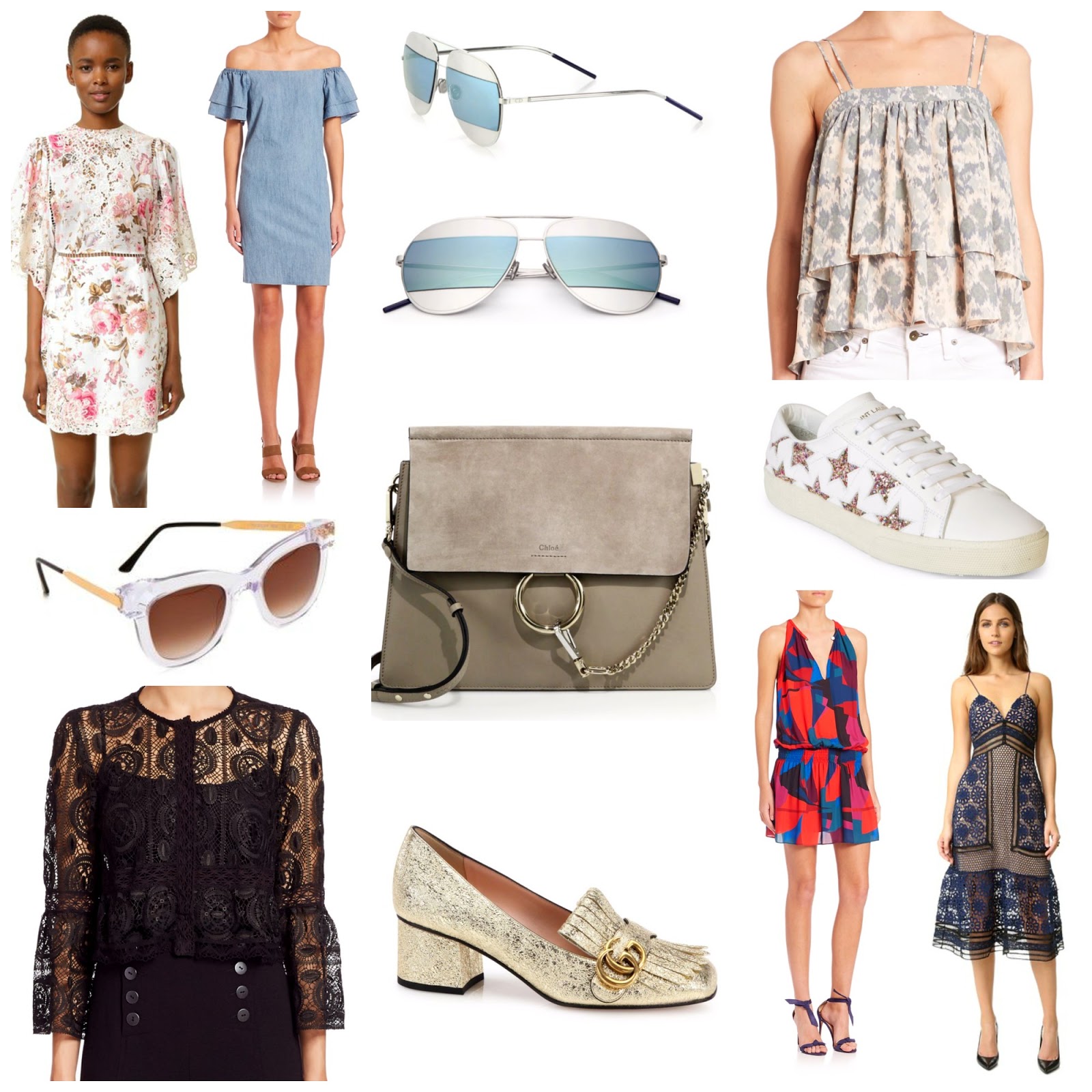 I always love a good fashion wish list. The "if I won the lottery and could stock my closet with anything" sort of wish list. I rounded up a bunch of splurge items that I am loving and would love to have in my closet.
1.
Zimmerman Eden Embroidered Dress
– I have been lusting after Zimmerman pieces for more than a year now. This one has such stunning delicate detail that I can imagine myself wanting to wear it all the time. 
2.
Alice & Olivia Off-the-Shoulder Dress
– I've seen a ton of lower priced versions of this style dress, but the fitted shape and double ruffle sleeves makes this definitely splurge worthy.
3.
Dior Metal Aviator Sunglasses
– There are aviators and then there are these Dior aviators. The colored inset makes them much more interesting than a standard mirrored lens.
4.
Prose & Poetry Tank Top
– I can see this top worn with distressed jeans, cut-offs, slim white jeans or a chic pencil skirt. It is so versatile yet still a conversation piece.
5.
Thierry Lasry Sunglasses
– The shape of these is quite conventional, but the clear frames make them easy to wear with any and everything.
6.
Chloe Faye Medium Shoulder Bag
– This. Bag. THIS BAG! If there is one splurge item on this entire list that I want the most – it is this bag. The color, the shape, the detail. It's perfection in my eyes.
7.
Saint Laurent Sneakers
– Leave it to Saint Laurent to make glitter stars on sneakers the chicest thing ever. 
8.
Nanette Lepore Lace Top
– I can see this top being the perfect option for someone wanting an alternative to a cocktail dress. This will high waisted pants and the most gorgeous stilettos is the way to do wedding guest attire without opting for a dress.
9.
Gucci Block Heel Loafers
– There is something so striking about these somewhat frumpy high heeled loafers. And the crackled metallic finish makes them even more interesting.
11.
Self Portrait Strappy Lace Dress
– Self Portrait is another brand I have been lusting after for the past year or more. The designs and details of every piece is like no other. This one seems perfect for year round events and I can see it being a closet staple even after 10 years.