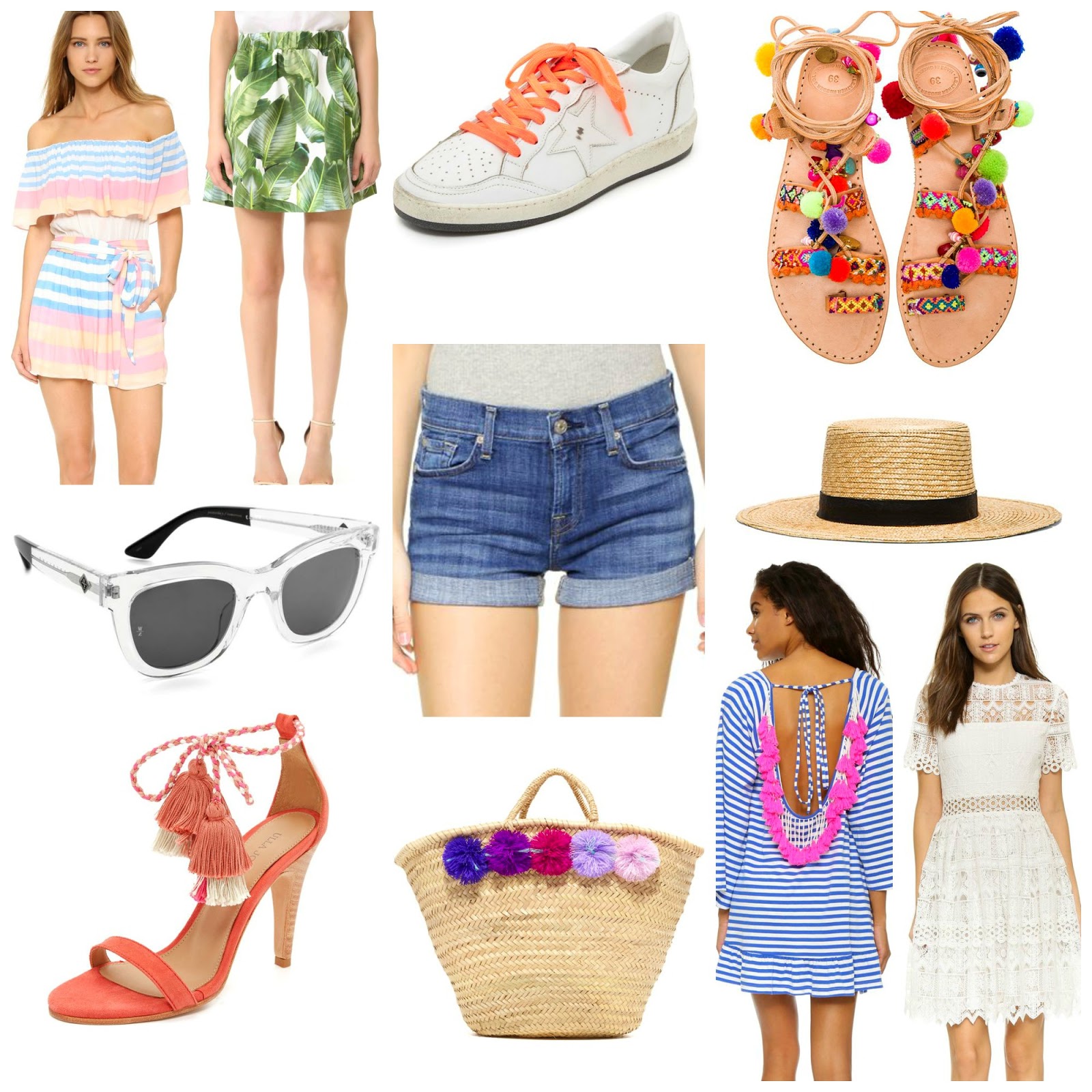 The official start to summer is only a few weeks away, but it is already sweltering hot where I live. So I am in full summer wardrobe mode and I'm loving tons of bright colors and pieces with lots of detail. Here are a few of my favorites from this week:
1.
Mara Hoffman Field Stripe Romper
– I've gone a bit off-the-shoulder crazy, but I love the trend! I was on the fence for awhile, but have really embraced it this summer. The colors in this romper are beautiful and seem like the perfect piece for summer vacations.
2.
Partyskirts Palm Skirt
– Palm prints are everywhere right now – and this skirt looks like something I want to wear especially in the heat. I see it paired with sneakers and a tee or dressed up with sandals and a silk tank.
3.
Golden Goose Sneakers
– Ok, this seems odd for me, but I am on a sneaker kick lately. I purchased
this pair
and
this pair
already this year, but have fallen in love with the Golden Goose style. Some are super distressed, but I prefer this white pair with the bright laces.
5.
Wonderland Colony Sunglasses
– Most of my sunglasses are brown or black, so having a clear pair would be a nice change. Plus they would go with anything and everything!
7.
Janessa Leone Klint Hat
– I purchased my first Janessa Leone hat last year and the quality is unmatched and worth the splurge. This one seems like the perfect summer straw version.
8.
Ulla Johnson Reina Sandals
– I fell in love with Ulla Johnson when I picked up
this blouse
before our trip, so seeing that she is now making shoes is a bonus! These have a boho vibe but still classic enough to dress up or down.
10.
Sundress Indiana Stripe Beach Dress
– I used to wear an old pair of shorts and tank to the beach over my swimsuit, but I love all the cute options for coverups that are out now. The detail on the back of these dresses make it fun and playful, while the billowy shape makes it easy to get on and off.
11.
Alexis Lula Dress
– For a splurge, the detail on this dress is breathtaking. This would be beautiful for a bridal shower, graduation or even just for a special summer night out. The shape is classic so it won't be a trend piece, and will look great for years to come.