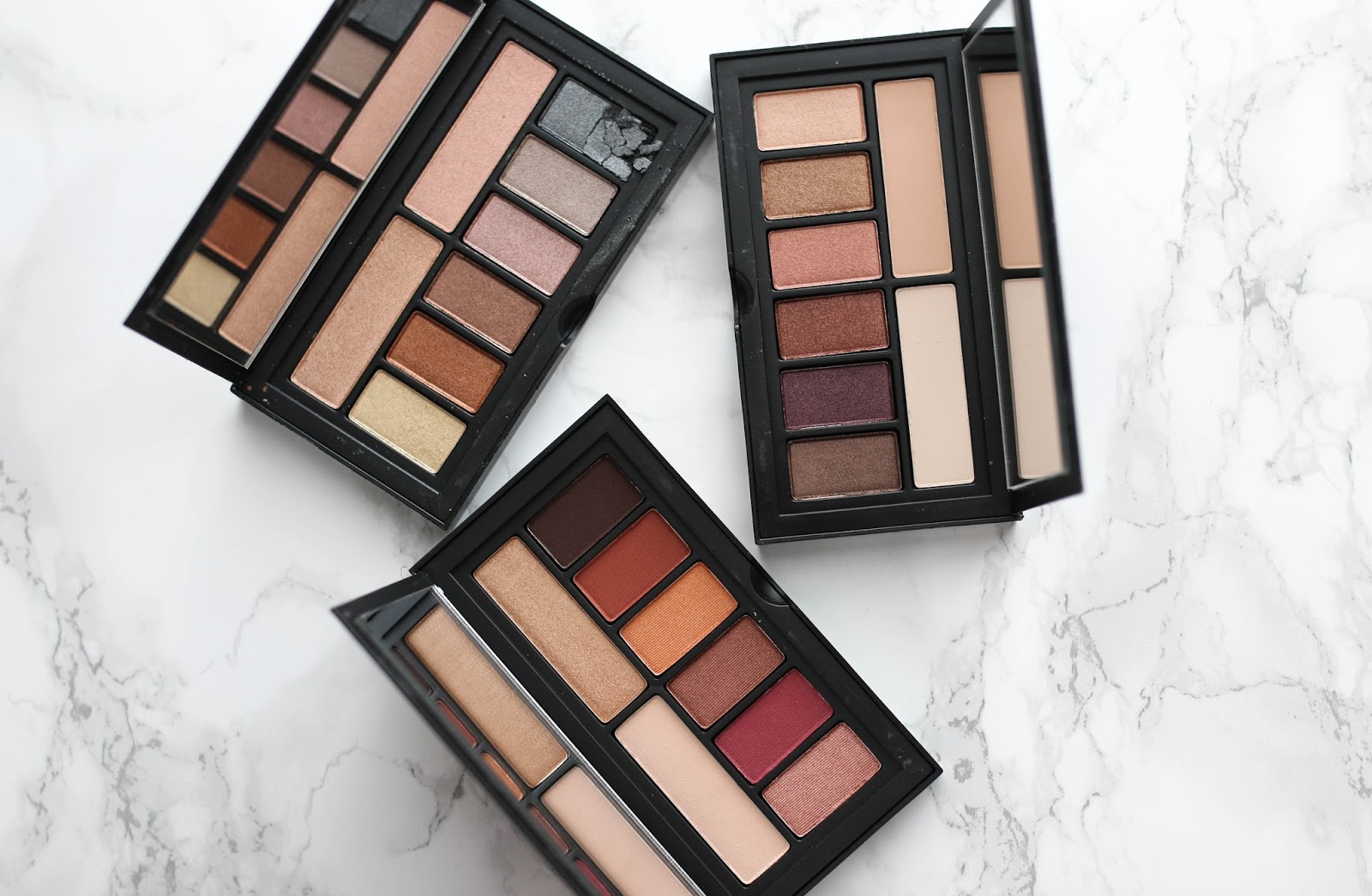 Excuse the broken piece in the above palette – when it arrived, it was smashed and sadly, I couldn't salvage it. *insert sad emoji face* However, a broken corner certainly didn't stop me from testing these newly released
Cover Shot eyeshadow palettes from Smashbox
. There were a handful of various ones released with this collection, but I naturally went for the ones with the most neutral and wearable tones. Most of the palettes were shimmer shades with a matte thrown in here and there, though as you can see from the below swatches they are a subtle shimmer. 
Out of all three, I found myself reaching for Ablaze the most simply because the color pay-off for that particular palette is much richer than the other two. The Metallic eye palette has many of the pale shades that I prefer to wear, but I did have to reapply a few times to build up the color. The Golden Hour Eye palette had a good selection of subtle lid colors, with the deeper shades being perfect as a liner or intense crease. They are quite compact and small so it makes them easier to tote or bring when traveling. I don't have too many Smashbox shadows (in fact, I don't think I have any) so I was definitely impressed by the quality and color payoff of each. 
What are some of your favorite Smashbox products that you would recommend?
Shop more Smashbox products here:
!function(doc,s,id){ var e, p, cb; if(!doc.getElementById(id)) { e = doc.createElement(s); e.id = id; cb = new Date().getTime().toString(); p = '//shopsensewidget.shopstyle.com/widget-script.js?cb=1484786042029?cb=' + cb; e.src = p; doc.body.appendChild(e); } if(typeof window.ss_shopsense === 'object'){ if(doc.readyState === 'complete'){ window.ss_shopsense.init(); } } }(document, 'script', 'shopsensewidget-script');