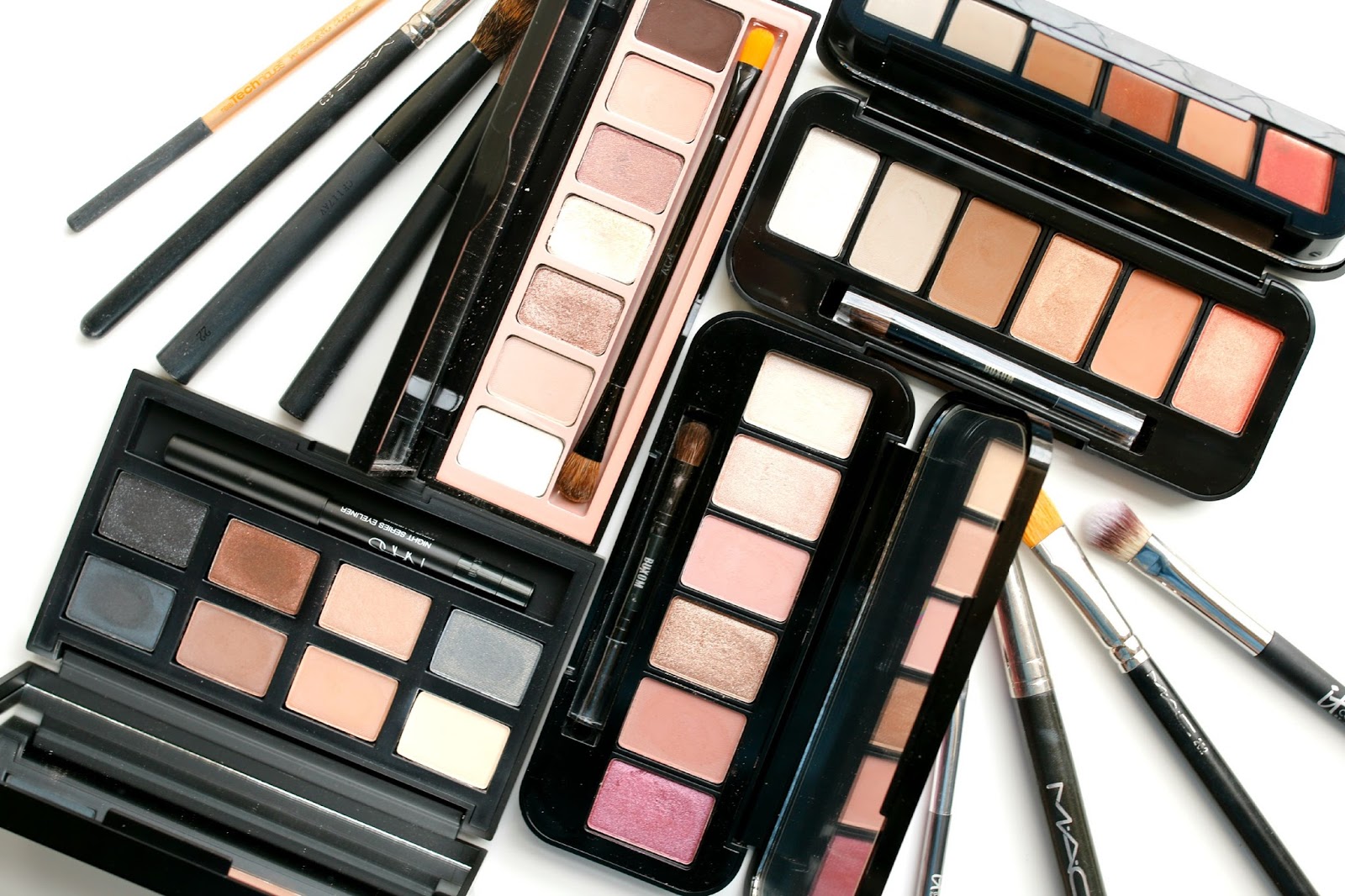 The truth is that most of us don't need another eyeshadow palette, it's more of a want at this point. So even though I have 12,985 palettes already in my collection, I do like to review new ones that launch to give my thoughts on them hoping it may aid in the decision making process for those interested. But surprisingly I actually use most of my makeup collection regularly and rotate through things so I never get caught in a rut…and so that those products don't get reviewed and then put away in a drawer to never be seen again. Ugh! Here are three new recently launched palettes that I've been test driving and my thoughts on each: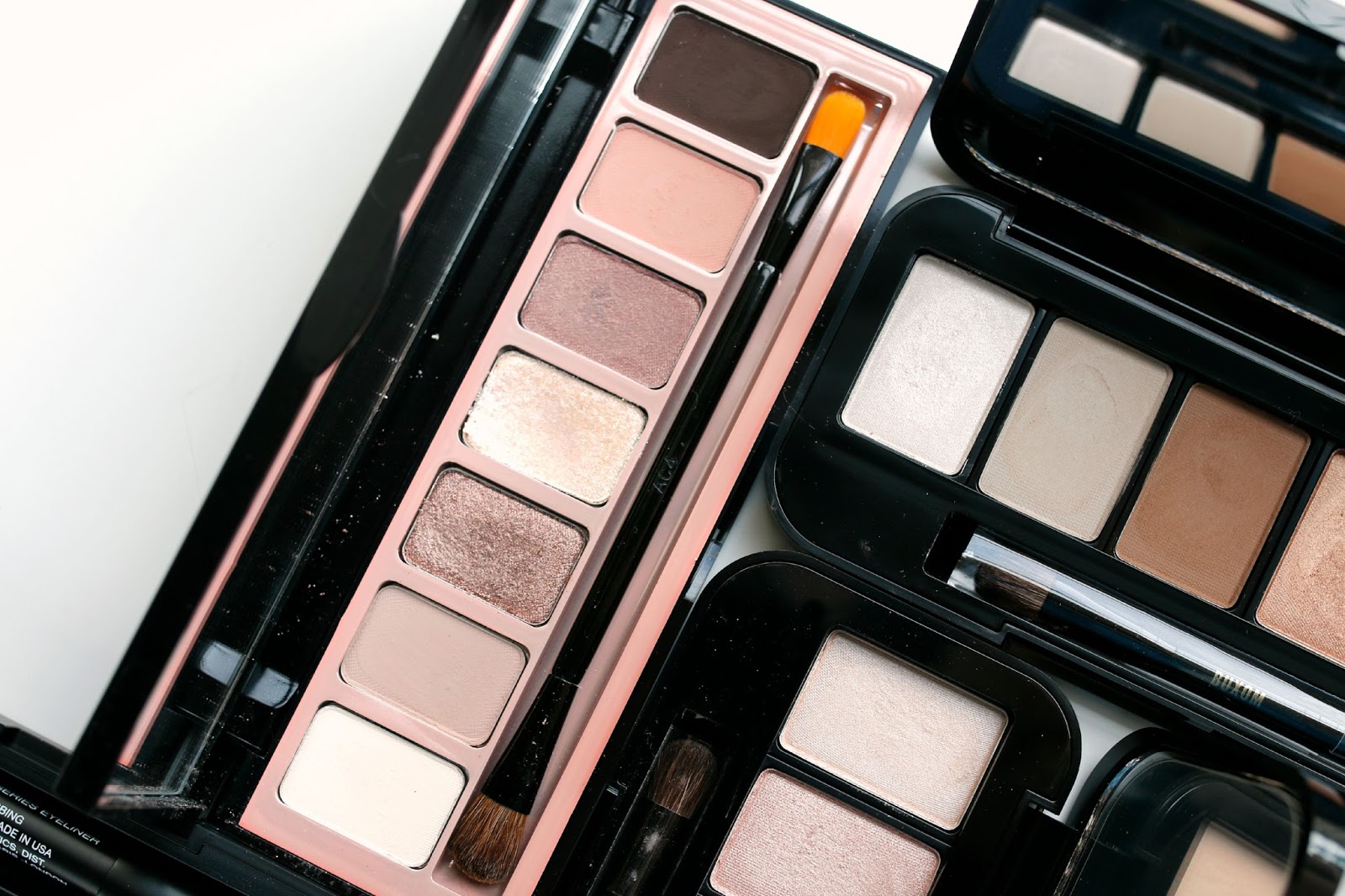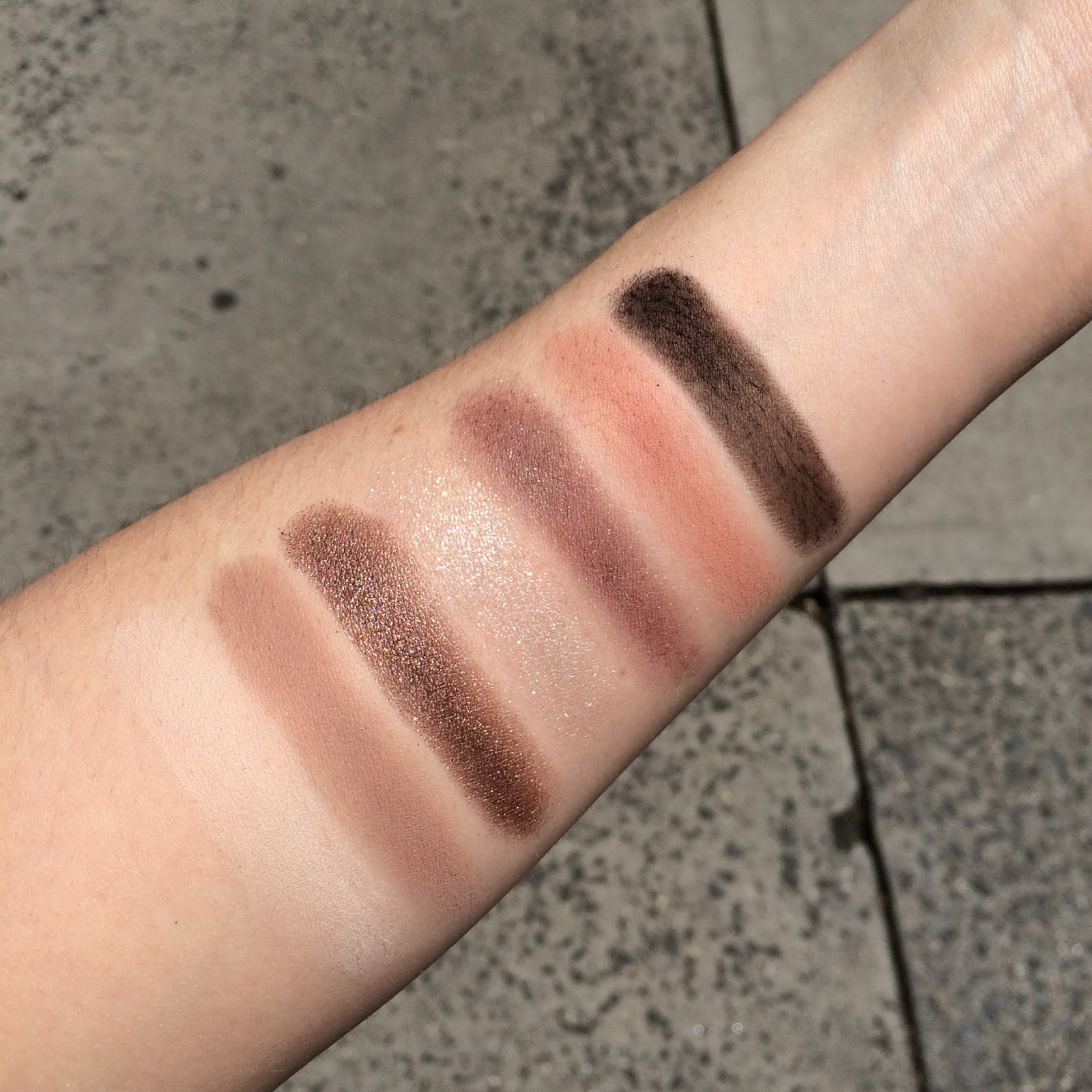 1.
Bobbi Brown Telluride Eyeshadow Palette
– I have found Bobbi Brown shadows to be hit or miss. The pigmentation, formulation or color may be off a bit, so I wasn't quite sure what to expect from this new release. Naturally I loved the color palette because it was all neutrals and had a good mix of both matte and shimmer, but wasn't quite sure how the shadows would wear and perform. While the two far left shades in the above pic where a tad dusty when I dipped my brush in, the payoff was fantastic. The deep chocolate brown shimmer shade was by far my favorite and has a buttery rich texture that glides on the lid. The middle gold shade was the most difficult to work with and needs to be applied on top of a cream shadow that has some tackiness to it in order to grab the glitter. Tapping on with your forefinger is the best application for that shade. The remaining 3 colors are richly pigmented, easy to blend and are the perfect shades to add for definition. Overall, I adore this palette and find the shadows are a "hit" for me.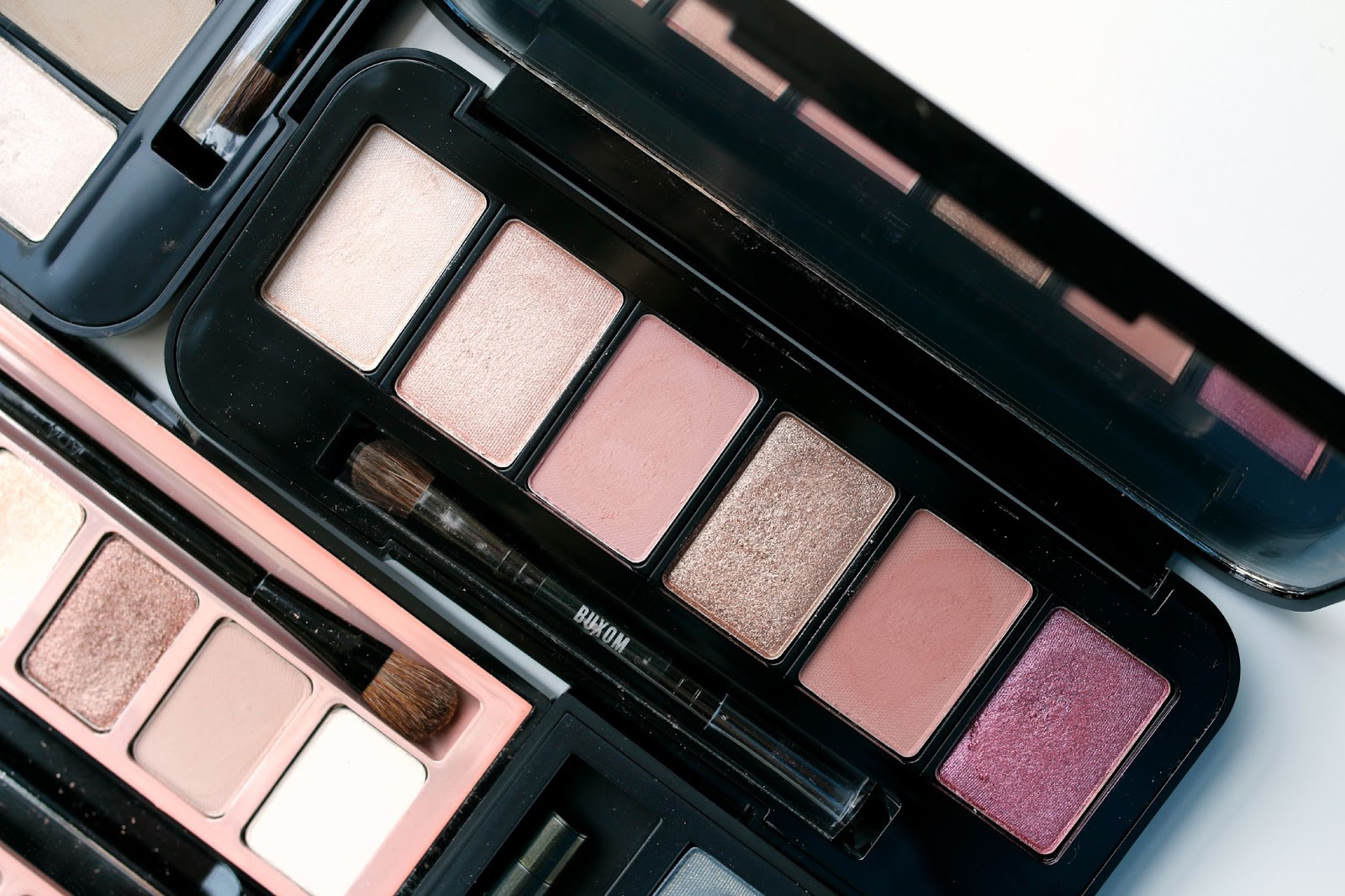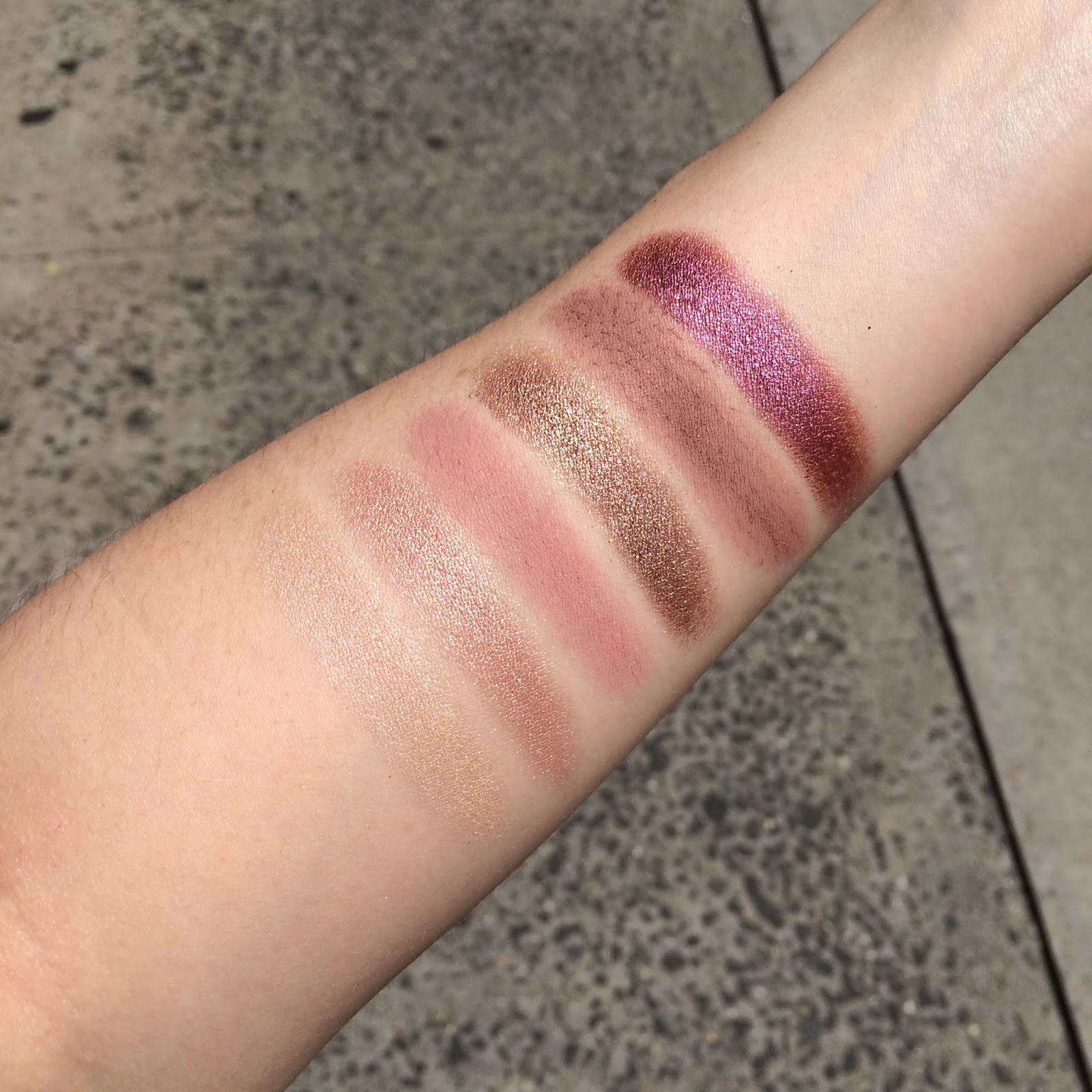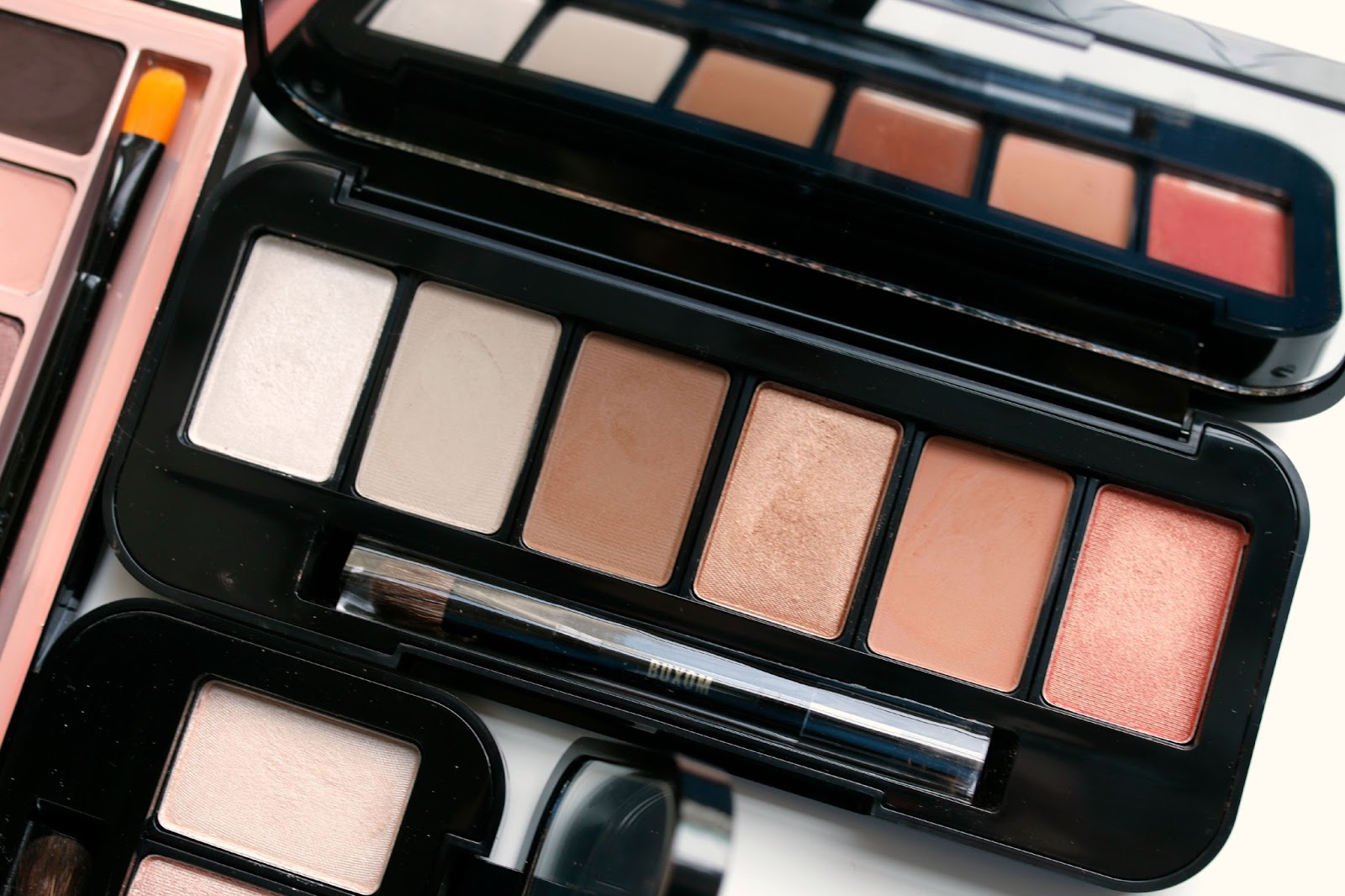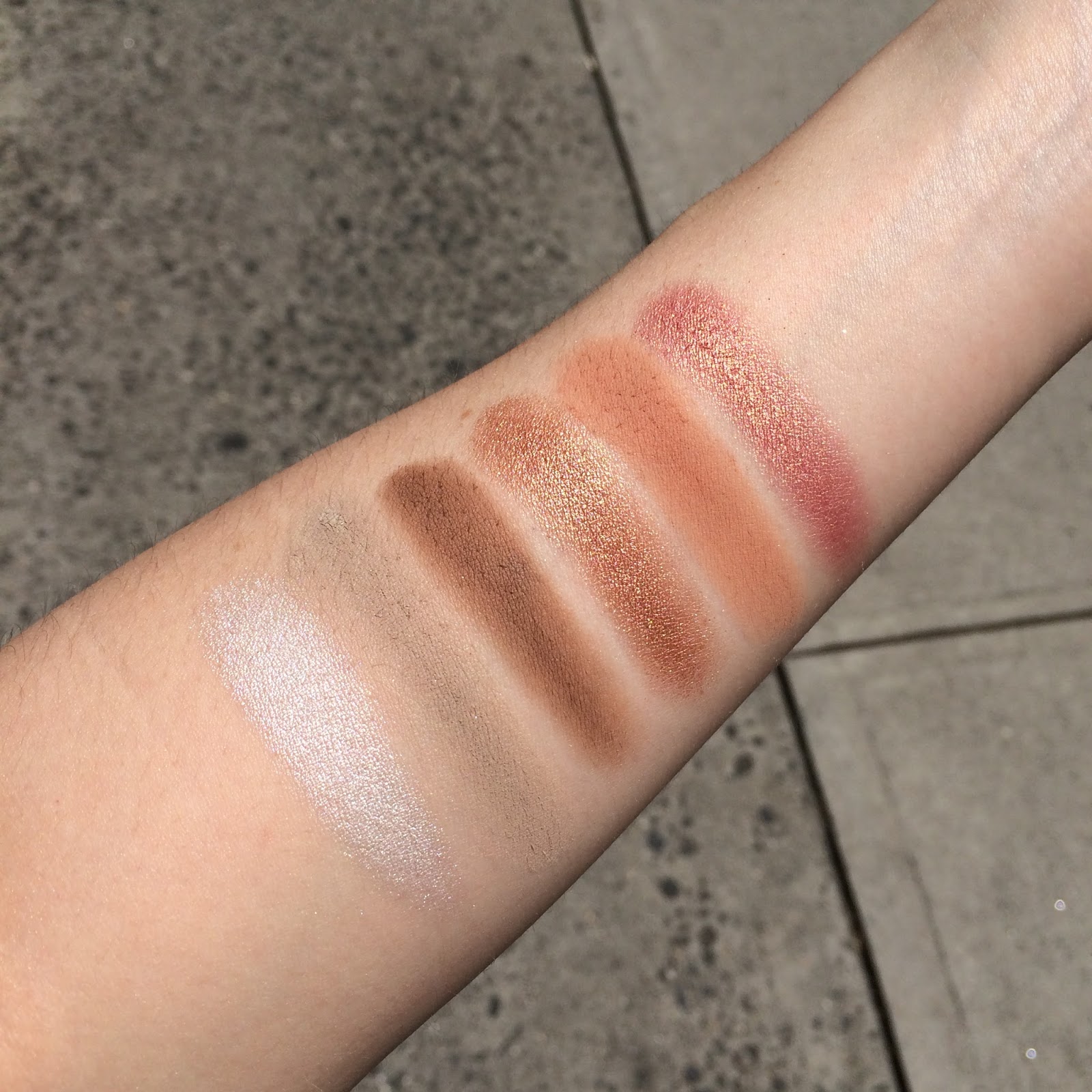 2. Buxom Palette in
Dolly's Wild Side
(top palette/swatches) and
May Contain Nudity
(bottom palette/swatches) – Buxom just recently launched these two palettes along with a third that featured all
pastel shades
. In addition, you can buy many of the shades separately and create
your own palette
which is always a great idea in my opinion. As you can see from the above swatches, pigmentation is not an issue at all. I only had to swirl my finger around the color one time to get that much of a pay-off on my arm. *hands up emoji* There is little to no fallout with these shades and the powder itself feels buttery and rich. Surprisingly I have been reaching for the
Dolly's Wild Side
palette a bit more than the
May Contain Nudity
palette because I enjoy the cooler toned shimmer shades in it. The golden and peachy-coral shimmer shades in the May Contain Nudity are my two favorites and give the most perfect beachy bronzed look for the eyes. But if neither appeals to you, then I would definitely
build your own
because these shadows don't disappoint.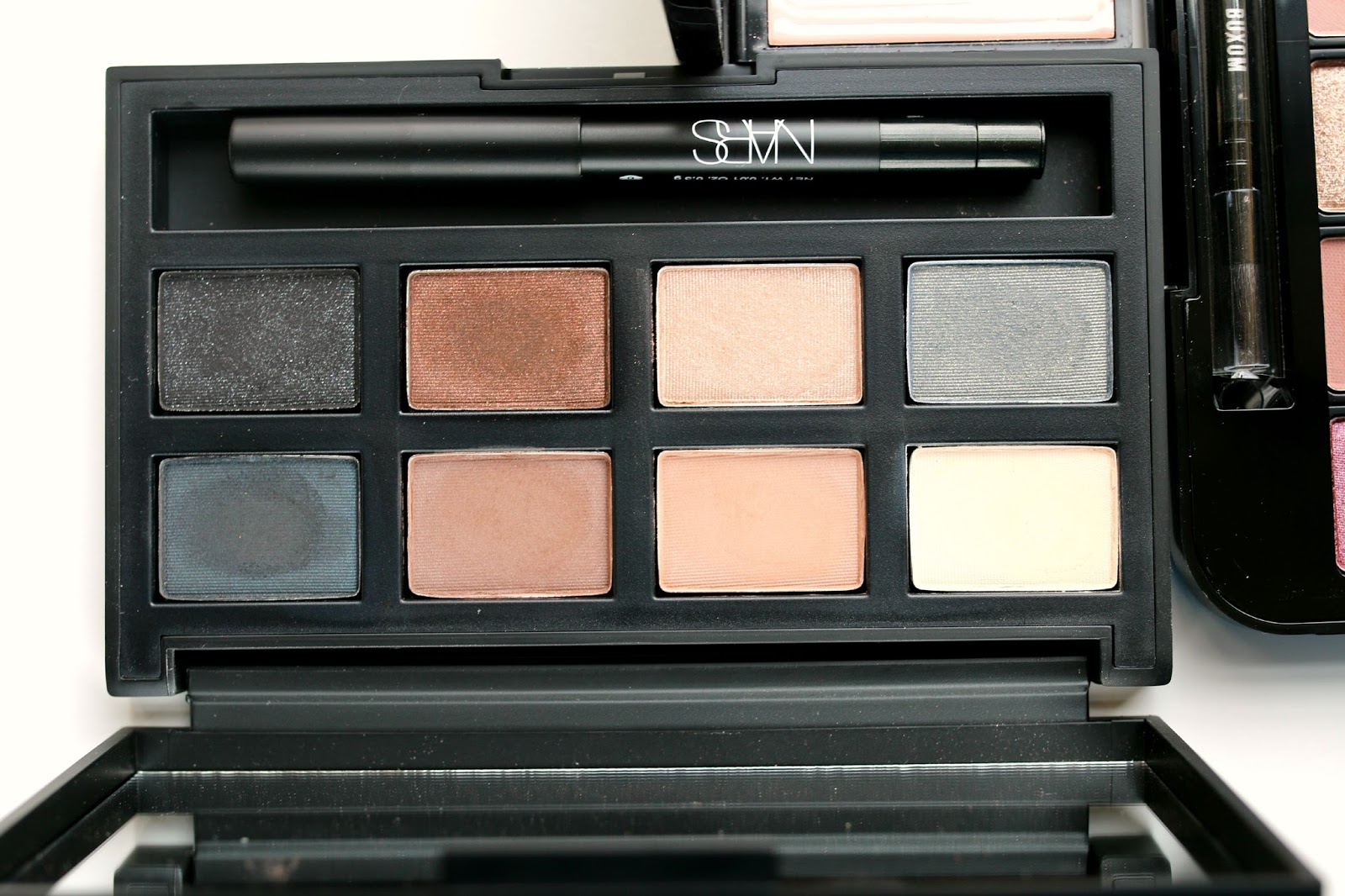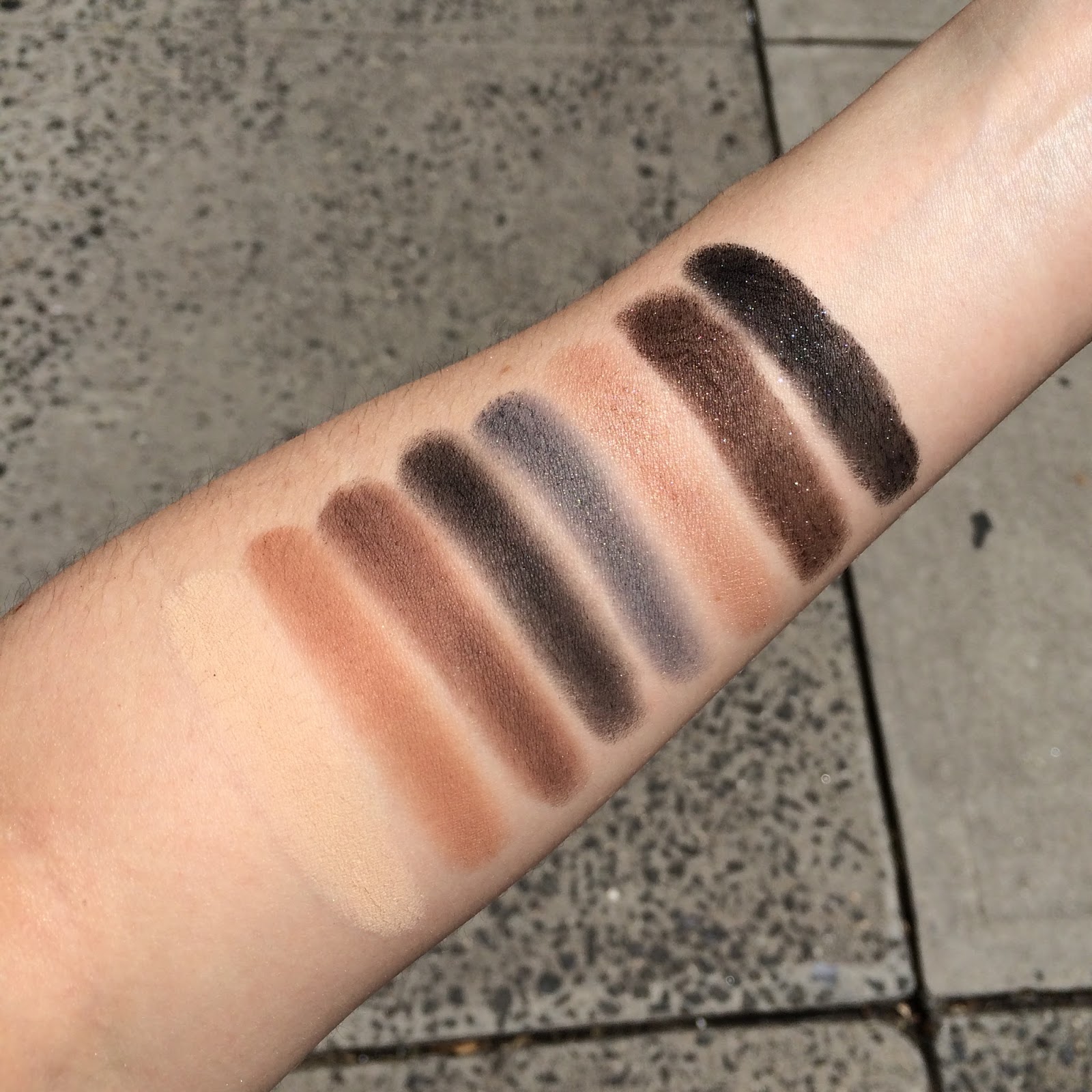 3.
NARS Matte/Shimmer Eye Palette
– My goodness, the reviews for this palette have been all over the place. I almost removed it from my cart on Sephora.com because I wasn't sure it was worth trying. Well, thank goodness I didn't because this palette is EASILY my favorite one of all. Every single shade is a winner and the pigmentation is even and consistent. There is not one shade that swatched patchy and any look I could possibly want to create can be made from this palette. AND it mixes both shimmer and matte! There is some dust that kicks up when I first put my brush in, but luckily that did not translate to any fallout when applying. This is by far one of
the
best palettes that I have tried in a long time. Ugh, I hate to make bold statements like that so early on, but when something is this good the recognition needs to be given.   
Have you checked out my updated Beauty and Fashion Faves page? Click
here
to see all my picks for makeup, skincare and fashion for Fall!
Shop more of my palette recommendations:
#stp-55d719e201402, #stp-55d719e201402 div, #stp-55d719e201402 a, #stp-55d719e201402 img, #stp-55d719e201402 span { margin: 0; padding: 0; font-size: 0; letter-spacing: 0; line-height: 0; border: 0; box-sizing: content-box; background: transparent; box-shadow: none; word-wrap: normal; float: none; -webkit-transition: all 0 ease; -moz-transition: all 0 ease; -ms-transition: all 0 ease; -o-transition: all 0 ease; transition: all 0 ease; } #stp-55d719e201402 { width: 100%; max-width: 640px; margin: 0 auto; position: relative; overflow: hidden; white-space: nowrap; text-align: left; } #stp-55d719e201402.stp-no-controls { text-align: center; } #stp-55d719e201402 .stp-control { z-index: 2; display: inline-block; width: 25px; height: 100%; position: absolute; top: 0; background: #FFF url(//assets.rewardstyle.com/images/scroller-arrows.png) no-repeat; text-indent: -99999px; overflow: hidden; direction: ltr; cursor: pointer; } #stp-55d719e201402 .stp-left { left: 0; background-position: -26px 50%; } #stp-55d719e201402 .stp-left.stp-hover { background-position: 0 50%; } #stp-55d719e201402 .stp-right { right: 0; background-position: -49px 50%; } #stp-55d719e201402 .stp-right.stp-hover { background-position: -75px 50%; } #stp-55d719e201402 .stp-inner { width: auto; margin: 0 auto; display: inline-block; } #stp-55d719e201402 .stp-slide { width: auto; left: 0; position: relative; white-space: nowrap; -webkit-transition: left 0.3s ease; -moz-transition: left 0.3s ease; -ms-transition: left 0.3s ease; -o-transition: left 0.3s ease; transition: left 0.3s ease; } #stp-55d719e201402 .stp-shift { margin-left: 25px; } #stp-55d719e201402 .stp-product { width: 110px; display: inline-block; position: relative; text-align: center; vertical-align: baseline; white-space: nowrap; } #stp-55d719e201402 img { width: auto !important; height: auto !important; min-width: 15px !important; min-height: 15px !important; max-width: 110px !important; max-height: 132px !important; display: inline !important; vertical-align: middle !important; background: url(//assets.rewardstyle.com/images/search/350.gif) no-repeat 50% 50%; } #stp-55d719e201402 span { display: block; width: 100%; overflow: hidden; text-overflow: ellipsis; white-space: nowrap; padding: 8px 0 2px; color:#000; font:11px/11px 'Avant Garde', Avantgarde, 'Century Gothic', CenturyGothic, 'AppleGothic', sans-serif; } #stp-55d719e201402 .stp-help { width: 0; display: inline-block; min-height: 132px; vertical-align: middle; padding: 0; } #stp-55d719e201402 .stp-hidden { display: none; } #stp-55d719e201402.stp-resp .stp-product { width: 100%; } #stp-55d719e201402.stp-resp img { width: 100% !important; height: auto !important; max-width: none !important; max-height: none !important; } #stp-55d719e201402.stp-resp .stp-help { min-height: 0; }