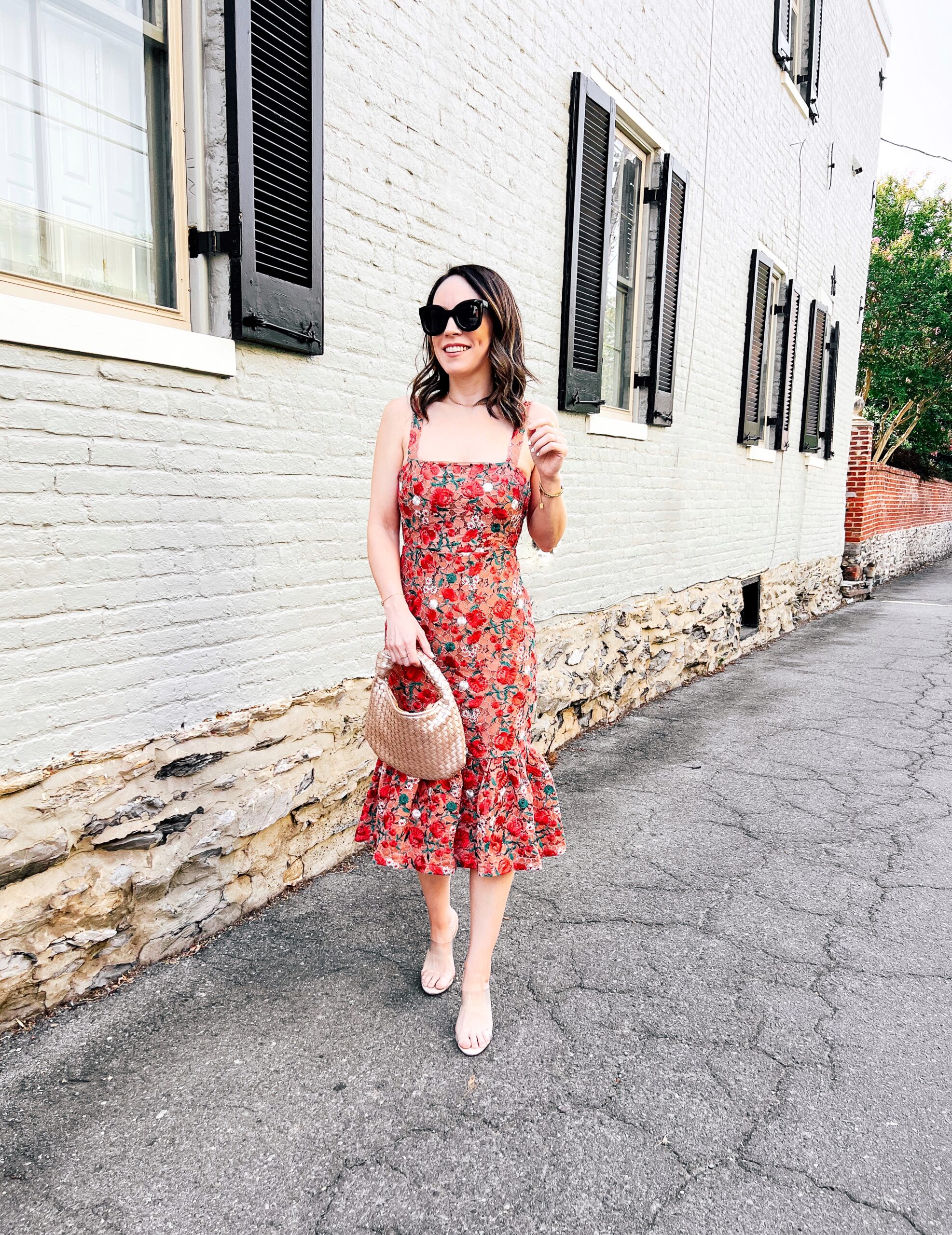 Though I am a neutral gal at heart, summer outfits call for all the bright patterns, eye catching prints and vibrant colors in my opinion. If there is a season to upgrade your wardrobe and incorporate something more bold, summer is the time to do it. After spending nearly 15 years in NYC, summer dinners were a religion in the city. Outside dining was in full swing, the heat had cooled off, the people watching was epic and almost any cute summer outfit went in terms of what to wear. Keep it fun, keep it casual, keep it super dressy – deciding what to wear to dinner has so many options. And there are plenty of ways to stay chic and comfortable while enjoying nights out in summer. Here is a round-up of outfit ideas you can wear to your next summer dinner.
7 Summer Dinner Outfit Ideas
Summer Dinner Date Outfit Idea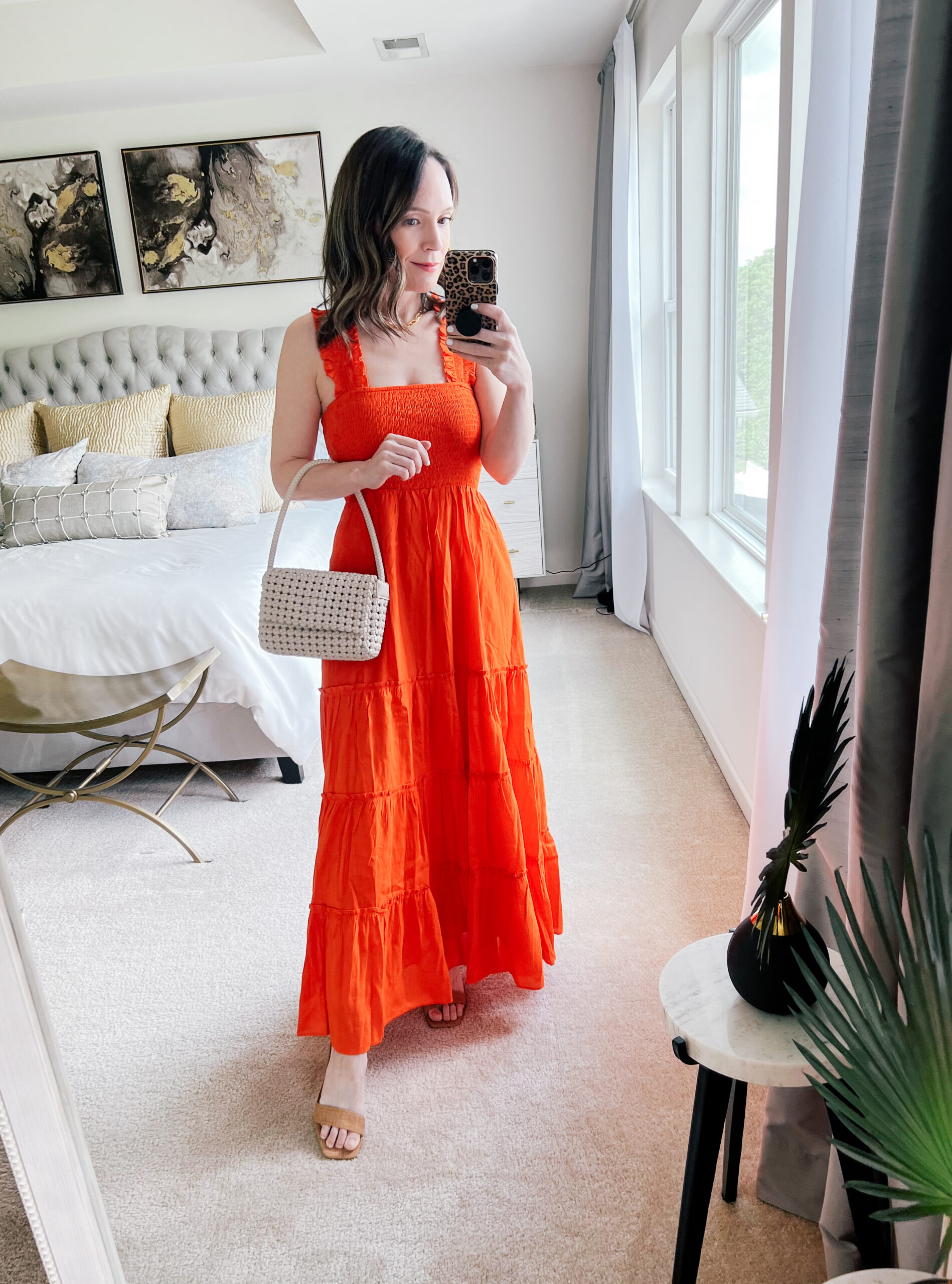 Dress – Lucy Paris | Shoes (similar) | Bag – Melie Bianco
Whether it's a first date or 10th date, you can't go wrong with a maxi dress for a summer date night. It's comfortable for the heat but can easily be dressed up or down with accessories. Opt for a bold color like red or orange or keep it neutral. A white dress in the summer is always acceptable. Throw on some kitten heel sandals and a clutch for a more elevated look or some flats and shoulder bag to keep the date outfit more casual. I personally love this maxi dress because it allows me to wear a regular bra! Ha! IYKYK If you are worried about getting cold in the A/C, grab a denim jacket to throw over your shoulders.
Vacation Dinner Outfit Idea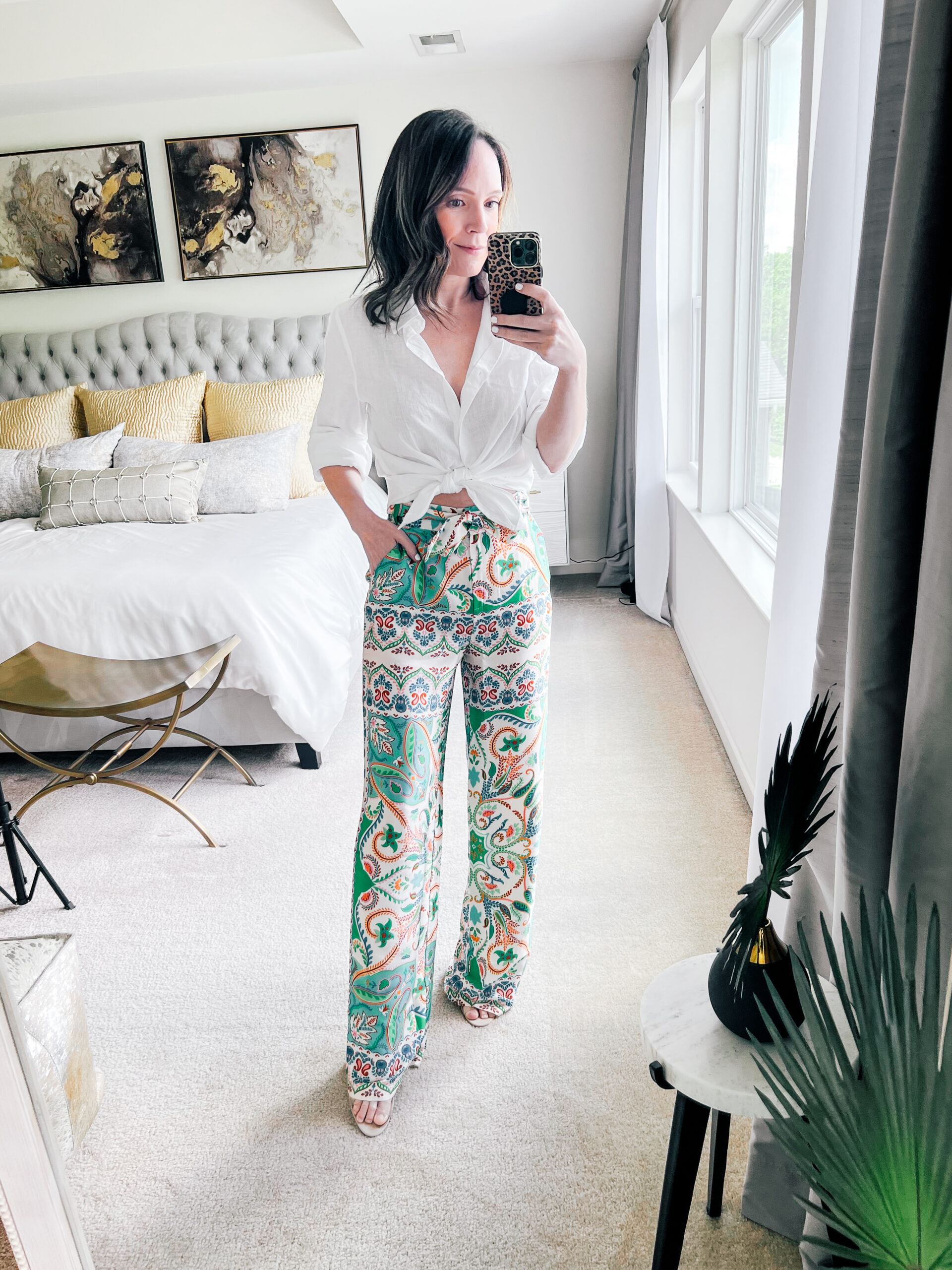 Shirt – Mango | Pants – Mango | Shoes – Schutz
Bold prints and patterns seem to be a necessity in the hot weather, especially when on vacation. These high waisted silky pants are so chic and are the star of the outfit so pair them with something subtle and neutral like a button down linen blouse. I tied it up in the front making it a crop top but you can also just tuck it in to the pants. The linen blouse would also double as a swimsuit coverup or could easily be worn with denim shorts during the day so you can definitely save some space in your suitcase with pieces that can be worn various ways. I also swear by these clear shoes by Schutz because they go with literally ANY outfit. I have had them for years and they have become my #1 worn shoe in the summer.
Casual Dinner Outfit Idea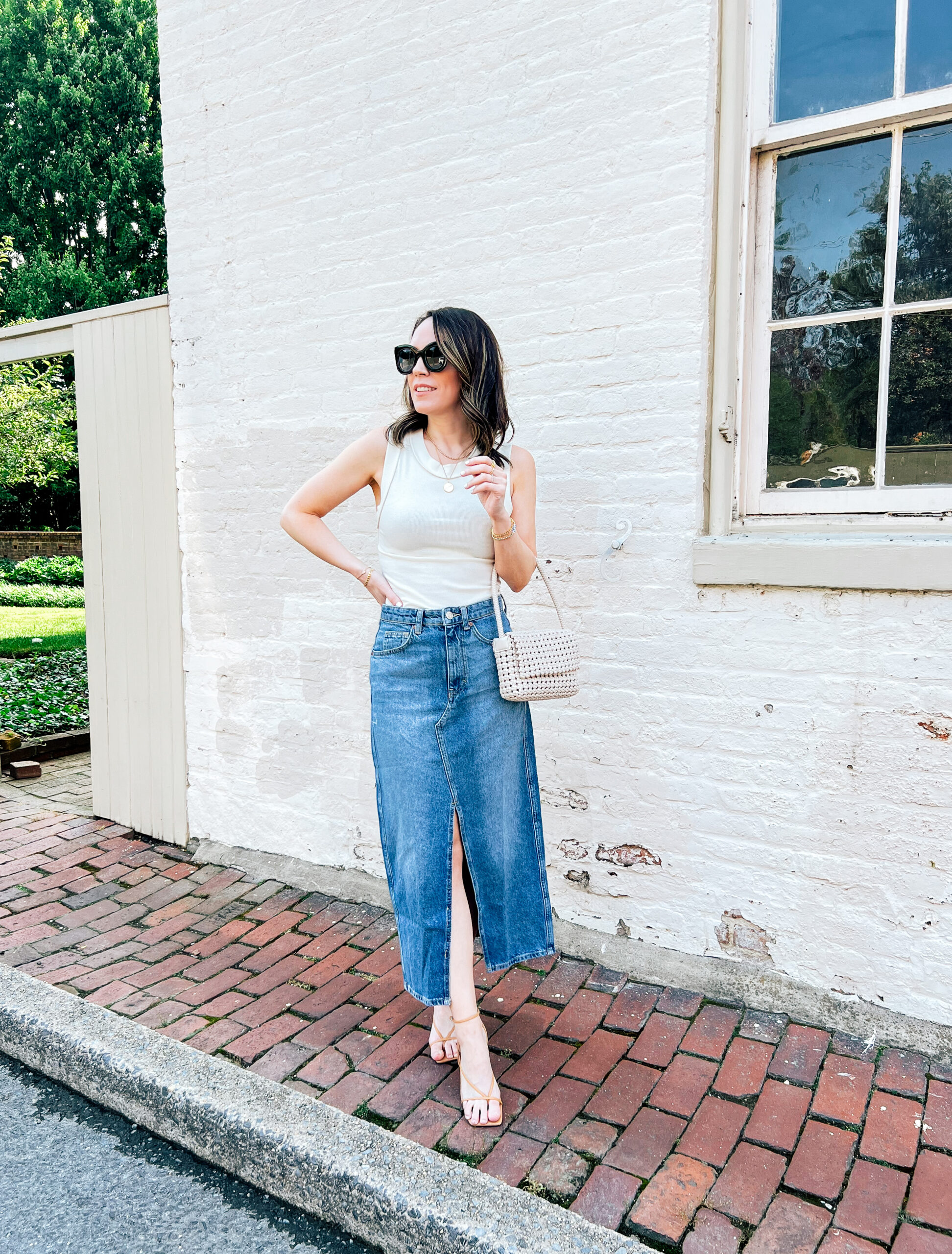 Tank – Free People | Skirt – Mango| Sandals – Jeffrey Campbell | Bag – Melie Bianco | Sunglasses
A night out with friends or an impromptu bite to eat on the weekend can still be an occasion to wear something chic. Denim midi skirts are having a major moment right now and I am absolutely loving the style. I wore a very similar outfit like this to dinner with a girlfriend the other night and it felt like the perfect look. Keep things simple with a solid color tank and strappy sandals and add a fun bag or accessories. To keep the look still fresh and modern, look for a denim midi skirt with a slim cut and front slit.
Birthday Dinner Outfit Idea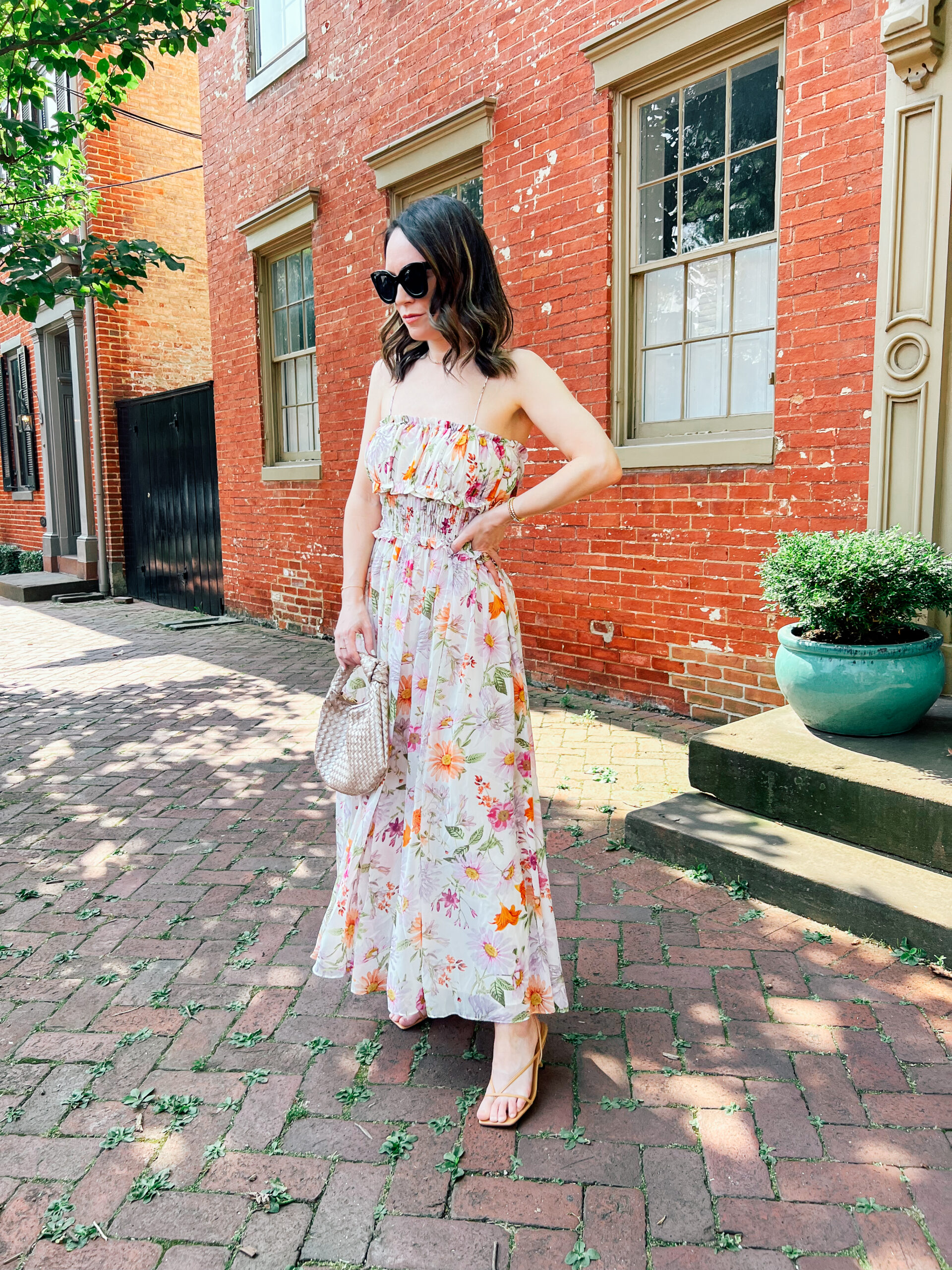 Dress – En Saison | Sandals – Jeffrey Campbell | Bag – Melie Bianco | Sunglasses
Having a flowy floral dress in your closet is a must have for summer because it can work so many occasions. A birthday dinner out with friends, a weekend bridal shower, brunch with your parents – a flowy floral dress would be perfect. With a printed dress, keep your accessories neutral and let the pattern of the dress stand out. If you need something to throw over your shoulders if the restaurant is chilly, grab a lightweight cashmere wrap or even a boucle/tweed jacket could work with a flowy floral dress.
Dinner with Friends Outfit Idea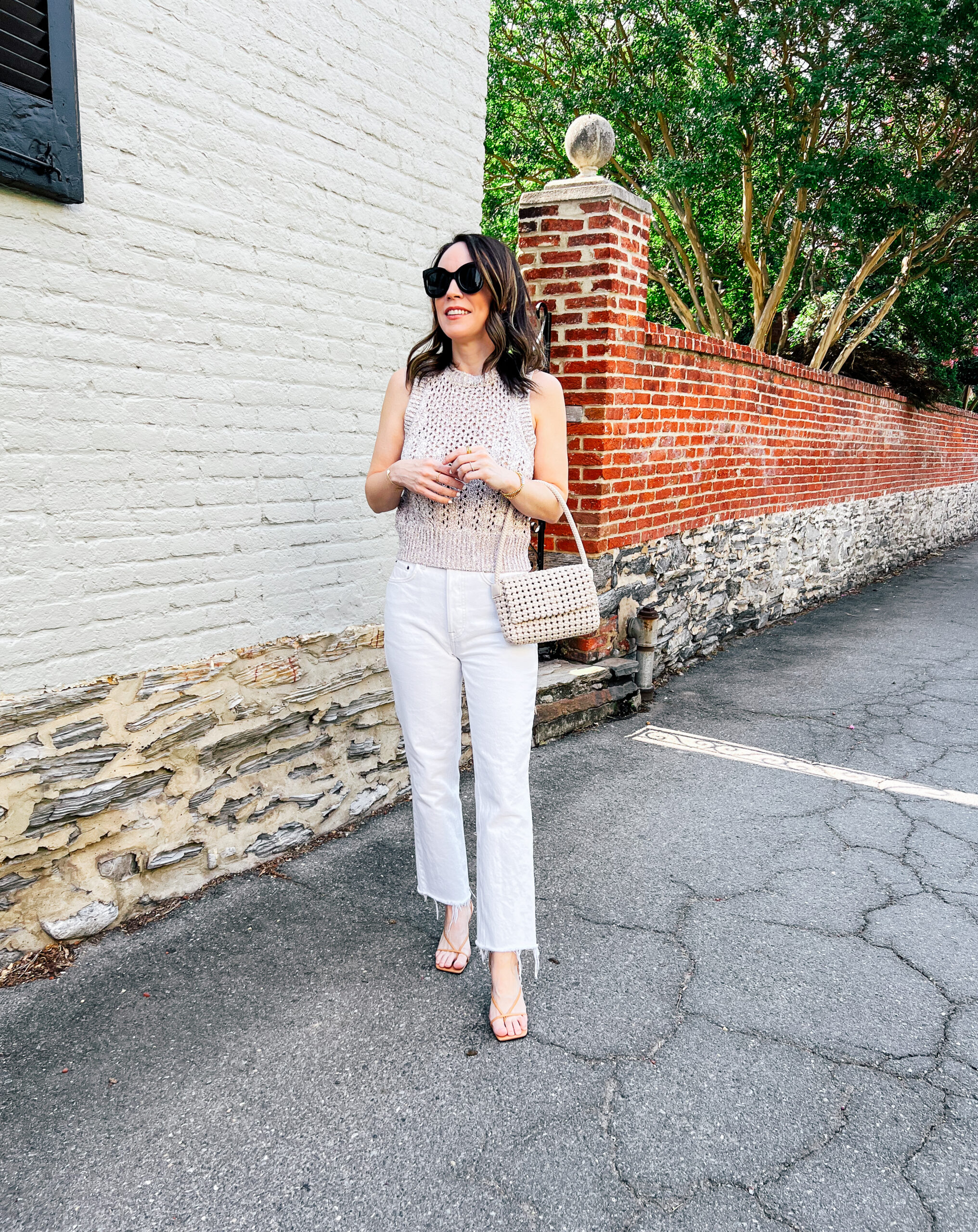 Tank – Hudson Jeans | Jeans – Grlfrnd | Sandals – Jeffrey Campbell | Bag – Melie Bianco | Sunglasses
When you want to look polished and put together, but still keep things casual for a dinner out with friends – go for a monochromatic neutral look. While the entire outfit isn't white, I mixed and matched similar white and beige tones. Also mixing different textures like the knit tank and  braided bag can add some interest to an outfit that is all one color.
Desk to Dinner Outfit Idea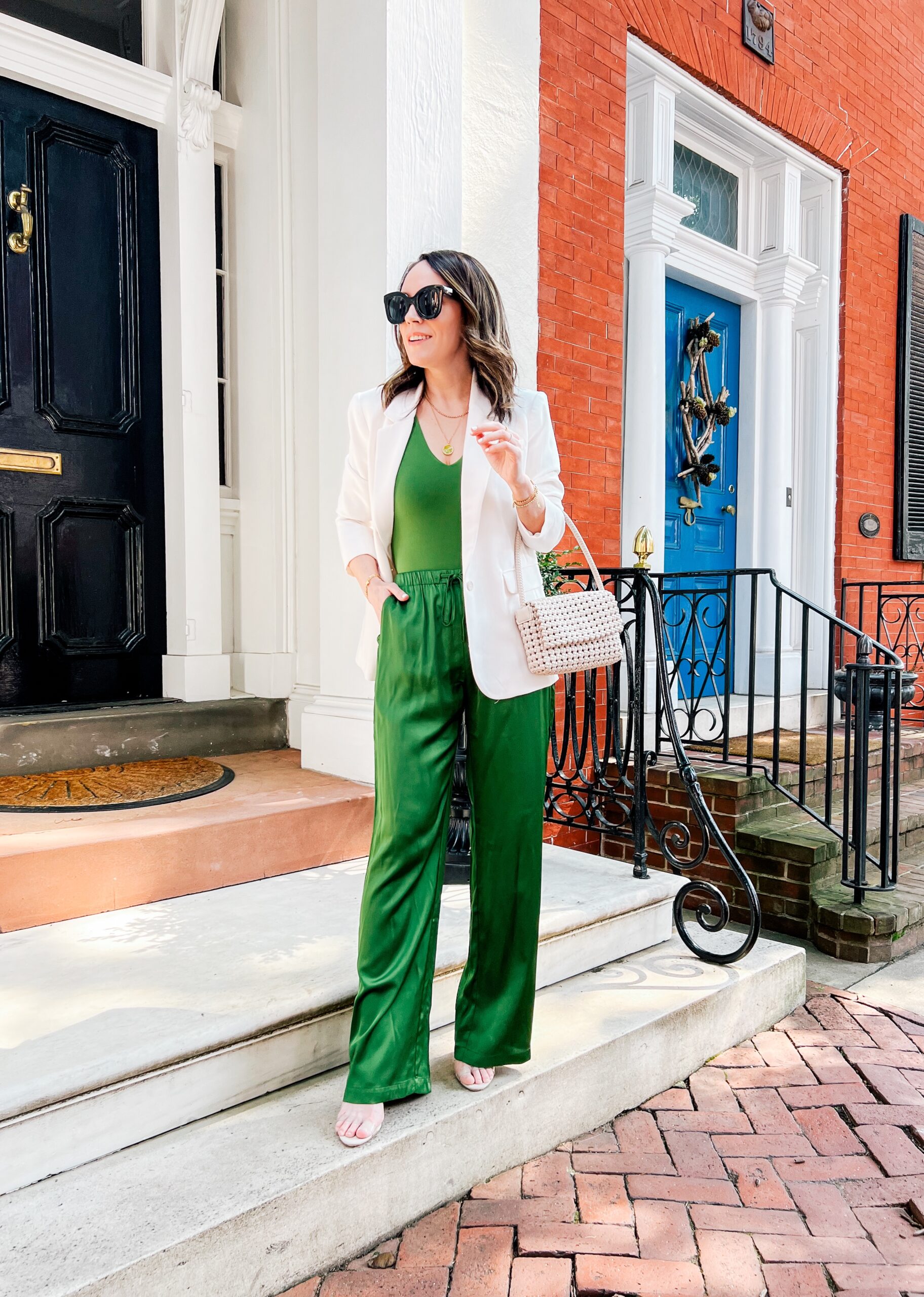 Blazer – Abercrombie | Tank – Abercrombie | Pants – Abercrombie | Shoes – Schutz | Bag  – Melie Bianco | Sunglasses
To be honest, this was usually my scenario when it came to summer dinners when I lived in NYC. I was at work all day and if I had to go out after, I would put together a look that could work for both places. Flowy pants are a must in the summer and wearing an all monochromatic look really creates length and makes you look taller. It's summer so try experimenting with bold colors like this vibrant green but adding a white blazer over it can make it work appropriate. And then once you leave work, take off the blazer and add a statement necklace or earrings to instantly elevate it for a night outfit.
Anniversary Dinner Outfit Idea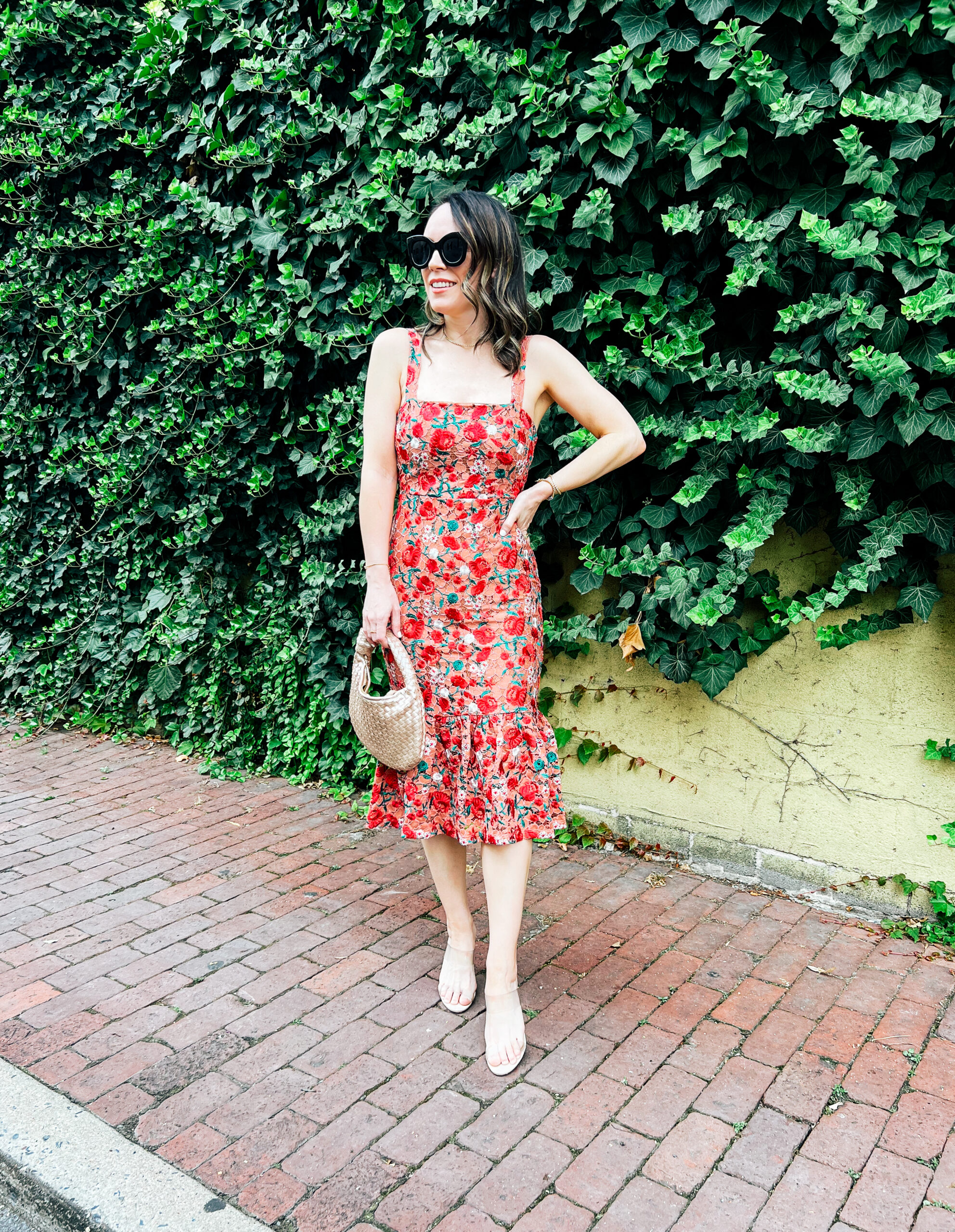 Dress – Lovers and Friends| Bag – Melie Bianco | Shoes – Schutz | Sunglasses
To be honest, I want to wear this dress for every single fancy occasion I every will go to. The dress, the print, the fit – it is absolute perfection. It's the perfect look to wear for a special night such as an anniversary dinner. I once again went for my clear heels because it adds height and elongates the leg and doesn't compete with the dress. It really lets the dress stand out.
If you are in need of more summer outfit inspo, check out my post about what to wear to a summer concert and what to wear to a casual summer wedding.