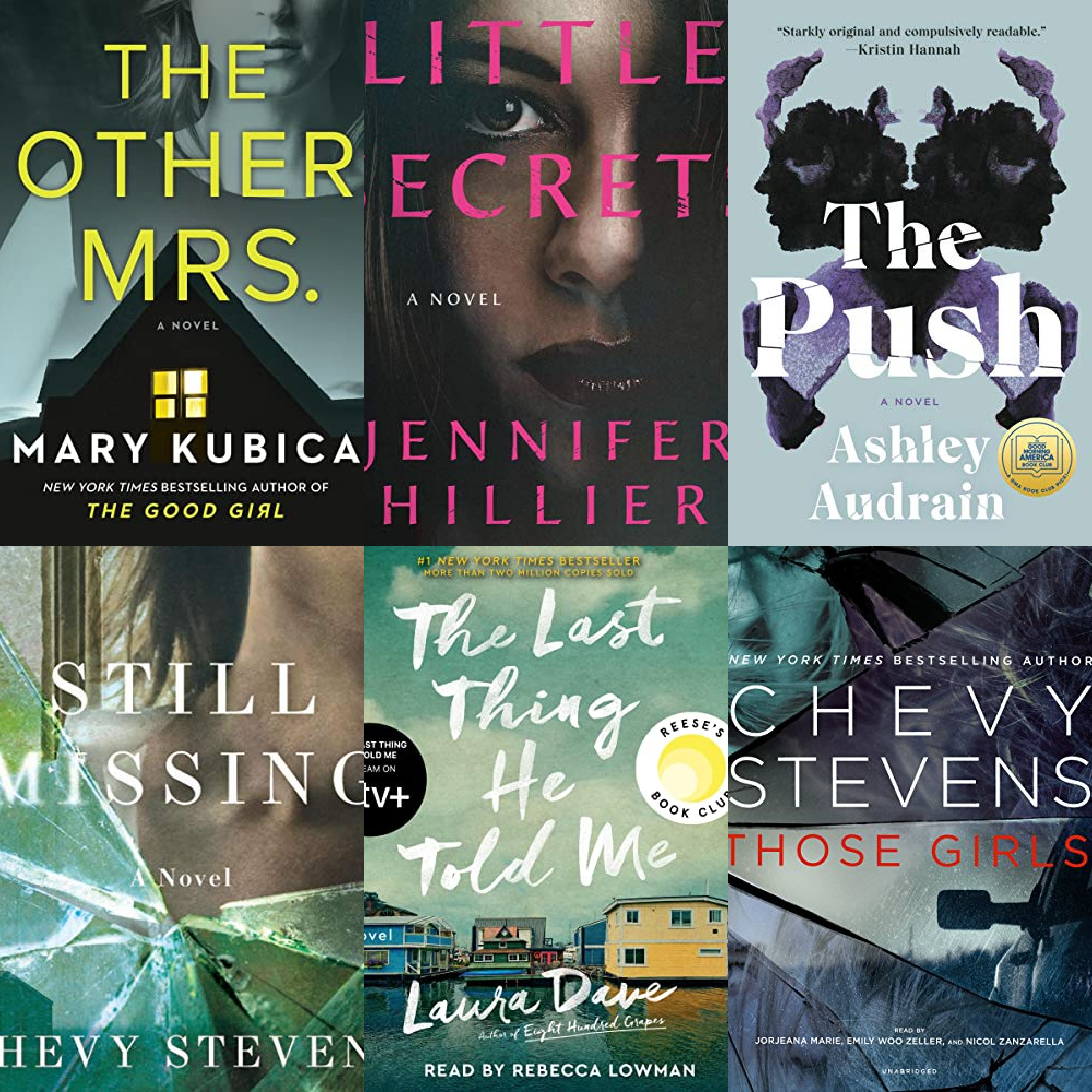 Even though I do book reviews every single month, my favorite genre to read are psychological thrillers and I thought I would round up a bunch of my favorites in one post!
15 Psychological Thriller Book Recommendations
OBSESSED!!! This book was SO good but just now that there are many sensitive subjects in the book which could be upsetting. Leigh is a successful defense attorney at a high powered firm and just wants to live her life as under the radar as possible. But when Leigh receives a specific request by a client for her to represent him, Leigh is worried her tragic and traumatic past could ruin her life. You will be on the edge of your seat with this book – it is SO intense! It does get a bit over the top in the end but that didn't bother me because it was one of the best thrillers I have read in a long time.
One of the best thrillers I have ever read!!!! I truly didn't expect much because I hadn't heard many people talking about it, but they absolutely should. It is fantastic and good from the very first chapter! Three women live on a quiet street in an upscale suburb in Oregon. Things seem picture perfect from the outside but behind closed doors, these women are struggling separately with really difficult issues. Paige lost her son recently in a tragic unsolved murder, Cora thinks her husband is cheating and Georgia seems to stay to herself and never want to come outside. As the women come to know each other through random circumstances, they all must bond together to protect each other from the men in their lives.
I could not put this book down!!!! One of my favorite reads of the year so far!
Janie is a young girl that is found abandoned and brought to a local hospital for care. One of the physicians on her case develops a fondness for her and decides to apply to be her foster parents until her case is cleared. Janie seems to have a horrific history of abuse and neglect so Christopher and his wife Hannah try to be patient with her and support her in the best way. But Janie is difficult and her behaviors become increasingly scary and dangerous. Hannah tries to find out more of Janie's past and the truth is even more terrifying. Despite the warning signs, Christopher and Hannah move forward with adopting Janie which forever bonds them to her. Christopher still thinks Janie is capable of being rehabilitated but over time Hannah knows that Janie is pure evil and fears for their safety.
This book will keep you on the edge of your seat!!!!
OMG THIS BOOK IS SO GOOD!! (sorry, I had to shout it for emphasis) A good thriller from start to finish. Even though I did put the pieces together early on, it still keep me on the edge of my seat the entire time.
Milly lands the dream job of being a live-in housemaid for the Winchesters. Though she has a sordid past, Milly is trying to get her life together and this job seems like it will solve all her problems. Nina Winchester, the wife and mom is a tad eccentric and demanding, but Milly feels it's nothing she can't handle. But when Nina's behavior gets worse and more abusive, Milly worries she might get fired and have to go back to living in her car. However the secrets behind the Winchesters is more sinister than Milly could ever imagine and getting fired might be her best case scenario to save herself.
YESSSS! This mystery thriller was everything! I thought it was so good and the ending was really satisfying. LOL Belle and Summer have been best friends since they were teenagers so Belle is excited to celebrate her friend abroad a yacht in the Mediterranean. Summer has a billionaire boyfriend that has invited all of Summer's friends aboard this yacht but things quickly turn from fun and exciting to weird and stressful. Summer's boyfriend is controlling, monitors everything the friends do on board and locks them in their bedrooms each night. Belle is worried something more sinister might be going on yet doesn't know how to get help in the middle of the Mediterranean.
THE BEST!!! I immediately went to find more books from this author because I was OBSESSED. Caleb, Jacob and Sawyer have been best friends their whole lives because their mothers are all best friends. But when tragedy strikes and a horrific accident leaves one of the boys dead and one in a coma, the families must try and figure out what really happened that night. The surviving boy is too traumatized to speak. So the mothers try to understand what they may have missed leading up to the that night. Their lifelong friendship is tested as well as their trust in themselves as mothers.
This was a captivating thriller and I absolutely loved all the twists and turns that it took! Avery Chambers is a couples therapist with very unconventional methods that had her lose her license. But that doesn't stop the wealthy from seeking her out as a last chance option to save their crumbling marriages. Marissa and Matthew are one of those couples who are hoping Avery can fix their failing marriage after Marissa cheats on Matthew. However Avery quickly gathers that there is more to the story than what Marissa and Matthew are sharing and she must uncover these secrets in order to help them.
I LOVED it!!! It was told from the perspective of the characters, switching between them throughout the book. Sometimes this can be hard to follow, but in this book it was seamless. Rebecca and Brian are the ultimate power couple. Rebecca is an FBI agent and Brian works as a coder for the NSA. Their relationship has had its ups and downs but when their daughter is kidnapped during a family vacation, they must come together to use all their connections to find her. But things are not as they seem and secrets are revealed they will change everything for this seemingly happy family. I could not put this book down – so good!!
I love a good mystery thriller that doesn't make me think too much. LOL There were so many twists and turns in this book that I didn't see coming and absolutely loved it!  A local woman goes missing followed by a woman and her daughter shortly after. Are the two connected? The story oscillates between the present and past but is very easy to follow along. And it really helps to build suspense!
LOVED this from the very beginning!!! Hannah and Owen have only been married for a year when he mysteriously disappears. The only thing left is a note from him that says "Protect Her". Hannah knows he is talking about his daughter Bailey and she is confused as to why Owen has left and when or if he will return. Hannah and Bailey don't really get along but once their world is flipped upside down with this disappearance, they bond together to try and find Owen. The secrets behind his disappearance are shocking and force both of them to make a terrifying decision. I could not put this book down! So good!
I didn't just read this book, I inhaled it in two days! LOL It was absolutely fantastic and captivating from the very beginning. Marin and Derek are a successful couple with a 4 year old son named Sebastian. During a day out together at Pike Place Market in Seattle, Sebastian wanders off with a stranger before Marin can even notice he is gone. The search is one to find Sebastian but leads are going nowhere and the case is getting cold. That is until Marin hires her own private investigator that digs up some information that Marin may not want to know. A true mystery that keeps you engaged until the very end!! Loved it!
Wow-Wow-Wow. This book left me speechless. I should give a trigger warning with this one because it involves the death of a child and can be hard to get through at times. However it is a gripping and terrifying novel that kept me on the edge of my seat.
Blythe and Fox are happily married and about to welcome their first child into their lives – a baby girl named Violet. Things seem fine at first but Blythe begins to notice that she isn't bonding with Violet as she would have hoped and Violet seems to be a bit different. As she gets older, Violet begins to exhibit very terrifying behaviors. But Fox doesn't want to address it and it causes a rift between Blythe and Fox. They hope that bringing a second baby into the home may help the dynamic but that is not the case. Devastation ensues but noone except Blythe believes that Violet could have done such a horrific thing. This is a major page turner for sure!!
A super easy read but it hooks you from the very beginning! A nice thriller/mystery that helps you take your mind off anything going on in your life, ya know what I mean?! Three sisters manage to escape their abusive home only to be captured again by two strangers offering their help when the sisters' car breaks down. They endure a horrific few days with these men but manage to escape. Fast forward 17 years, they are forced to confront their horrible trauma again when one of the sister's goes looking for the brothers for revenge.
After reading Those Girls, I had to read another book from this author. And this other book did not disappoint! It is such a great mystery thriller. Annie O'Sullivan is abducted during one of her real estate showings and is kept hostage in a remote mountain cabin for more than a year. She endures the most horrific things and wonders how this man could have picked her specifically. He seems to know a lot about her but she has never met him. Thankfully she manages to escape and must figure out how to live her life again after such a tragic event. Things become ever worse when the police investigating her case think it could be someone very close to her that arranged for this abduction.
What a book!!! So entertaining and I loved every minute of it. There were tons of twists and turns and the ending was a big surprise. Sadie and Will recently moved their family from Chicago to a small town in Maine to become legal guardian's for Will's niece. Will's sister committed suicide leaving behind 16 year old Imogene who is a very difficult child to deal with. Sadie and Will are trying to acclimate to their new life in Maine when a neighbor is brutally murdered in the middle of the night. The murder really terrifies Sadie and she begins to question her new life here.