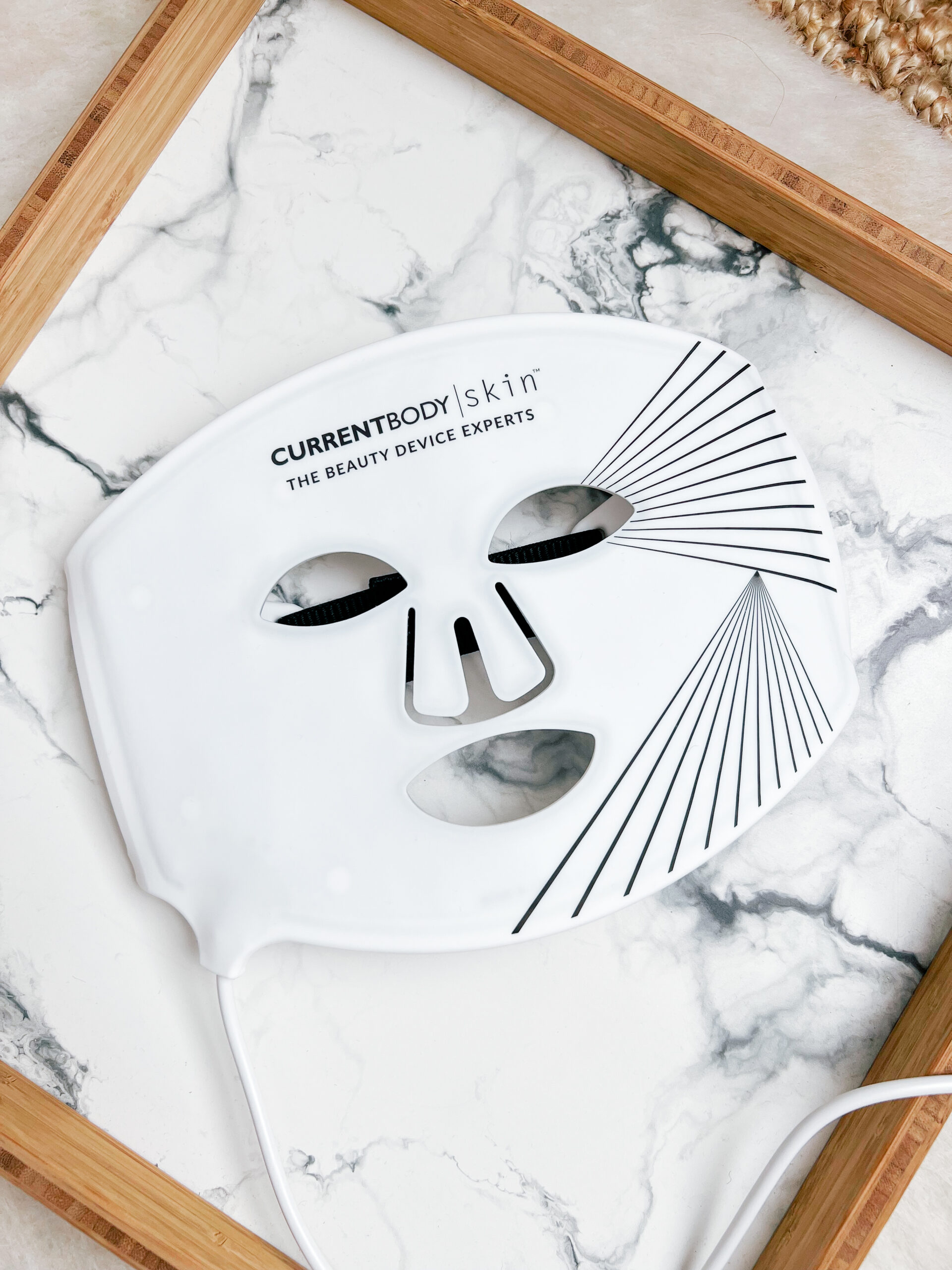 It's taken me quite some time to finally get this review up but I really wanted to test the CurrentBody Skin LED Light Therapy Face Mask thoroughly and with enough time to see results. There is also a discount code on this page for the LED Light Therapy Face Mask which will help save money since this is a pricier mask. So make sure you read the post to the end. I am familiar with using an LED face mask and it's benefits so before I tested this, I stopped using my previous one for a while before testing this one so I could get a better idea of the results I achieved. If you are unfamiliar with LED masks, they use red and infrared light to help rejuvenate the skin and provide anti-aging benefits.
Current Body LED Mask Review
What Does A LED Face Mask Do?
For those unfamiliar with LED masks, they have a ton of great benefits such as:
boosting collagen production
improving tone, texture and firmness
improving recovery from surface scarring (either from a cut, acne scar, etc)
calming redness
healing breakouts
This particular mask from Currentbody is 27% more powerful than many other LED masks on the market which really helps to deliver efficient and successful results. The red light helps to penetrate beneath the skin's surface in order to boost circulation which brings oxygen and nutrients to the cells. Another benefit of using an LED mask is that the red and infrared light speed up cellular renewal which can aid in helping skin heal faster. Especially with blemishes or cuts on the face, using a LED mask can help it heal quicker and with less scarring. There is no pain or discomfort associated with using the mask. And I hardly even notice I have it on. However you should always patch test your skin with any new skincare product or tool to ensure you don't have any adverse reactions.
How Often To Use LED Face Mask
One of the first features of this LED mask that I really liked was its flexibility and how it can easily mold to the face. This flexibility allows the light to penetrate every area of the face which ensures balanced results. It's quite comfortable to wear. And since it is battery operated, I can wear it while moving around the house. This really contributes to my desire to wear it consistently every single night. Its recommended use is 5x/week at minimum. So I usually take off Sundays but wear it the rest of the week.
After I cleanse and tone, I will put it on for the allotted 10 minutes. The light is quite intense and can be bothersome to people's eyes. So they include comfort goggles with the mask that you can wear. I personally don't find it to be irritating or uncomfortable. So I don't use the goggles with the mask. Since it has a timer already built in, it will automatically turn off after the 10 minutes is up (another great feature!). After that, I will wipe down the interior quickly with an alcohol wipe and then continue with the rest of my skincare routine.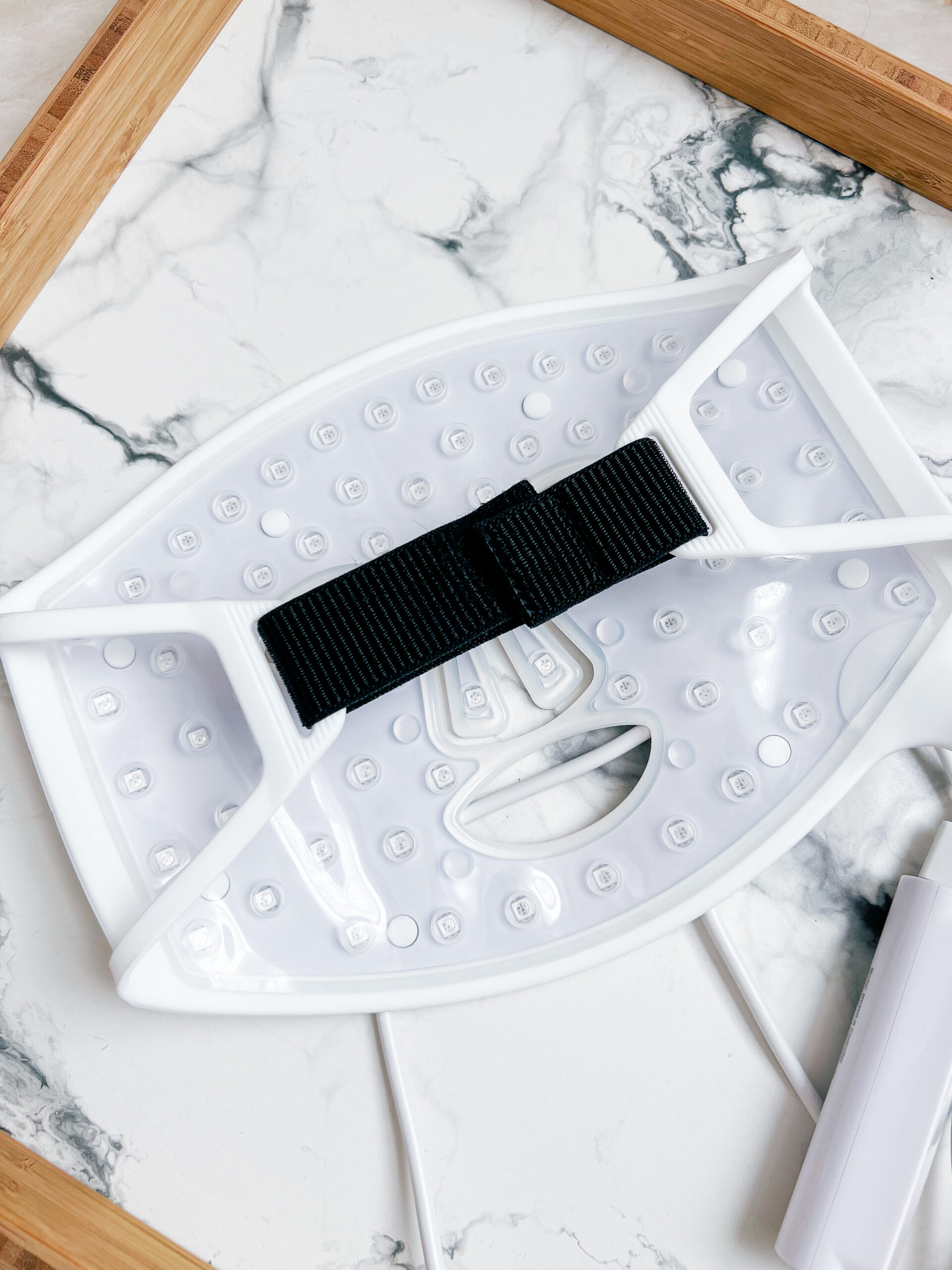 What Results Can You Expect From an LED Mask?
As far as results, I didn't really expect to see anything noticeable in the first few weeks. This product takes consistency and patience but after about 30 days, I really began to notice a difference. For me the most significant changes in my skin have been:
more even toned complexion
less redness
quicker healing of blemishes
less noticeable dark spots
minimized fine lines
overall clarity
To be honest, it was so slight at first that I wasn't sure I would see the results that I had with prior LED masks. But after about 6 weeks, I looked at my skin one morning after I got up and was shocked at how clear it looked. It was THAT noticeable. It wasn't red, it looked so smooth, bright and even toned.  And while I do take great care of my skin, using an LED mask contributes to reducing the occurrence of fine lines and wrinkles or loss of skin firmness. So even if you are not yet seeing those things on your face, using an LED mask can delay those signs of aging (or help to reverse it if they are already there).
Additional LED Light Therapy Masks to Try
While treating the face is the main focus of most skincare products and tools, the neck and decollete is often overlooked. As a result it can look vastly different from the face and show signs of aging or damage from the sun/environment. This LED mask is designed to cover the neck and decollete and treat fine lines, wrinkles and other signs of aging. As with the face mask, you only need to use it for 10 minutes 3 to 5 times a week. You can purchase this mask separately but they sell it as a value set with the face mask too!
If your eye area is a main concern, there is a LED mask targeted specifically for this area. The skin around the eye often shows signs of aging first. So it's good to treat it the same as you do the rest of your face. This mask has 4 clinically proven wavelengths that target eye bags, dark circles and elasticity which are often the main concerns for the eye area. You can intensify this treatment with the CurrentBody Skin Hydrogel Eye Mask which you apply before putting on the mask. The mask is programmed to only be on for 3 minutes. And it's recommended that you use it 6 times a week.
This is a wearable LED lip mask that targets anti-aging concerns for the lips. It helps to soften feather, smile and marionette lines while treating thinness and fading. It can even be used if you have lip filler. The protocol is to wear it for 3 minutes a day with full results in 8 weeks. It's a natural and painless alternative to lip filler. Because it can help boost your own natural collagen while also helping to reverse the signs of aging. The lip area will look even-toned, plumper and more youthful.
As someone who has driving gloves designed to prevent my hands from sun damage while driving, this LED mask for the hands is right up my alley! LOL It helps target fine lines, wrinkles, hyperpigmentation and age spots while also firming the skin. It's advised that you use it for 10 minutes every day with results being expected within 4 weeks. The red light and infrared light speeds up cell renewal to help fade fine lines and accelerate healing for cuts or scars.
This device is handheld and used to target specific parts areas of concern on your face or body. The treatment is for 3 minutes and is best used 3-5 times a week. It will stimulate collagen and elastin production on the targeted areas and with continued use will smooth and firm. If you travel frequently or want to bring your LED with you on a trip, this portable handheld device is a great option. It comes with its own travel pouch, power cable and charging plug.
Targeting and treating the scalp is the key to successful hair regrowth. This device is clinically proven to stimulate the follicles with oxygen and nutrients to reduce hair loss and stimulate regrowth. It should be used for 10 minutes every day and results may take up to 16 weeks. It fits over the entire head and has built-in Bluetooth enabled headphones that allow you to listen to music, podcasts, your favorite book etc during your treatment. There are two different sizes of the device so be sure you check the details to ensure you pick the correct one for your head measurements. The red and infrared light of the LED device increases scalp circulation which strengthens follicles and leads to new, thicker hair regrowth.
If you struggle with poor lighting in your bathroom or vanity when applying makeup, this illuminating mirror is the perfect solution! It contains 70 LED bulbs to provide a super bright light allowing for precise and flawless makeup application. There are three varying lighting modes – neutral white light (photo-ready), soft and warm light (evening makeup) and daylight white (everyday makeup).
CurrentBody LED Mask Discount Code
CurrentBody generously gave me a discount code to share with my readers that can be used on the LED Light Therapy Face mask as well as the entire NuFace collection on their site. Use coupon code: ALITTLEBITETC for 10% off. CurrentBody offers free shipping as well on all its devices.