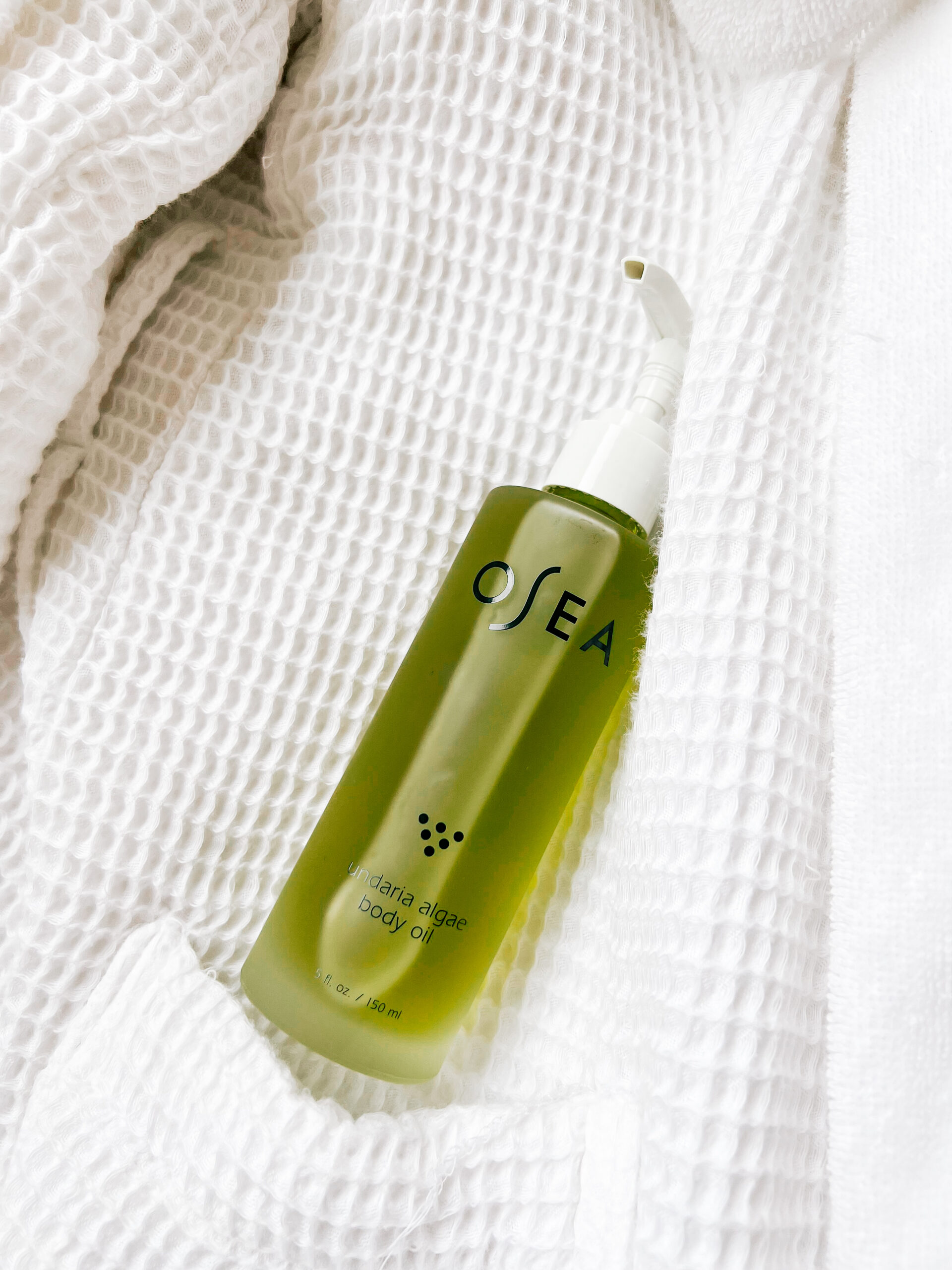 So much emphasis is put on skincare for the face and treating it well but the same attention and care must be paid to the rest of the skin on the body too. I used to only take care of my face (here are some of the best moisturizers for cold weather) and was lazy about treating the rest of my body. But in the past few years I have made a dedicated effort to treat the skin on my body with as much (or close to) care as I treat the skin on my face. Before I really took an interest in body products, I would use whatever body lotion I had lying around. And typically in the winter, I would use it regularly to help my skin not be so dry.
Fast forward to the present day and there are so many more options available for the best body care products. And I like to use things that target many of the same concerns I have on my face (uneven skin tone, dryness, dullness, fine lines, etc). I regularly use a face oil in my skincare routine but only started using a body oil in the past few years. I absolutely love using body oils because I find they absorb really well into my skin. And I have less dryness or itchiness when regularly using a body oil.
Osea Undaria Algae Body Oil Review
I am new to trying the Osea skincare brand but have been hearing so much about it and the reviews really intrigued me! Especially the Osea Undaria Algae Body Oil. I have read a ton of positive reviews and have been recommended it by many of my readers. Since the cold weather is here and my skin needs all the hydration and nourishment it can get, I decided to finally try the Osea Undaria Algae Body Oil.
About Osea
A bit about the Osea brand if you are new to trying it – their entire skincare line is seaweed-infused which they use because of its richness in vitamins, nutrients and minerals. The brand has been around for nearly 30 years. And still prioritizes formulating their products with naturally-derived ingredients. If you are looking for a new body oil to add to your bodycare routine, here is my honest review of the Osea Undaria Algae Body Oil. Hopefully, it can help you can decide if it would be a great fit for you too!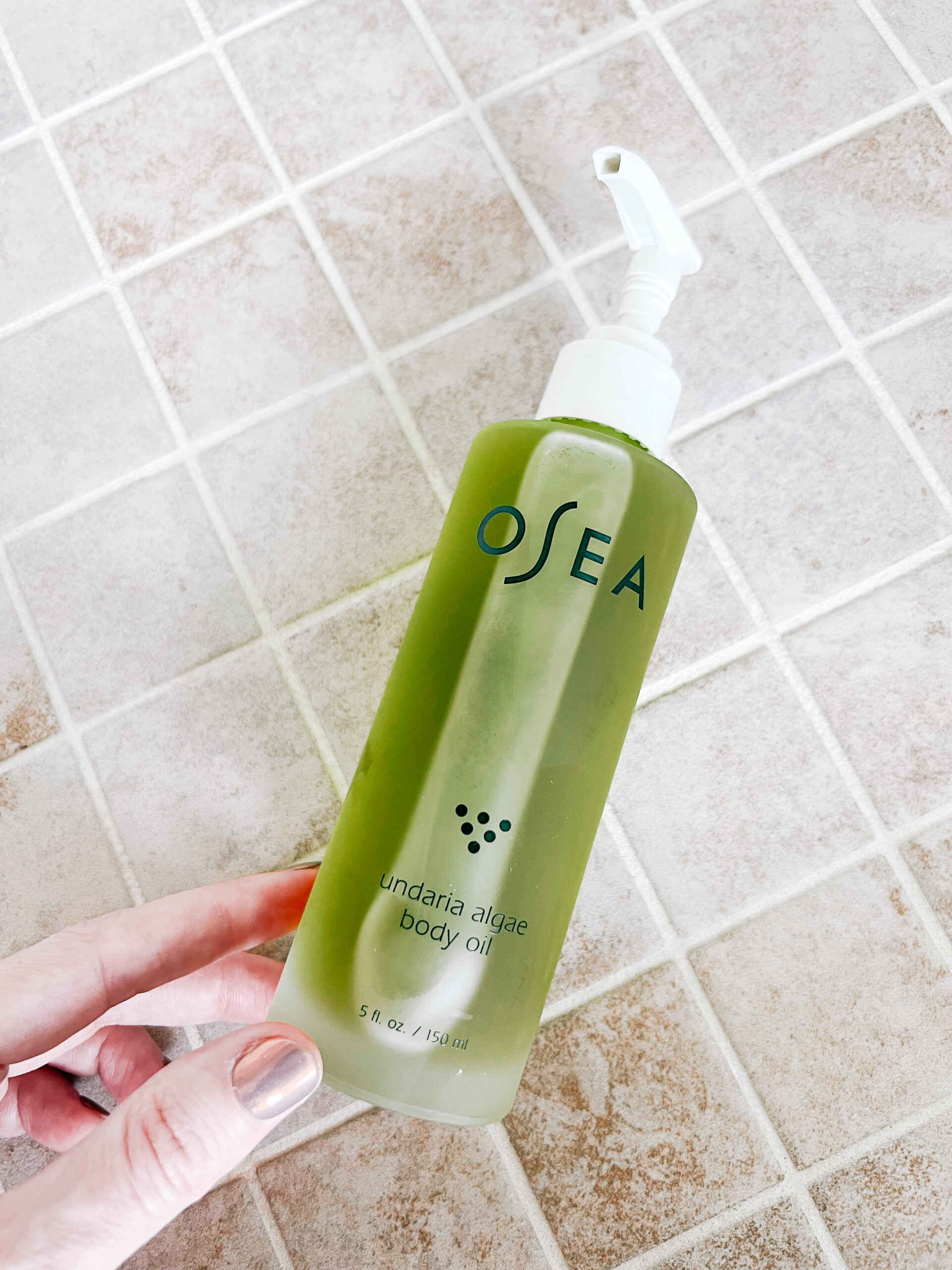 My first impression of the Osea Undaria Algae Body Oil is how thick it is which can be either a good or bad thing depending on how it absorbs into the skin. The scent isn't overpowering though it dissipates after it is applied. My personal preference for applying body oil is in the shower and always on damp skin which I did with this. I used a small amount to start with and rubbed it in. While it didn't absorb immediately, after a few minutes it soaked in and my skin felt SO soft and supple! My lower legs were quite dry and it instantly nourished them and my skin looked healthy and well moisturized.
It is thicker than a few of the other body oils I have but I actually like the heavier texture for the cold weather. My skin stays moisturized the entire next day after applying it in the evening. And it didn't leave any greasy residue on the skin which is always my complaint with thicker body oils.
Texture
Thick but incredibly nourishing. Use only need a small amount for each area of the body.
Scent
It has a subtle lemon-like fresh scent that I really enjoy! But it does not linger on the skin and goes away after a few minutes. The notes of the oil are leaf stem oil fragrance, grapefruit, lime and cyprus with a hint of mango and mandarin as well.
Ingredients
The star ingredient is the Undaria Algae which is what replenishes the skin's moisture barrier. White Lupin helps target skin firmness while a botanical oil blend of rice bran oils, fruit oils and acai oils help to provide even more intense nourishment for the skin.
Price Point
The price is steep ($84 for nearly 10 oz) but I do feel like I use such a small amount each time that the bottle will definitely last me a long time.
Benefits and results
In addition to treating surface dryness, the Osea Undaria Algae Body Oil helps to firm and sculpt as well. I did notice that the back of my legs especially were looking smoother and firmer and it really makes the skin look healthy and radiant.
Osea Body Oil Before and After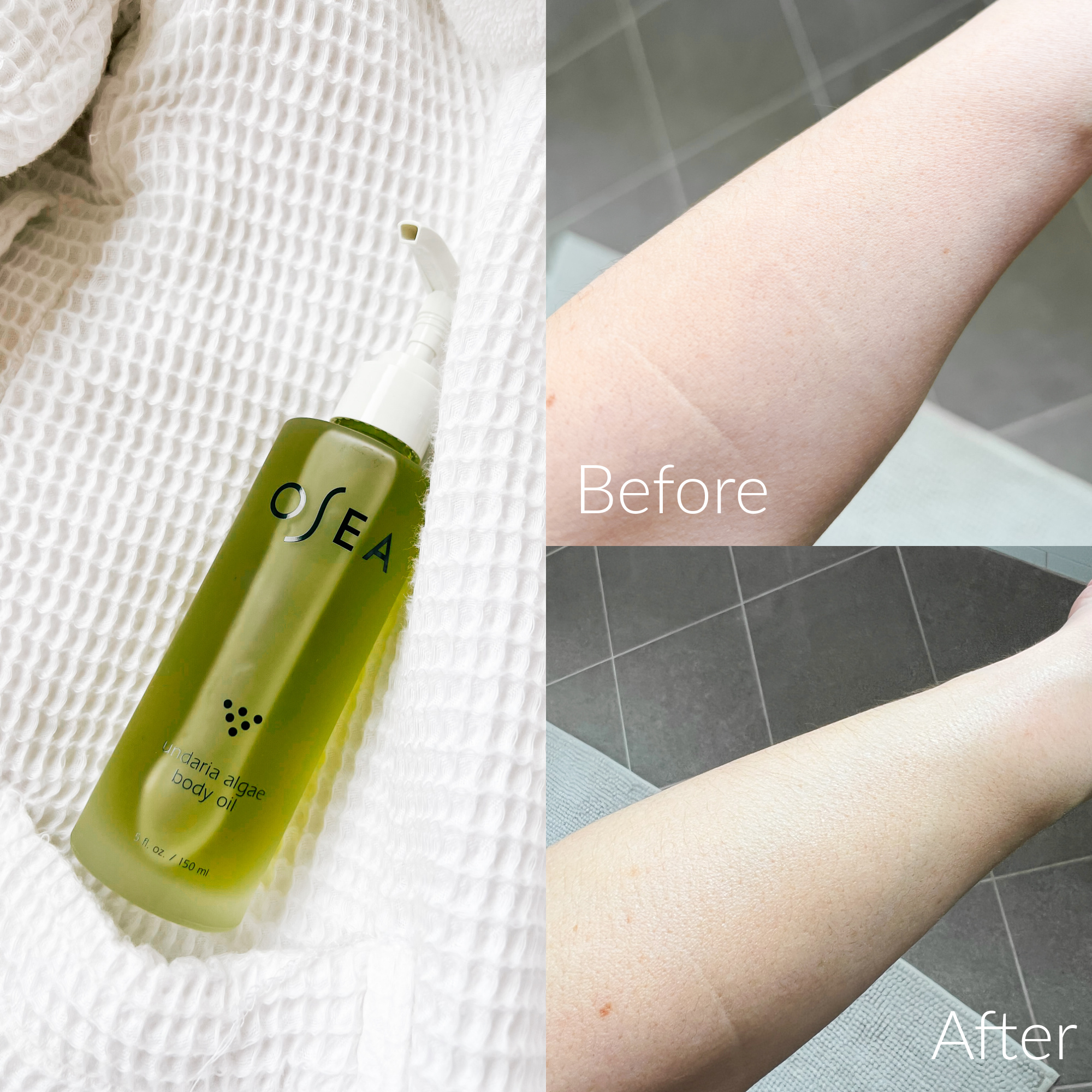 As you can see from the photos, my skin has a nice healthy sheen and glow after applying the Osea Undaria Algae Body Oil but isn't too greasy or oily. It immediately took away any dry patches and soothed my skin while also slightly reducing any redness it may have. I used just a tiny amount but did apply it to damp skin. I find that it absorbs nicely leaving my skin looking healthy and supple.
How To Use Osea Body Oil
Apply to Damp Skin
While you can apply the Osea Undaria Algae Body Oil either to damp or dry skin, I find that it absorbs best when applied to damp skin. I will apply it at night after I shower and my skin is slightly wet but not drenched. It helps to trap in moisture and dries down nicely without feeling greasy.
Wait a Few Minutes Before Getting Dressed
Since I apply it to damp skin, I like to wait until my skin has fully dried to get dressed in my pajamas. It is normally only a few minutes. But I rarely have any greasy residue remaining on the skin when I do it this way.
Only Use a Small Amount
The texture is quite thick so you only need a dime sized amount (or even smaller) for each area of the body. That is the benefit of thicker body oils is that I find they can cover a large area of the body without having to apply more. That dime sized amount that I will use typically can cover my entire lower body. And then a second dime sized amount can cover my entire upper body.
Where to Buy Osea Body Oil