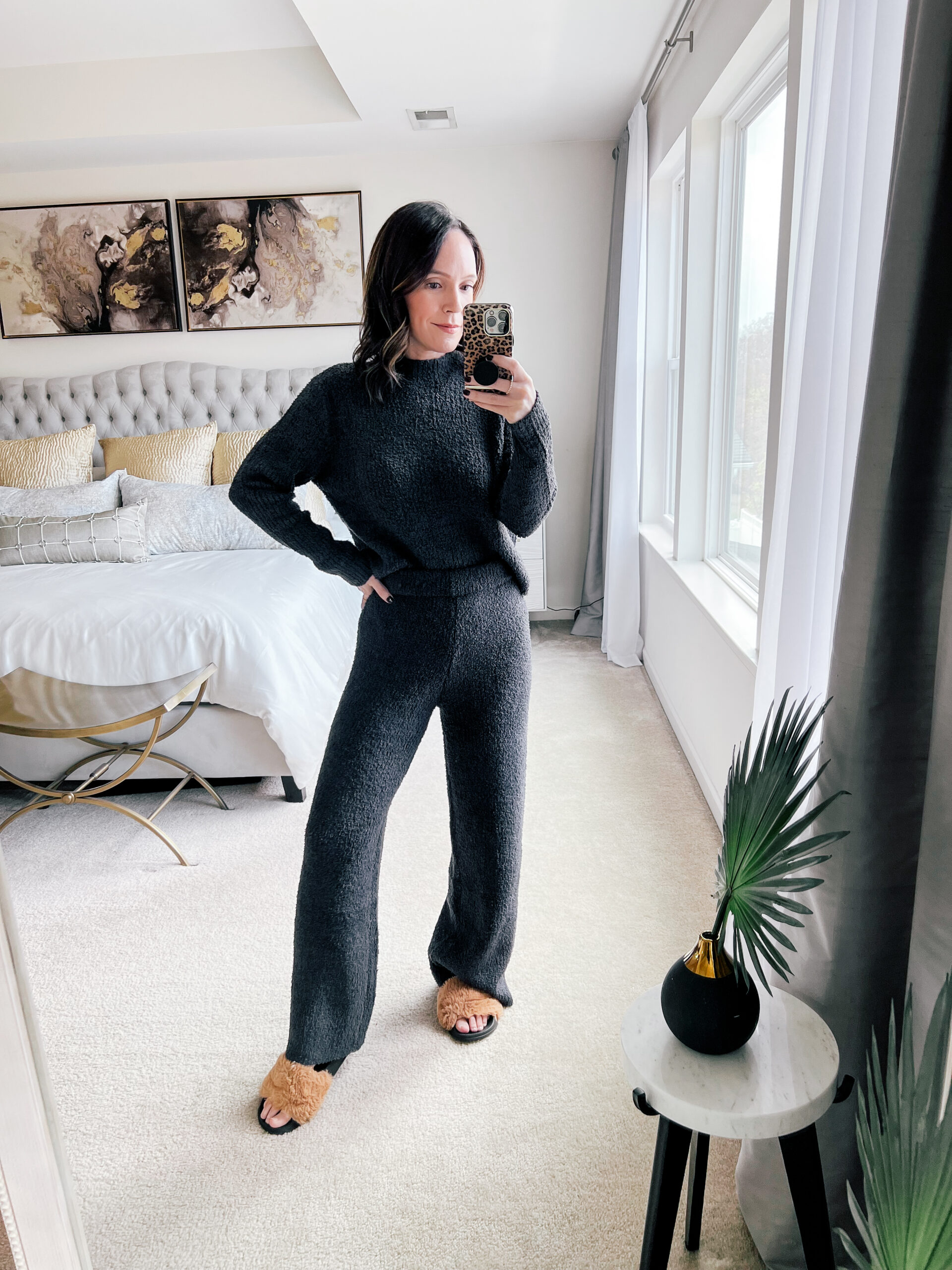 Loungewear set
Friday Finds 11.17
1. Mango always has the best tweed and cardigan jackets and this beige one with the gold buttons is gorgeous and classic!
2. The cutest Santa sack that you can have personalized for Christmas morning.
3. I'm picky about my athletic sneakers and don't love a lot of different styles but these Nikes are so cute. I especially love the cream with the rainbow swoosh on the side.
4. This luxe faux fur blanket looks like absolute heaven!! And the colors are so beautiful.
5. Everything in the Anthropologie holiday party edit is perfect for all the parties and events during the holidays. So much sparkle and shine!
6. I just received this limited edition Pat McGrath eyeshadow palette and it is STUNNING. If you are looking for a holiday palette, this one is it.
7. I'm so intrigued by this weighted small blanket. It's much smaller than a full body blanket but still provides the same benefits of helping to calm and reduce anxiety.
8. The holidays is the time to bring out all the sequins and rhinestones and this bejewelled bag is the perfect evening accessory.
9. Ok this is absolutely adorable! A gummy bear nightlight and it's squishy. I can't decide if Miles would love this or not but I had to share it because it's too cute not to.
10. Who wouldn't love their own shaved ice machine? Not a typical gift, but I kinda love the idea of gifting this for the holidays.
11. If wearing all the glittery things is not your vibe, I love the look of this chic off the shoulder maxi sweater dress.
12. These are absolutely over the top and a super splurge but I just can't help but love the look of these fuzzy chevron slides.
13. I'm obsessed with the look of this dark gray glittery nail polish that is part of Chanel's holiday collection.