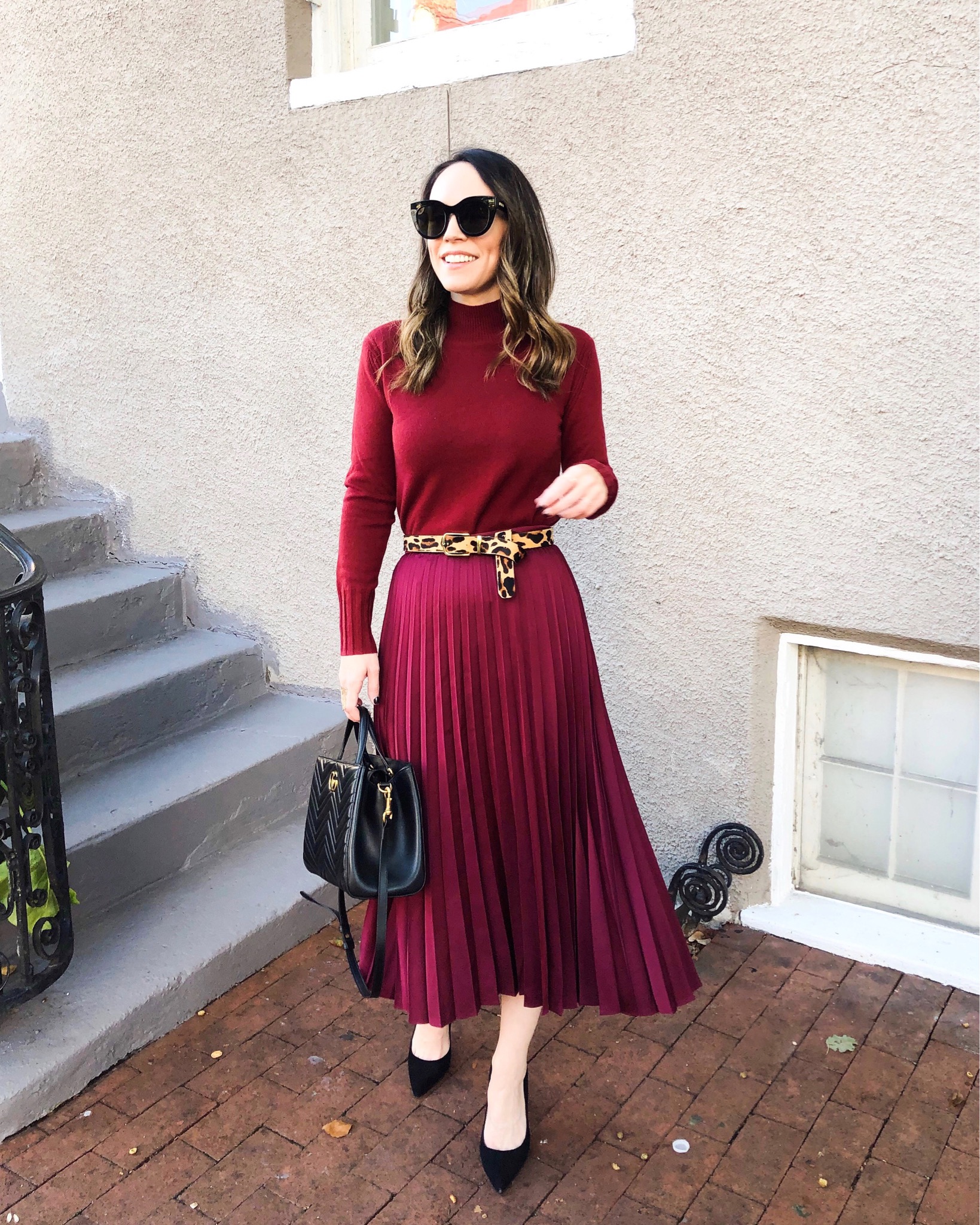 The holiday season has officially begun. How did that happen?! LOL I feel like Halloween was just yesterday and now we are only a few weeks away from Christmas. Sales are in full swing, though I have definitely become more of an online shopper over the years and prefer to spend the rest of the holiday season enjoying sights and going places to experience as much as I can. November and December are always the time to bring out traditionally festive outfits (sequins, glitter, anything green or red), but I find that many times I only get to wear those pieces during the holidays. I personally LOVE all things leopard print and definitely feel like it can be a holiday option too! And then once the holidays are over, you can still wear your leopard print pieces for the rest of the year.
Leopard Print For the Holidays
Accessorize with Leopard Print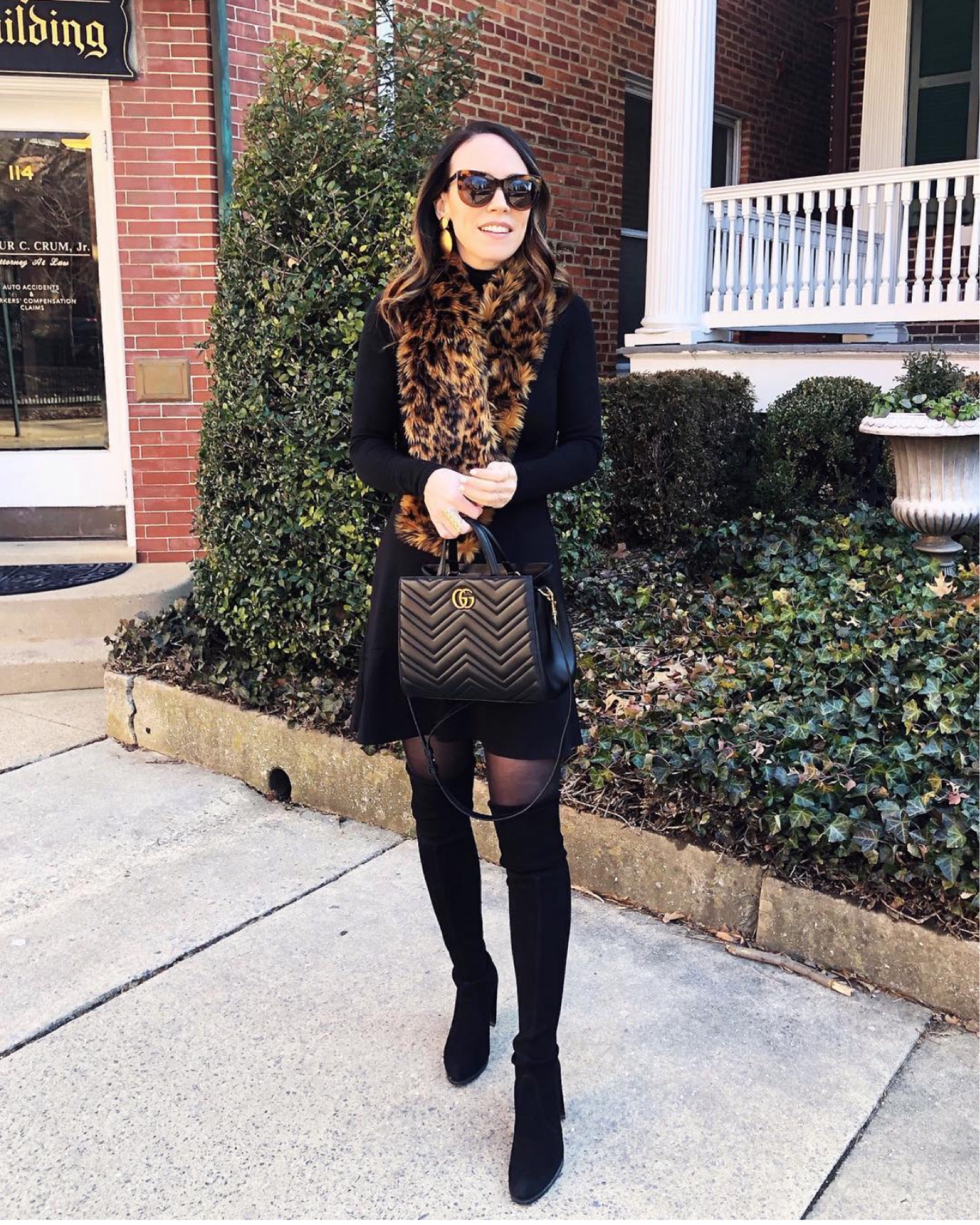 Turtleneck | Skirt (similar) | Boots | Bag (similar) | Leopard wrap (similar)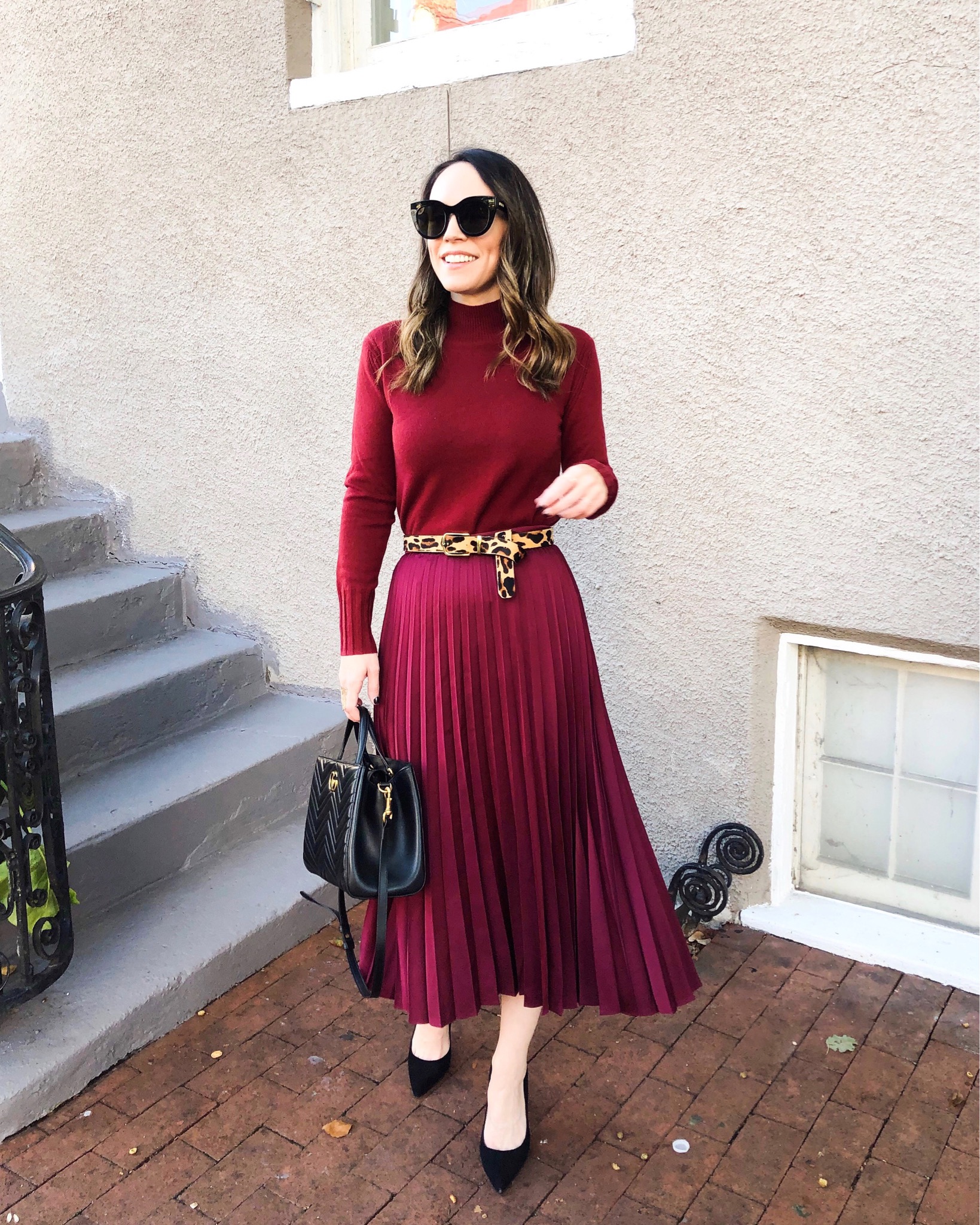 Sweater (similar) | Skirt (similar) | Belt | Shoes | Bag (similar)
You don't necessarily have to wear leopard print head to toe but rather throw it on as an accessory with a monochromatic look as I did in these previous looks I have worn. It's a way to add a touch of print but not feel like it's the entire outfit.
Leopard Print Outerwear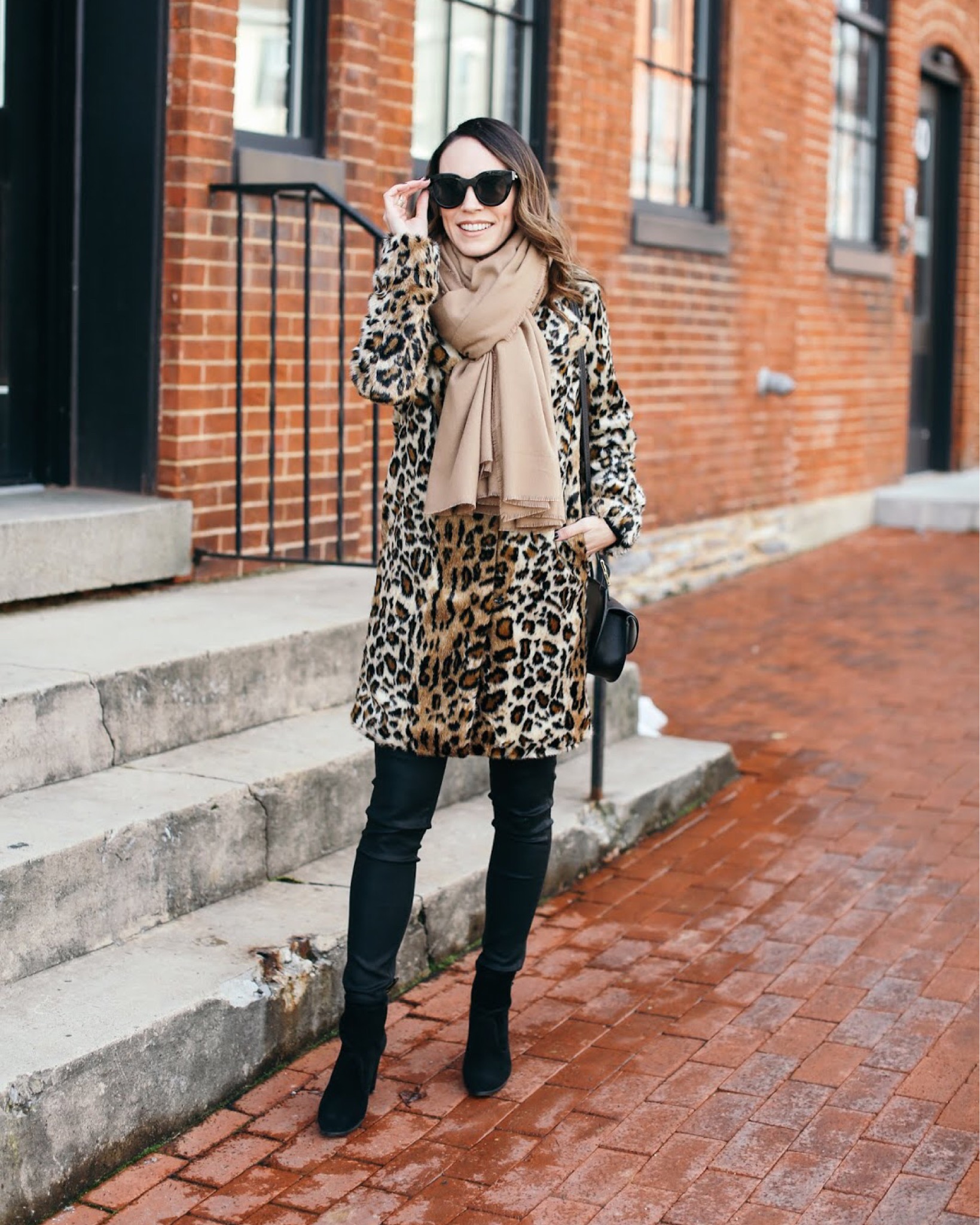 Coat (similar) | Scarf | Jeans (similar) | Boots (similar)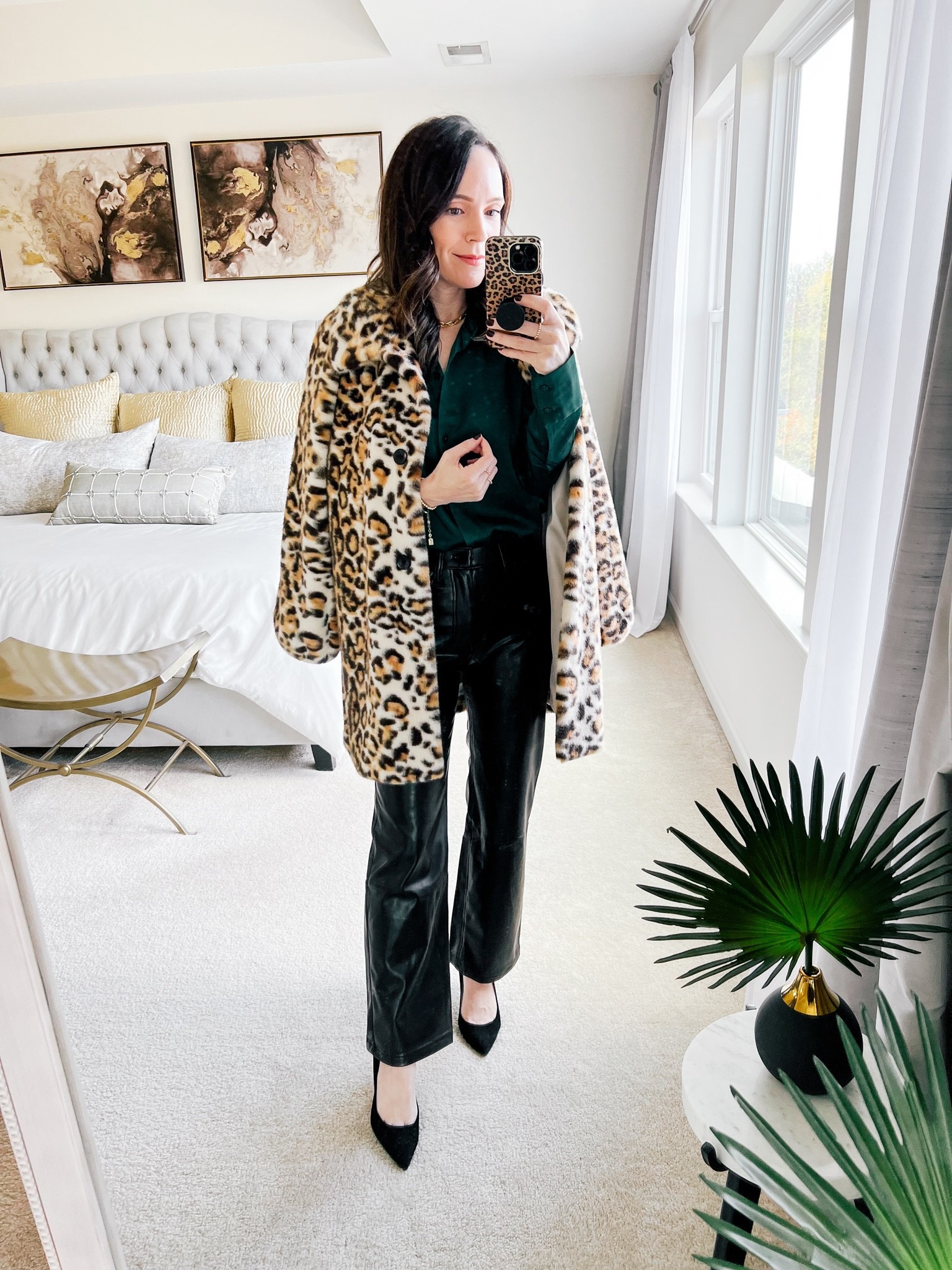 Coat | Shirt (similar) | Pants (similar) | Shoes
If there is ever a time to pull out a leopard print coat, it is definitely the holidays!! Make it your entire outfit by wearing it with all black or throw it over your look to add some interest to a more simple outfit.
Keep it Casual with a Leopard Print Top and Jeans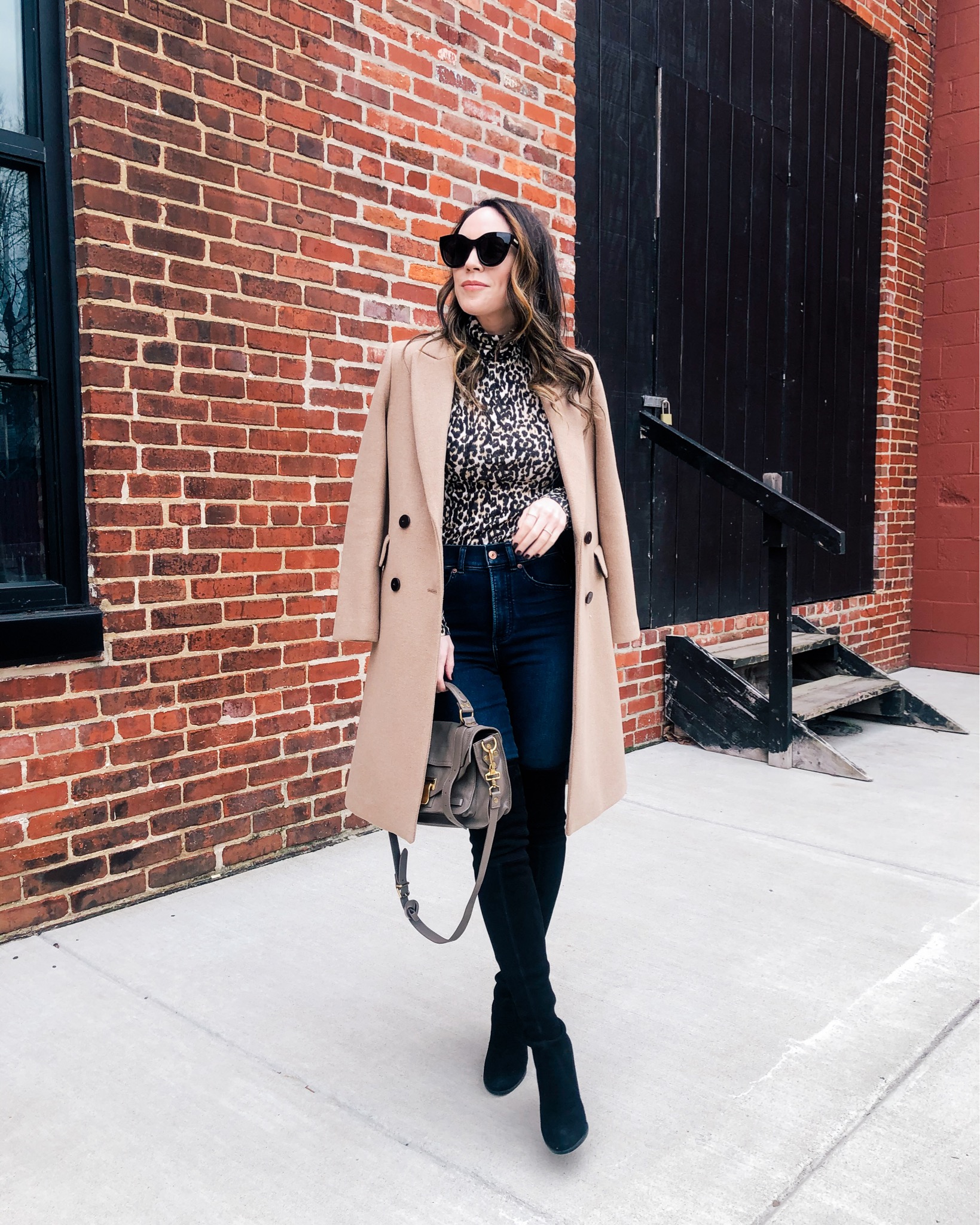 Coat (similar) | Turtleneck (similar) | Jeans | Boots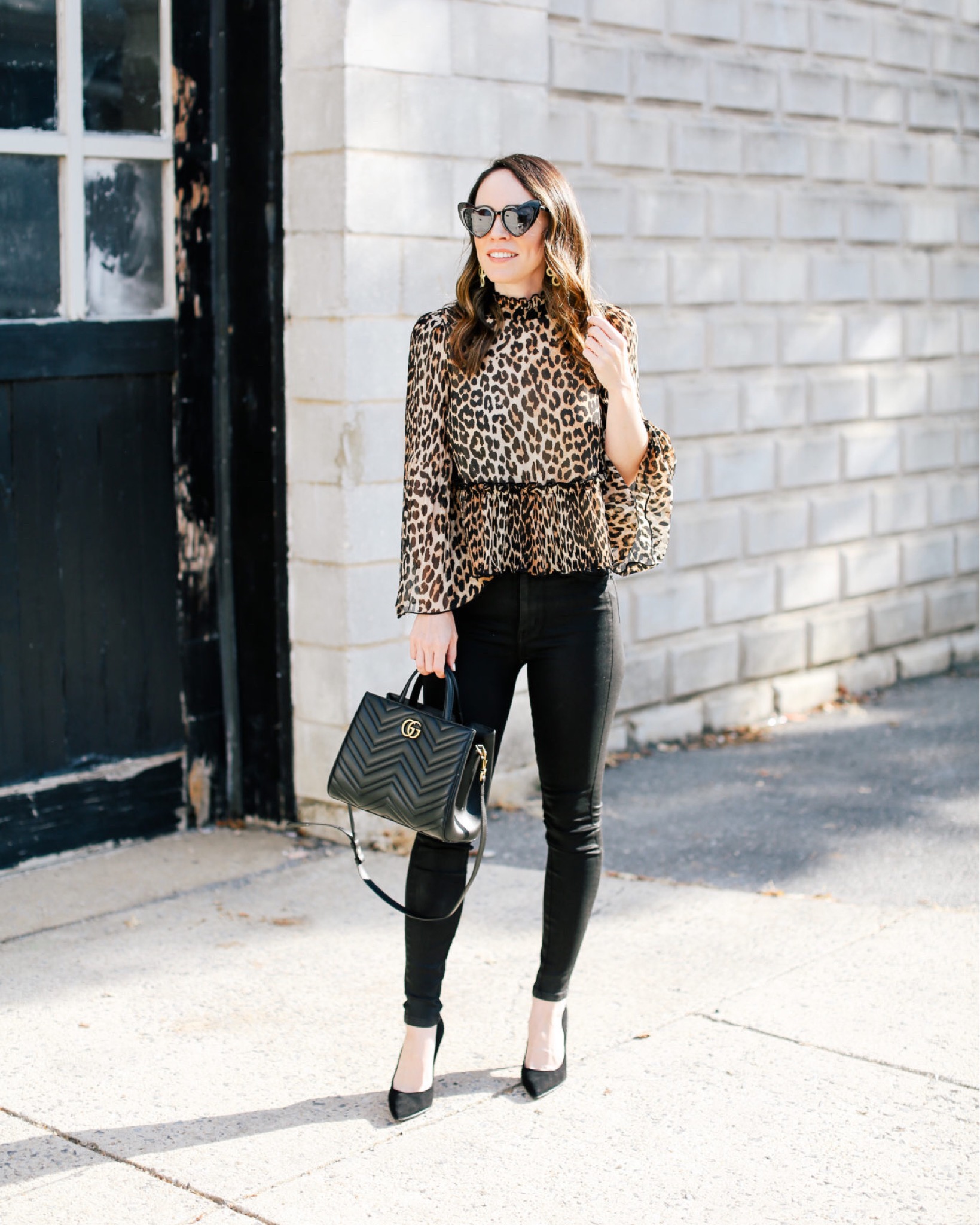 Shirt (similar) | Jeans (similar) | Shoes | Sunglasses
You can never go wrong with styling a leopard print top with jeans. This allows the print to stand out but still be super wearable for a variety of occasions. Add some fun pumps or statement earrings to make it more festive for a holiday event.
Related: Fall Denim Edit
Leopard Print Dress Outfit Ideas
While I personally love a leopard print dress for any time of the year, it is especially chic during the holidays where any type of over the top prints or colors are expected. Here are some styles that I'm loving:
The slightly deep-v and mid thigh slit make this a great opportunity to show off some statement jewelry and heels!
Now THIS is a fierce and fabulous dress. The ruching is great because it can detracts from any areas of your mid section you may want to minimize but the figure hugging style would flatter all body types.
Besides the gorgeous print, the focal point of this dress is the chain halter neck which is so chic. Keep the rest of your jewelry minimal to allow this detail to stand out.
This style is a bit more modest and understated but still allows you to experiment with animal print. And I love that the belt comes with the dress!
If animal print and delicate feminine details came together, this is the exact style of dress that I would envision. The bustier bodice gives a slightly sexier look to the dress, but the long maxi length and slight ruffle bottom balances out the entire look so beautifully.
I'm always drawn to leopard print because it's always mostly neutral tones which is what I wear most of the time. But if you crave bright colors in your looks, this mini dress brings together animal print and vibrant tones in one look.
This is actually a tank and sweater combo so you can either wear them together or style each item with other pieces in your closet. I LOVE this dress and it's been on my wish list for about a year now. I've seen it styled both casually with lug sole boots or dressed up with sandals or heels.
Another great feminine and flirty option combining leopard print with elegant details. Wear this will sandals, pumps or even boots for a cozy festive look.
How to Accessorize a Leopard Print Dress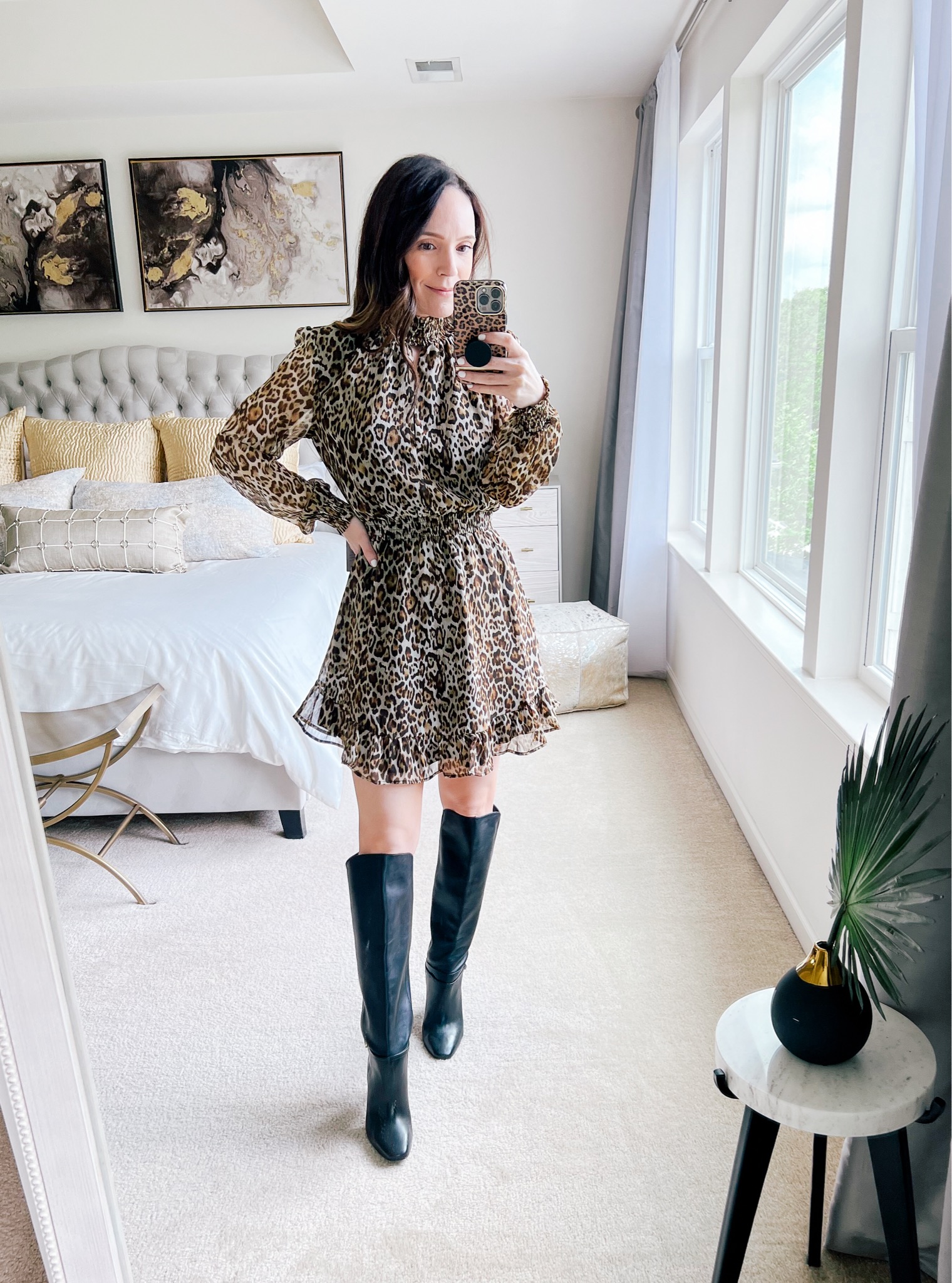 Dress (similar) | Boots (similar)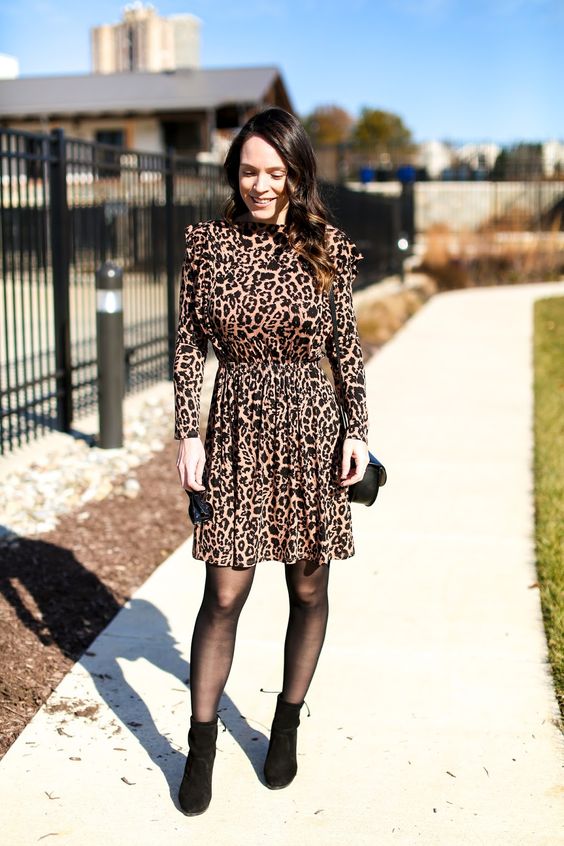 Leopard print can seem intimidating at times – especially when trying to accessorize with such a bold print. Here are some of my tips on how to accessorize a leopard print dress (or any leopard print piece):
Opt for a solid color shoe
The leopard print is the focal point of the outfit so don't add any other patterns or excessive details in your shoes that could compete with the bold pattern.
Choose a black or nude shoe
Most leopard prints are all neutral tones so the best option for your shoe should be either black or possibly a clear or skin tone color. Even though black is a bold color, it grounds the look. If black isn't your preference, a simple clear or nude shoe will go with any leopard or animal print easily.
Have fun with jewelry
While I definitely think the shoe choice should be neutral or solid, I love seeing leopard print styled with gold or silver jewelry! Statement earrings, a chunky cuff or a bold necklace can really play well off the animal print.
Go for a red lip
Since it is the holiday season, a red lip is the perfect accessory to wear with leopard print to make it instantly festive.
Wear a smokey eye
If a red lip is not your thing, you could always go for a smokey eye to make your look more evening appropriate. Some gold or bronzey shimmer eyeshadow all over the lid would look great with leopard print.
Wear a neutral bag
As with the shoe suggestion, I definitely would reach for a bag that is a neutral color to wear with a leopard print dress. Black, brown, cream or white would look amazing but to make things more holiday centric, you could also reach for a bag with gold or silver details. Metallics are neutral in my opinion and the holidays are the time to wear all the sparkly and shiny things!
The holidays are a great time to experiment with fun or festive pieces, but if you are trying to stretch your budget it makes sense to buy a print that isn't appropriate
only
in November/December. A fun
brocade pattern
,
animal print
or even a
plaid print
would look amazing for holiday events but would also seamlessly transition into the rest of the winter season.